If you bought a new Tampines GreenVines BTO flat, you're probably a bit upset about the delayed TOP. While this can certainly throw a wrench in the works, it need not stop you from planning your interior design for Tampines GreenVines either. In fact, now is the perfect time to finalise your design plan, furniture, and other details that go into your interiors. If you're confused about where to start or how to go about it, Livspace can help you!
We created a sample Tampines GreenVines BTO interior design for Jane and Shawn to show them how their new home can look. Being art enthusiasts, the couple was looking for something a tad bit avant-garde. So, let's take a look at what we put together for the couple.
What Tampines GreenVines BTO Interior Ideas Can Livspace Help You With?
When it comes to your interior design for Tampines GreenVines, we're ready to support all the ideas you might have for it. From minimalist interiors to something a bit more detailed like art deco styles, we can draw up a plan for you.
Take Jane and Shawn's home for example. Since the couple enjoys art, we went with the Memphis design style to plan their home. Similarly, you can get in touch with a designer for more interior design ideas for Tampines GreenVines. Now, let's tour the couple's sample Tampines GreenVines BTO flat to see what Livspace can do for you.
1. With Smart Space Planning, We Can Turn Your Living Room Into a Spacious Haven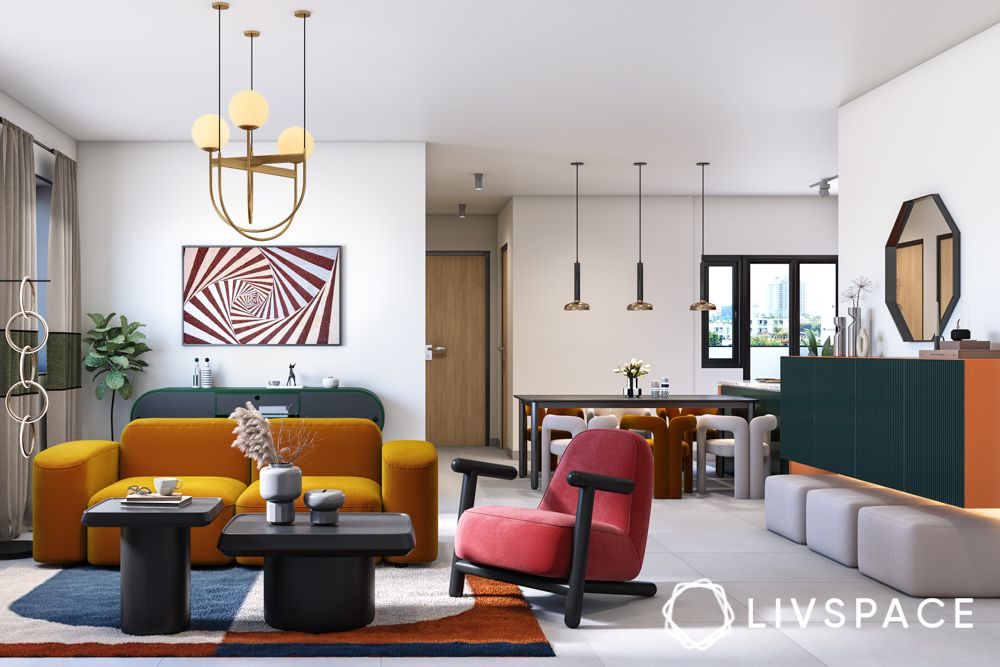 Since both homeowners love art, it's only right to treat their Tampines GreenVines BTO flat as an empty canvas. Moreover, this is the perfect opportunity to mix in vivid colours and patterns into their design.
Similarly, this interior design for Tampines GreenVines also follows the principles of Memphis design. In other words, a design style that makes use of bold colours and contrasting patterns or graphics. Besides the colour scheme, the TV feature wall is another trendy element in this space. The use of fluted panelling and an inverted wall arch help bring in a modern element of design.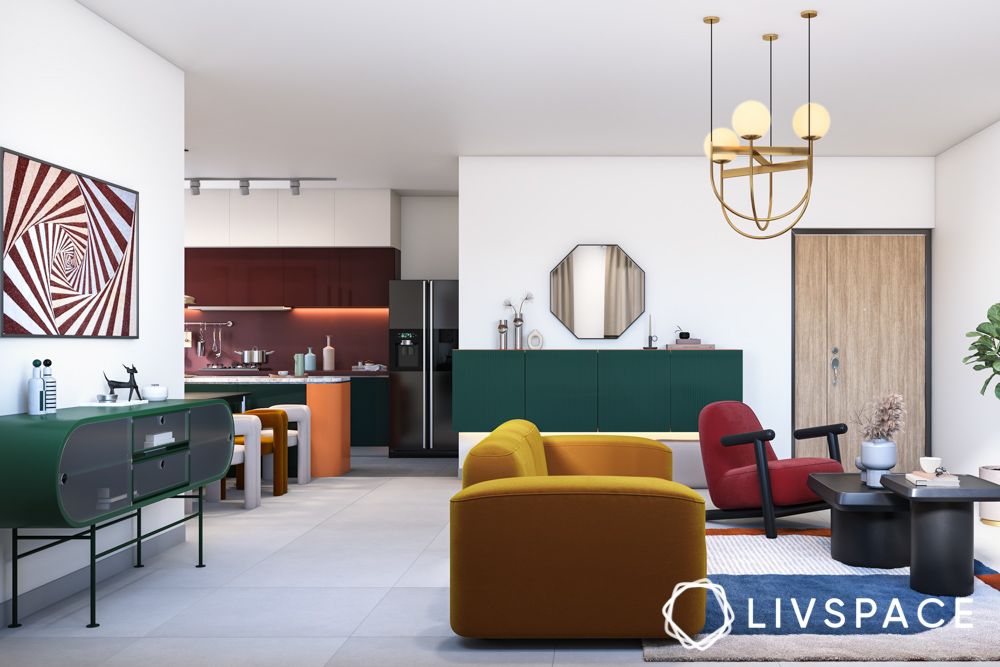 What Can Livspace Do for Your Living Room Interior Design for Tampines GreenVines?
We can use bold primary colours like red, yellow, and green across the living room to colour-block the space.
For furniture, we can help you select simple statement pieces that can tie the entire space together.
We can help you find the right materials and upholstery for your furniture, as well as design it ergonomically. This way, you can expect your interiors to be long-lasting and easy to maintain.
Instead of going for a simple TV bench, we can help you decorate the space with a unique feature wall design.
With effective space planning, we can improve the storage capability of your Tampines GreenVines BTO interior design. An example of this is storing floor seating like ottomans under wall-mounted cabinets to save space when not in use.
2. We Can Create a Fusion of Design Styles to Accentuate the Space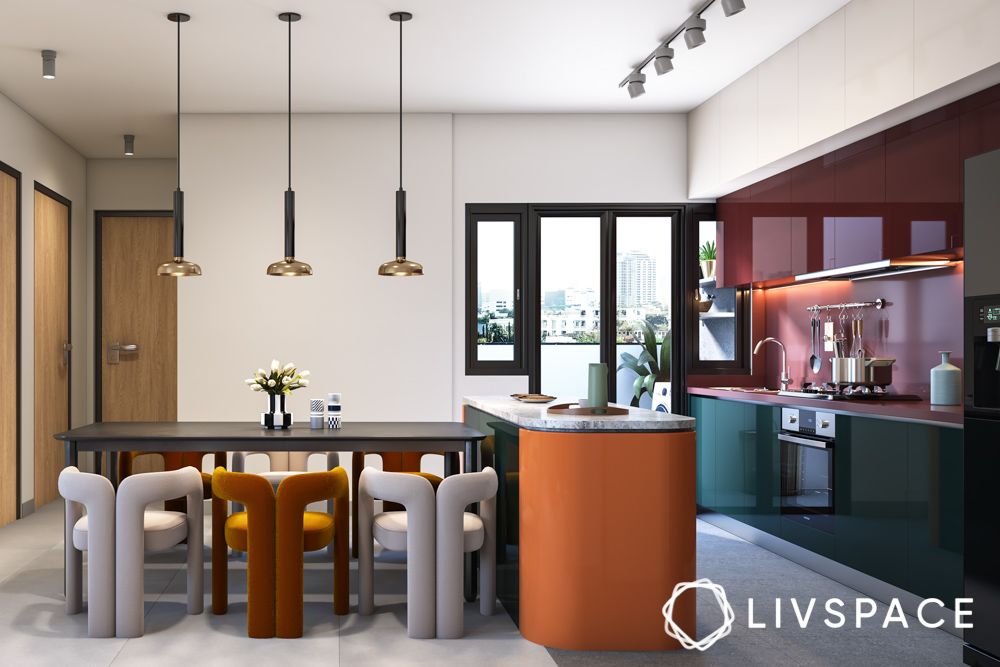 If you're familiar with the art deco style of design, you might have already noticed a few similarities in this Tampines GreenVines BTO flat. Take a look at some of the lighting fixtures in this interior design for Tampines GreenVines.
Most of them have brass accents that offer a rich contrast to the vibrant colours across this Tampines GreenVines BTO interior design. This style of lighting fixtures is common in art deco interiors and adds to the decorative element.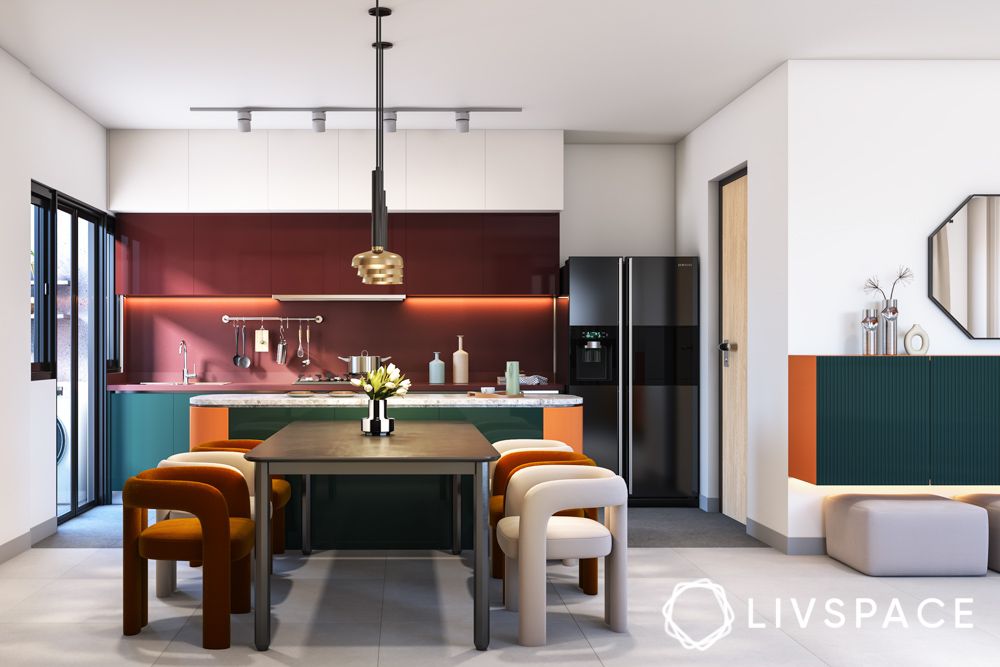 How Can Livspace Plan the Dining Area in Your Tampines GreenVines BTO Interior Design?
We can mix two or more design styles to create a harmonious fusion of design elements. For example, this interior design for Tampines GreenVines BTO largely follows Memphis design. However, we also mixed in a touch of art deco accessories to detail the space.
An open layout can run the risk of merging all your common areas together. Here's where we can help you draw out distinct zones while still keeping your interior design for Tampines GreenVines BTO open.
We can help you create harmony in design by balancing angular walls and corners with soft, rounded furniture.
If neutral palettes aren't your thing, we can also help you find the perfect colour story for your interiors. Here, we stuck to matching colour families to ensure continuity in design across all common areas.
3. Open-Concept Kitchen? We Can Effectively Optimise It for You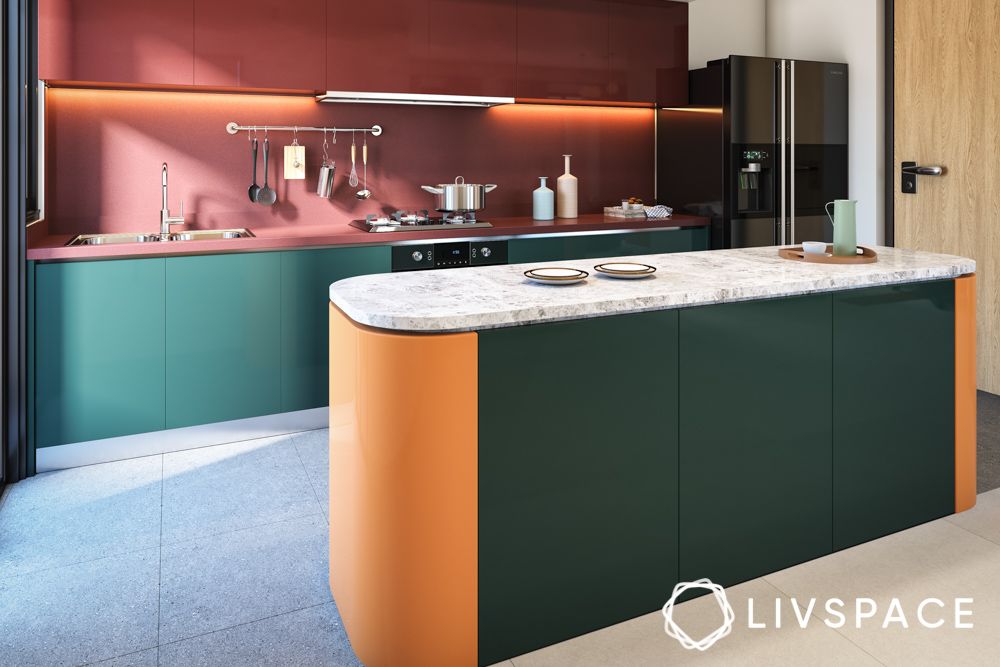 Open kitchens often run the risk of losing their space in an open-layout. The easiest way to demarcate them from the rest of the room is to use a room divider. Alternatively, you can also consider using different flooring materials to detail the shift in space from one room to another.
In this interior design for Tampines GreenVines BTO, we went with a kitchen island to draw a barrier between the kitchen and dining area.
Also Read: Why is Open Concept Kitchen for HDBs the Best? Let Us Explain
What Kitchen Interior Design Ideas for Tampines GreenVines BTO Can Livspace Suggest?
If you'd like to go for a one-wall kitchen layout, we can help you address your storage needs. Since counter space is limited to one wall, we can opt for vertical storage with two sets of upper cabinets.
Cabinet handles might not go with every kitchen's interiors. So, instead, we can help you plan a seamless kitchen design for a chic, modern look.
While planning your kitchen interior design for Tampines GreenVines BTO, you might be confused with what colours palettes to use. We can help you narrow down the right shades for your cabinetry to maintain cohesiveness in design.
To help demarcate the space between the dining area and kitchen, we can help you pick out the right flooring options. This can also double as a non-obstructive room divider.
4. We Can Make Your Master Bedroom Design a Reflection of Your Interests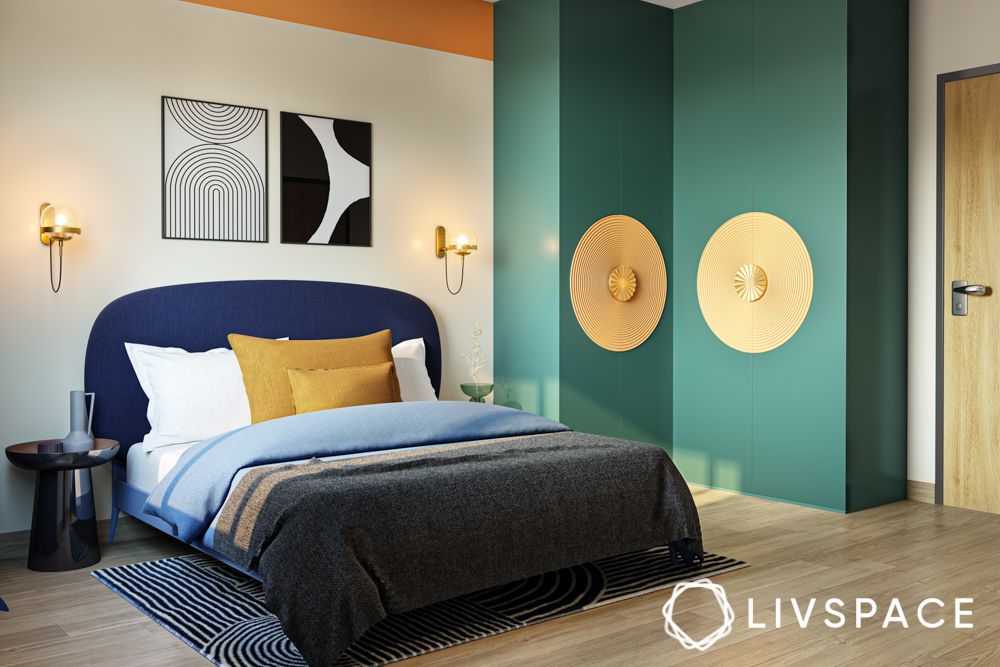 There's no better way to express yourself artistically than to play with colour and patterns. The master bedroom in this interior design for Tampines GreenVines BTO is a great example of the same. Instead of keeping it simple with a minimalist approach to design, we decided to go big and bold.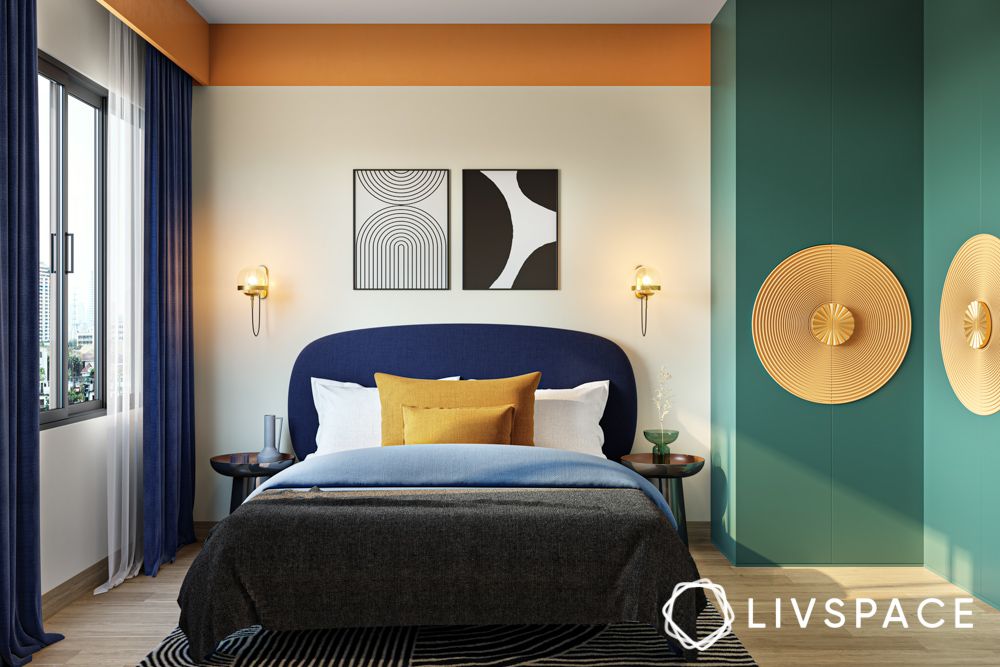 How Can Livspace Design Your Master Bedroom?
Master bedrooms can come in any size. If yours is on the smaller side, it's best to optimise every inch of space to the fullest. Here, we can help you design a floor-to-ceiling that occupies space vertically instead of horizontally.
If you're big on aesthetics, we can help create a seamless looking space without compromising on functionality. Take the L-shaped wardrobe in this interior design for Tampines GreenVines BTO, for example. We went for a design that blends into the room, adding to the picturesque quality of the space. The brass handles further complement the wardrobe colour, making the entire unit look like wall art.
Notice the pelmet above the window? We painted it the same colour as the ceiling border to make the space look uniform. Additionally, we can design an elevated pelmet treatment for your room to create the impression of length. This, in turn, can make the ceilings in your Tampines GreenVines BTO look higher.
5. We Can Give Your Guest Bedroom Just As Much Attention to Detail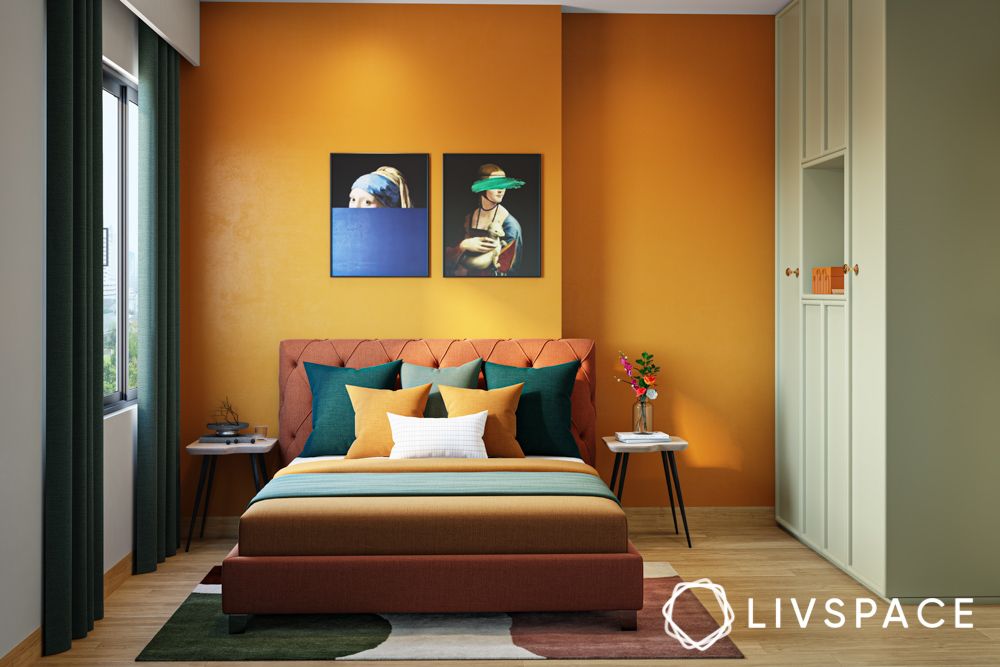 Whether you use your guest bedroom or not, it's nice to have it match the rest of your interiors. In terms of the layout, the guest bedroom follows the same layout as the master bedroom. However, this room only has wardrobes on one wall of the room, exposing the wall niche.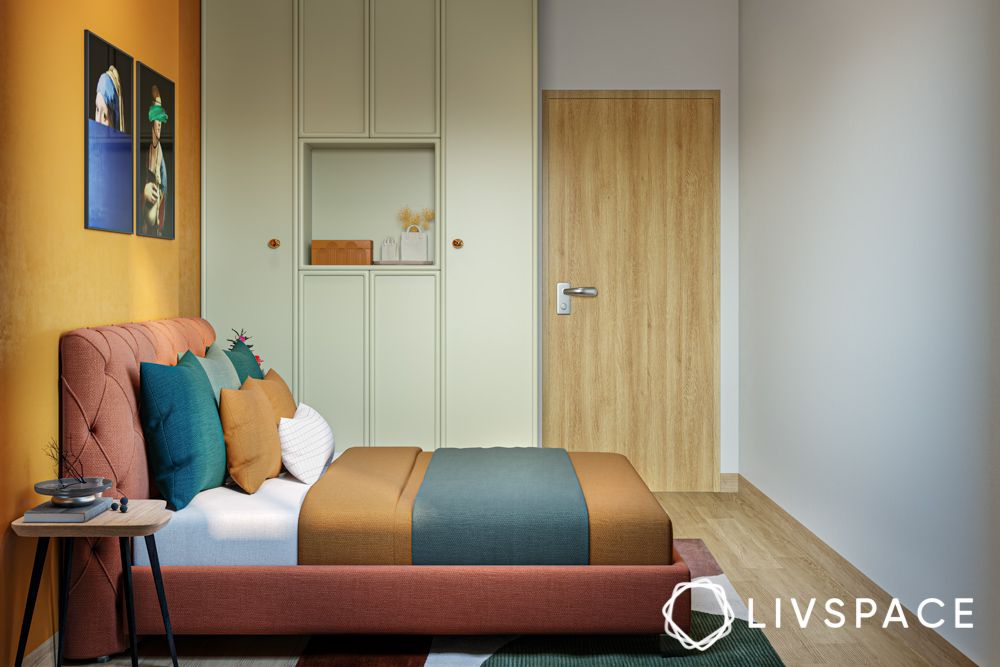 How Can Livspace Design Your Guest Bedroom?
We can tie your bedrooms together with similar colour schemes. Here, we used earthy colours like orange and green that are in the same colour family of the master bedroom's palettes.
To avoid making the rooms look too similar, we can also help you create a different ambience. For the master bedroom, we opted for sconce lights; however, for the guest bedroom, we went for a simple false ceiling.
Since the guest room and master bedroom both lack a display/vanity unit, we created a customised space for it. Notice the shelf in the middle of the wardrobe? This can be used as a storage or display area, depending on the need.
6. We Have Some Great Tampines GreenVines BTO Interior Ideas for Your Bathrooms Too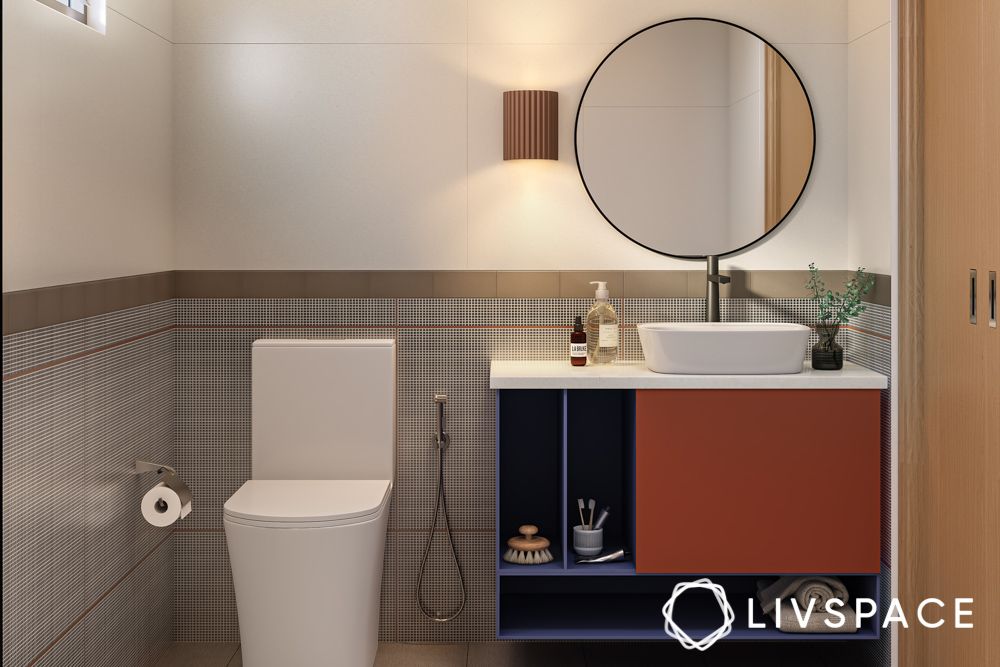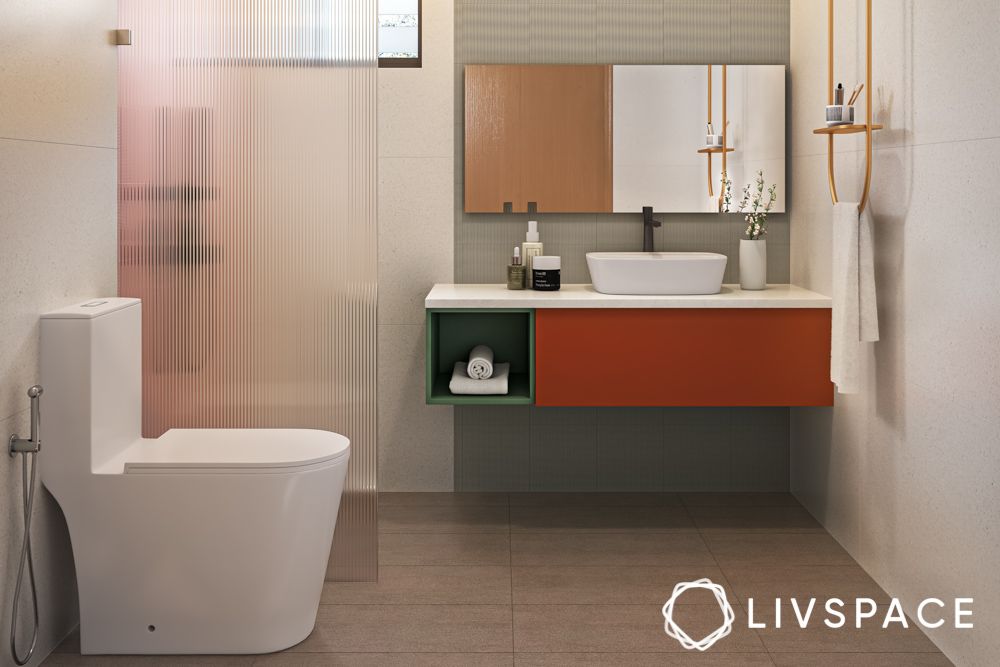 How Can Livspace Design Your Bathrooms?
Since this interior design for Tampines GreenVines BTO doesn't shy away from bold colours and patterns, we followed the same approach in the bathrooms. Take note of the vanity cabinet and wall tiles. We went with colours like blue and orange to align with the overall colour story of the home.
Just as the rest of the home uses furniture and accessories with rounded edges, we retained the same look for the bathrooms. We can help you select bathroom accessories and fittings that carry the same aesthetic, tying into your main theme.
Also Read: Are You Planning a Bathroom Renovation? Read This!
7. Have Some Extra Space? Here's What We Can Do With It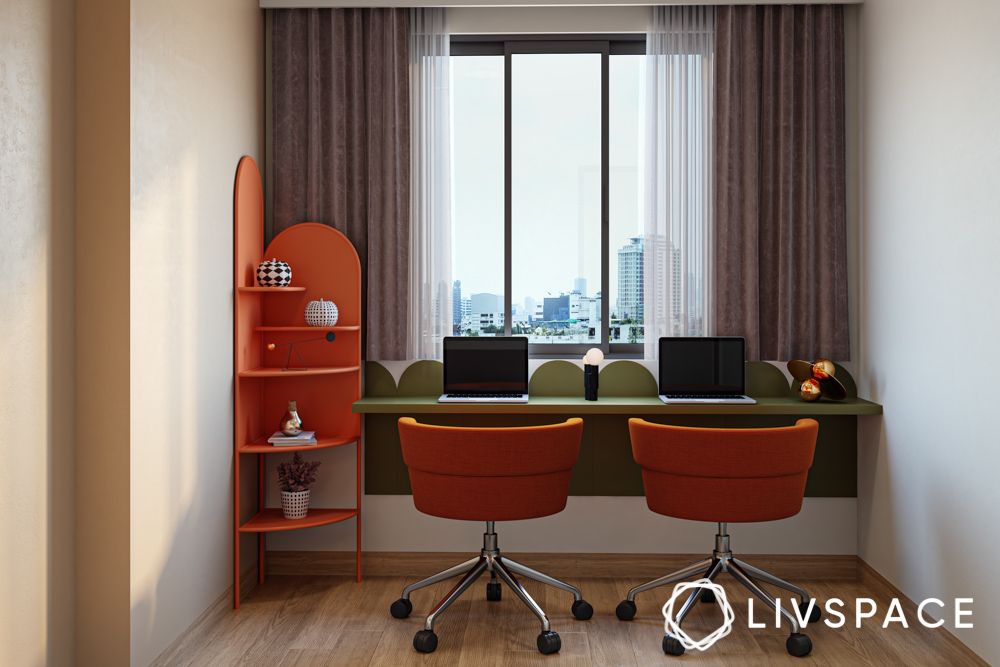 Having an extra bedroom is, undoubtedly, a luxury. However, this doesn't mean you strictly have to use it as a bedroom, either. Smaller families can use this space as a multifunctional study or gym. In this Tampines GreenVines BTO flat, we converted the extra room into a study that has a sofa bed.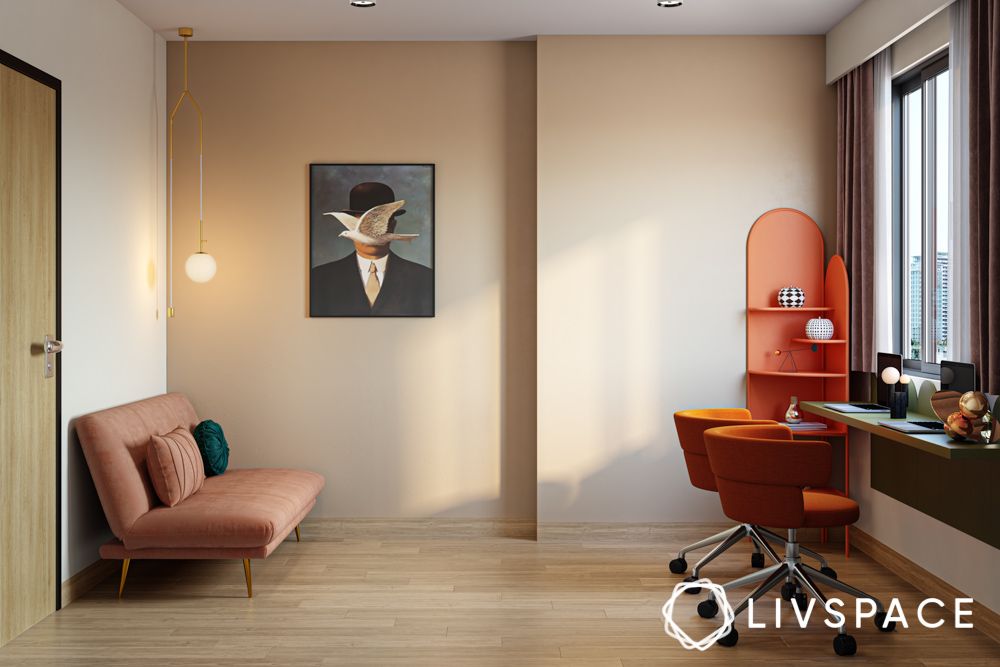 How Can Livspace Plan Extra Space Effectively?
Interior design is all about factoring lifestyle preferences into the way a home is designed. Accordingly, we can help you design a space that can support your hobbies or interests, as you see fit.
The study room here can be used as a workspace, art room, or even as an additional guest bedroom. We used a sofa bed in this space to ensure the room offers extra comfort and utility.
The study unit area makes use of rounded edges in the furniture. We did this to match the style of furniture typically used in Memphis design. Moreover, it seamlessly integrates into the furniture style the rest of the home follows.
Property Overview of Tampines GreenVines BTO
| | |
| --- | --- |
| Name of the Project | Tampines GreenVines BTO |
| Sales Launch | 2018 |
| Type of Project | BTO |
| Total Number of Units Available | 1,271 |
| Number of Blocks and Floors | 11 blocks; 14 floors |
| Length of Tenure | 99 years |
The property offers 3-room, 4-room, and 5-room flats, making it a great option for multigenerational families. Moreover, the nearest MRT is an 11-minute walk from the Tampines GreenVines BTO.
If you love plants and greenery, the Tampines GreenVines BTO is the place to be. The locality is bounded by several parks and lush landscapes, creating a scenic view. Besides this, you will also be in proximity of the Tampines 1 mall, along with a few medical clinics for all your basic needs.
How Can Livspace Help You Design Your Tampines GreenVines BTO?
We hope you found these Tampines GreenVines BTO interior ideas useful! If you want your home to be just as beautiful, then look no further. Book an online consultation with Livspace today.
Have some comments and suggestions you'd like to share with us? We're all ears! Feel free to write to us at editor.sg@livspace.com.