Are you wondering why we are talking about interior design styles when it's your designer's job to help you with this? But don't you want to know which design style you resonate with the most? Your designer can always help you get the right look, but if you are not sure which style you prefer, you'll find it difficult to zero in on one. While Minimalist and Scandinavian designs are generally more popular, there are several other styles you can explore.
Check out these 10 interior design styles that we've put together for you to experiment with on your next renovation project.
#1. Modern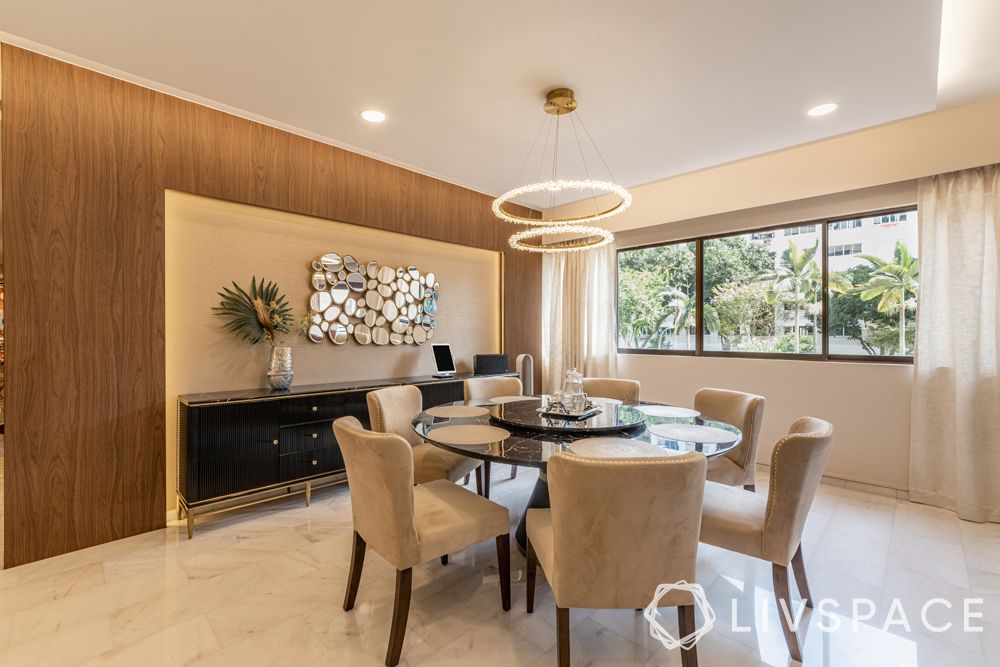 Origin
You might be using the words 'modern' and 'contemporary' interchangeably when you think of design styles. But we're going to set it right. The modern design is a designated time period, from the early to mid-20th century. With roots in both German and Scandinavian designs, the modern design style gained popularity at the beginning of the century. If you like clean lines, uncluttered spaces and organic shapes, this is the style for your home.
How to get this design style for your home?
When you're designing your home with modern aesthetics, keep these simple pointers in mind:
Lines should be clean and the decor should be minimal
Neutral colours are your best friends
Modern interior design favours open floor plans
Natural materials should be chosen for furniture
#2. Transitional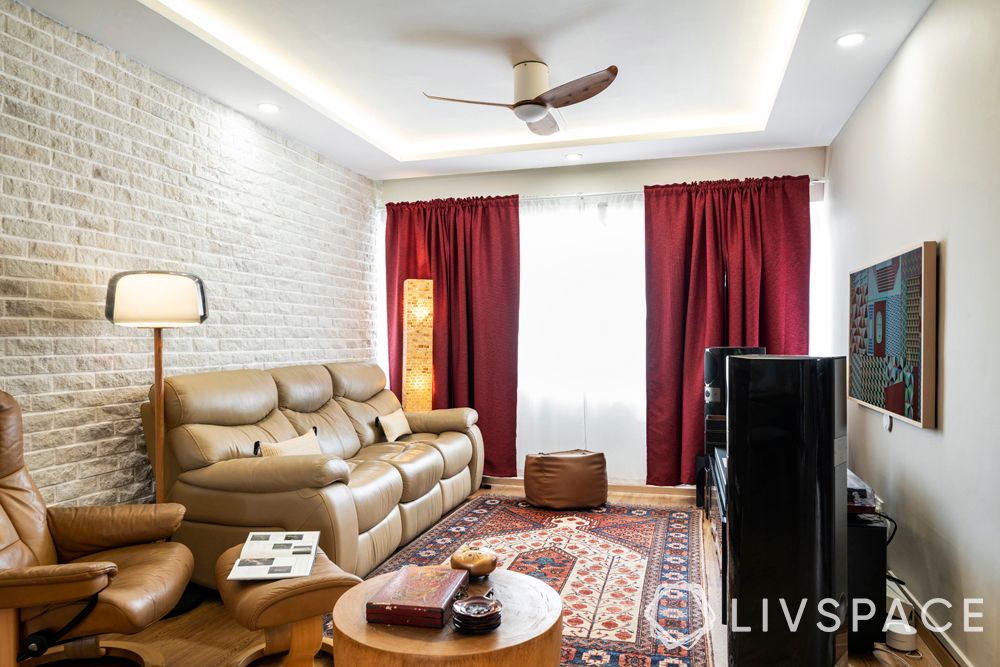 Origin
The transitional design style evolved in America in the 1950s as a reaction to stark modernism. It was an attempt to retain some aesthetic elements of the past by adapting them to modern sensibilities.
How to get this design style for your home?
If you want to add some transitional elements to your home design, keep these in mind:
While shopping for furniture, make sure you have a good mix of old and new designs
Stick to the modern conventions of clean and straight lines
Keep accessories and decor to a minimum
Play with subtle patterns and textures for walls
#3. Minimalist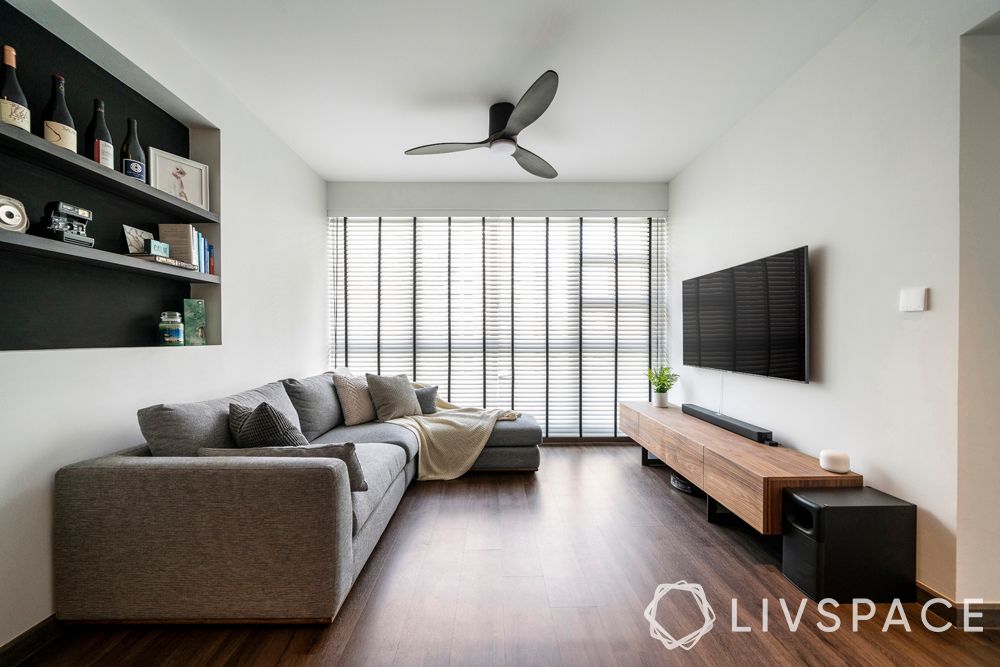 Origin
Heavily influenced by the Japanese zen style, minimalism inculcates concepts like 'ma' that stands for empty space and 'seijaku' that stands for stillness. These principles became increasingly influential in the West after World War II and eventually manifested into an American art movement in the 1960s, where it represented a renewed focus on materials.
How to get this design style for your home?
To nail this look at home, you just have to follow some simple tips:
Begin by discarding items that you haven't used for over 90 days
This works best with open layouts
Try monochromes or use a gradation of the same colour
Use clever storage options that are concealed to keep the look clutter-free
Think natural and organic materials for your furniture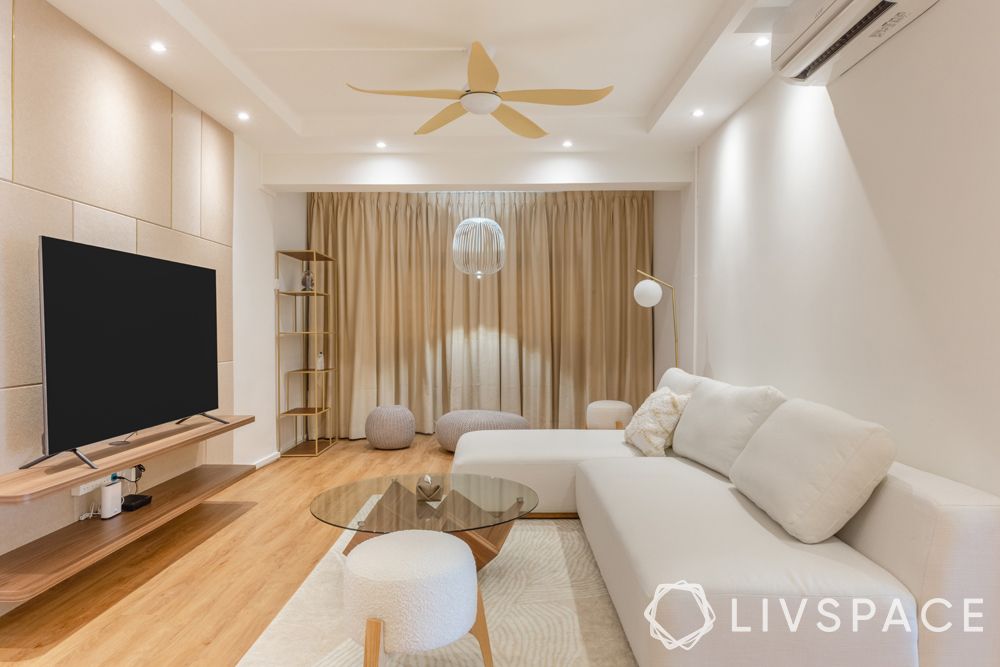 Origin
The obvious historical reference here is the name 'Scandinavian' comprising Denmark, Norway and Sweden. After the world was ravaged by World War II and the threat of machines replacing humans, Scandinavia took solace in a design that was uncomplicated and close to nature.
How to get this design style for your home?
Here are some points you'll need to keep in mind to get the Scandinavian look right:
Typically, natural fabrics like fur, wool and suede are used to furnish Scandinavian homes
You can experiment with textures and patterns while bearing in mind that a neutral colour palette works best
Decor can include statement and classic pieces like ceramics, pastel throws and cushions and so on
Layered drapes look great and allow natural light to flow in without making the space too bright
#5. Mid-century modern
Origin
This true-blue American style evolved into its own in the time period between the two World Wars. As people moved from country homes to apartments in cities, the need of the hour was a new interior style that would suit compact spaces. And that's how this interior design style came into being.
How to get this design style for your home?
This design style is unique and has some special features that you can add to get the look:
Always opt for glass doors and French windows
Wooden flooring is going to complement the look perfectly
A home bar is a great idea to introduce some mid-century modern charm
Pendant lights in different forms are a signature of this design style
#6. Industrial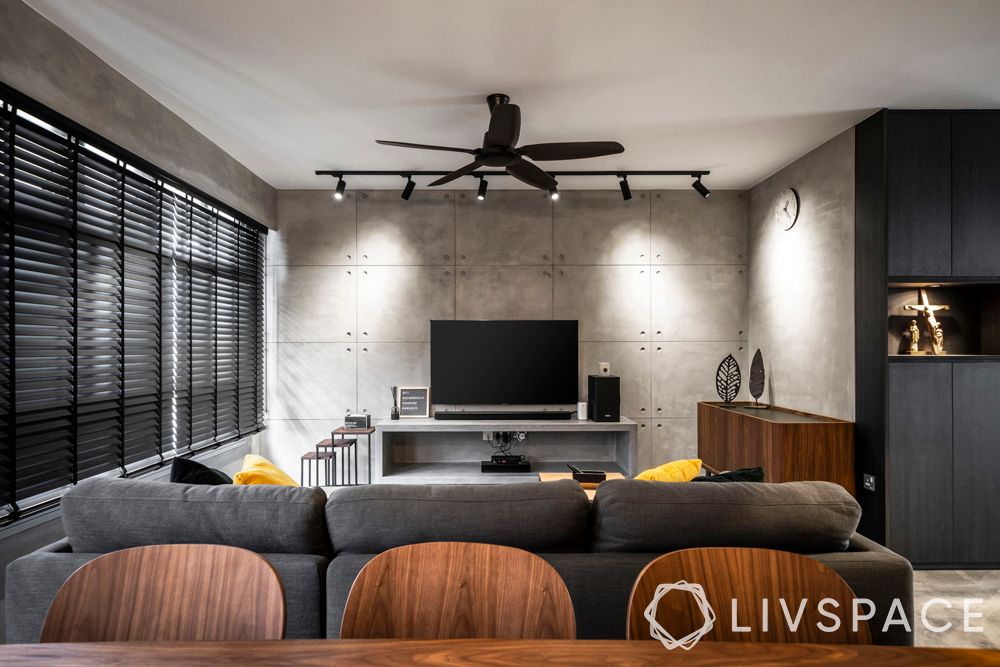 Origin
The industrial design style takes clues from old factories and industrial spaces that, in the past few decades, have been transformed into lofts and other living spaces. The industrial style is all about exposing what lies beneath the layers of walls.
How to get this design style for your home?
If you love raw edges and an unfinished look that's unique, you can follow these tips:
Add lots of drama with vintage, distressed furniture
Exposed brick walls and metal pipe works are a must
A dark colour palette is essential to get it right
You can also experiment with cement screed walls
#7. Contemporary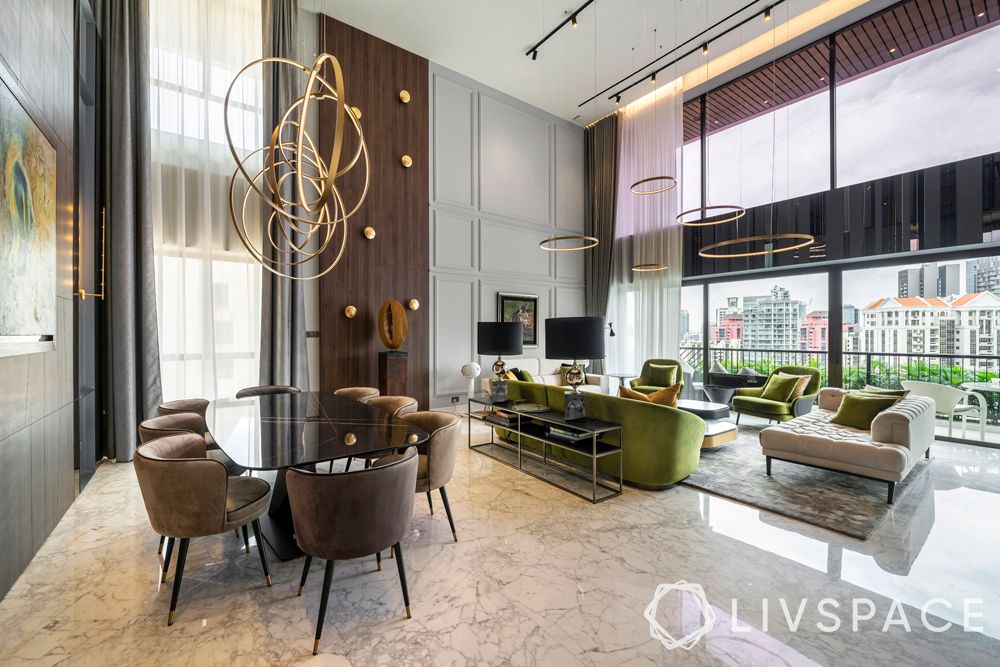 Origin
'Contemporary' means 'here and now.' What we consider to be contemporary today may change completely in less than a decade. Hence, it would be incorrect to refer to it as a style. It is more like a macro trend, evolving with the times.
How to get this design style for your home?
Here are some tips that you can follow to get this design style right:
Allow maximum natural light to flow in
Stick to a neutral colour palette with pops of colour here and there
Adding some texture is a must. Try wooden panelling on walls, patterns and prints
You can keep it simple or go luxe, but make sure you incorporate lots of functional furniture
#8. Farmhouse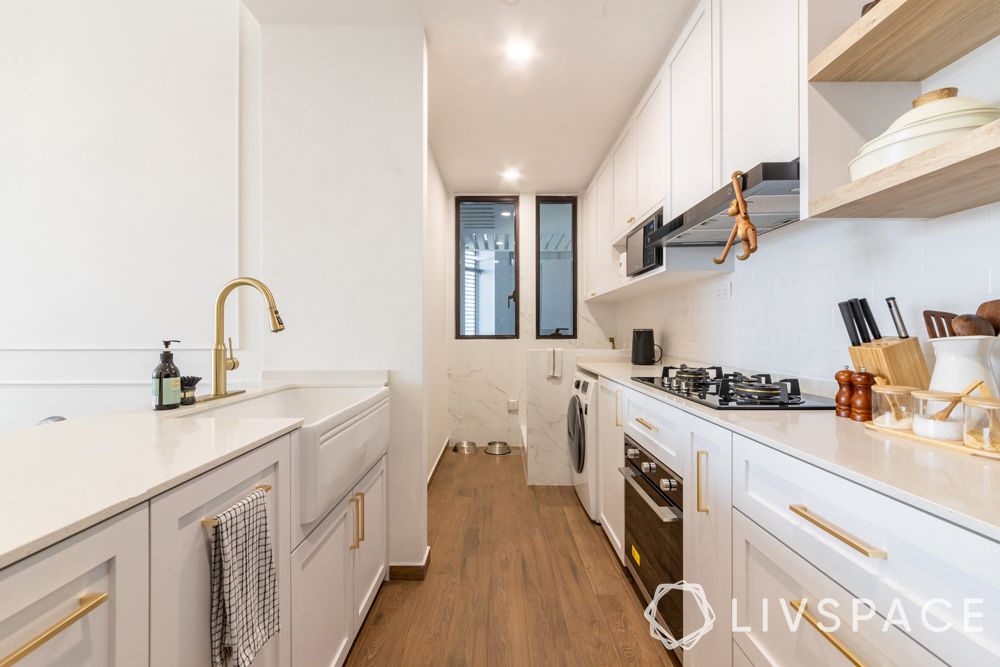 Origin
Originating in Germany and Scandinavia, farmhouse architecture began as a need for homes built on farms with the purpose of housing farmhands. In the modern day, most homes have elements borrowed from the farmhouse design style and made to merge with the rest of the look.
How to get this design style for your home?
If you want to infuse some farmhouse warmth into your modern home, here's how you can go about it:
Opt for ample storage and functional furniture which is the need of the hour
Wood should be the primary material to build or design a home with farmhouse aesthetics
Design the kitchen in a way that it looks spacious
#9. Rustic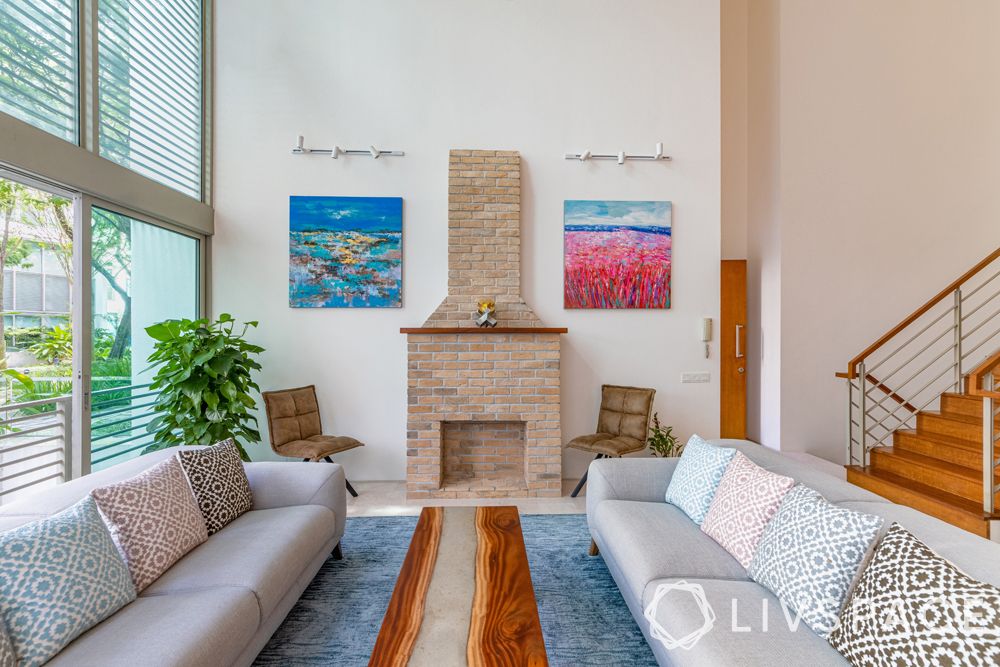 Origin
The rustic interior design style is based on early settlers throughout the US who made their homes far from cities during the 19th century. Many of these pioneers brought little to no furniture with them as space was scarce and furniture was heavy. Therefore, this design style includes a lot of functional spaces and warm wooden textures.
How to get this design style for your home?
Rustic is one of those interior design styles that can be tricky to nail if you do not play by the rules. Check them out here:
Create a relaxing atmosphere by using natural elements like wood and stone
Do not worry about clean lines. Rather go for statement zones that stand out
Think iron accents and hardwood flooring as focal points
Exposed brick walls can also be incorporated into the design
#10. Mediterranean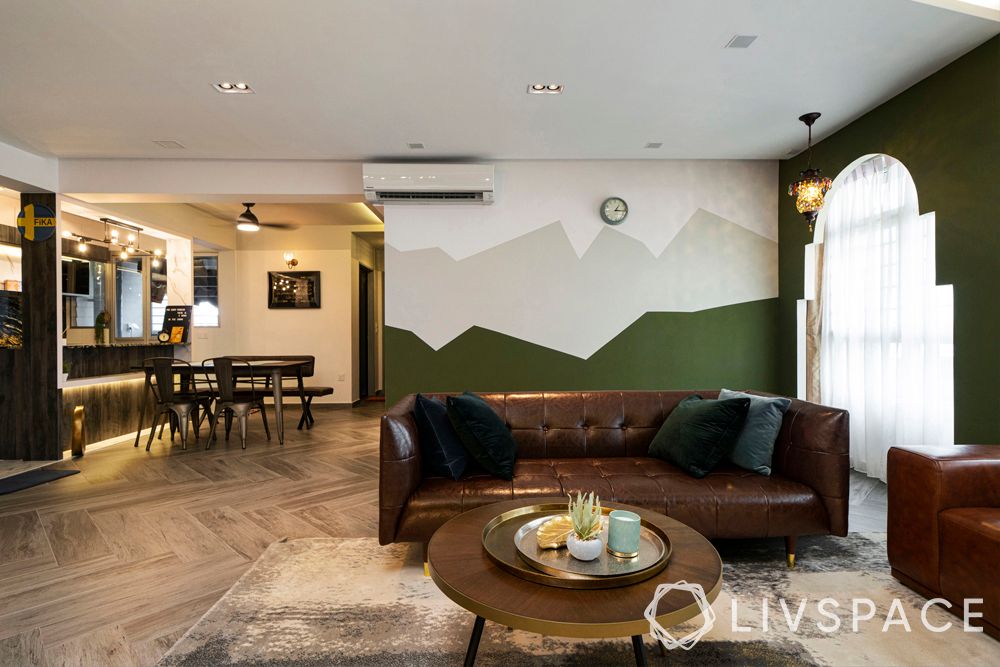 Origin
Originated in the 1920s, the Mediterranean design style resembles the aesthetics of Mediterranean villas. Curvy furniture and arches are quintessential to this design theme. A blend of Spanish and Italian architecture, Mediterranean homes are dominant in warm-weather locations.
How to get this design style for your home?
This is one of the rare but interesting interior design styles that can really stand apart from the crowd. Try these tips to get the look:
Simple yet elegant design aesthetics should be followed
Warm woods, bright walls and curves are the key players of this design style
Stone details, metal work and carved doors and windows should be incorporated
Make sure you have enough lighting options to illuminate your home from the inside
We are sure you did not know all the 10 interior design styles we've just mentioned. Think out of the box and let your next renovation be inspired by one or more of these design themes.
Meanwhile, here are some great condo designs by our designers: Our Favourite Condos and Ideas From Each That You Must Borrow.
Send in your comments & suggestions to editor.sg@livspace.com.