The only things more stressful than the actual process of renovating your home are the last minute surprises when it comes to renovation cost. So it is only fair that you are in possession of all the facts before you start renovating. Essentially, there is no single point answer to the question of what would be the ideal or average home renovation cost Singapore. This is primarily because the final price of renovation is a function of several products and services.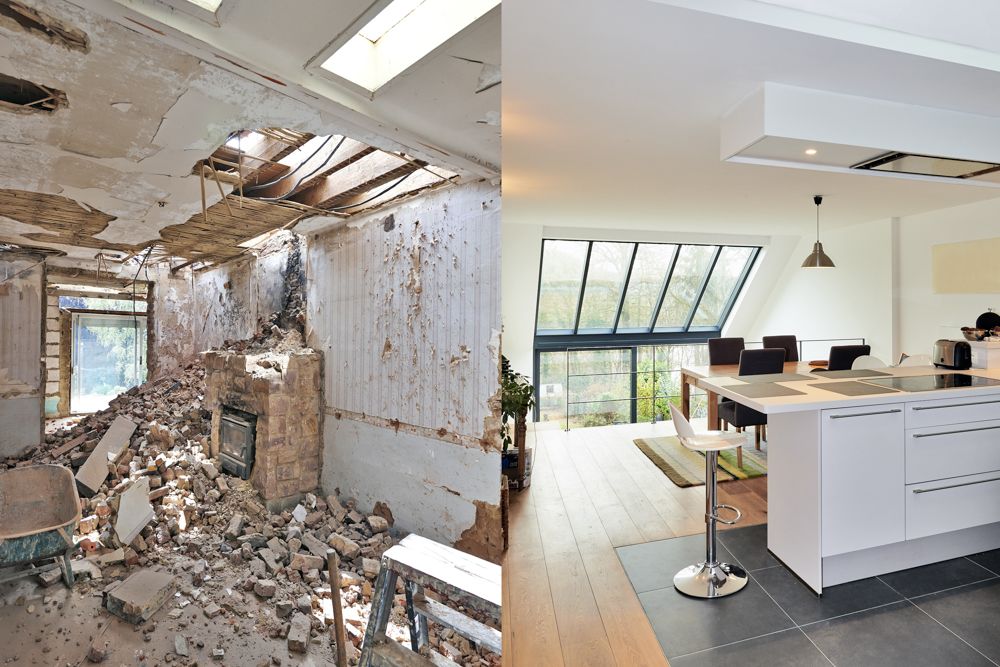 So to begin with, let us take you through the various factors that affect the renovation cost Singapore of your home in one way or another.
#1: Type of property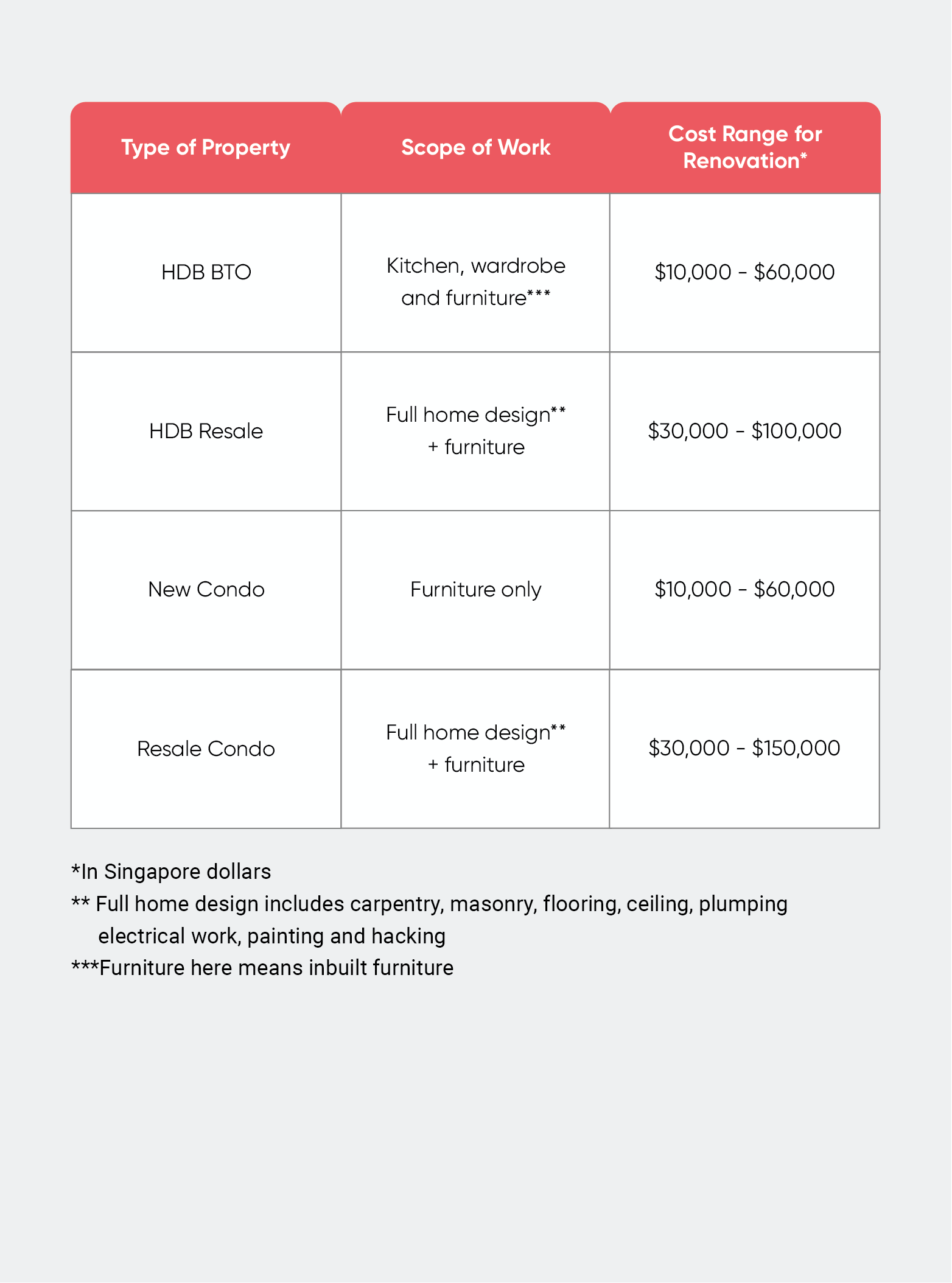 Unless you own a private property, any home you buy in Singapore will belong to one of the following categories:
1. HDB BTO
HDBs are, basically, new government subsidised housing that are built-to-order. Such homes are already furnished with the basic amenities and thus, don't require extensive renovation. Moreover, since new HDBs are highly subsidised by the government, they come attached with several rules and regulations pertaining to renovation. For example, the bathroom and kitchen floorings or tiles cannot be hacked for a new HDB BTO that is less than 5 years old.
2. HDB Resale
Typically, for HDB resale properties, these older homes have an older layout and might have amenities that don't necessarily match modern sensibilities. Hence, these homes require an extensive overhaul of their interiors with hacking, plumping, electrical, painting, masonry and all other renovation services. Also, the rules regarding the renovation of older HDBs are much more relaxed. Naturally, the renovation cost in Singapore for these properties tends to be higher than HDB BTOs. Find out Everything You Need to Know About Renovating Your HDB for more information. .
3. New Condo
Condos, which are privately owned, non-subsidised residences in Singapore, cost more than HDBs. However, these home come equipped with more amenities and high-end furnishings. Newly launched condo units have sleek looking interiors complete with all the essential fittings and usually good quality natural stone flooring. Hence, an end-to-end renovation, is rarely if ever, necessary.
4. Resale Condo
The scope of renovation and its imminent cost depends on how old the condo is and how many times ownership of the unit has changed. The cost of renovation tends to be higher for condos than HBDs because it is a fair assumption that people who buy condos have a higher budget for renovations. For a better idea, find out How Can an Interior Designer Help You With Your Condo.
#2: Size of home
The larger the home, the higher the cost of renovation. This is provided all other factors like type of property, scope of work etc. are constant. Hence, this comprehensive table of Livspace costs for renovation gives you a fair idea of how much you will end up spending for renovating depending on the size of your home.
If you still think that you might be going over budget, check out 7 Smart Hacks to Renovate Your Home on a Tight Budget.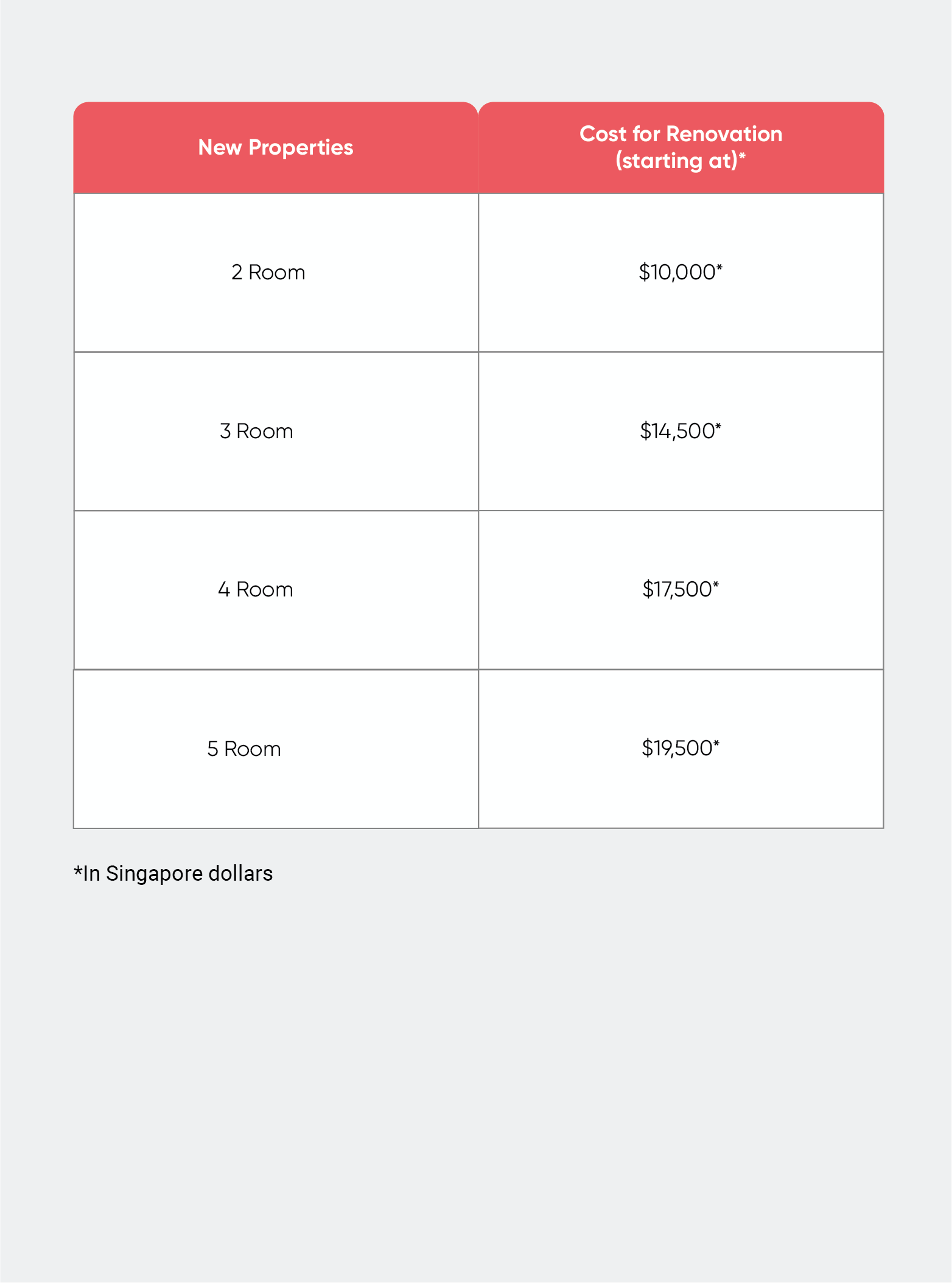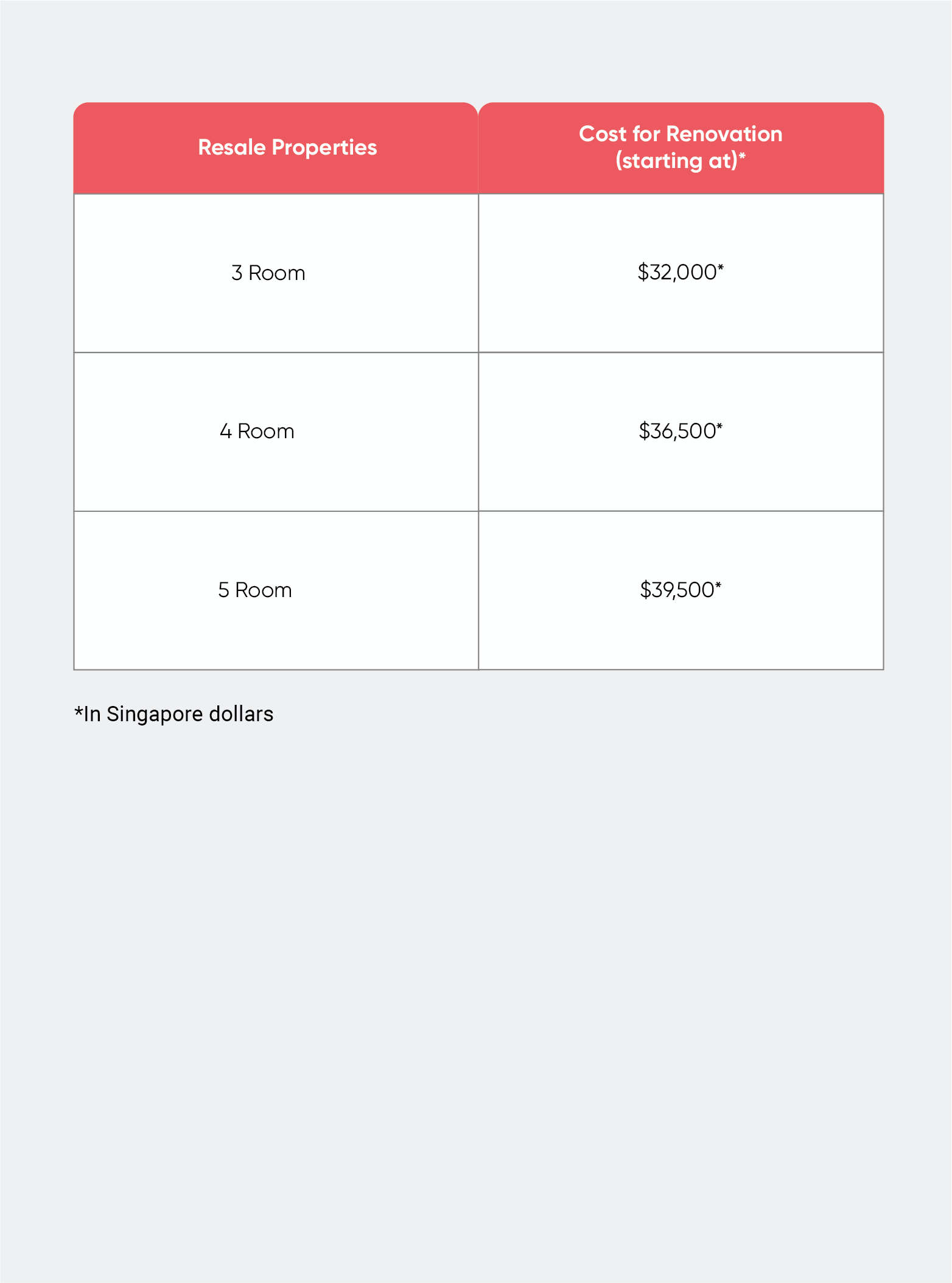 #3: Scope of work
Renovating a home is not a simple task with just one type of work. It is a mammoth project with various kinds of services that involve people with different skill sets. Some of these services cost more than the others. The following table breaks down renovation costs with regard to the percentage of the total cost that goes into a particular kind of service.
You can roughly estimate the ultimate cost of renovating your home depending on which of these services you will be opting for.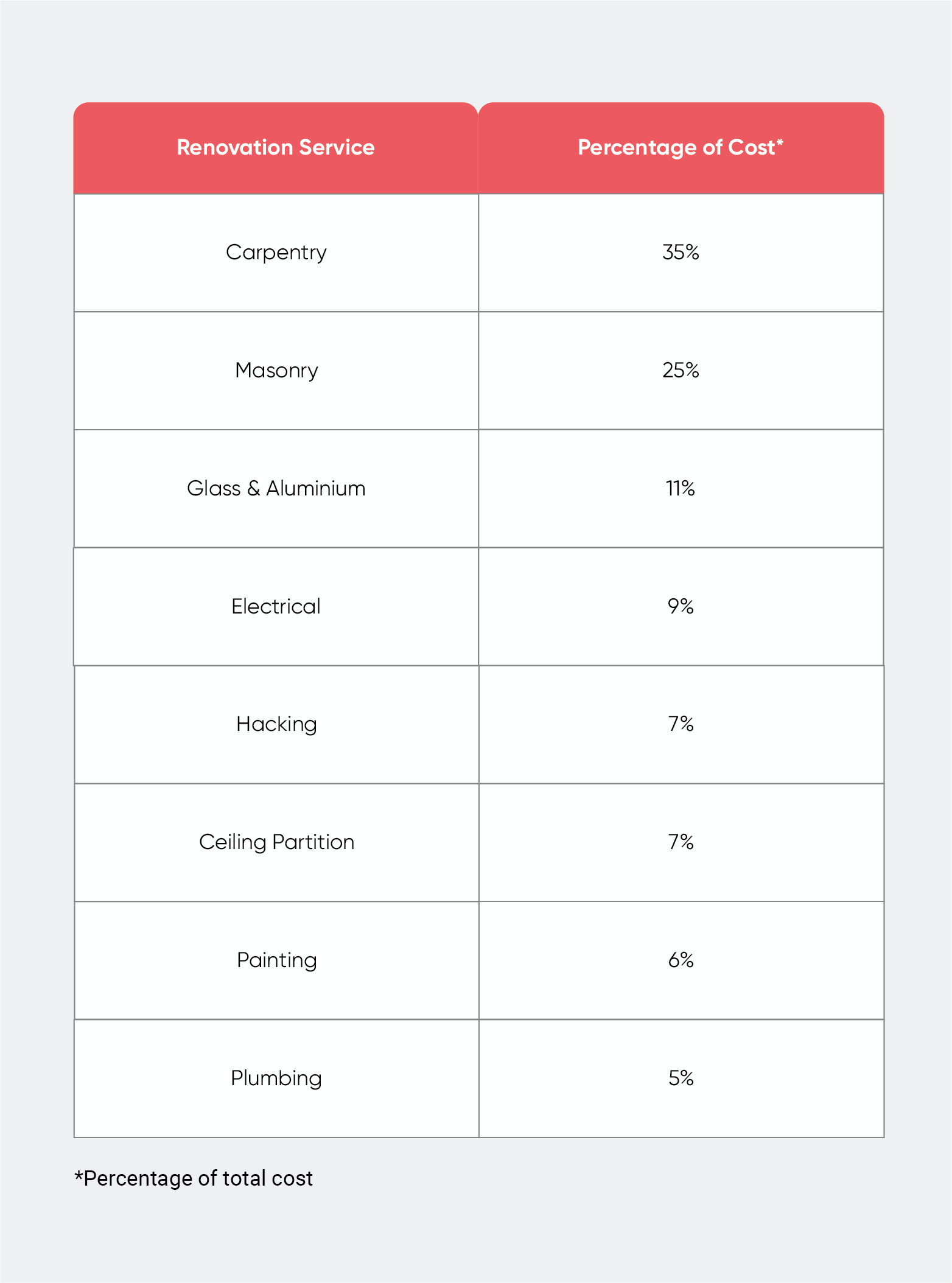 #4: Furniture you buy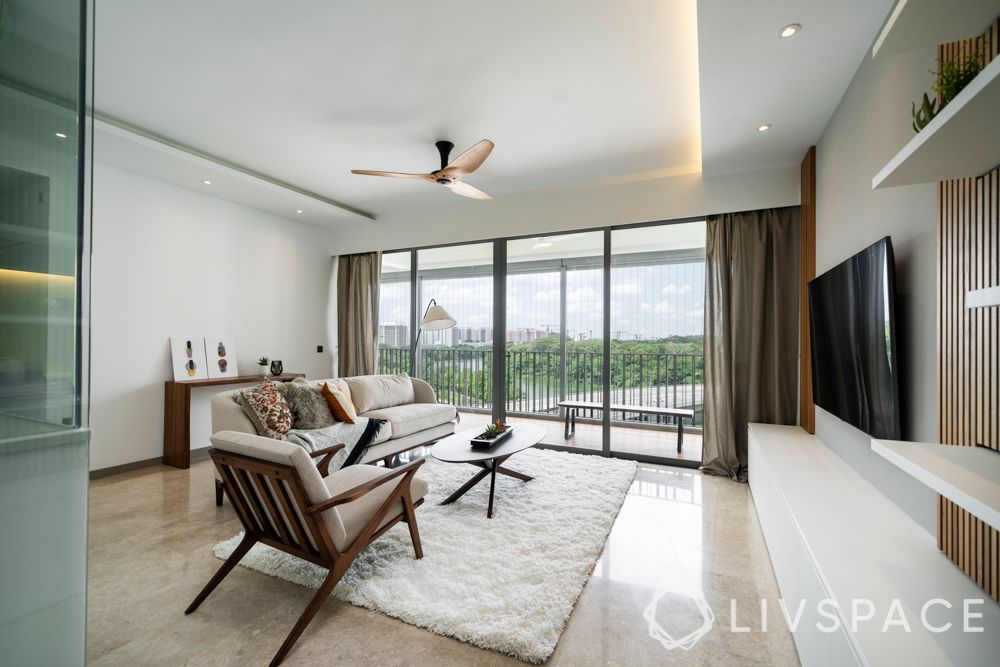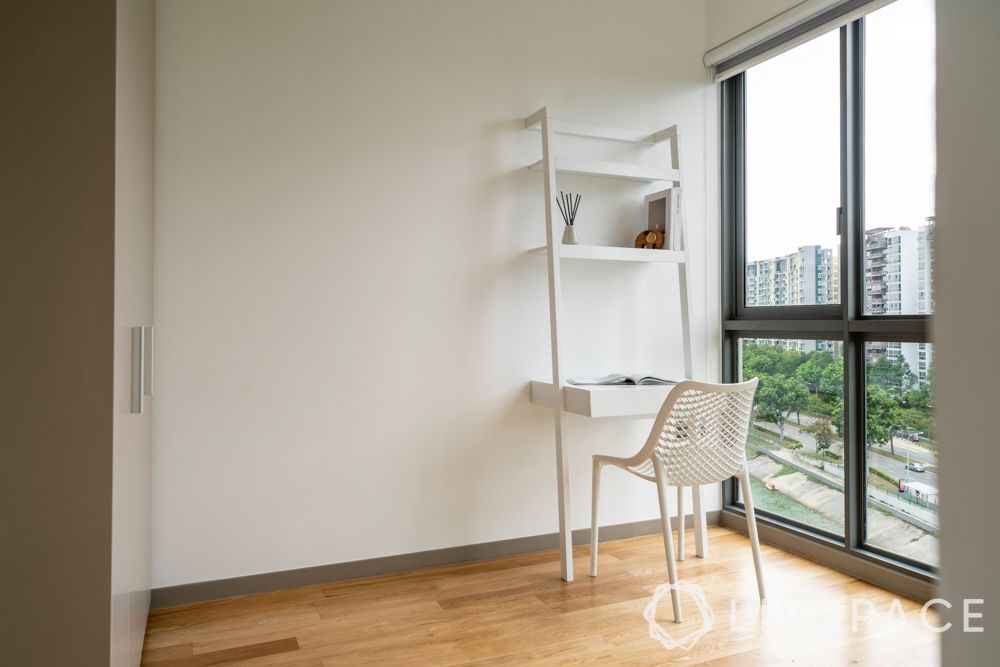 Movable furniture (not inbuilt) is a major component of the cost of furnishing your home. Typically, this cost is not calculated within the renovation cost Singapore. It is uncommon, but not unheard of, for homeowners to use their existing furniture if the items are in good condition. That said, since space is a major constraint in most Singaporean homes, it's best to buy furniture that fits into the scope of your new home.
#5: Hiring an interior designer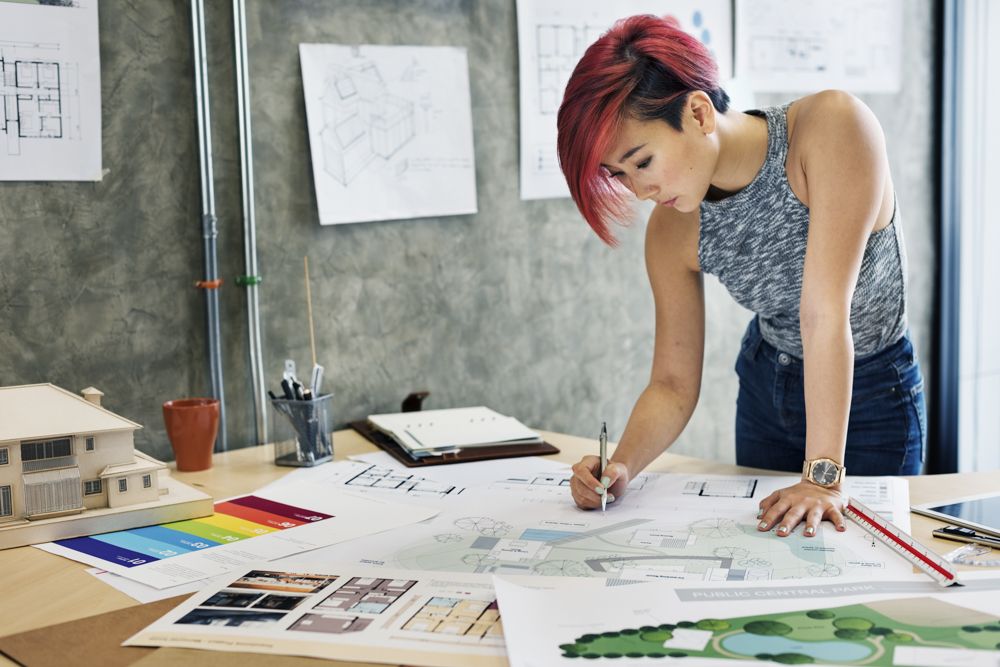 Are you wondering if and why you need an interior designer to renovate your home? Let's help you out with the reasons.
You definitely need an interior designer to furnish your home because;
Interior designers are experts who understand that good design is far more than just aesthetics
They can help you create functional spaces and make the most of the space available in your home.
They personalise spaces in your home to reflect your personality, taste and style
If you want go for a specific style like Scandinavian or Industrial, there is no one better than a designer to renovate your home
You can save both time and money by avoiding expensive renovation mishaps and mistakes
When you sign up with Livspace, we include the cost of your interior designer (and quote it separately) with your price estimate. This gives you complete clarity on how much you are paying for their services. So when you meet your interior designer for the first time, make sure you ask these essential questions.
What increases the cost of renovation?
Certain specific design features tend to shoot up the cost of renovation for homes. This is because the price of these elements is substantially higher than other alternatives within their category. Here's a comprehensive list of features that can be considered 'splurges' when renovating your home.
#1: Fancy tiling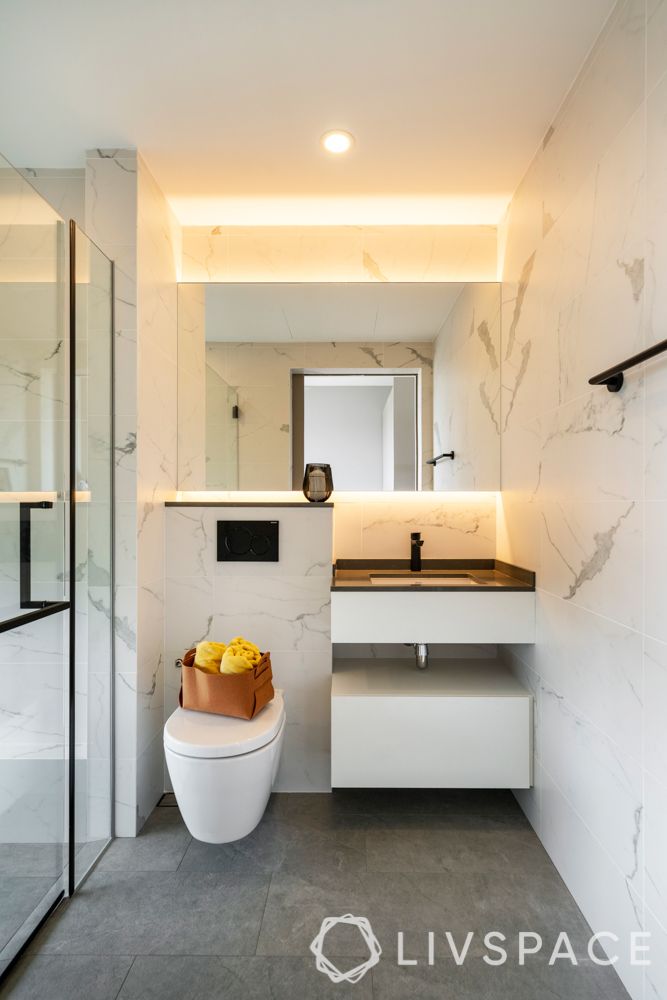 Any tiling that is not the usual vitrified tiles costs more. So if you want to opt for novelty with marble, granite or mosaic tiles for flooring, expect a substantial rise in the renovation cost Singapore. Similarly, you want to use tiles of larger dimensions (more than 2 x 2 inches) for a seamless look, the compensation is higher.
#2: Ceiling details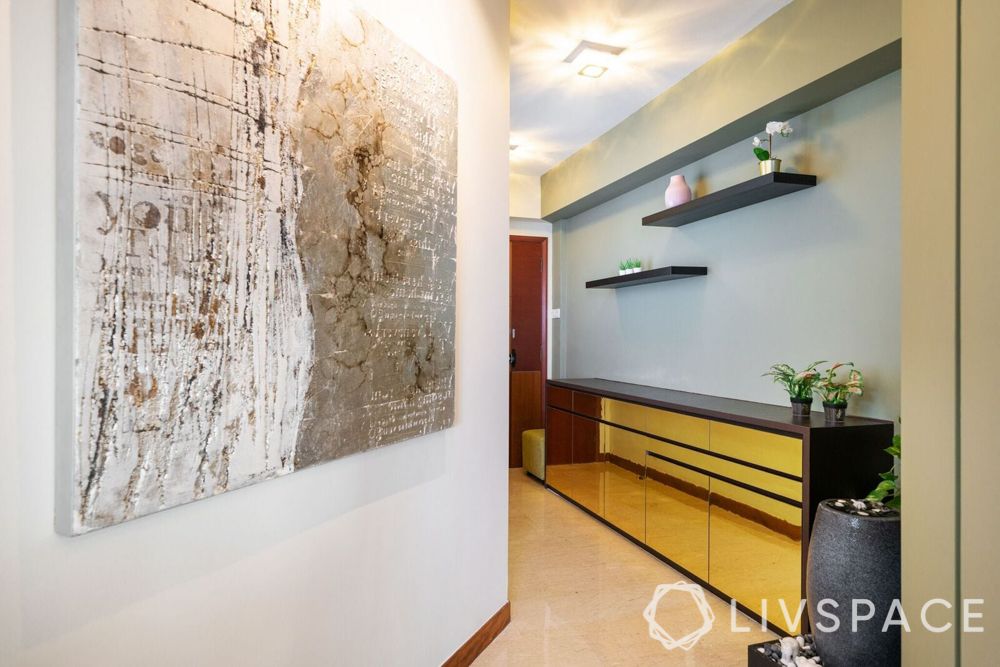 Detailed false ceilings tend to cost quite a bit when compared to normal ceilings. If you want features like rounded details, L-box or U-box shapes or cove lighting for your ceiling, expect the final price to shoot up.
#3: Platform beds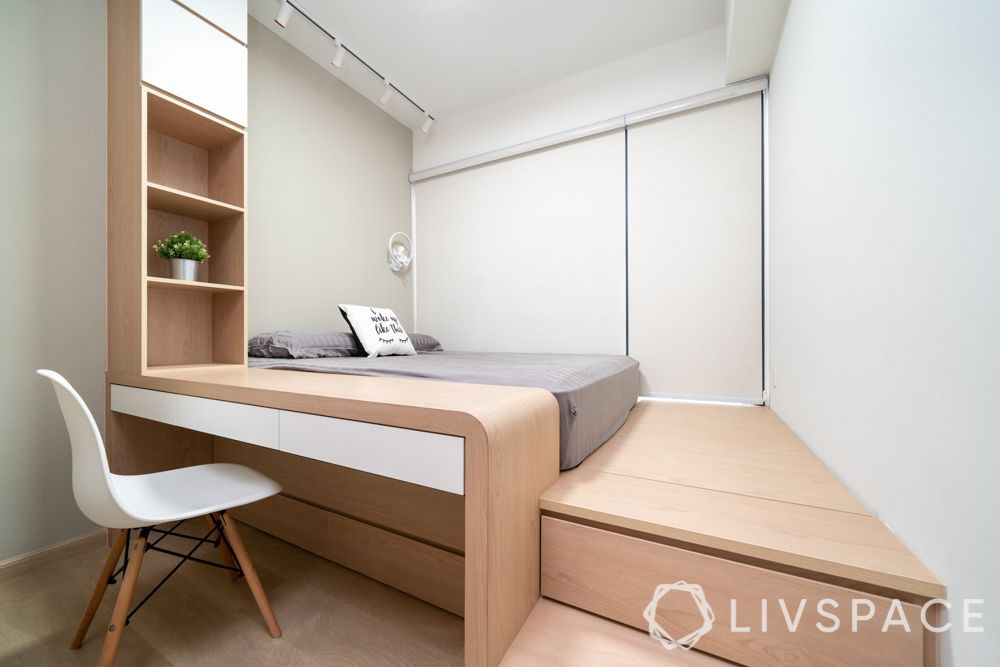 Platform beds are extremely popular in Singapore, especially for compact bedrooms. This kind of bed does away with the necessity of having a wardrobe in the bedroom. However, the carpentry charges for this type of integrated and multi-functional furniture is higher than usual.
#4: Shelving and partitions
Open shelves and niches (mostly with profile lighting) are an expensive design feature to have in your home. Moreover, installing partitions too tends to raise the final cost of renovations to a large extent.
#5: Furniture in unusual shapes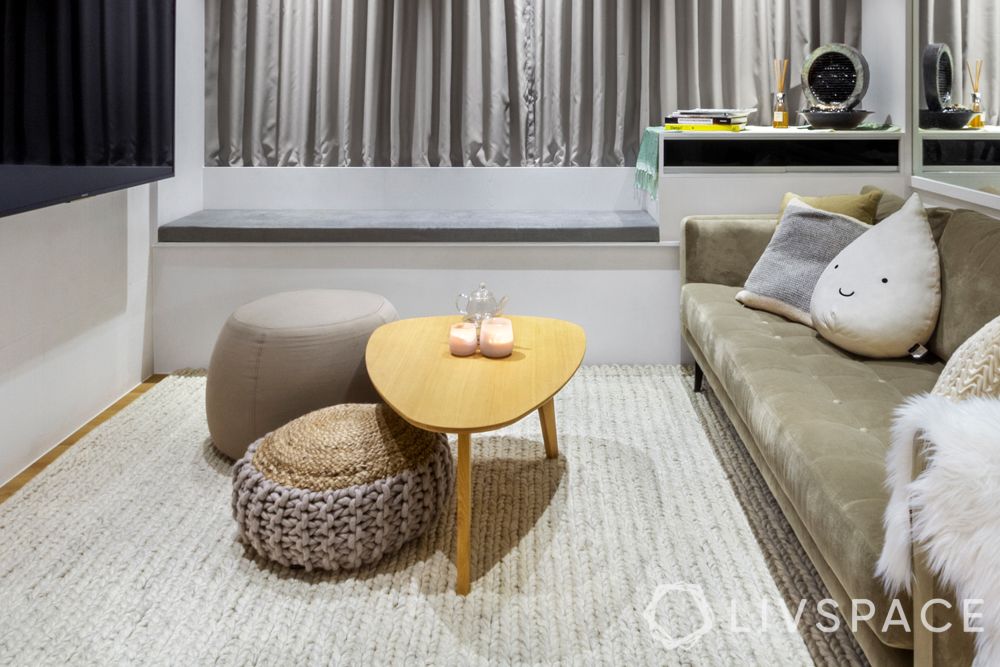 Rounded furniture or furniture has oblique/unusual shapes (like hexagonal, abstract etc.) costs more than furniture in common forms. The prior has more novelty and stands out as a statement. If that is your intention, the extra cost is a matter of choice.
How to finance your home renovation?
Now that you know how much you are going to be spending on your home renovation, are you worried about how to fund your home renovation? Are you planning to take a renovation loan or can you manage without it? We have a solution for all the worried homeowners—UOB Personal Loan, which can help you overcome cash flow shortfalls for various purposes, including home renovation.
How is a renovation loan different from a personal loan?
While a renovation loan is a loan facility that can be availed solely for the purpose of refreshing or renovating one's home, a personal loan allows more flexibility. The sanctioned fund under a personal loan can be used at the user's discretion, including renovation of their home.
Personal Loan
Renovation Loan
Loan amount
Up to 4X renovation loan
Capped at S$30,000
Usage
Flexible
Only for renovation
Cash disbursement
Almost instant
(Disbursed to
customer's savings
account)
Time-consuming
(Disbursed to
renovation company)
Paperwork involved
Negligible
Can take some time
It is generally wiser to opt for a personal loan as it allows greater flexibility. This is an important consideration because one may be able to use the funds for issues that arise unexpectedly such as cash flow shortfall or you can even set aside some of the funds for furnishing your new home.
How can Livspace help you with your personal loan?
We at Livspace have tied up with UOB as our banking partner for renovations. As a part of this strategic tie-up, UOB is offering interest-free personal loans* to individuals for the first year. You can borrow up to 5 years with affordable fixed monthly repayment and get your interest waived for the first year. So, your home renovation budget is taken care of and is in safe hands.
It is as easy as eating your favourite dessert—takes just 15 minutes. Yes, all you need is 15 minutes of your time to fill up the application form and get your loan processed.
Now that your mind is at rest regarding the cost of renovating your home, find out more here: Your 2021 Home Renovation Cost Guide for Every Type of Property.
We would love to hear from you! Write to us at editor.sg@livspace.com.