Buying a new home isn't an easy process – it involves multiple steps and requires you to make numerous crucial decisions. Among these, one of the most crucial decisions that you must consider is whether to choose HDB OCS.
OCS or Optional Component Scheme is a plan offered by the HDB wherein you can choose to outfit your home with some necessary fittings and fixtures. However, whether this HDB or BTO OCS is a good idea or not will depend upon your requirements and circumstances.
So, before you make your choice, read this comprehensive guide on HDB OCS.
What Is HDB OCS?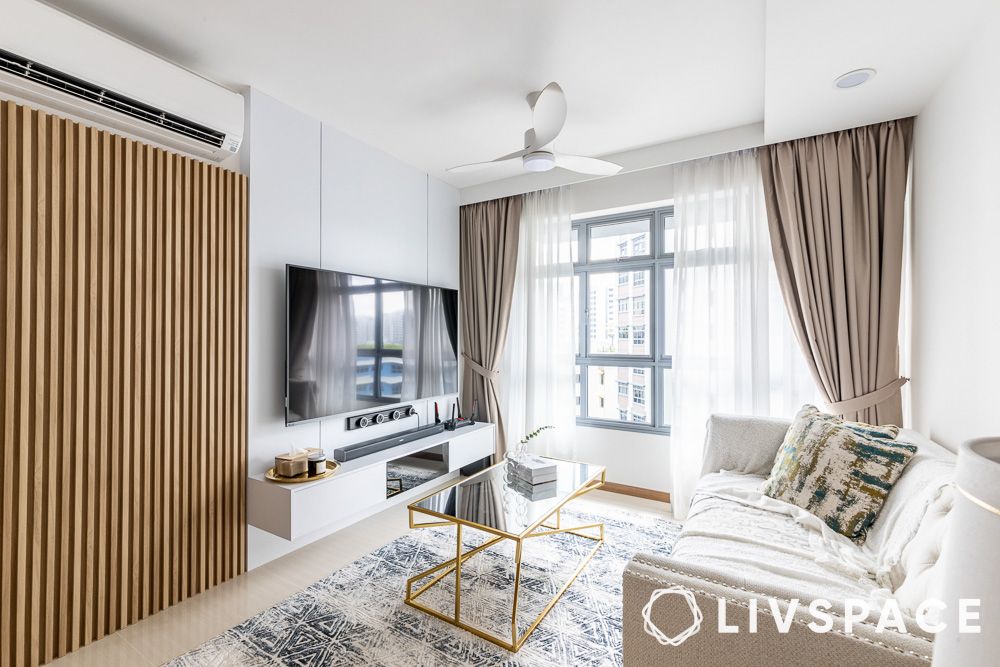 So, what is the HDB Optional Component Scheme? This scheme, offered by the HDB, allows you to include the cost of fixtures and fittings within your overall BTO cost. As such, you can choose to pay the amount with your CPF and mortgage loan.
The main advantage of the HDB OCS option is that certain pertinent parts of your home will be ready and completed at the time of handover, thereby reducing the effort you need to put in.
Also Read: HDB BTO Renovation FAQ: What You Need to Know Before Getting the Keys to Your HDB BTO
Components Included in the Optional Component Scheme
Here are the main components that are included in the HDB BTO optional component scheme:
Internal Doors
3-Room Flats: 2 Bedroom
and 2 Bathroom Doors
4- & 5-Room Flats: 3
Bedroom and 2
Bathroom Doors
HDB OCS Flooring
Bedroom: Vinyl Floor Strips
Living/Dining/Dry Kitchen:
Polished Porcelain BTO OCS Tiles
Sanitary Fittings
Wall-Mounted Wash Basin
With a Tap Mixer
Shower Set With a
Bath/Shower Mixer
Cost Breakdown: HDB OCS Prices vs Interior Designer Prices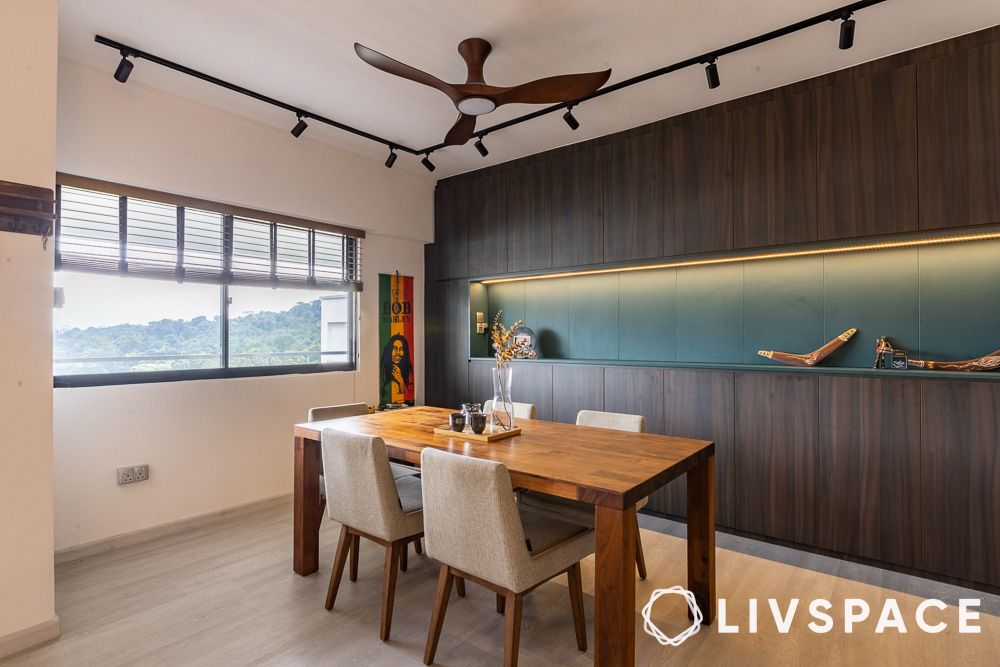 While deciding whether you should choose HDB OCS or go for an interior designer (ID), the cost plays a vital role. In the following table, we've tried to break down the cost differences between the two to help you decide:
Flat
Flooring for Living/
Dining and Bedrooms
Internal Doors and
Sanitary Fittings
3-Room (OCS)
S$3,000 – S$4,000
S$2,000 – S$3,000
3-Room (ID)
S$6,860 – S$7,080
S$3,200 – S$4,200
4-Room (OCS)
S$4,500 – S$6,000
S$3,000 – S$4,000
4-Room (ID)
S$10,000 – S$12,000
S$3,600 – S$4,750
5-Room (OCS)
S$6,000 – S$7,000
S$3,000 – S$4,000
5-Room (ID)
S$12,500 – S$13,500
S$3,600 – S$4,750
All costs mentioned above are indicative. Actual prices will vary depending upon multiple factors like size, materials, finishes, labour costs and more.
Pros and Cons of BTO OCS
The following infographic will help you understand the advantages and disadvantages of the optional component scheme: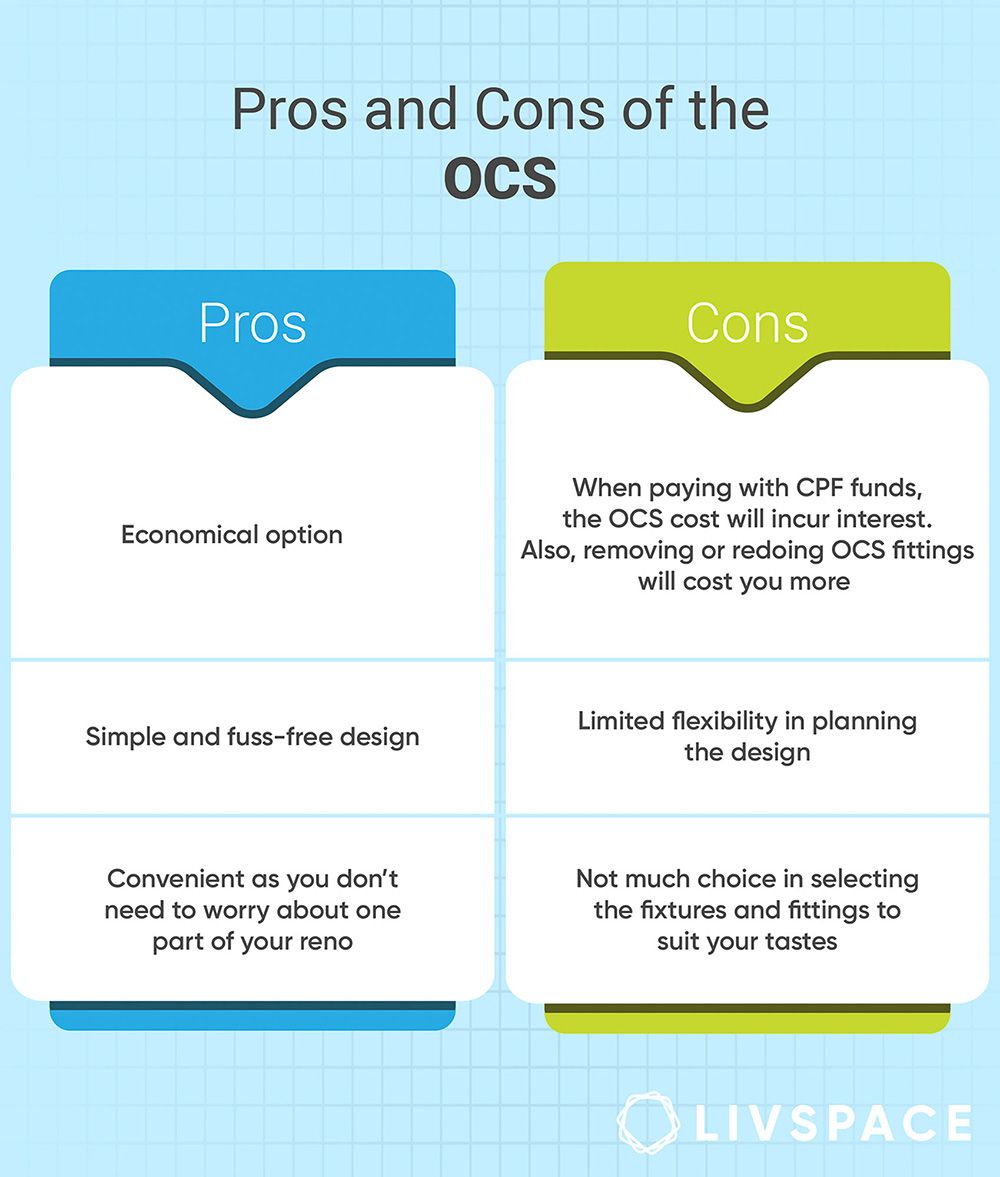 Should You Choose the BTO OCS?
While the HDB OCS is a great option for homeowners who have a tight budget, as it allows you to use the CPF to pay for some parts of your BTO renovation. However, opting in for this scheme will not allow you the flexibility to choose certain parts of your reno.
In addition, if you want to change anything, that can prove to be more expensive than just getting the fixtures installed yourself. Therefore, before choosing the HDB BTO OCS, ask yourself the following questions: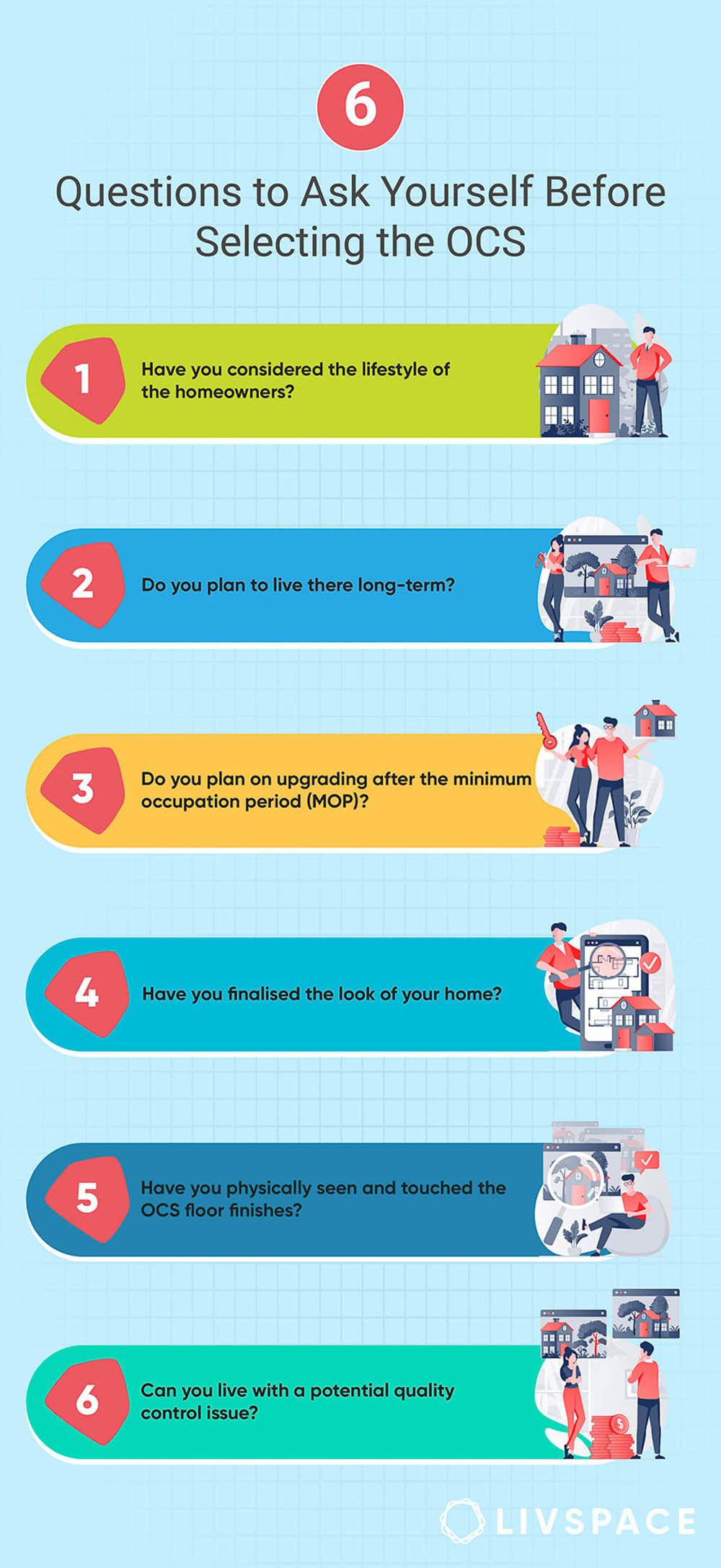 The Verdict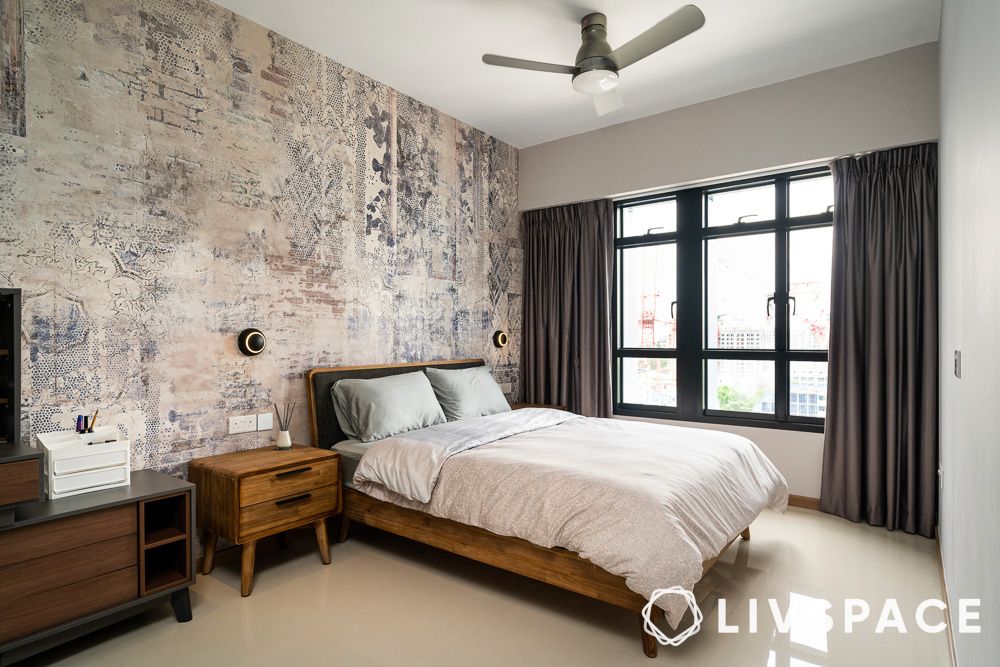 So, what's the verdict? Should you opt in for the HDB OCS? If you want to avoid paying directly by cash or other methods, go for the HDB optional component scheme, as it allows you to pay via your CPF. However, do keep in mind that the amount you pay will incur interest as it's a part of your housing loan.
However, if there is a specific theme you want for your home, or you want to be selective about the finishes and materials, avoid the HDB BTO optional component scheme as it will not allow you the flexibility to choose.
Also Read: How Much Should an HDB BTO Package Cost for 3, 4 and 5-room BTOs?
Check out this black, white and grey HDB:
How Can Livspace Help You?
We hope you found our ideas useful! If you want beautiful interiors for your home, look no further. Book an online consultation with Livspace today. Have some comments or suggestions you'd like to share with us? We're all ears! Feel free to write to us at editor.sg@livspace.com.
Disclaimer: All contents of the story are specific to the time of publication. Mentions of costs, budget, materials, and finishes can vary with reference to current rates. Additionally, the designs showcased within the story are subject to availability and will vary based on the year the homes were designed in. Consult our designers for more details on the latest designs, pricing, and availability.
FAQs
1. What Is OCS in HDB?
OCS or Optional Component Scheme is offered to home buyers. This scheme allows you to opt-in to certain items, fixtures and fittings. The HDB will provide these items and the cost will be added to your total cost.
2. How Much Is OCS HDB?
The OCS packages differ based on the size of your home. For a 3-room flat, the cost range for internal doors and sanitary fittings is $2,000 – $3,000.
3. What Is Included in OCS?
Internal doors, flooring and sanitary fittings are included in OCS.
4. Can I Opt Out From OCS?
Yes, the OCS is completely optional and you can choose to opt out of it.