Being a first-time homeowner can be quite an overwhelming experience; especially if you're navigating a new or unfamiliar property. However, if you've purchased a brand new BTO flat at a property like Kallang Breeze, we can help lessen that burden. The Livspace designers came up with a sample Kallang Breeze interior design plan and renovation ideas for a typical 4-room flat, and we hope you'll find some inspiration for your own home!
How Can Livspace Renovate Your New Kallang Breeze HDB BTO Flat?
After you familiarise yourself with the locality, you're still left with one burning question. If we can take a guess, it probably has something to do with your interior design for Kallang Breeze BTO. While you can easily turn to the internet for some tips and tricks, you still wouldn't find anything specific to the home you're moving into.
This is where Livspace can help you bridge that gap by showing you exactly how your new Kallang Breeze interior design can look and feel. Don't believe us? Perhaps taking a tour of Marcus and Cheryl's interior design in Kallang Breeze can convince you. Here are five Kallang Breeze BTO interior ideas by Livspace to help you conceptualise your new home: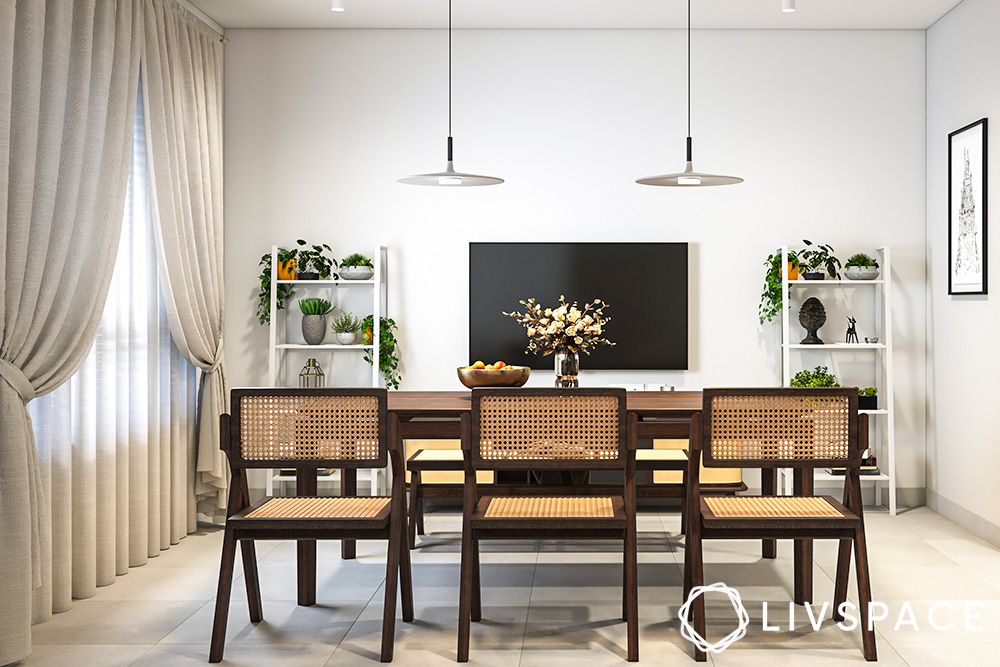 Marcus and Cheryl's Kallang Breeze interior design follows an open layout that hosts both living and dining areas in one space. In such cases, you might think you have to choose between the two spaces when it comes to decorating it with furniture. Here's where we'd like to bring in some space-saving ideas to help you plan your interior design in Kallang Breeze better.
Here's How Livspace Can Design Your Living Room:
Instead of buying furniture for both areas, use multifunctional furniture that doubles as both living and dining seating. Our designers make use of a simple bench between the living room and dining table to add seating to both areas. This helps the couple use the bench for both eating meals and watching TV, depending on the need.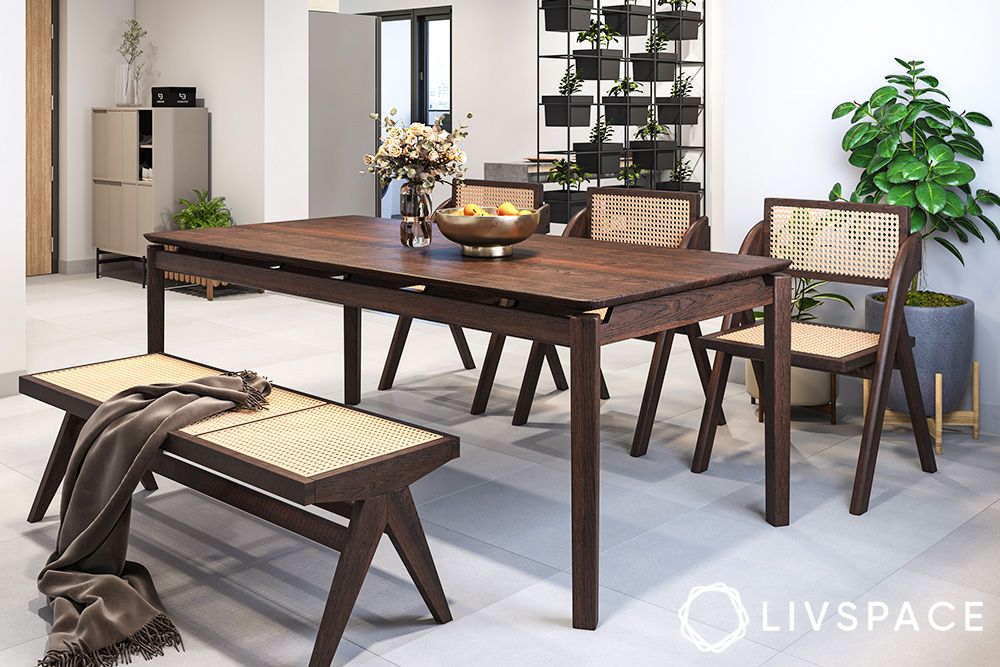 If you love entertaining guests as much as the homeowners of this Kallang Breeze interior design do, we have just the trick for you. Since you don't want to overpower your open-layout with too many furniture items, go for multifunctional pieces instead.
Use an extendable dining table to add extra room while hosting guests or serving a large spread. These space-saving additions can easily boost your interior design for Kallang Breeze BTO and make it more functional than ever.
Also Read: How to Get the Best Design for your Upcoming BTO in Yishun Glen
#2: We Use an L-Shaped Kitchen Layout in Smaller Spaces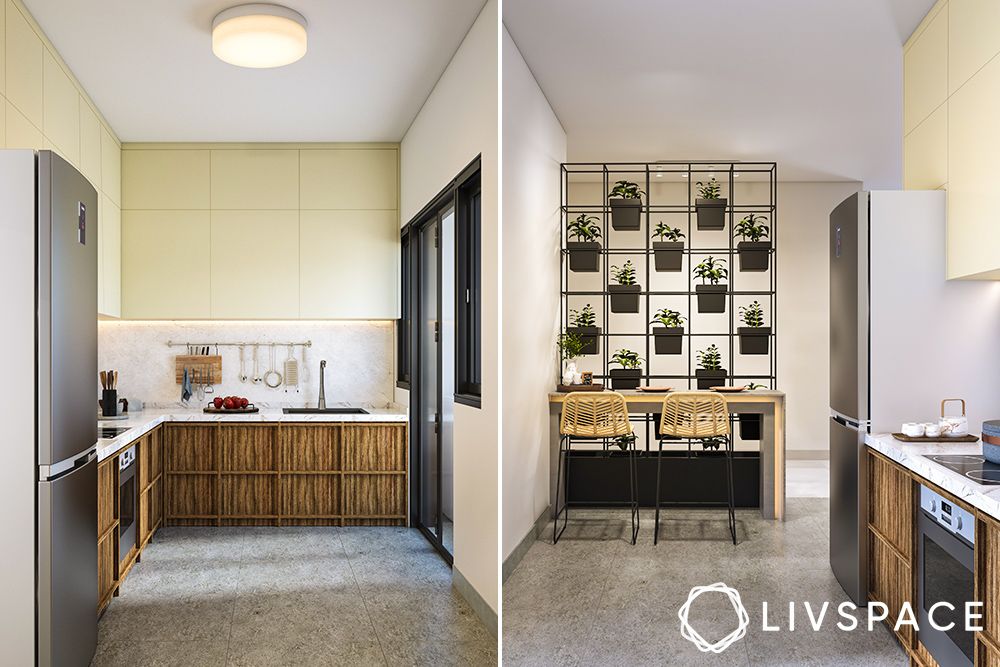 Typically, u-shaped kitchen layouts are ideal for smaller spaces. However, an L-shaped layout can do just as well in compact spaces. In fact, an L-shaped layout is great for corner spaces when you do not have sufficient wall space for extra cabinets. Since one wall of the kitchen in this Kallang Breeze interior design opens out into the service yard, the remaining space is fully optimised.
Here's How Livspace Can Plan Your Kitchen:
Here, we opted for loft storage to ensure that we're making the best use of this layout, while keeping the kitchen storage-intensive. Similarly, we've added a simple wall partition to close out the open kitchen layout, and create a breakfast nook. The partition acts as a niche to hold a simple breakfast counter and additional seating space in this Kallang Breeze interior design.
PS: Did we mention these homeowners LOVE plants? In fact, every single room in this home features at least one plant. Can you spot how many plants this interior design for Kallang Breeze BTO has? We'll reveal the answer towards the end of the tour, so be sure to count!
#3: We Employ Clever Space-Planning to Get the Most Out of Your Master Bedroom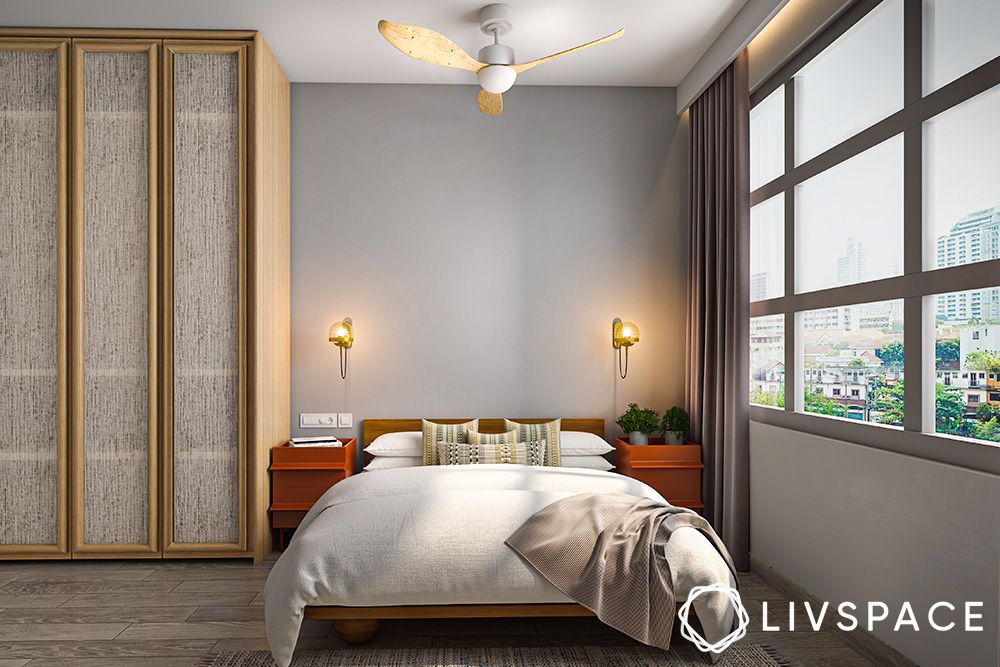 When you have a large window that takes up most of your wall space, chances are you need to get creative with storage. This is largely because bulky furniture minimises the amount of natural light coming into your room, when placed before a window.
Here's How Livspace Can Design Your Master Bedroom:
Let's take a page out of these Kallang Breeze BTO interior ideas where our designers opt for a tall wardrobe unit in the corner of the room. The height of the wardrobe makes up for the limited storage space in the room, opening up the remaining floor space. Similarly, to enhance the window area and play on the openness of the room, we use muted colours to accentuate the space.
However, all-netural everything can have its limitations. To combat this, our designers threw in a pop of colour for the headboard. If you look closely, you'll also notice the seamless continuity in design across this Kallang Breeze interior design in terms of material finishes and colours.
#4: We Turned a Spare Room Into a Recreational Space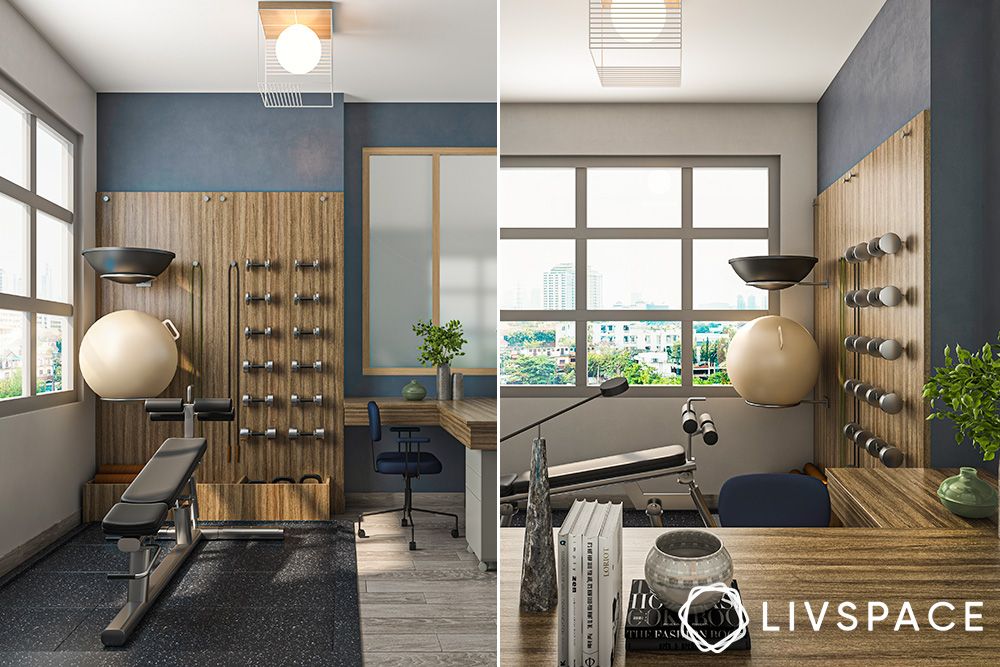 What would you do if you had extra space to spare? While the possibilities are endless, we'd like to show you a couple of Kallang Breeze BTO interior ideas that worked for this home.
Here's How Livspace Designs Recreational Spaces:
We converted the second room in this flat into a combined gym and home office. Our designers split the room into two functional areas: for work and working out, without disrupting the two.
The finish on both the wall storage and desk tie the room together, creating a uniform look in this Kallang Breeze interior design. Similarly, we use frosted glass for the partition wall to keep this space private, lessening distractions while working/working out.
#5: We Play With Different Tiles and Lighting Accessories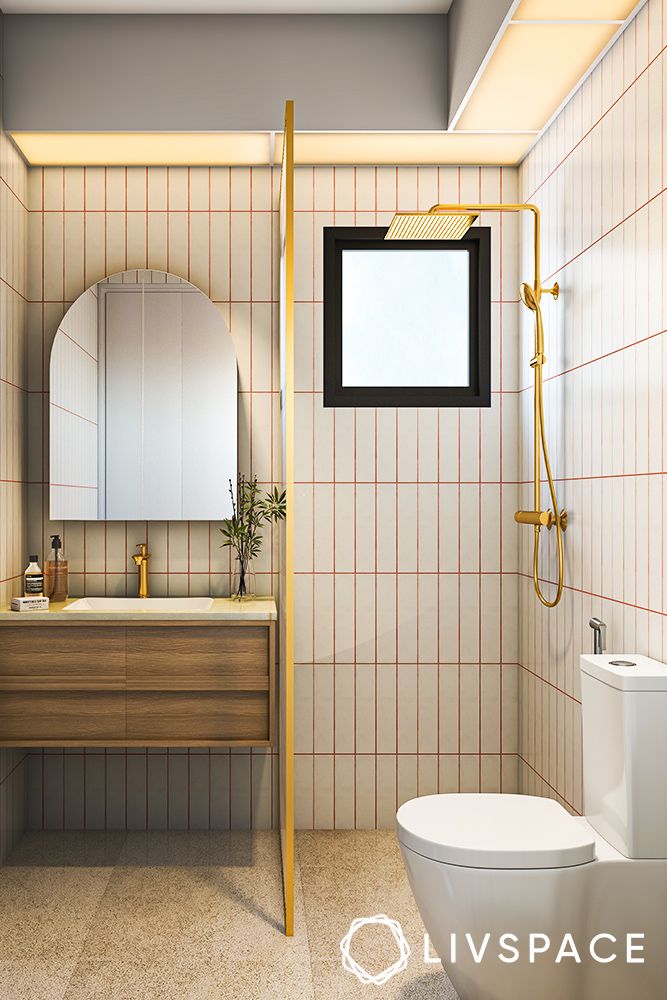 You might think there isn't much to do when it comes to designing your bathroom. The bathrooms in this Kallang Breeze BTO are here to prove otherwise. While the design of both bathrooms takes on a simple approach, there are a few small touches you can steal inspiration from. The first being lighting.
Here's How Livspace Can Design Your Bathroom:
Our designers use warm LED ceiling lights in the form of an l-shaped panel for the bathrooms in this Kallang Breeze interior design. This helps add a warm glow to the space and further highlights the bronze accents in the shower area.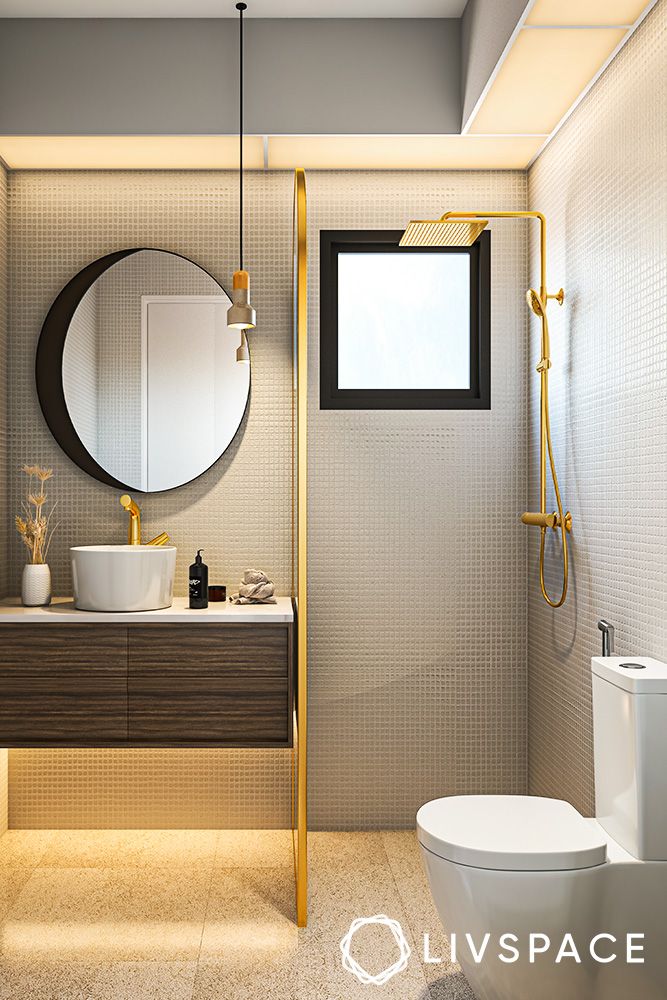 For the other bathroom, we also make use of under-cabinet lighting beneath the wall mounted wash basin. In addition, a simple pendant light helps focus more light onto the counter area for better visibility. Apart from the lighting used in the bathrooms of this Kallang Breeze interior design, another point to take home is the tiling.
Both bathrooms use different types of wall tiles, giving each space its own unique personality. Though the tile sizes vary per bathroom, the neutral colour shades make both spaces look more spacious.
Coming to the end of the tour, you might be wondering just how many plants are showcased in this home. The answer is 40!
Here's an Overview of the Kallang Breeze HDB BTO
| | |
| --- | --- |
| Name of the Project | Kallang Breeze |
| Sales Launch | February 2019 |
| Type of Project | Built-To-Order (BTO) |
| Total Number of Units Available | 411 |
| Number of Blocks and Floors | 2 blocks; 23 floors |
| Length of Tenure | 99 years |
The Kallang Breeze BTO is located near the Kallang river, thereby giving it a similar name. You can expect to be graced by a gentle breeze that moves along the riverside and straight into your comfortable new BTO. This property has two residential blocks offering both 3- and 4-room flats among the 411 units available.
Apart from property details, you might also be curious about what the neighbourhood offers. One thing's for sure, if you live at Kallang Breeze BTO, you'd never witness another boring day. Whether it's ice skating or sailing, the area has a wide variety of activities to offer both young and the elderly families alike.
Water Ventures, Kallang Wave Mall, Kallang Ice World, and Kallang Bowl are some of the nearby attractions you don't want to miss. What's more, Kallang MRT is just 480m away (or 6 minutes by foot, if you enjoy walking)!
How Can Livspace Help You?
We hope you found these Kallang Breeze BTO interior ideas useful! If you want your home to be just as beautiful, then look no further. Book an online consultation with Livspace today. Have some comments and suggestions you'd like to share with us? We're all ears! Feel free to write to us at editor.sg@livspace.com.