Not everyone has the luxury of owning Masterchef-style, hyper organised kitchens. So what? Instead of focusing on what you don't have, let's discuss what you can do with what you have. All it takes is some clever tips and kitchen accessories to organise your space and make the most of compact kitchens.
Take a look at these 7 awesome kitchen accessories that fit into the most petite of kitchens.
#1: Lazy Susan Pie Turners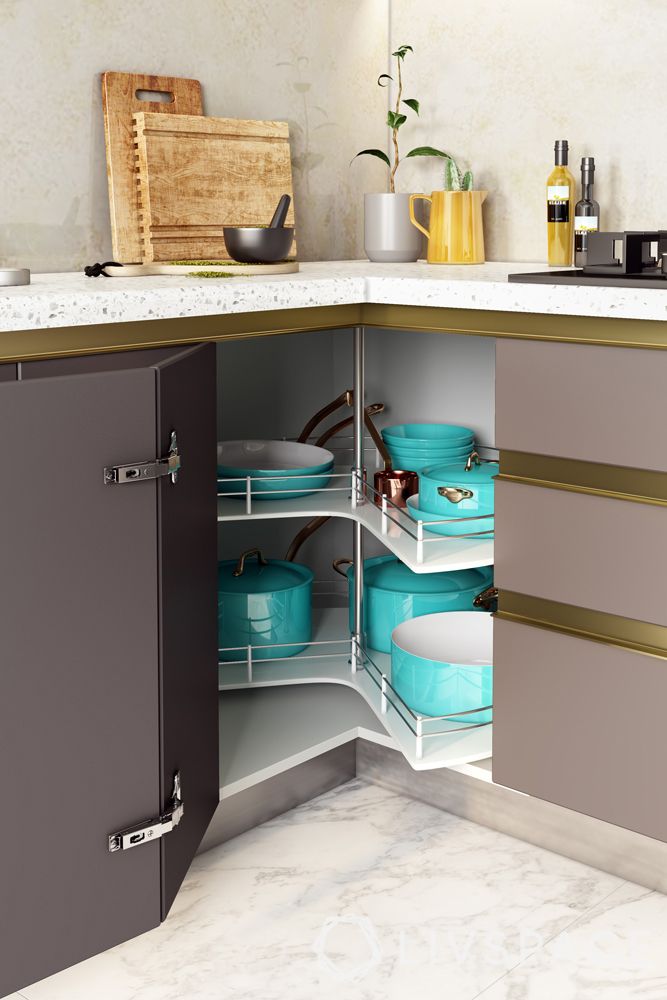 Corner space in base cabinets is always dead space because it is heard to reach the depth of the corner. But it can be utilised for a lot of storage with the right kind of kitchen accessories. You can install pull out drawers or baskets that you can pull when you need something. Similarly, revolving trays, also known as Lazy Susan Pie Corners have pull out shelves that swivel out smoothly and let you access your pots, pans and groceries without a sweat.
Ideal for: Kitchens low on space
#2: Corner drawers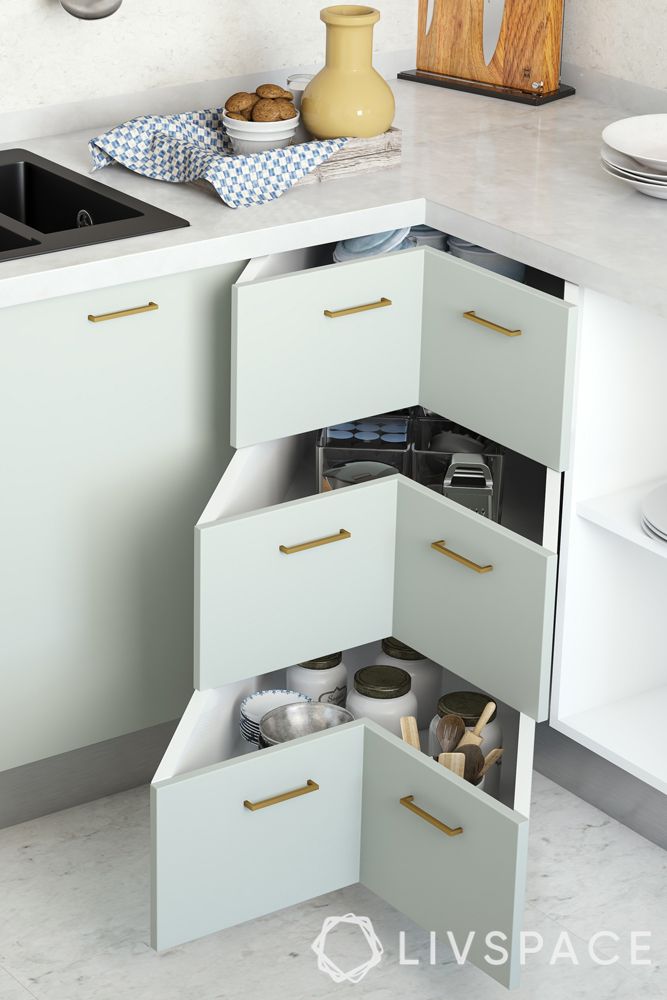 Another great solution for wasted corners in the base units — corner drawers help you store a lot of things. Designed to look like separate drawers on either side from outside, these corner drawers, when opened, come out as a single unit. You can install up to 3 drawers in your base unit. Opt for smooth functioning systems and good quality hardware for a comfortable experience.
Ideal for: Maximum utilisation of corner space
#3: Spice pullout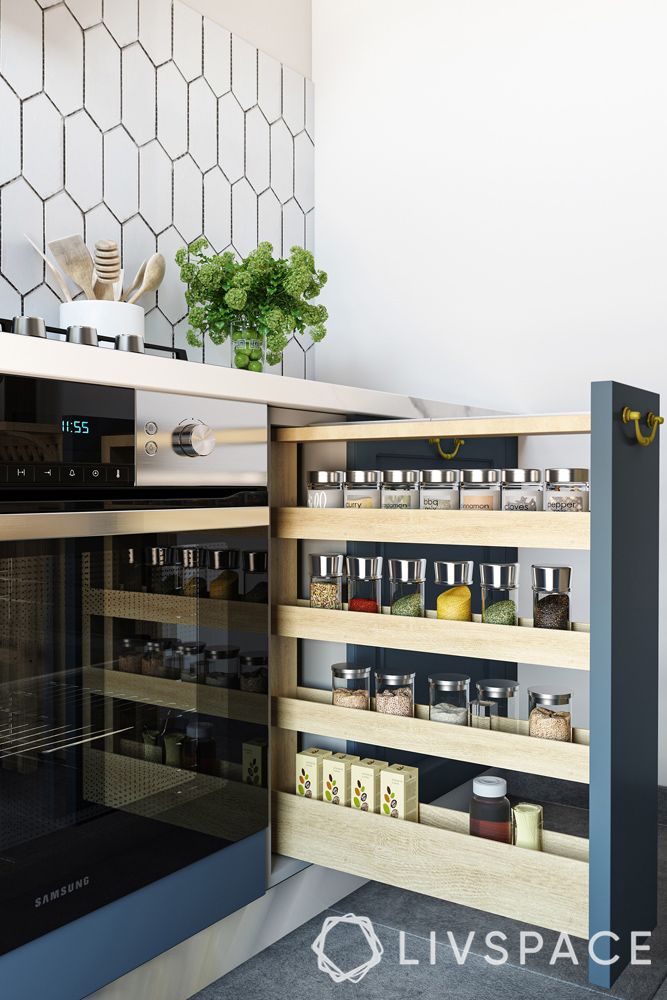 Whenever you get the kitchen in your HDB or condo renovated, if you are getting a modular kitchen designed, your designer is bound to suggest one of these amazing kitchen accessories. Along with other storage and organisation accessories, a spice pull out is a common sight in most kitchens. Gone are the days when you scour for your spices out of boxes. Marie Kondo your spices with this saviour!
Ideal for: Kitchens where a lot of heavy cooking happens
#4: Base wine storage rack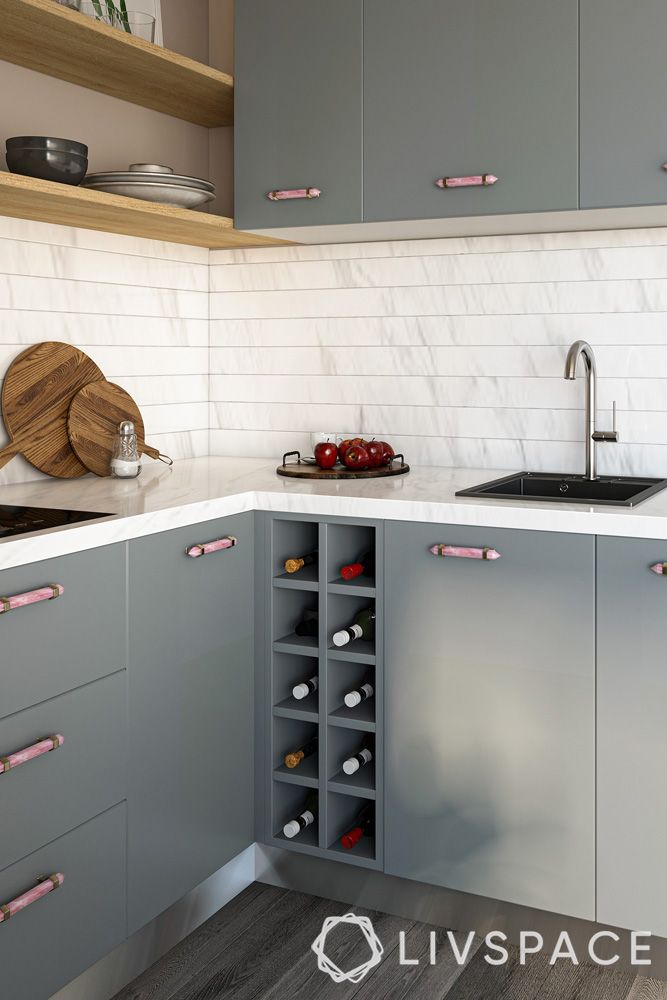 If you don't have a full-fledged bar unit at home but still want a fixed storage space for your coveted wine bottles, this one's for you. Get your designer to include a wine rack in your kitchen base unit so that your wines are not stacked away in cabinets. This is a great idea for people who do not want a lot of storage in their kitchens and can spare one corner for this.
Ideal for: Party lovers who do not have a bar unit
#5: Wall-mounted spice rack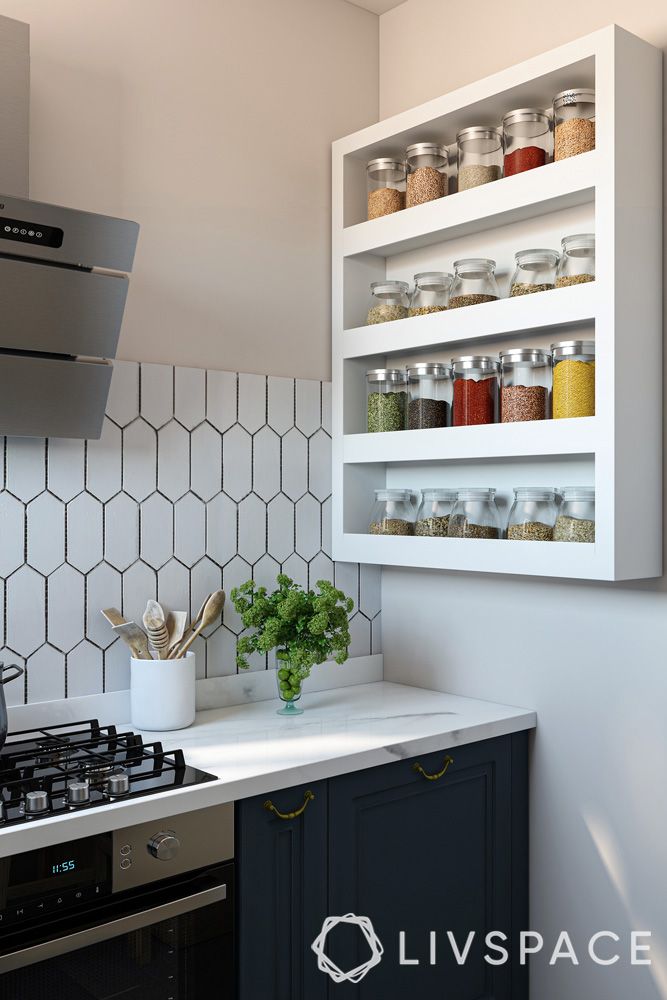 An alternative for spice pull outs, this spice shelf is a great way to utilise vertical space. Usually installed on the wall right next to the hob unit, this spice rack is a handy kitchen accessory. You can also use it for displaying your plants or other items since it is an open shelf.
Ideal for: Kitchens with free wall space
#6: Island ender storage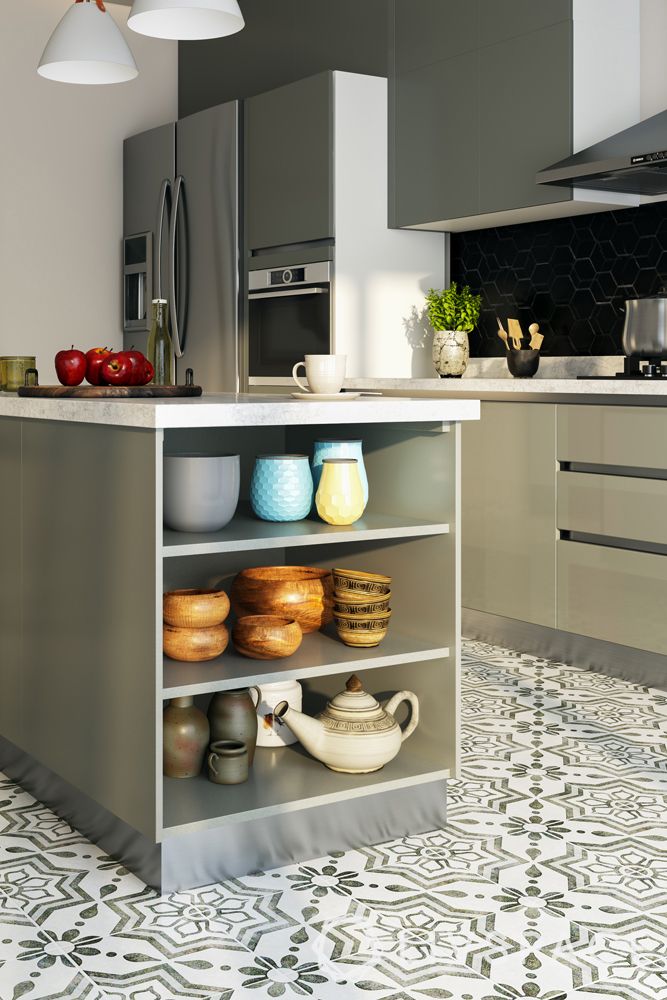 Add some open enders to your kitchen island with this amazing idea. While islands are a great aesthetic as well as functional addition to big kitchens, the ends of the island are usually left blank. Since the islands are blocks per se, you can utilise a section of it to store pots and utensils within easy reach.
Ideal for: Kitchens with islands that are used primarily as added countertop space
#7: Pot hanger gliders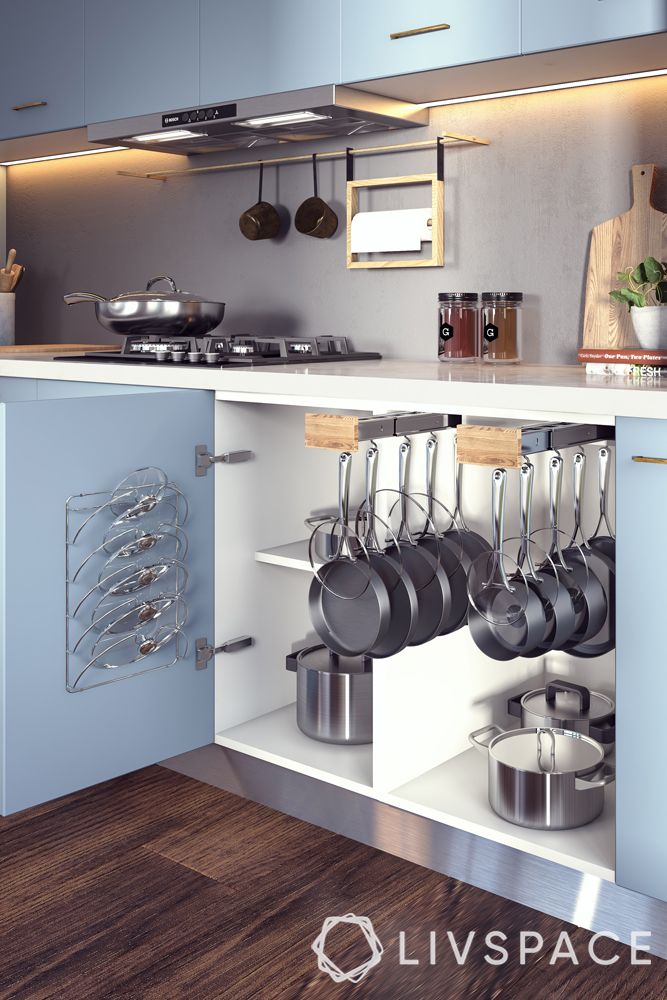 A saviour for everyone who has a pot for everything. From small saucepans to big pots, you like having a variety of cooking utensils at your disposal. Pot hanger gliders are a great accessory for you, since you can hang a lot of pots and pans and simply glide them out when required. You do not have to break your back to dig deep inside the cabinets.
Ideal for: People who have a collection of pots and pans and love staying organised
We know you want to fill your kitchen with these accessories right away, and why not? These can make your life way easier!
Also check out What You Need to Know About Kitchen Renovation Cost for HDB Resale.
Send in your comments and suggestions to editor.sg@livspace.com.