Have you ever looked at your kitchen renovation vision board and felt like something's missing? You have all the elements required to make it a functional space, but it still seems to lack a sense of personality. Something unique, perhaps? Here's where a kitchen arch design can turn things around for your space.
With the help of these trendy kitchen arch ideas, you'll get all the inspiration you need to bring a modern touch to your kitchen. Ready to find the best arch design for your kitchen renovation? Continue reading!
Why Do You Need a Kitchen Arch Design?
Arches have been a hot topic in interior design lately, making it a coveted element in most homes. In fact, arches of different styles and designs can be used for both aesthetic and functional purposes. An arch draws the eye upwards, visually elongating the room and adding height to your ceiling.
This is especially handy to have in a space like your kitchen, owing to how small most HDB kitchens can be. By using arches, you can visually lengthen the room and create the illusion of a larger space. So, if you have a cramped kitchen that's in need of a facelift, a modern kitchen arch design can be a great solution.
What Are Some of the Latest Kitchen Arch Ideas to Try Out?
From modern to vintage, there are a variety of kitchen arch design ideas that can suit every space. Let's take a look at some popular options, as well as how you can incorporate them into your kitchen.
1. Ceiling Arch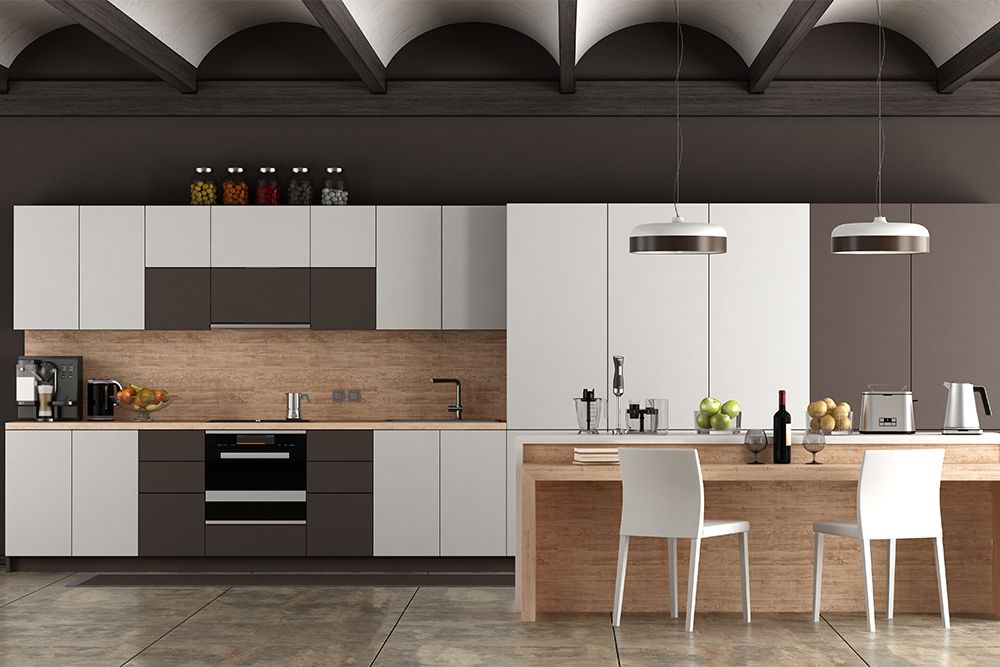 Starting from the very top, we have a modern kitchen arch design that's perfect for your ceiling. As arches help in creating the look of a higher ceiling, consider round arches for your false ceiling design. Use multiple arches across the width of your room to add more depth and dimension.
2. Arched Kitchen Windows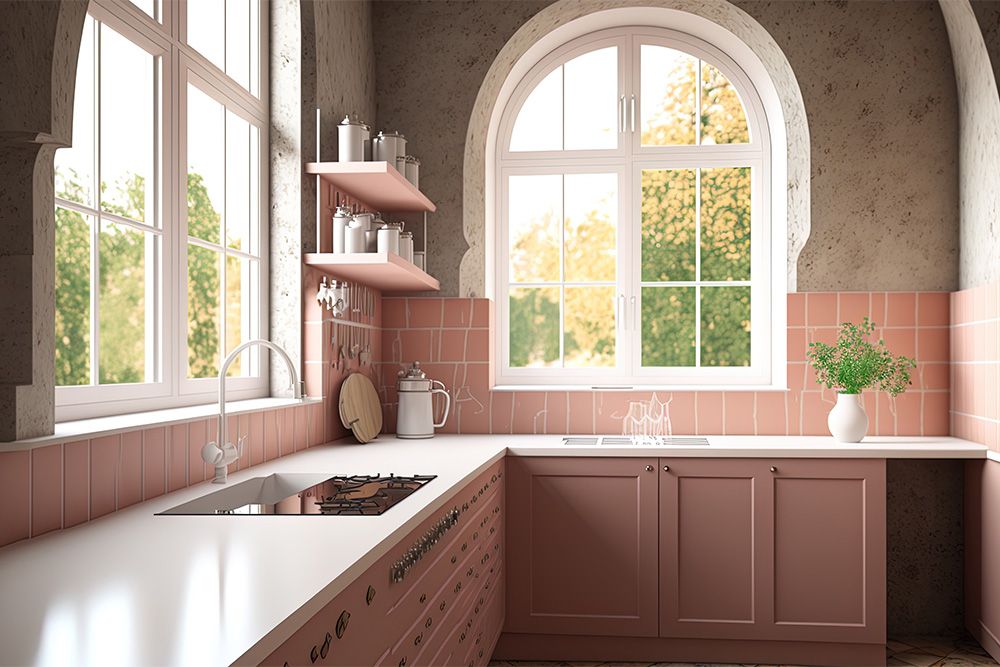 There are multiple ways to play around with arches. One such way is to introduce them into other elements, like your windows. Consider going for an arch design to decorate your window frames or to soften angular lines in your kitchen.
3. POP Kitchen Arch Design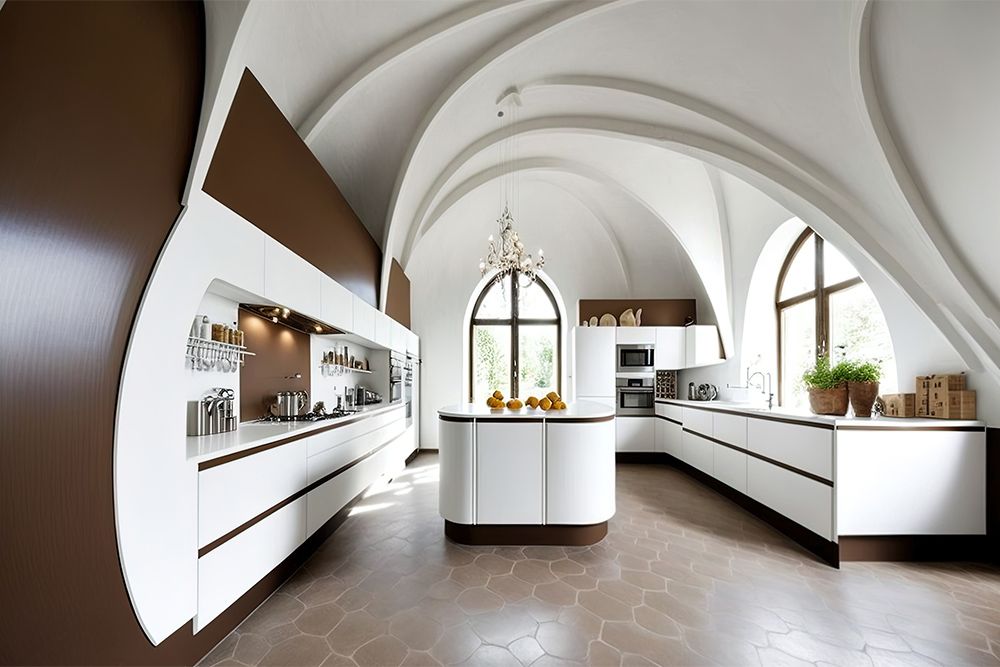 POP, or Plaster of Paris, is a relatively flexible material that can be used to create different designs and patterns. You can use it to mould arches into your ceiling to create a unique, modern look. If you have a bigger space, consider layering your kitchen in POP arch designs to create a focal point.
4. Arched Wall Recesses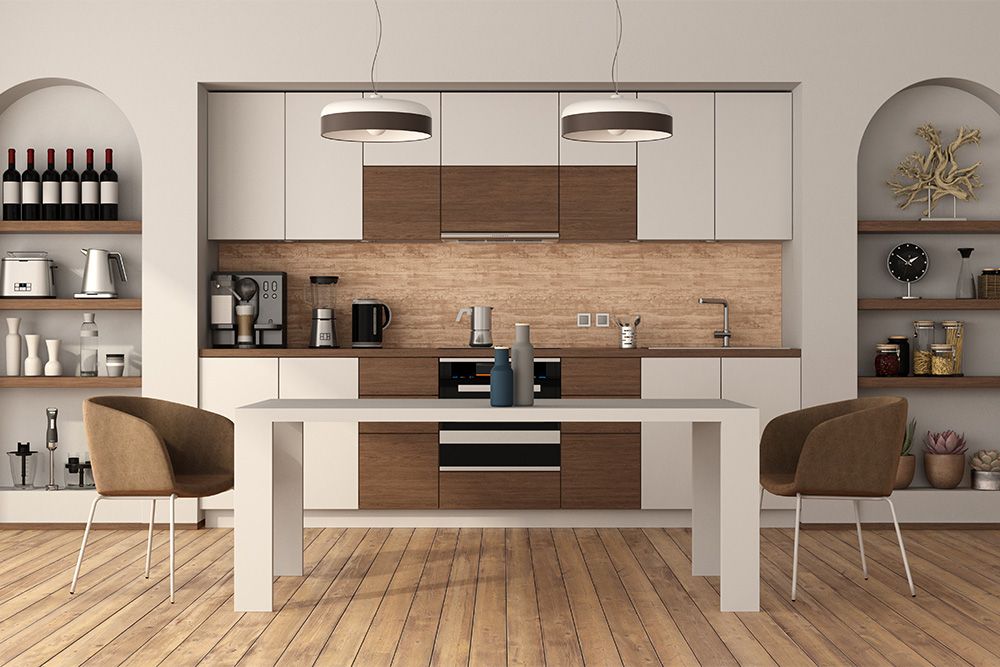 If you already have existing wall recesses in your kitchen, you might want to consider turning them into arches. Besides being a great decorative element, they can also be used as niche storage spaces with the help of shelves or cabinets.
5. Stone Arch Design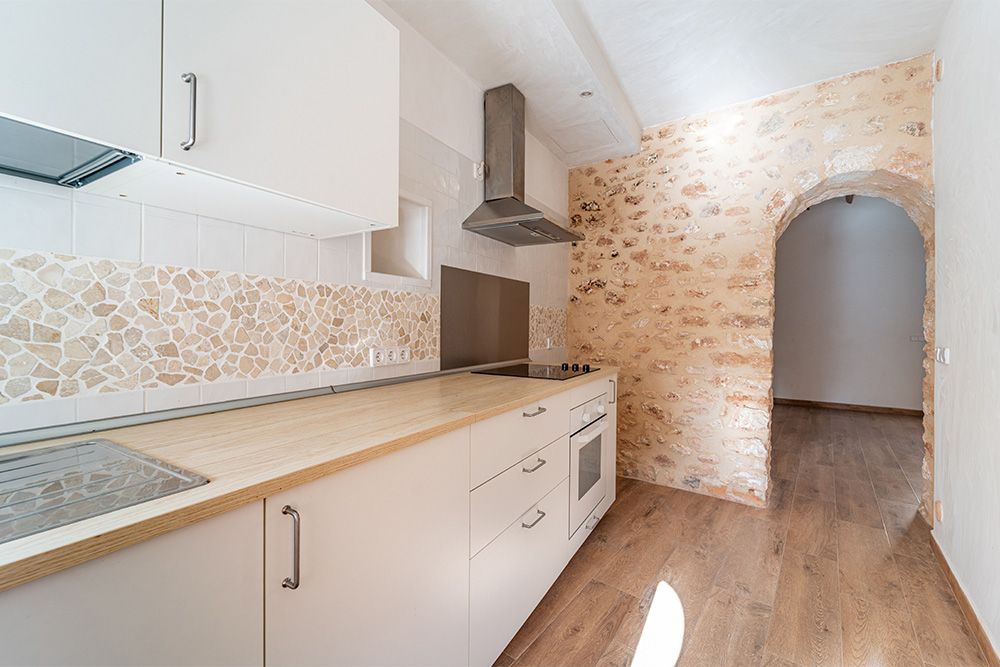 Stone is a great element when it comes to keeping your interiors cool in Singapore summers! And we're here to tell you that even a modern kitchen arch design can rock a stone-based build.
You can either outline your arch-shaped kitchen entryway with stone, or you can go the whole nine yards and do up your entire kitchen wall in stone. On the other hand, a more cost-effective hack can be to use stone-patterned wallpaper.
Also Read: What Happens When an Interior Designer Crafts His HDB Interiors?
6. Pass-Through Kitchen Arch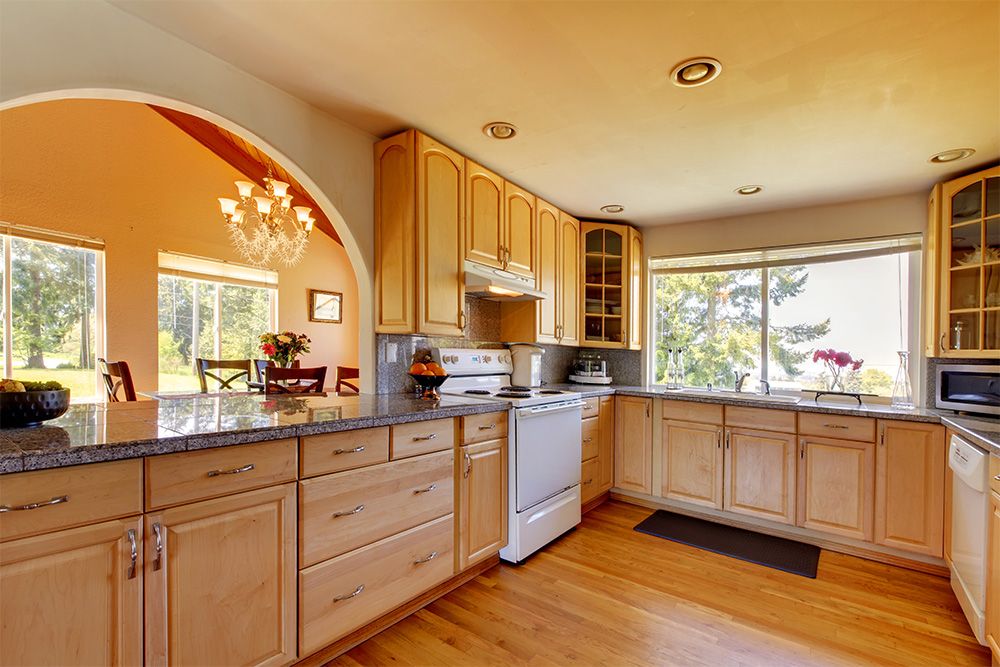 Don't have an open layout, but you still want easy access to your kitchen from your dining or living room? Let us introduce you to the pass-through window for kitchens.
This window sits on the wall between your kitchen and common areas, allowing you to easily access food and other items without having to go all the way into the kitchen. You can decorate this opening with an arch design to add some character to the space.
7. Kitchen Backsplash Arch Design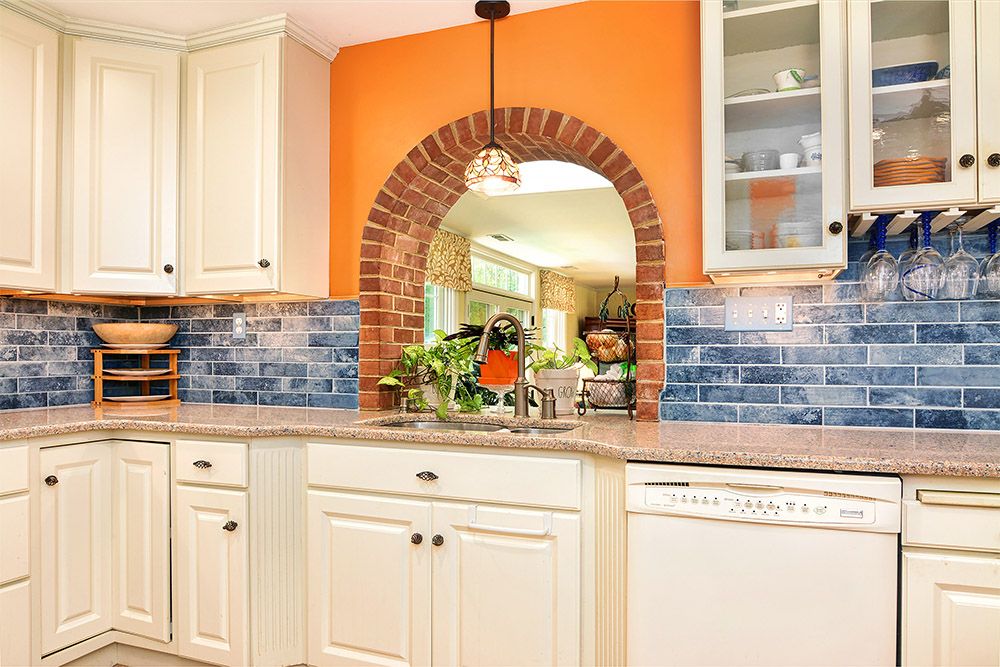 There are different ways you can add a pass-through window to your kitchen. You can either have a large opening that can be converted into a breakfast nook (as we saw in the previous picture), or you can make a smaller window just to open the space up.
In fact, you can even experiment with some kitchen backsplash ideas to factor in an arch. How? By using a similar material or pattern for your backsplash! For instance, if you're using tiles or bricks for your kitchen backsplash, consider outlining the arched window with the same tiles to create continuity in design.
8. Cathedral-Style Arch Design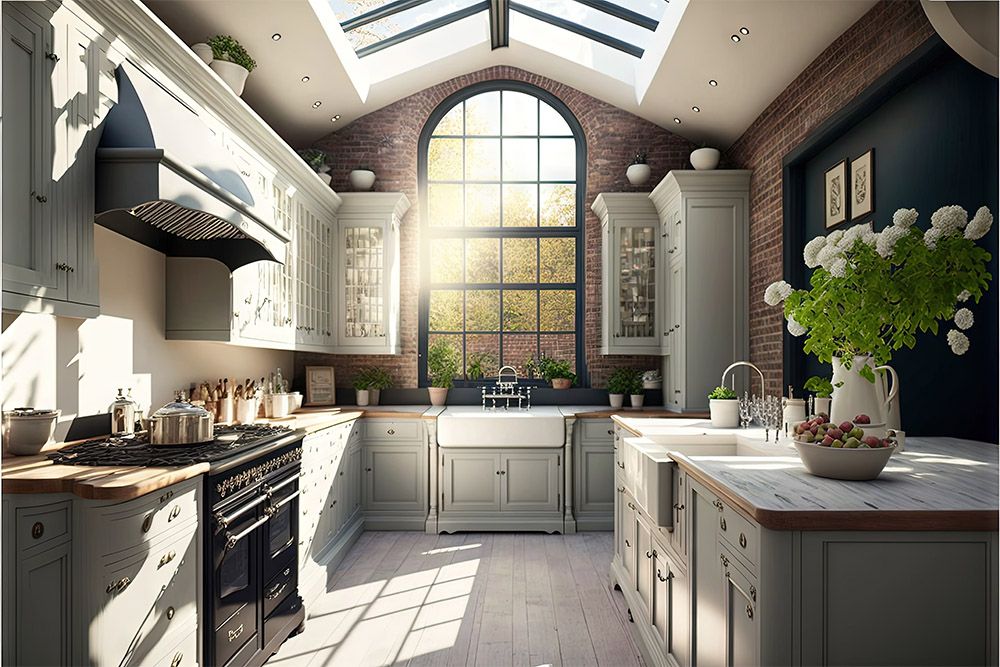 Just as there are many ways to use an arch design in your kitchen, there are many types of arches to choose from as well. If you happen to have a skylight in your kitchen, this arch design can work wonders in your space.
Think of cathedral ceilings and the pointed tip they form at the top. You can get the same look by pairing an arch with a gabled ceiling (a pointed, triangular ceiling). However, this might not work well in smaller kitchens as it may make your space look narrower than it is.
9. D-Shaped Kitchen Arch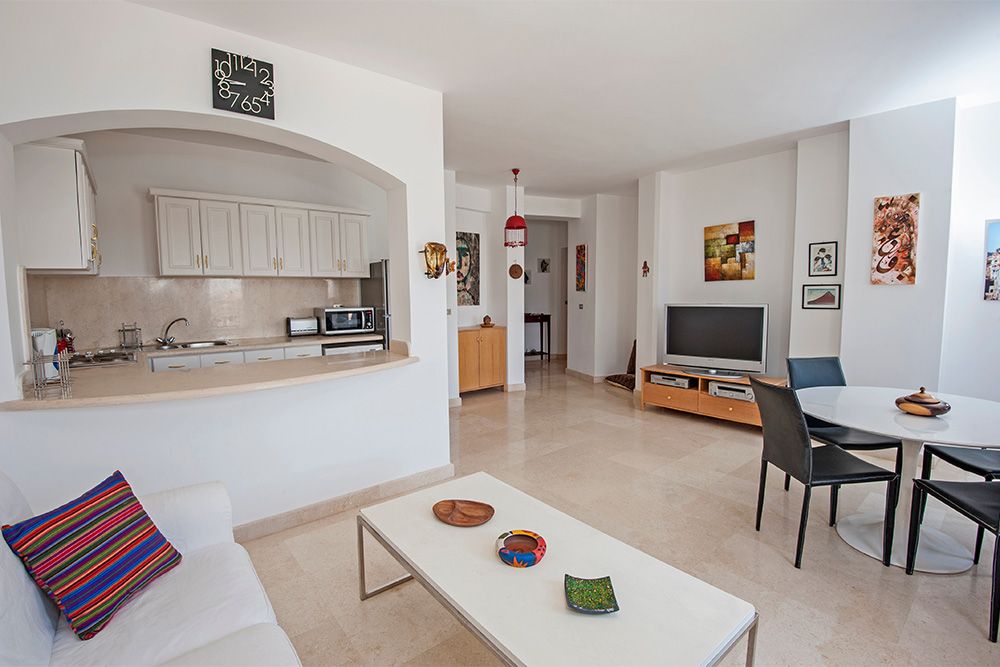 A D-shaped kitchen arch is nothing but a wide arch that covers a larger area. The curve resembles a D, hence the name. This type of kitchen arch design can suit large pass-through windows while simultaneously softening the inner edges of the wall.
10. Circular Kitchen Arch Design
Curves are a relatively new trend taking the interior design space by storm. While they are more commonly spotted in most modern furniture designs, you can also bring these curves to your kitchen with the help of a circular kitchen arch design.
If you want your home to have an open layout but still want to give your kitchen its own distinct space, this type of arch design is for you. You can construct this arch by the entryway of your kitchen and allow it to speak for itself!
Also Read: 10 Interesting Interior Design Styles That You Need to Try at Home
11. Mixed Arch Design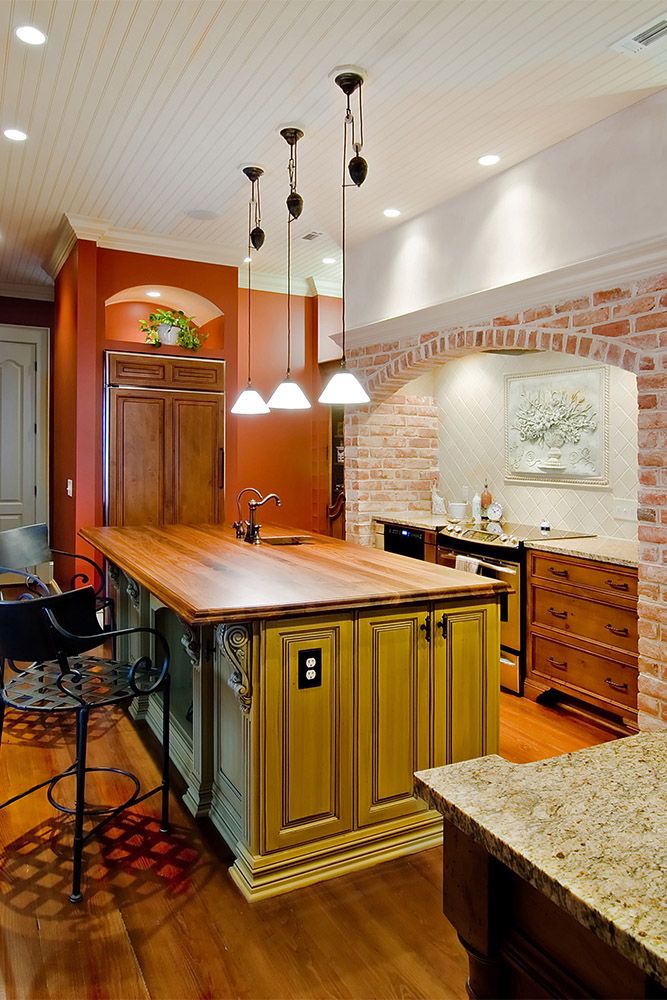 How many arches is too many arches? If you get the balance right, there's no fixed answer! You can use a mix of kitchen arch designs to curate a modern and unique space. How? By using them as accents.
Arches have rounded edges, helping you bring a sense of softness to a space. Moreover, they envelop the space they occupy, drawing the eye directly towards them. You can use arches in your entryway, in a cosy cooking niche, and as a statement wall shelf.
12. Open Layout Kitchen Arch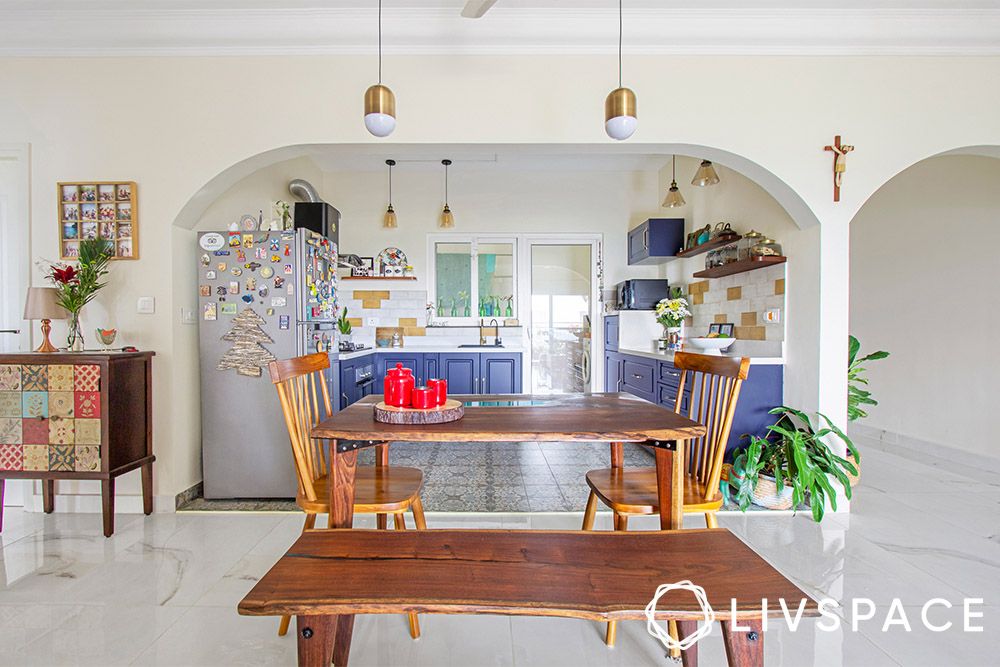 Besides a circular kitchen arch design, you can also consider a wide arch to preserve an open floor plan. This type of arch can subtly frame the space without cramping the entrance, creating an open and airy layout.
A Few Other Ways You Can Use Arches in Your Kitchen Design
The different types of kitchen arch designs you can use don't just end there! There are a few more interesting design ideas to choose from before you buckle down on your kitchen design:
Design Type
Design Details
Double Arch Design
> The combination of a pass-through
window and a kitchen entryway that
both have arches
> Typically, this type of design rests
on the same wall, but you can have
both elements on different walls
as well
Wooden Arch Design
> Instead of POP, stone, or brick,
you can also use flexible plywood
to create a kitchen arch design
> Use this type of arch for your
entryway or as wall shelving
Arched Kitchen Cabinets
> They're nothing but cabinets
that have an arched frame door
> You can either opt for wood
framed arched cabinets or swap
out the wood for glass panelling
to add a display element
Creative Kitchen Arch Design
> Mix and match different design
elements to decorate your kitchen
arch design
> Use wallpaper, textures, paint,
and panelling to add more interest
to your kitchen arch and make
it a statement piece
Service Yard Entryway
> Instead of using an arch for your
kitchen entryway, you can also save
it for your service yard's entrance
> Keep the area concealed with
only an arched entrance to give
the space a tidy look
What Is the Importance of a Kitchen Arch Design?
It helps create segments within a space or an open layout
You can use it to draw attention to a focal point
Kitchen arch designs draw the eye upwards and add depth to the room, creating a sense of space
It can be the perfect aesthetic element to add interest to your space without overpowering it
Arches and rounded edges are currently trending and are perfect for modern homes that are looking to renovate
How Can Livspace Help You?
We hope you found these modern kitchen arch design ideas useful! If you want beautiful interiors for your home, look no further. Book an online consultation with Livspace today.
Have some comments or suggestions you'd like to share with us? We're all ears! Feel free to write to us at editor.sg@livspace.com.
Disclaimer: All contents of the story are specific to the time of publication. Mentions of costs, budget, materials, and finishes can vary with reference to current rates. Talk to our designer for more details on pricing and availability.