Worried about going too bold or too dull for your kitchen? The colour of your kitchen cabinetry can really change the way your kitchen looks. Whether you have a compact kitchen or a spacious one, we have a list of the best kitchen colours that you should definitely try in 2021. If you love simplicity and minimalism, you can pick a subtle colour palette. And as for the daring and fun at heart, we have some bold colours that will be ruling this year.
Small kitchens
#1: Wood laminate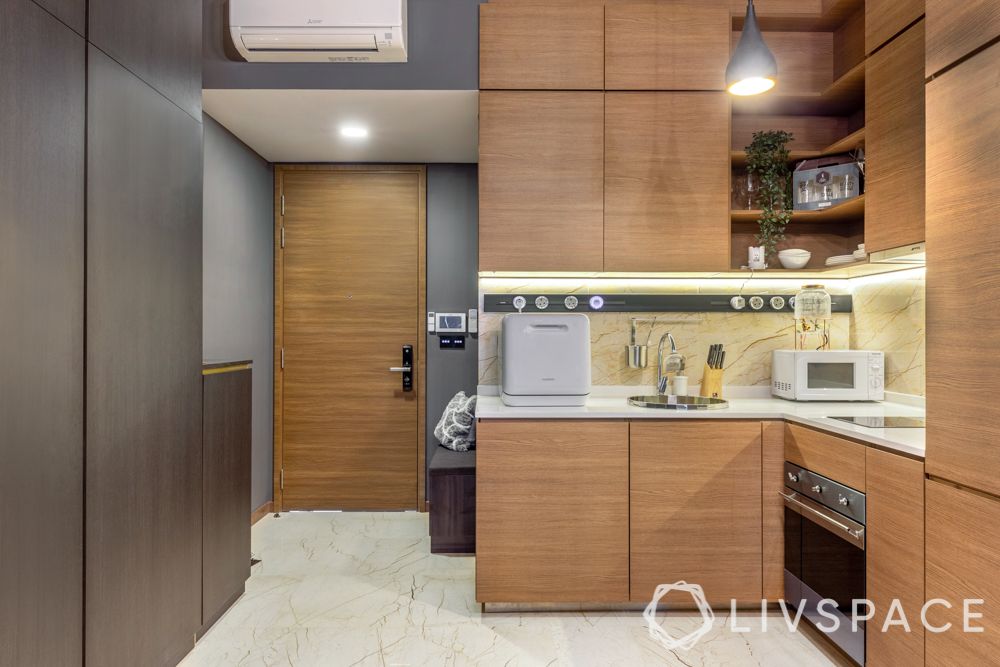 This is probably the tiniest kitchen that you will come across, but it is definitely not boring. Set in one corner of a wall, this L-shaped open kitchen flaunts warm brown laminate cabinetry that is perfect here. Why? Because this is the first thing you'll see when you enter the home. It is best to keep it light in such spaces since it is going to dominate the look of that area. The designer has merged the colour with the rest of the home to keep it harmonious.
#2: Stark white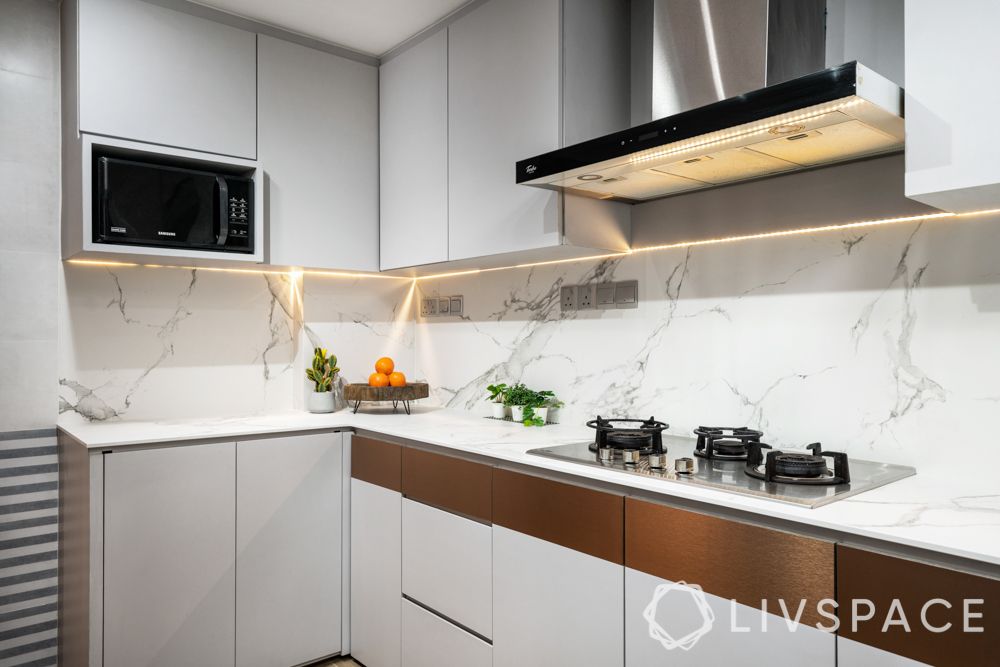 An obvious choice for smaller spaces is white. Not only does it open up the space but also acts as a reflective surface. Your compact kitchen will not look as tiny when you use white for the walls and cabinetry. Of course, you have to use the right lighting to highlight the countertop and facilitate efficiency. Add a touch of glamour with metallic accents and opt for striated marble stone for the backsplash.
#3: Textured dark laminate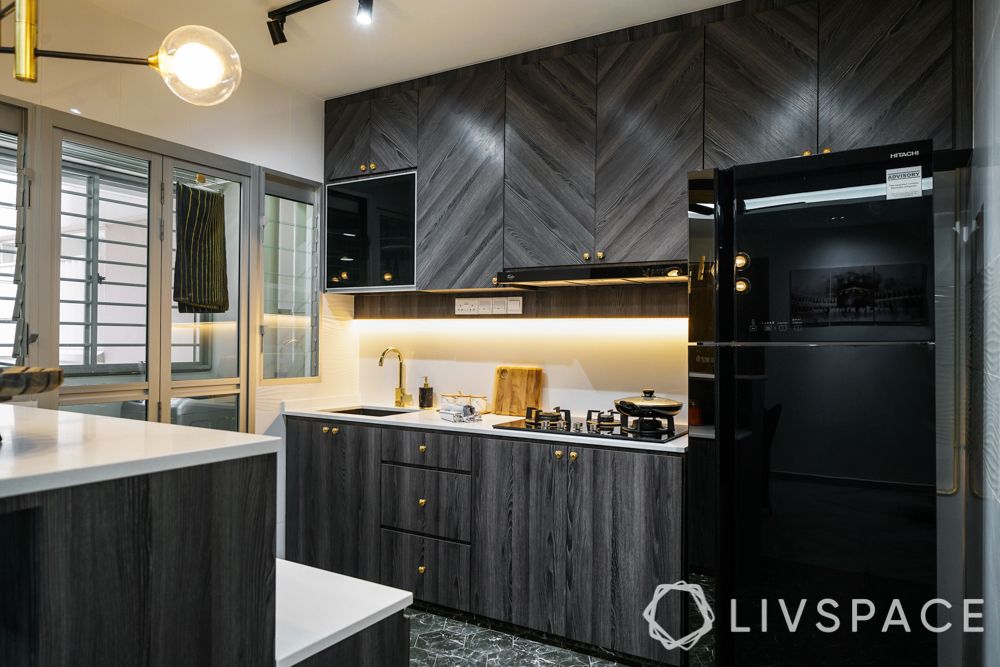 Do not shy away from dark laminate just because you have a compact kitchen. We suggest you embrace textured laminates if you're feeling adventurous. For this kitchen our designer has added patterned laminate and further installed black appliances to go with the dark theme of this space. A cream-coloured glass backsplash is just right to break the monotony.
#4: White and brown laminate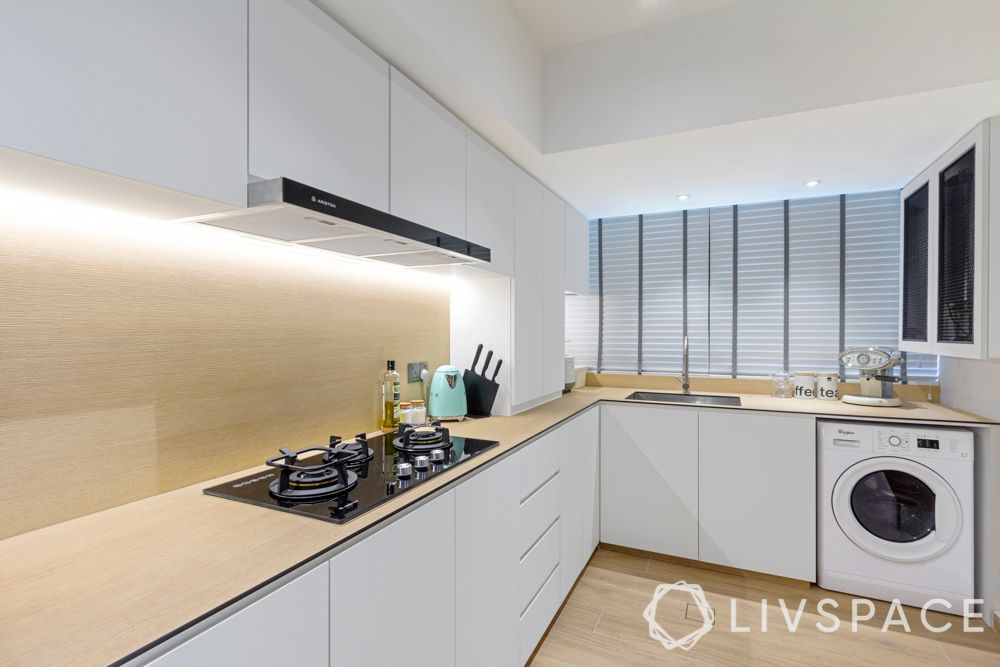 While white and wood laminate work individually, you can try a combination of the two as well. They work perfectly well together. If your kitchen is compact, this colour combination will accentuate the look. Make sure you add a similar flooring and stay away from dark flooring since it will dampen the space immensely.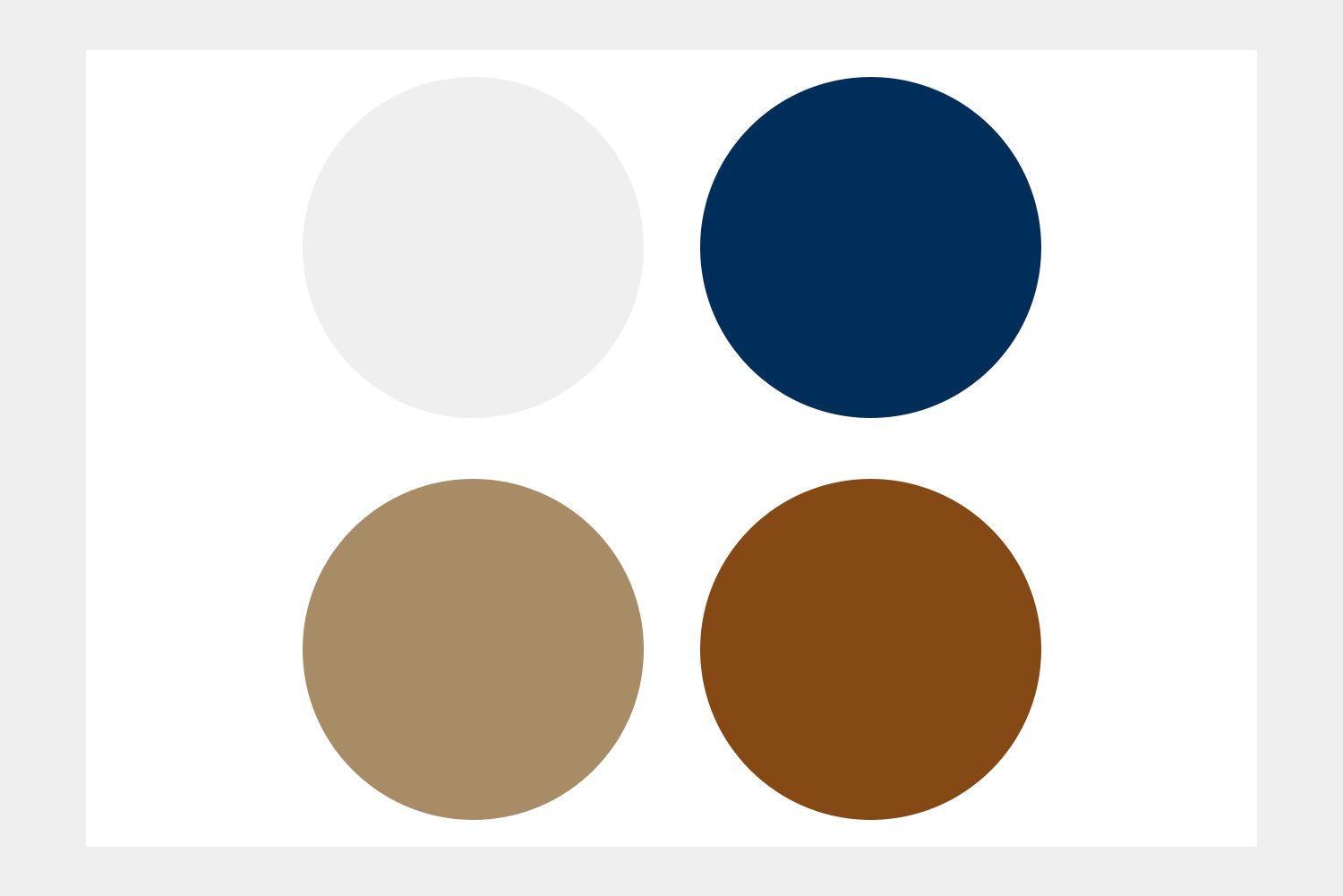 Medium-sized kitchens
#1: Dark laminate and white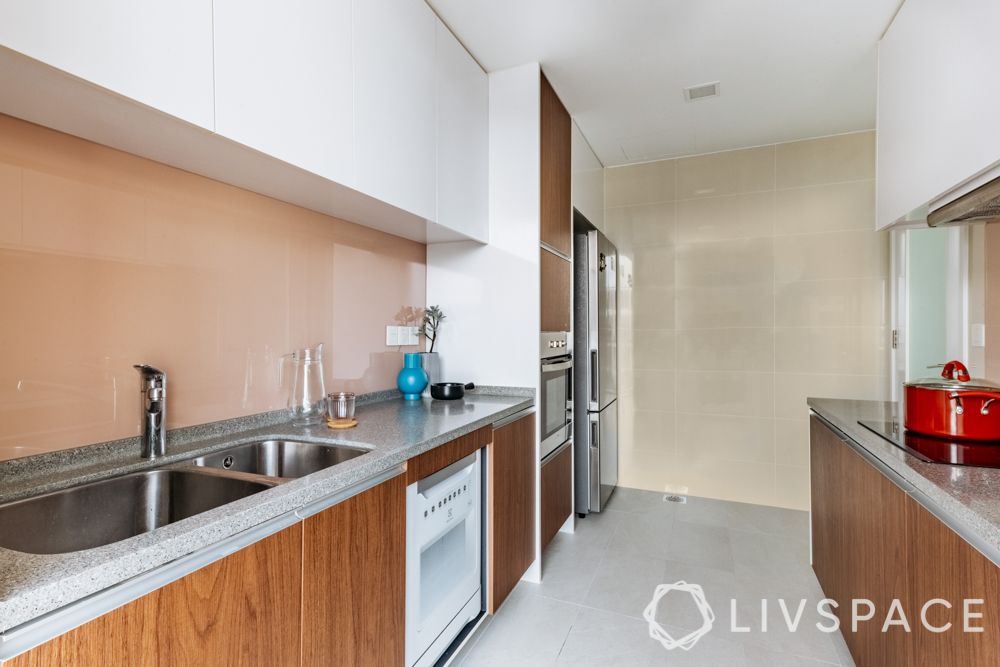 Try this lovely combination of medium-dark laminate paired with white and peach. Don't the colours go very well together? We love how it flows from white to peach and finally wood laminate. Breaking the warm colours is a speckled granite countertop.
#2: Bold blue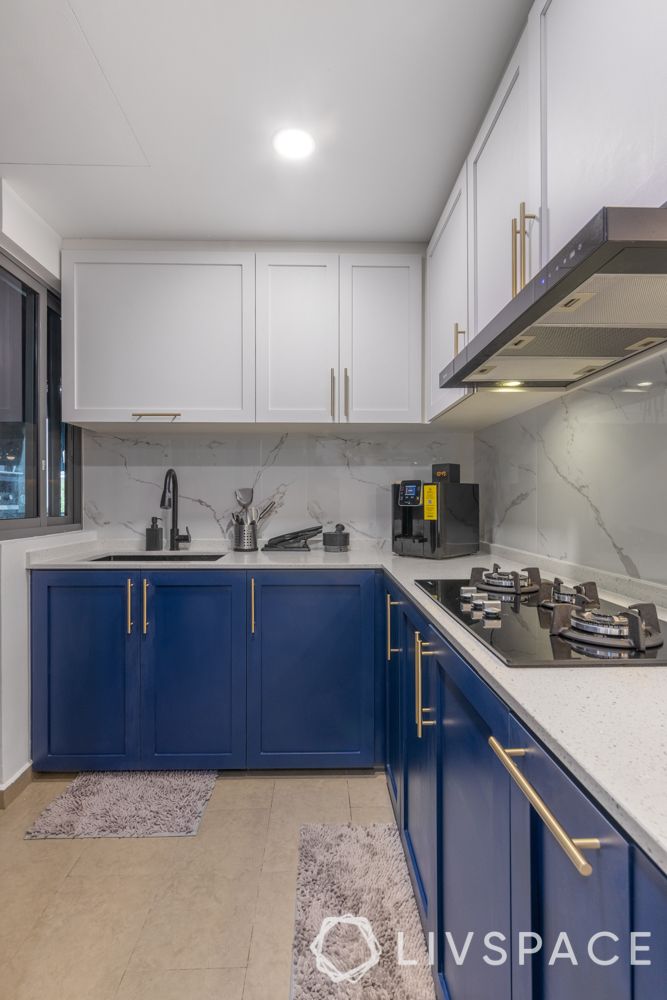 This one's for those fun souls who just cannot settle for any regular colour scheme. You can add a fun colour like cobalt blue to your cabinetry in your medium-sized kitchen. But make sure you do not go overboard. Since it is not a very large space, you will want to keep it restricted to just the base units. Use a lighter tone on the wall cabinets to keep the kitchen from weighing down.
#3: Subtle grey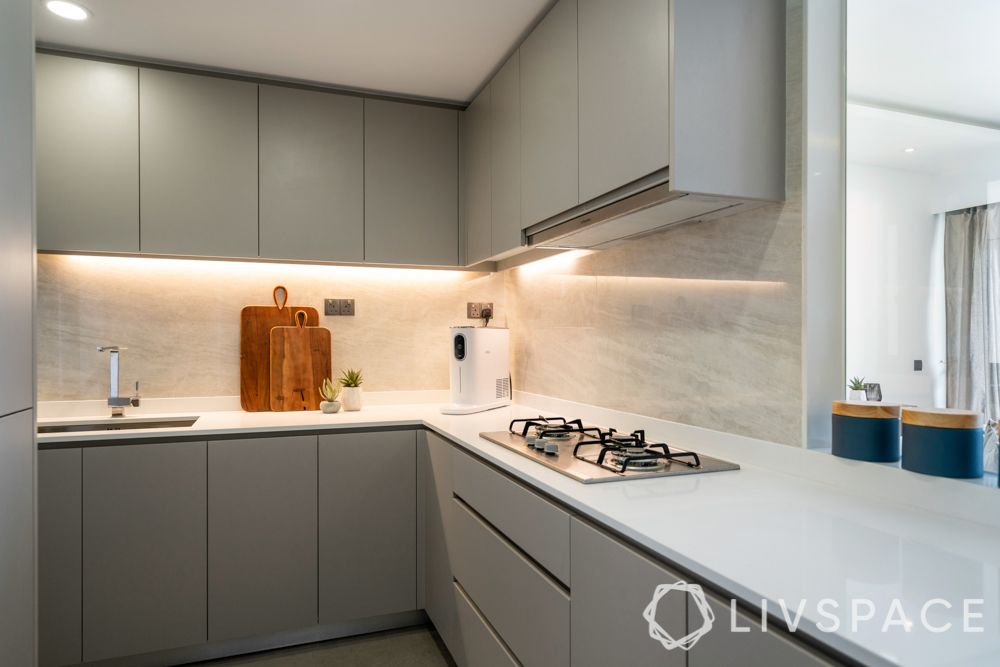 We cannot insist enough on the beauty of the right shade of grey. It can really uplift any space and when it comes to medium-sized kitchens. This is one of those kitchen colours that is underrated. Look at the classy and elegant statement that this shade of grey makes in this kitchen.
#4: Peppy yellow and denim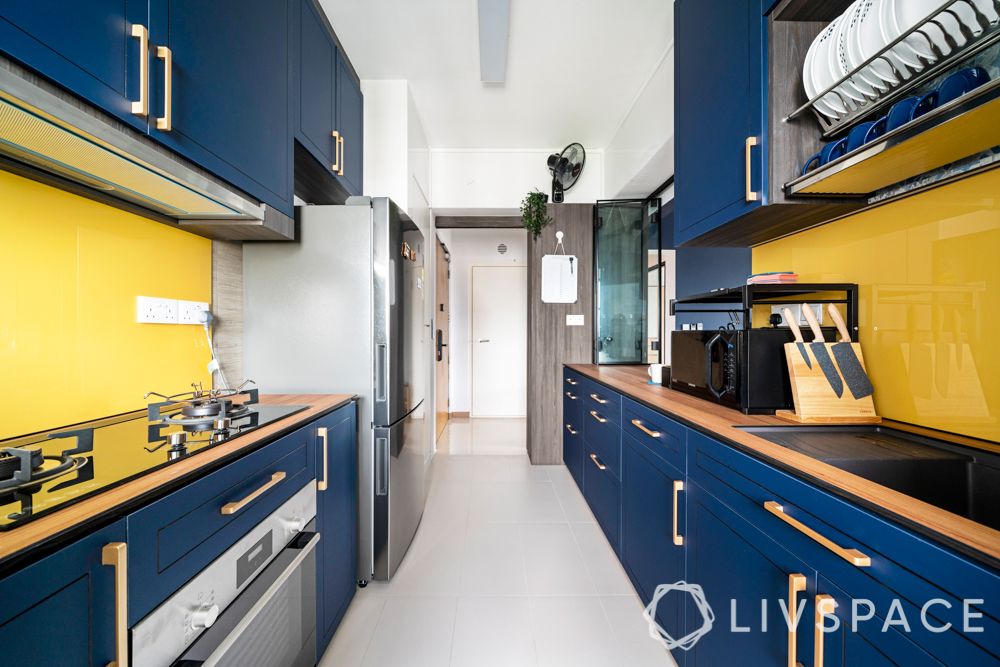 Get these trendy kitchen colours if you are not faint at heart. We absolutely love this bold combination of yellow and blue on the cabinetry of this kitchen. Further enhancing the look are the metallic handles.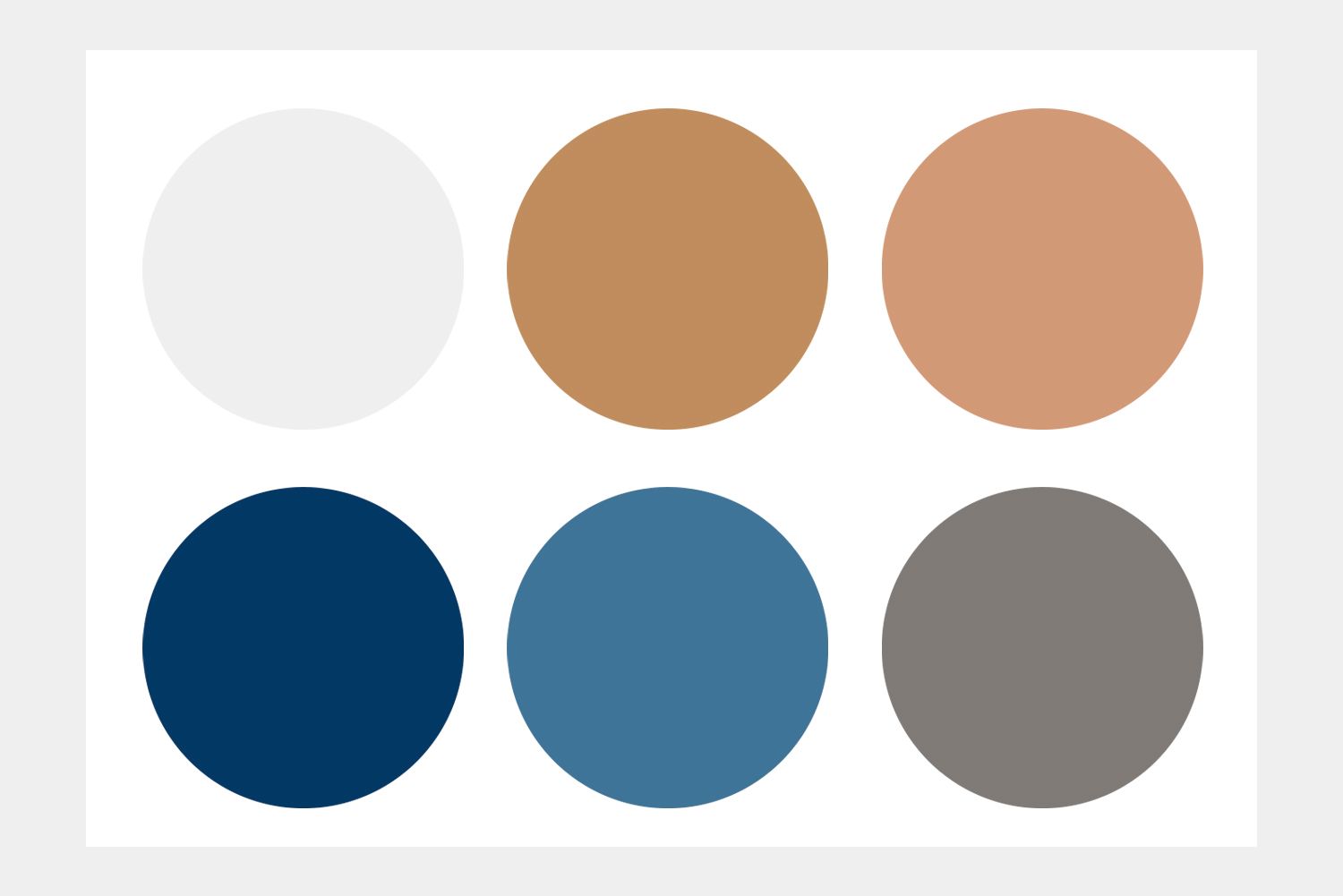 Big kitchens
#1: Pop of blue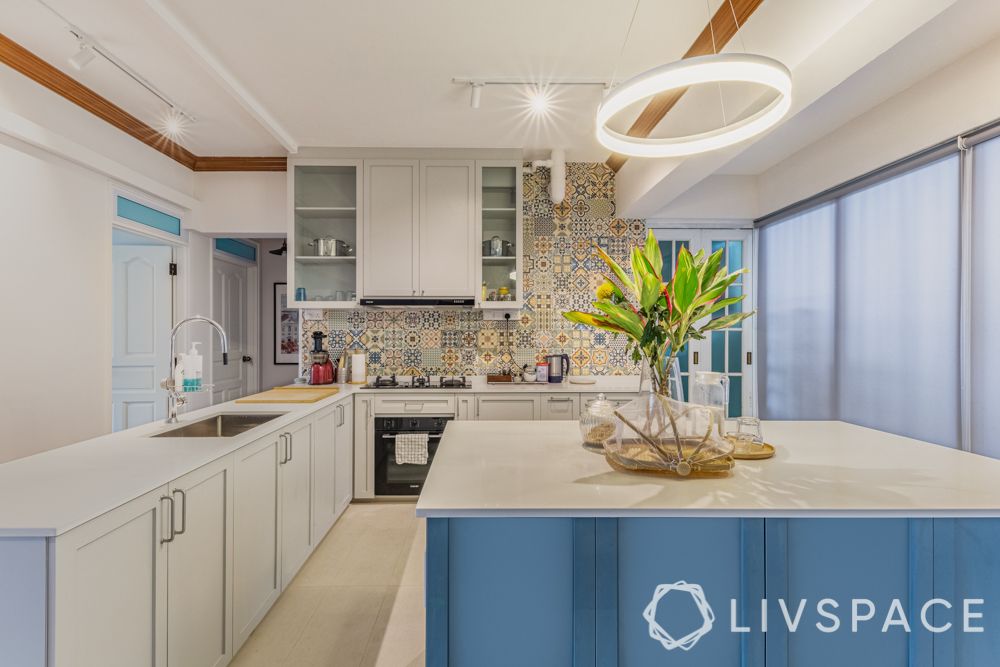 Big kitchens are great because you have enough space to experiment with kitchen colours. In this island kitchen, the designer has kept a simple white canvas for the cabinetry while the island adds a pop of colour to this space. Furthermore, the backsplash can be a great blank canvas to play around. Add colourful Moroccan tiles and see how it comes alive!
#2: Light grey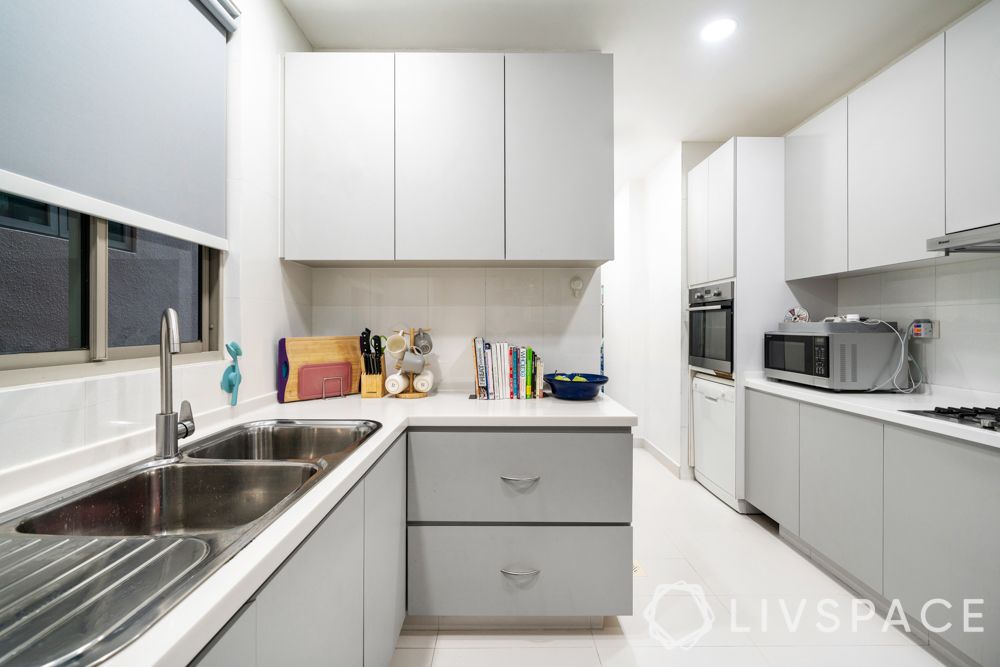 Even big kitchens can flaunt a light colour scheme and this kitchen is definitely proof of this. Light grey and white are married to each other in this spacious kitchen and it looks even more huge. You should definitely try adding some character with colourful tiles on the backsplash.
#3: Denim and white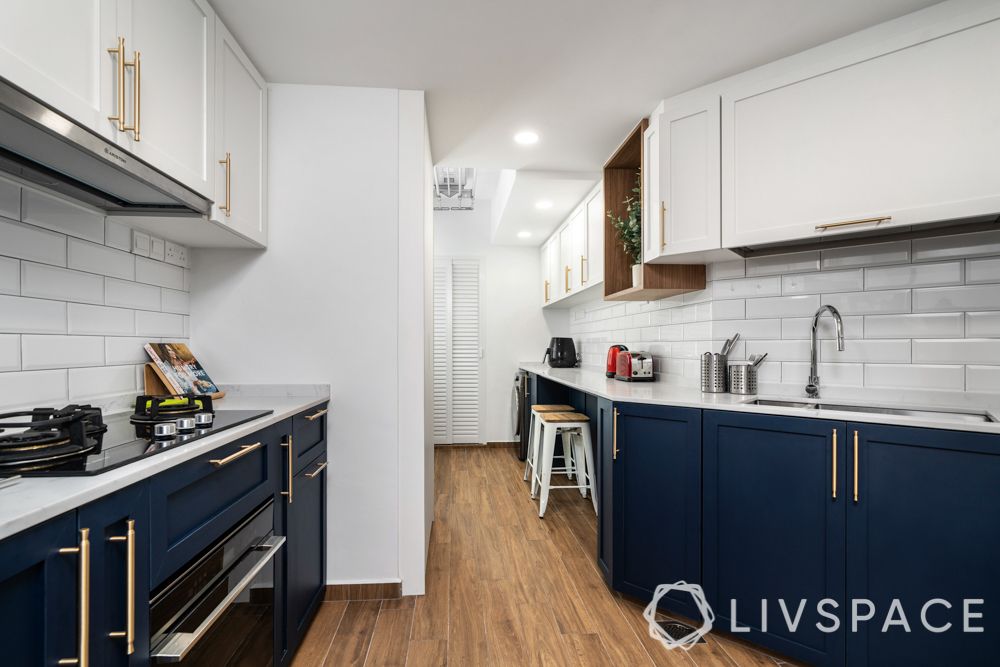 By far one of our best kitchen designs is this white and denim kitchen. It is so huge that one can get lost. Not joking, but the layout of this space is very unique. It has separate wet and dry zones, a coffee corner and a display section as well. Rich denim base cabinetry brings this kitchen to life and white wall cabinets keep it simple. Wooden flooring is a great and warm addition.
#4: Wood laminate and brown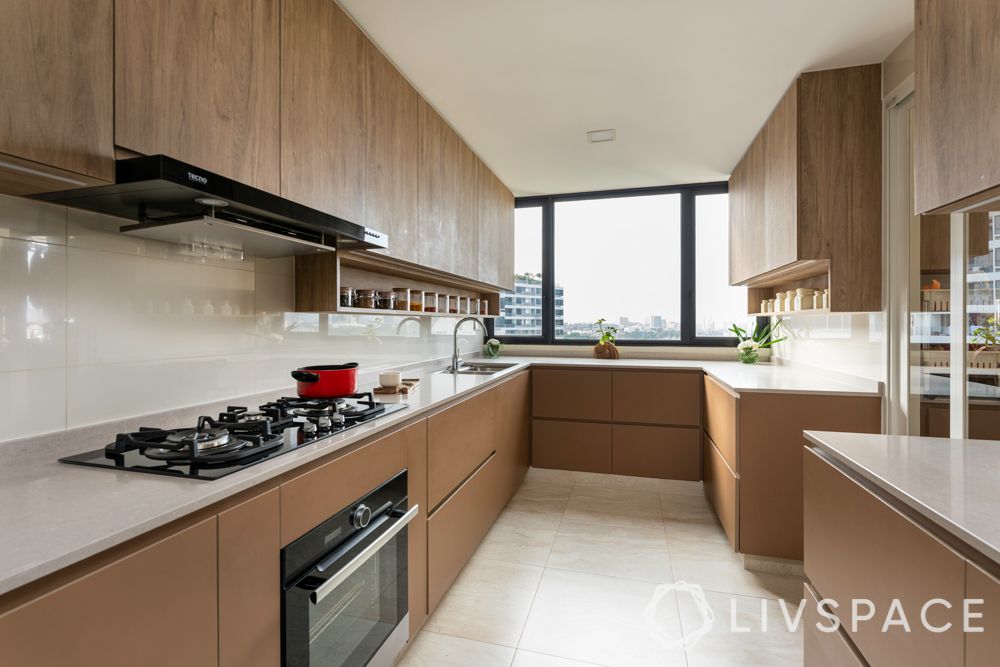 This kitchen belongs to a passionate cook and she wanted a space that welcomes her every time she walks in. Therefore, the obvious choice was brown and laminate. There's nothing more warm than this colour combination.
#5: Black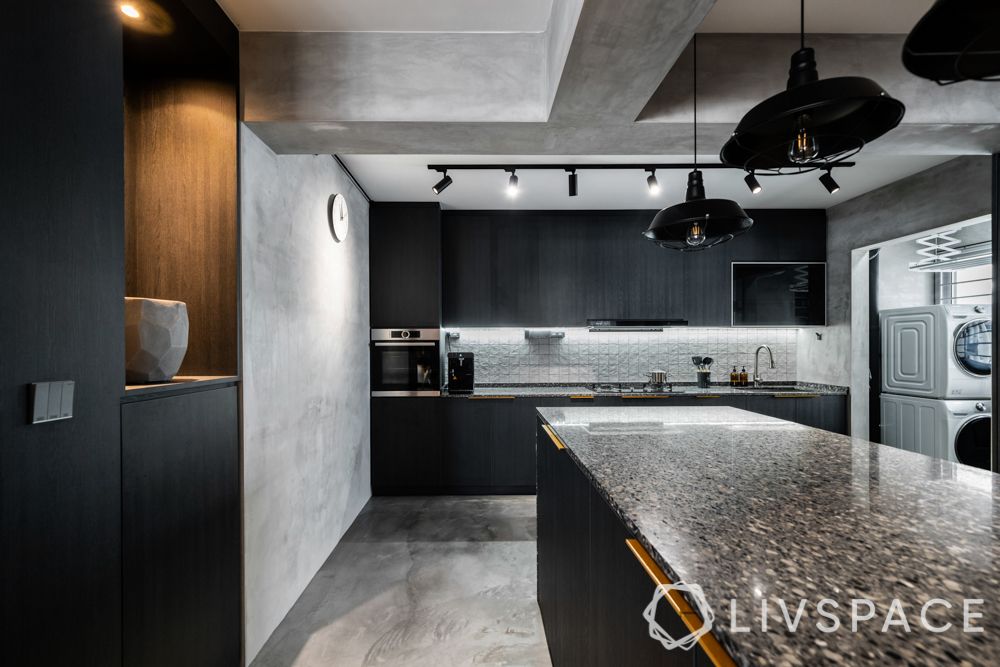 This kitchen is from one of our award-winning home designs and a very unique one. Following an Industrial theme, the cabinetry in this kitchen flaunts a dark colour scheme with black and cement screed playing it up. You can definitely experiment with this bold colour if you have so much space to play with.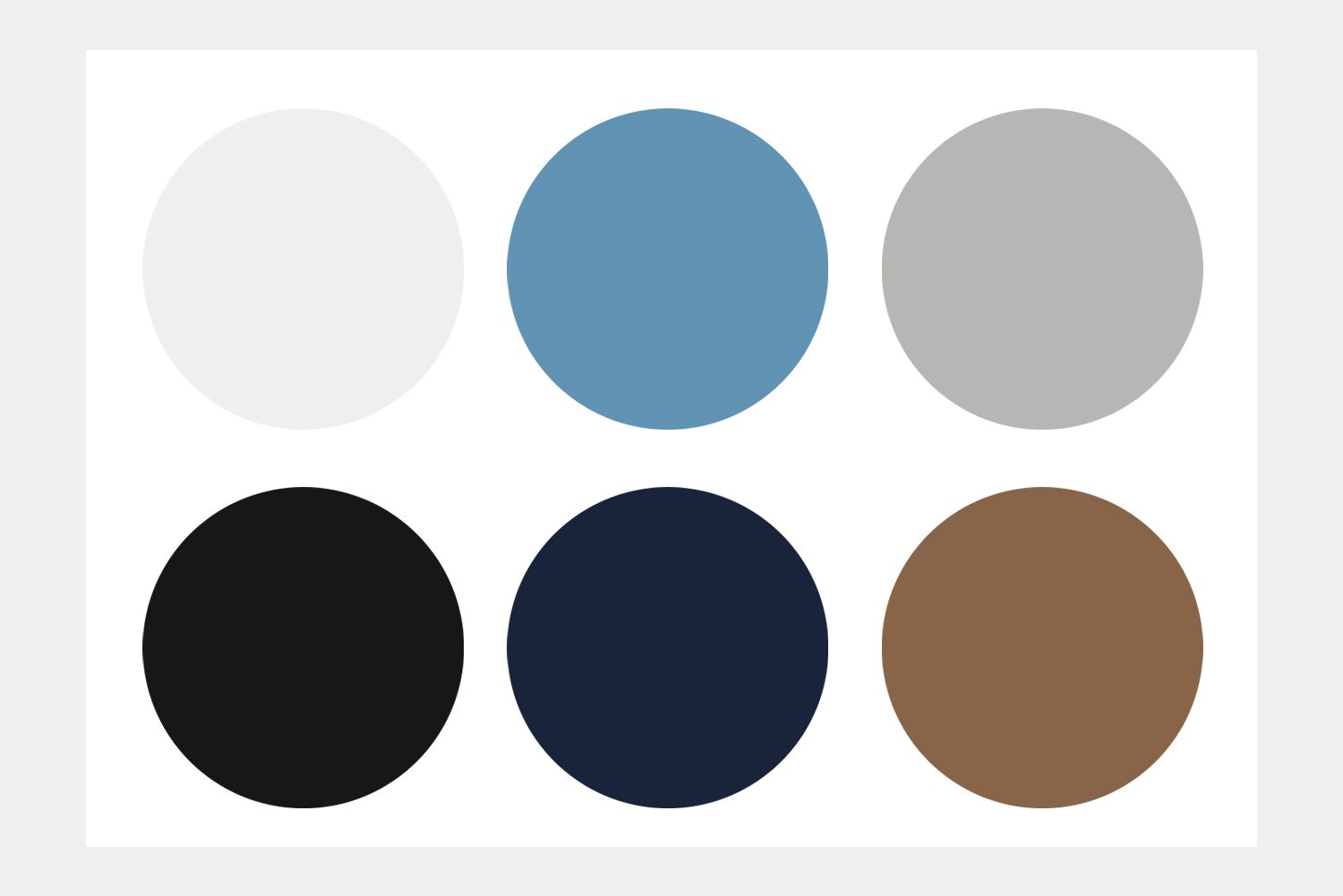 This was our list of our favourite colour combinations from kitchens designed by us! Do check this out too: A Quick and Easy Guide to Getting the Right Cabinetry for Your Kitchen in 2021.
Send in your comments & suggestions to editor.sg@livspace.com.