Whether you have a faulty sink, a loose cabinet or you have just moved into your resale flat, your kitchen needs a revamp. It can be either a functional or an aesthetic choice. Nobody wants to work in a kitchen that does not look and feel the way they would want it to. With the right interior designer, your kitchen HDB can really get an uplift to suit all your needs and requirements. Get inspired by these kitchen makeovers that our designers executed and see just how much potential lies in your kitchen, too!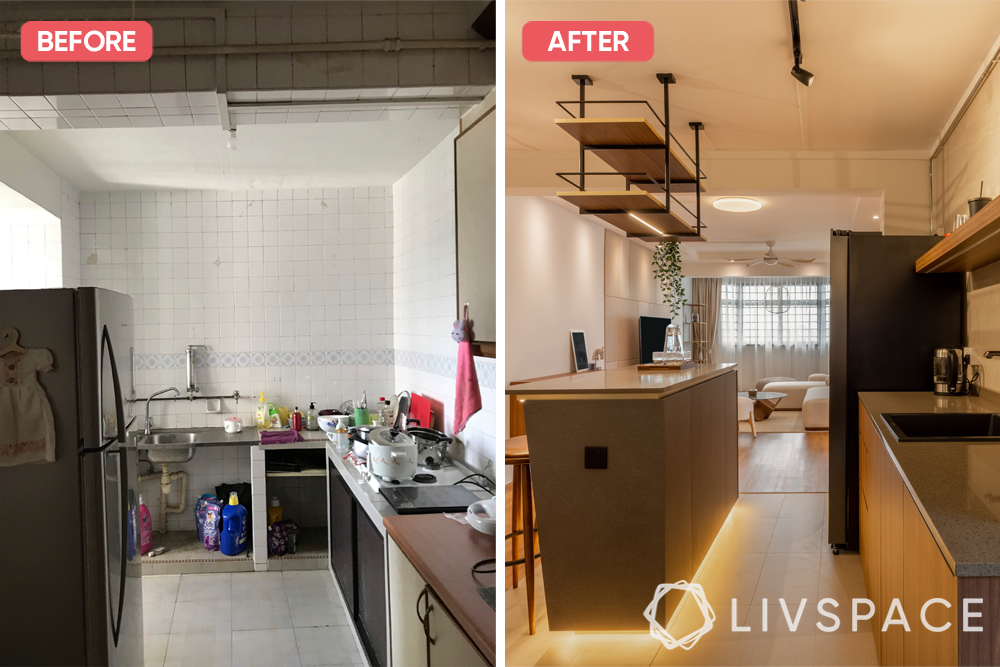 The problem: Unorganised and old-school layout.
The solution: This couple moved into a resale HDB and realised that the existing kitchen just did not do justice to their needs and lifestyle. They wanted a space which was super-organised and looked stylish and trendy at the same time. Therefore, while designing and planning the layout of this kitchen, too, Songhao, their designer kept in mind that he had to make this area more accessible and easy to facilitate social interaction. He demolished the walls and added a lovely island that also functions as a serving bar counter with tall stools for company. So now this kitchen looks warm, welcoming and attractive, just like they wanted it.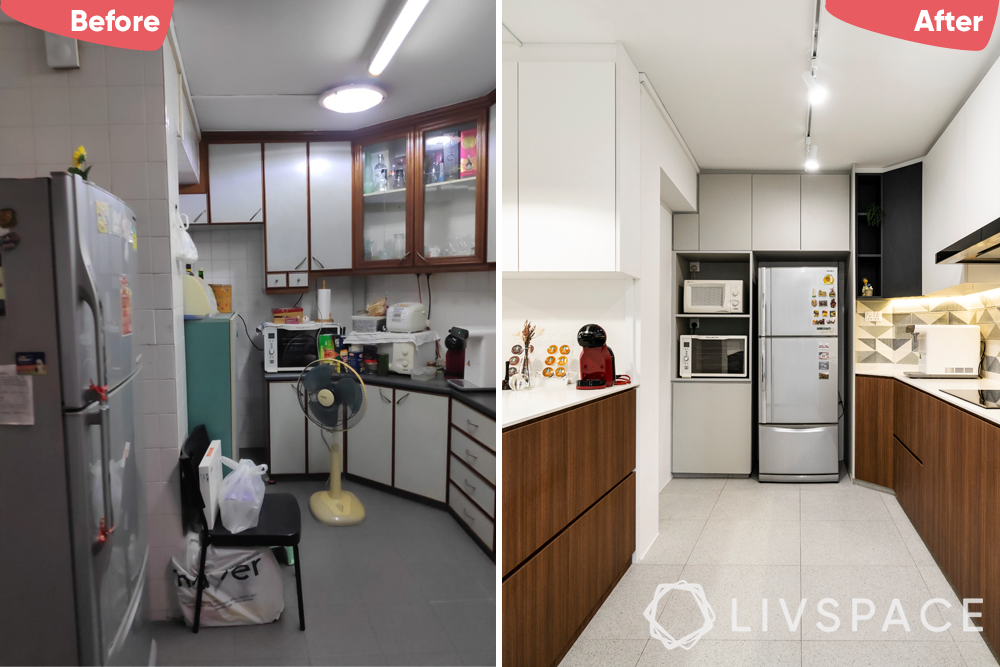 The problem: Less storage space.
The solution: Since the family living here had a lot of things to store in their home, in their U-shaped kitchen HDB in specific, they wanted to have a lot of storage space. Their designer, Shalom, made sure he added enough cabinets and designated space for appliances so that there is no wastage of counter space. He also knocked down one part of the kitchen to accommodate a peninsula island with storage that gives more definition to the open kitchen. The main design highlight of this kitchen is the backsplash which stands in contrast to the stark white backdrop.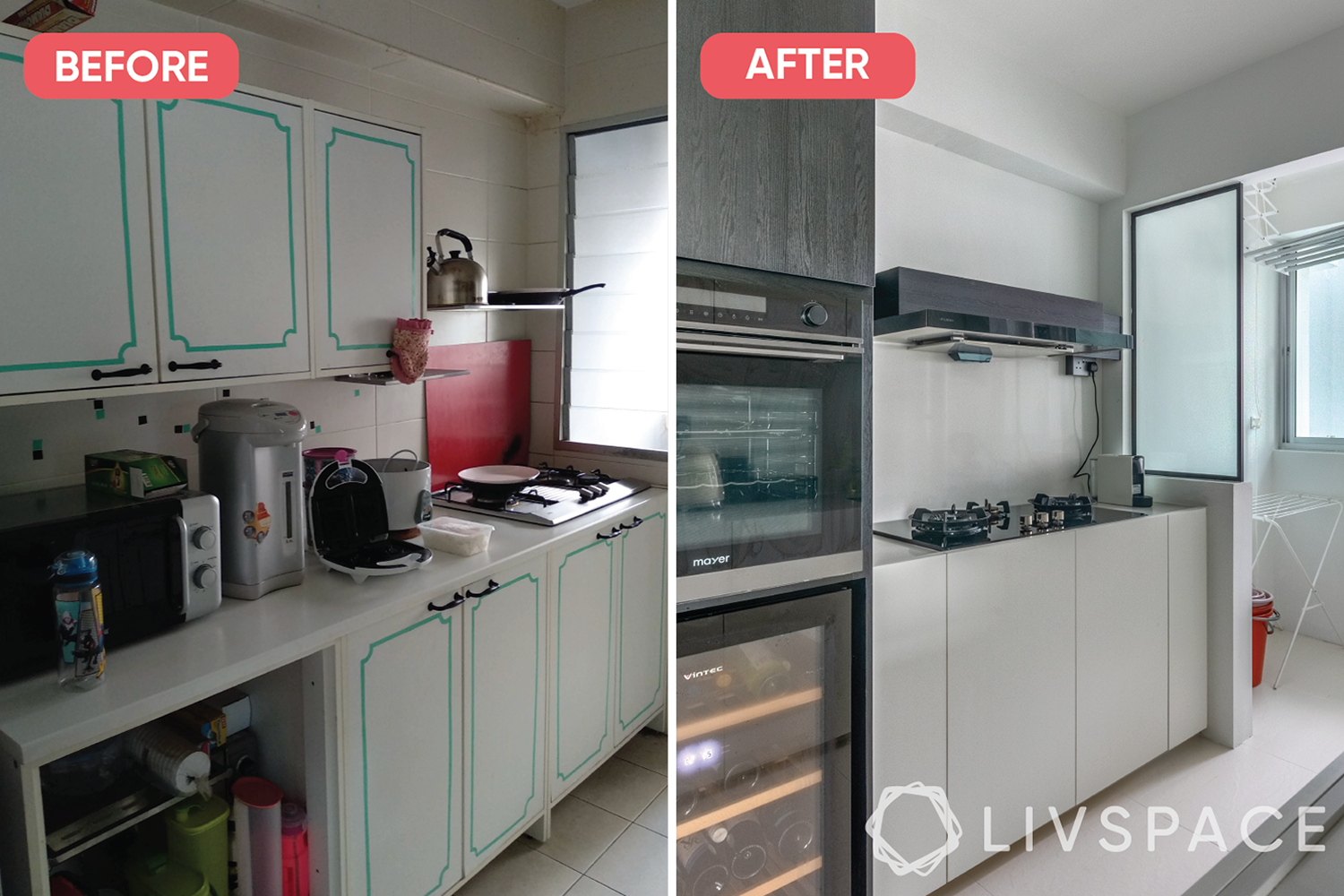 The problem: Lack of efficiency while cooking and lesser functionality.
The solution: If there's one thing that you should take care of while designing a kitchen from scratch or renovating an old one, it is the golden triangle. A designer will always make sure that he/she follows the golden triangle while designing this space. Weigen, the designer for this home took care of even the smallest detail to design this HDB kitchen design. He ensured that the hob, sink and refrigerator are placed in the right directions. As for the design aspect, dark wood texture with a hairline brush-white laminate has been used for the cabinets. He has also added a white quartz non-drip profile for the countertop and backsplash, which is very easy to clean.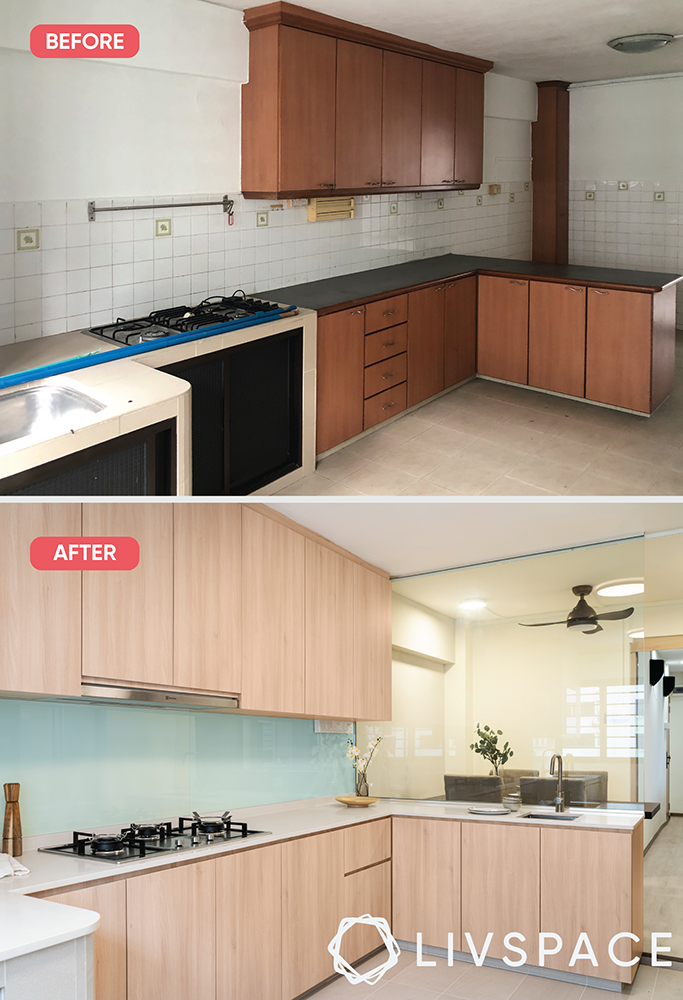 The problem: Old kitchen that lacks character and style.
The solution: If you look at this kitchen HDB pre-renovation, you will notice that not much has changed in terms of layout. The designer, Ava has added a lot more storage in terms of wall cabinets. She has kept the space easy on the eye with light laminates and a white quartz countertop. Also, a lacquered glass backsplash in a light hue of blue is the only colour in this space.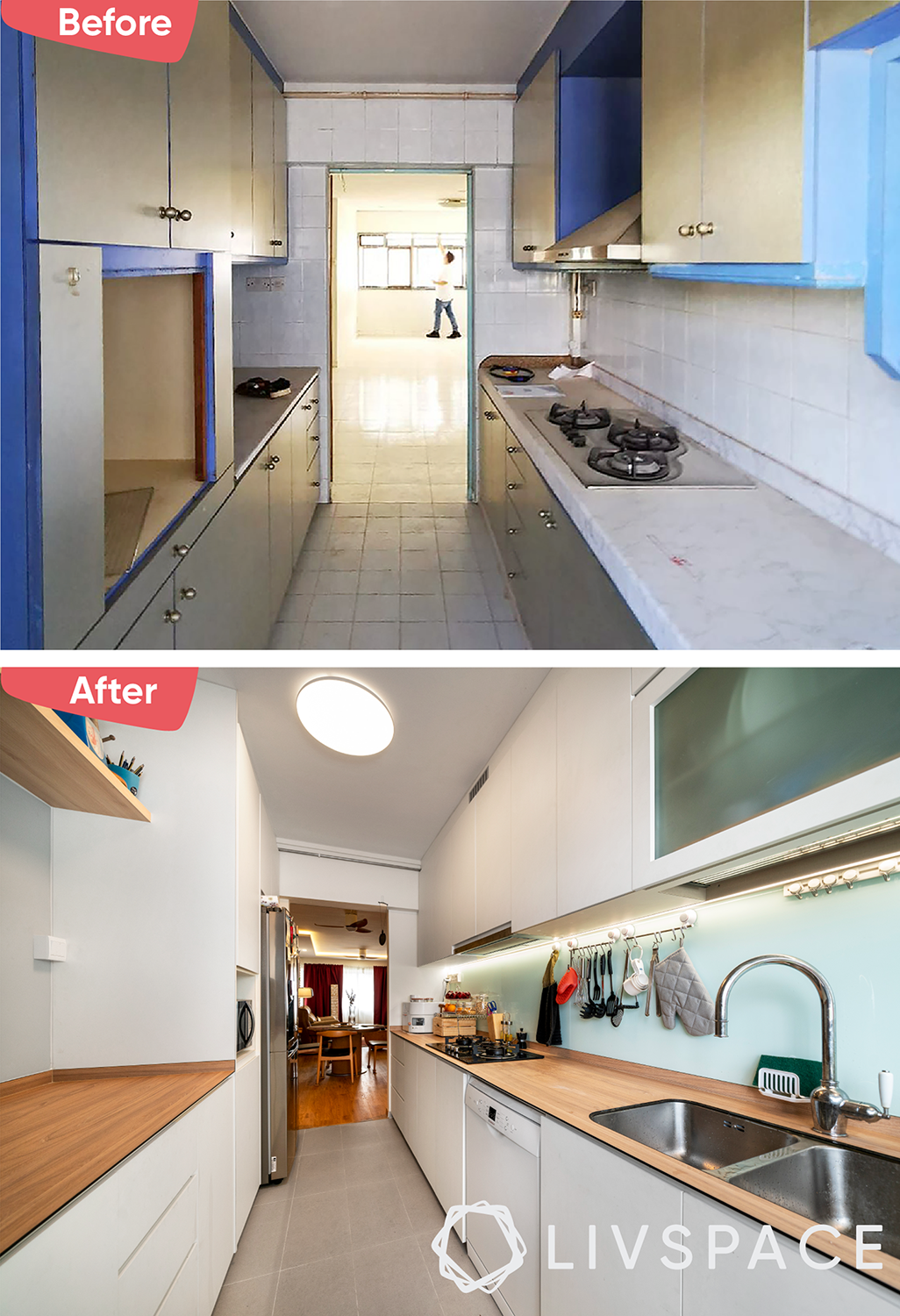 The problem: Bad layout and less utilisation of space.
The solution: Ava has made excellent use of the available space. While designing this space, she kept a modern and minimal style in mind, using pristine white cabinets in contrast to the warm wooden-coloured countertops. She has also equipped this kitchen with open shelves and accessories that let Krish, the homeowner indulge his culinary adventures.
Did these kitchen makeovers stun you? We hope you're inspired by these before-afters. You must look at 8 Stylish yet Practical Kitchen Design Trends to Follow in 2021.
Send in your comments and suggestions to editor.sg@livspace.com.