Kitchens, the most important but often overlooked room at home, loses against the attention-grabbing living rooms and bedrooms. They are often considered as the functional zones that do not necessarily need to look stylish or trendy. However, we tend to spend a considerable amount of time in this room? Hence, this space deserves a look that lives up to the rest of your HDB or condominium. We have some superb HDB kitchen ideas that will make you want to throw more parties. So, for your next kitchen renovation project, you already have the designs. You just need to read on.
Kitchen Ideas for Singapore #1: All-white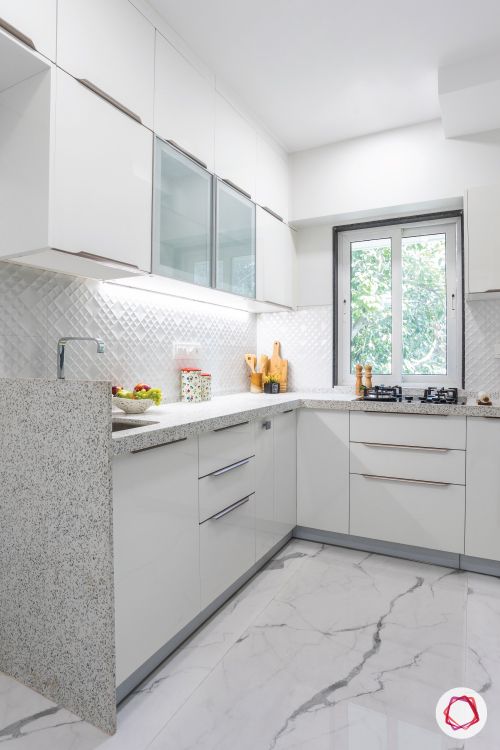 You'd love this if: You are someone who loves whipping up quick meals in a compact space.
A stylish mix of design and functionality, this kitchen will make your life easier. Trendy 3D tiles for the backsplash meet the granite countertop seamlessly. The whitewashed cabinetry opens up the space effortlessly. Lofts that reach the ceiling solve all your storage voes without making the kitchen look heavy. The striated marble floor tiles make complete the look of this kitchen.
Kitchen Ideas for Singapore #2: The Highlight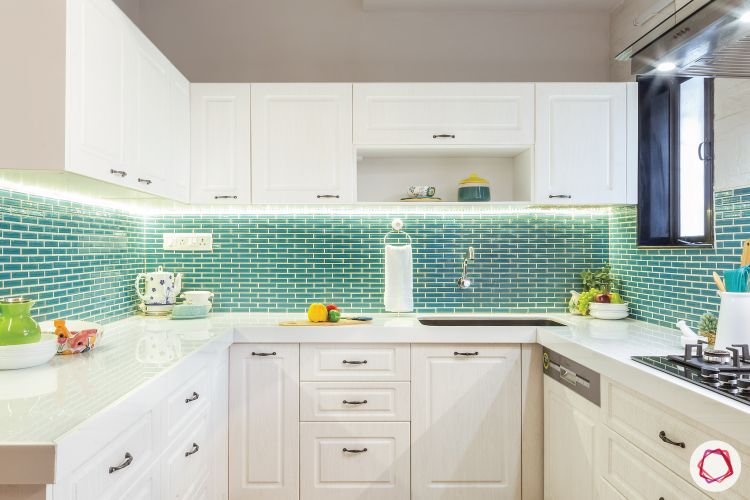 You'd love this if: You are someone who is always looking for that 'wow' factor in everything.
Are you someone who loves adding that element of interest to every room in your HDB or condo? This kitchen design incorporates a trendy blue backsplash in the form of subway tiles. Vintage-style profile shutters with metal handles bring the old-world charm right inside your kitchen. LED strip lights under the cabinets to illuminate the backsplash and countertop. This will also ensure that your kitchen is lit up while your food is being prepared.
Kitchen Ideas for Singapore #3: Country-style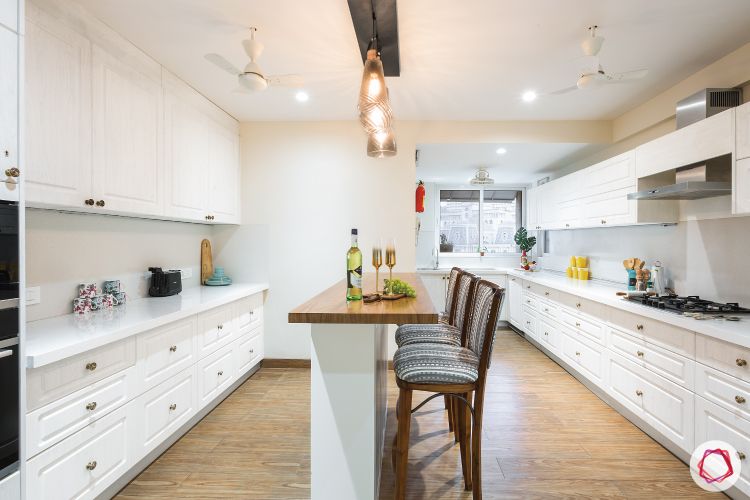 You'd love this if: You are someone prefers the classic style of design and love to have a spacious setting.
This open-style kitchen comes to life with the mini island in the centre. Ideal for quick bites over some wine, this spot will make it to your favourites list. Classic wooden flooring pairs seamlessly with charming white cabinet doors and pristine white countertop. A brilliant idea for your HDB kitchen design Singapore is the glass pendant light. Add these to your design and see the magic unfold!
Kitchen Ideas for Singapore #4: High on Storage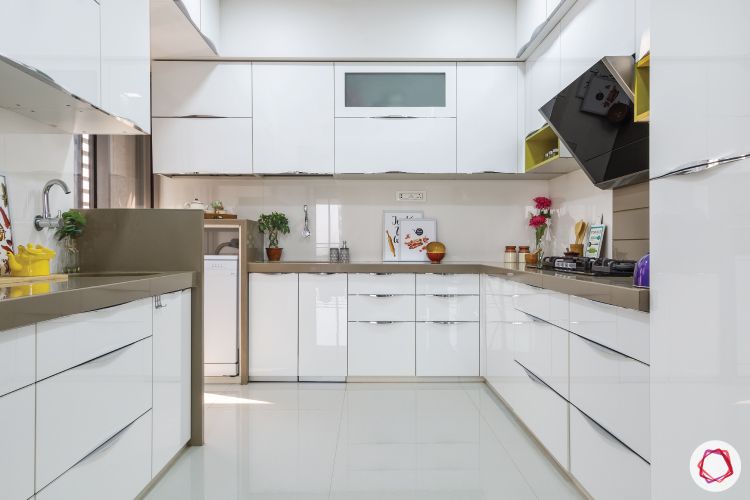 You'd love this if: You are someone who is always looking for some extra storage space everywhere.
We know that Singapore HDBs and condos are known for their notorious sizes and that is why storage is such an important aspect for every room. With a kitchen like this, you will have no dearth of storage space here. Look at all those drawers, cabinets and lofts with profile handles. You can store the world in your kitchen, while white shutters take care of keeping the space from looking bulky.
Kitchen Ideas for Singapore #5: Bright & Airy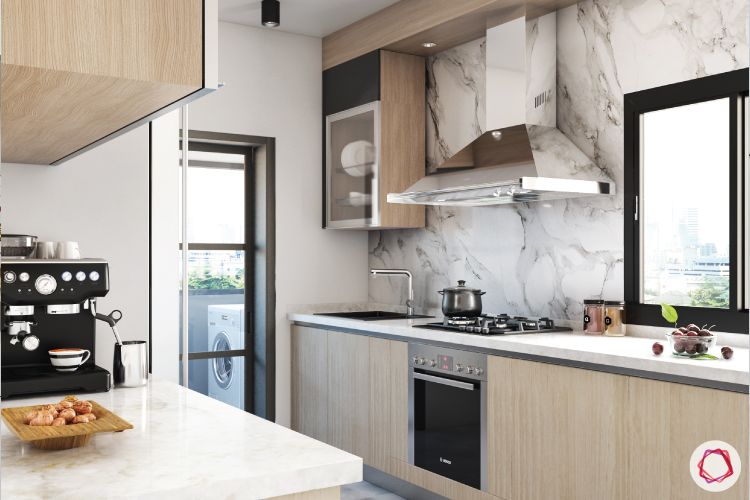 You'd love this if: You are someone who likes to gaze outside the window while you bake your favourite cake.
Almost everything in this cosy kitchen is bespoke, from the marblesque backsplash to the wooden finish cabinets and the steel chimney. Separate counters for cooking and appliances mean that things stay in place. Glass doors and windows allow maximum light to enter this kitchen. With the oven right under the steel hood chimney, you can bake to your heart's content and your kitchen will always smell fresh. Light oak cabinets are perfect for those who cannot decide on a particular colour for their kitchens.
Send in your comments and suggestions.