Kitchens are the most important yet overlooked room at home as they lose against the attention-grabbing living rooms and bedrooms. They are often considered functional zones that do not need to look stylish or trendy. But, we say otherwise. Livspace presents you with some superb HDB kitchen ideas that will make you want to redesign your kitchen right now!
We tend to spend a considerable amount of time in this room. Hence, this space deserves a look that lives up to the rest of your HDB or condominium. So, don't waste time searching for design ideas for your next kitchen renovation project. They are right here. You just need to read on.
Kitchen Ideas for Singapore #1: All-white
For the one who loves whipping up quick meals in a compact space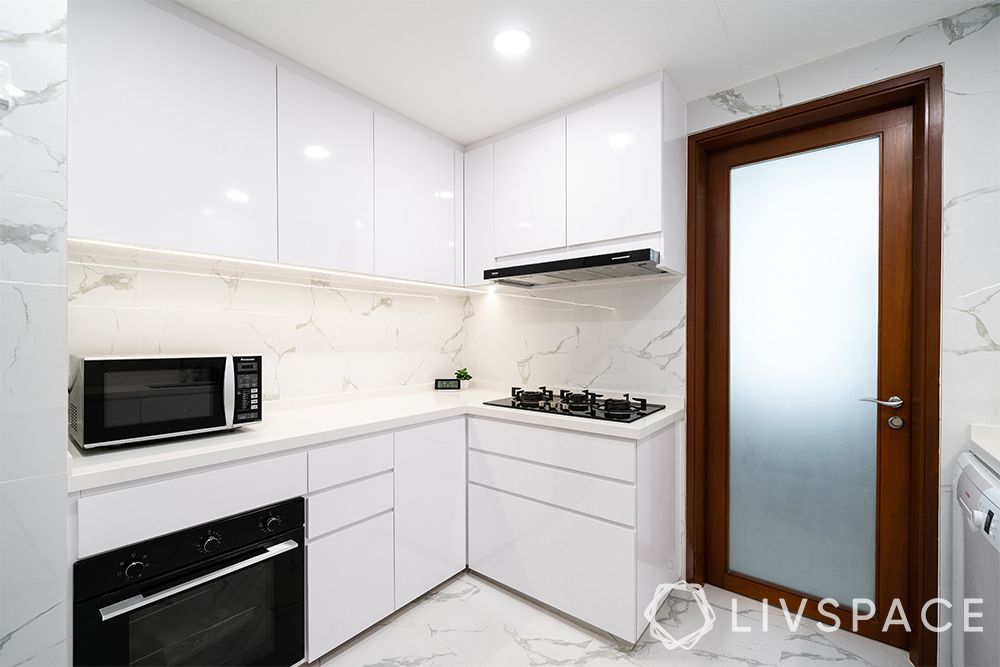 With a stylish mix of design and functionality, this kitchen will make your life easier. Trendy 3D tiles for the backsplash meet the granite countertop seamlessly. The whitewashed cabinetry opens up the space effortlessly. Lofts that reach the ceiling solve all your storage woes without making the kitchen look heavy. The striated marble floor tiles complete the look of this kitchen.
Kitchen Ideas for Singapore #2: The Highlight
For the one who looks for that 'wow' factor in everything.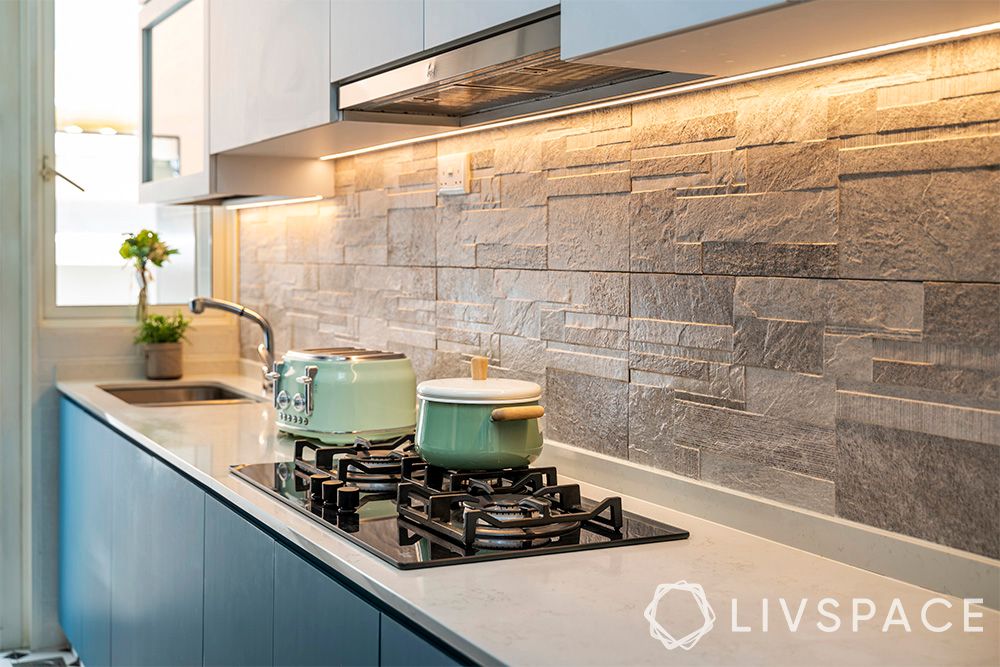 Are you someone who loves adding that element of interest to every room in your HDB or condo? This kitchen design incorporates a trendy grey backsplash in the form of tiles blends seamlessly with popping blue cabinets. LED strip lights are placed under the cabinets to illuminate the backsplash and countertop. This will also ensure that your kitchen is lit up while your food is being prepared.
Kitchen Ideas for Singapore #3: Country-style
For the one who loves the classic style of design and a spacious setting.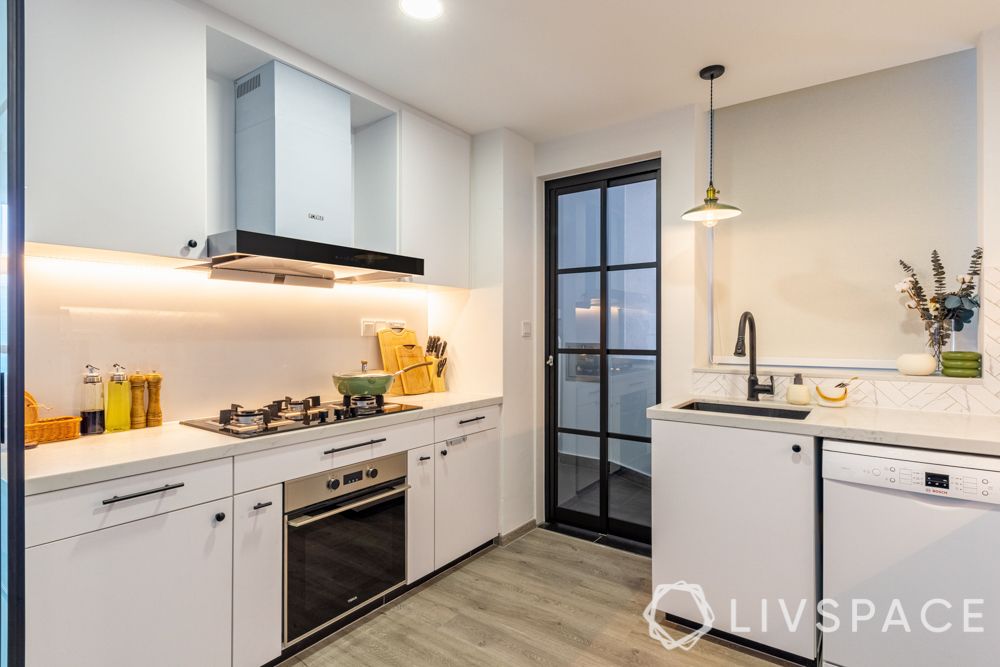 This open-style kitchen will make it to your favourites list. The classic wooden flooring pairs seamlessly with the charming white cabinet doors and pristine white countertop. A brilliant idea for your HDB kitchen design Singapore is the pendant light. Add these to your design and see the magic unfold!
Kitchen Ideas for Singapore #4: High on Storage
For the one who is always on a hunt for some extra storage space.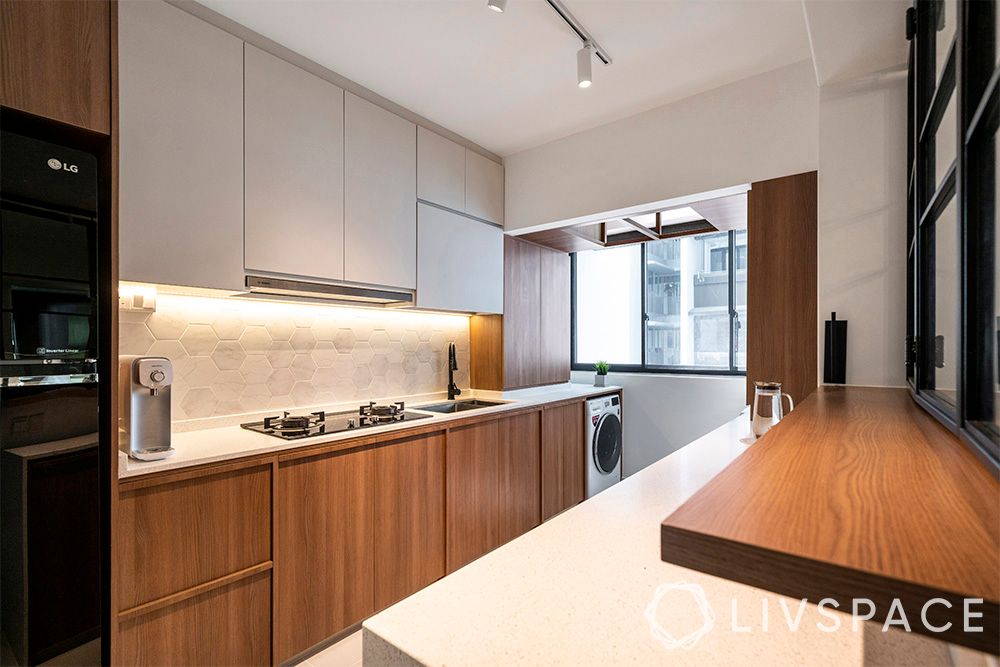 We know Singapore HDBs and condos are known for their notorious sizes. That is why storage is such an important aspect for every room. With a kitchen like this, you will have no dearth of storage space here. Look at all those drawers, cabinets and lofts! You can store the world in your kitchen, while the shutters take care of keeping the space from looking bulky.
Kitchen Ideas for Singapore #5: Bright & Airy
For the one who likes to gaze outside the window while baking their favourite cake.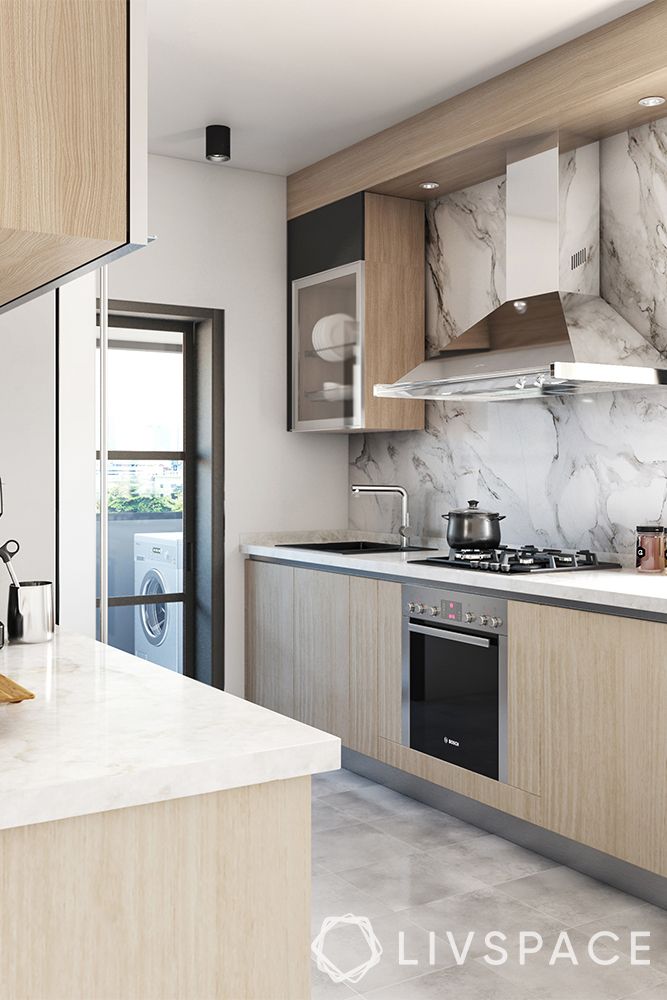 Almost everything in this cosy kitchen is bespoke, from the marblesque backsplash to the wooden finish cabinets and the steel chimney. Separate counters for cooking and appliances mean that things stay in place. Glass doors and windows allow maximum light to enter this kitchen. With the oven right under the steel hood chimney, you can bake to your heart's content and your kitchen will always smell fresh. Light oak cabinets are perfect for those who cannot decide on a particular colour for their kitchens.
Kitchen Ideas for Singapore #6: Modern Black and White
For the one who is modern and bold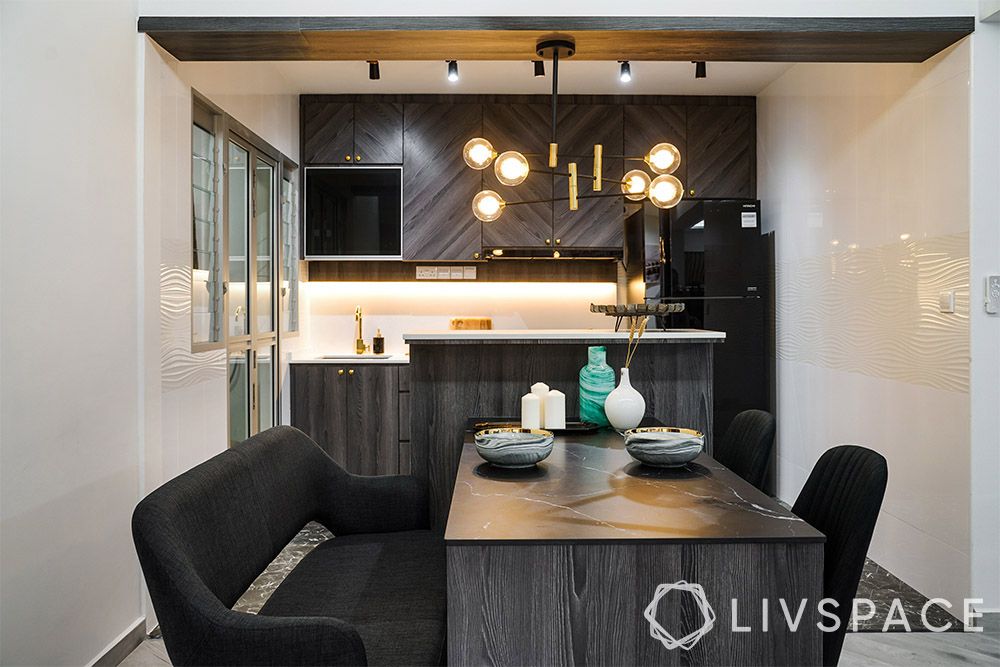 The timeless black and white combination of this kitchen screams bold and beautiful. The modern-style chandelier elevates the look of the room. This aesthetically pleasing kitchen is a good example of space optimisation too. The dining area is combined with the kitchen by adding an island. The island has storage, too, making it more functional. This kitchen idea is perfect for your compact HDB.
Kitchen Ideas for Singapore #7: Eclectic
For the one who loves all designs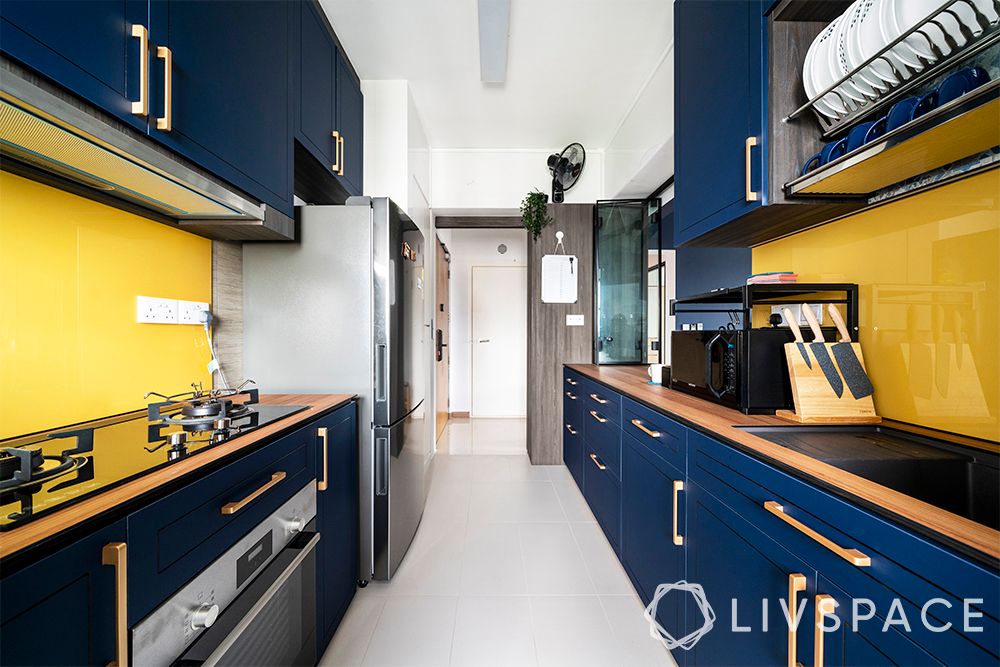 This kitchen is for those who like to be surrounded by vibrant colours.
Here, the classic dark navy blue cabinets are adorned by striking flat gold handles. The cabinets have EDL's Fenix Laminate finish, making it anti-bacterial, fingerprint-resistant and has "healing" effects. And the bright yellow backsplash breaks the monotony of the blue.
If you work a lot in the kitchen, choose a closed U-shaped kitchen or galley kitchen as they are more spacious.
Things to avoid while redesigning your kitchen
#1. Inadequate storage
Not enough storage in the kitchen is a nightmare for many. Cabinets and shelves are essential to store all your ingredients, supplies, cookware etc., for a neat-looking, clutter-free space. Remember to get spacious storage units to fit in all your essentials.
#2. Ineffective design
Poor planning of the space can lead to poor workflow. As a primary design rule, keep the cooking and preparation areas side-by-side.
The cabinets and pull-out drawers should be correctly fixed; they shouldn't hit each other and you should have enough space to open them. It is vital that the storage area is near the entrance as it helps reduce the distance between your workstation and the cabinets/fridge.
#3. Dim lighting
Proper lighting is essential as a dimly lit kitchen can lead to accidents and injuries. A bright kitchen is safer to work in.
These kitchen ideas are curated for every kind of home in Singapore, and we bet you will love the way your kitchen looks if you try these out. Check out more such ideas here.
Check out this smart home:
If you love these ideas and don't know where to start, use our How to Zero in on the Perfect Kitchen for Your Home guide.
Send in your comments and suggestions to editor.sg@livspace.com