Whether you're living in an HDB flat or residing in a spacious condo, the idea of an island kitchen is too intriguing to dismiss. Contrary to the popular belief, kitchen island designs can be implemented even in the smallest of spaces with some clever planning. Islands in a kitchen design are functional, make the kitchen look appealing and add lots of storage space for homes in Singapore. So, we've consolidated information on how to get the best design with some kitchen island design ideas to get your creative juices flowing!
What is a kitchen island?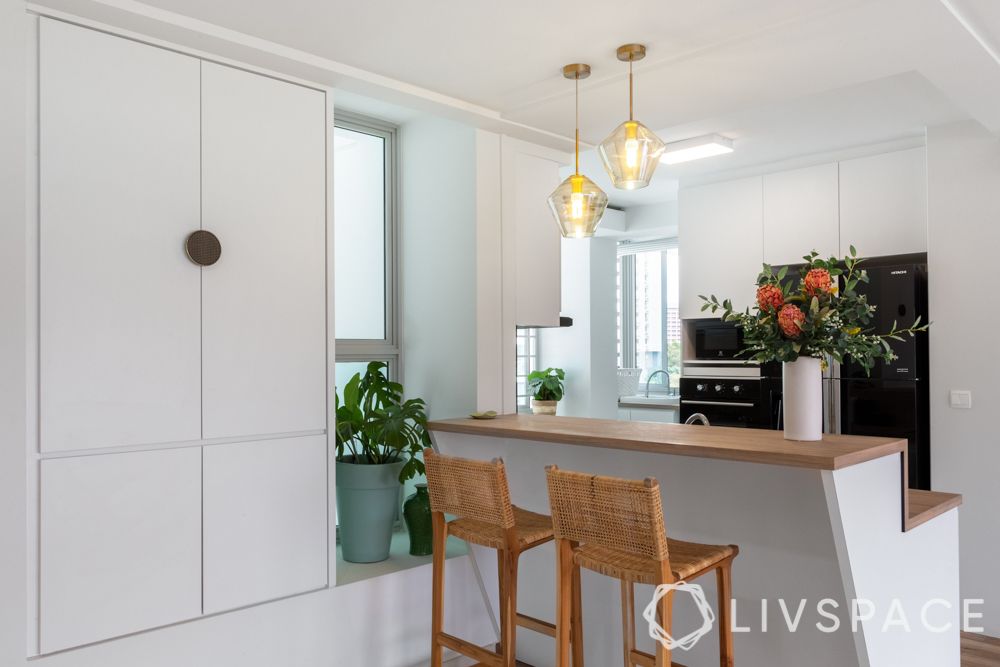 Simply put, a kitchen island is a counter standing separately from the actual kitchen. This could be in the centre or parallel to the cabinets. It doesn't only have to have cabinets but can also be a table with a seating area to make it a conversation zone. The island is functional and gives your kitchen an elegant look.
What are the benefits of having a kitchen island?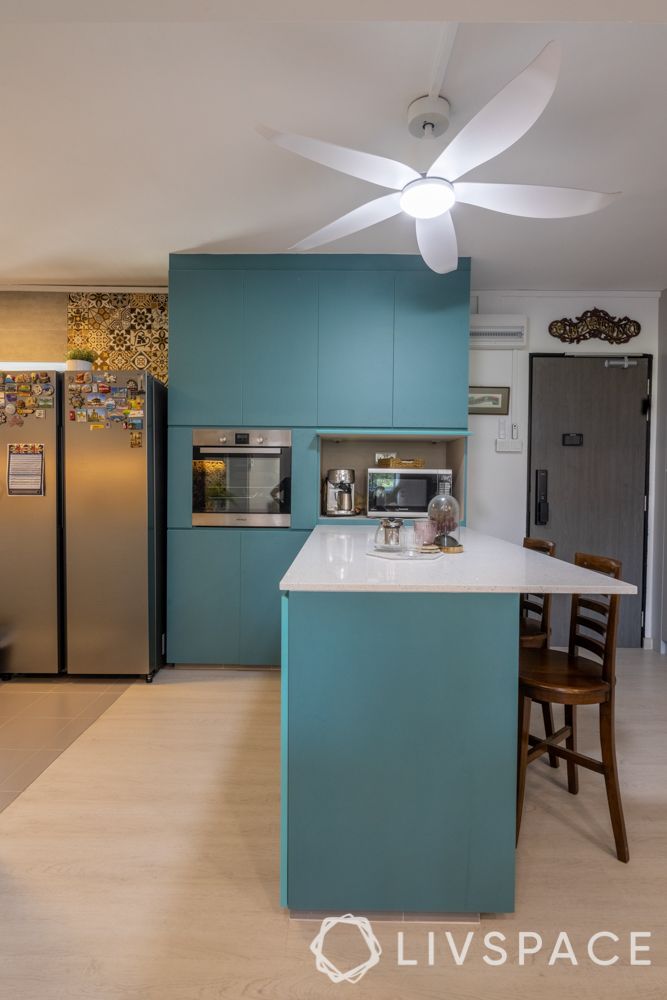 Kitchen island designs are ergonomically made to ensure optimum functionality and make better use of space. They suit all kinds of kitchen layouts — straight, L-shaped, U-shaped and others. Here are some reasons why kitchen islands can be advantageous:
#1: Adds to the Storage Space
With an island counter, you can add more cabinets to the space. Many use the counter space to store fruits, cooked meals and other items. It can also be fitted with a sink to aid with your washing and other chores. Some even house appliances on an island counter to save space.
#2: Extended Counter for Meal Preparation
When you have a small space, adding an island could be beneficial when you have two or more cooks sharing the kitchen. While meals are being cooked, the space can be used to dice, chop and prep other dishes simultaneously.
#3: Acts as a Partition in Open Kitchens
With open kitchens being the trend, an island counter efficiently acts as a divider between the living area and the kitchen. This demarcation can be effective to ensure your home has a clean-cut look in an open space.
#4: A Seating Space in Small Homes
Kitchen islands can also serve as breakfast counters or small dining spaces in small homes. An island gives your guests and family a spot to sit and chat while you're cooking in the kitchen. It is also great while hosting a party as a place to hold your snack items and beverages.
How to design the perfect kitchen island?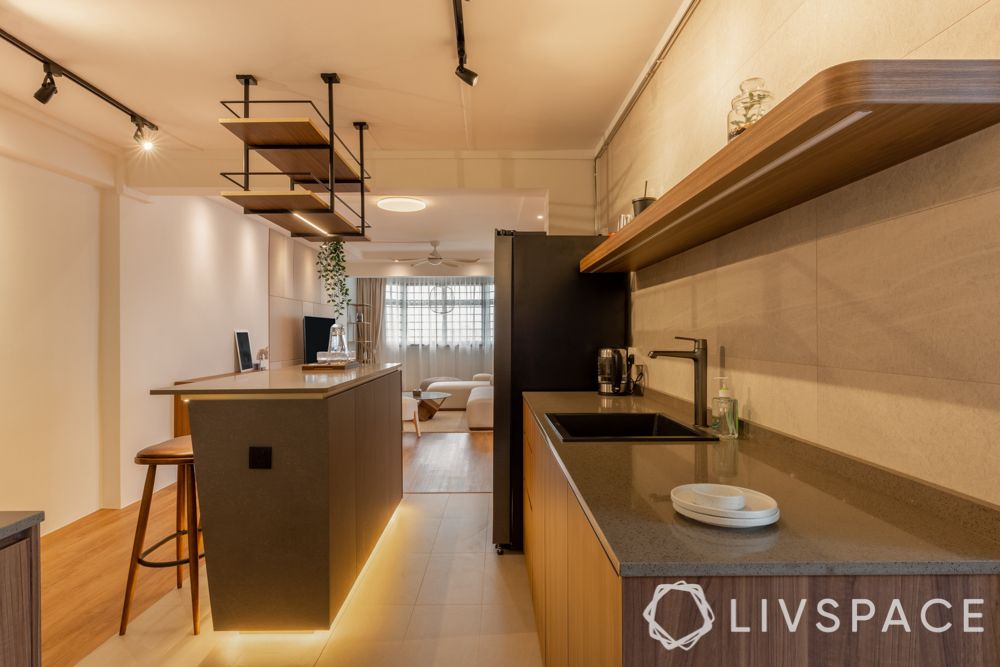 There are some things you'll have to keep in mind to make your kitchen island design perfect.
Figure out the purpose for the island — seating, house appliances, storage, etc
Keep at least 42 inches of space on all sides for easy movement
Pick between portable or fitted counters depending on the space available
Select a countertop material similar or in contrast to your kitchen design
Work on finding the right lighting for the island
Go bold with colours and patterns to bring in some character
If you fit a sink or appliance, ensure you have the right wiring and plumbing in place
Kitchen Ideas for Every Design Style
#1: Modern Kitchen Island Design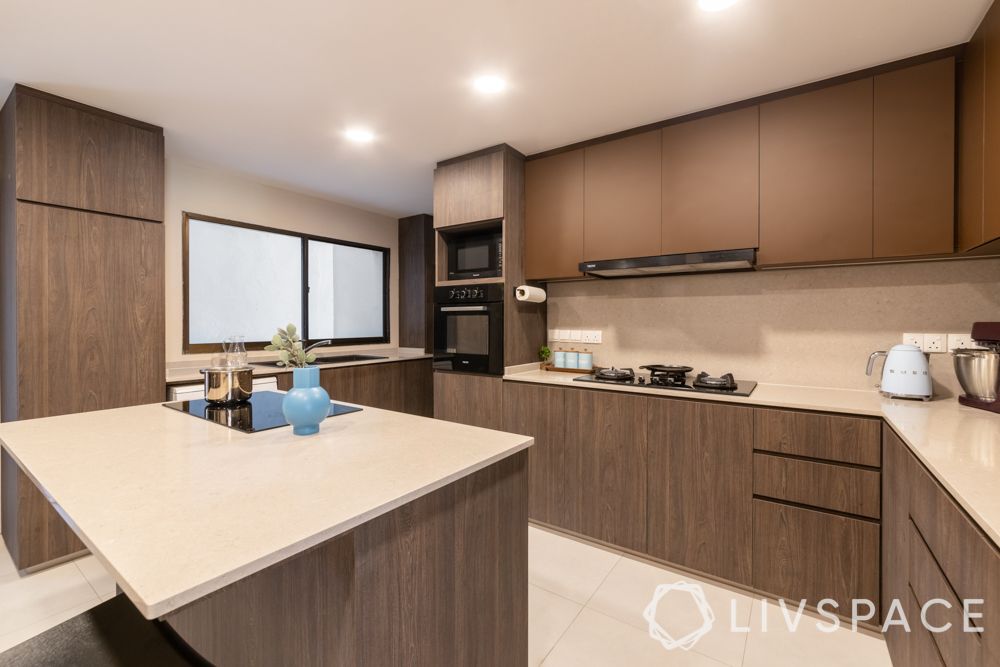 Isn't the contrast between the white kitchen tabletop and the wooden finish of the cabinets subtle yet beautiful? Modern kitchens are known for their clean lines, subtle hues and uber-functional spaces. Staying true to this aesthetic, this kitchen island design offers ample storage space along an extended counter to serve as a table.
#2: Industrial Kitchen Island Design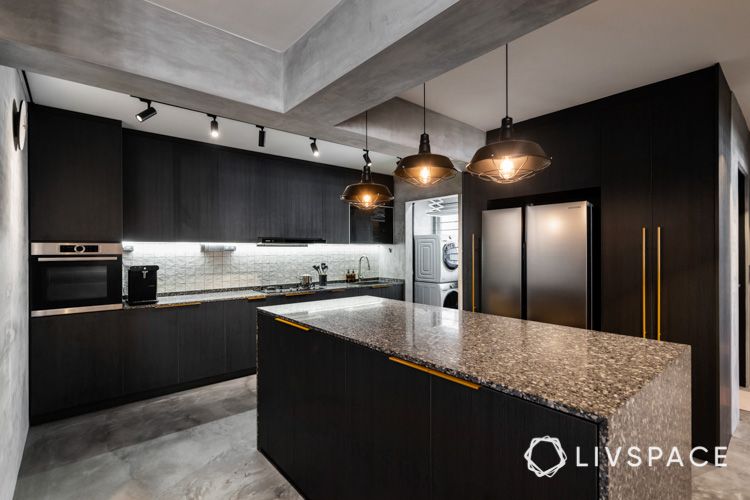 Industrial design is all about exposed brick walls, rugged finishes and visible ceiling beams. In this design, the industrial style is elegantly paired with a black cabinet finish and granite kitchen top to exude a plush look. The vintage metal lights add to the charm of the space.
#3: Moroccan Kitchen Island Design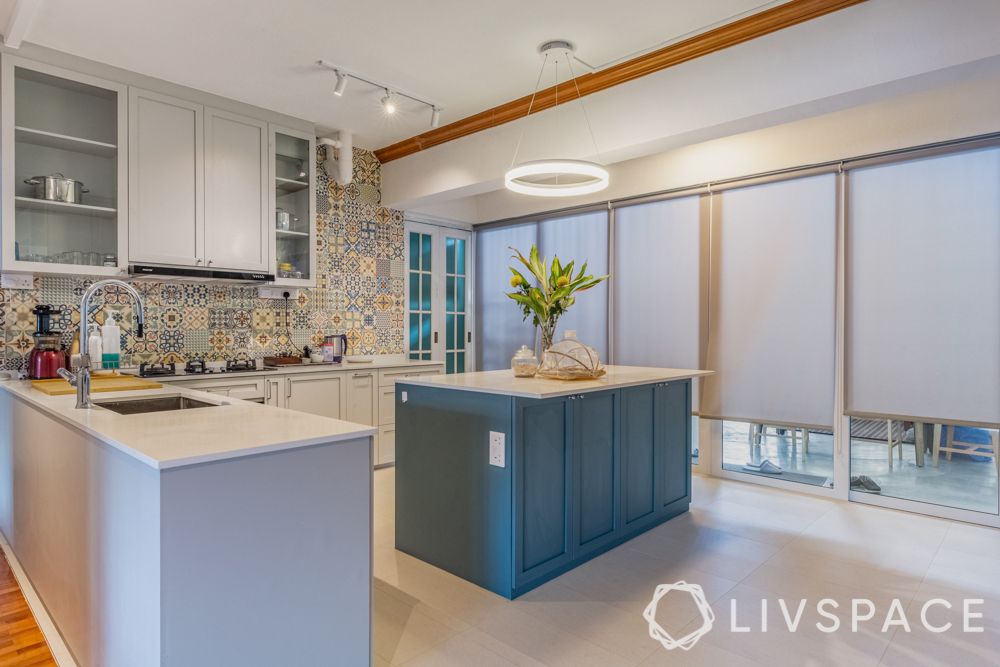 Who doesn't love the bright colourscape of Moroccan kitchens? Implementing bold colours and Moroccan tiles for the backsplash along with a melee of different patterns and textures can make your kitchen a vibrant and cheery place. This kitchen balances the white cabinets with a touch of patterned tiles and a powder-blue island counter.
#4: Scandinavian Kitchen Island Design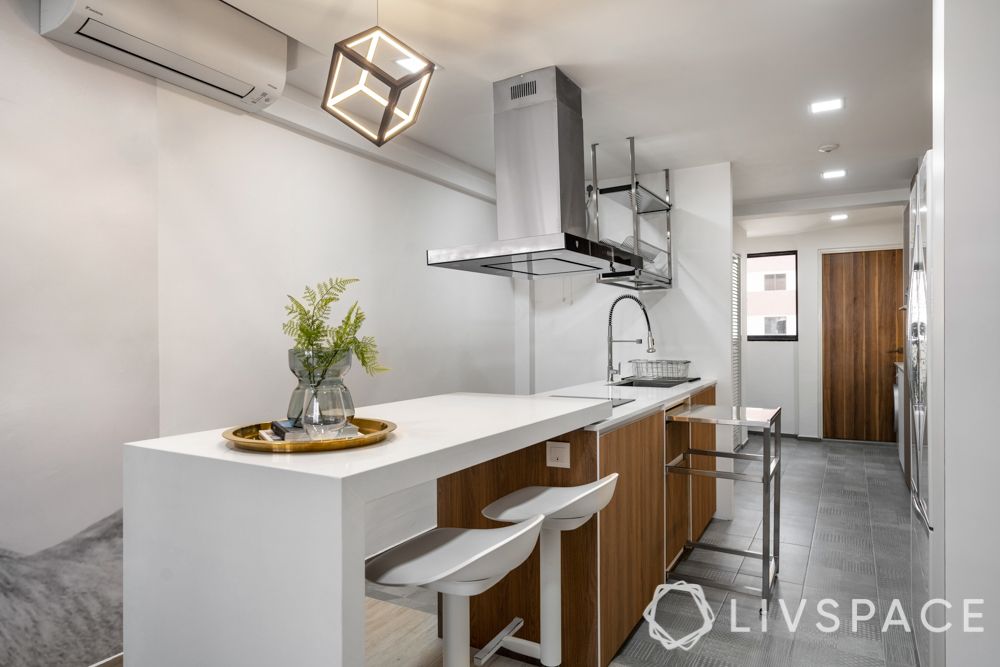 White kitchens seem to have taken over interior design trends for the last few years! And what better way to give your island kitchen a fashionable look than a Scandinavian kitchen featuring plenty of wood and whites? The space in this design layout is put to good use by putting the island parallel to the actual kitchen. Not just that, the long island counter houses a breakfast corner, a sink and storage space that includes a pull-out appliance holder.
#5: Minimalist Kitchen Island Design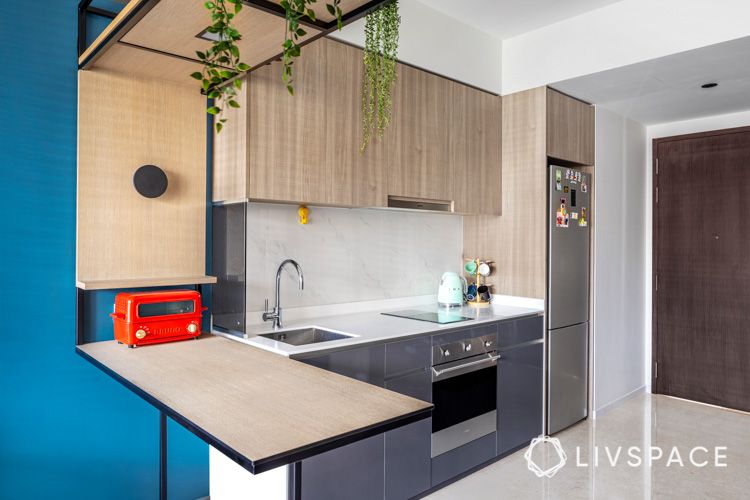 When designing a kitchen for your HDB, space is of utmost importance. This minimalist design gives your home a neat look and the pull-down counter saves a lot of floor space. You can always tuck it away to be a part of the wall when not in use.
#6: Eclectic Kitchen Island Design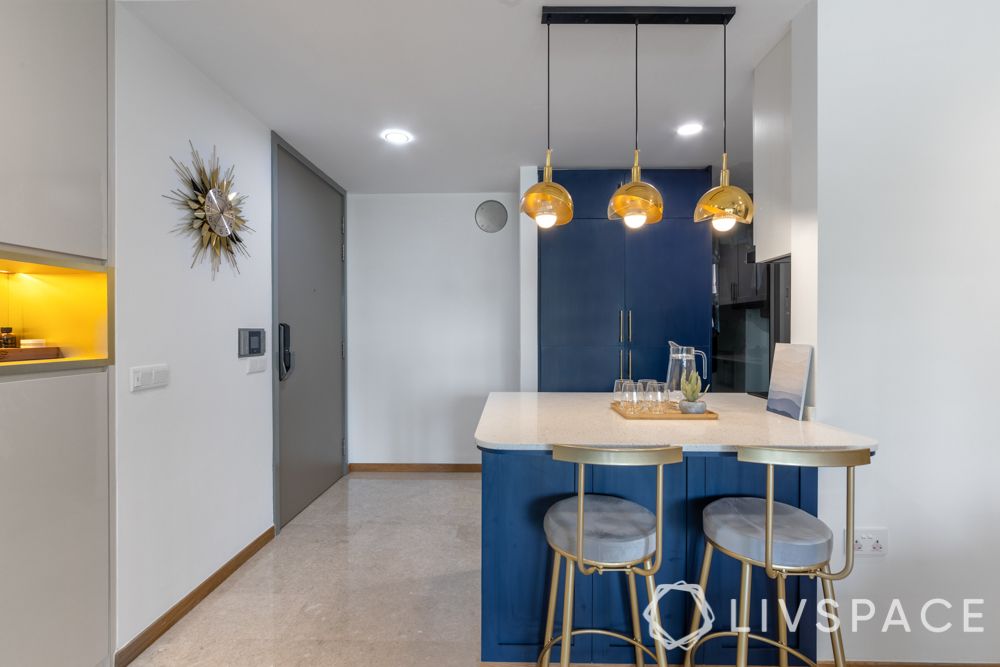 Kitchen island designs are a great way to set a casual mood when you have friends over. As you prepare to stun them with your culinary brilliance, you can have light conversations over the island counter. An eclectic style is sure to be a conversation starter and adds to the casual setting you're going for. It's also a great way to make your cooking space fun with a mix of stunning colours, unique decor and more.
We hope these kitchen island design ideas were able to give you some inspiration! Having a kitchen island can be the pride of your home and handy. Go for optimum utilisation of space and add to your storage by simply planning the best way to fit in an island counter in your kitchen.
Tour this 3-room home:
How Can Livspace Help You?
If you are thinking of redesigning your home, then consider Livspace. Book an online consultation with our designers now to turn your dream home into a reality. We are all about quality and safe interiors.
Let the pandemic not stop you from attaining your dream home. We follow strict COVID-19 safety protocols, which you can read about here.
We have more kitchen island design ideas you can browse through to find the perfect fit for your home. Let us know what you like by sharing your ideas and suggestions to editor.sg@livspace.com