Kitchen layouts with island options are not a new concept when it comes to interior design. They offer functional and aesthetic elements to our homes in a variety of interesting ways. Though these installations might seem like they require plenty of space, there are several styles to choose from based on your needs. If you'd like to add a bit of style to your living space, these kitchen island designs can help you get the ball rolling.
To help you find the right kitchen island ideas for your home, we've put together 21 of our favourite styles. Read on to find your perfect match!
1. Multifunctional Modern Kitchen Island Design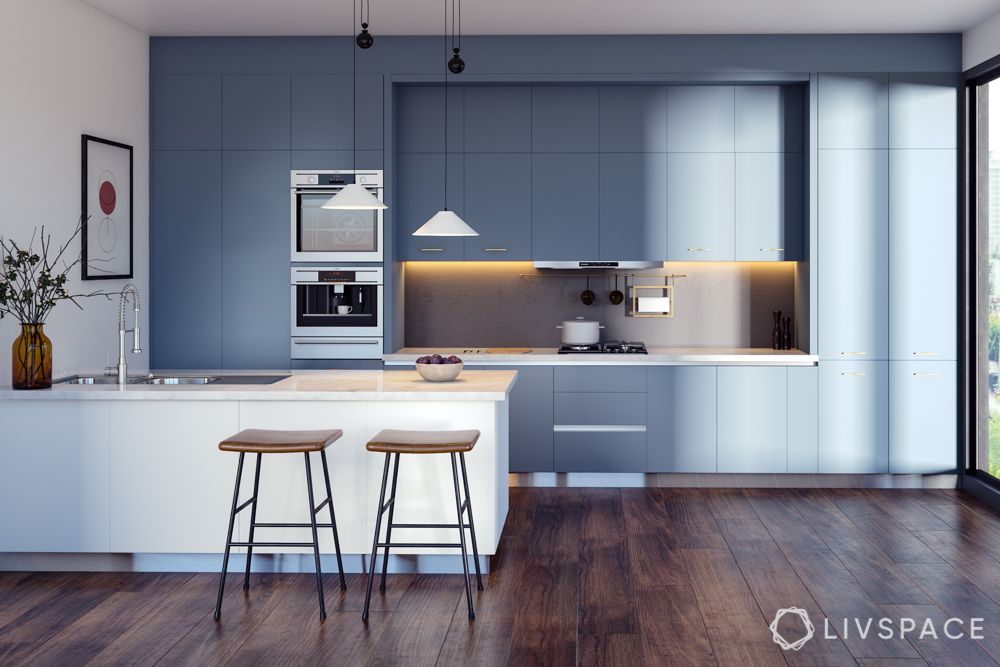 How do you define the best kitchen interior design? It is the one which has both good aesthetics and high functionality. This kitchen island counter design has both. It can be used as the breakfast or food counter. It can also double up as the utility area with a sink. The clean lines and minimalistic colour scheme also add depth to its design.
2. Seamless Monochromatic Kitchen Island Ideas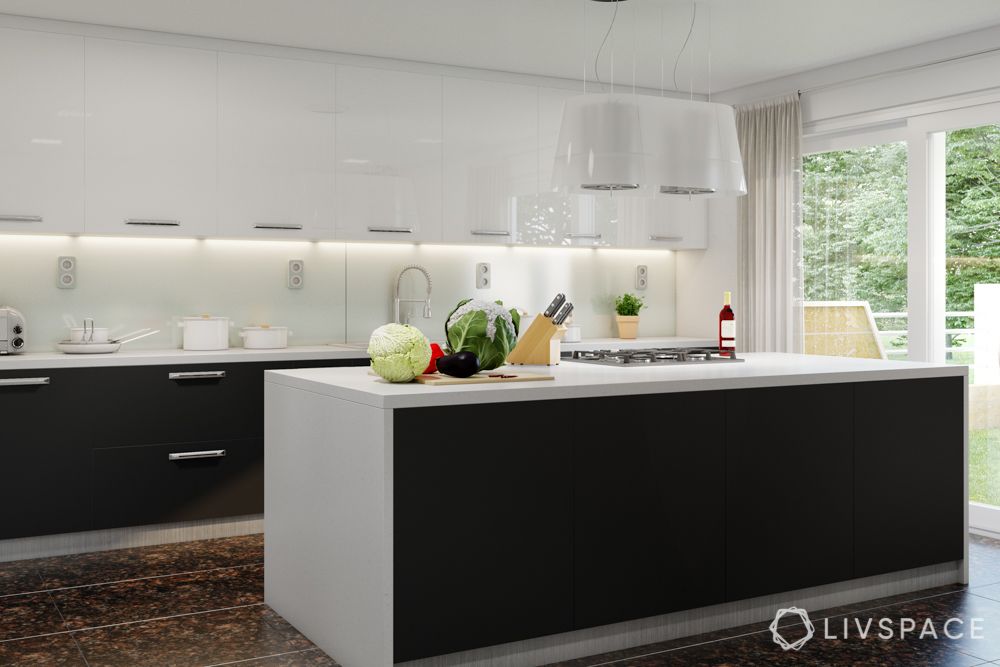 Who doesn't love a good monochrome colour scheme? This effortlessly stylish kitchen island design offers both counter space and functionality. Paired with a stovetop and an extractor fan, this island layout works best for spacious homes with large families.
3. Bold, Black and Beautiful Kitchen Island Decor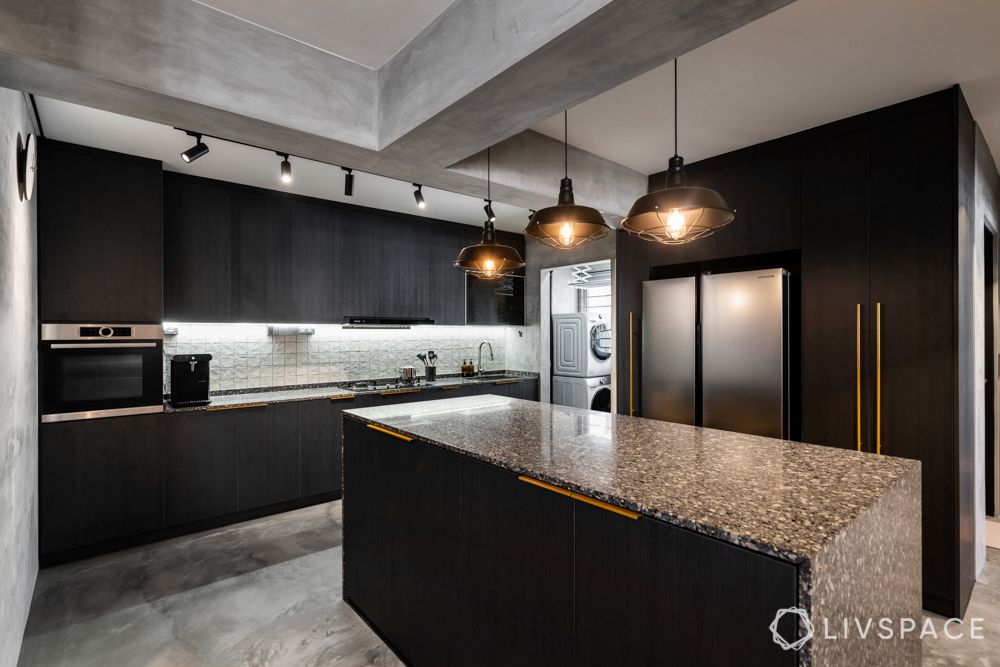 Strikingly bold, this kitchen layout with an island exudes an unmistakable industrial aesthetic. Dressed in stony hues of brown, black and grey, this open kitchen design is great for entertaining guests. The terrazzo-stone countertop paired with iron pendant lights gives this space more depth.
4. Well-Lit Kitchen Island Ideas for Modern Design Lovers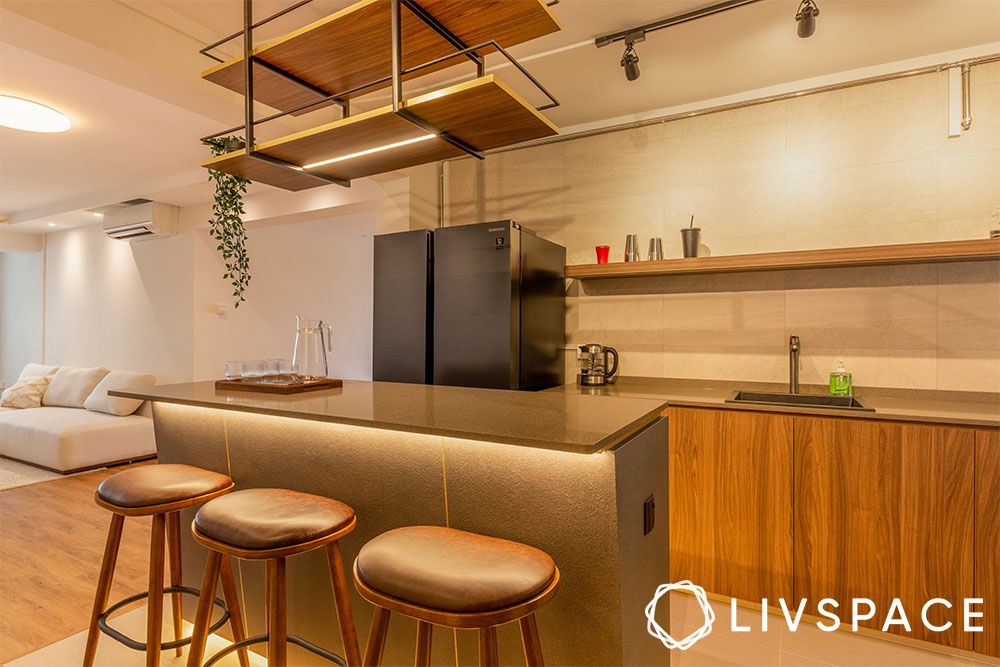 Brighten up your kitchen layout with a floating kitchen island design lined with profile lights. A well-lit island brings an element of refinement to your kitchen, doubling up as an elegant breakfast counter. It gives a modern look to your kitchen along with making it functional.
5. Luxury Kitchen Island Decor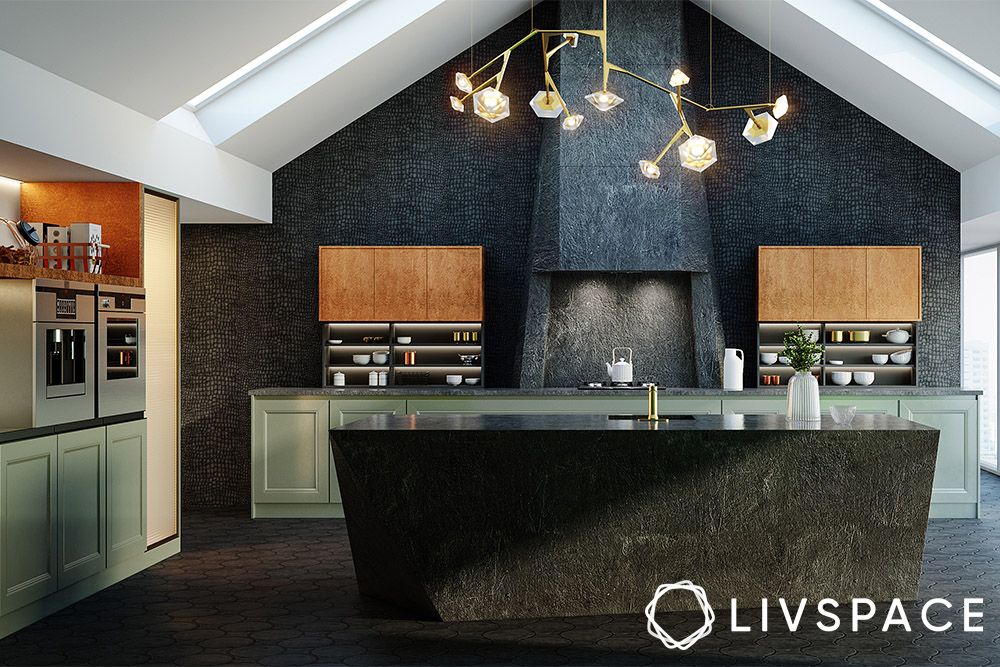 Fan of luxury? This cut stone island kitchen design incorporating textures, patterns, and deeper hues is for you. This island kitchen was created with the golden triangle design philosophy in mind, making cooking quick and simple.
6. Use Waterfall Edge for More Functionality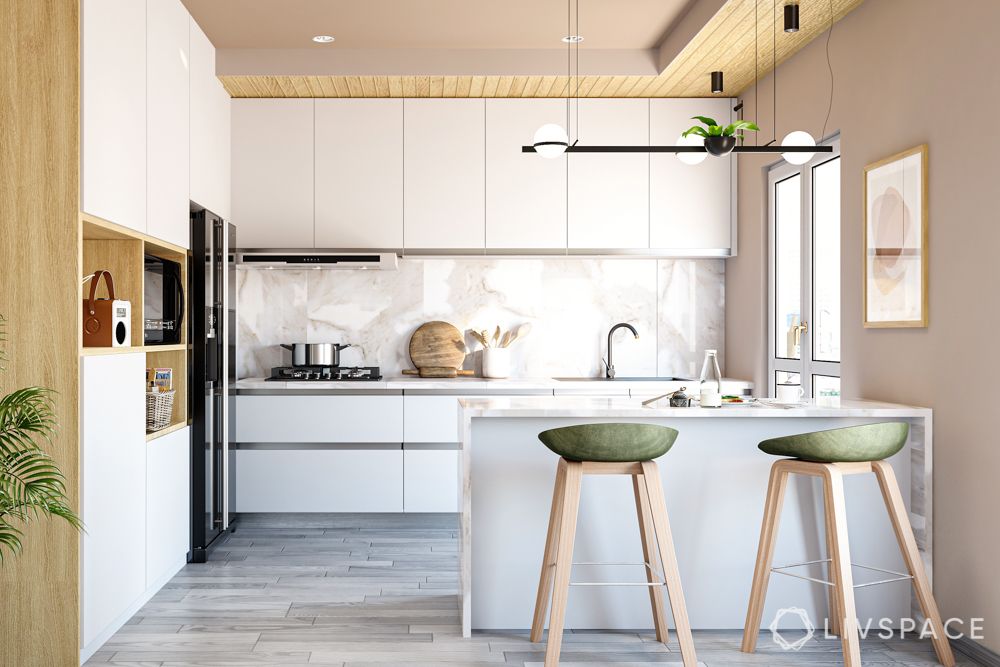 A waterfall edge is a style in which the countertop's end is angled at 90 degrees. The countertop turns towards the floor and continues down the side of the cabinet, island, or seating area rather than just finishing with a polished edge. This helps maintain fluidity in the design. It is also a renowned element of modern kitchen interior design.
7. Use Reclaimed Wooden Plank Modern Kitchen Island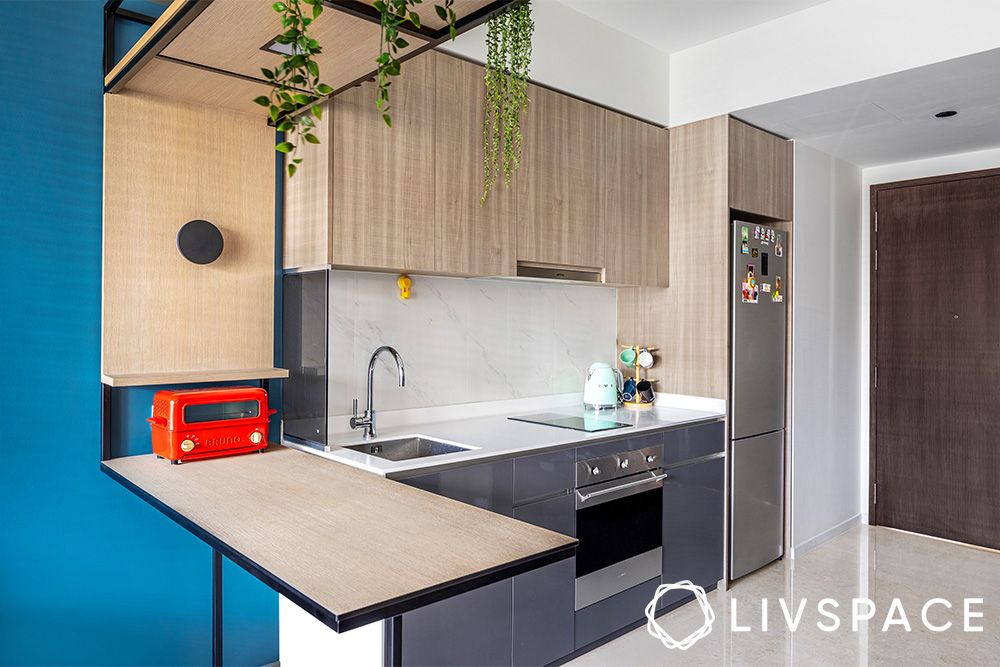 If you want an eco-friendly design for your home, adding reclaimed wood to the kitchen is a good idea. Some people might wish to liven up their kitchen counters with reclaimed wood, while others may just want to redo their kitchen island by embracing nature's beauty. Well, in our opinion, you can do both, just like this kitchen design.
Also Read: Stunning Kitchen Island Designs to Find The Right One for Your Home!
8. Show-off With Some Pendant Lighting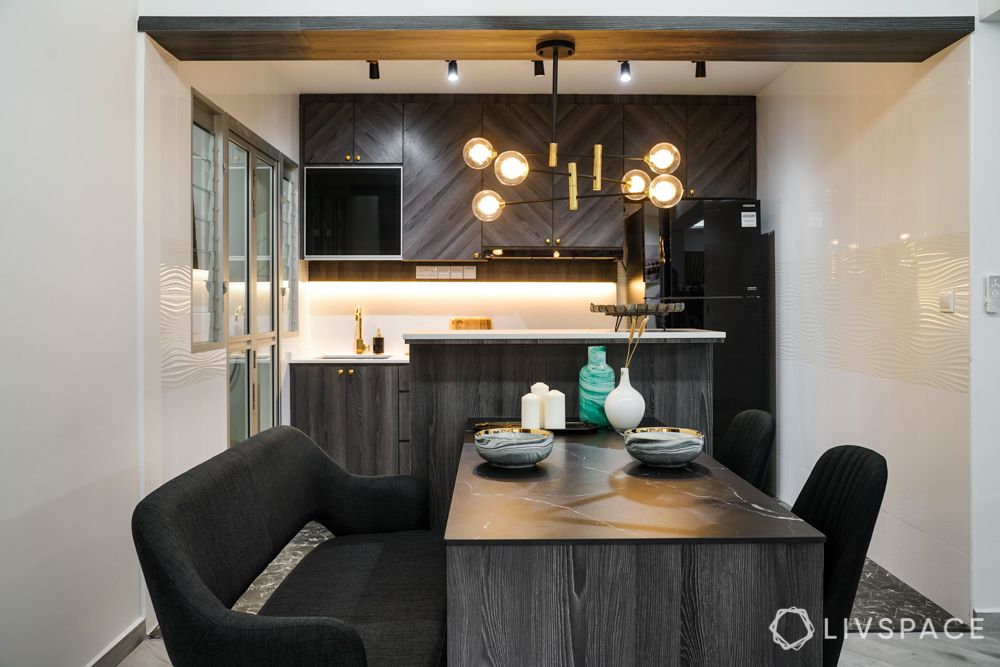 The hanging pendant lights provide luxe and glam to this simple kitchen island that opens up into the dining area. The island also includes storage space for maximum functionality, making it a great addition to compact spaces. With the inclusion of a two-tier Caesarstone counter, such small kitchen island ideas are able to provide more room for meal prep.
9. Make It Interesting With Mixed Materials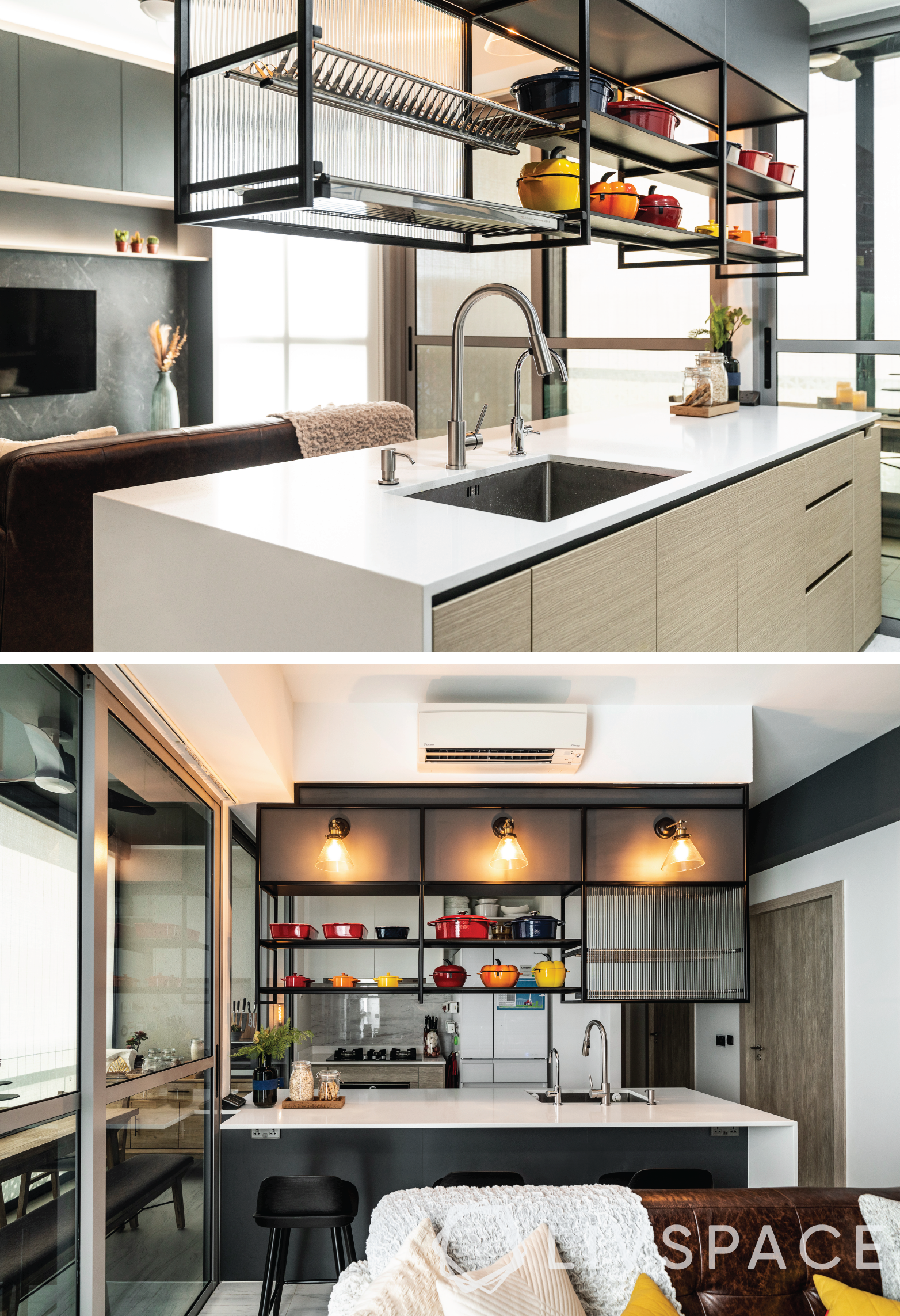 An interesting way to maximise space in your kitchen is to opt for an island with suspended racks. And if you can mix materials, it's better. Using this ceiling space, you can open up storage areas without limiting it to specific kitchen island designs with lesser cabinet storage. This beautifully modern island features wide counter space suitable for a variety of cooking requirements, with a fitted sink to boot.
10. Think Beyond the Conventional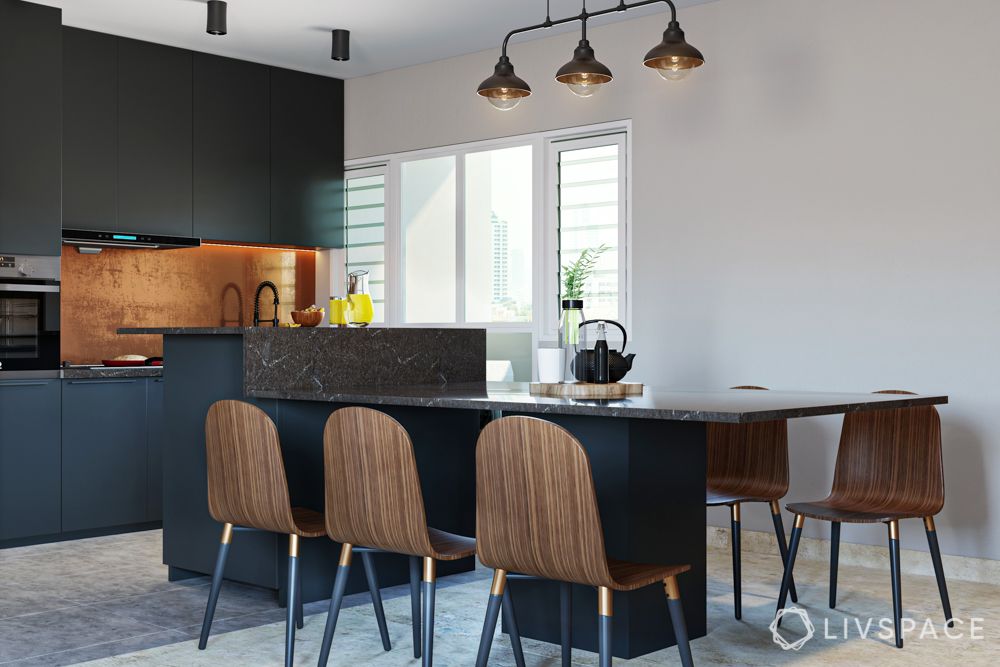 Space can be hard to come by in a condo or a compact HDB. An integrated kitchen and dining area can be an easy fix to this problem. For one wall kitchens, an extended kitchen island design that serves as a dining table is a great way to accommodate more, with less.
11. Black, Grey and White Kitchen Island Design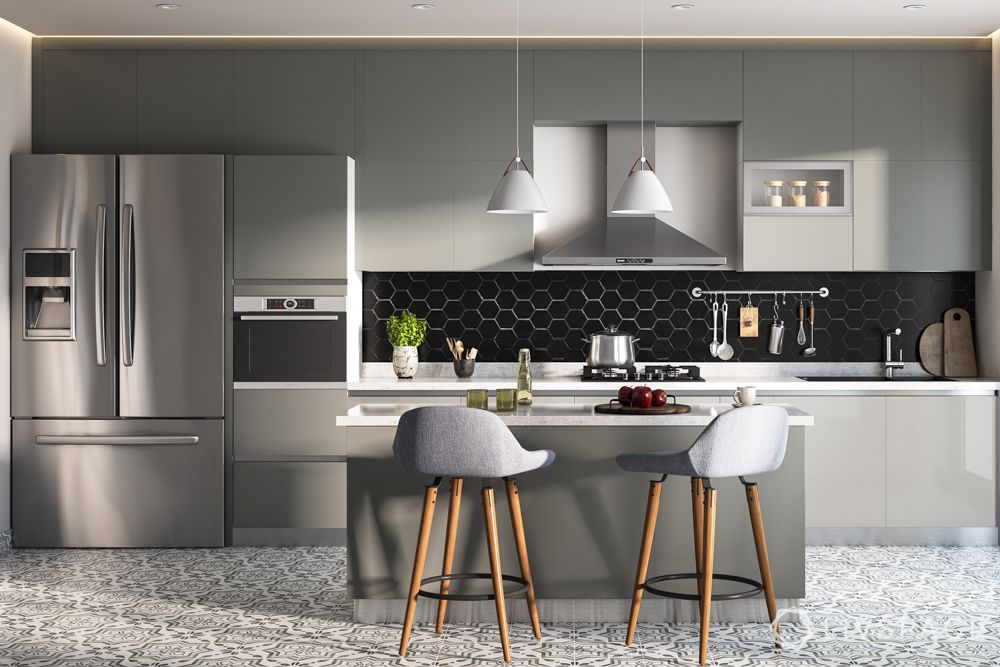 Keeping in line with minimalism, this Scandinavian black, grey and white minimalist kitchen design combines the best of simplicity with functionality. A simple island that functions as a breakfast counter subtly ties the entire kitchen together. The cool grey colour tones used for the cabinets, fridge, and floor tiles further open up the room, making the space seem larger than it is.
12. Contemporary Kitchen Island Design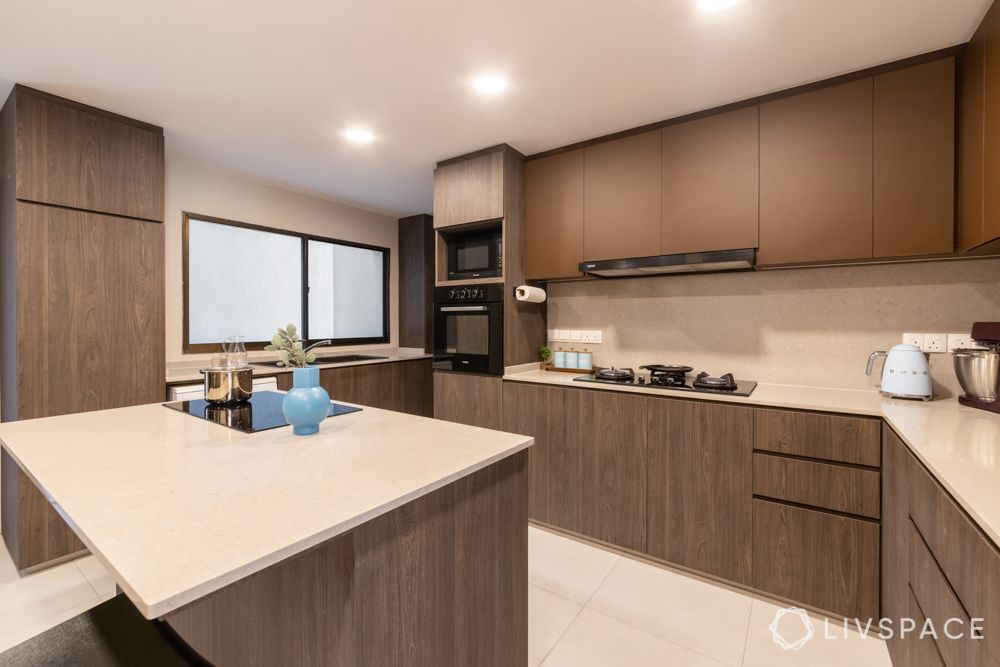 This beautiful contemporary kitchen island design boasts clean lines and high functionality if you have limited storage space. Whether you're a small family or looking to entertain guests, an extended island countertop is sure to come in handy.
13. Kitchen Island Design Ideas With Hanging Wine Rack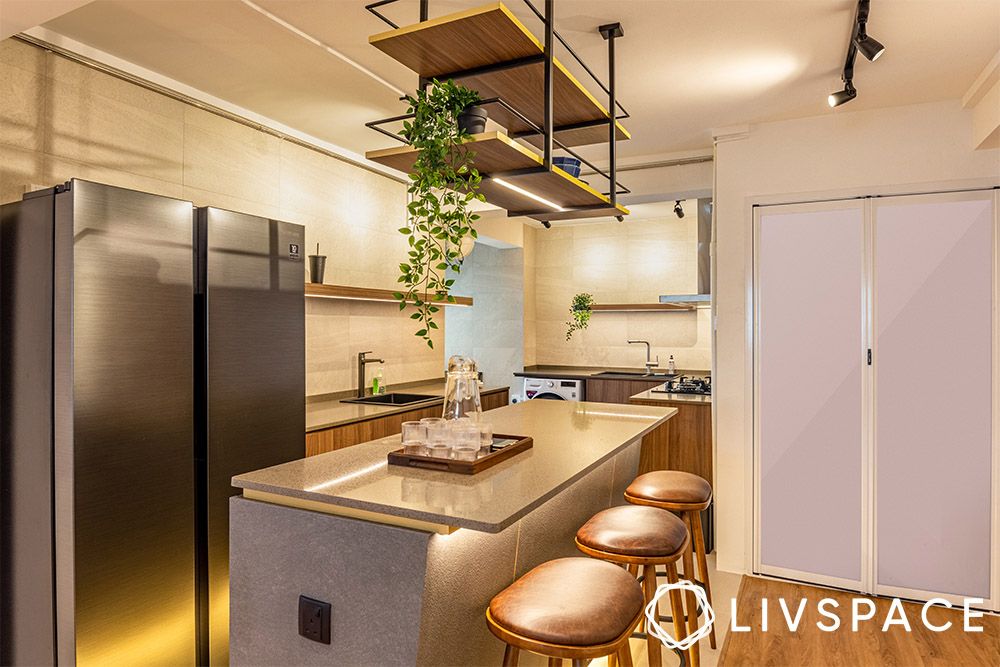 The addition of simple high stools and an overhead wine rack will help transform a modern kitchen island into a bar counter, depending on the need and occasion. This will also amp up the style quotient of your home and make your friends go wah!
14. Use Pop Colours as Kitchen Island Design Ideas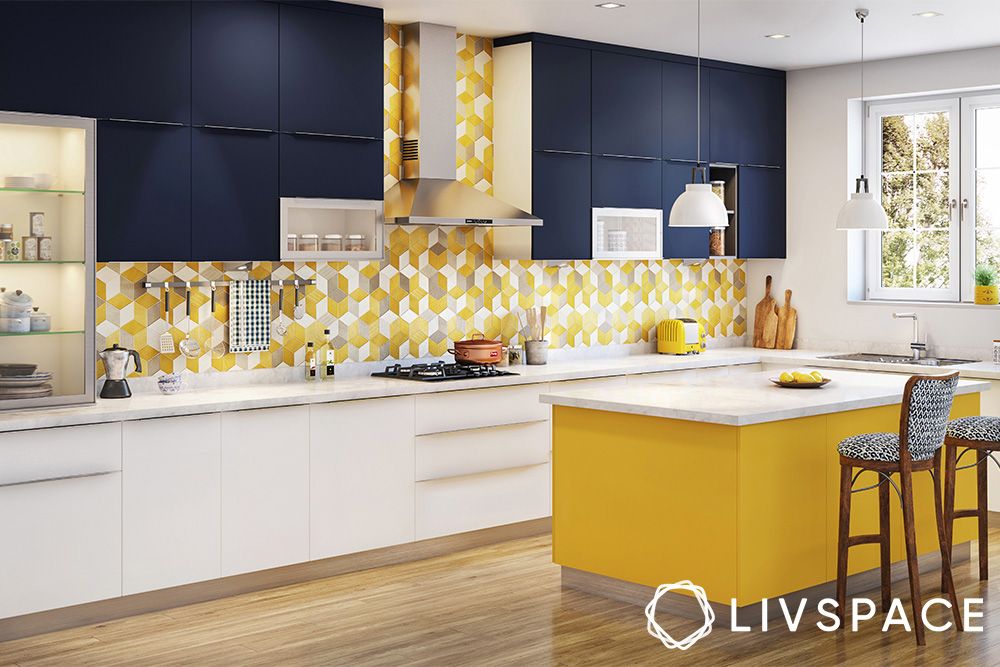 It should come as no surprise that a pop of colours can make things more energising, even in your kitchen. For those who enjoy cooking and hosting parties, this island kitchen with a breakfast bar is ideal.
15. Refreshing Curved Island With Terrazzo Tiles
In this home, the speckled white countertops, made of terrazzo tiles, on the custom kitchen island provide a touch of artistic curiosity, while the blue base cabinets on the island echo the colour of water.
Also Read: 8 Popular Kitchen Cabinet Materials and Finishes: With Pros and Cons
16. A Kitchen Island Design With Ample Natural Light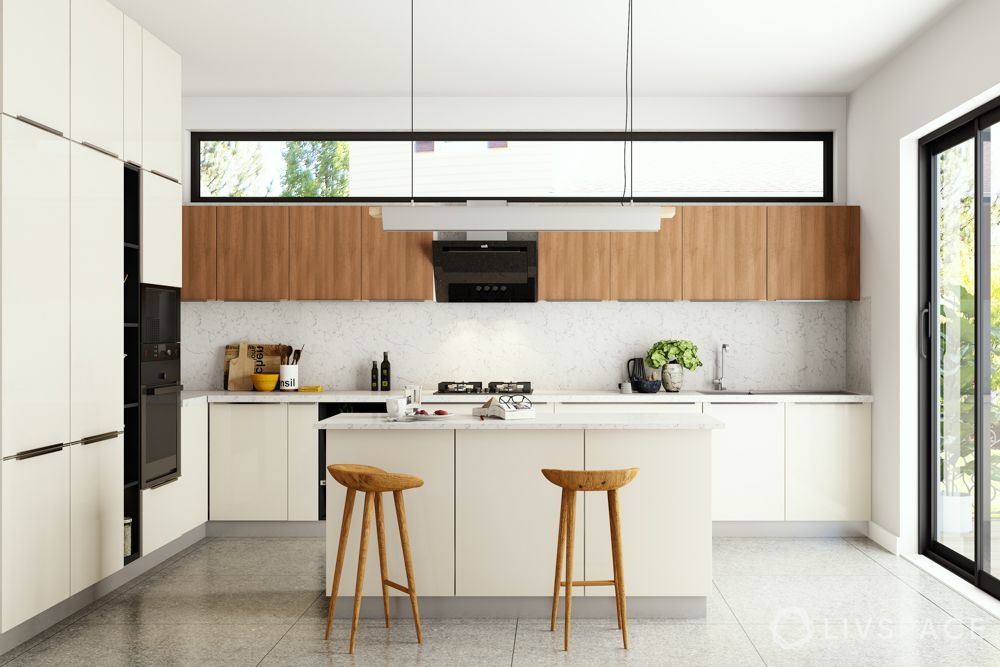 A great way for couples or small families to make the most of a one-wall kitchen is to go in for a kitchen island design. Use French doors and windows to let ample natural light inside the kitchen. Maximising the daylight makes your kitchen look brighter and bigger. Also, to add depth to the kitchen interiors, you can go for monochromes with wooden accents.
17. Small Kitchen Island Ideas With Seating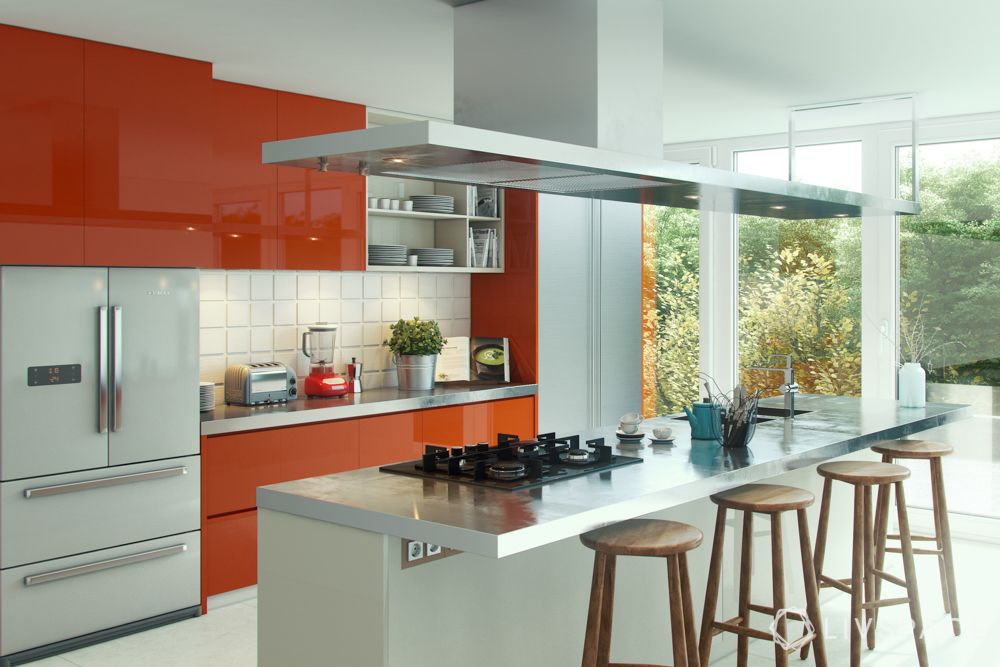 Nothing works best for a big family like an open floor kitchen! This beautifully minimal kitchen island doubles as a central cooking space and food counter, perfect for spacious homes. If you love entertaining guests with a live food counter, this island is for you. With a sleek stainless steel countertop and a pop of vibrant tangerine cabinets, this kitchen island layout is a great addition for home chefs.
18. Kitchen Island Designs With Storage Options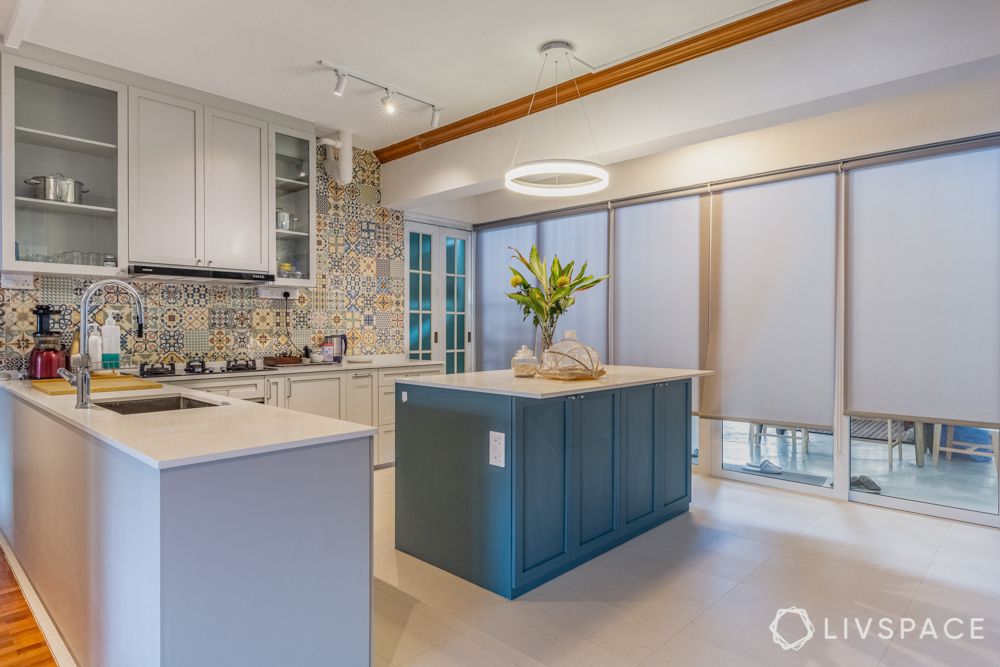 If you have a bigger family, going in for an L-shape kitchen layout with an island can offer more room. The inclusion of an island in this open area helps create more counter space based on your usage. This kitchen island design can not only maximise the functionality of your kitchen but also extend your overall storage space.
19. Peninsula-Style Kitchen Island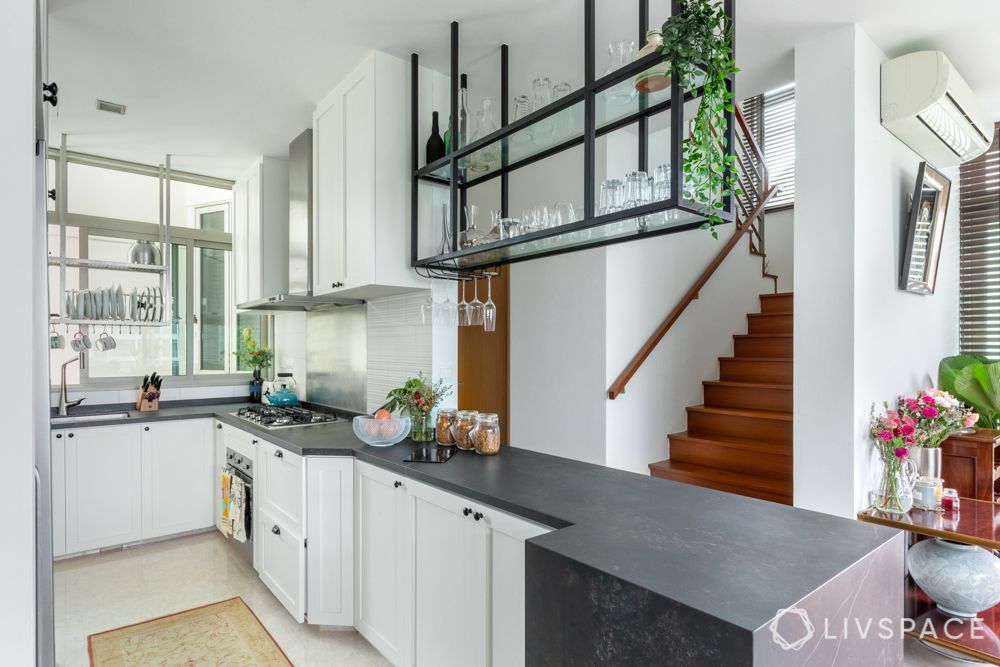 Being space-friendly, HDBs and condos with less open room can opt for this design to gain more counter space in kitchens. These simple counter extensions offer both space and storage to homes of all sizes. By adding a sink to your extended counter, you can effectively segregate your wet and dry kitchen areas during meal prep. Whether you live in a condo or HDB, an extended counter is a great way to add some personality to your kitchen!
20. All About Marble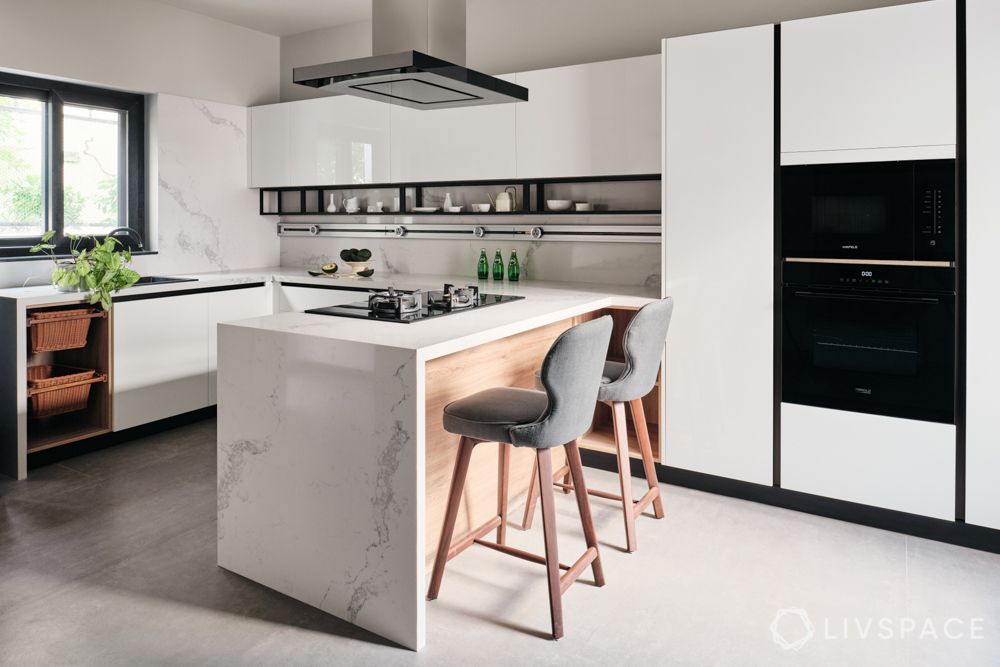 Marble is a great choice when it comes to making a room seem bigger while maintaining a minimalist aesthetic. This simple peninsula with acrylic-finish cabinets makes the most of an open-floor kitchen without cluttering the space. The extended counter with a cooktop allows meals to be made and consumed simultaneously, much like a breakfast counter. The hints of wooden finishes lend a touch of Scandinavian design that harmoniously meld the whole kitchen together.
21. Stay On-Trend With the Pantone Colour of the Year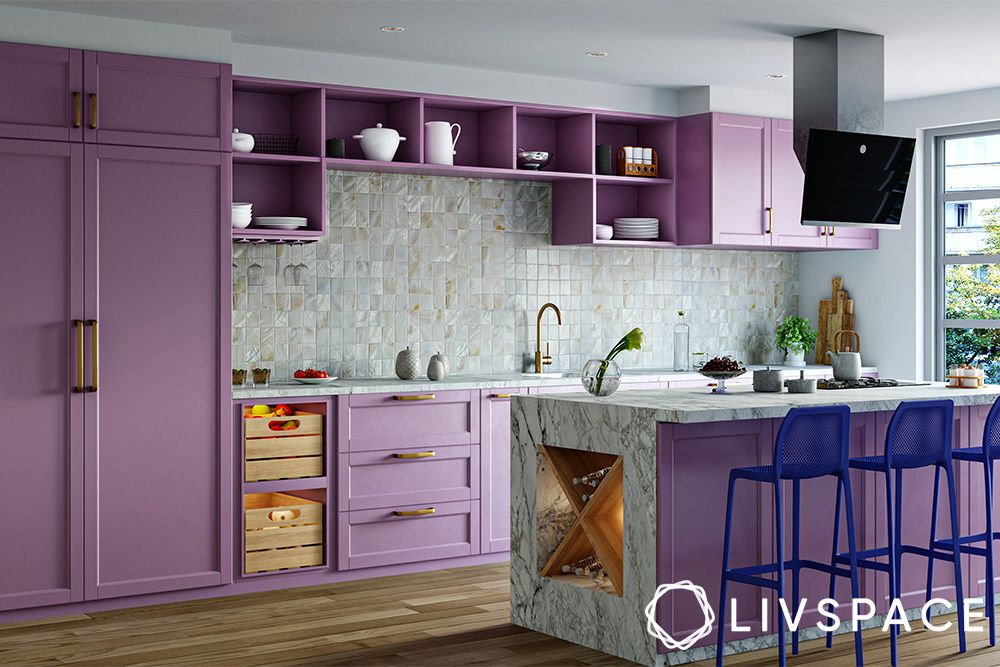 With a colourful Very Peri hue for your kitchen island décor ideas, abandon the conventional and embrace trends. This is an amazing method to give your room personality as well.
If you're still unsure of how to make a kitchen island work for your home, we have more detailed suggestions for you in this article.
How Can Livspace Help You?
We hope you found our ideas useful! If you want your home to be just as beautiful, then look no further. Book an online consultation with Livspace today. Delivering safe home interiors has been our No. 1 priority.
FAQs
1. How Do You Design a Kitchen Island?
Select the type of island you want for your kitchen and the design of the base cabinets. You can customise the base cabinet designs and configurations to suit your needs.
2. What Is a Nice Size Kitchen Island?
The standard height for your kitchen island should be about 36-42 inches.
3. What Looks Good on a Kitchen Island?
You can style your kitchen island with trays, bowls, cutting boards, candles, plant vases, and other kitchenware.
4. What Is the Best Shape for an Island?
L-shaped kitchen island is the best as it leaves enough space and room in the kitchen, making it more functional.