Planning on hacking your kitchen to try something new? A few design related questions might have passed your mind. The most common one being "what is the most efficient kitchen layout?". Depending on the size of your HDB, BTO, or condo kitchen, there are different layouts to suit the available space. What's more, your kitchen layout will also determine just how efficient your space can be.
To be able to enjoy a flawless cooking experience, you need to have everything in the right place. So, before you get to hacking and optimising, here are some popular kitchen layout ideas that you need to know about.
What Are the 6 Types of Kitchen Layouts?
#1. U-Shaped Layout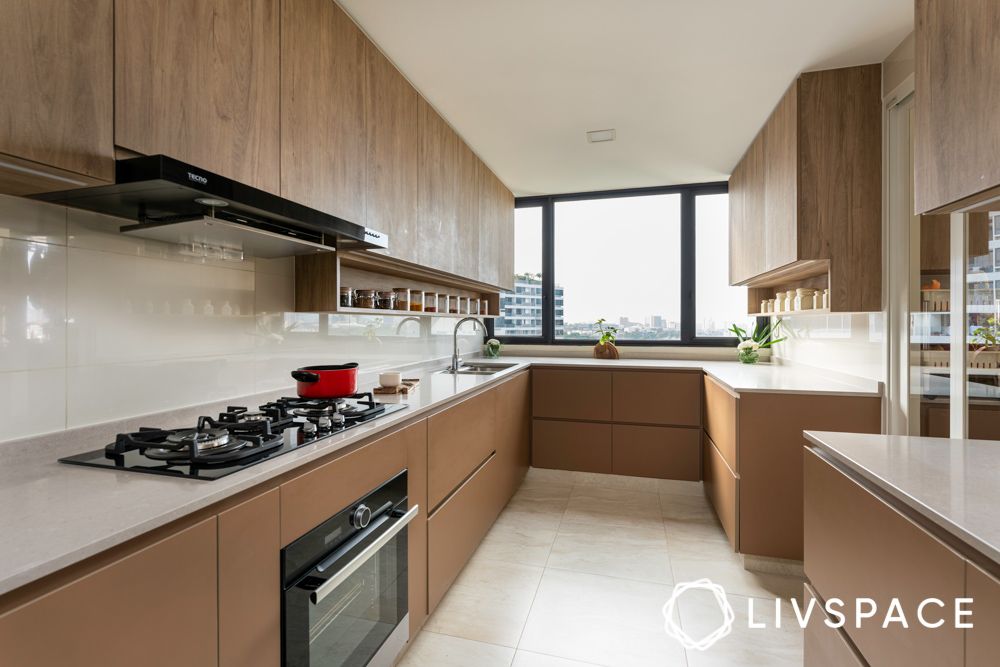 If your Singapore home enjoys the luxury of extra footage, you're certainly one of the lucky ones. For homes with extra space, a U-shaped kitchen might be the best kitchen layout for you.
Ideally, in a U-shaped kitchen, the worktop, overhead cabinets and base cabinets run along three adjacent walls. If planned well, this layout ensures minimum movement around the kitchen to get things done.
Pros:
Offers ample work and storage space
Everything is placed at an almost equal distance
Great for multiple cooks
Supports the addition of an island if space permits
Cons:
It might not be an ideal kitchen layout for small spaces
Can turn out to be expensive
Corners of base cabinets might be restricted or difficult to use
#2. L-Shaped Layout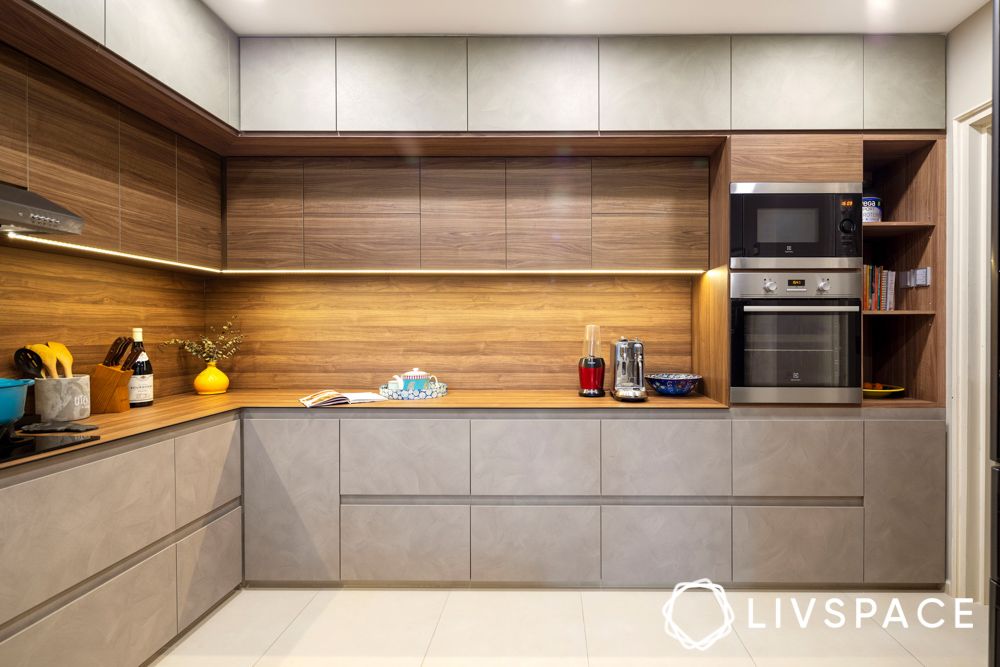 Among the contenders for the perfect kitchen layout, we have the L-shaped kitchen. This design is easily one of the most popular kitchen layouts, as they can be designed in any space. This makes it a convenient option for small kitchen layouts too!
It has worktops running along two adjoining walls that are perpendicular to each other. If space allows, you can also incorporate an island in the centre that doubles up as an extra worktop or seating area.
Pros:
It's the ideal layout for open plan homes
The golden triangle (most efficient way to set up a kitchen design) works out best in this layout
Allows room for corner storage
Cons:
Can be inefficient in bigger kitchens as the work areas would be spaced farther away
Extra space and cabinetry can lead to more maintenance
Also Read: 14 Terrible Kitchen Design Mistakes and How to Fix Them Now
#3. G-Shaped Layout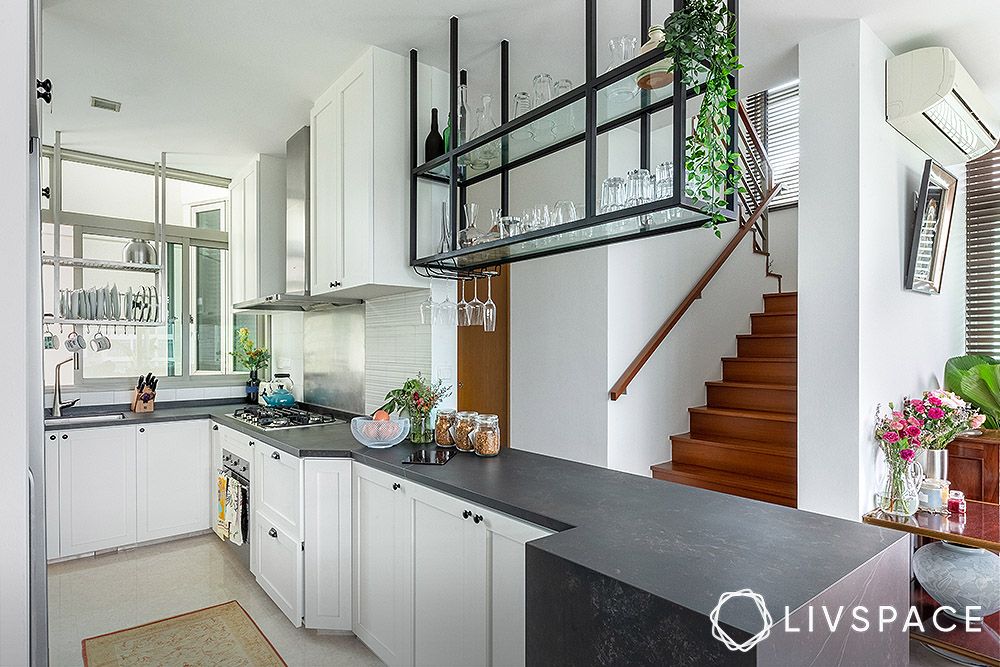 A variation of the U-shaped layout, G-shaped kitchens have an extra counter called a peninsula that can be utilised as a breakfast counter or for storage. If you add a second sink or a cook top, you can easily have two work triangles for higher efficiency.
Pros:
The peninsula creates extra counter space
An ideal kitchen layout for narrow spaces, allowing you to add more base and wall cabinets to it
You can use the peninsula as a divider to define spaces
Cons:
Foot traffic can be disrupted in this type of kitchen design layout
Due to the placement of the peninsula, it can be difficult to access corner storage at times
Can run the risk of making small kitchens feel cramped
#4. Kitchen Island Layout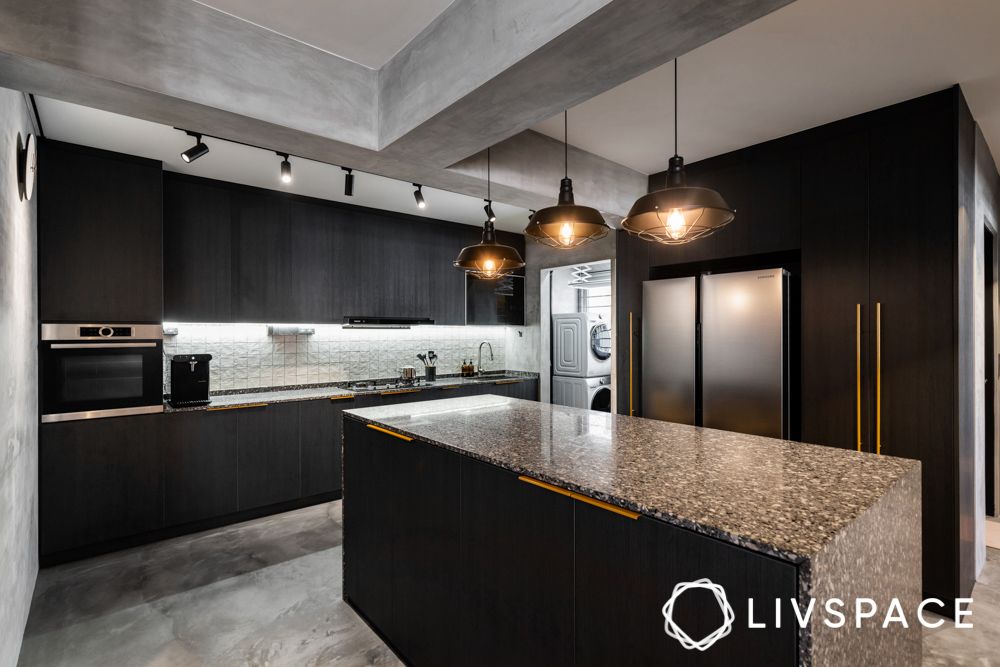 The most creative kitchen layout from the list is island kitchens. An island is a space where you can be most creative in terms of the size, countertop material, lights and so on.
This can be your unique designer spot in the kitchen. In fact, it's an obvious addition if you're looking for an extra workspace. To further modify it, you can also have the hob or other appliances on your island.
Pros:
Creates extra storage and prep space
Gives an option to add seating in the kitchen
A great opportunity to create a focal point for your kitchen layout
Cons:
If not utilised well, it can actually end being dead space
Installing an island may add to your kitchen renovation cost
#5. Parallel or Galley Layout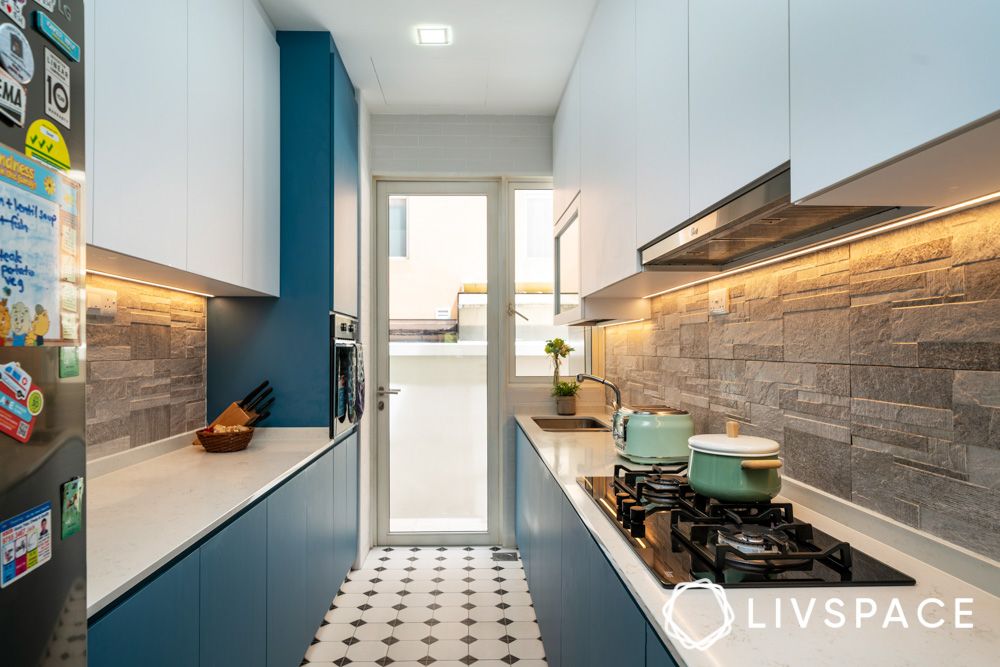 Wondering what the best kitchen layout for small spaces is? It's none other than the galley kitchen! It has counters running on opposite walls, with a single lane for traffic.
You can place your cook top on one side and the refrigerator and sink on the other to create a golden triangle. You can also have this layout in open-plan homes, with both ends of the kitchen open.
Pros:
Provides maximum scope for efficiency
Offers plenty of storage area with numerous cabinets
Can be a great layout if you have a door or a window on one end
Cons:
Can get crowded in the lane if the walkway is too narrow
Leaves no scope for adding corner units
Also Read: What No One Told You: This Is the Secret to an Efficient Kitchen Design
#6. One-Wall or Open Kitchen Layout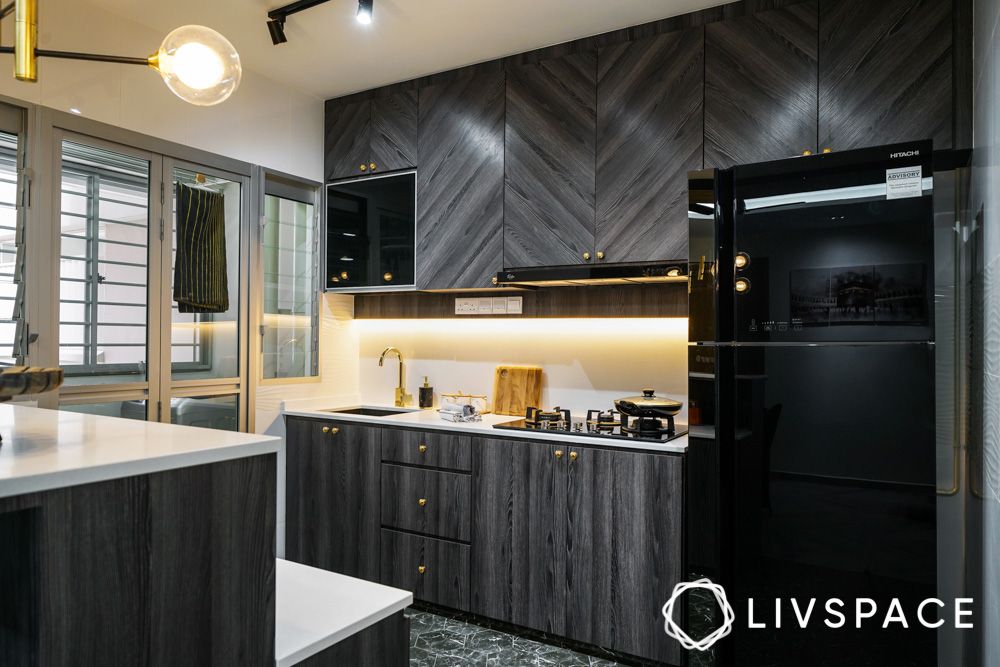 Looking for that perfect kitchen layout for compact homes with an open concept? One wall kitchens are your best bet. As the name suggests, you need exactly one wall to create this kitchen layout at home.
The work triangle here forms a linear line with the sink between the cook top and the refrigerator.
Pros:
Best layout for homes that are too cramped
Ideal for people who do not like closed kitchens
Allows free movement to and from the counter
Can be a comparatively more cost-effective kitchen layout
Cons:
Might limit your cabinet or storage options to the length and breadth of the wall
The fumes and oils from cooking can run the risk of spreading into other areas of your home
Might require the need for a kitchen island to help draw a boundary between the kitchen and living/dining area
What Is the Best Kitchen Layout for You?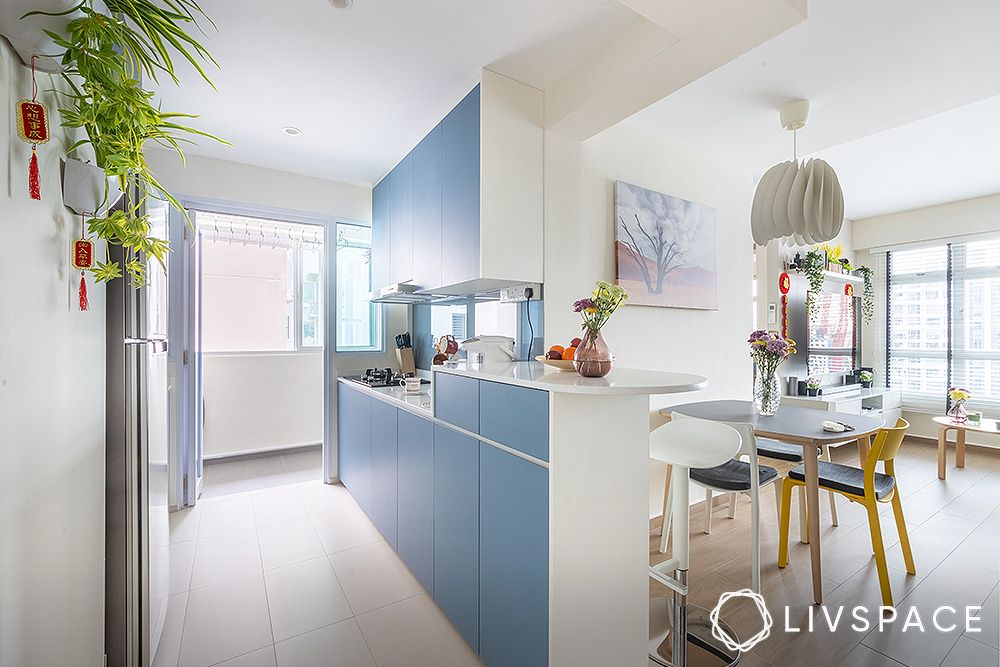 Now that you have an understanding of what these kitchen layouts have to offer, you might wonder which one is the best for you. Let us help break it down for you:
If you have ample space in your kitchen and are planning to hack the walls completely, we recommend getting an L-shaped or a U-shaped layout.
For homes that are low on space, consider using a G-shaped or a peninsula kitchen layout.
Similarly, if you have an open-plan setting, then galley kitchens and one-wall kitchens are your best bet.
Whichever kitchen layout you choose, always remember to think of practicality first. Go for a layout that can support your cooking habits and add to your kitchen's functionality.
Check out this smart home:
How Can Livspace Help You?
We hope you found our kitchen layout ideas useful! If you want your home to be just as efficient as these layouts, we can help you. Book an online consultation with Livspace today.
Have some comments or suggestions you'd like to share with us? We're all ears! Feel free to write to us at editor.sg@livspace.com.
Disclaimer: All contents of the story are specific to the time of publication. Mentions of costs, budget, materials, and finishes can vary with reference to current rates. Talk to our designer for more details on pricing and availability.