When it comes to kitchens, one size does not fit all. Every kitchen is just as unique as the people using it. While kitchens come in all shapes, sizes and styles, designing them perfectly is no mean feat. There are a few kitchen modular design faux pas that you may want to avoid if you want to increase the functionality and efficiency of this space.
Here are 14 terribly common mistakes that people make while getting their kitchen renovated. So if you are planning your kitchen space, we want you to be prepared. Forewarned is forearmed after all!
Mistake #1: Focusing more on resale value than personal style
Sure, maintaining the resale value of your home is important but is it worth giving up on your personal style entirely? When it comes to kitchens, we would say no. After all, you want to feel comfortable and at home while you're cooking up a storm, right?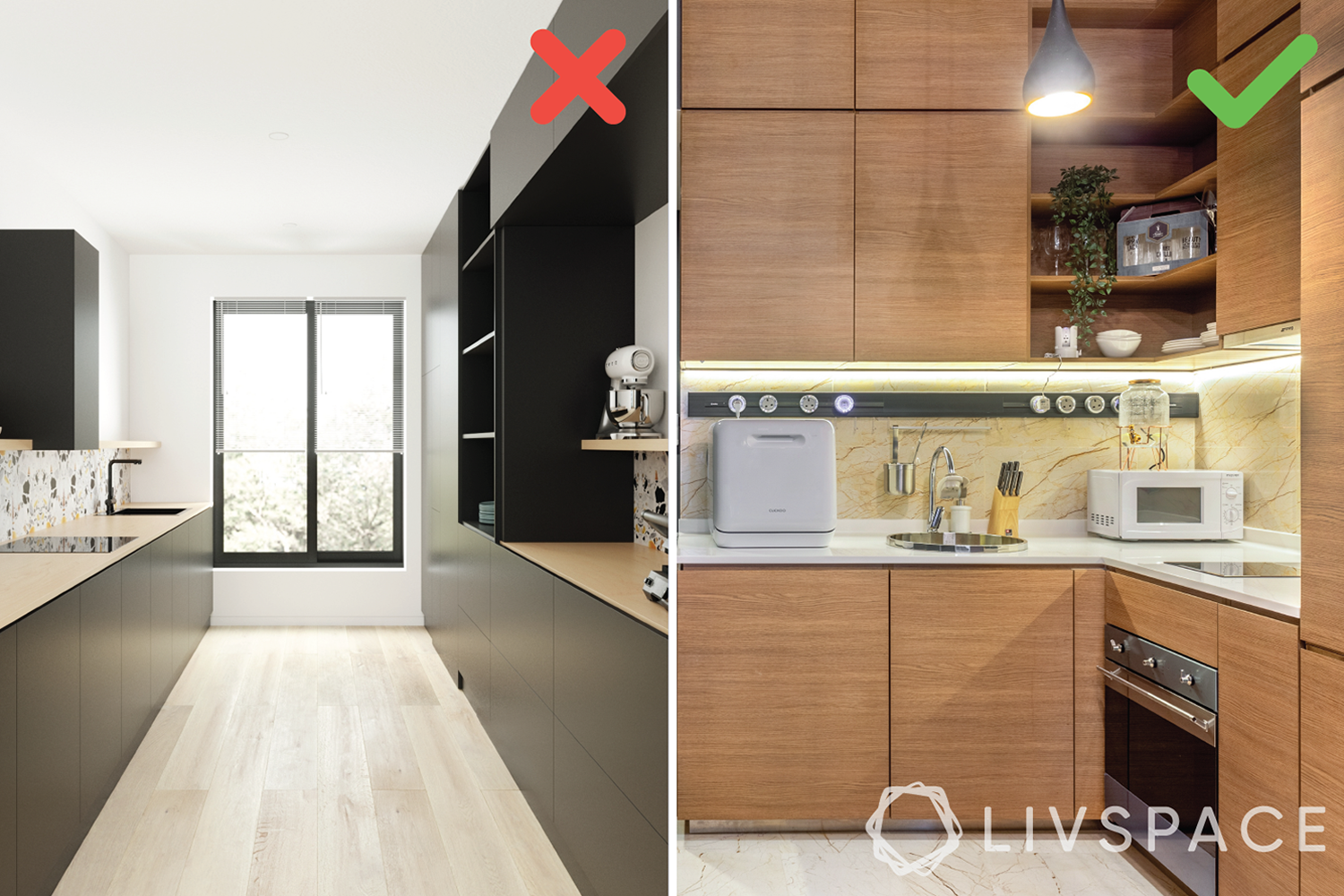 How to fix it
With the basics in place, like flooring and carcass materials for your kitchen cabinetry, you should infuse a little character into your kitchen. Think about colours, backsplash tiles, lighting and so on to make your kitchen more personal.
Mistake #2: Not thinking through your household's personal needs
How often do we renovate our kitchens? Maybe once or maximum twice while you're living in that particular flat. But we often forget to take into account what our family requires or might require post renovation.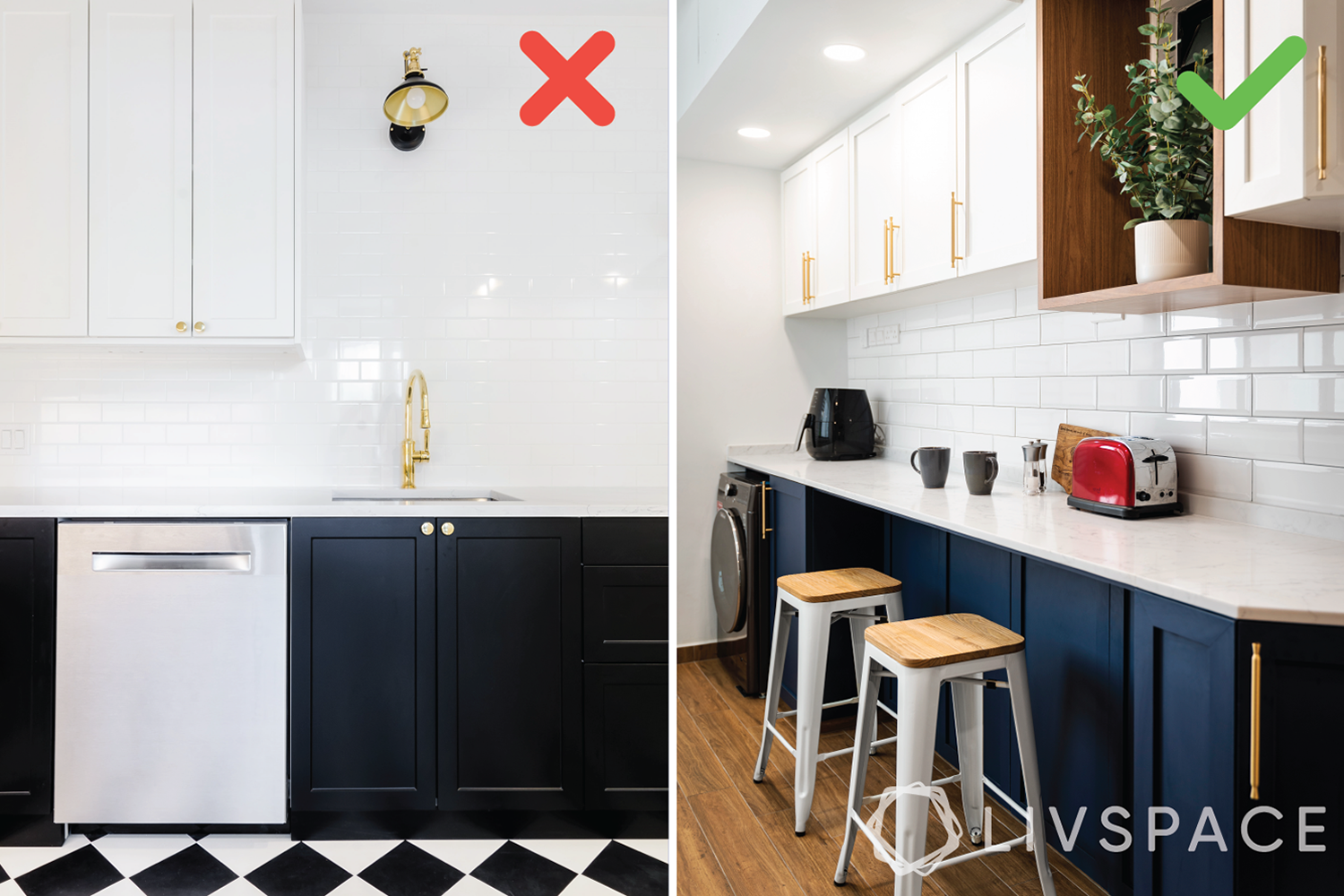 How to fix it
Think ahead. This is the easiest way to avoid falling into the rut. When you are discussing your kitchen modular design with your designer, make sure you let them know about your family lifestyle. He/she can then come up with the best layout, design and customisation best suited for your household.
Mistake #3: Wrong balance of colours and patterns
Which one would you choose — a combination of bold colours on the cabinetry and busy Moroccan tiles or any one of these? We hope you choose the latter. We tend to get overambitious while selecting patterns and colours when we are renovating.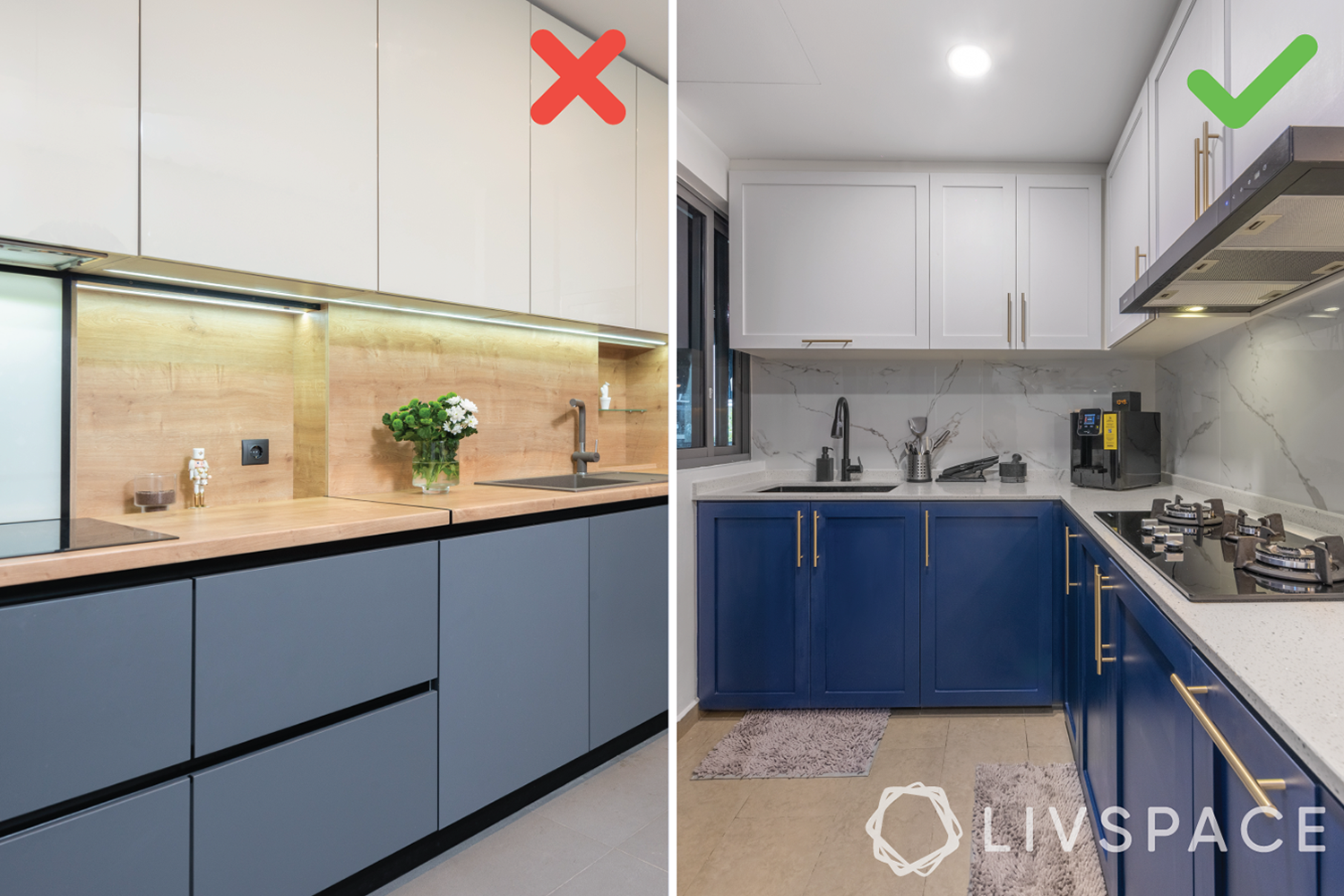 How to fix it
Always follow the basics of balancing colours and patterns. Just like you wouldn't pair a floral shirt with striped trousers, do not choose bold colours and busy patterns together in your kitchen. Similarly, do not choose a completely bland colour palette with no pop anywhere. The key is striking the right balance.
Check this out: The Best Kitchen Colours That You Should be Exploring in 2021
Mistake #4: Not accounting for appliances
In kitchen modular design we often forget to make space for the many appliances that we might purchase and add to your kitchen arsenal over time. It is not uncommon for kitchen appliances to be lying around on the counter or untidily stacked in a corner.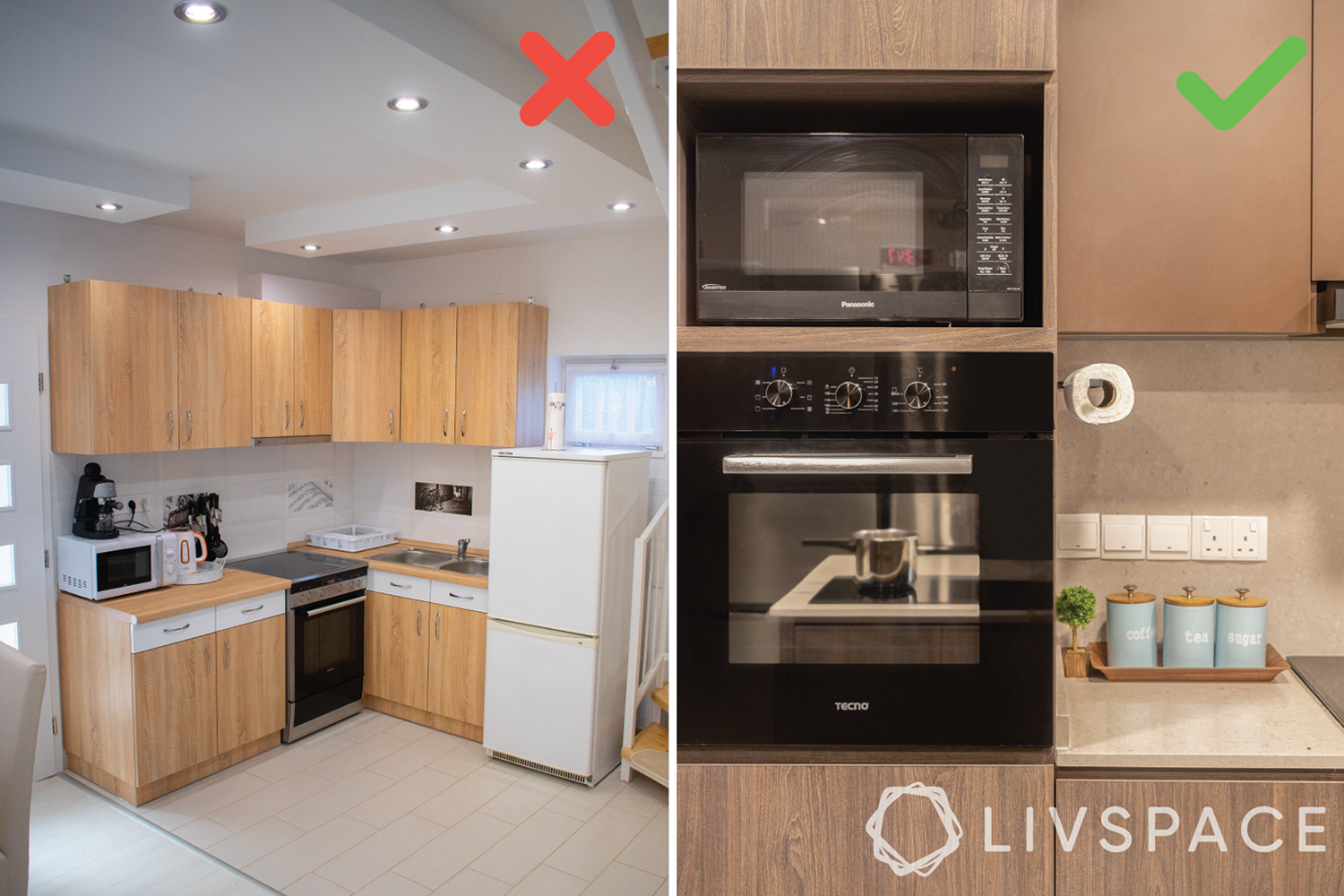 How to fix it
Tell your designer how many appliances you have or have a rough idea of what you might purchase in the next few months. Built-in ovens are great but if you have a separate microwave, you need to tell them so that they account for it. Also, your coffee maker, mixer, juicer, chopper and so on need space too.
Mistake #5: Not respecting the work triangle
The work triangle in a kitchen, or the golden triangle as it's often called, comprises the hob, the sink and the refrigerator. These three should create an equidistant triangle, according to kitchen design experts. If this is not the case, you will waste time and energy walking in circles.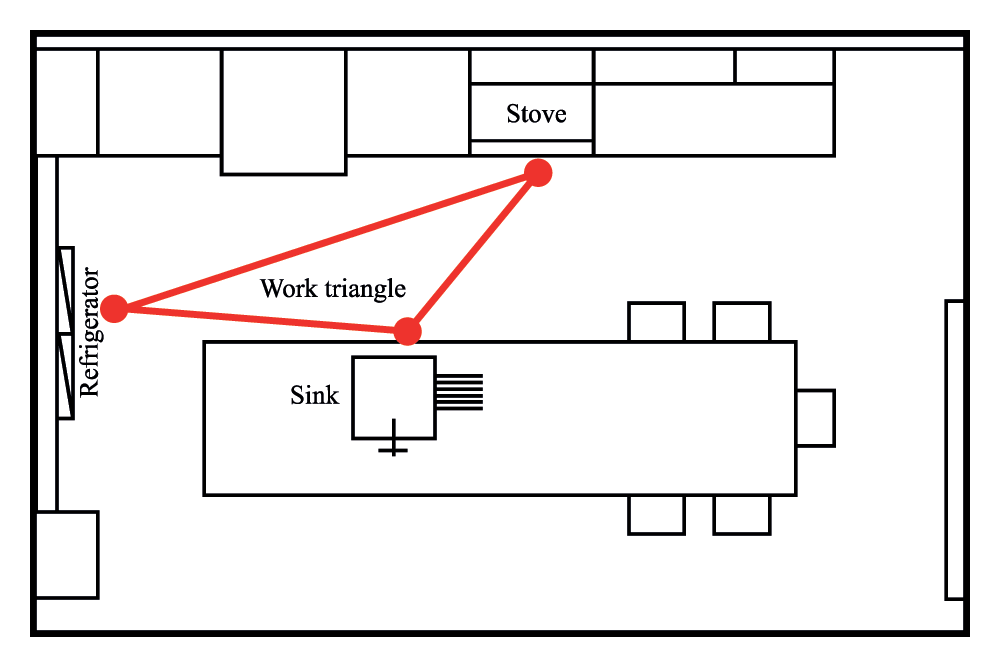 How to fix it
While your sink is fixed and impossible to move, it is still possible to move your hob (unless it's built-in). So if your kitchen triangle is not in place, we suggest you move your refrigerator or hob around to get as close to the concept as possible.
For more details, read this: What No One Told You: This is the Secret to an Efficient Kitchen Design
Mistake #6: Picking the wrong layout for your space
We know, you cannot possibly pick the layout for your kitchen modular design, since it is handled by the builder. But it plays a major role in determining how comfortably you work in your kitchen and move around in it. The design error here can be not maximising on the current layout and not managing the space well.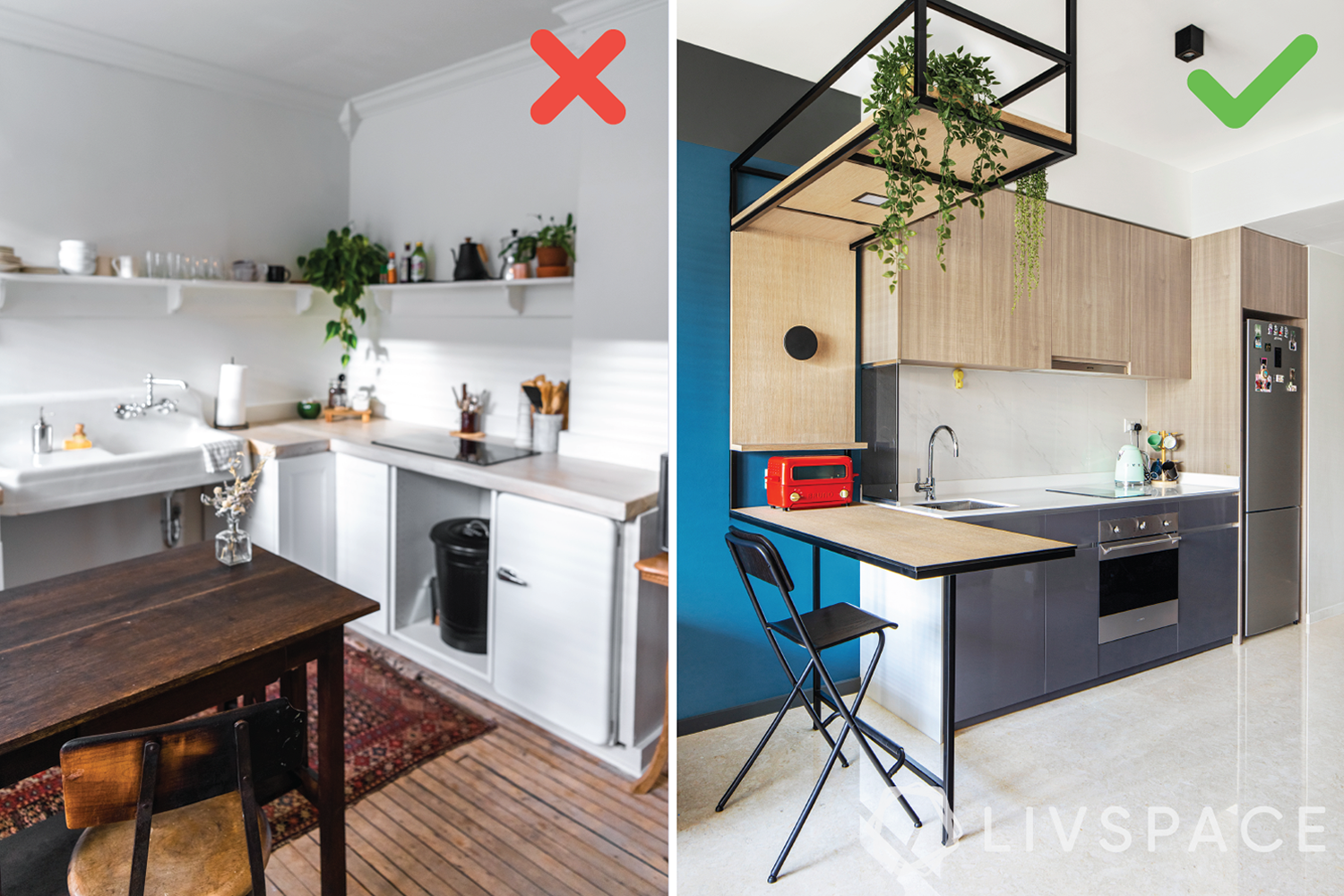 How to fix it
The solutions will depend on how you perceive your kitchen and what you want to do. For instance, a cramped kitchen can be made more spacious by hacking one of the walls and turning it into a semi-open kitchen. Or add another row of counters in a straight kitchen and convert it into a parallel one. An L-shaped kitchen can easily be turned into a U-shaped one by just adding one slab.
Read this for more: Which is the Best Kitchen Layout & How to Make the Most of It
Mistake #7: Blocking windows or thoroughfares
This is a very common mistake that can completely transform the way your kitchen looks. No designer would ever suggest blocking windows or walkways in the kitchen. Mostly because this is one space at home where you need maximum lighting.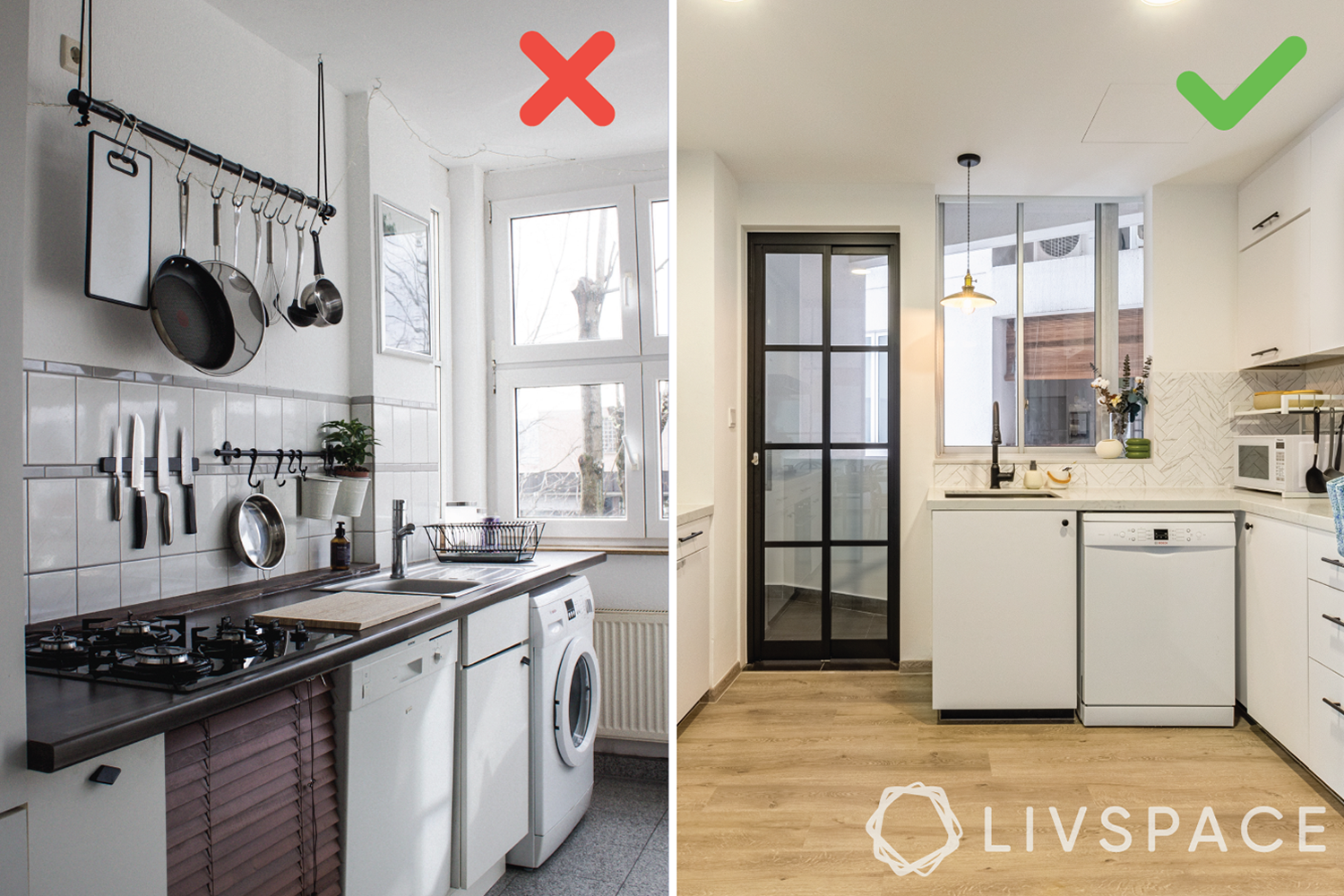 How to fix it
Never block windows with counters. And if you want to get a service balcony or utility area in your kitchen without blocking out the light, opt for wall-to-wall window or French window to let maximum natural light in.
Mistake #8: Underestimating your storage needs
Have you ever heard the saying, you can never have enough storage space? Trust us, it is true. Once you start operating your kitchen, you are going to realise just how much storage space you need.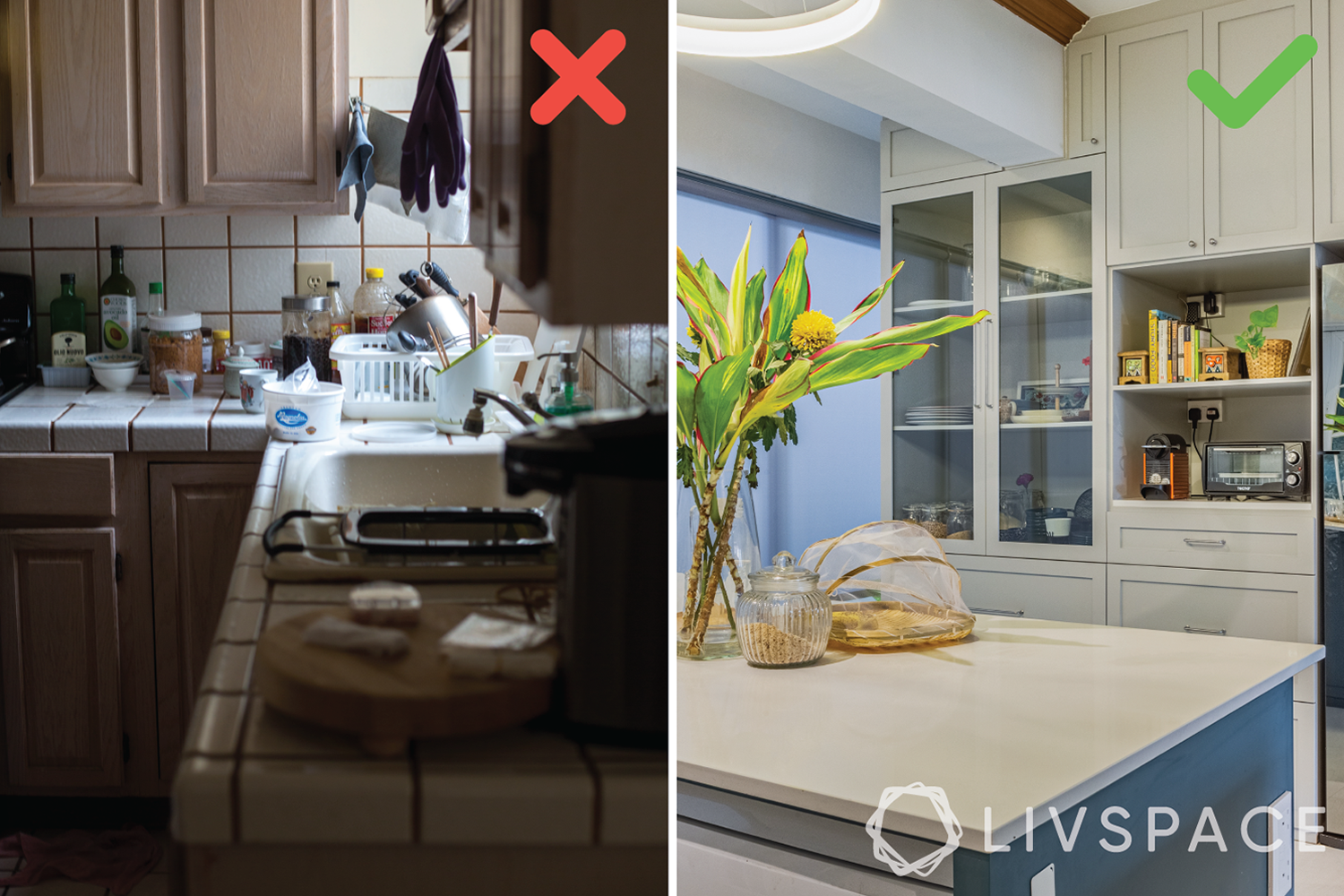 How to fix it
If you do not anticipate the kind of storage you might need in your kitchen, we suggest you opt for lofts. You can easily add them to your existing kitchen and they will solve a lot of your problems. Also, clear up your counter by stowing away everything neatly into cabinets.
Here's A Quick and Easy Guide to Getting the Right Cabinetry for Your Kitchen in 2021
Mistake #9: Having dead spaces in the corners
There are some corners that are particularly impossible to reach no matter how far you reach out. The best of kitchen modular designs can face this problem if not dealt with properly. These corners will forever remain dead spaces unless you change them.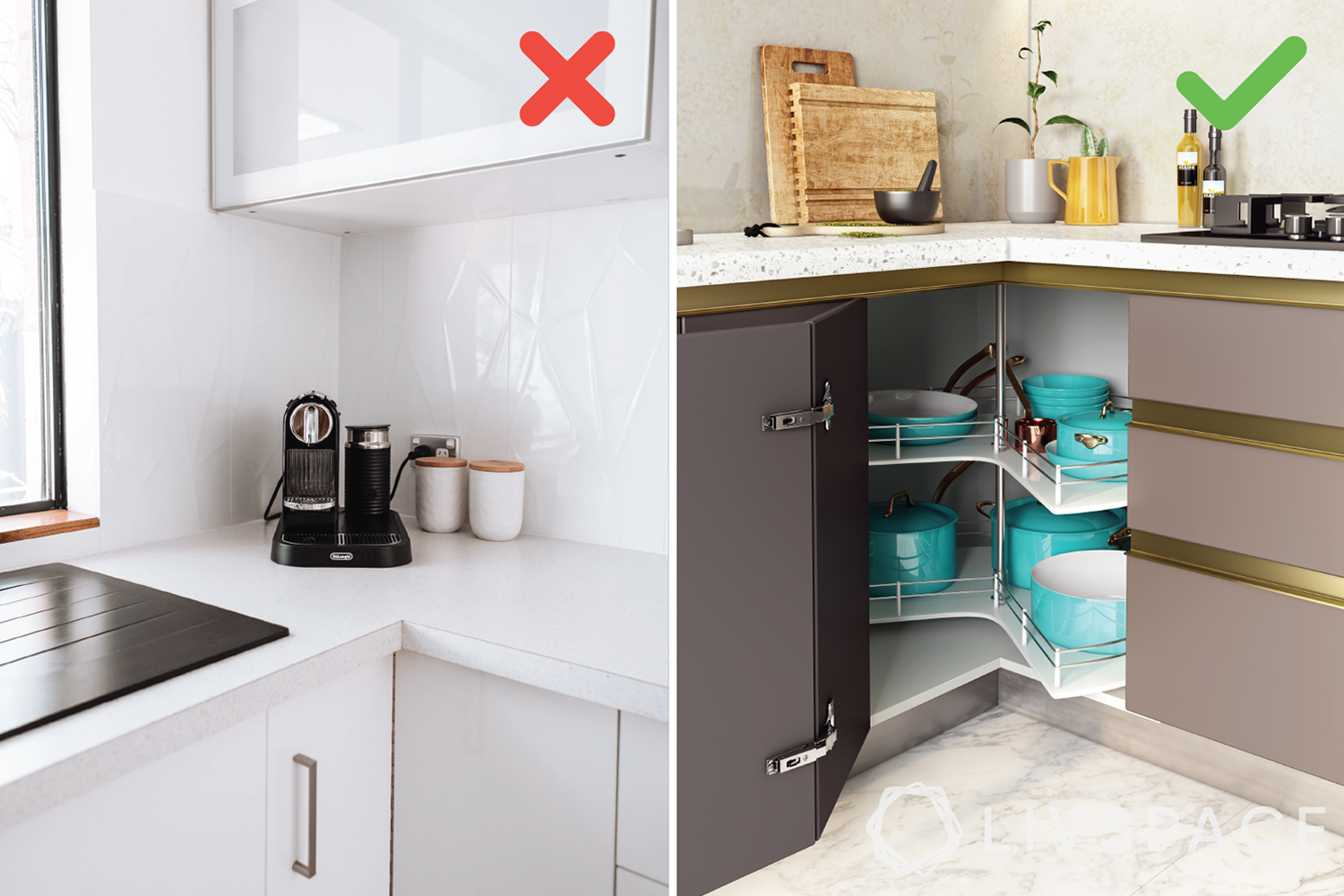 How to fix it
All you have to do is install a carousel unit that rotates and lets you access the deepest corners of your base cabinet. This kitchen accessory is easily available and should solve your problem.
Here are 7 Best Kitchen Accessories for a Super Organised Petite Space
Mistake #10: Not having a pantry
We cannot emphasise enough just how unsightly cluttered counters or visible stock of groceries look. When you make a trip to the grocery store and get your monthly supplies, where do you keep them?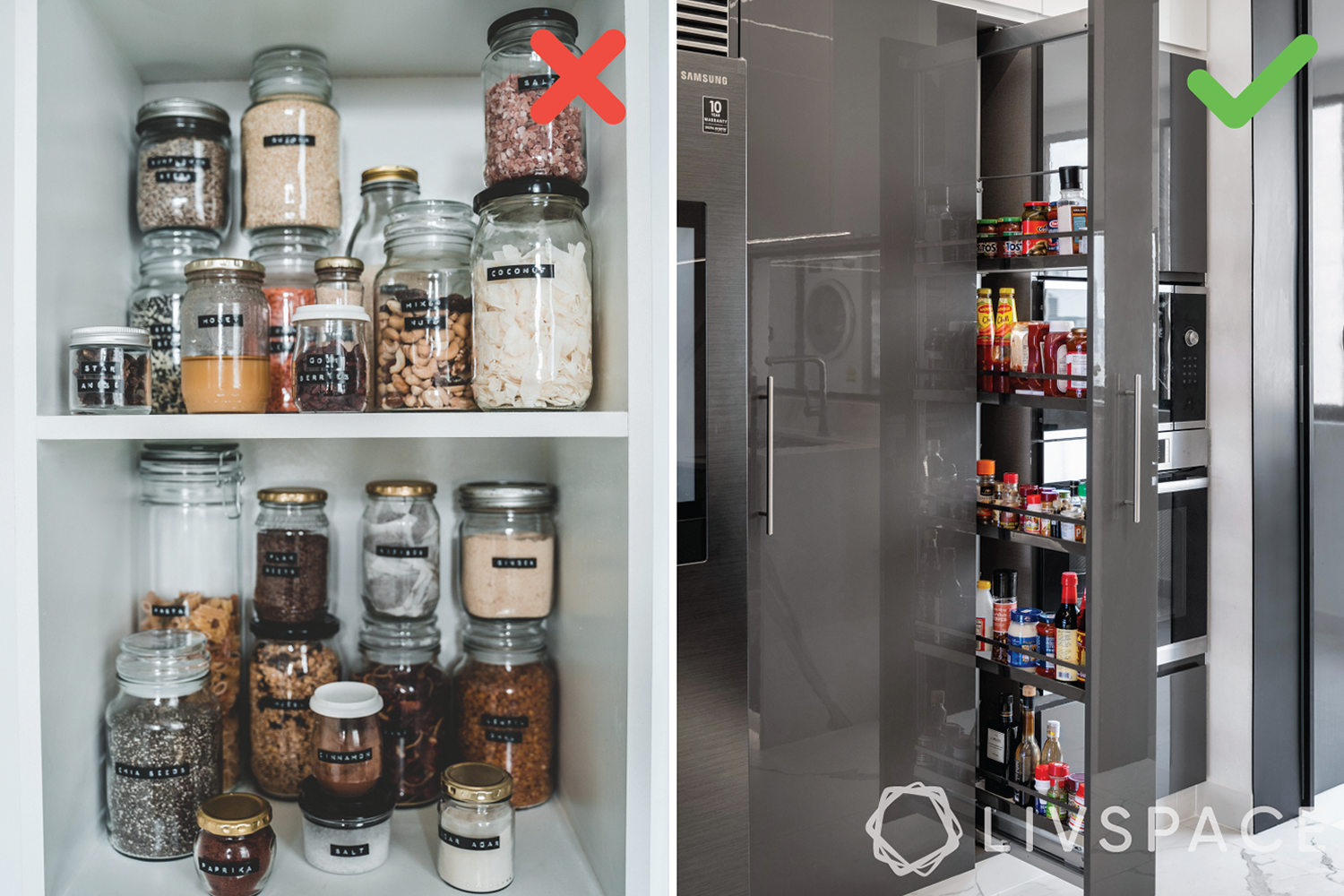 How to fix it
Instead of stacking bottles one on top of the other in cabinets, all you have to do is get a pantry unit or a tall unit in your kitchen modular design. You can pull it out and pick anything you want without the hassle of scouring through heaps of groceries.
Mistake #11: Cutting corners while buying a chimney
This is a rather hazardous mistake that you must avoid at all costs. Choosing a chimney is an important step in kitchen design as this is going to be responsible for keeping your space ventilated.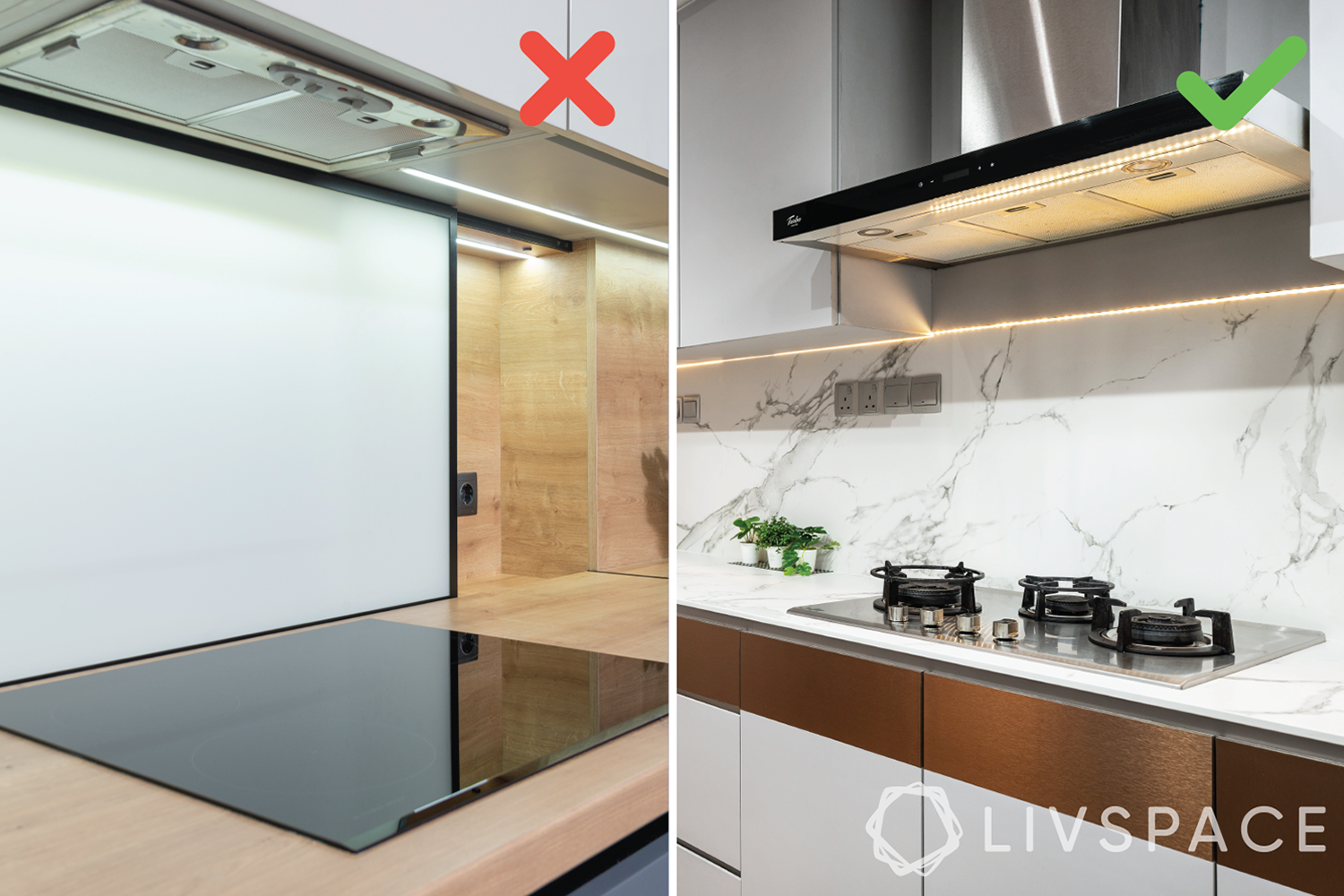 How to fix it
If your flat comes with an attached chimney (not built-in) and you are not satisfied with it, we suggest you do not cut corners there. Invest in a good hood that is also self-cleaning so that you do not have to clean the grime regularly.
Mistake #12: Not designing for your height
Don't you hate having to ask someone to bring that serving bowl down for you when you cannot reach it? Or keep a stool to climb up every time you need something from the top shelf? If you know you are the only one who is going to use the kitchen, make sure you get cabinets and shelves according to your height.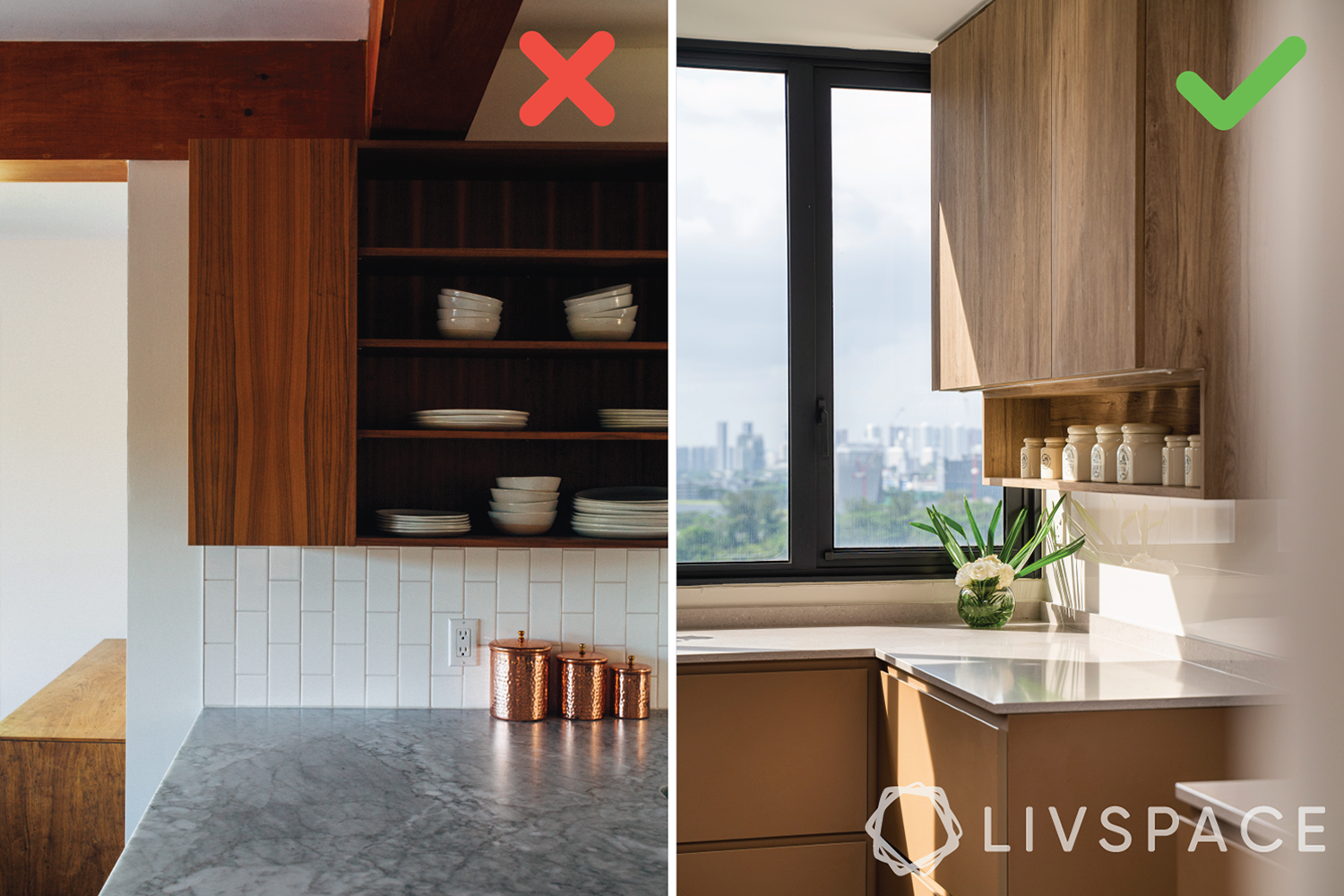 How to fix it
If your kitchen already has very high shelves, one way is to stow away rarely used items up there and forget about them. The other way is to skip wall cabinets altogether while you are renovating.
Mistake #13: Insisting on a kitchen island irrespective of the size of the kitchen
Kitchen islands are super useful but they also use up a lot of space. So whether you should have a kitchen island or not is a decision that should be made carefully. Island kitchens mostly work out well in open kitchens. If you have a closed kitchen, we suggest you stay away from them.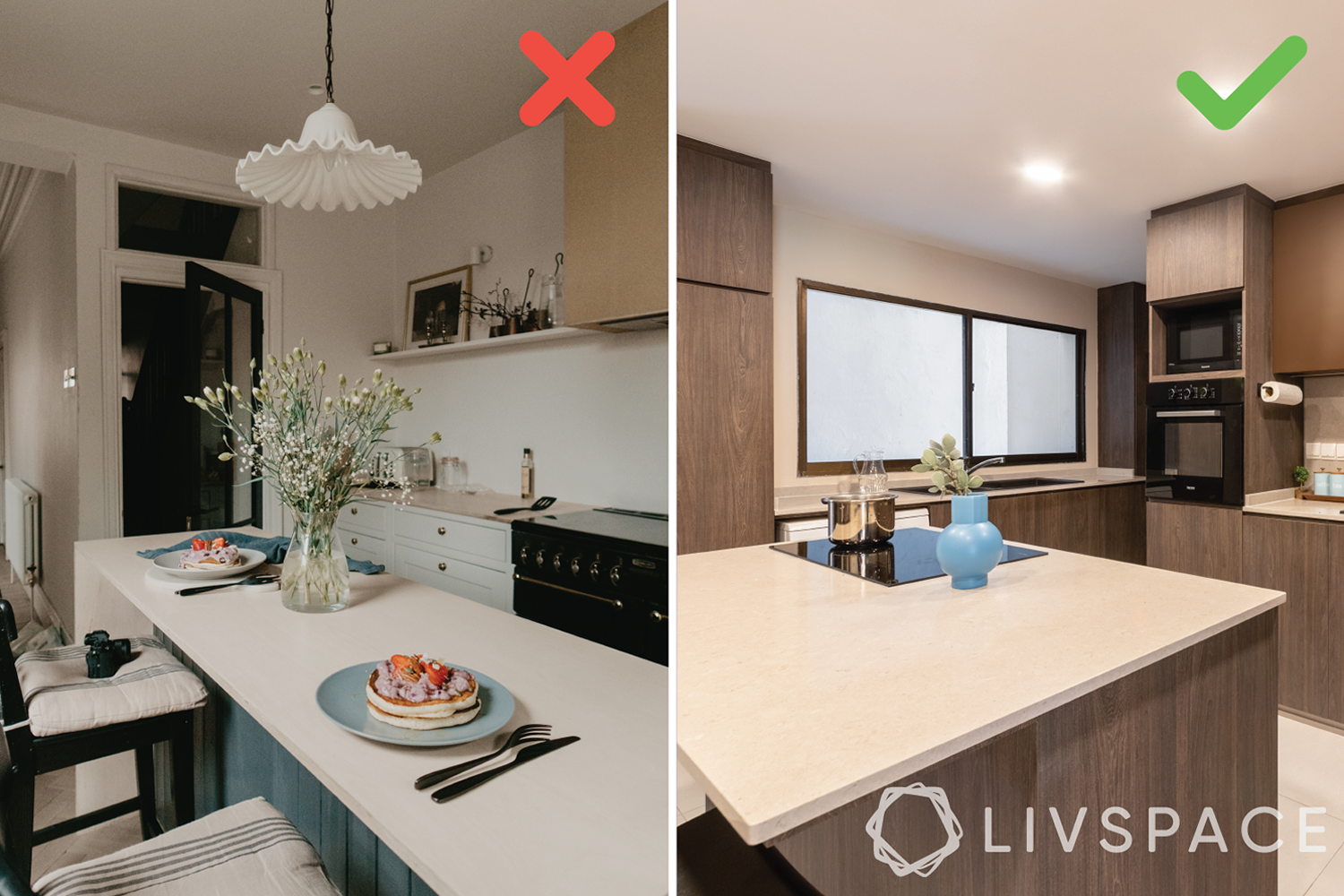 How to fix it
If you have a parallel or straight kitchen, island designs must be ruled out. Kitchen islands are strictly for roomy kitchens because of sheer size and proportion of it. If you have a small kitchen and still want it, then you must get a very sleek and compact design.
Mistake #14: Having just one kind of lighting
Not only is this a common mistake but also a grave one. Kitchens are places where maintaining hygiene is of prime importance. Therefore, lighting should be adequate and help you cook comfortably.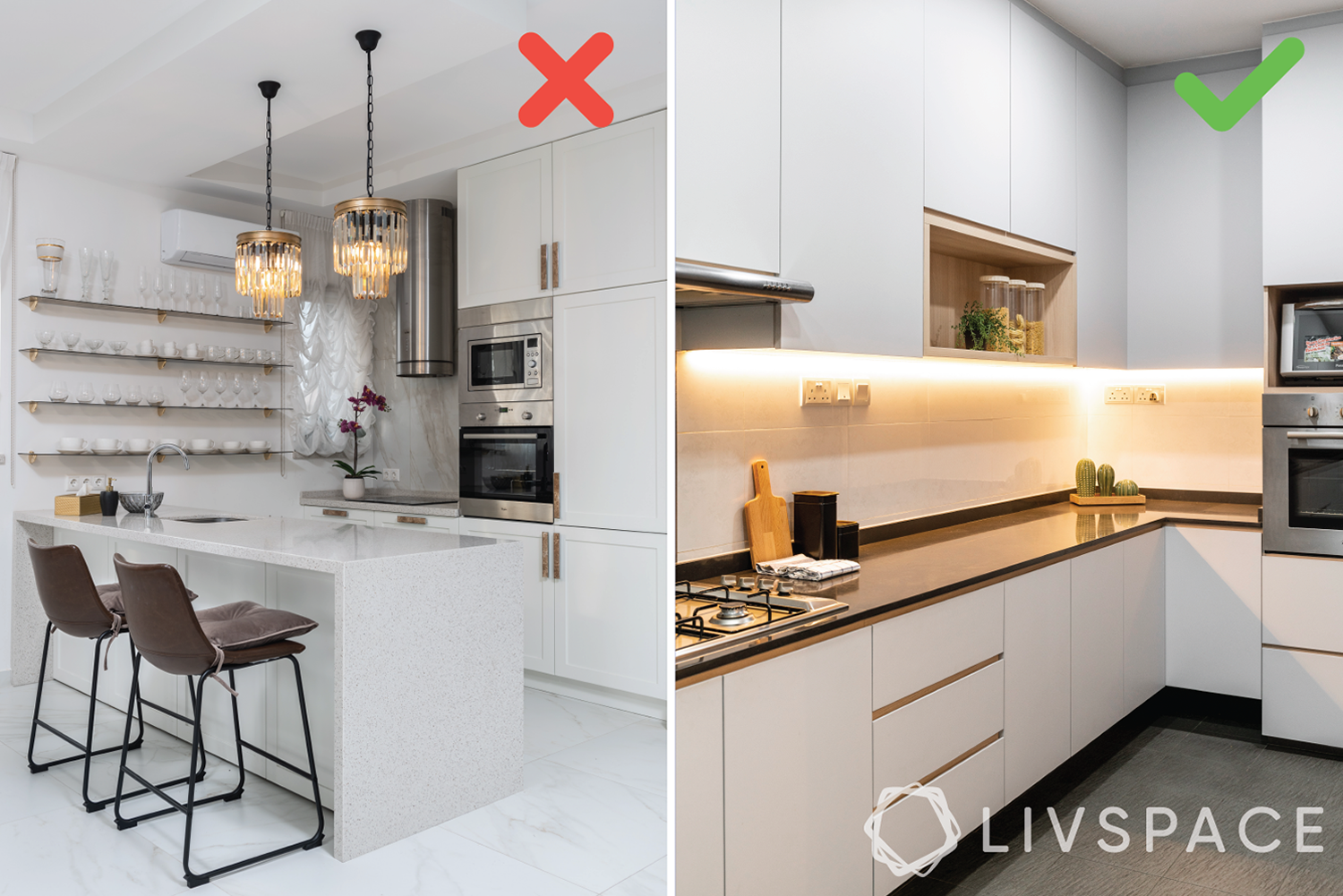 How to fix it
If your kitchen does not come with sufficient lighting options, you can always add more. Have a mix of ambient and task lights in your kitchen modular design. We suggest you opt for recessed lights as well as under-cabinet lighting. If you have a breakfast counter or an island, you can add in pendant lights as well.
For lighting options, read this: What is the Best Lighting for Kitchens and Where to Use Them?
How can Livspace help you?
We hope you found our ideas useful! If you want your home to be just as beautiful, then look no further. Book an online consultation with Livspace today. Delivering safe home interiors is our No. 1 priority. Click here to find out how interiors are being delivered following all safety protocols.
Do you relate to the above mistakes? We hope you do not make them while renovating your kitchen the next time. Here's What You Need to Know About Kitchen Renovation Cost for HDB Resale.
Send in your comments and suggestions at editor.sg@livspace.com