The kitchen to most, if not everyone, is quite the sanctuary in a home. Some me time without interruption to go about your routine is only enhanced when you are able to cook effortlessly with everything in its place. And this is where kitchen accessories play their part. They are meant to be two things: efficient and chic. You need kitchen organizer to uncomplicate your process of cooking and organise your kitchen with quick hacks. It is therefore important that you stay updated on the latest designs and technology that match your lifestyle while simultaneously matching the aesthetic of your home. While these may seem like a lot of boxes to check, we have made a list of the kind of kitchen accessories that will go a long way in helping you organise your kitchen.
Let's get straight to it!
#1: Open Wall Cabinet with Details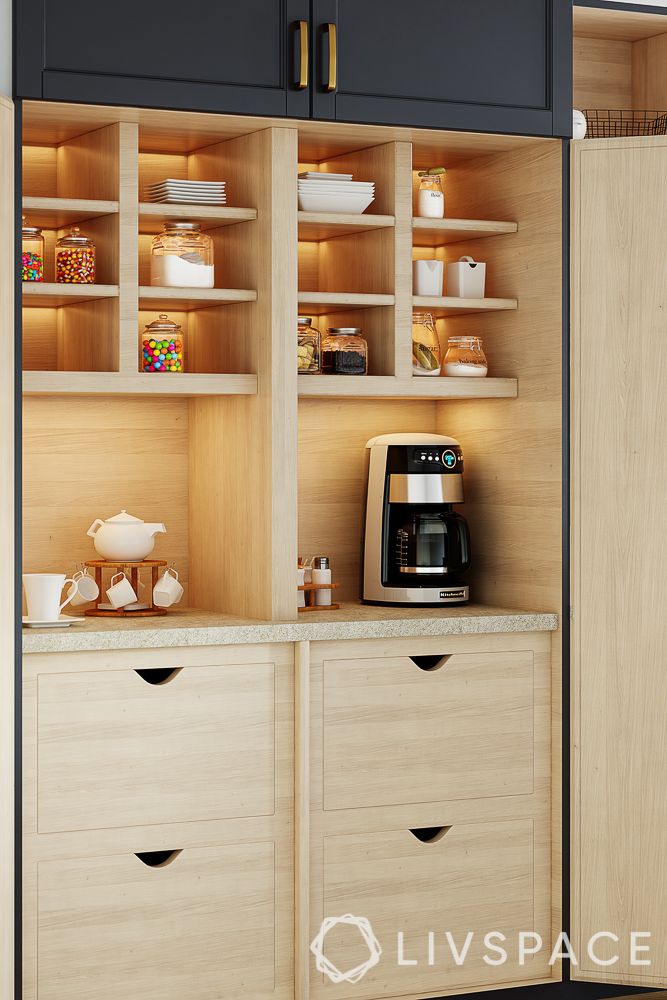 If space is not an issue in your kitchen, get yourself a tall open wall cabinet to organise all your cutlery, cookware and your coffee machine. These are not only spacious but look extremely chic and neat. You can either go all out with open wall cabinetry or mix it up with some closed units as well, as shown in this image. Either way, you can't go wrong with these. They're incredibly efficient for storage and when you want to find things quickly. You can choose a glass design if you're keen on going for a cabinet door.
#2: Open Drawers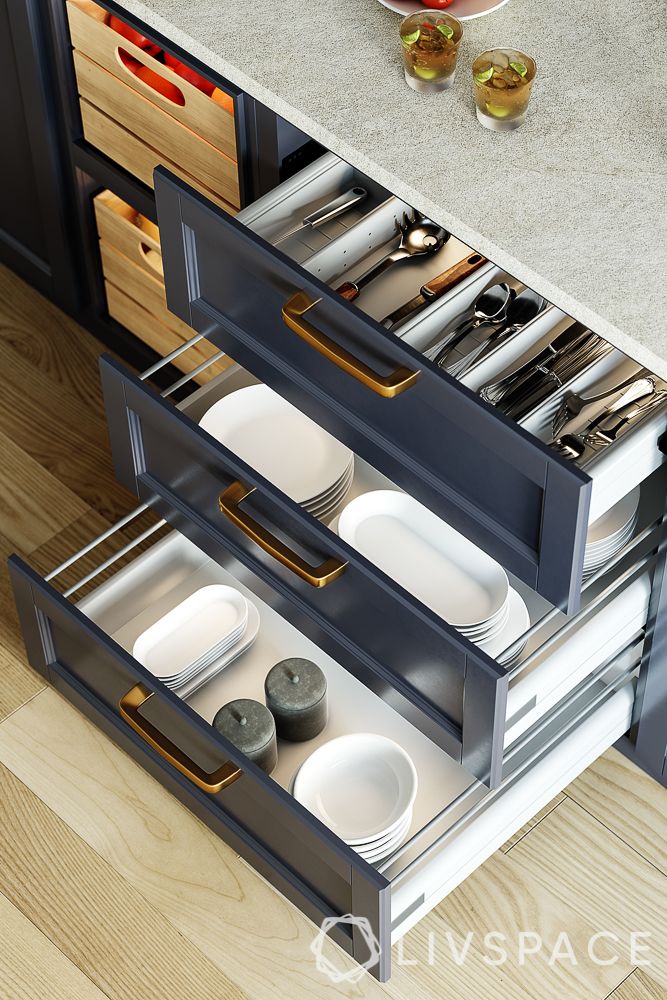 For are the most functional kitchen organizer of all. From your glassware, cutlery, side plates, silverware and more, open drawers are extremely convenient. You can customise the way you want to organise your drawers by getting drawer organisers for silverware and much more. It is the most no-nonsense kind of kitchen accessory.
#3: Open Spice Pull-Out
Organising your kitchen is all about convenience. Just like this open spice pull-out cabinet. With this kitchen organizer, you can easily keep all your spices and sauces handy, and grab them whenever you need them. These pull-out kitchen storage racks are a great use of space, especially for smaller kitchens that can't have an over-the-counter spice rack. The pull-out drawer type of arrangement makes it easy to handle. They also come with a safety rod on the side so that you can avoid breakage.
#4: Cutlery Organiser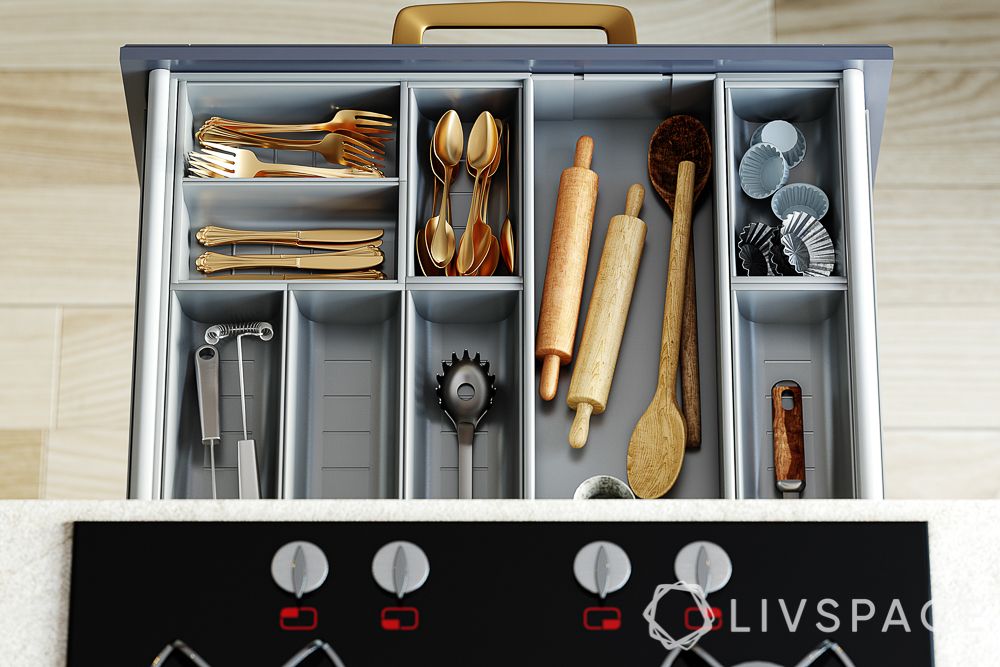 Imagine you pull out a drawer and you need a ladle, but it's under a pile of spoons, which is under a pile of forks. Avoid this mess by getting a drawer organiser. An amazing kitchen organizer to keep your ladles, spoons, mashers and strainers, so that they all have their own space, and cooking for you is hassle- and noise-free. Not to mention, they also look extremely neat and chic.
#5: Open Storage within the Island
Let's go beyond kitchen racks and over the wall cabinets. If you have the luxury of a kitchen island, don't let it go to waste. Make an open storage unit in the kitchen island for your glassware or cookware. You can also turn it into a bar storage unit. Organising your kitchen has to be about efficiency but also about having fun with your space. You can arrange some barstools next to the kitchen island and turn it into a leisurely space to hang out or eat a quick meal.
#6: Open Waste Disposal Unit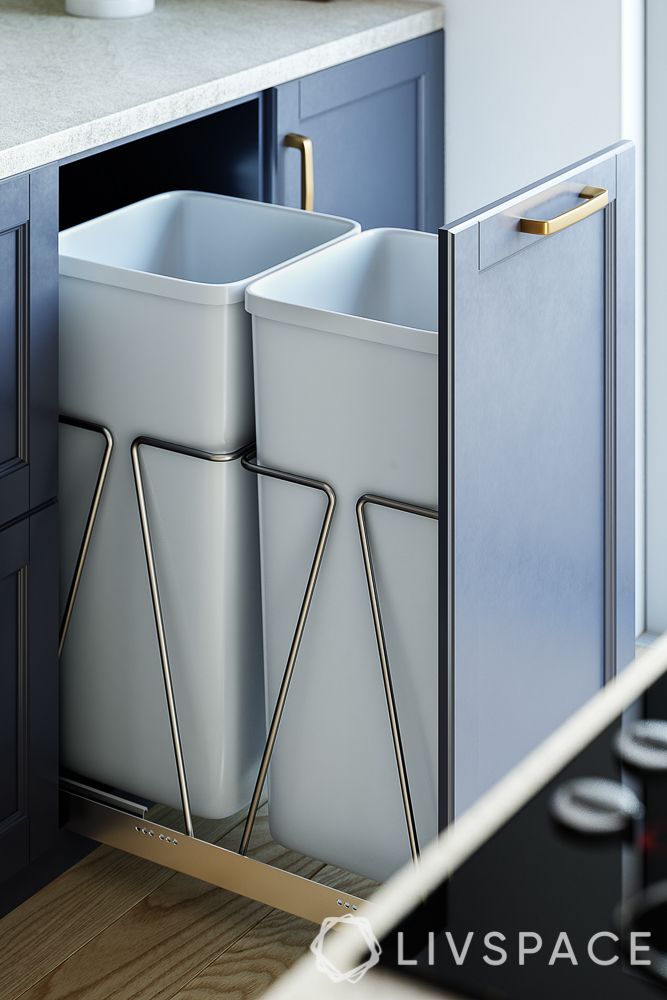 Optimise the space of your kitchen storage by making an open waste disposal unit. This pull-out waste disposal unit can work as a great kitchen accessory and save you time. All your wet and dry waste can be assorted right where you're standing instead of you walking all the way over to the dustbin in the corner of the kitchen space. Done with peeling potatoes or just cracked some eggs? Pull out the open waste disposal unit and dump them in there immediately. This smart kitchen organizer let's you keep a clean and odourless cooking space and allows you to conveniently discard waste as well.
We hope these kitchen accessories have inspired you to do some redecorating in your space! After all, cooking can be so much fun when everything is in its rightful place and easily accessible while you whip up a storm! Want expert recommended tips? Read 10 Ways To Widen Your Compact Kitchen
Check out this 3-room home:
How Can Livspace Help You?
If you are thinking of redesigning your home, then consider Livspace. Book an online consultation with our designers now to turn your dream home into a reality. We are all about quality and safe interiors.
Let the pandemic not stop you from attaining your dream home. We follow strict COVID-19 safety protocols, which you can read about here.
Send in your comments and suggestions to editor.sg@livspace.com