It can be difficult to navigate home remodelling, especially if your property is above a certain age. However, when done effectively, the amazing modern design that emerges as a result of it, is always worth it. A kitchen is the heart of a home. It is the space where families eat together and bond together. So, getting the perfect kitchen for your home is essential. Stephanie Ng, the Livspace designer in charge of this 3-room HDB renovation, shows us exactly how to get it. This kitchen has everything you need – modular storage, ease of maintenance, and efficient workflow solutions. Continue reading to learn more about these cutting-edge HDB kitchen renovation ideas.
This HDB 3-room flat belongs to a young couple who are chefs with an appreciation of the minimalist lifestyle. Being professional chefs , the layout of the kitchen is very important to them. They also asked our designer Stephanie if they could get a Bohemian theme for their kitchen and rest of their home. Our designers made sure they renovated the home as per their needs.
__________________________________________________________
Who livs here: A young couple
Location: 244 Bukit Batok East Ave 5
Size of home: 93 sqm 3-room HDB
Design team: Interior Designer Stephanie Ng and Business Manager Eddie Chua
Livspace service: Whole kitchen overhaul, painting, vinyl floor works
Budget: $$
__________________________________________________________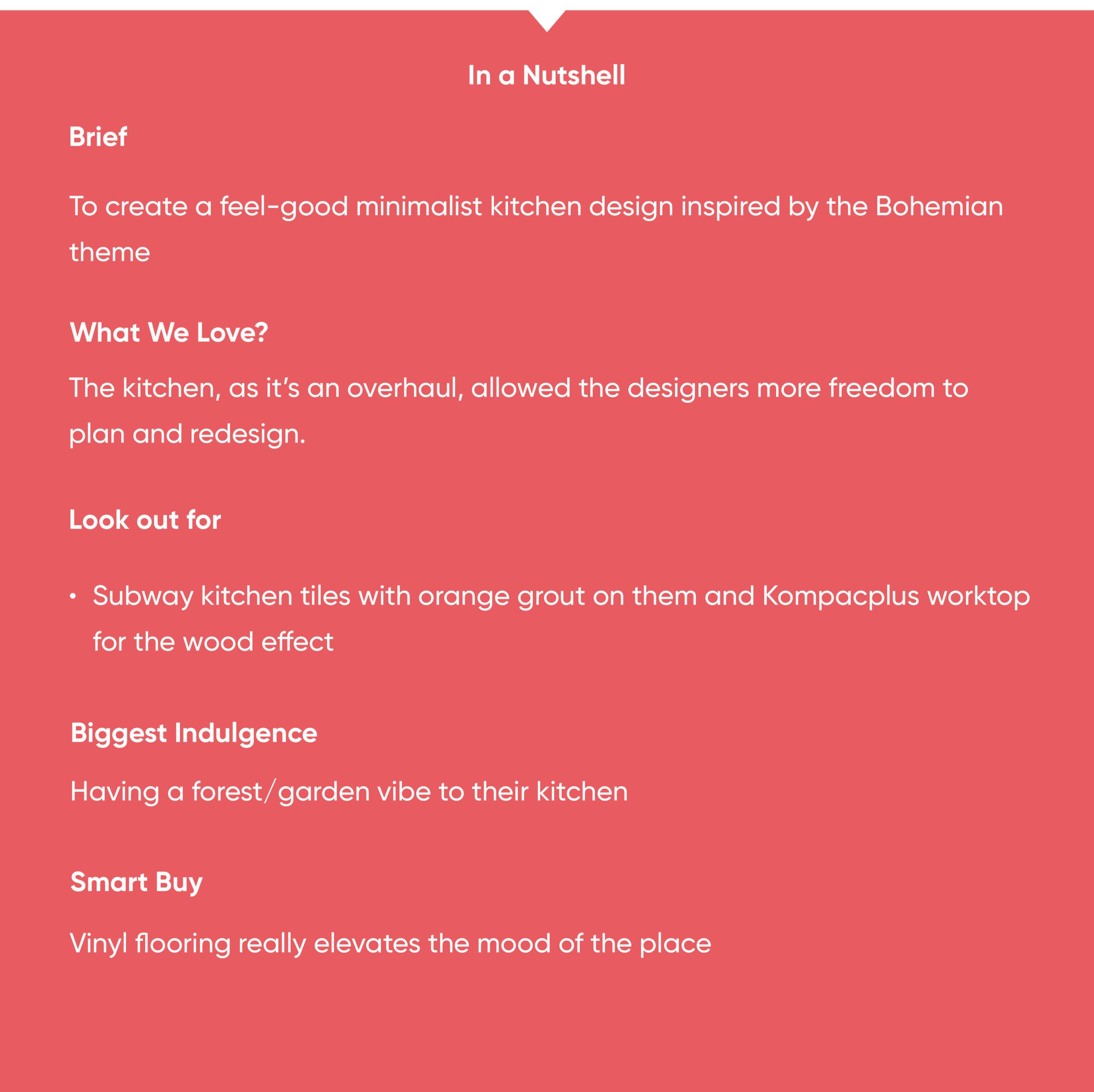 From a Dull Space to a Positive Haven: An Ideal HDB Kitchen Renovation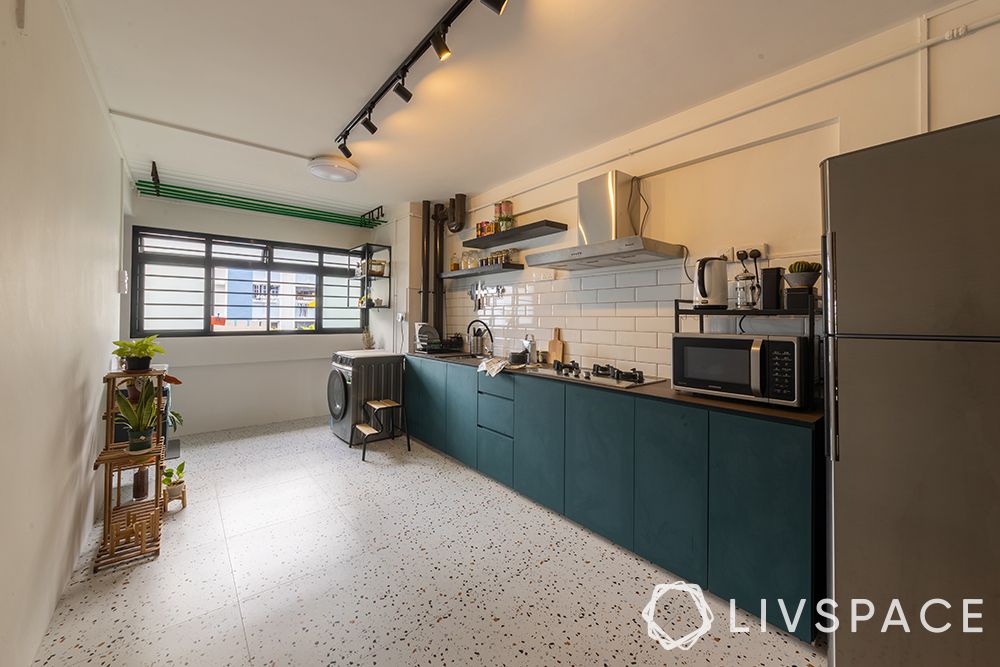 Although the kitchen's design appears simple, the renovation effort that went into bringing it to its current state was extensive. The kitchen in this 3-room HDB was about 38 years old and had a low ceiling with very little light coming in at the time of purchase. Designer Stephanie redesigned the kitchen to fix this problem. She recognised it would take some effort to give this kitchen a decent structural makeover. To keep the design simple, the original false ceiling was removed and lighter colour palettes were introduced.
Also read: Why Under-cabinet Kitchen Lights Are A Bright Addition To Your Home?
Retro Theme for This HDB Kitchen renovation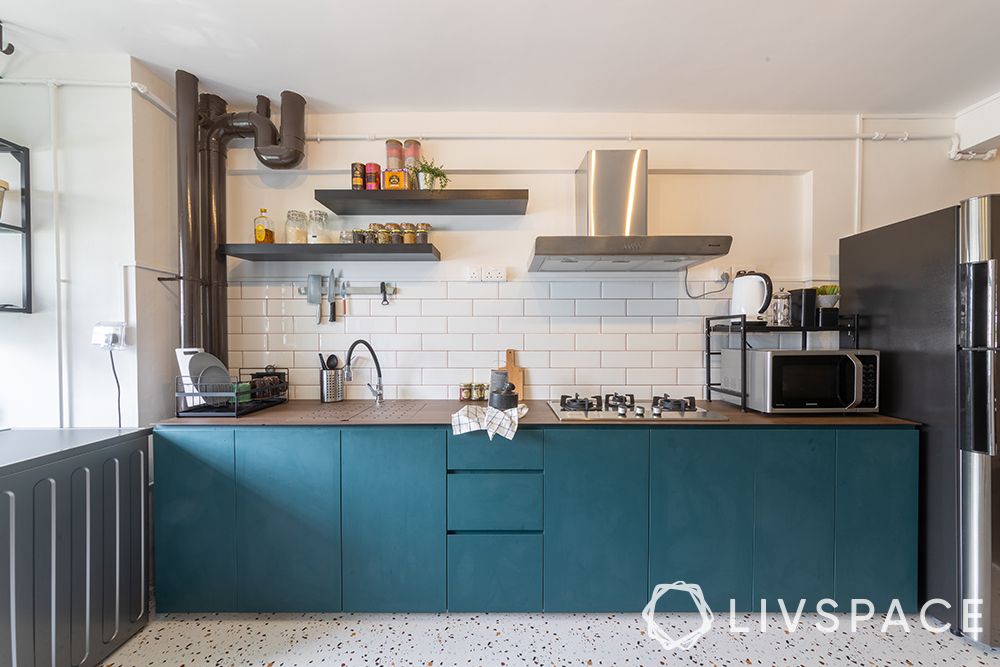 The designer wanted to go with an old retro theme to complement this 3-room HDB kitchen. So she decided to go with the terrazzo tiles on the floor. Everything works together, the green cabinet, the red grout line, and the mix of terrazzo and subway tiles. The green wooden cabinets provide ample storage space in the kitchen. This HDB kitchen renovation witnesses a subtle pop of colours. It is also open and very airy just as the homeowners wanted it to be. The home owners say, "It's just the two of us and this is a small space. Everything in the apartment is very modular and we don't want anything permanent."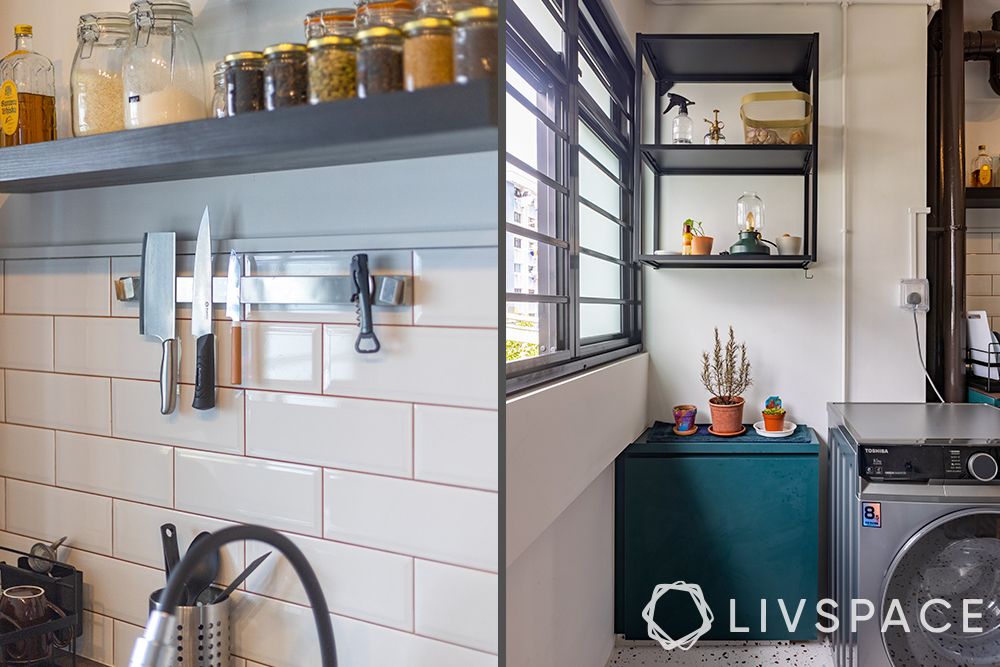 As can be seen in the pictures, this 3-room HDB kitchen has ample storage space. There is a good number of shelves and stands to accommodate containers, utensils and other cooking paraphernalia. It also gives the couple enough space to decorate the kitchen with plant pots and lanterns.
KompacPlus Kitchen Worktop for the Wooden Effect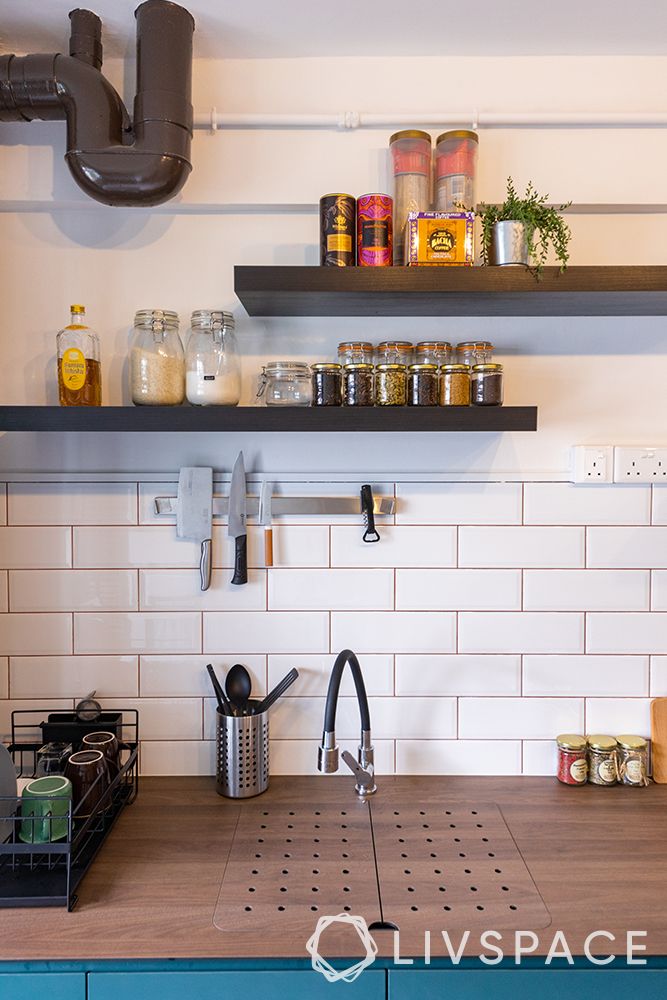 As already discussed, the designer and the homeowners agreed on giving this kitchen a forest vibe and what can be a better choice then a wood-like kitchen countertop and a bunch of plant pots to accomplish that. The kitchen countertop was customised and made of KompacPlus to give the wooden effect. KompacPlus as a countertop material is very stable and has very low flammability.
Also read: Which Kitchen Countertop Material Is the Best for you?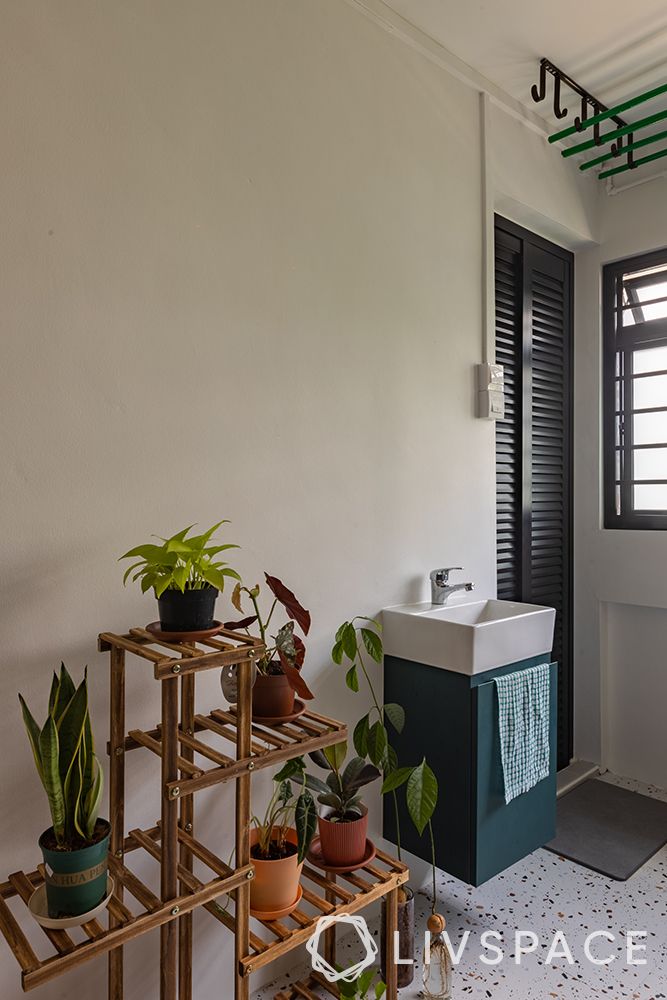 A few plant pots on the wooden stand are definitely giving this place a natural vibe. Plants in the kitchen not only improve the aesthetics but they also maintain the flow of oxygen to keep the area well-ventilated.
Dark Wood Vinyl Floor in this HDB 3-Room Flat to Match the Forest Vibe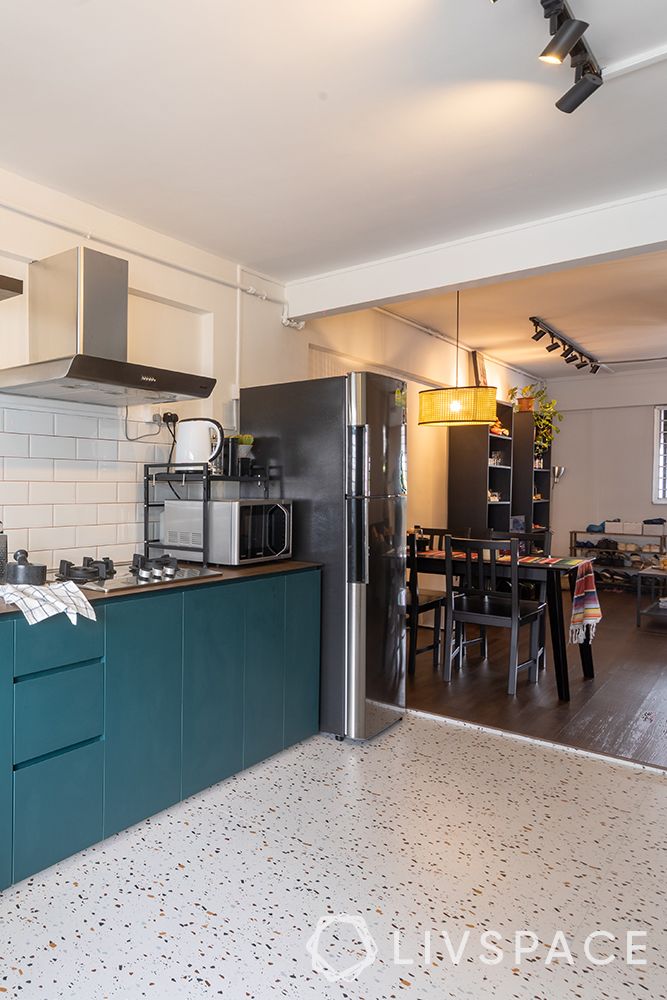 If you want to go for a flooring that is easier to maintain, durable and moisture-resistant, vinyl flooring is a great choice. Since the couple is working, it was preferable to install vinyl flooring in this 3-room HDB, since it's easy to clean and maintain, but gives a luxurious touch to the home. Also, this material helps to hide marks in the high traffic areas at home and hence, is an ideal choice for the living room area.
Click here to find more suggestions about living room flooring
Neutral Colours to Blend with the Couple's Minimalist Lifestyle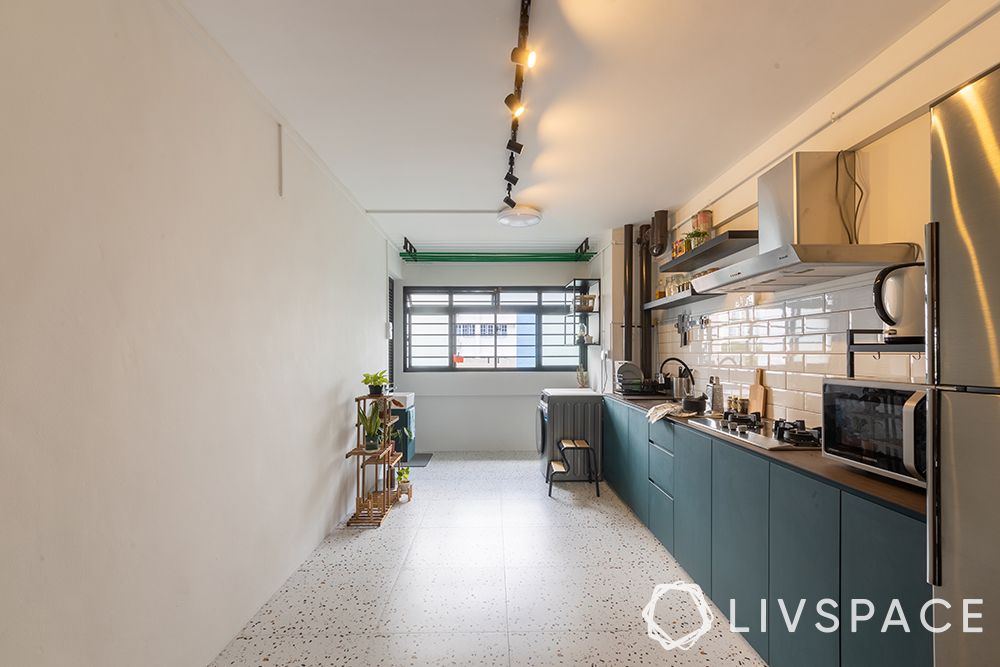 It has been already established that the couple prefers minimal style of living, then their walls should state it too, isn't it? Our team kept the home colours very neutral and calm. Shades of beige are dominant throughout the house. The minimal colours help them relax at their home after a long day at work. Lighter shades are also believed to give the illusion of space and make it look bigger.
Designer Speak
"The owners of this three-room HDB are very fun and nice people. They also respected me as an Interior Designer and kept an open mind to suggestions. This makes their reno project enjoyable. I think one of the reasons for this successful reno is that the communication was done right. They knew exactly what they had in their mind."

Stephanie Ng, Livspace Interior Designer
Homeowner's Delight
"Our experience with Livspace has been excellent and everything was very smooth. Stephanie explained the process to us very properly. When we wanted to cut corners, she stopped us, saying it would compromise the integrity of this three-room HDB. At first one of the other ID firms we consulted told us we won't have to hack the floor tile and that overlaying would do. But Stephanie advised against it can cause waterproofing issues in the future. She really knows her stuff, in terms of colour and materials. She understood the style we wanted."

Homeowners
How Can Livspace Help You?
We hope you enjoyed our tour of this 3-room HDB! If you want your home to be just as beautiful, then look no further. Book an online consultation with Livspace today.