Kitchen renovation in Singapore is a pricey affair, but the results are oh so worth it! If a great-looking kitchen is something you have dreamt of but are hesitating to splurge on making it a reality, we have you covered! We have some good ideas that you can implement to help you save on the cost and yet get a smart kitchen. But before we dive into details of how you can reduce the cost of the renovation, let's understand what exactly a kitchen renovation entails.
The Cost of Kitchen Renovation in Singapore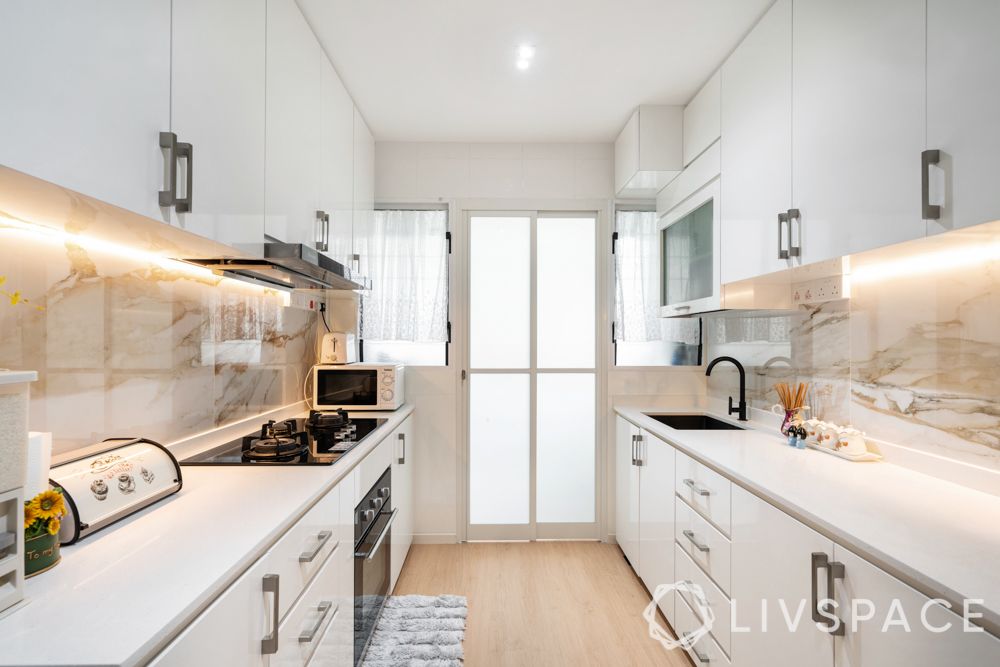 Typically, the cost of a kitchen renovation Singapore varies based on the scope of work and if you're mainly upgrading the appliances and countertops or going for a full-fledged renovation. For basic carpentry, the cost starts at around S$5,000 and can shoot up to S$60,000 for a complete kitchen overhaul. This is an average price and can go higher or lower based on materials, appliances and, as mentioned above, the total scope of work.
The Essentials of Kitchen Renovation Singapore
#1: Kitchen Cabinetry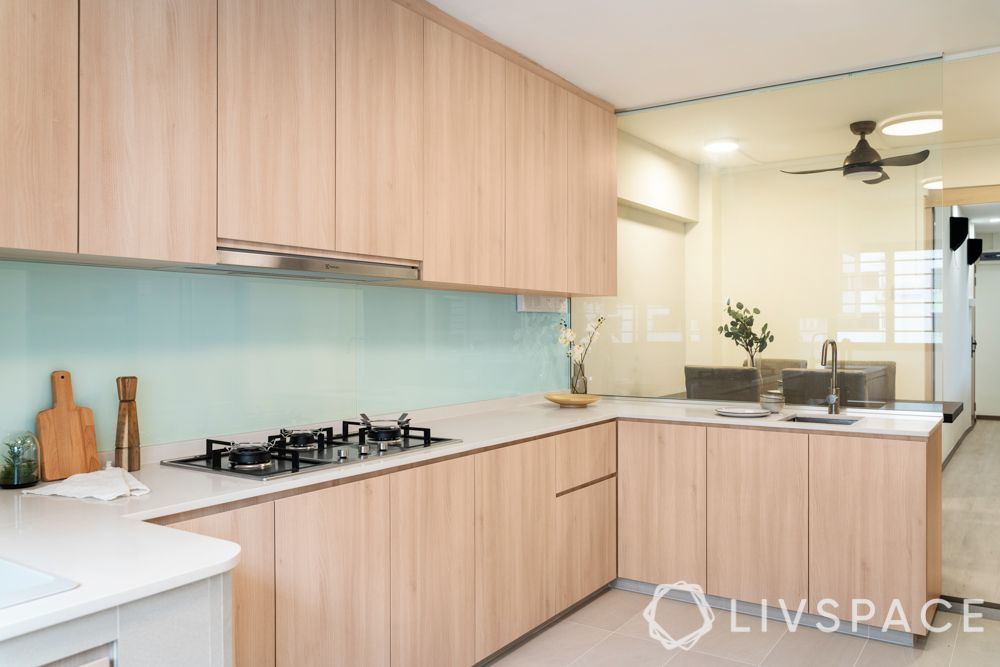 The kitchen cabinets are the backbone of your kitchen. The entire storage and organisation depend on how well these are designed or maintained. If you're planning on a renovation, check if the cabinetry is sturdy and fits your needs.
#2: Flooring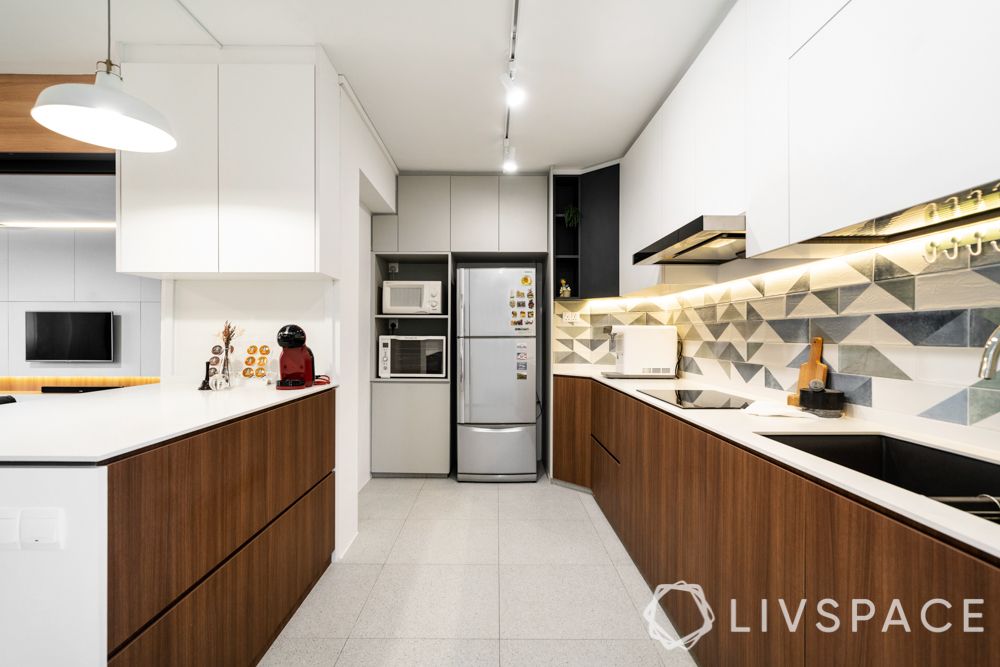 Flooring is mainly reconsidered if your current one is severely damaged or in dire need of a change. If you're short on budget and have well-maintained flooring, then this need not be included in your scope of work.
#3: Wall Paint or Wall Tiles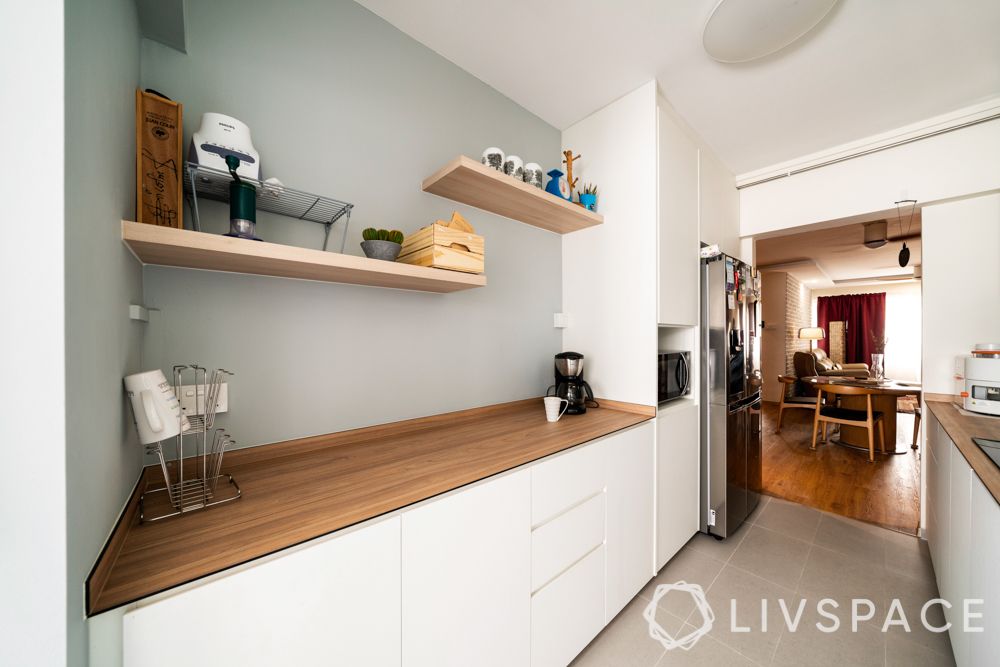 A basic paint job can be used across most of the walls. However, if you're considering tiling or had tiles that have now been damaged, then you might want to plan on the type of tiles, colours and patterns during your kitchen renovation.
#4: Backsplash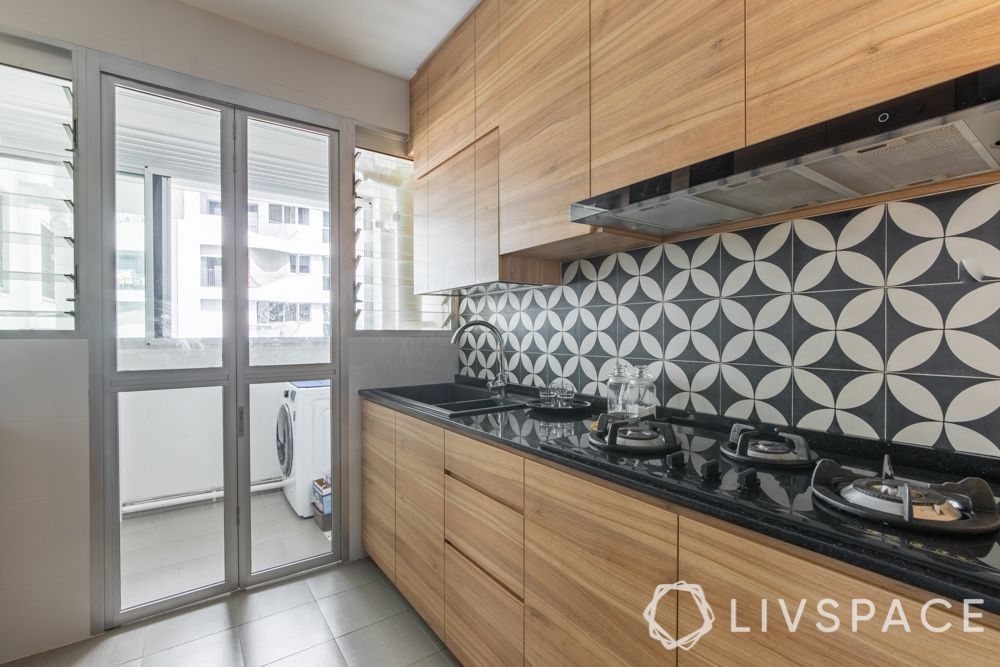 The main job of a backsplash is to save your walls from cooking grease and stains. It makes cleaning easy and gives your kitchen an elegant touch. Going for ceramic wall tiles instead of natural stone can save a lot of money during your renovation.
#5: Countertop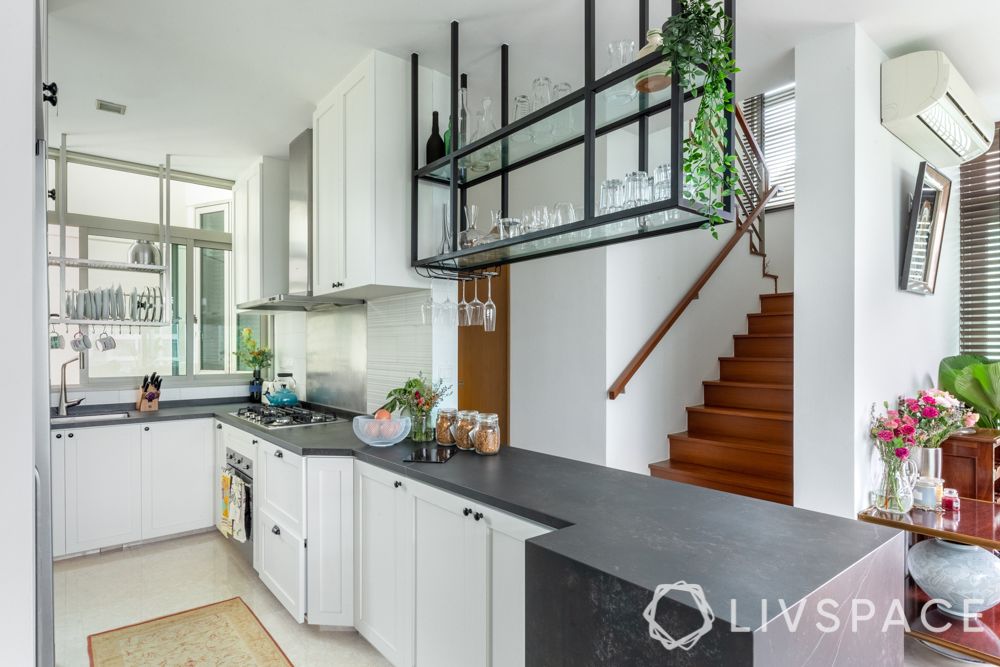 Countertops are another important element in your kitchen. Without sturdy and smooth countertops, everyday work can be tedious. Pick materials that are easy to maintain and cost-effective to stay within your budget.
#6: Sink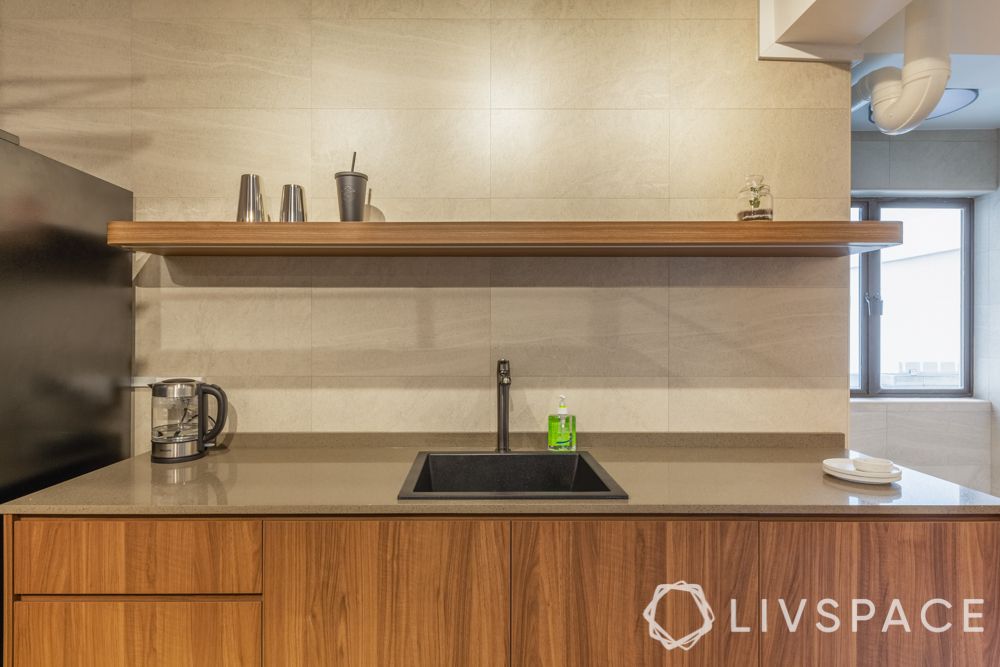 From washing your veggies to the kitchen clean-up, sinks are important for hygienic cooking and overall cleaning. Depending on your family and the needs of your kitchen, buy a sink that is functional and looks great with your HDB kitchen design.
#7: Lighting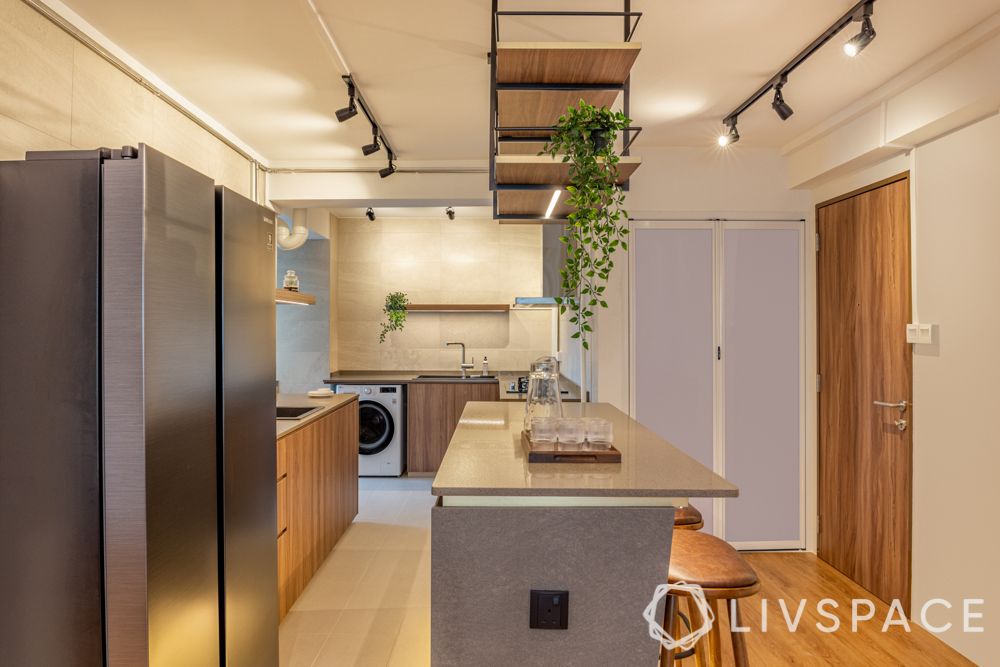 For a better experience while cooking, ensure your kitchen is fitted with the right lighting options. From ambient lighting that lights up the kitchen to cabinet lights, lights near the sink and more, you'll need good lighting to see better. Along with lighting, also check the overall wiring of your kitchen for smoother use of appliances, lights and more.
#8: Plumbing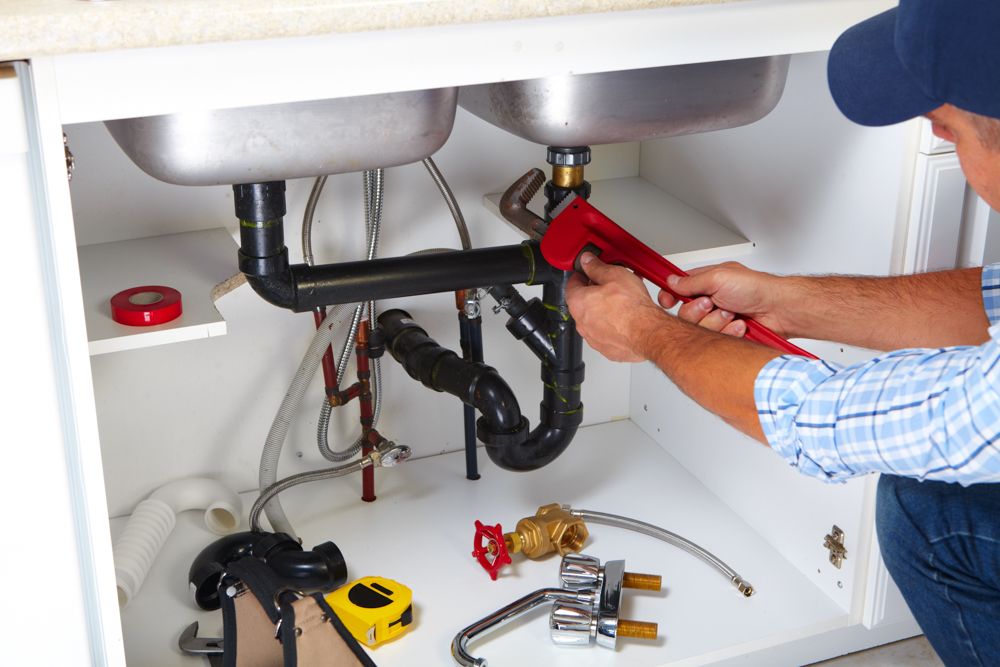 Check if your plumbing works well. From the water supply to the drainage, there needs to be a smooth working connection. If either of these is not in proper working order, there can be a blockage, overflowing pipes and other issues that can be a mess to deal with.
#9: Doors and Windows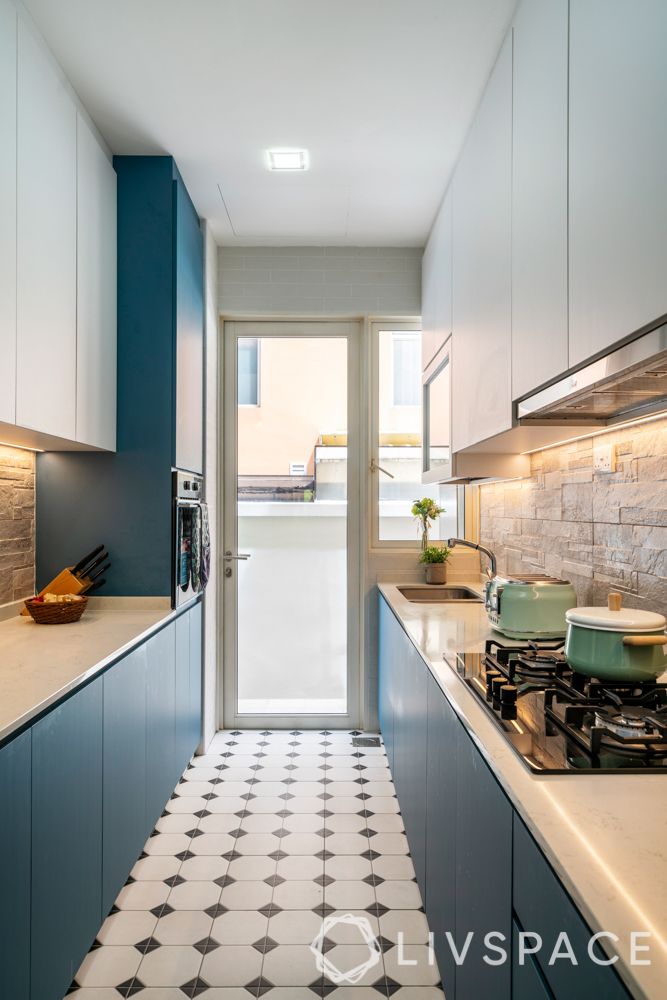 Last but not the least, ensure your kitchen has the right ventilation by changing up your doors and windows. If you get a completely new kitchen but your doors and windows look old, they can hamper your new kitchen look.
Kitchen Renovations in Singapore by Livspace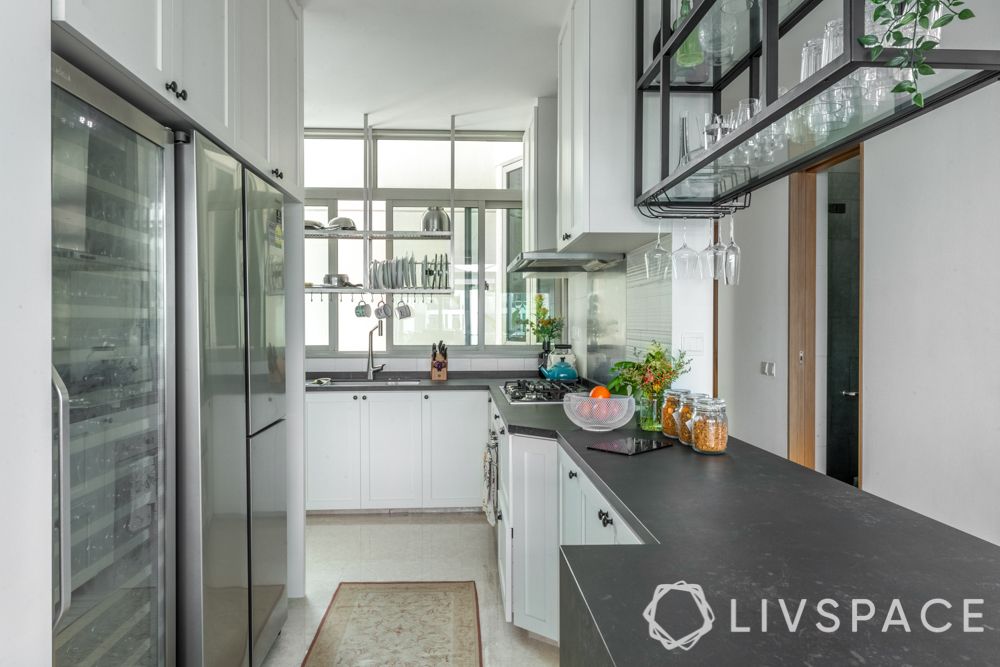 Elegant and classy, this kitchen got a major overhaul after 15 years for a family of four. Their aim was to make it an open and welcoming space with more practical accessories that would make it easy to cook. The makeover definitely makes a style statement.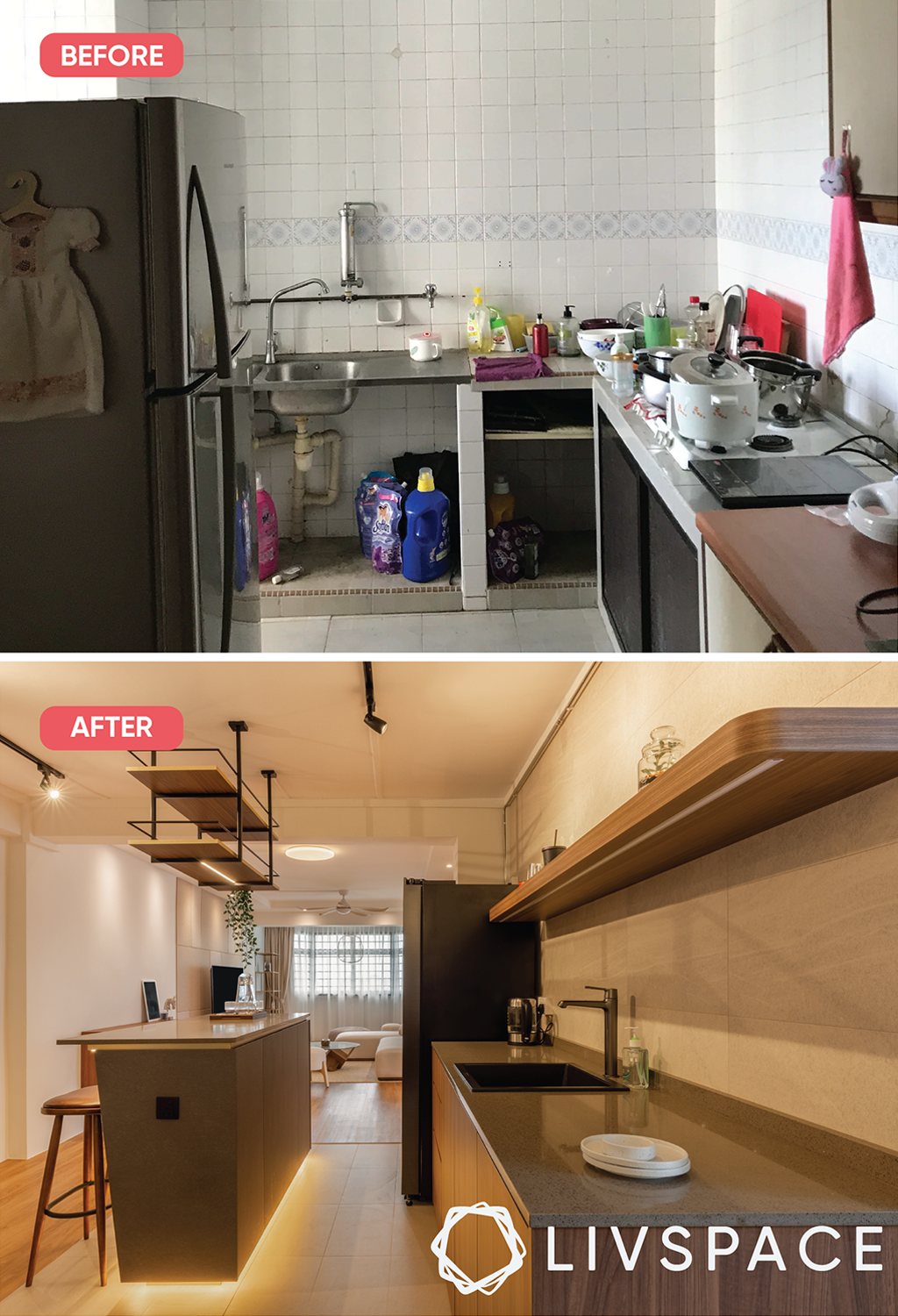 From constricted to spacious and bright, this kitchen overhaul is one for the books. Taking a small space and giving it an island kitchen is every homeowner's dream, which is just what occurred with this kitchen renovation.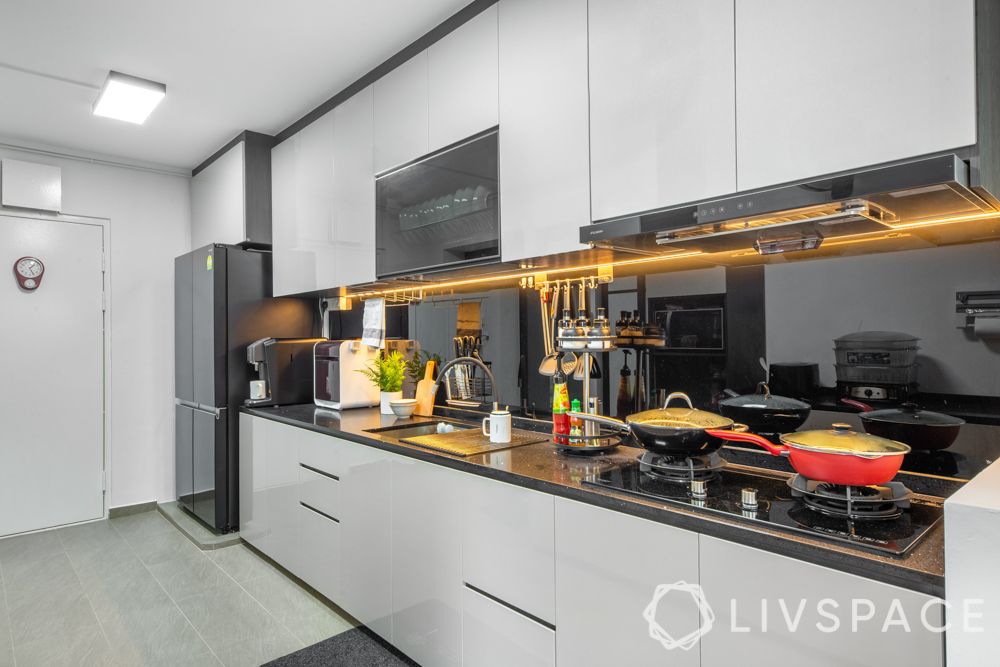 From clear glass kitchen doors to well-lit kitchen cabinets, this HDB kitchen design was ifor a family of five, including elderly folks. Thus, every element is made to be functional with easy access and comfortable use.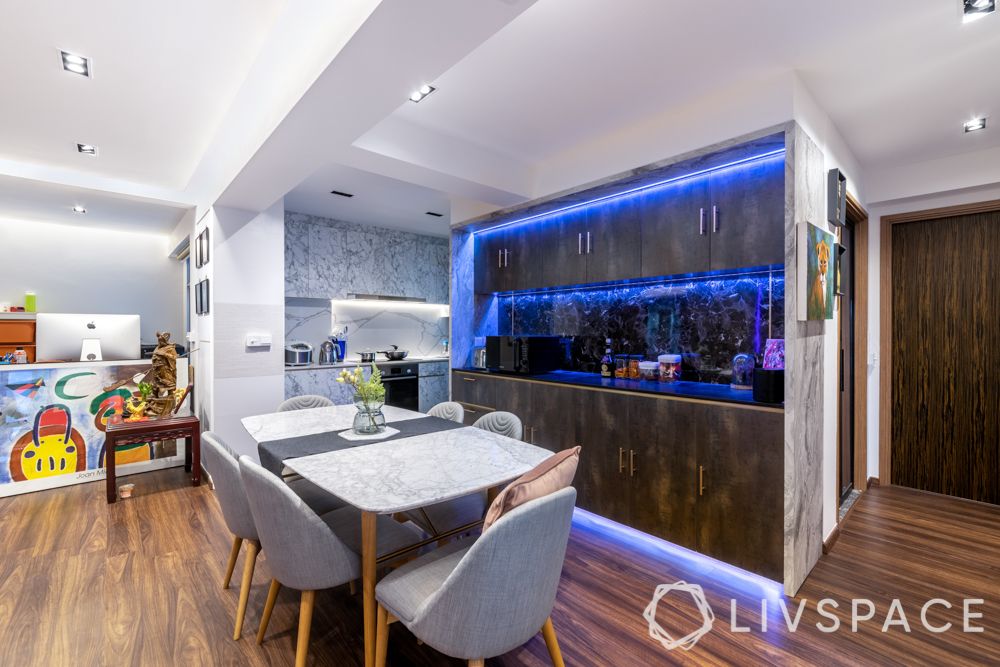 Looks expensive, doesn't it? Well, if you're also looking for an opulent kitchen renovation in Singapore within budget, then going for a marble-like backsplash like the one used in this kitchen can save you a lot of money.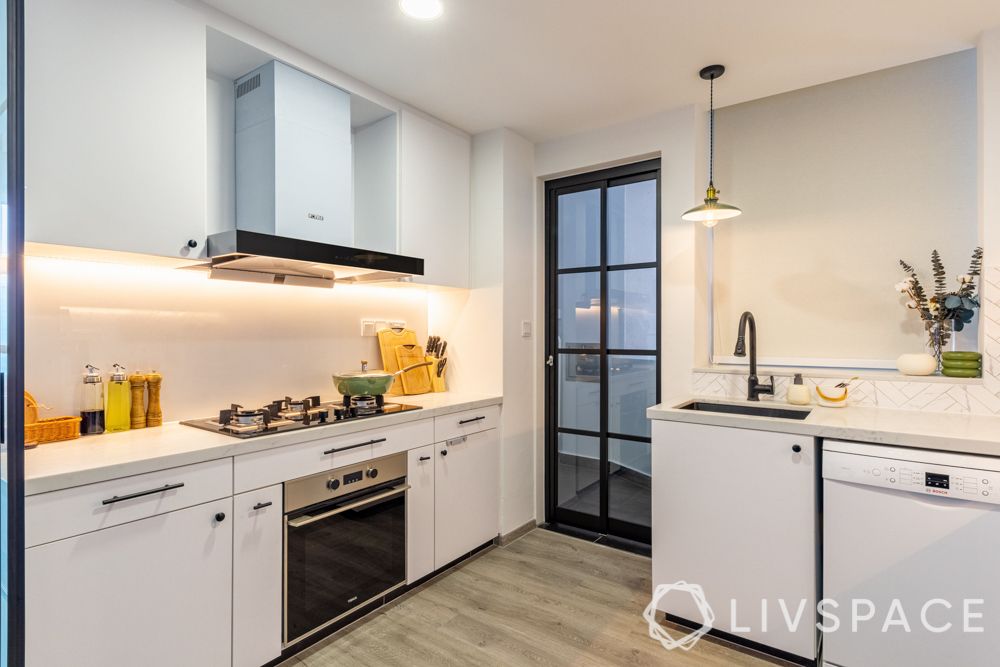 This American, country-style kitchen has a warm, inviting vibe. A white canvas with functional accessories and black appliances make for an aesthetically pleasing space.
8 Ways to Save on Kitchen Renovation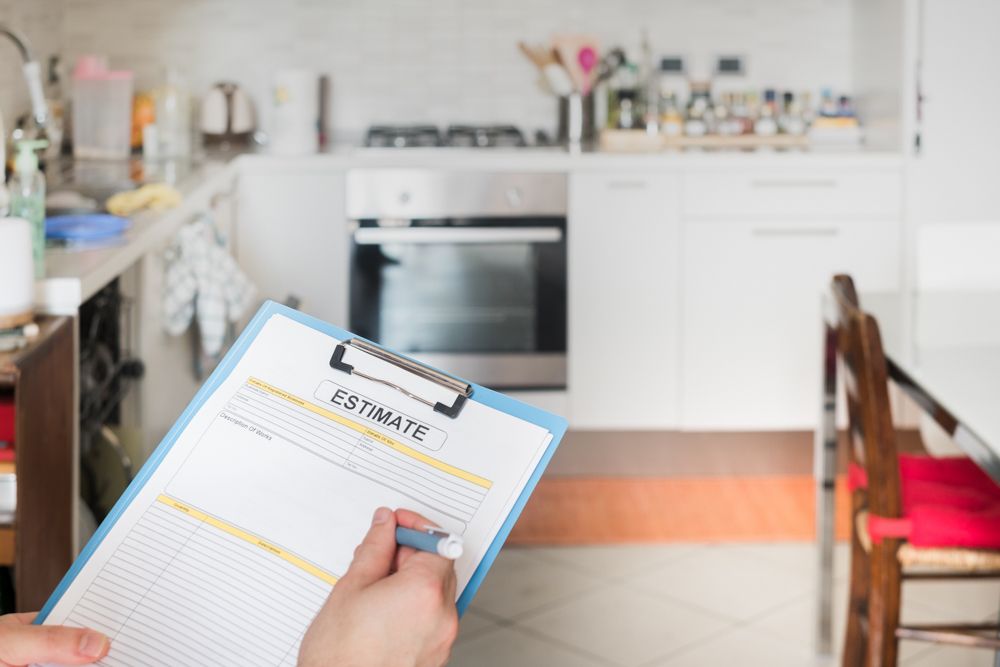 Stick to the Budget
It is very easy to lose track of your expenses when you're excited about your new kitchen. Before you begin to start your renovation, therefore, make a list of things you need. Be clear about whether this is a simple renovation, what needs to be replaced on priority and what can be planned for a later date. This gives you an outline of what your renovation cost would look like and helps to stay within budget.
Repurpose and Retain
Not all renovations need to be a complete overhaul. Many homeowners can reduce their kitchen renovation costs if they figure out what can be retained or repurposed. For example, flooring and walls in most HDBs would require minimal changes. On the other hand, plumbing, cabinetry and electrical changes take centre stage.
Go for Alternate Options
Always have a Plan B. If the purchase of something makes you overshoot over your budget, either find a replacement or see if you can compromise on another item on your list. Knowing where to save and splurge can be helpful in keeping your budget in check.
Choose a Simple Look
The more extravagant or complex a design is, the higher the costs are. To ensure you do not go overboard, go with a design that is easy to implement and choose simple materials and accessories that can be easily found in the market. Sourcing or creating quirky cabinets, accessories can be heavy on the pocket.
Avoid Customisation
Many homeowners think that to save space, customisation is the best option. However, built-in furniture and accessories increase your expenses. While opting for a modular kitchen, avoid custom-made cabinets and accessories.
Upgrade Where Necessary
Sometimes, all a kitchen needs is upgraded appliances, a countertop or cabinets. Thus, when you're creating a checklist of what needs to be renovated, check if there is a requirement for a major overhaul or if you can work with just upgrading a few elements or items.
Resell What's Good
Kitchen renovation costs may be high but, you can set off these expenses by reselling good appliances or salvaging things that are in good condition. This helps you make money off scraps that can be then used for your kitchen renovation.
Hire the Right Professionals
Get quotes from multiple interior designers before you make the final decision. Stick to a firm or company that gives you an HDB kitchen renovation package that takes care of everything from start to finish. Some contractors tend to change their price while the project is in progress. To avoid that, ensure you sign off on a contract for the package. With Livspace, you can be assured of the best quality at reasonable prices and here's why.
Economical Substitutes for Expensive Kitchen Elements
Here's a list of low-cost substitutes for expensive materials and elements to help you reduce kitchen renovation cost:
Cabinetry: Use MDF and HDF instead of plywood or solid wood variants.
Flooring: Ceramic and mosaic tiles come with wooden or marble-like patterns, which are pocket-friendly but give your kitchen an expensive look.
Walls and Backsplash: A simple paint job or wallpaper can be cost-effective compared to wall tiles. For a backsplash, opt for ceramic tiles with simple patterns.
Countertop: While marble and granite countertops look great and are durable, quartz also shares the same properties without being too expensive.
Lighting, Sink and Accessories: Choose simple designs and buy in bulk to get some discounts. LED lamps are more cost-effective compared to vintage incandescent bulbs—even in the long run.
Overall, weigh the pros and cons before you plan your renovation. Check your finances—savings and bank loans—to ensure you're well prepared for the impending costs. Discuss cost-effective substitutes with your designer. That way, you'll get more for less.
You can check this out if you are looking to make your kitchen more functional: 7 Best Kitchen Accessories for a Super Organised Petite Space.
How Can Livspace Help You?
If you are thinking of redesigning your home, then consider Livspace. Book an online consultation with our designers now to turn your dream home into a reality. We are all about quality and safe interiors.
Let the pandemic not stop you from attaining your dream home. We follow strict COVID-19 safety protocols, which you can read about here.
Let us know your thoughts and ideas at editor.sg@livspace.com.