In modern homes, an open kitchen design perfectly suits our informal lifestyles and promotes sociability while whipping up meals. Space constraints are also another reason why open kitchens layouts are on the rise. But it requires expertise and great design skills to get the open layout right. The seamless transition from living to dining and kitchen is a skill worth exploring.
Since open-living has become a part of our lives, with smaller apartments and cramped spaces, having an open kitchen design can work wonders. Take a look at what this layout is all about, how to make it work and what to keep in mind while getting this design for your home.
What is an open-plan kitchen layout?
An open plan kitchen design is a concept where the kitchen is designed is such a way, that it integrates with the rest of the home. The layout has less walls and more open space that is dedicated to both function and showcase. Usually, the norm is, to have an open plan kitchen, you need at least one spacious, open room.
Let's now take a look at what are the factors that you should consider while building an open kitchen:
Open Kitchen Design Factor #1: The Space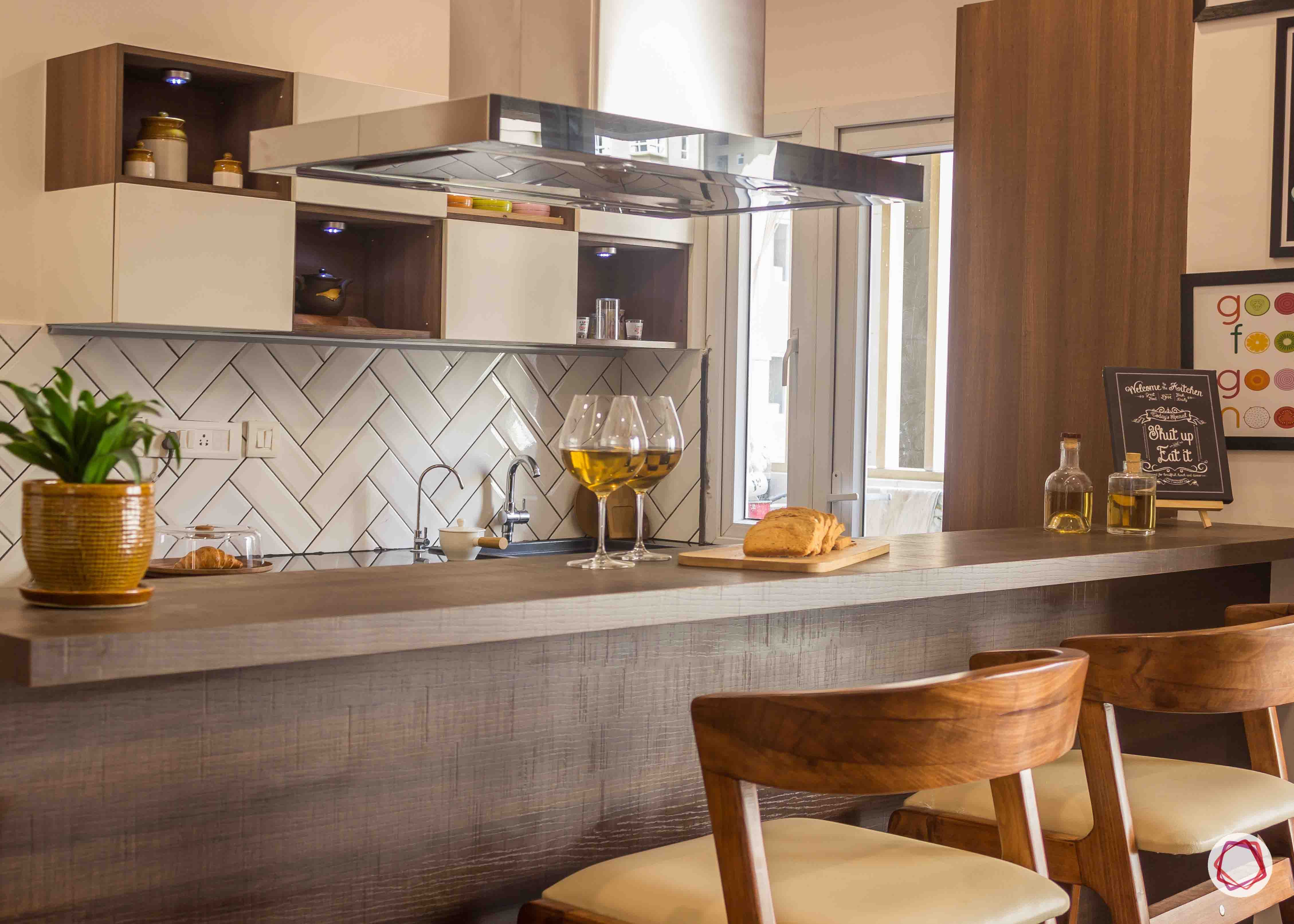 Open plan kitchens are great for more reasons than you'd know. One of the obvious advantages of having an open kitchen design is, that it facilitates family time. You can socialise with friends and family when you throw parties. No more getting cooped up in the kitchen! Also, if you have kids around, then keeping an eye on them also comes easy with such a layout.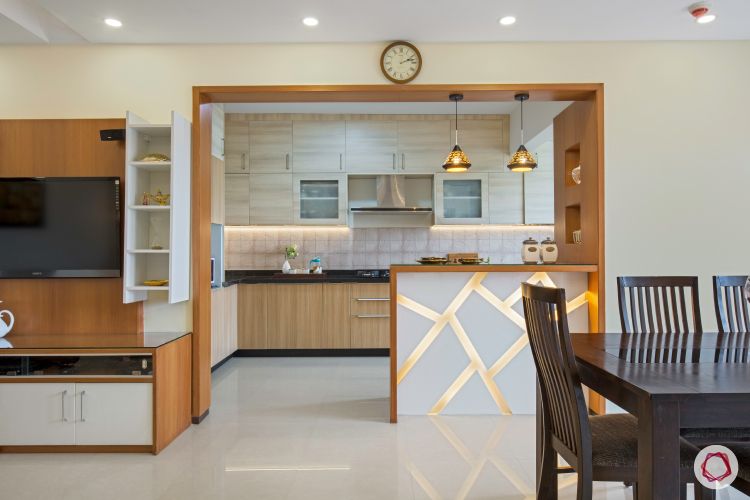 One of the major characteristics of an open kitchen is, that it has a scattered layout. Build a tiny island or a breakfast counter to tie things together. This will not only give your kitchen a definition, but also serve some purpose!
Open Kitchen Design Factor #2: Think Through the Modules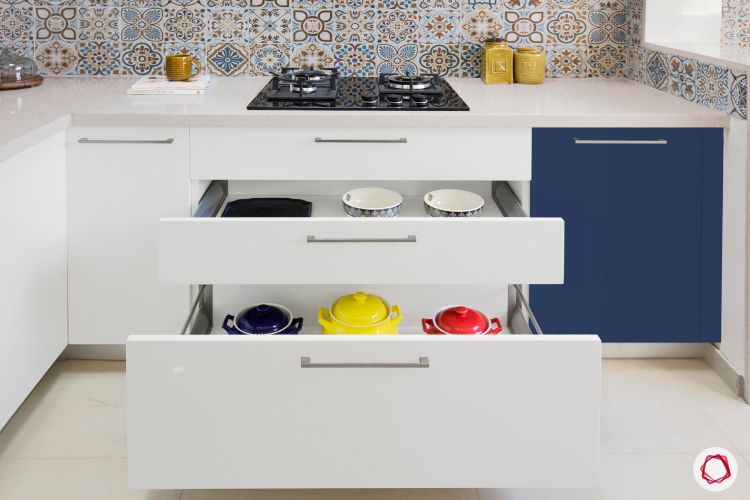 When you have an open kitchen and stay with a big family or have friends over, noisy appliances or cabinets can really disrupt the peace at home. Make sure you opt for soft close drawers and tandem boxes, instead of wire baskets. They are almost noiseless and make for efficient kitchen modules.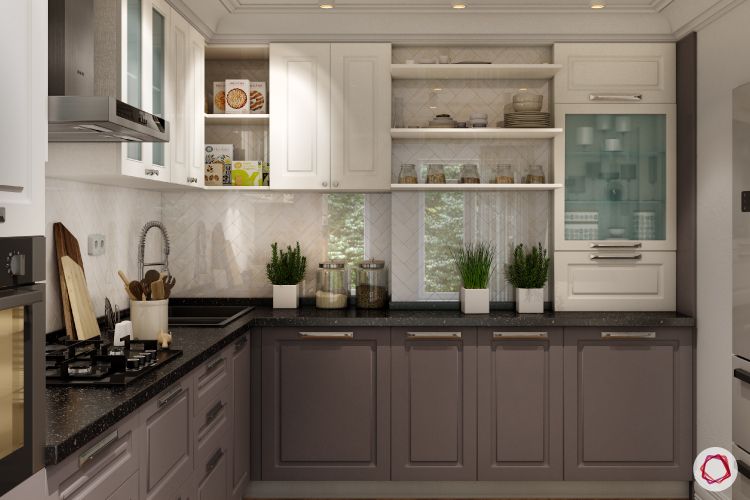 Also, consider having more shuttered cabinets instead of open storage, so that you can hide away all the clutter and keep it out of sight. We suggest you go for glass cabinets only if you are a very tidy cook, otherwise you run the risk of outsiders peeking in. If you still want glass for your cabinets, go for frosted glass shutters in between to store all your fancy China.
Open Kitchen Design Factor #3: The Colour Scheme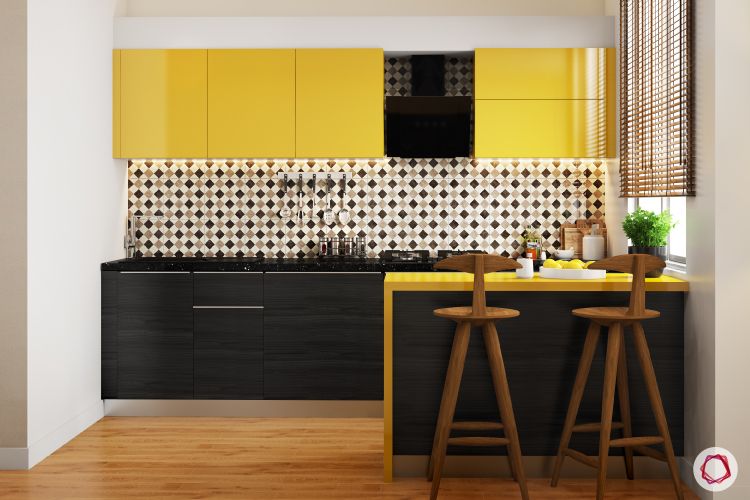 Open kitchens are a great way to add design elements to your home, in terms of wall art and colour. Pops of colour never go out of fashion, and you could totally incorporate it in your open kitchen design. You will love how a pop of colour can make your kitchen stand out.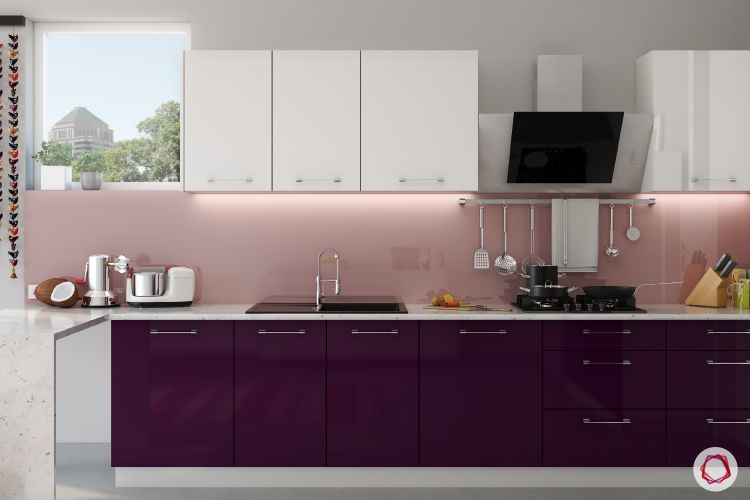 If you do not want to go bold, you can try it on just a single side of the cabinets or add bright chairs to the breakfast counter. Also, make sure the colours are in sync with the colours of your living or the dining room. This will maintain harmony in terms of colour scheme.
Open Kitchen Design Factor #4: Lighting Needs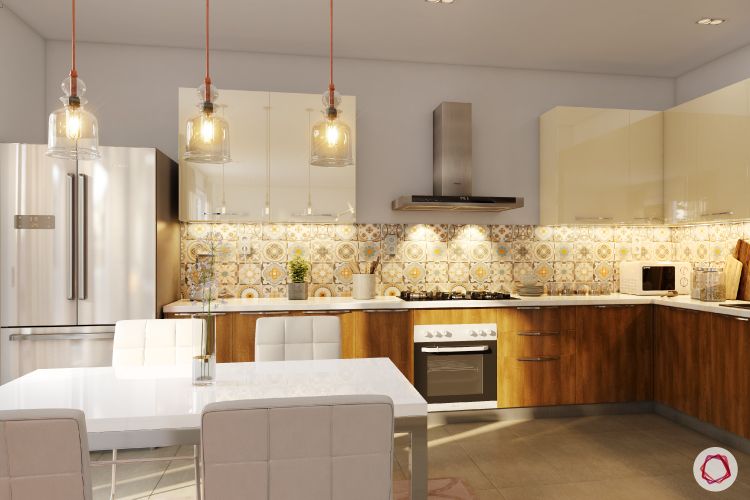 Open kitchens can be tricky to demarcate if you have a small space to deal with. Your best bet? Lights! It is very easy to play around with lights if you want to create focus areas. Create a stark difference between your dining or living and the kitchen, by giving both the spaces, specific lighting.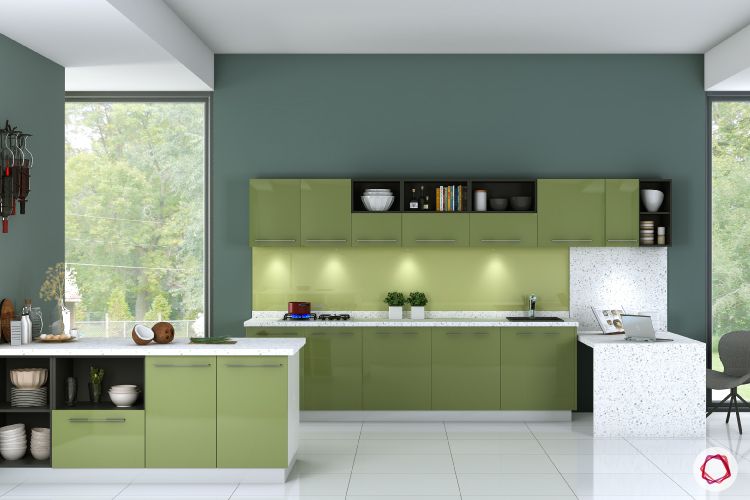 Also, make sure you have some source of natural light in your kitchen and try placing either the breakfast counter or the prep zone near it. This will make sure that your kitchen is well-ventilated and lit in the right places.
Open Kitchen Design Factor #5: Create Boundaries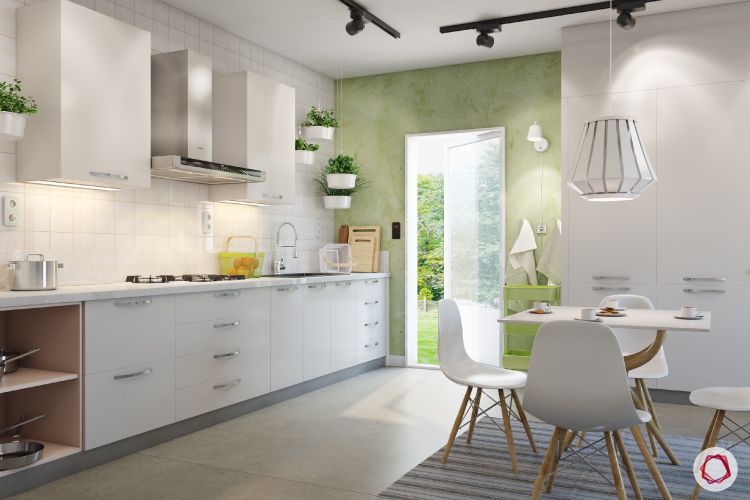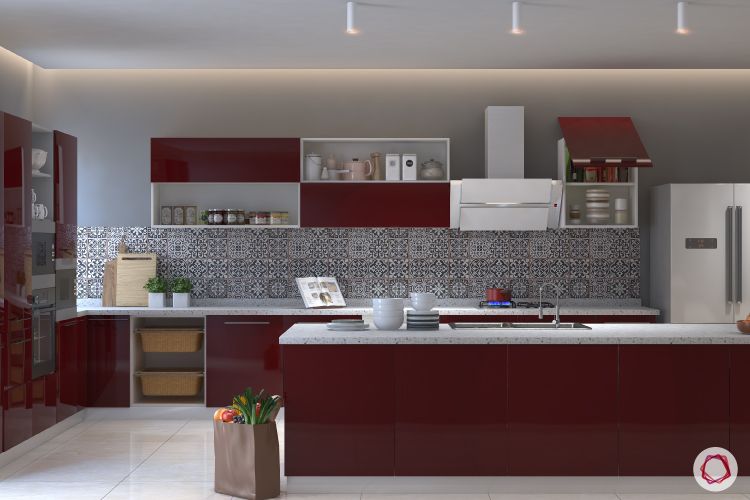 We understand that open kitchens can be difficult to crack, especially if you are someone who loves their privacy. Well, fret not, we have a solution to all your problems. If you have an open plan kitchen, but still want to maintain your privacy, then create a boundary with a breakfast counter or an island. Alternatively, you could also have movable boundaries like a partition or a dining table.
Open plan kitchens are great, but everything comes with it's set of cons, and so do open kitchens. You might want to consider some of these factors before you take the plunge.
The cost component: If you already have a closed layout for the kitchen, then breaking down those walls and getting the plumbing and/or the electrical and flooring can be an expensive affair.
Less wall space: If you break down walls, you will have less space to display your favourite wall art or memories from your travels. If you are someone who loves empty wall space, then an open kitchen layout might not work.
The mess factor: Well, let's face it. If you are someone who panics when you have guests over and the only place where you hide clutter is the kitchen, then open plans will definitely not work for you. Open plan kitchens are not for the messy cooks!
Issue of privacy: Although, open layouts are gaining popularity in modern homes, privacy is still a concern. Some people still love maintaining their privacy with closed floor plans.
Don't forget the chimney: One of the major concerns of an open kitchen is ventilation. Do not forget to install a chimney, if you do not want the aroma of your spices all around your home, every time you cook.
Check out this smart home:
We hope we addressed all your concerns for open kitchens. This will definitely help you when you have an open layout and want to know how to work it!
Send in your suggestions and comments, if any.