Choosing the right kitchen backsplash is just as important as picking a countertop for your cabinets. There are a lot of things to consider, from materials to prices, and even how it'll look in the overall design of your kitchen. We're here to help with this guide on some of the most popular kitchen backsplash materials in Singapore.
What Is a Kitchen Backsplash and Why Do You Need One?
Your backsplash is, quite literally, the back bone of your kitchen. It takes up the space on the wall behind your stove and above the cabinets. Because of its placement, the kitchen backsplash is susceptible to cooking stains and water splashes. It is also one of the first things you see when you enter the kitchen. Because of these factors, the backsplash not only holds the kitchen together but adds to the beauty of your home.
The backsplash can be made from many different materials, like ceramic, stone and glass. Selecting the right kitchen backsplash material depends on the type of meals you cook, as well as how often you prepare them.
So, let's look through the different materials for a kitchen backsplash in Singapore and find what works best for your home interiors!
Tiles
Glass
Quartz
KompacPluc
Marble
Granite
Water
Resistance
Waterproof
Waterproof
Waterproof
Waterproof
Made
waterproof
using a
sealant
Waterproof
Impact
Resistance
Breakable
Breakable
Resistant
Highly-
resistant
Breakable
Mostly
resistant
Thermal
Resistance
Highly-
resistant
Can
resist up
to 80°C
Can
resist up
to 150°C
Highly-
resistant
Can
resist up
to 170°C
Highly-
resistant
Durability
Medium
Medium
High
High
Medium
High
Aesthetics
Wide
variety
Wide
array of
colours
Wide
array of
colours
Limited
variety
Wide
array of
colours
Wide
array of
colours
Maintenance
High
Low
Low
Low
High
Low
Price
Low
Medium
High
Medium
High
Medium
to
high
#1: Tiles as Kitchen Backsplash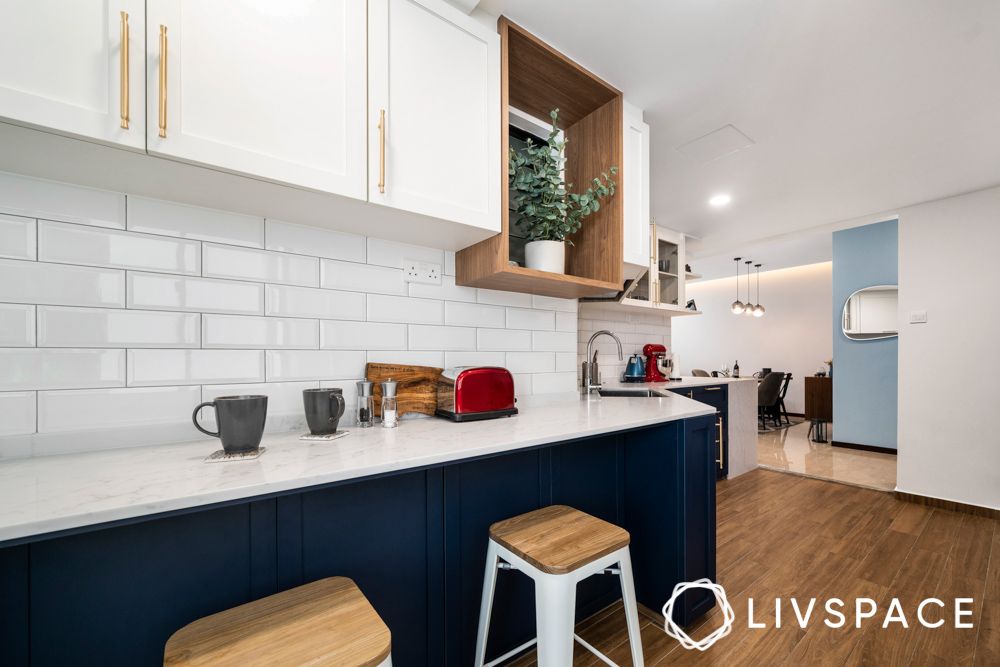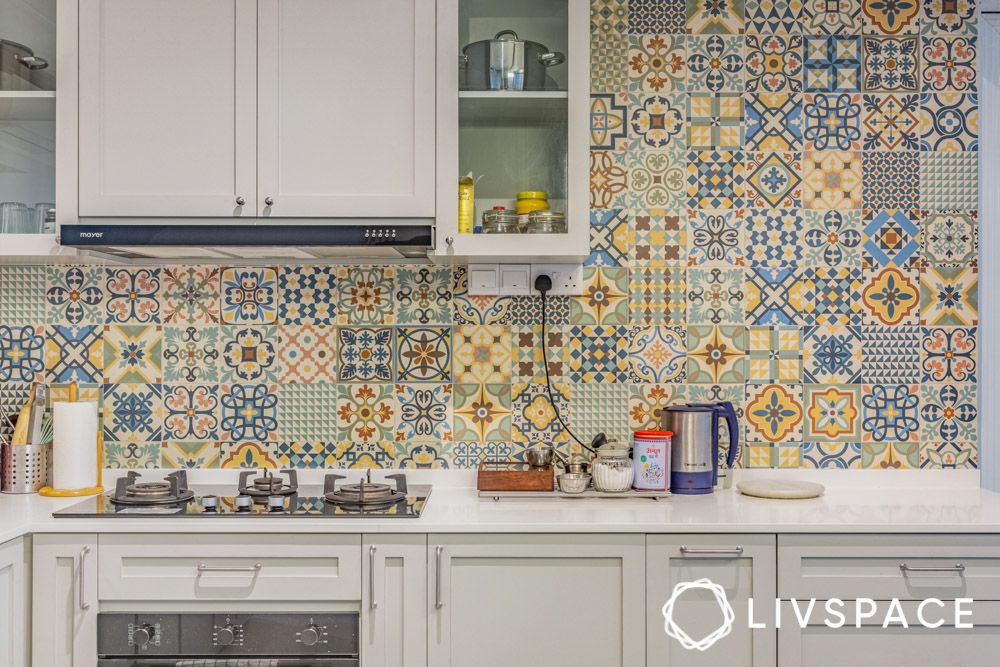 The versatile tile is an evergreen choice for backsplashes during kitchen renovation in Singapore. Not only can you choose from multiple colours and patterns to liven up your kitchen, they are also easy to install and maintain, without pinching the pocket too badly.
Pro Tip: Use a regular cleaning agent to keep your backsplash kitchen tiles clean. Pay close attention to grout lines. Make a mixture of vinegar and baking soda, and scrub away at them with a toothbrush until you have a clean backsplash.
#2: Glass Backsplash for Kitchen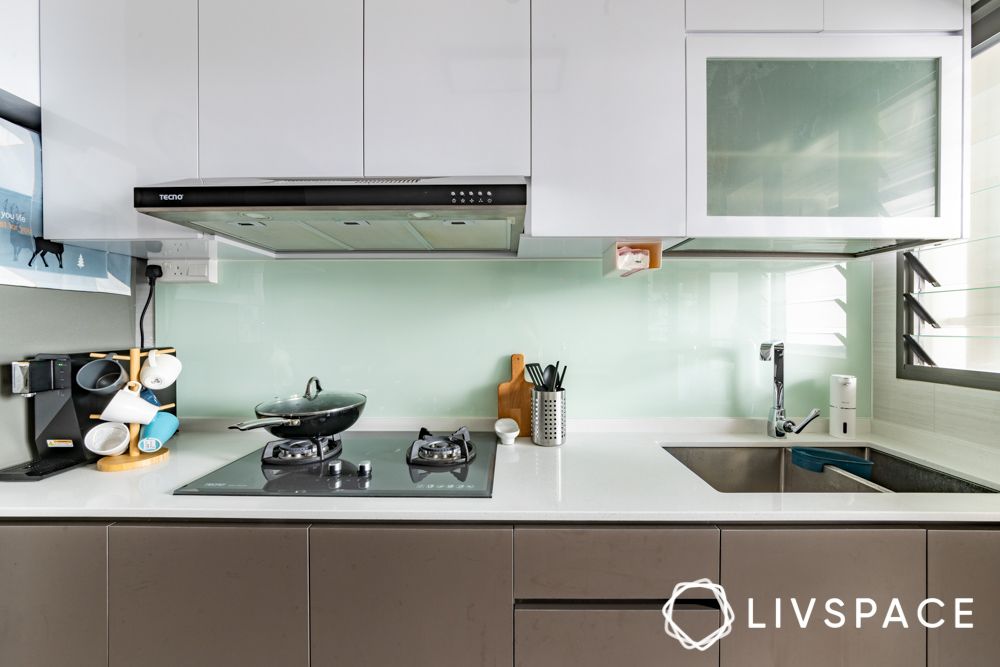 A single, seamless sheet of glass backsplash sprayed with the colour of your choice can make your kitchen look uber stylish! The light bouncing off glass also makes a kitchen with minimal natural light look much brighter!
Pro Tip: Use a lint-free cloth while cleaning your modern kitchen glass backsplash to avoid scratches.
Also Read: What is Modern Kitchen Design and How to Get the Perfect One?
#3: Quartz Backsplash for Kitchen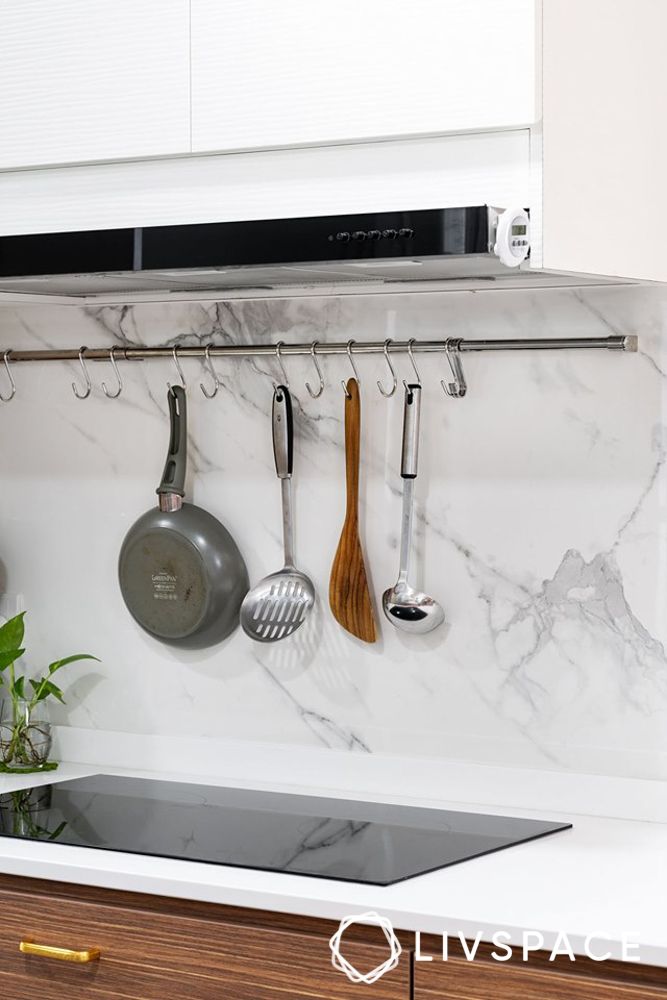 The non-porous quartz backsplash is made of finely crushed pieces of quartz mixed with resin. While the quartz backsplash may seem expensive, homeowners agree that it's worth its weight in gold! Moreover, you can take your pick of colours and patterns, and add drama to your cooking space with just the kitchen backsplash. Similarly, if you choose a quartz countertop as well, you will have a seamless kitchen that takes your breath away!
Pro Tip: Clean any stains with a mild detergent and water. In case you need to scrub a tough stain, make sure to use a delicate scrub pad that doesn't scratch the quartz surface!
#4: KompacPlus Backsplash for Kitchen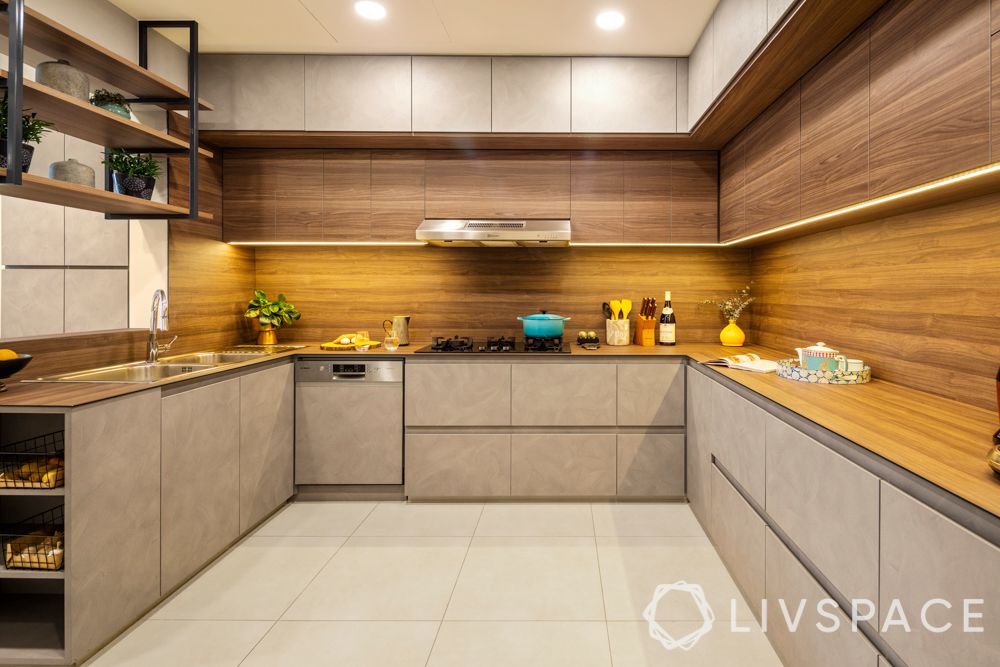 The waterproof, scratch-resistant and non-porous KompacPlus backsplash is all that you could have ever wanted for your kitchen. Made of pulp paper soaked in resin, this material can also perfectly mimic the look of cement or wood. What's more, our designers can simply mount the KompacPlus backsplash over your existing backsplash for a fresh new look!
Pro tip: Wipe it daily with a wet cloth for a clean and spotless KompacPlus backsplash.
#5: Marble as Backsplash for Kitchen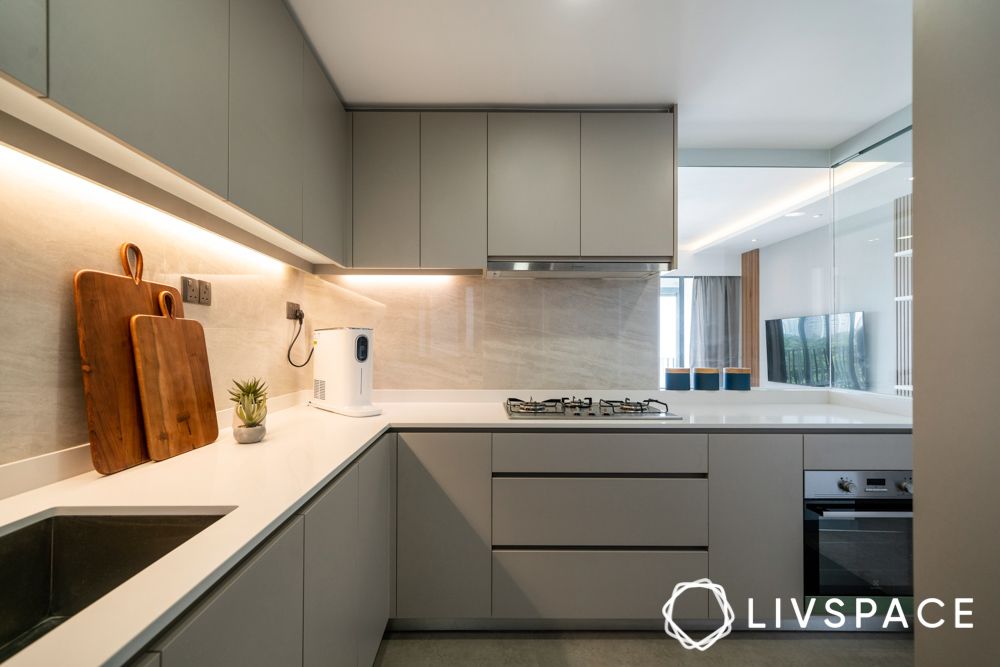 While following the trends, you would've often noticed marble backsplashes on highly-aesthetic Pinterest and Instagram images. Homeowners are opting for this material despite the fact that it is a comparatively difficult to maintain. However, like other natural stone, marble also has a high resistance to heat and when varnished regularly with a sealant, it can also resist water.
Pro Tip: Clean spills and splashes as quickly as possible to avoid permanent staining of the material.
#6: Natural Textured Veneers as Backsplash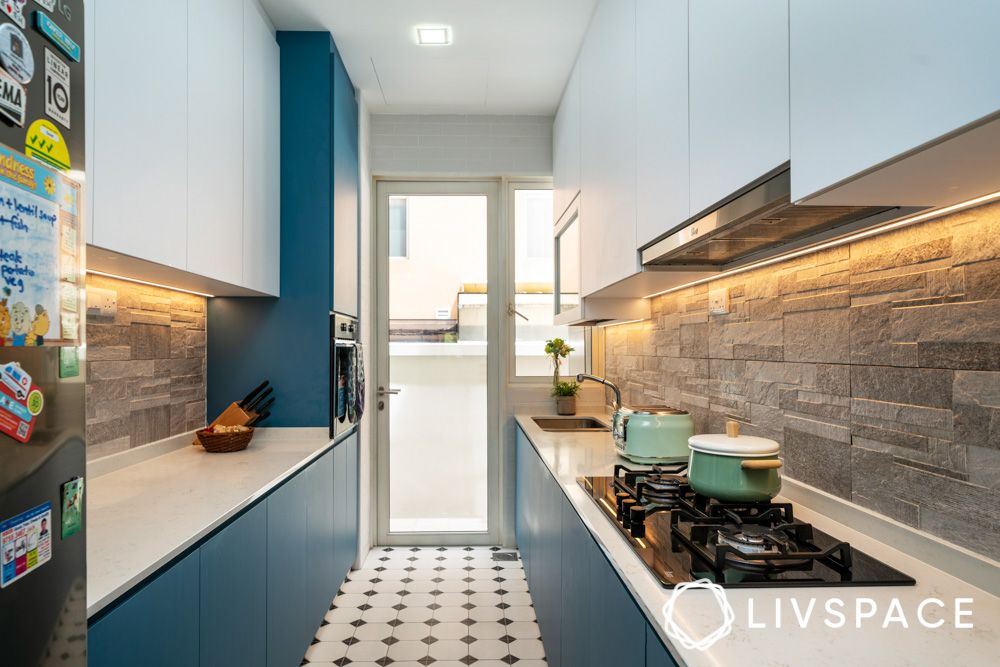 Veneers have also gained a lot of traction recently as they have a unique aesthetic and give a 3D-effect to your kitchen design. They may be harder to maintain due to their texture but if you don't use your kitchen as frequently, then this is a great option for open-concept kitchens.
Pro Tip: There are a wide variety of veneers that also oil- and waterproof apart from being heat-resistant. However, keep in mind that these panels are only heat-resistant and not fire-resistant.
Also Read: 6 Best Kitchen Layouts for a Flawless Cooking Experience
#7: Granite as Kitchen Backsplash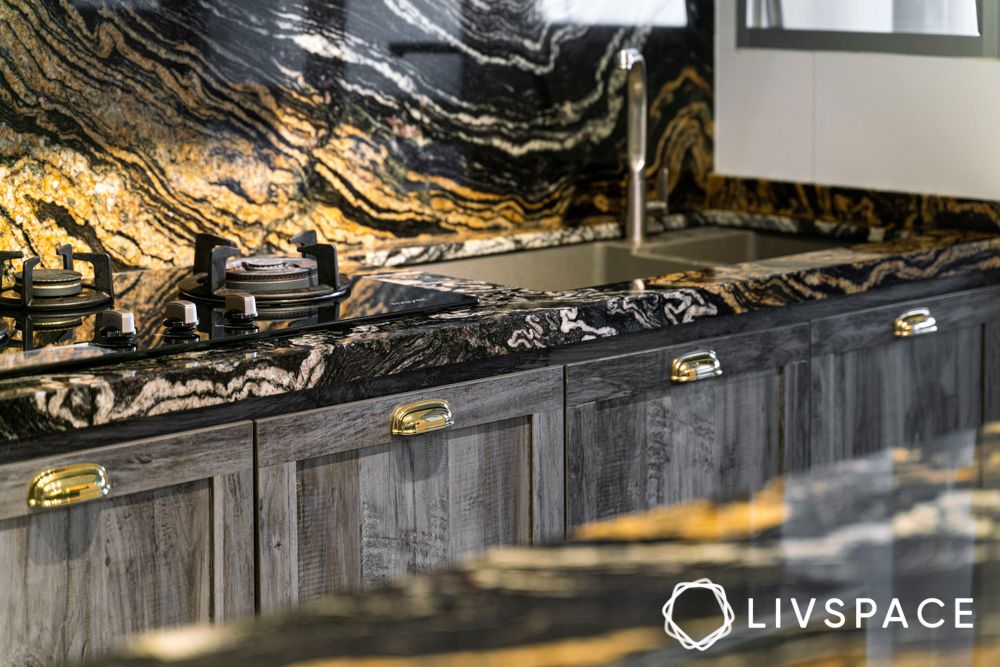 Suited for homes that regularly cook fulfilling meals, the granite backsplash adds to the natural charm of your kitchen. Whether you choose to tie it in with a granite countertop, or choose a different material, you'll love your kitchen backsplash!
Pro Tip: Avoid using harsh cleaning agents – use a stone-safe cleaner. You can also consider maintaining a regular sealing schedule to keep your stone backsplash intact!
Cost of Popular Kitchen Backsplash Materials
The cheaper material for the kitchen backsplash is tile, since they can be installed at the rate of S$7 per sq. ft. However, they can be hard to maintain. This is because it requires thorough cleaning on a day-to-day basis.
An easy-to-maintain option is glass that is available for S$24 per sq. ft. Since there are a lot of colours available, it is becoming a popular choice among homeowners.
Before we talk about the prices of stones (natural or engineered), there is one other highly durable option that you should consider – KompacPlus. It is not as appealing as natural stones, but it can be customised to look like wood, which can give a unique look to your kitchen. You can install it over any surface (wall, tile, glass or stone), without hacking, for S$13 per sq. ft.
Stones are age-old materials and, undoubtedly, make for the most appealing backsplash investments. In Singapore, you'll often find quartz used in the kitchen, and sometimes even marble and granite. The price for a 50 mm high quartz backsplash starts at around S$80 per ft., while marble and granite sell from S$220 and S$110 per ft.
Tips for Styling a Backsplash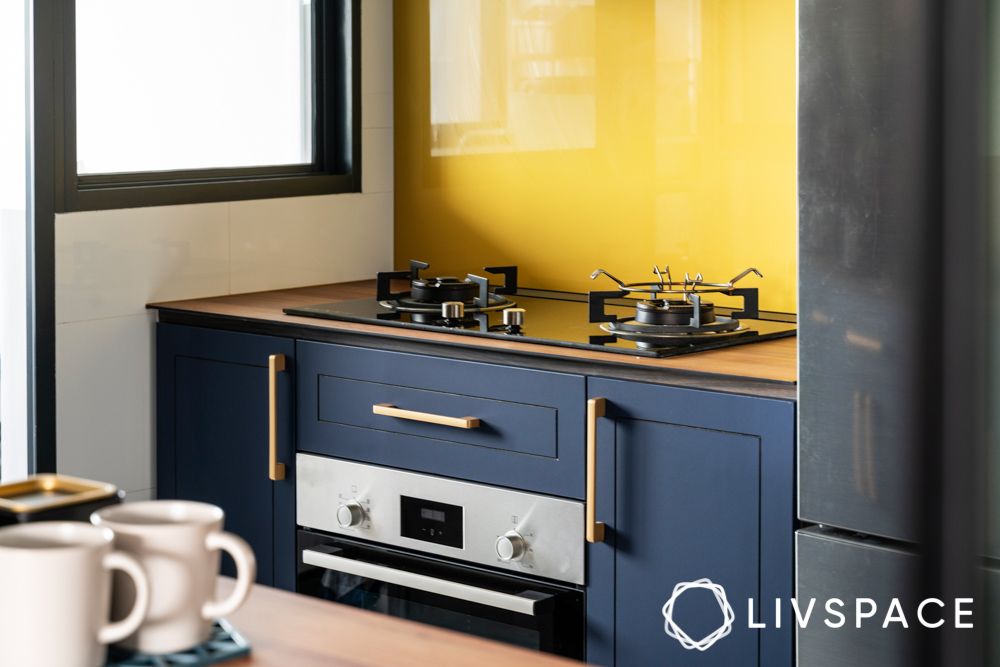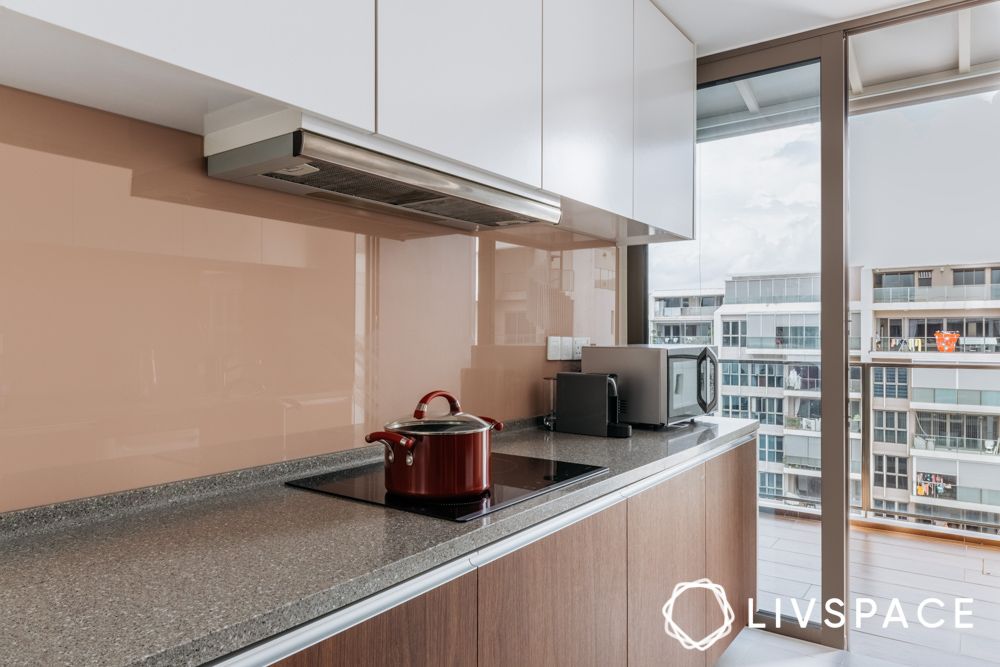 When it comes to a backsplash, it is more like an opportunity to showcase creativity for most homeowners. Given the countless number of options to incorporate colour and texture into the space, you'll also enjoy choosing a backsplash.
Once you have decided on cabinets and overall theme of the kitchen, you can pick a backsplash for kitchen that complements the same. For instance, light and neutral coloured backsplash kitchen designs will open up the space and give the kitchen a brighter look. Whereas dark colours will add warmth while making it seem intimate and compact. Also, take into consideration the countertop colour before finalising a backsplash design.
We hope you enjoyed reading up on backsplash materials in Singapore! Are you planning to renovate your kitchen? Then you must be keen to find out where to save and splurge on your kitchen.
How Can Livspace Help You?
If you want your home to be just as beautiful, then look no further. Book an online consultation with Livspace today.
We love hearing from you! Write to us with your comments and suggestions at editor@livspace.com
Disclaimer: All contents of the story are specific to the time of publication. Mentions of costs, budget, materials, finishes, and products from the Livspace catalogue can vary with reference to current rates. Talk to our designer for more details on pricing and availability.