An efficient kitchen cabinet design allows you to find your essentials within an arm's reach. Also, you shouldn't need to twist yourself into impossible positions just to find the right ingredient in time without ruining your dish. So what if your current kitchen design is not working for you? You need to know all about kitchen cabinets and come up with a design that suits your family's lifestyle, and accommodates any special requirements.
Let's look through the various aspects of kitchen cabinetry to find what's best for your home.
Kitchen cabinet design #1: Materials and finishes
Undoubtedly, the combination of plywood cabinets and laminate finishes remains evergreen in the kitchens of Singapore. Not only is this combination durable and waterproof, but it's also easy on the pocket. Moreover, laminate is available in a variety of colours and finishes, allowing homeowners to take their pick.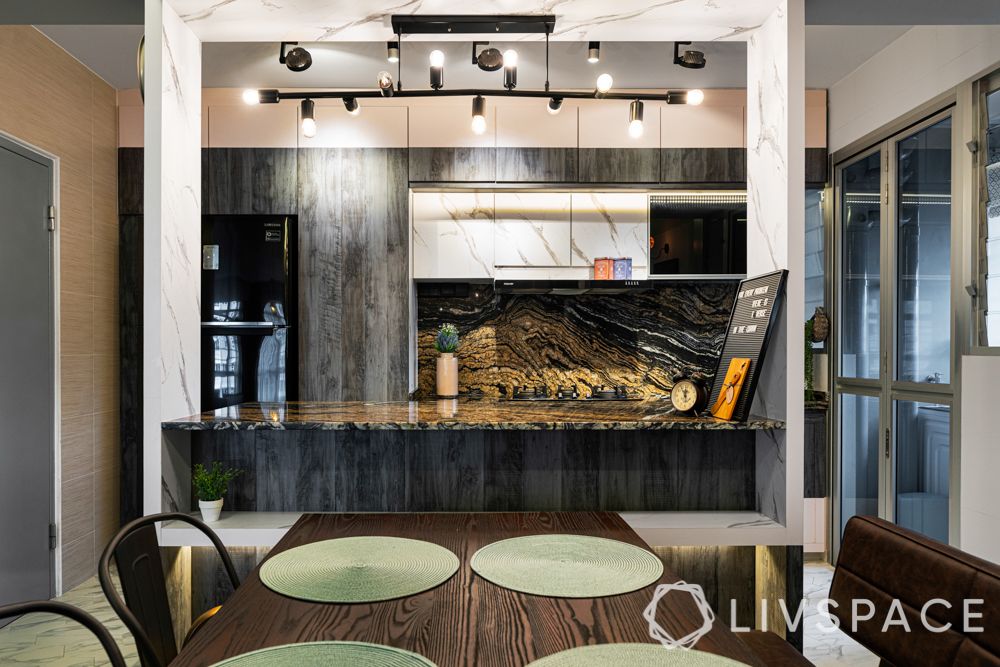 Looking for materials that support heavy-duty cooking? You will need to look at a stainless steel kitchen cabinet design, complete with a backsplash and countertop of the same material. These are built to withstand high heat and humidity. What's more, they are designed for easy cleaning and maintenance. Stainless steel cabinets are an affordable investment, especially if you have a home-based cooking or baking business.
Check this if you're wondering what your kitchen cabinets should be made of.
Kitchen cabinet design #2: Space optimisation
In a kitchen designed for regular cooking: You will require a kitchen packed with storage. If you have a spacious kitchen, distinct cooking zones will help you utilise space better. We'd recommend both wall and base cabinets for maximum space utilisation and minimal countertop clutter. You can also opt for a pull-out pantry unit with multiple shelves for jars and containers. These units are too heavy for children to open on their own, so they are child-safe too! Livspace designers recommend such units especially if you like keeping your kitchen well-stocked with groceries. This way, nothing gets lost at the back of a cabinet!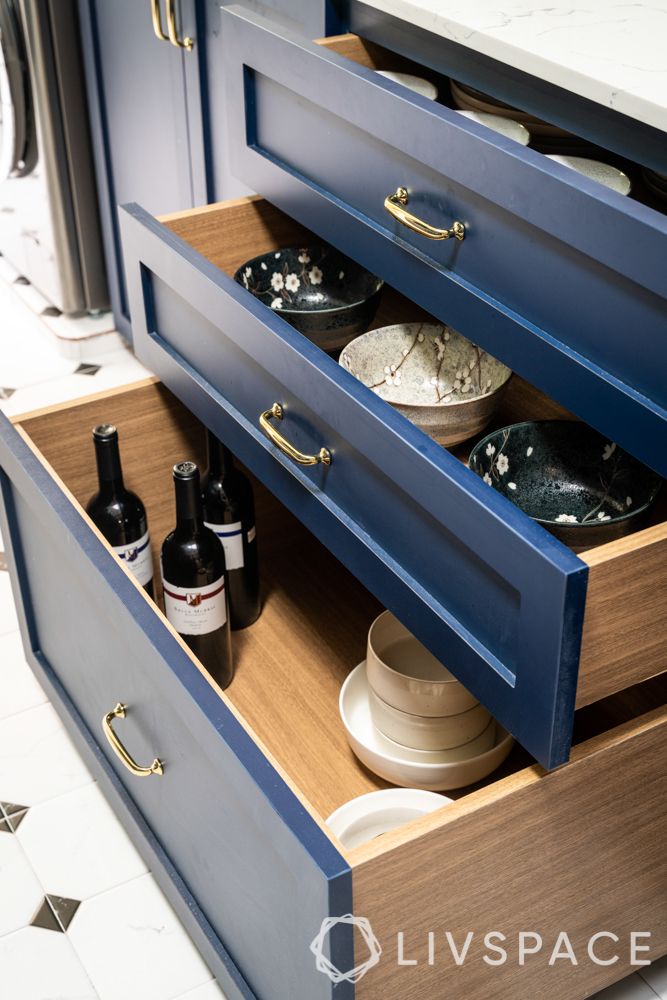 In a kitchen designed for occasional cooking: If your cooking is limited to the weekends or is a rare occurrence, we recommend getting ample base cabinets. However, you can cut down on the number of wall cabinets. This makes your kitchen look open and uncluttered.
Psst… what if you have too much kitchen space but hardly cook? Instead of wasting the cabinet space, you can use it to store breakfast items, coffee powder, wine, or even books!
Check out 7 Best Kitchen Accessories for a Super Organised Petite Space.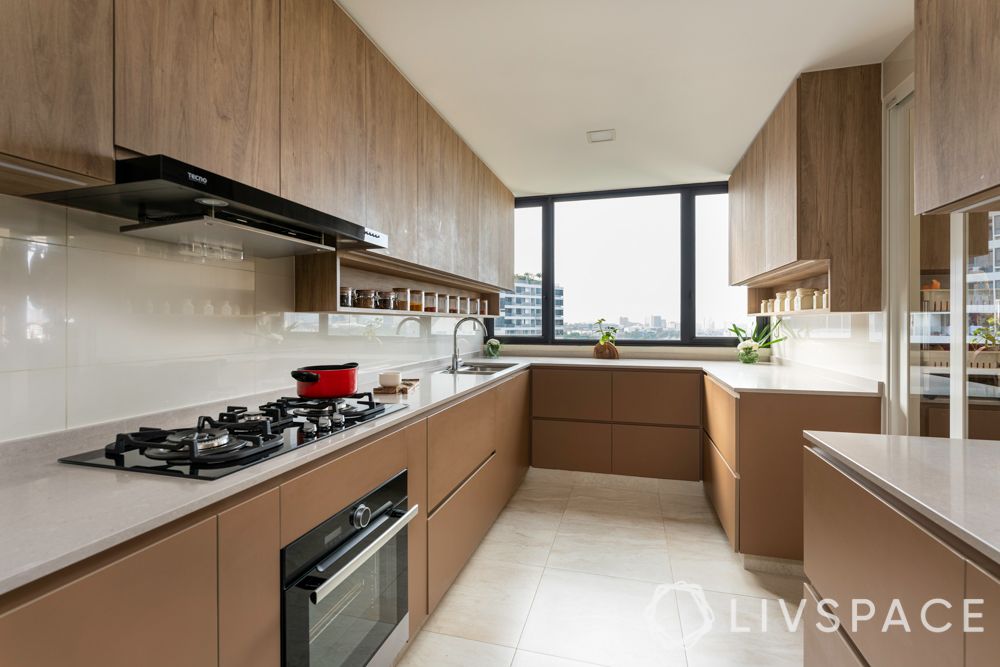 For chefs and bakers who work from home: Your kitchen needs equipment suited to your work, such as multiple hobs or ovens, a variety of appliances and ample storage. So, opt for pantry units and a large refrigerator with a freezer on top. We also recommend custom designs to keep your essentials handy.
Choose from units like pull-out drawers that optimise dead space, corner drawers and wall-mounted shelves. A larger sink might also make cleaning up easier. You can also opt for a unit that keeps cleaning essentials near the sink. In case you feel the counter space is too less, how about a table extension that helps you prep in style?
Kitchen cabinet design #3: Unique requirements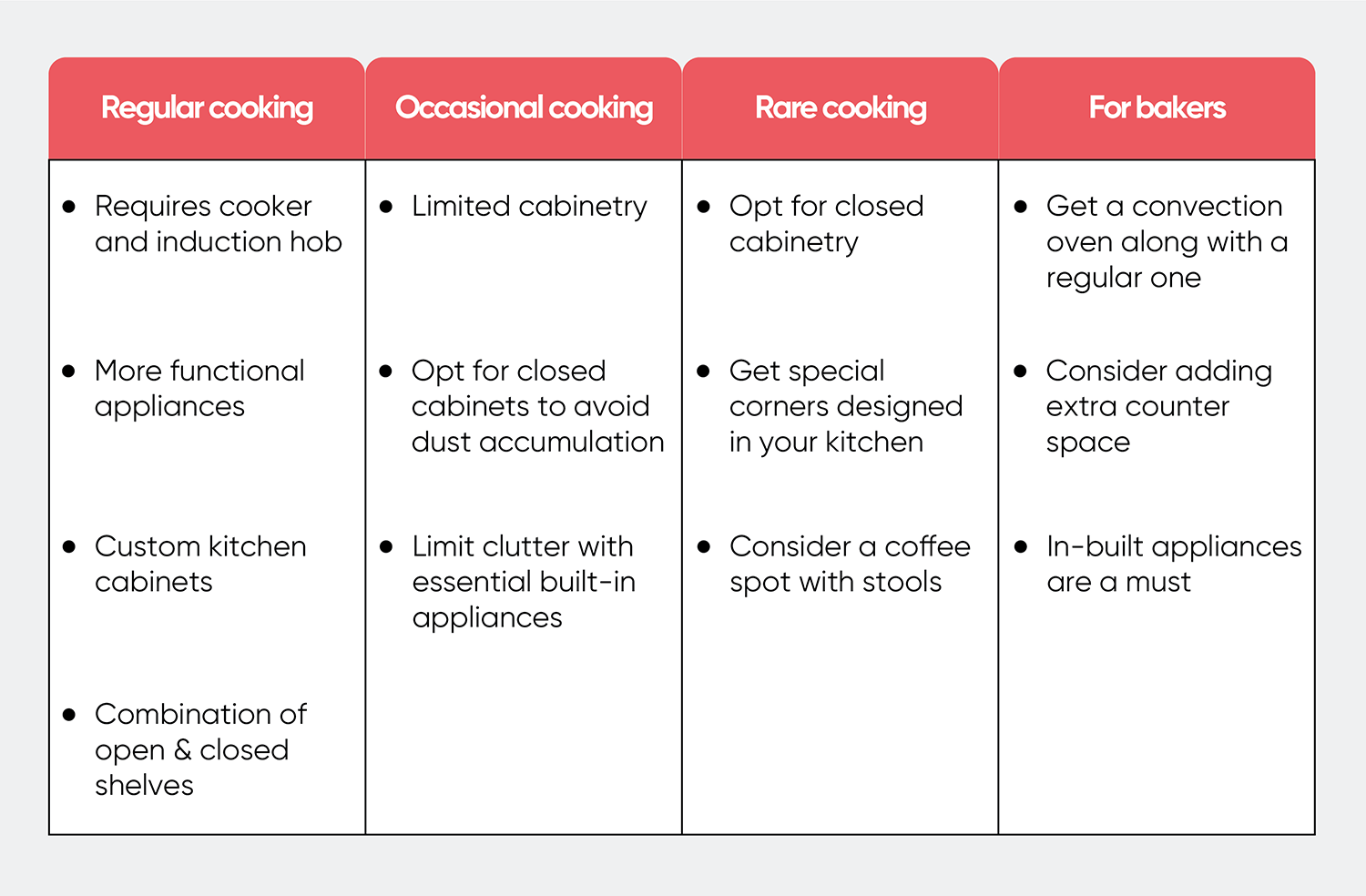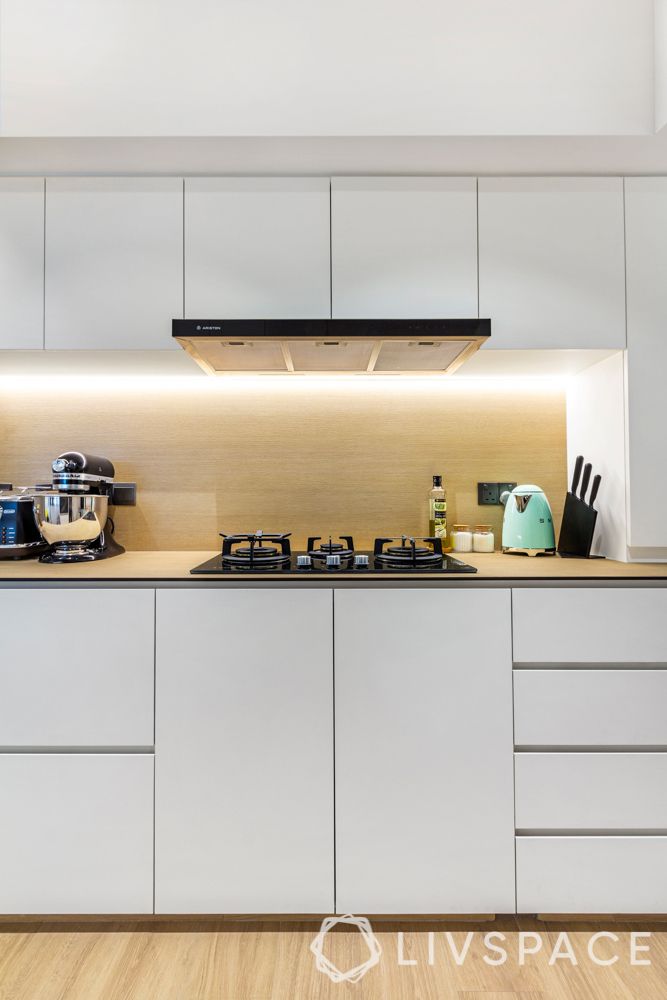 In a kitchen designed for regular cooking: You will need a cooker hob as well as an induction hob. You might also opt for an oven or other appliances. If you opt for built-in units, you might need a custom kitchen cabinet design optimised to conserve every inch of space around the unit. You can also design the surrounding units such that you have all the essentials at hand. If you have a spacious kitchen but feel the need for more counter space, consider building an island.
In a kitchen designed for occasional cooking: You can opt for lesser cabinetry in your cooking space. If preparing meals is limited to a couple of times in a week or restricted to the weekends, ditch excess cabinetry. Opt for closed cabinets to avoid dust from accumulating over time.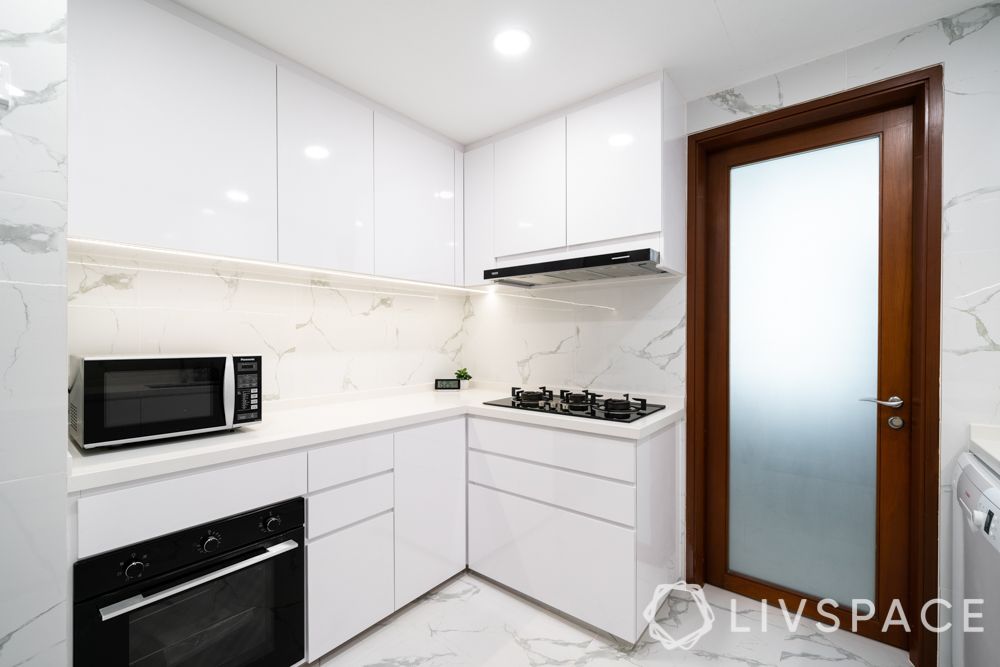 In a home where meals are rarely cooked: You can cut down on cabinets to make it look open and airy. But make sure you have closed cabinets only so that everything is tucked away neatly. Love your morning coffee? You can opt for a coffee machine on your countertop that ensures you have a steaming hot mug of freshly brewed coffee to kick-start every single day.
In a home designed for a baker: If you have a baker in the family, plan the cooking space with their requirements in mind. This calls for a convection oven in addition to a regular oven. Moreover, they might need multiple appliances like heavy-duty mixers, so identify the inbuilt equipment needed in the kitchen. Then you can find the right place for it with respect to the hob and sink and plan the kitchen cabinet design accordingly.
Kitchen cabinet design #4: Colours and styles
In working our way around compact kitchens, why does it come as a surprise that minimal designs are trending in the Singapore market? With less clutter and maximum efficiency, both minimalist and Scandinavian designs are in high demand. They are aesthetically pleasing, with muted colour palettes and simplistic yet elegant designs, and are also high on functionality.
The popularity of white kitchen cabinet designs is on the rise. While completely white cooking spaces will never go out of style, Livspace designers also reveal a secret. A dash of light colours like wooden hues or soft grey notes in combination with white is becoming increasingly popular. If you like the texture of wood grains, consider having a white kitchen with hints of light to medium-coloured wood.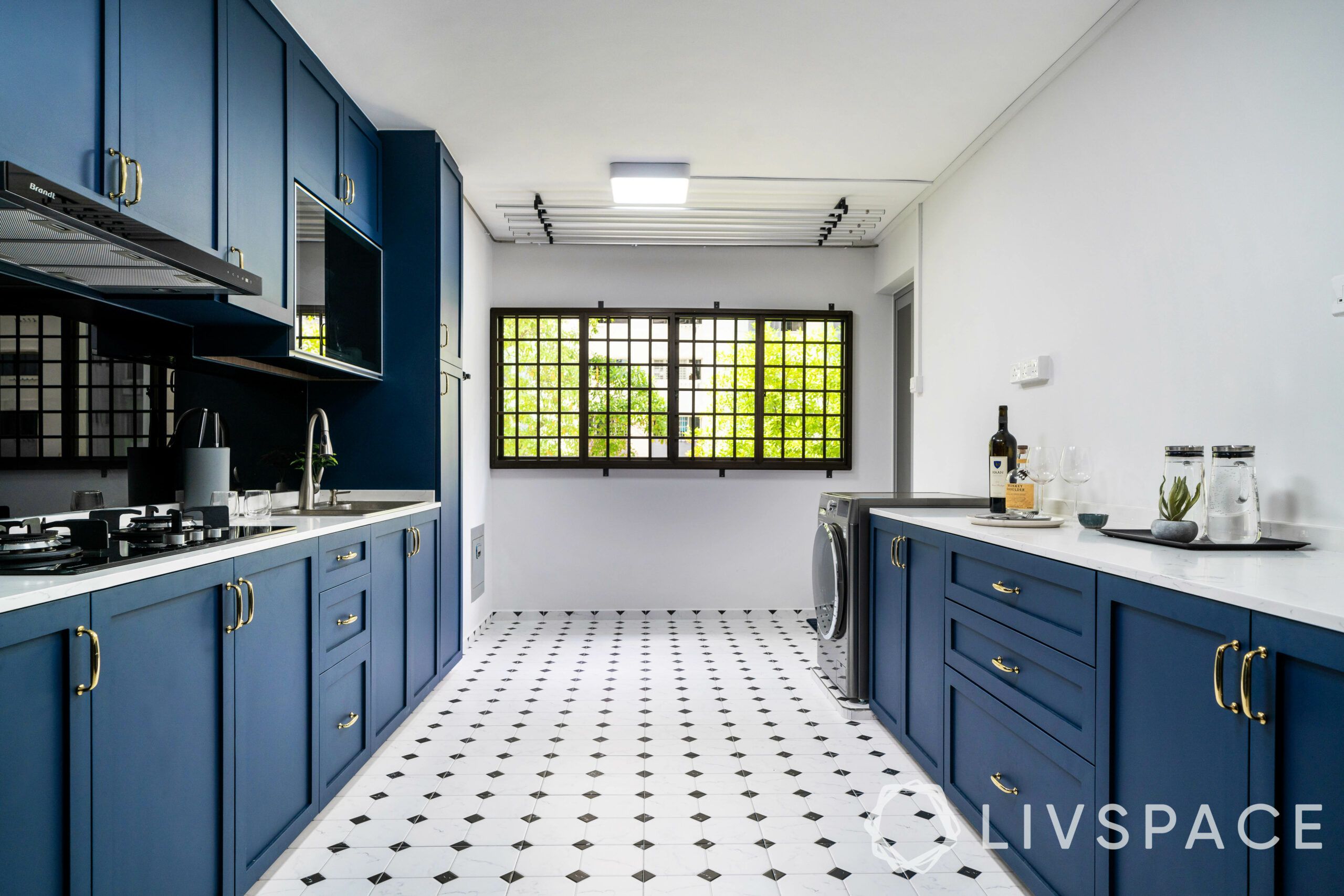 Kitchen cabinet design #5: Cost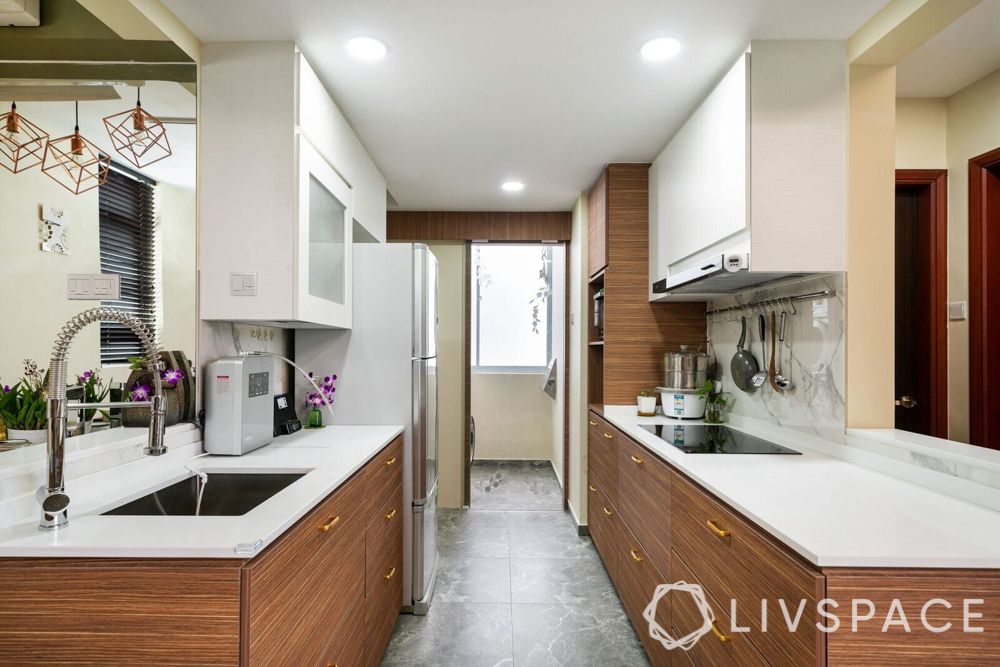 If you want a kitchen tailor-made to your requirements, opt for custom kitchen cabinet designs. These can be budget-friendly or expensive, depending on different factors. This includes how big your cooking space is, how you divide it for functionality, the amount of storage required and appliances needed.
For example, an average kitchen in a Singapore home comprises base cabinets made of plywood carcassess with glossy laminate finishes. These budget-friendly options have become common favourites as they are both durable and easy to maintain. If you need more storage space, you might opt for wall cabinets as well. With more cabinetry, the cost of your kitchen reno will increase. However, you will realise that this was a one-time spend that pays off over the years. If you want a unique kitchen, you might choose different materials for your cabinets, such as quartz or marble—these can cause costs to increase.
Need more help in designing your kitchen? Take our kitchen design quiz!
You can also check out Cabinetry 101: Your Guide to Choosing the Right Kitchen Cabinets, for more details.
Send in your thoughts and suggestions at editor.sg@livspace.com.