If you feel the lack of countertop space in your cooking area, a kitchen with an island is what you seek. You can add this detached piece of cabinetry to your kitchen and even customise it to suit your own specific needs. You can purchase a freestanding island, or even a mobile one. Let's see what this versatile fixture is capable of. But first, a few basics!
What is a kitchen island?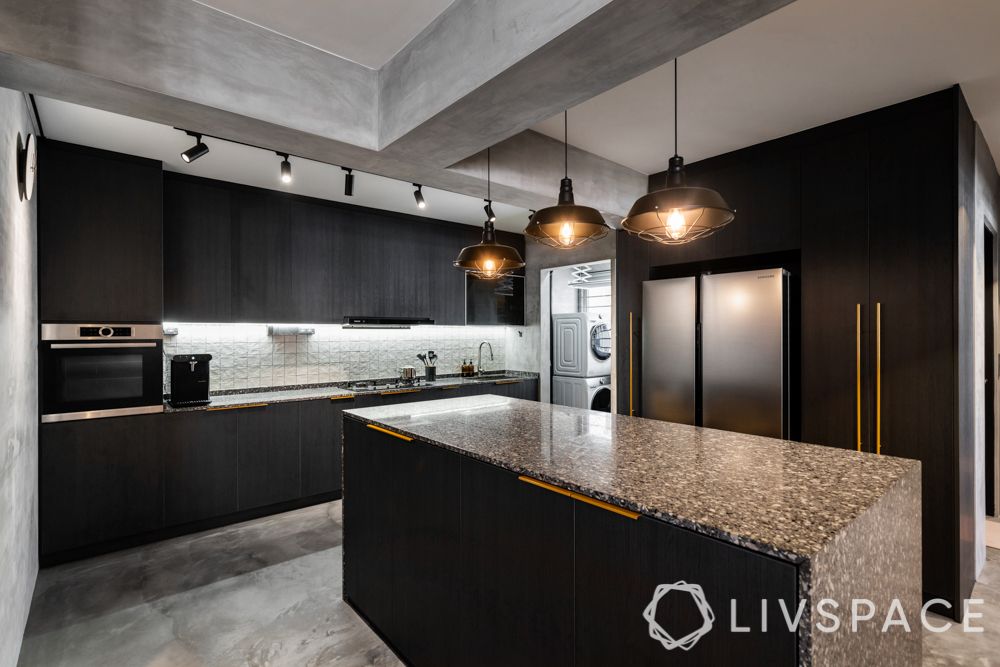 A kitchen island is a freestanding unit meant to augment the functionality and aesthetics of your cooking area at home. The traditional unit is rectangular in shape, with one section of it often used as a breakfast counter. You can use it as a breakfast and prep area, fill it to the brim with storage, or even make it one of the major zones in your kitchen.
How to optimise it for functionality and storage?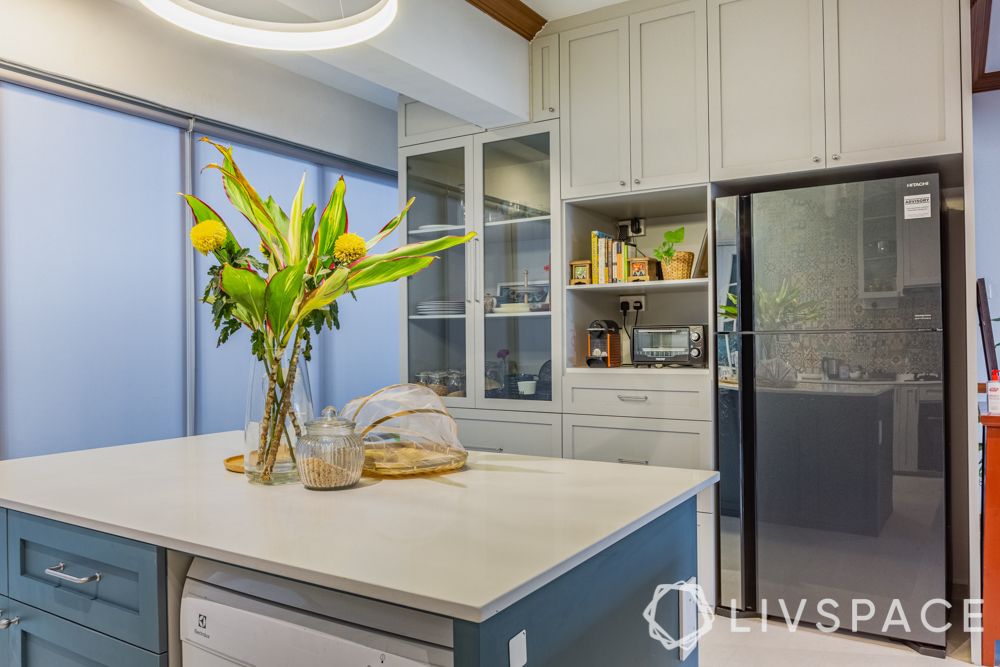 All too often, our kitchen islands remain just an additional fixture in the space. Instead of cluttering up this essential part of the house with a fixture you don't need, why not turn it into an integral part of your kitchen? The modern kitchen with an island often comes with built-in cabinets that add to the storage space and frees up the countertops. But why not make it more useful?
If you want a functional island, you need to optimise it for several functions, like using it for your cooking and baking needs. Alternatively, it can be customised for storage. If you choose the latter, why would you let go of the countertop space when you can use it as a breakfast counter? If you seek to use the space well, we suggest you go for a kitchen with cabinets or in-built appliances instead of a hollow one. We also suggest lightweight stools or folding chairs for seating, instead of traditional ones. This helps in conserving space.
The aesthetic element of kitchen islands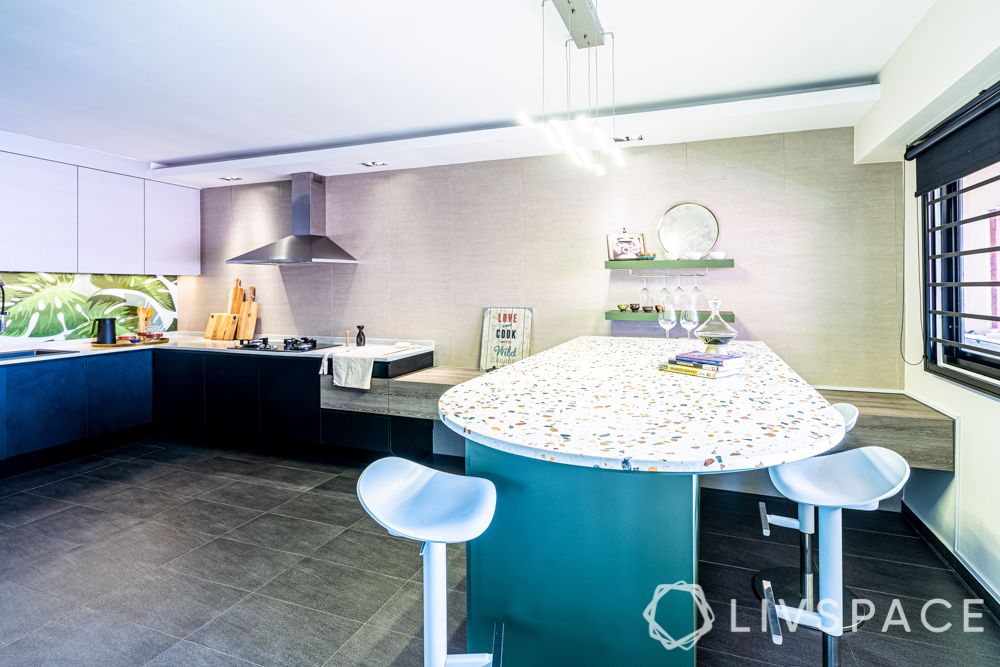 For a long time, the kitchen island was considered merely an aesthetic fixture – something to make your kitchen look complete. And even as you equip it for functionality, there are several simple ways to make it fit right into your kitchen. You could choose an island that fits perfectly into the space like it always belonged there. Or, you can choose a completely different colour for the island cabinets to make it the focal point of your kitchen. However, we would suggest that you stick to the same countertop and cabinet design to tie the kitchen together.
With the island unit, a common problem is the lack of light. While you might have task lighting under wall cabinets, do not leave this part of the kitchen in darkness. You can light it up with some pretty pendant lights instead!
Check this out for more: What is the Best Lighting for Kitchens and Where to Use Them?
How do you make the most of a kitchen island?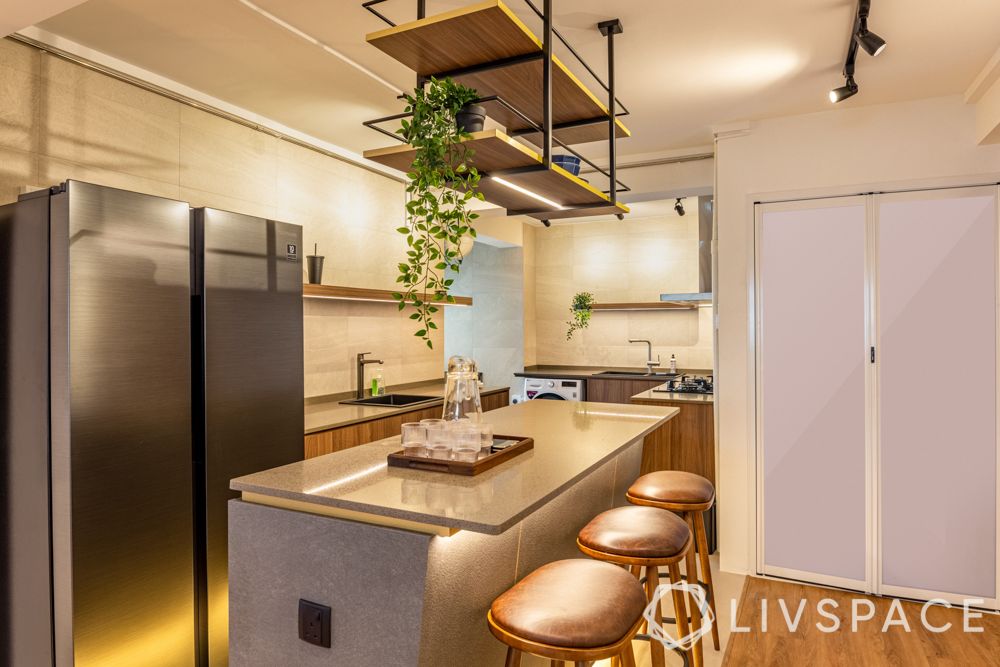 Instead of setting it apart as an additional unit used primarily as a prepping zone or breakfast counter, you could make the most of it!
You could start by simply using the island for storage by building multiple drawers or cabinets into it. If you want to step it up a notch, you could also make it the most important area of your kitchen. Simply get your hob built on the kitchen island. However, this also calls for a chimney over the hob. In case you want to play it safe, you can consider having your built-in appliances in this portion of the kitchen instead.
And what if you want to clean up without worrying about water splashing around? Simply have your sink on the island. With the right placement of the hob and fridge, this could make for an efficient golden triangle!
How to fit it into compact kitchens?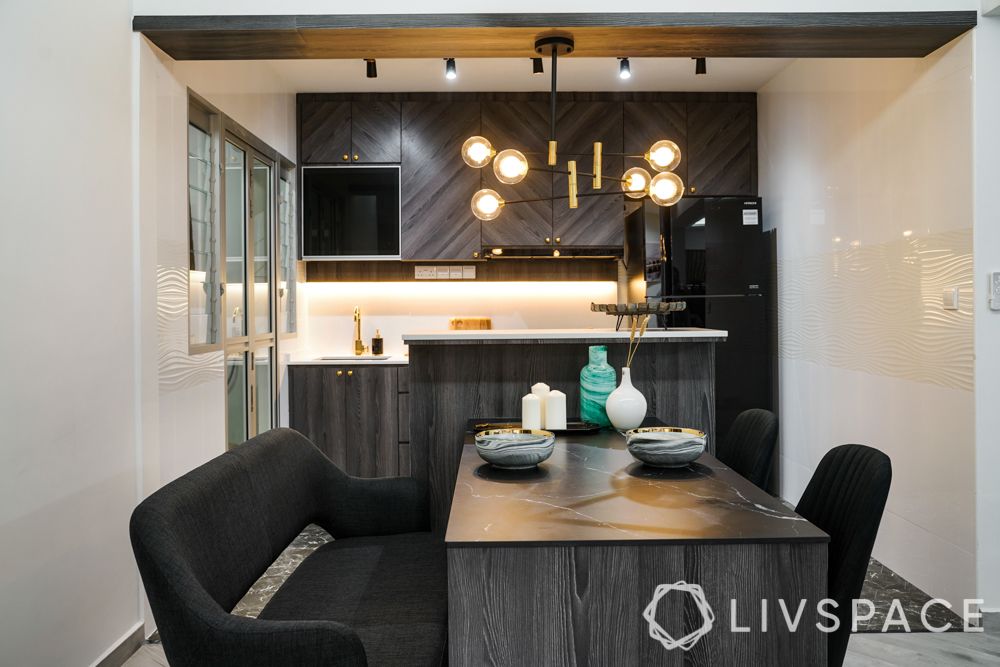 While the conventional island is usually square or rectangular in shape, it doesn't always have to be so! If you have a compact kitchen, you don't need to go for a traditional fixture that makes your kitchen feel crowded. Here are a few unusual designs that should work perfectly in compact kitchens:
A moveable unit: You can keep aside when not in use
Breakfast counter converted into an island: Who says your island needs to be right in the middle of your cooking area? You can place it by the walls without compromising on functionality
L-shaped unit: This creates the illusion of space in your compact room. You can use one section for cooking, while the other works as a prep zone cum dining space
Extended countertop: If your kitchen is open on one side, position your kitchen island there. This extended space is perfect to tuck your stools under
You can also check out 7 Best Kitchen Accessories for a Super Organised Petite Space.
How much space is ideal to have an island?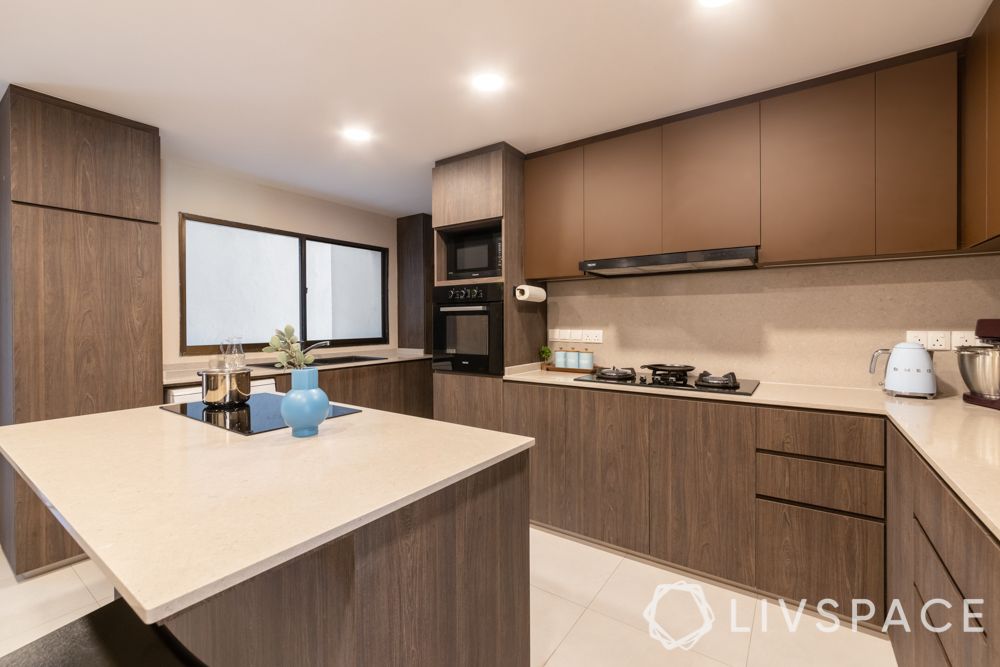 While your designer can help you with exact measurements tailor-made according to your kitchen size, you should also have an idea about the space that your kitchen island is going to take up. Ideally, a kitchen island should not be smaller than 40 by 40 inches. To enable free and safe movement around the kitchen, you should have a minimum of 3 feet distance around the island. You can have a bigger island with storage and other functional features, depending on how big your kitchen is.
How to optimise your existing kitchen island?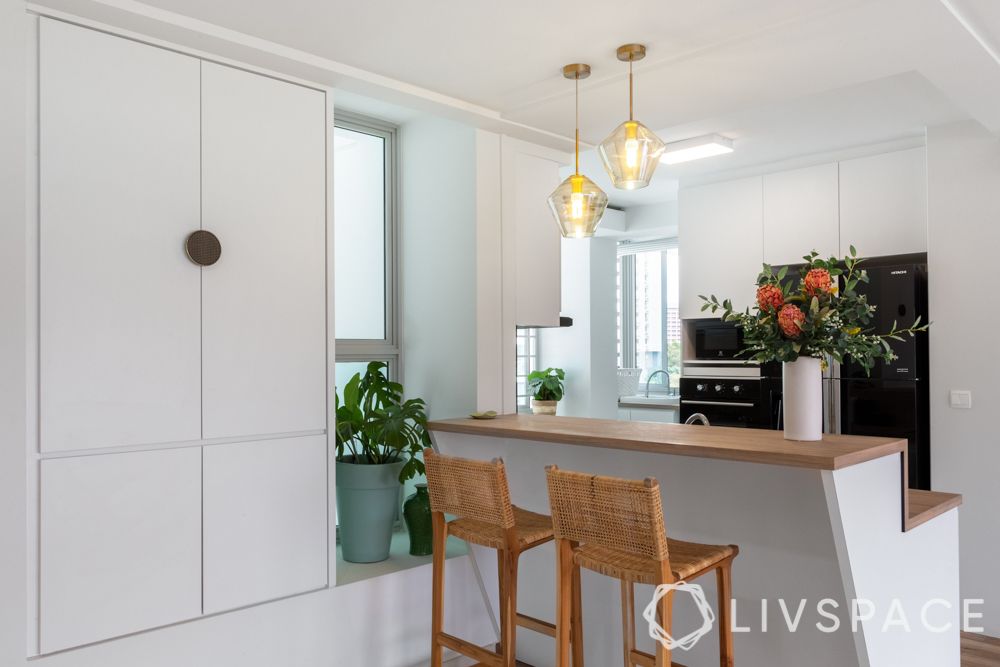 If you have a kitchen island but don't really see the need for it, chances are bright that you're not using it right. Take a look around your kitchen and identify what's lacking. You might realise that it's difficult for two people to use the kitchen together, or that the golden triangle is skewed. This will help you realise how to use your island to the fullest, and make you look forward to spending more time in the kitchen, but with lesser difficulties.
In what cases is it best to avoid one?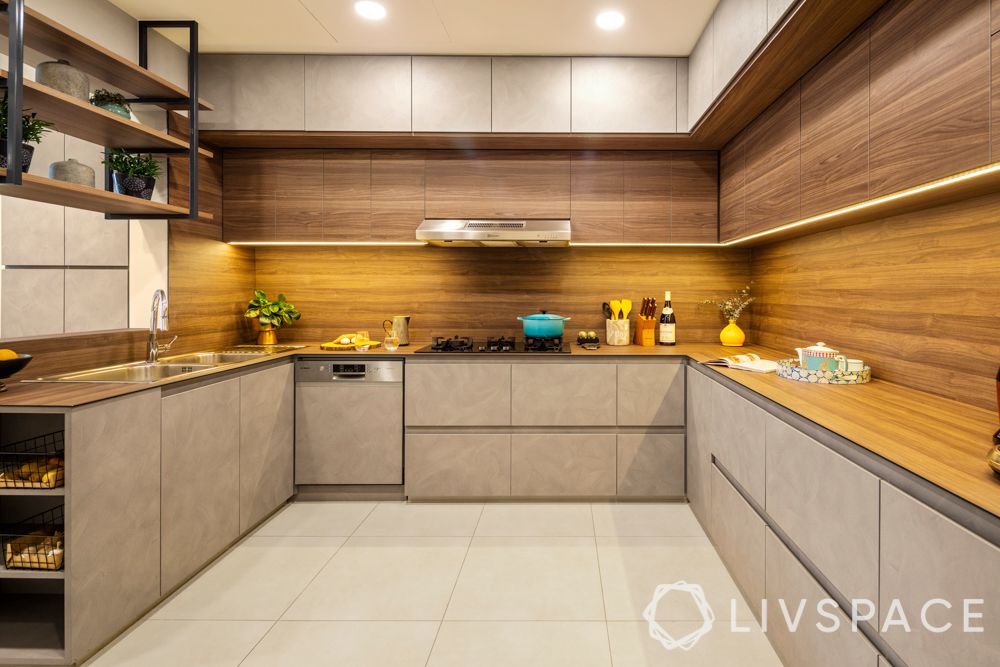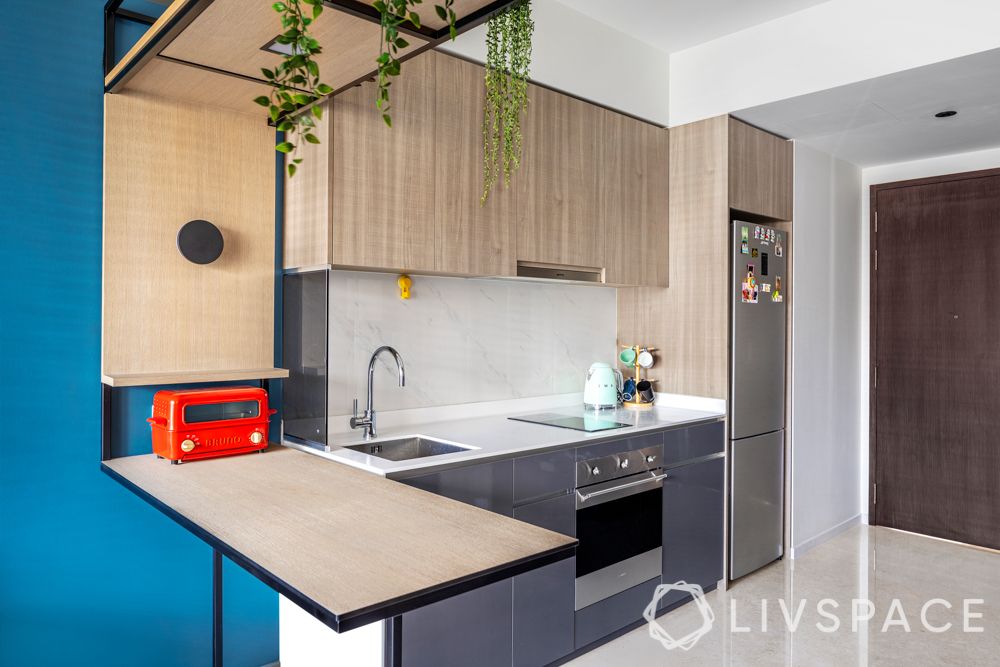 Most people believe that a spacious kitchen is the perfect excuse to get an island. However, we beg to differ. If your kitchen is spacious with ample countertop space, chances are that you already have enough space for the essentials. And if your room is too small, an island could end up making the room look even more cramped.
So, how do you decide when to get a kitchen island, and when to avoid one? Fitting an island into a parallel or U-shaped kitchen can be tricky. If you have an L- or I-shaped one, it might be easier to fit an island right into it. At the same time, think of the intended functionality of your kitchen island before you get one. For example, an island with a hob needs to be well-ventilated. Alternately, you can place the chimney directly above the hob. So a design that does not account for these while planning an island could lead to problems in the future.
How much is a kitchen island going to cost you?
You should know and understand that getting an island for your kitchen is going to be a slightly costly affair. This is because you will need more material to get one built and it will increase the labour work as well. But you can still consider moveable islands that are relatively cheaper than getting a fixed one.
Always wondered how a kitchen is designed? If you want to take a walk through of a kitchen to understand the finer nuances of various elements of a kitchen design, starting from the preparation zone to the storage zone, check out this video:
Need help in designing your home kitchen? Check out This Kitchen Design Quiz That Will Help You Get That Perfect Kitchen at Home.
How Can Livspace Help You?
We hope you found our ideas useful! If you want your home to be just as beautiful, then look no further. Book an online consultation with Livspace today.
Send in your thoughts and suggestions at editor.sg@livspace.com.