There are a zillion tiny ways in which you can customise your kitchen. But, the most elementary choice comes down to picking either a closed or open kitchen layout. The word is that the open concept kitchen HDB is 'in' at the moment. In fact, the housing board has already decreed that all new BTOs from 2018 will have open kitchens only. It suits the compact framework of typical HDBs in Singapore perfectly; so more and more homeowners are opting for open or semi open kitchens for HDBs.
However, if you have brought an older HDB, it may not automatically come with an open kitchen. Hence, you have the option to open up an enclosed kitchen when you move in. Before you cross the bridge to make a firm decision, check out the pros of having an open concept kitchen for HDBs for yourself.
And if you haven't made up your mind, discover which is the best kitchen layout for you.
What are the benefits of having an open kitchen?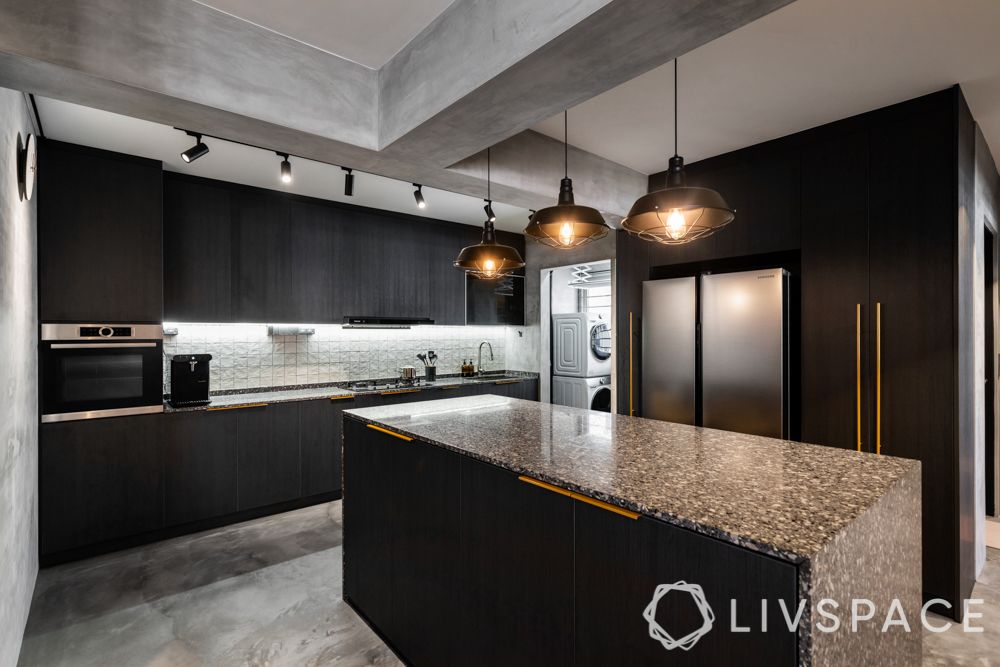 It's space-saving and ideal for apartments with tiny living rooms
If you like to socialise then open kitchens are for you as it makes serving your guests easier
For parents with babies or growing kids, it's easier to keep an eye on your kids while cooking
You have easy access to your living room (including the television) and front door from an open kitchen
Conversations become easier between couples if the kitchen isn't enclosed
In the hot and humid climate of Singapore, closed kitchens can feel like the inside of an oven; an open kitchen is way cooler to cook in
Having an open concept kitchen forces you to keep it tidy
An open layout allows for more flexibility when it comes to space planning
What is a semi-open kitchen?
While opting for an open concept kitchen might seem idyllic after reading about its benefits, there is also a downside. Smoke and smells do spread quickly from an open kitchen. To correct this, the semi open kitchen HDB is also trending.
A semi open kitchen is partially closed. You can do this by installing sliding glass doors, putting in a serving window or having a tall partition. These measures stem the flow of odours and smoke to some extent while sticking with the open floor plan.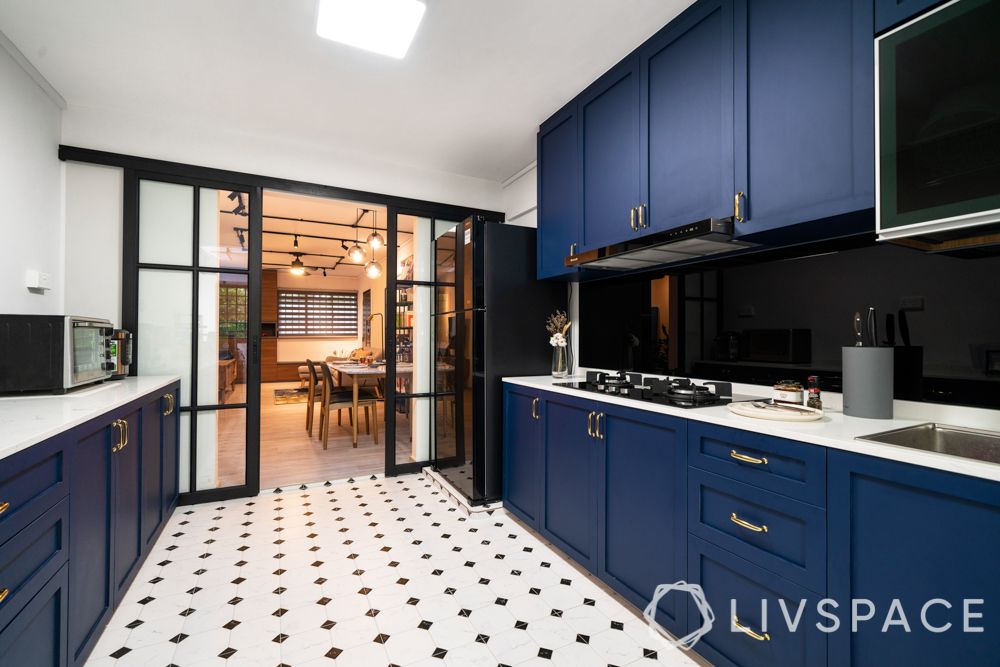 Also, find out what is a kitchen island and why you need one.
Things you can do with open and semi-open kitchens
While we have given you all the functional benefits of an open concept kitchen for HDBs, we did save the best for the last. The best thing about open or semi open kitchens for HDBs is that they can be customised in so many different ways to address your requirements. Here are some ideas from Livspace homes.
Open Concept Kitchen HDB #1: Glass Partition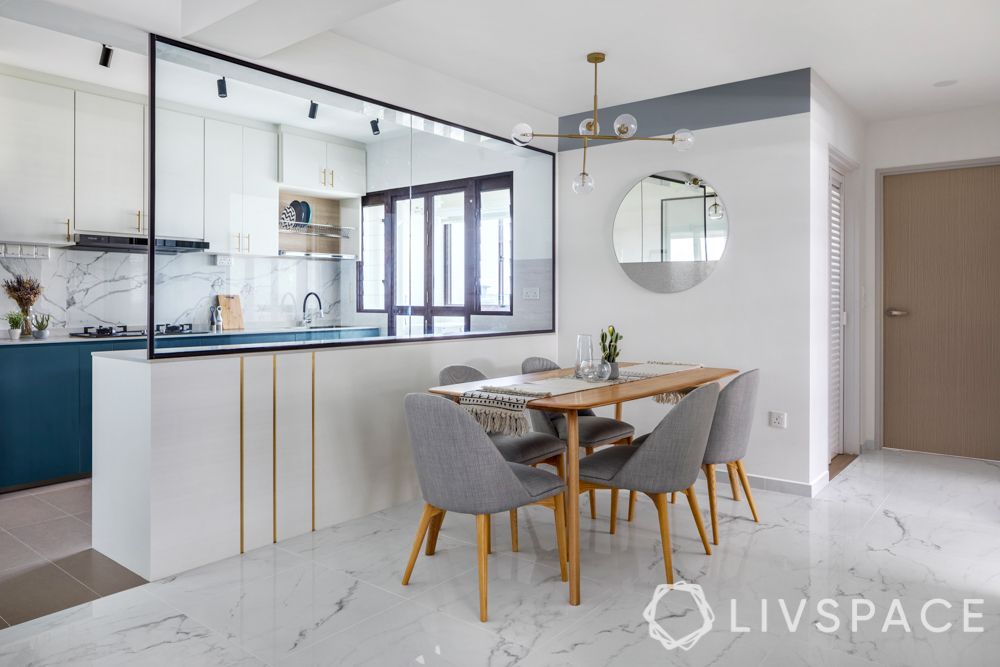 A glass partition here ensures that smells are contained to an extent in the kitchen. It also ensures that the layout is clean without consuming too much space. You can check out the rest of this clean and Scandinavian-inspired home here.
Open Concept Kitchen HDB #2: Bar Unit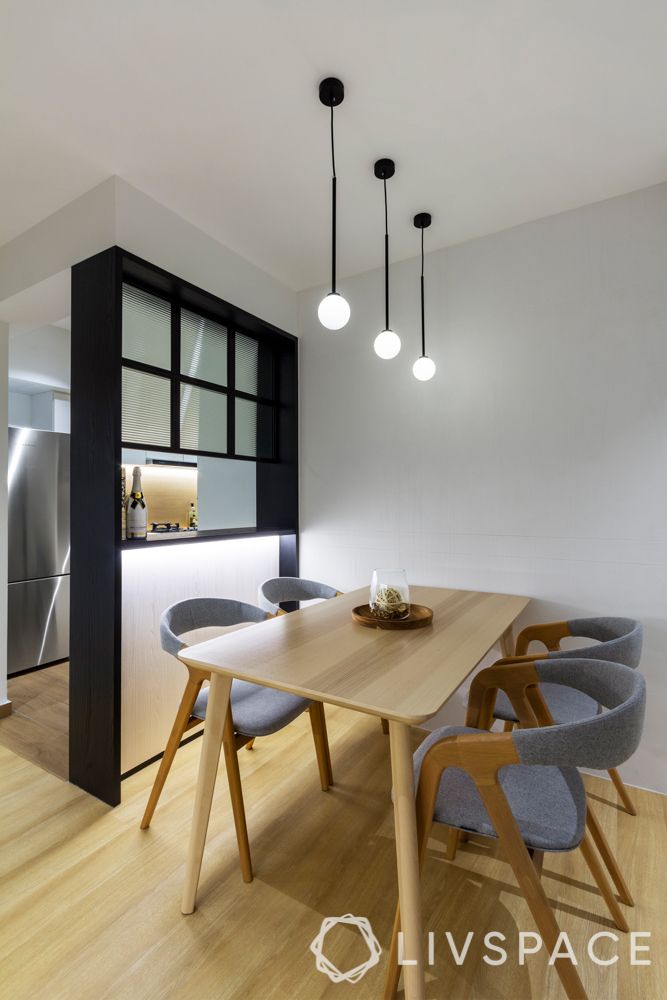 Fancy staying home and having a couple of drinks instead of dragging yourself to noisy parties? Get a mini bar unit installed in your open kitchen like one of our homeowners. The mini bar comes with a glass partition and serving window to turn this into a semi open kitchen for HDBs.
Take a visual tour of this minimal home in all-white here.
Open Concept Kitchen HDB #3: Island + Dining Table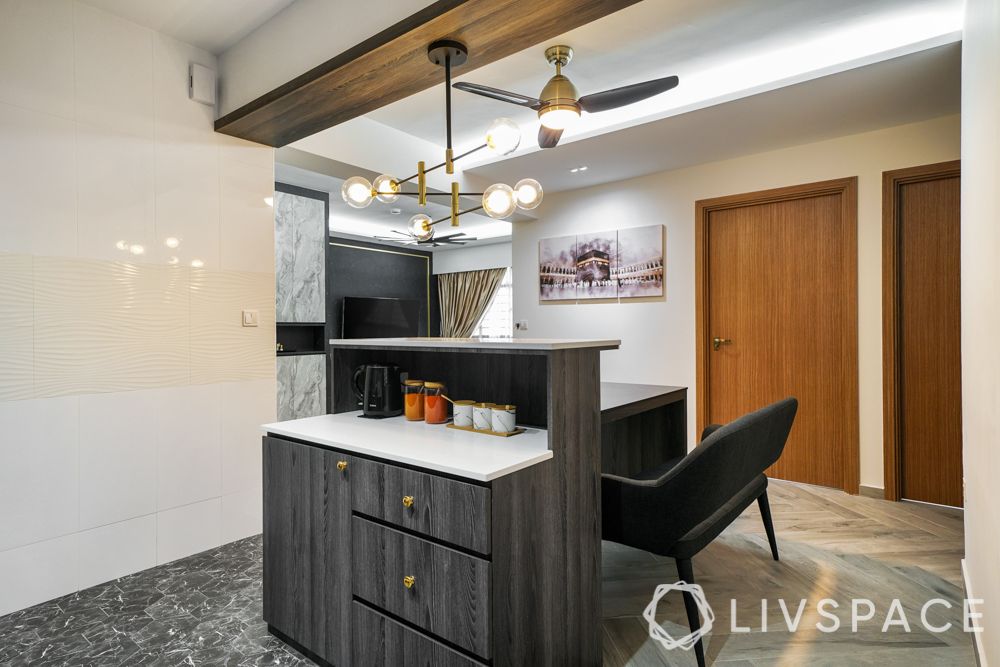 What if your kitchen counter could double up as a dining table too? In this compact HDB, the kitchen counter is integrated with a dining table. The island has two tiers to increase counter space; it is also stocked with storage. If you like statement flooring, you should definitely take a look at the rest of this home here.
Open Concept Kitchen HDB #4: Breakfast Counter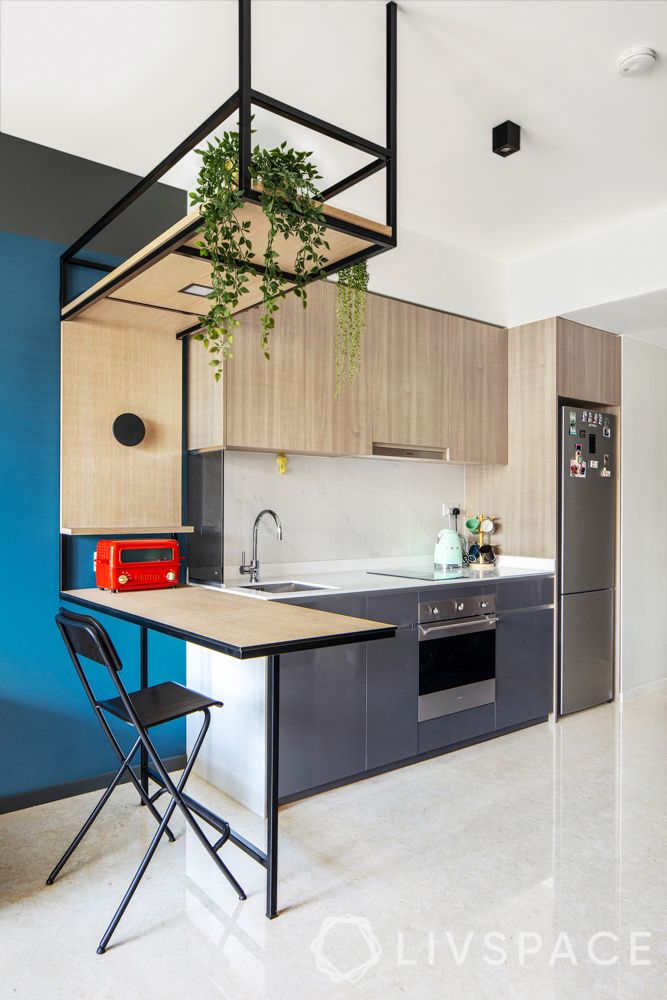 If you do not want an elaborate setup for dining like above, the simpler choice is a basic breakfast counter like this one. The counter is an extension of the kitchen counter in plywood and also has a pelmet design to offer display space.
This cafe-inspired vibrant HDB will give you some cool design goals, so check it out here.
Feng Shui Tips for Open Kitchens
If you are a believer in Feng Shui, keep these tips in mind when going for an open concept kitchen HDB:
#1: The kitchen is one of the critical areas in a home and signifies fire. It is considered bad Feng Shui when the kitchen is the first thing you see when you enter your home. So, you might want to add a screen or partition to partially over your open kitchen if it is visible directly from the main entrance.
#2: Feng Shui discourages not having a wall backing the stove. It is good 'chi' to have a supporting wall as it signifies stability and mentorship.
#3: Avoid clutter and allow more natural light into the open kitchen.
#4: Balance of the 5 elements is crucial in a home. According to Feng Shui, a kitchen signifies a fire element and expanding or an oversized kitchen will amplify the fire element. This could hinder the balance and harmony of the 5 elements.
Latest Open Kitchen Designs by Livspace
#1: Urban and Chic Black Open Kitchen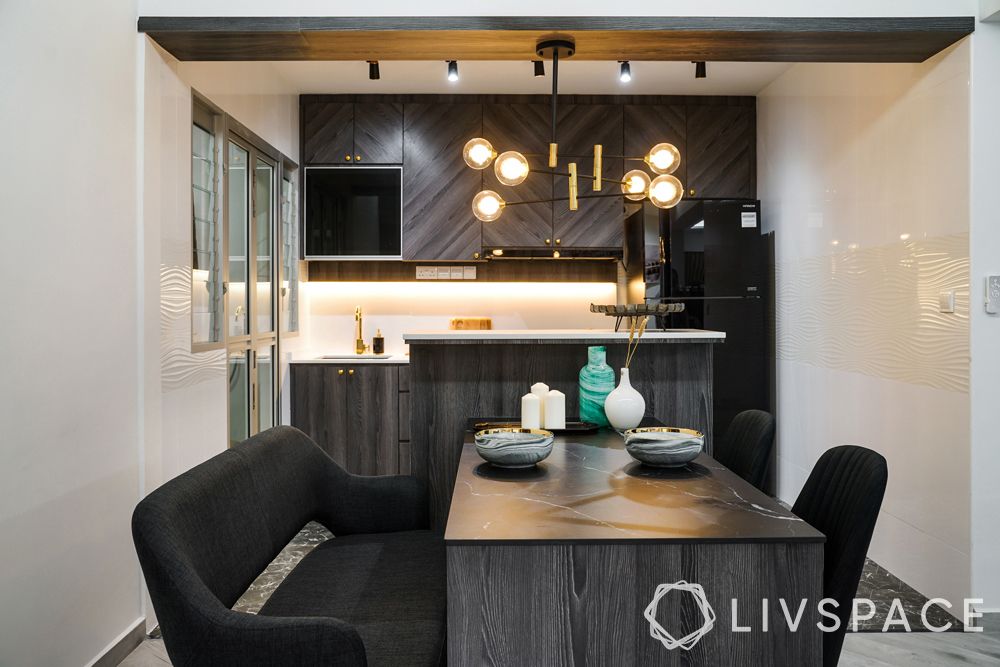 This open concept kitchen HDB is a prime example of an urbane design. The dining area and kitchen are integrated as there wasn't enough space. The kitchen island has ample storage and doubles up as a dining table. All in all, it is the perfect kitchen design for a compact home.
#2: Open Kitchen With Warm Wood Tones
This kitchen is one of our favourites for its pleasant and warm ambience. Considering the limited space, the kitchen is built in a more accessible area. The cabinets and suspended open shelves facilitate enough storage space. To make the kitchen look visually light, the cabinets are given a neutral colour and laminate finish.
An awe-inspiring feature in this kitchen is the lighting under the island. Don't miss it!
#3: A Simple and Functional Open Concept Kitchen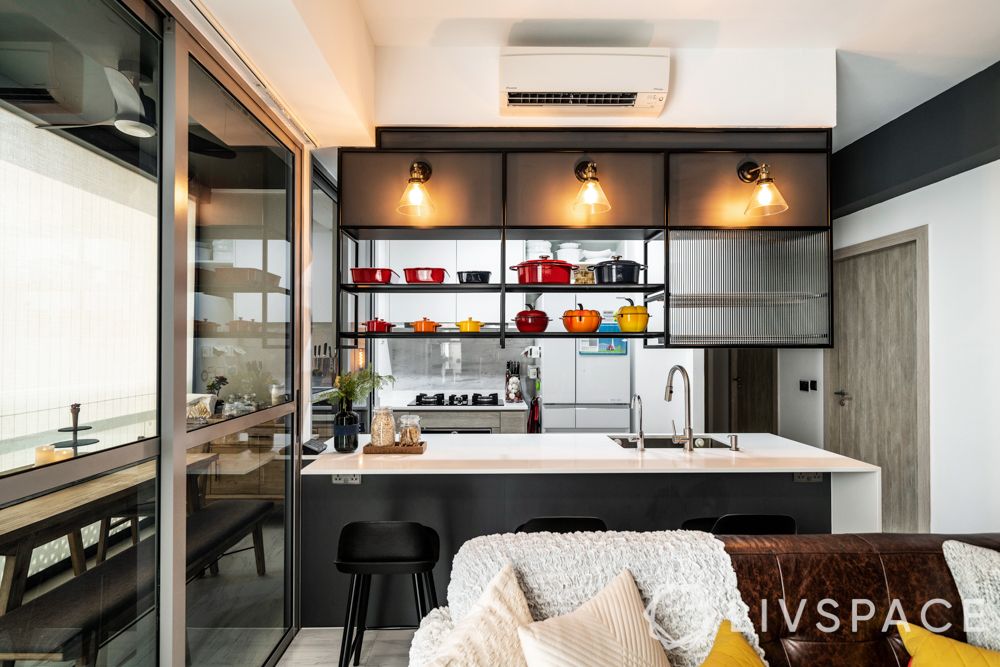 Suspended shelves are a popular choice when it comes to designing an open kitchen layout. It not only makes use of the vertical space but also serves as a partition. This kitchen is the perfect example of that. The island and the suspended shelf segregate the kitchen from the activities of the living room. Another highlight of this kitchen is that the island serves as a breakfast counter and also a workstation.
Notice the built-in lights too? It can make your midnight snack time a bit easier.
#4: A Grand Open Kitchen for the Bigger Homes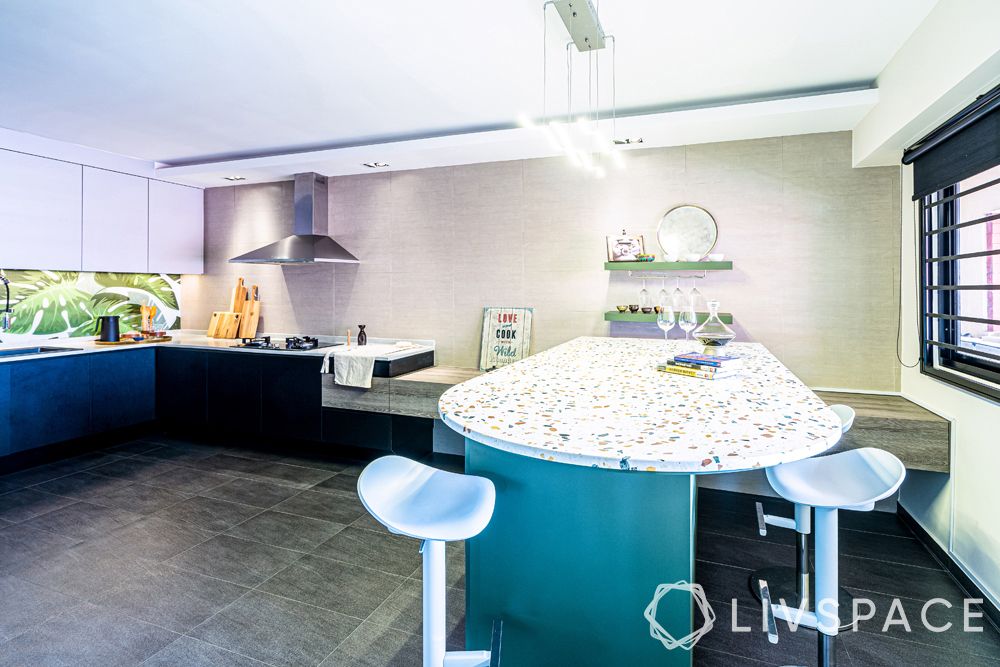 Let's get one thing straight; open kitchens are not meant only for compact spaces. You can also work them in bigger HDBs like this one. The quirky mix of colours and the huge workstation are the key highlights of this kitchen. The dining area too is integrated with the kitchen, making cooking and eating together a bit easier.
#5: White Open Kitchen With a Dash of Black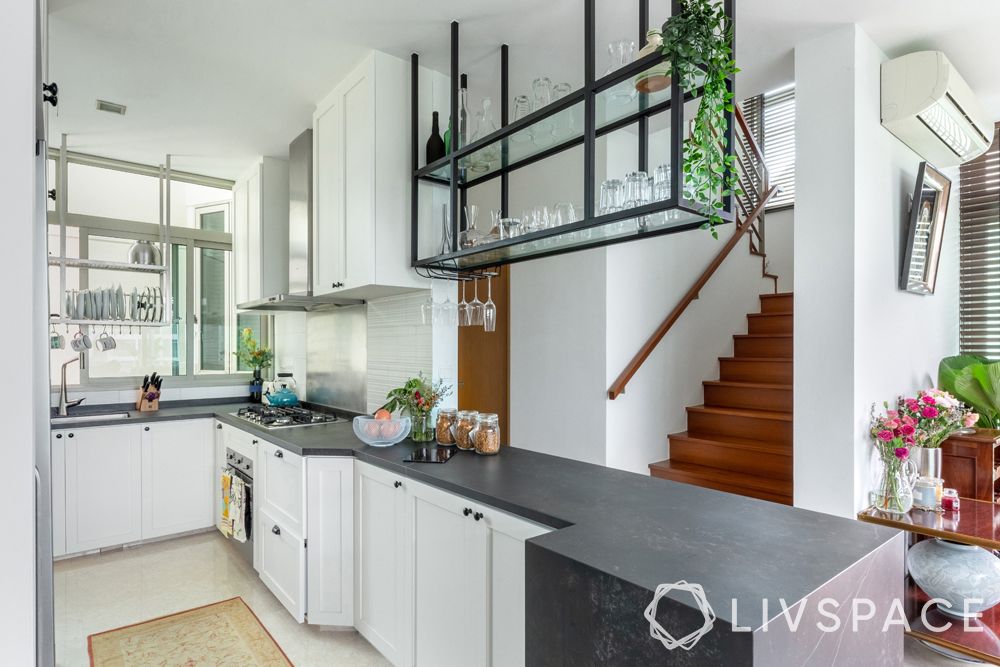 Who doesn't love a white kitchen? And a white open kitchen is hands down best suited to a minimal home. This open concept kitchen HDB is L-shaped and follows the golden triangle. We can see the suspended shelf here too. This shelf and the several base and overhead cabinets make this kitchen storage-intensive.
How can Livspace help you?
We are sure that you want an open kitchen too. If yes, then let Livspace help you. Our team of expert designers will deliver the kitchen of your dreams. Book an online consultation today and get quality and safe interiors for open concept kitchen HDB.
Still sceptical about kitchen designs? Know How to Zero in on the Perfect Kitchen for Your Home
Send in your thoughts and suggestions at editor.sg@livspace.com