Sure, attractive furniture and a well-planned layout are key aspects of a living room design, but do you know what literally sets up the mood? Living Room Lighting. With white tube lights going out of trend, there are quite a few options to explore in the lighting department. The possibilities are endless, ranging from modest and recessed to over-the-top showcase pieces. In fact, new Singapore homes have learned to layer lights for the living room. However, the question is, "How do you choose the correct lighting for your living room?" Read on to find out!
#1: Put Even Focus in the Living Room Lighting with Recessed lights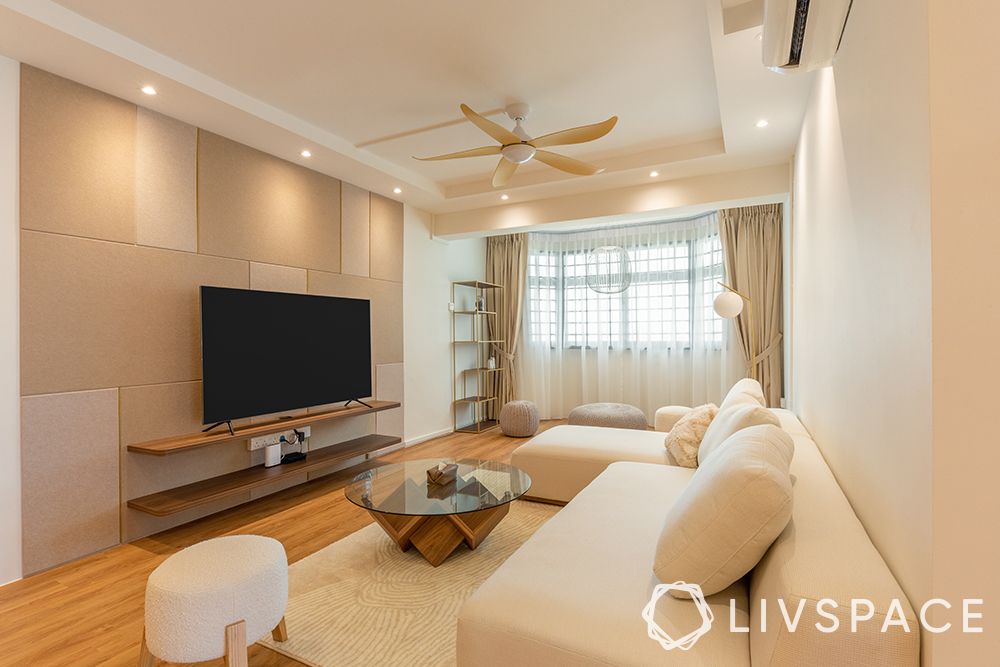 The purpose of recessed lighting is to light the living room evenly. If brightening your living room is the goal, recessed lighting is a good way of providing ambient light. Alternatively, recessed lights are also ideal to create focus on artefacts or effects of your preference.
Where to use them?
Use them for general lighting in your living room. They can also be layered with cove lights to be focused on specific spots.
Where not to use them?
You may not want to solely depend on recessed lights to light up your entire living room as they can dull the whole interior. Layer them with other lights ideas to add more character and focus.
#2: Set the Mood of the Living Room Lighting Using Profile Lights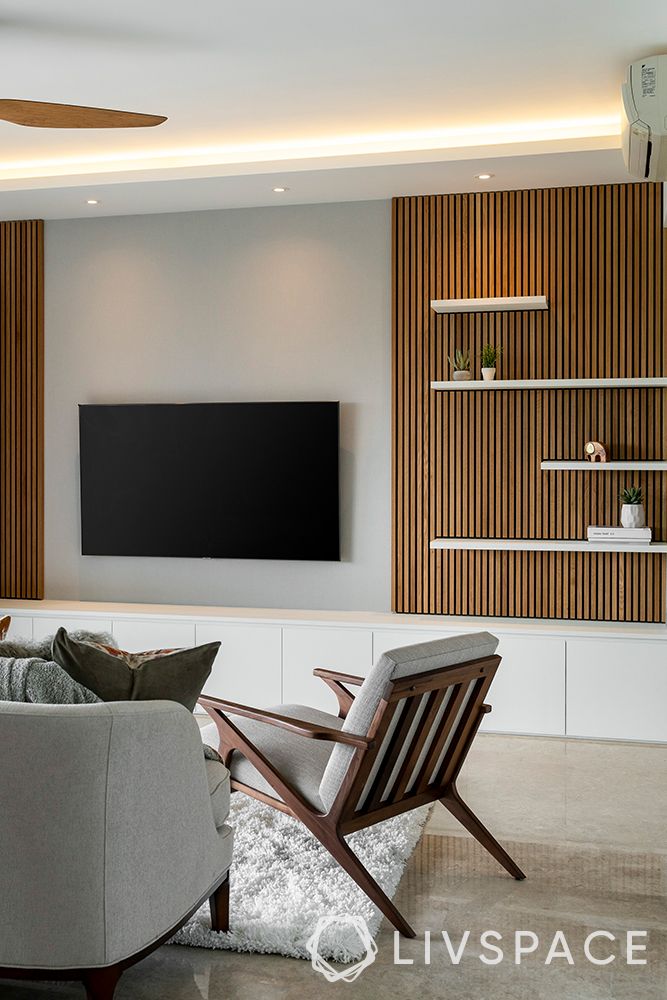 Having taken care of the basics of general illumination of the living room, you can use profile lights to draw attention to specific sections of it. This is a suggested living room lighting idea that will jazz up your interiors. Profile lighting basically sets up the right mood for your living room.
Where to use them?
Profile lighting works wonders everywhere – from above the TV unit to the dark corners and under display shelves. You can also use the lights paired with a round or angular diffuser for a unique effect.
Where not to use them?
There are nowhere profile lights cannot fit in! You can have a freehand when using these lights for the living room.
#3: Add Track Lights for Contemporary Living Room Lighting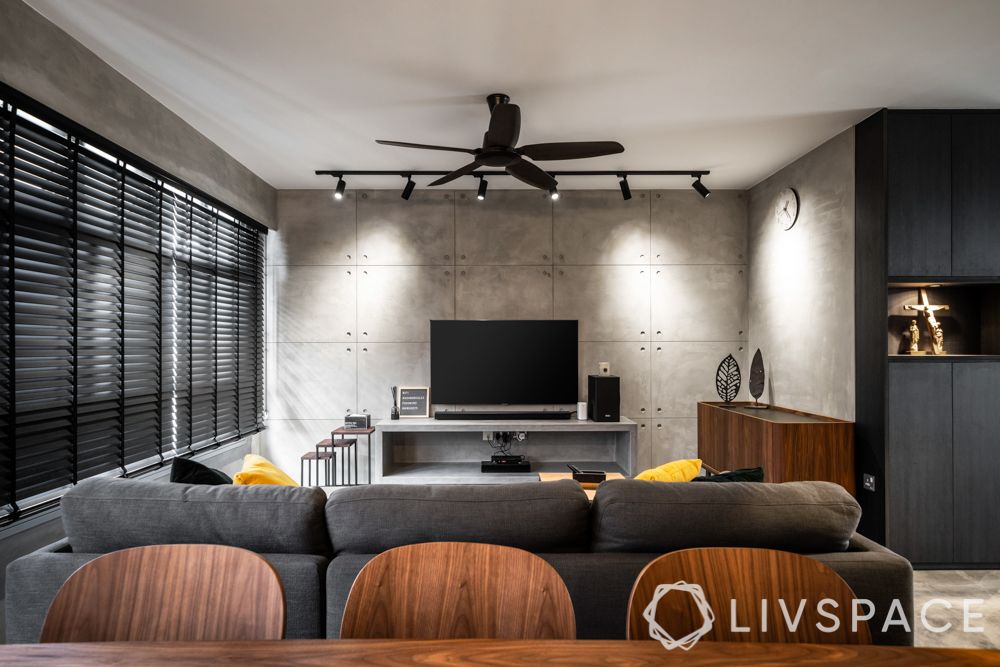 The living room lighting idea to replace outdated ceiling lights is perfectly done by track lights. You can do so without drawing much attention to fixtures, making it easy for any HDB or Condo. You can run a straight track of these lights through the hallway and aim them at artwork or other features on the walls.
Where to use it?
If your aim is to give a contemporary look to your living room, this idea is the best. However, feel free to consider other lights for the living room if you want Vintage or Traditional vibes.
Where not to use it?
Low ceilings and track lights do not make the best living room lighting option. Opt for recessed lights instead if you have a low ceiling.
Also Read: 11 Quick Ways to Turn Your Home From Dingy to Bright
#4: Play Up Your Living Room Lighting Game with Pendant Lights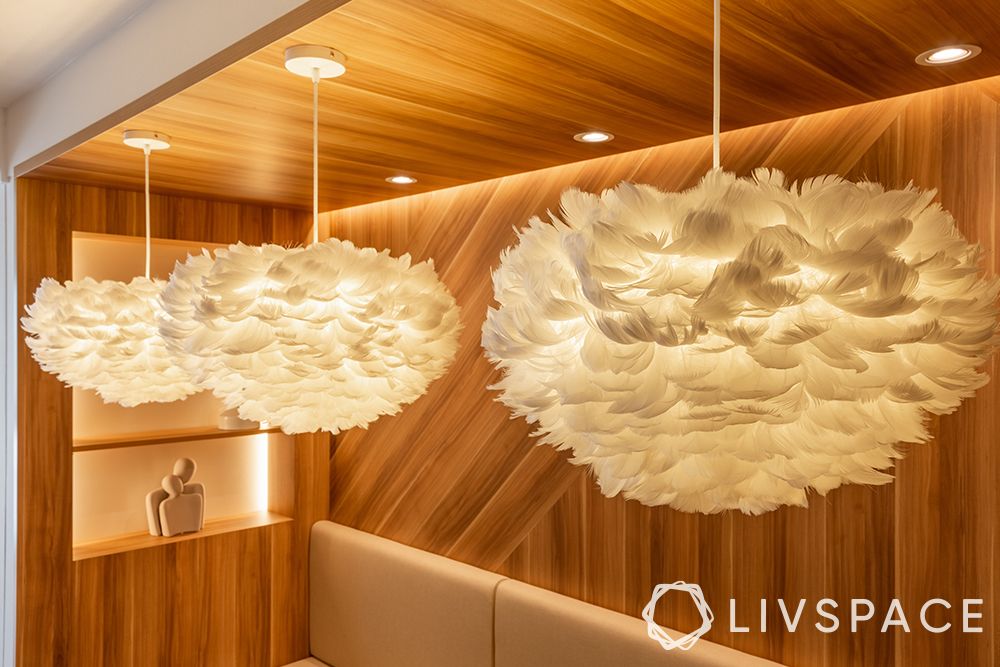 In the living room, pendant lights accentuate a specific region or light up a dark corner. As you can see, like a pendant on a chain, the pendant lights hang down from the ceiling on a chain or rod. They're also great for making a statement as pendant lights are usually designed to stand out.
Where to use them?
Pendant lights are preferred for task lighting as they can fit in small spaces. This focused lighting option works well in cosy corners where you can have intimate conversations.
Where not to use them?
The one place where pendant lights for the living room are not suited for is anywhere near the TV. Pendant lights can reflect on TV screens and interrupt your viewing. You should also make sure that there is enough headroom when you walk underneath a pendant lamp.
#5: Secure the Living Room With Sensor Lights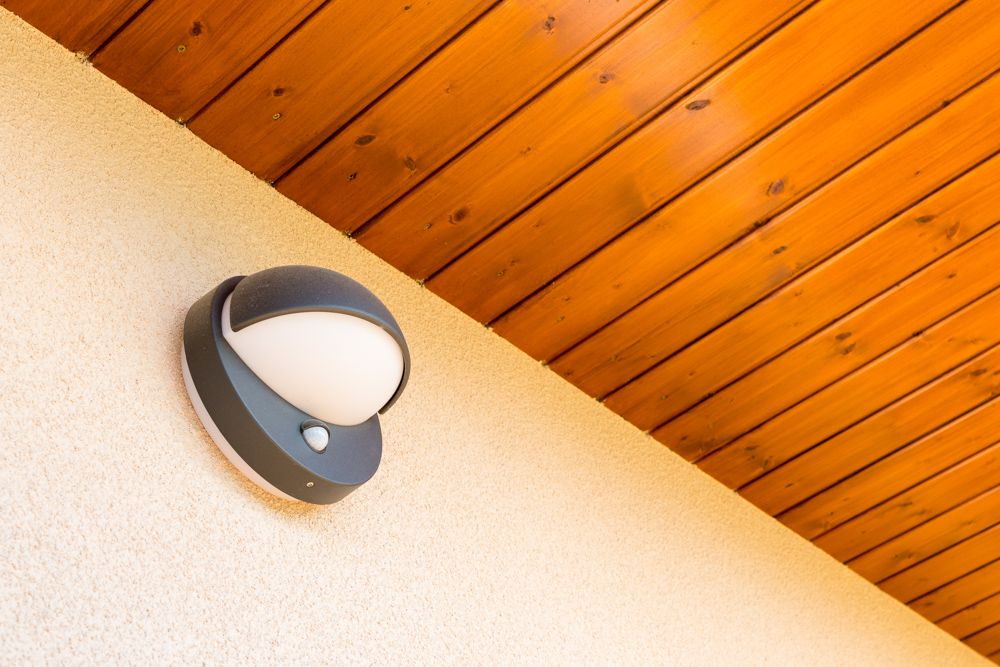 You should definitely go for this living room lighting idea if you have elderly relatives and small children at home. These living room lights are also beneficial if people wake up during the night, and need to navigate their way around. Place them at a height of six to eight feet, such that they have a birds' eye view of the place.
Where to use them?
These lights for the living room are well placed close to a passageway and the walls of the room, so that it is easy to find a way in or out in the dark. Also, corners are a good placement for sensor lights as they can prevent bumping into the walls.
Where not to use them?
Make sure you do not place them too high; they need to be close enough to detect movement to work.
#6: Dazzle Your Living Room Lighting With a Chandelier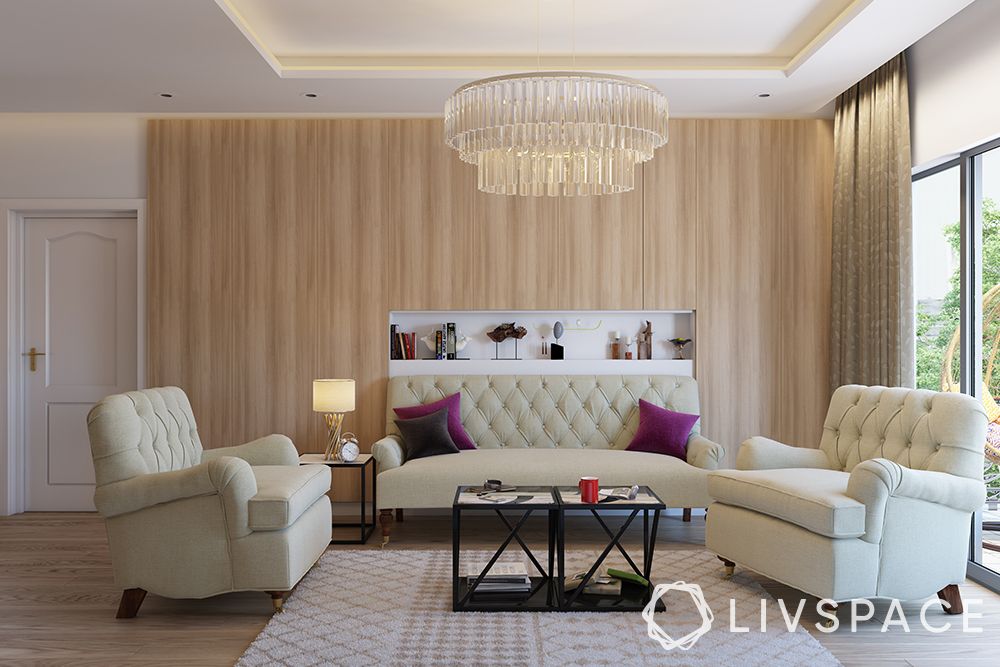 Want to add a bold touch to your living room? Just add the right chandelier! You can use this idea that hangs down from the ceiling and adds to the ambient lighting. They also bring a breath of fresh style in your living room design . Chandeliers can easily become the focal point of your living room; so pick the right piece!
Where to use them?
The best placement for a chandelier in the living room is above the centerpiece of your couch. It also works well in a dull corner of the living room, or even a sitting nook.
Where not to use them?
Avoid using these lights in living rooms that have low ceilings. It will make the space look cluttered.
#7: Cozy Up Your Living Room Lighting With Floor Lamps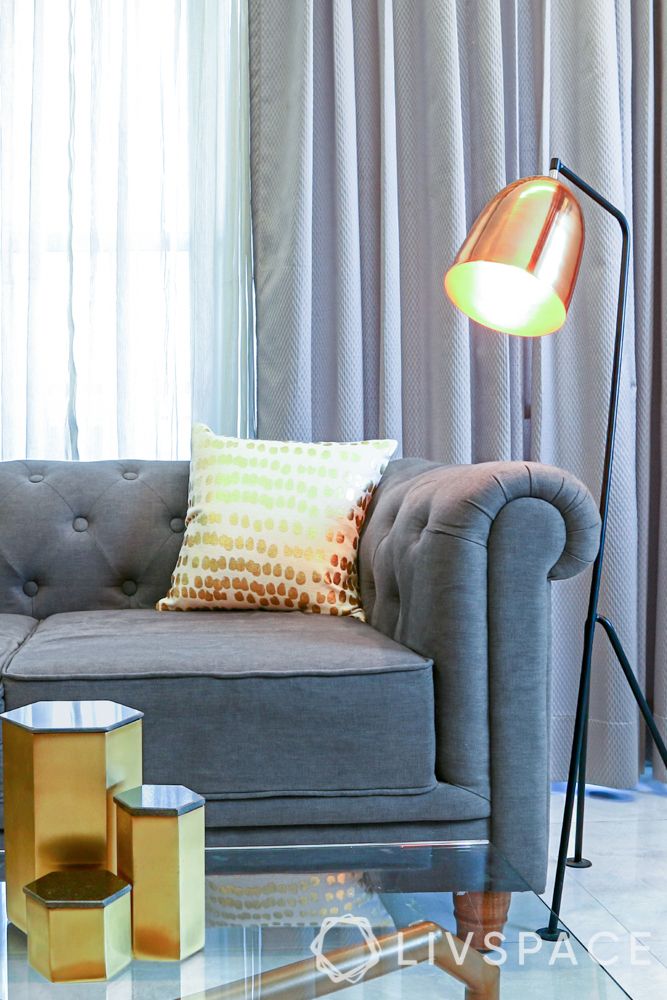 Floor lamps are the most versatile lighting option. Place them next to a cosy sofa, or beside the writing desk. These lighting ideas can fit in any nook and cranny of the room. We believe that lamp lights for the living room can never go wrong as they can easily be moved around the room.
Where to use them?
Floor lamps can be easily used to define a cosy coffee corner. Add seating and place yourself with an interesting book for a perfect evening!
Where not to use them?
Keep them out of people's walking radius. That's it!
If you enjoyed looking at living room lighting ideas, also check out Easy-to-maintain living room designs.
How Can Livspace Help You?
We hope you found our ideas useful! If you want your home to be just as beautiful, then look no further. Book an online consultation with Livspace today. Delivering safe home interiors has been our No. 1 priority. Click here to find out how interiors are being delivered following all safety protocols.