Whether you are the king or queen of get-togethers, or you just want your house, condo or apartment to resemble something out of a fancy home decor magazine, it is safe to say that whatever the objective, a well-designed living room is vital to your plans. Does it look great already? Well, you know what they say — there is always room for improvement! Keep reading and learn some of the best-kept secrets adopted by living room designer to help upgrade this substantial part of your home.
#1: Focus on Creating a Central Focal Point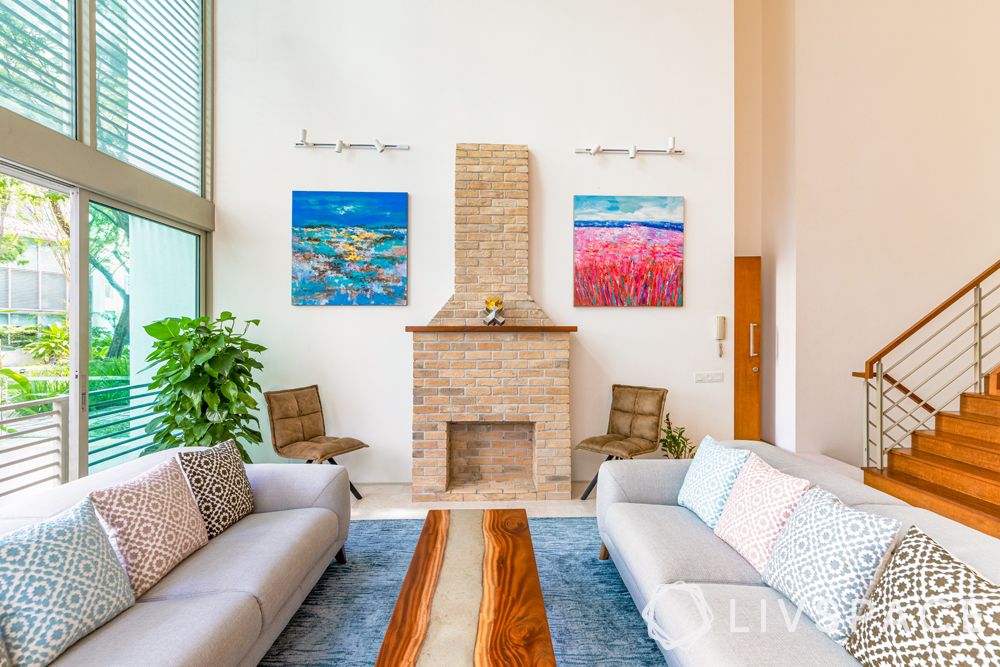 Living rooms are an integral space in every home, meant for social gatherings, hosting parties or inviting first-time visitors. They are the place for family and friends to congregate and spend quality time. Having a central focal point in the room will create the feeling that there is a physical spot around which conversations can take place. Additionally, this clever trick used by all living room designers gives the space a visual purpose and a distinctive trait.
#2: Create a Functional Layout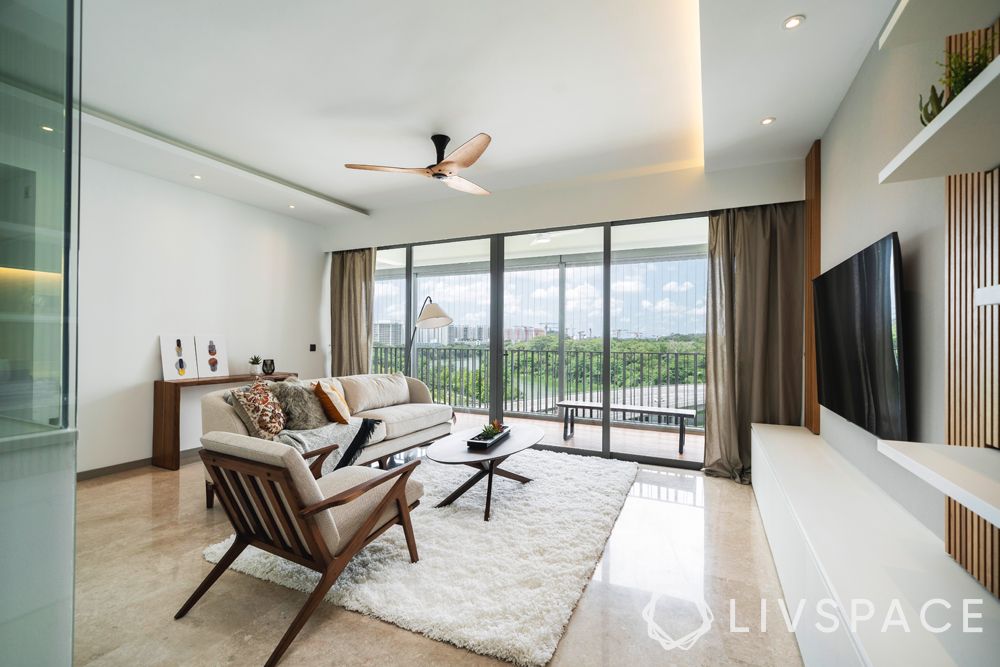 Functionality is the main pillar of modern home decor, especially for small living room ideas that struggle to fit every element within a reduced space. As glamorous as you want your living room design to be, keep in mind that functionality is key for your layout as it will be timeless. Pretty but impractical layouts are hard to keep organised and will surely drown in the hustle-bustle of everyday life.
#3: Choose the Right Lighting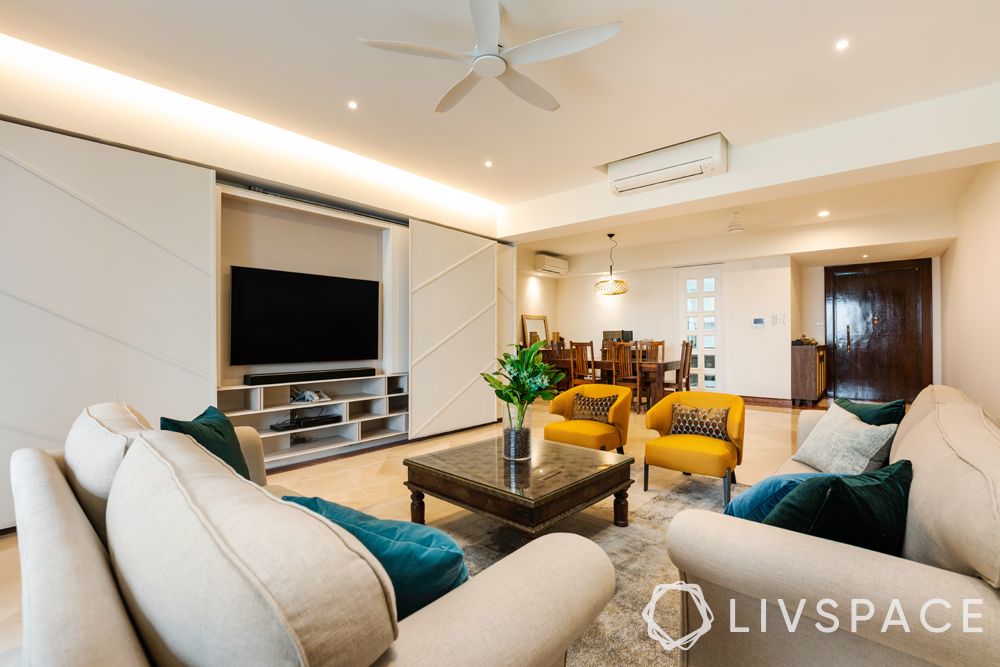 When it comes to making your living room look more spacious, brighter and even more visually appealing, the importance of choosing the right lighting becomes evident. All successful living room ideas involve lighting elements that draw attention to significant objects that are strategically placed to achieve cosiness and elegance, and always in the same lighter colours.
The price of table lamps starts from $9.80, and there is a lot of variety to choose from.
#4: Add Dimension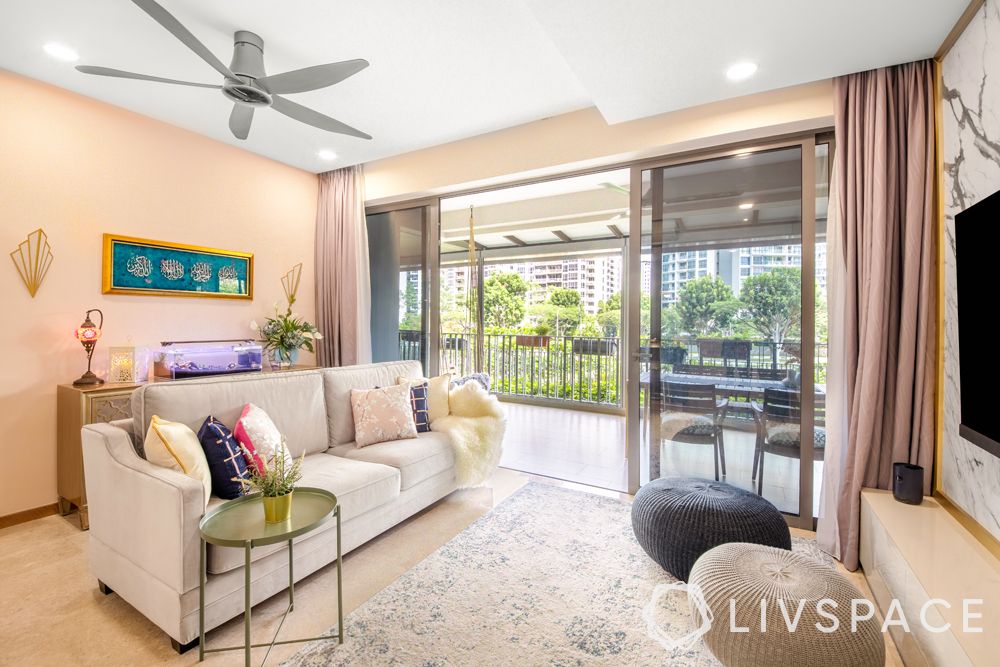 Adding dimension is an excellent technique used by a living room designer; it is both simple and effective. The two mini bean bags to the right, placing the couch and the tray table in the middle and leaving the chest drawer at the bottom makes this living room look much more interesting and stylish than a simple 'against the wall' layout. Adding dimension will make your living room look less cluttered and boring.
#5: Focus on Rugs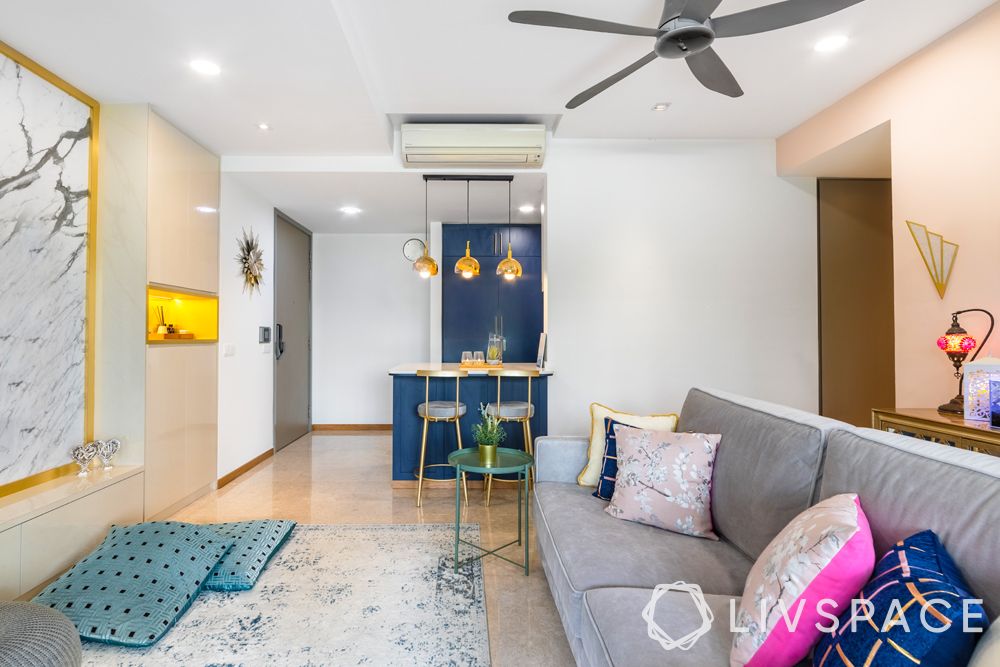 Rugs can change the aspect of a room entirely. This is one of those simple living room design ideas that serves different purposes and fits all styles. Cosiness, elegance, a pop of colour, unique attributes — name it and you will find a diverse variety of rugs to meet any of those requirements. Stick to the colour palette for harmony and let the rug do the rest!
You can purchase rugs starting at $7.40.
#6: Pick the Right Soft Furnishings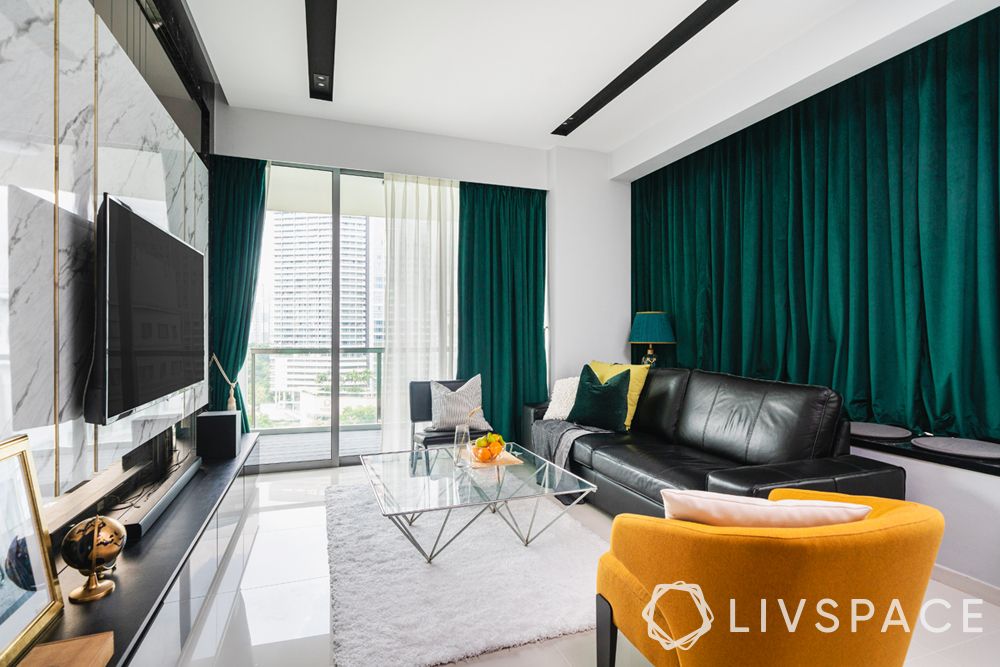 Couches, curtains, cushions and throws are just some of the soft furnishings that will give that final touch to your living room. Colours and patterns must be chosen according to your living room design, and select textures that provide cosiness while complementing the space.
You can get beautiful affordable cushions starting at $6.2.
#7: Consider Traffic Flow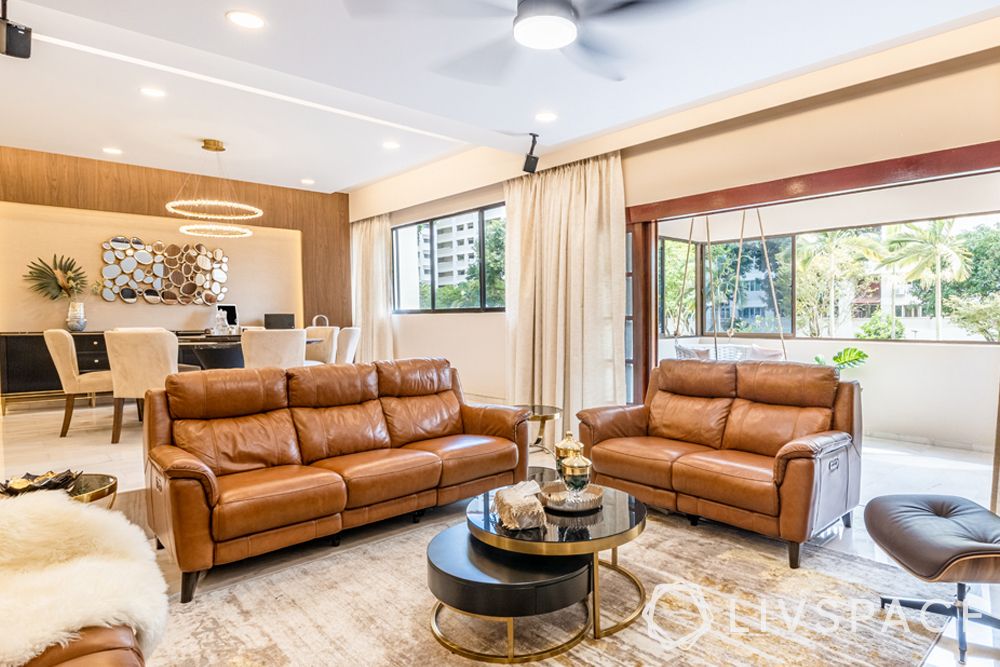 Functionality plays an extremely important role in modern living room design, and that's what this smart tip will ensure. Consider the traffic flow of the room before arranging the different elements. Remember, you should neither block the most 'travelled' roads of the room nor the access to doors or windows.
#8: Choose the Right Furniture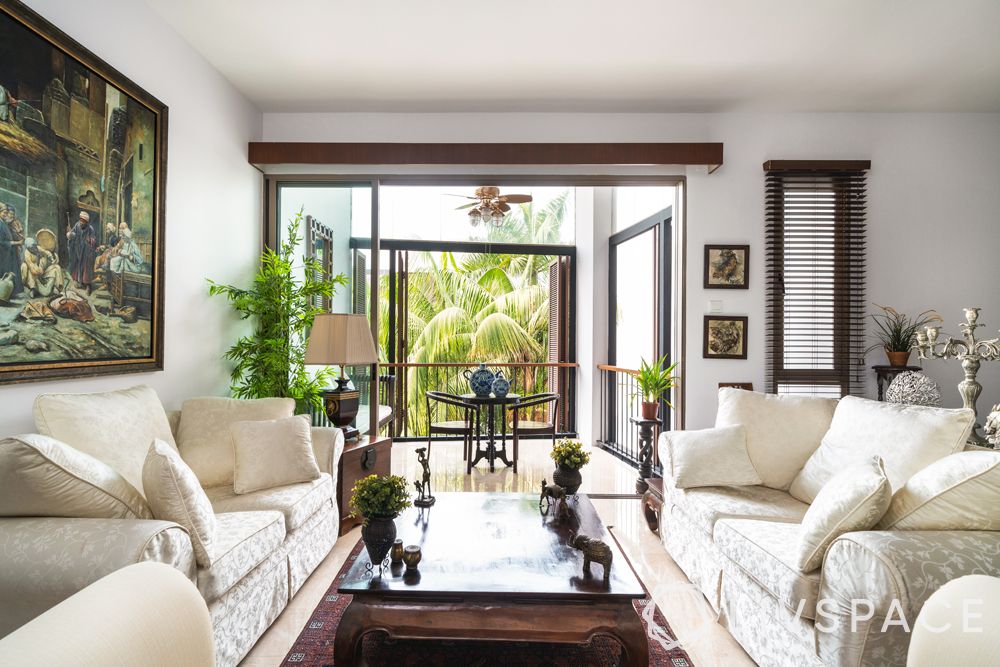 The fascinating world of living room interior design has the particularity of being extremely broad, covering all sorts of requirements, constraints and tastes. Can you imagine how many couches, rugs, tables, curtains, cushions, chairs, etc are there to be found? Given the countless pieces in the market, remind yourself that colour and style and how a particular piece can work in your living room design are two characteristics that should be top of mind when choosing the furniture.
#9: Focus on the Right Colour Scheme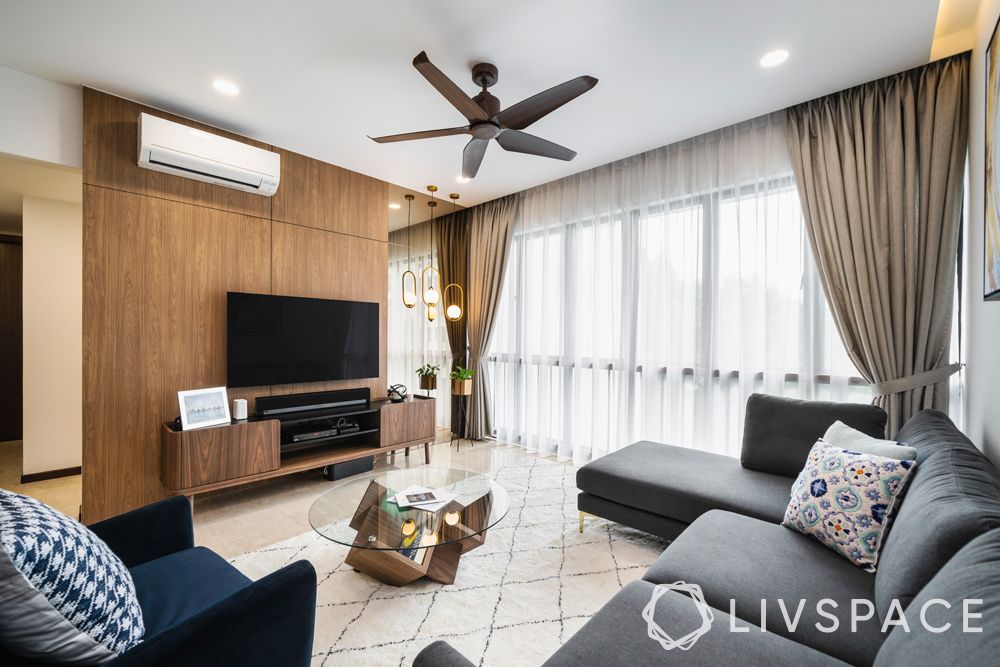 All living room designers will tell you that sticking to the colour scheme is vital for the successful design of a space. Complementary colours make your space look organised and luxurious. Although statement pieces in bright colours are a bold touch that can be used to elevate the design, for the most part, make sure not to alter your colour scheme.
#10: Do Not Forget Flooring Options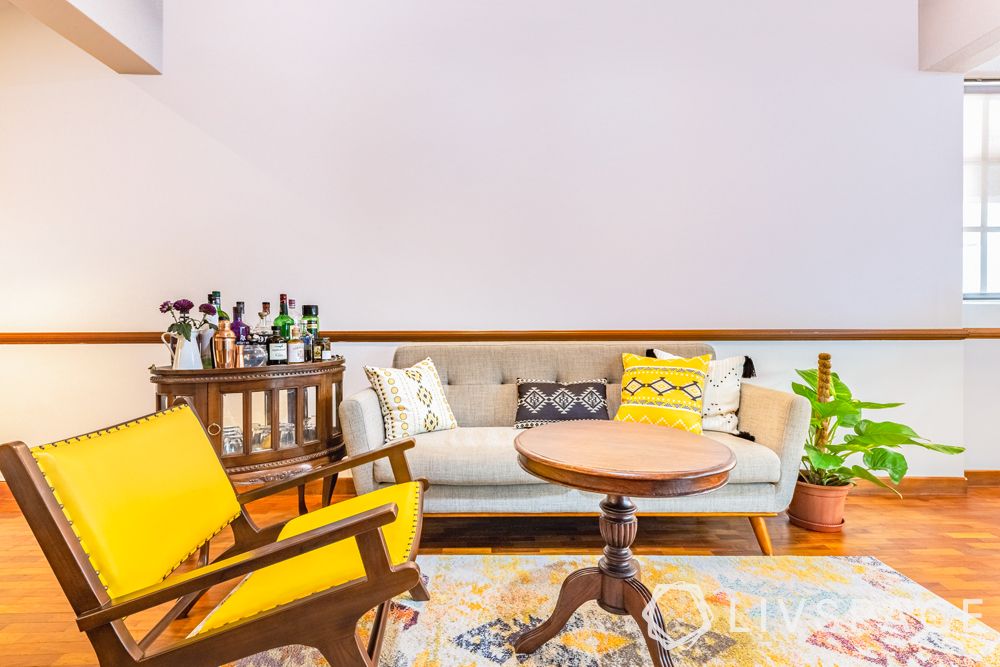 Yes, the floor! It might be flat and immovable but it is still a key element of focus for any living room designer. Toying with the idea of a minimalist living room design? Then make the difference with the floor. Hardwood, carpet, granite, ceramic — what you pick can make or break the look of the room, the way you feel and how it is perceived in terms of space. Fancy, well-thought-out flooring is essential for elegant decor.
#11: Keep Storage in Mind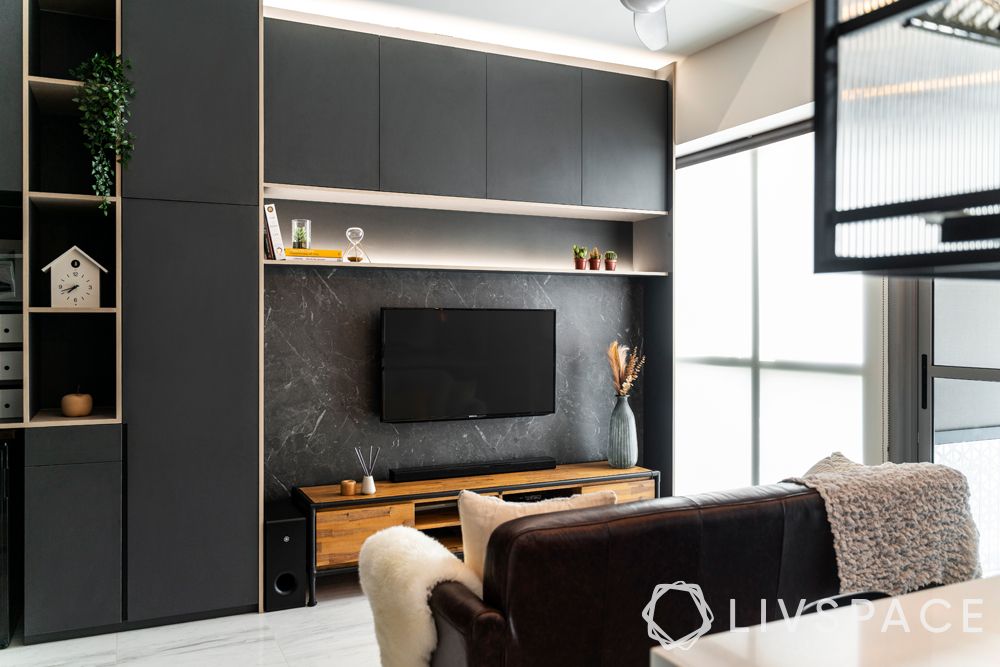 Remember all the things you own that are not for display? Where are you keeping them? If you have been convinced by minimalist living room designs, you will need to make the best of all the possible storage space available; you want to avoid clutter as far as possible. Pick decorative and functional storage furniture pieces and you will see the difference.
How Can Livspace Help You?
Enjoyed reading this? If you want the perfect design for your home, then look no further. Book an online consultation with Livspace today. Delivering safe home interiors has been, and continues to be, our No. 1 priority. Click here to find out how we deliver safe interiors following all safety protocols.
Now that you are an expert and can don the hat of a living room designer, let's broaden your already impressive knowledge; read this interesting article on 5 Common Home Decor Mistakes and the Tips to Avoid Them.
How do you feel about trying this out? Do you already have ideas brewing about the changes you'd like to make to your living room? We'd love to hear your thoughts!
Share your comments and queries to editor.sg@livspace.com