Space-enhancing designs are a must in any Singapore home. And if they come with the benefit of great looks, it's a win-win! Our designers have crafted numerous HDBs and condos around the city, so we decided to collate and present to you our pick of the best Livspace-designed living rooms. They will surely inspire you for your next renovation. So borrow away!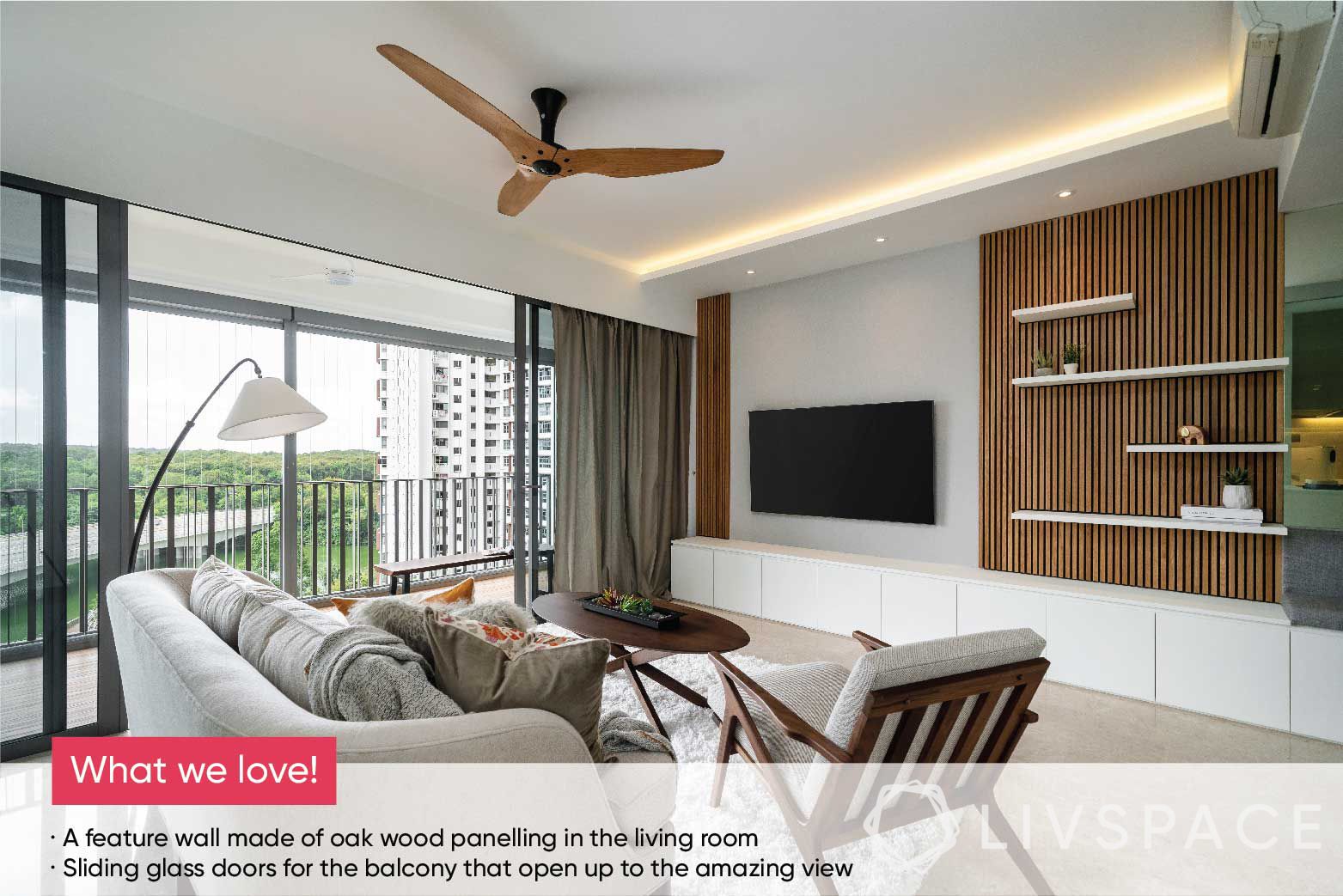 Who livs here: Amy Law with her husband Marcus Tan, their two daughters and Amy's parents
Location: The Riversails
Size of home: 127 sq. m.
Design team: Interior designer Herry Tan, project manager Kent Loke and business manager Andrea Rodriguez
Living room style: Minimal
If you love minimal and sophisticated living room ideas, then you must take a cue from this space. This living room is filled with natural light, neutral colours and plenty of wooden elements. The oak wood wall panel and display shelves are ideal for showing off your favourite collectables. A mirrored panel next to the batten wall makes this space appear larger than it actually is. A centred furniture layout makes this living room elder-friendly too.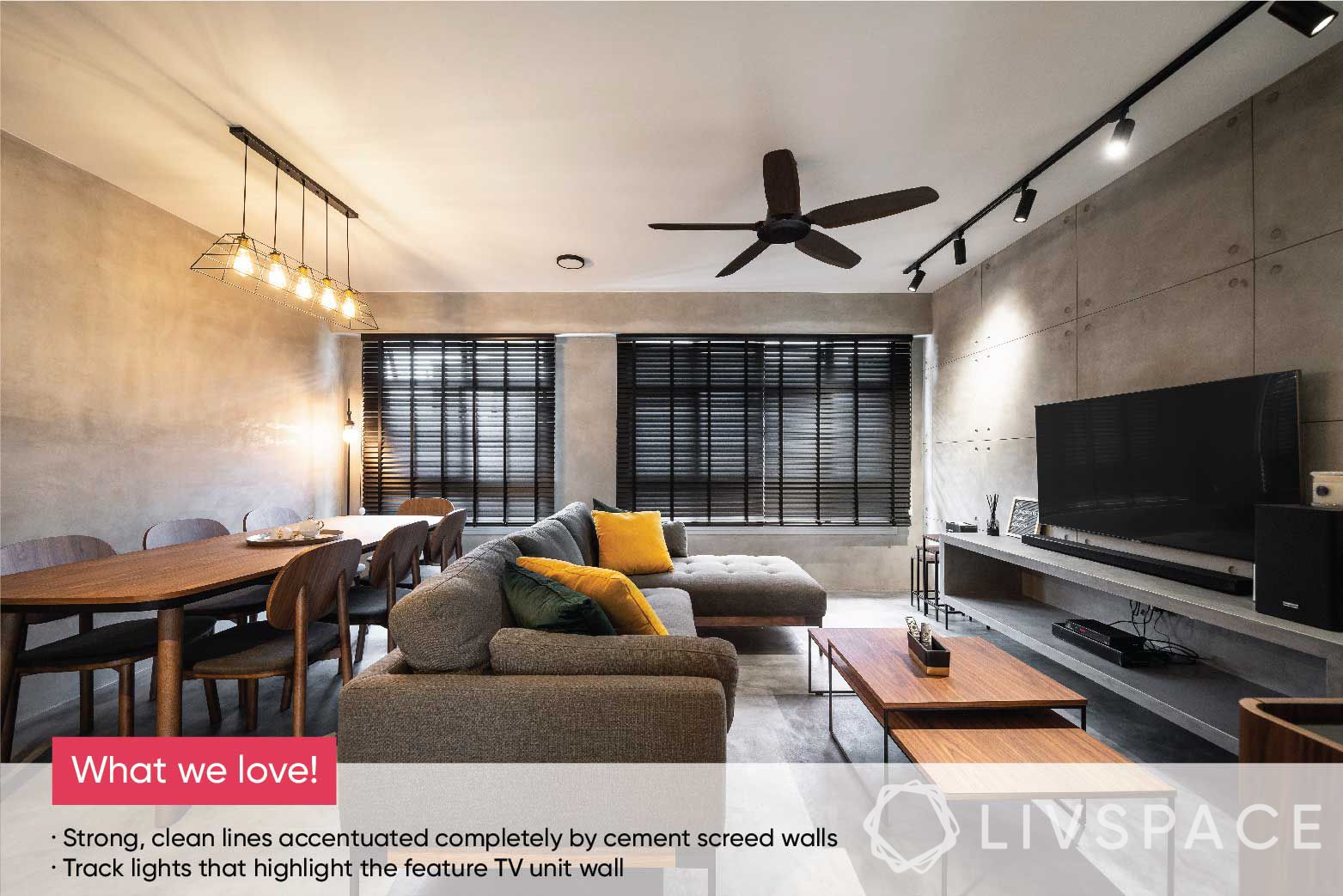 Who livs here: Nigel Ng and Madaline Chin and their toddler daughter
Location: 612B Tampines Greenweave, Singapore
Size of home: 5-room HDB spanning 100 sq. m.
Design team: Interior designer Jake Tong and project manager Ricky Lee
Living room style: Industrial
If you are someone who cannot have enough of the edgy, industrial theme, then take notes! Our designer opted for a semi-finished look for the walls and floor as a part of the industrial theme for this living room. Bold lighting effects, insightful design choices and intriguingly dark finishes make this one of our favourite living room ideas. Greys, dark wood shades and accents of black dominate the design theme here.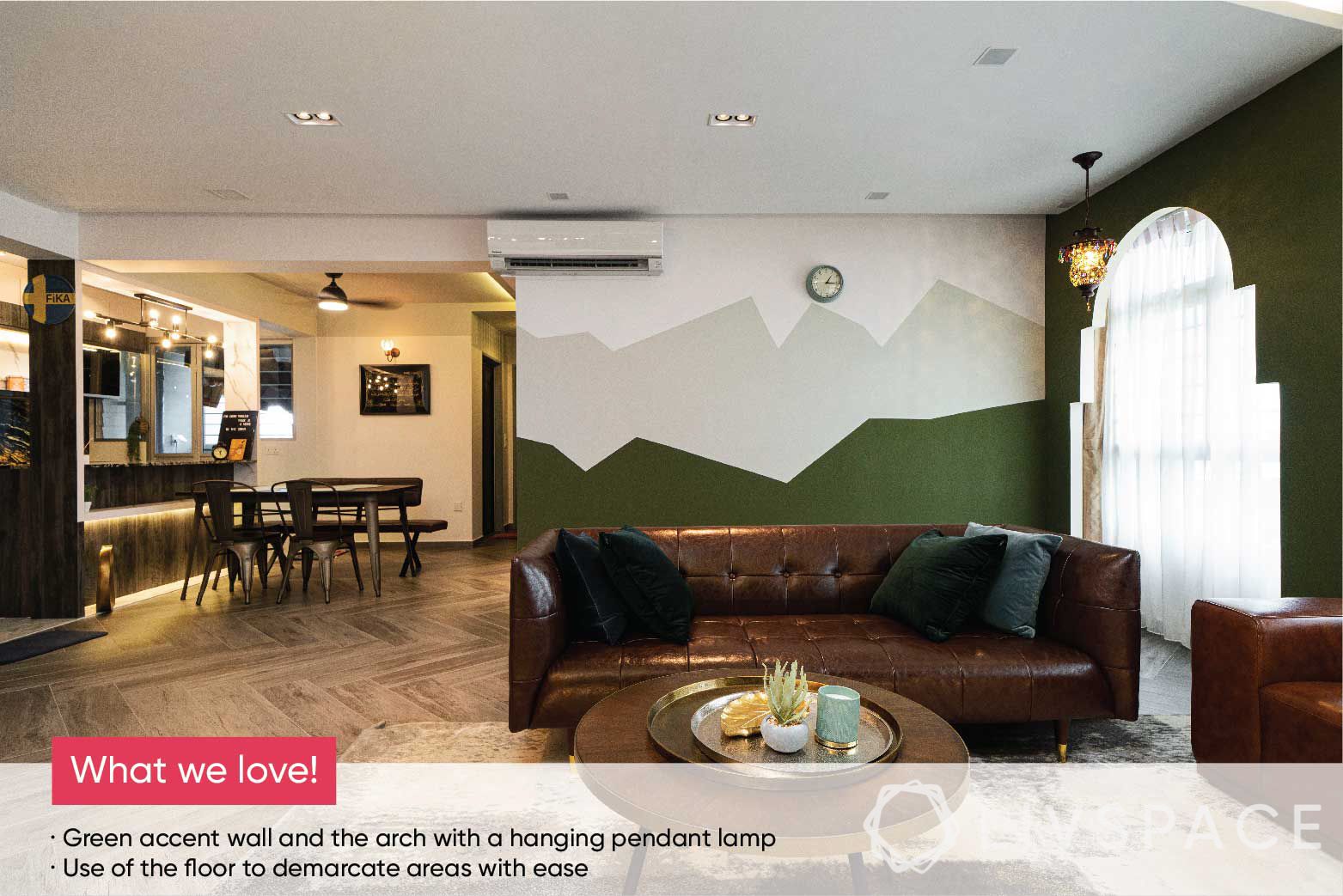 Who livs here: Kader S. with Malikka Begum and their toddler son
Size of home: 5-room HDB BTO spanning 112 sq. m.
Design team: Interior designer Kader S.
Living room style: Modern Mediterranean
Memoirs of a bygone era are brought to life with skilful design in this modern living room. Colours and lights can be used to recreate a Mediterranean feel — just like our designer has done here for this open-layout living room. The designer also put in ample space to display accessories in the TV unit. There's much inspiration to draw from this living room, especially how to design a room in a specific theme, yet keep it functional.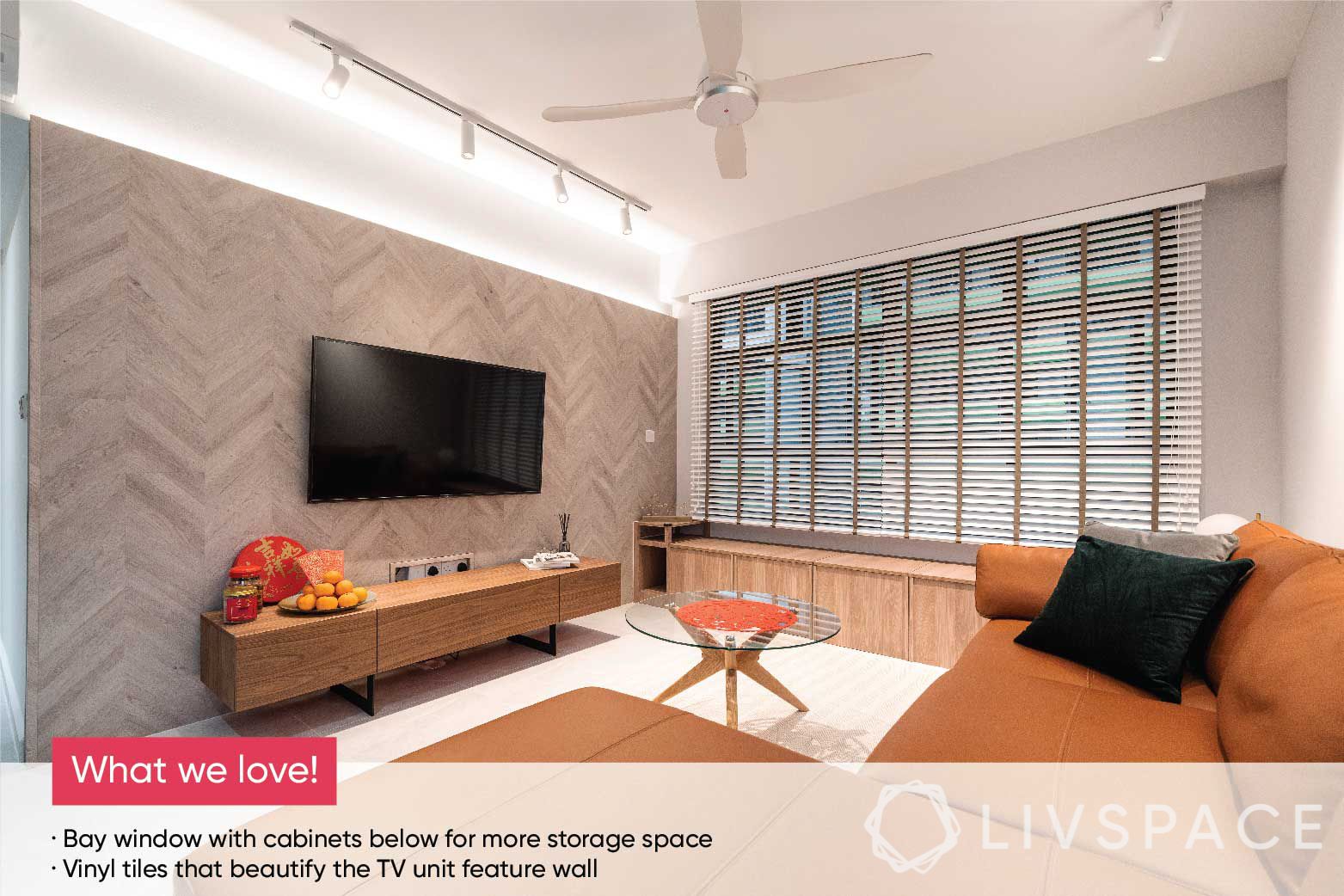 Who livs here: See Zhibin and Tong Shuyi
Type of home: 5-room HDB BTO spanning 92 sq. m.
Design team: Interior designer Jake Tong and project manager Ricky Lee
Living room style: Minimal
This is one of those living room ideas that will teach you how to design on a budget, yet not compromise on style. The soon-to-be-married couple residing here wanted a space where they could entertain friends and family regularly. Therefore, we gave them an L-shaped sofa that accommodates plenty of people at a time. And for extra seating, you have a cushioned option by the window! Each wooden panel here has intricate detailing as opposed to having plain textures.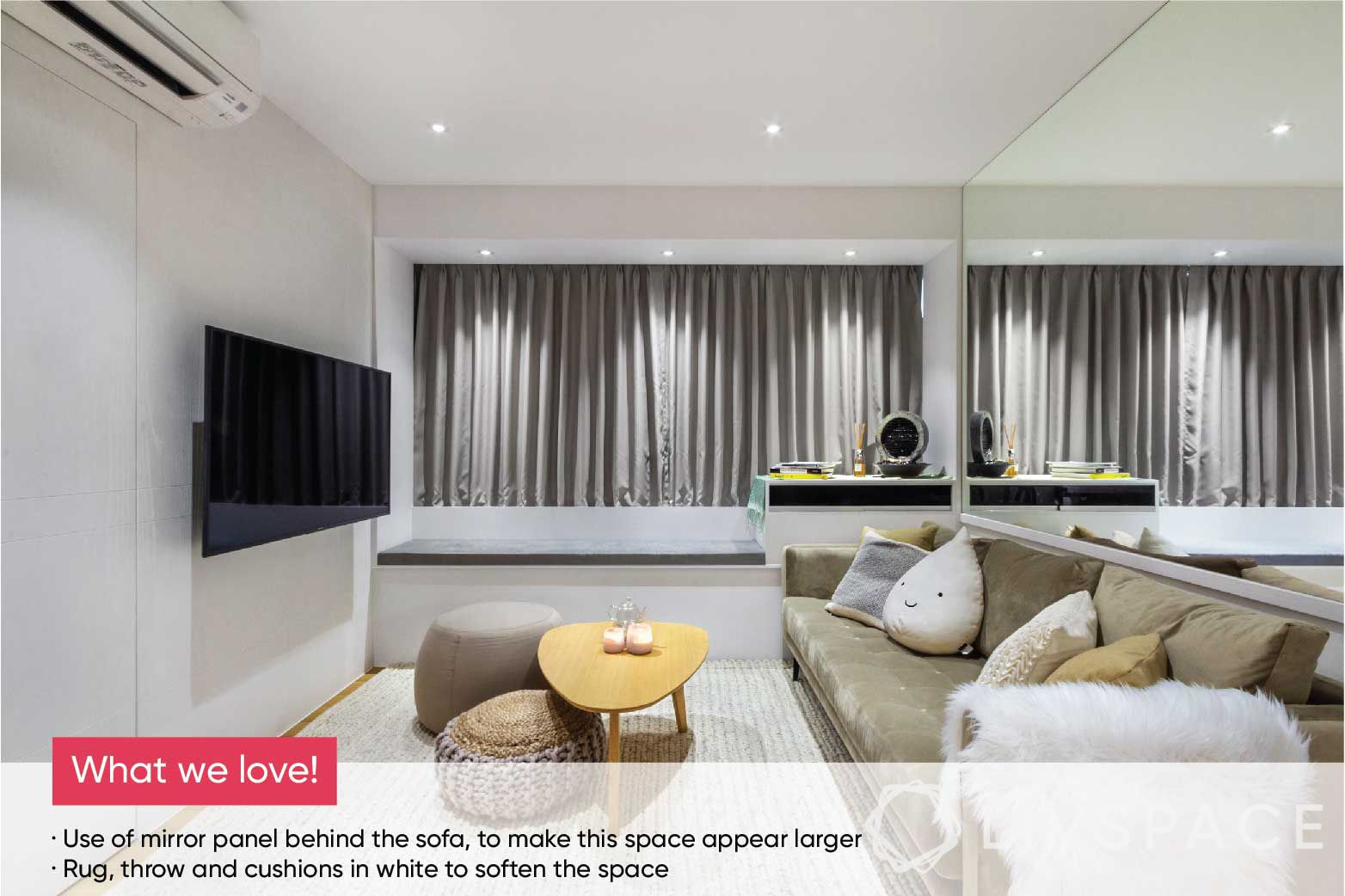 Who livs here: Ivan and HuiMin
Location: 58 Havelock Road, Singapore
Size of home: 3-room HDB spanning 69 sq. m.
Design team: William Chong for interior design
Living room style: Scandinavian
Ivan and HuiMin, the couple residing here, insisted on using plenty of white finishes for their HDB. Given the square footage of their HDB, our designer was in complete agreement with them. White is your best bet for opening up compact spaces and this is a great example of that. Also, notice the feature wall behind the TV unit? This living room wall design is created using an ash-white ply that is rather basic, keeping the design clean and uncluttered. This simple living room design gives us cosy feels!
How can Livspace help you?
We hope you draw some great inspiration from these selected living room ideas. If you need help with applying it to your home, then Livspace is at your service. Book a consultation with our designers for quality and safe interiors. Learn more about our COVID-19 safety protocols here.
If you want to save some bucks while renovating, you should check out these 9 Simple Ways to Give Your Home a Professional Touch.
Send in your thoughts and suggestions to editor.sg@livspace.com.