While some of us are waiting to get the keys to our HDB, others are moving into condominiums and other flats. The big question on all our minds is how do we want our home to look? Let's start with how to decorate the one space that sees most traffic – the living room. Open to the family and guests alike, living room interior design is key to setting the right note in making your home warm and welcoming. As Singaporeans, we love the minimal way, with Scandinavian living room designs dominating catalogues. But how do we bring it all together? The right furniture, colours and placement can make all the difference when it comes to living rooms.
This beginner's guide to living room design will take you through the basics of how to get started and the steps you need to follow to design a welcoming and comfortable living space.
#1: Have the Basic Measurements Ready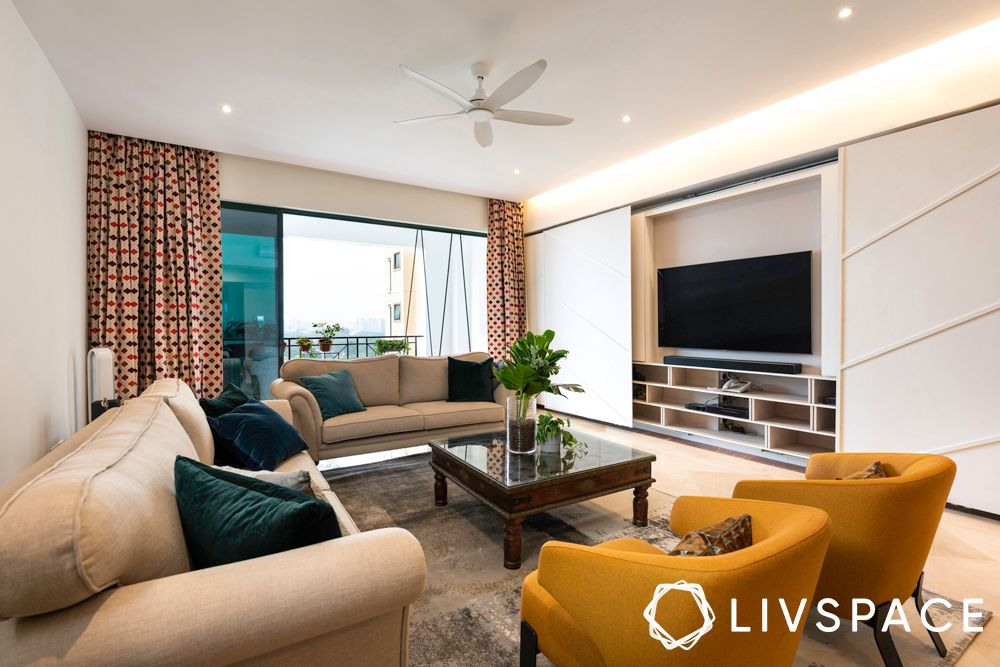 First things first! No matter which part of your living room interior design you're working with, you need to be cautious about the basic measurements to follow. These measurements are extremely important as they help you place everything in the right place. For instance, you need to keep your coffee table at least 15 to 18 inches away from your sofa and your wall art should be about ⅔ of the size of your sofa. Keep these in mind while purchasing and placing things.
Pro tip
#2: Decide the Essential Furniture you Need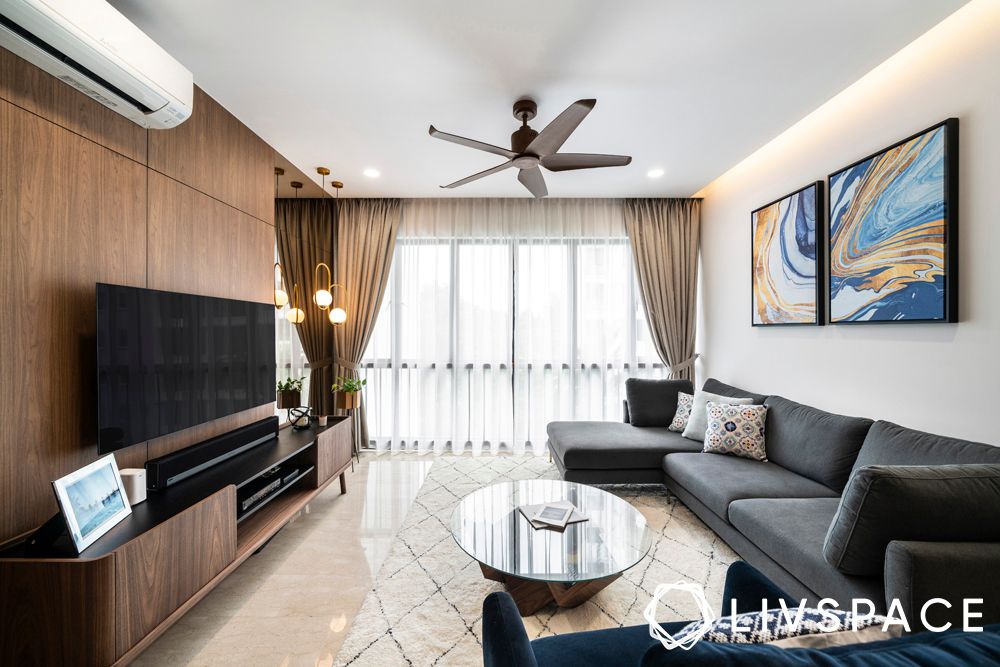 Whether you want a formal setup in your living or not, having the right furniture is essential. Some essential pieces of furniture for living rooms include sofas, armchairs, a centre table and a TV unit. Often we make the mistake of placing a sofa up against the wall or just randomly placing a chair or two in the living room. But, here's what we're doing wrong. Arranging furniture requires a little more time and effort. We recommend L-shaped sofas for compact living room interior design since they provide more seating space. Mind the availability of space, create a focal point, facilitate conversation and consider traffic flow when placing furniture.
Pro tip
#3: Add Area Rugs or Carpets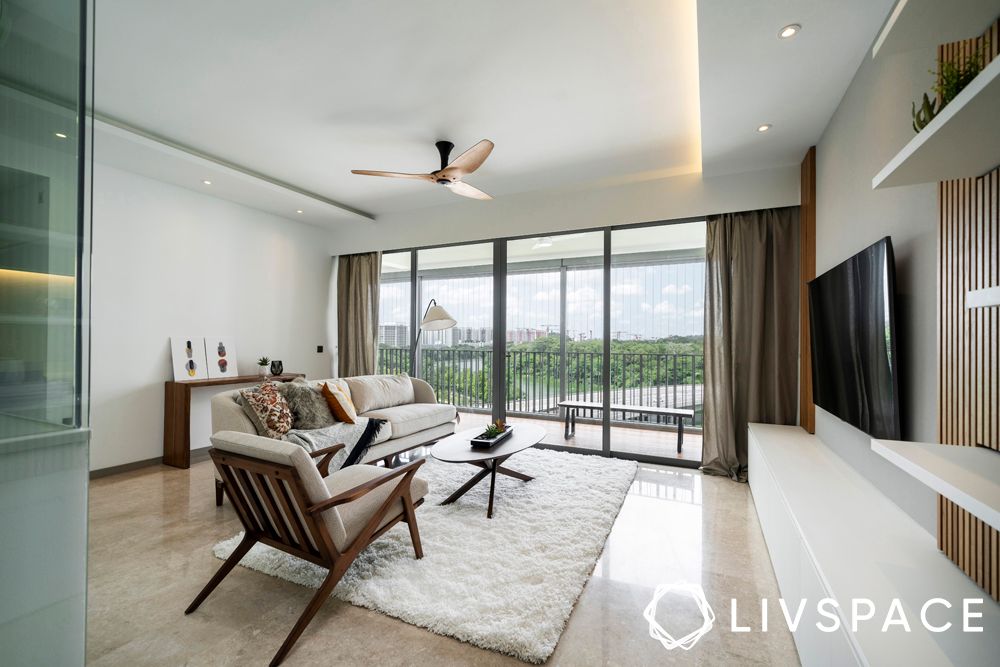 Believe it or not, area rugs can make or break a room. The colour, pattern, design, material — each of these can change the look and feel of the space. The most important thing to consider while buying a rug is the size. Buying a size too big or too small can spoil the entire look. If you are someone who loves following trends, then go for vintage or Moroccan rugs. They are huge this year. You could also experiment with geometric prints. Since we don't have extreme temperatures, you can stick to an area rug, instead of wall-to-wall carpeting, which will help to keep your floor warm.
Pro tip
#4: Lighting Plays a Major Role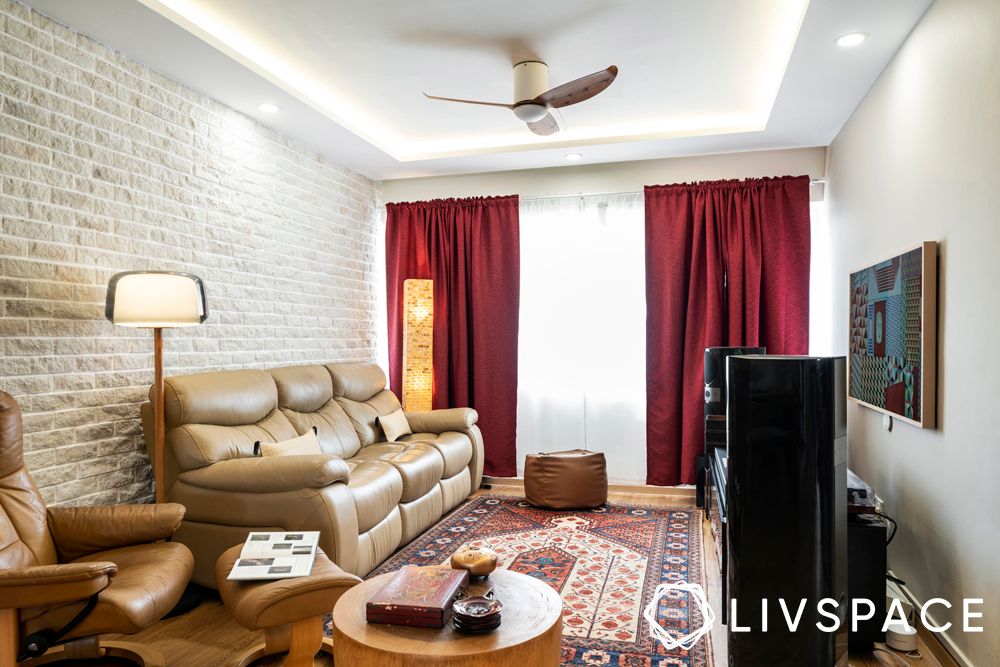 Lighting for any room is a tricky task to nail. For living room interior design, we need lesser focus lights and more ambient lighting since ambient lighting creates a welcoming and soothing atmosphere in the living room. We suggest you get a mix of ambient lights like false ceiling cove lights and recessed lights along with some floor lamps and pendant lights. Living room lighting should come from different sources and eliminate any sort of glare. If you have a compact living area, we suggest you go for a medium-sized chandelier or pendant and add a couple of recessed lights to the ceiling.
Pro tip
#5: Choose Paint Colours the Right Way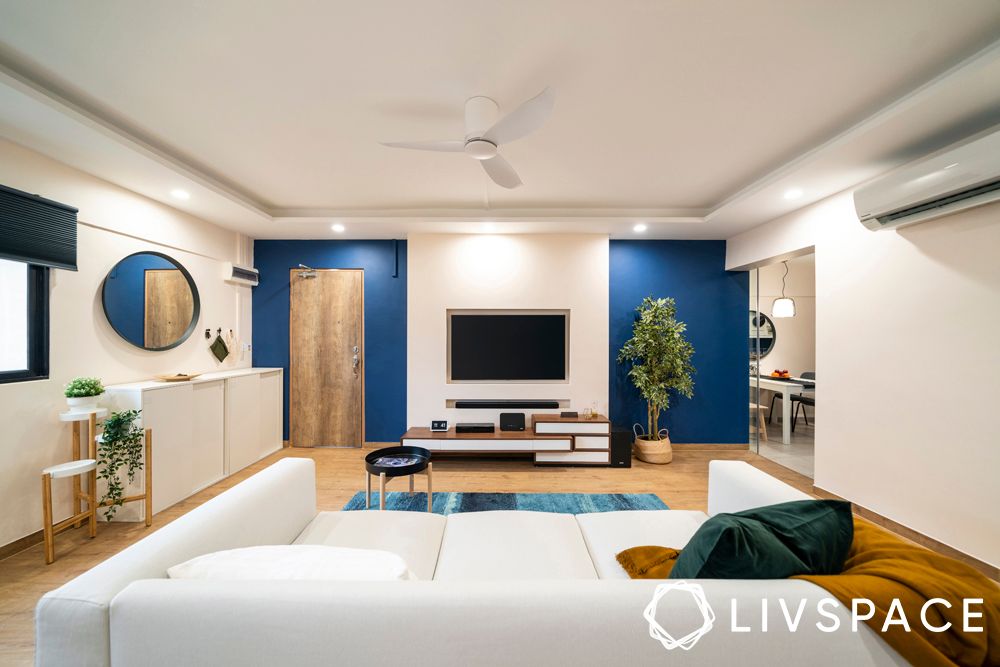 With endless colour palettes thrown at us, it sometimes gets difficult to zero in on the perfect paint colour for our living room interior design. Never ever choose the paint colour first. Always figure out what you want your room to feel like, be used for, what furniture you have/need and then think which colour would match with them. This is a trick that will go a long way. It is relatively easy and cheap to paint walls, when compared to other features. Select colours that resonate with you. Some trending colours this year are Pantone Classic Blue, champagne, olive green and pink. Make sure you do not use more than 3 colours on one wall.
Pro tip
#6: Don't Ignore the Walls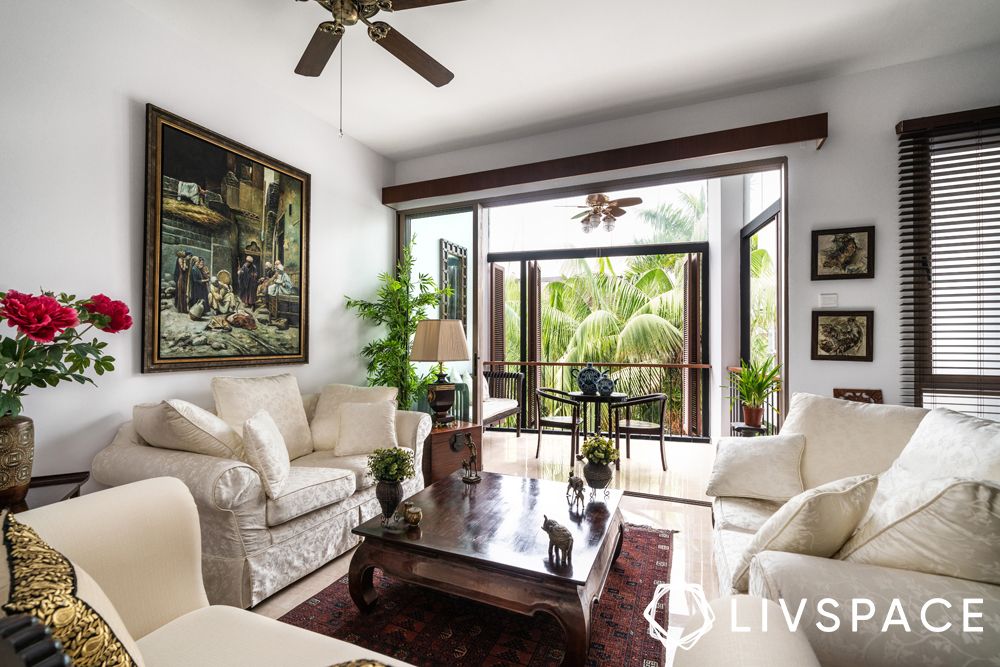 Here's the deal — empty walls either display your preference for minimalism or can portray a lack of personality. And when you have a simple or minimalist living room interior design on your side, then it's best to let your walls speak for you. Wall art is a very personal choice and we suggest you do not give this up. It can be a simple painting you picked off the streets of your favourite holiday destination or something exquisite. Whatever it is, it deserves a spot on your walls. If you have statement artwork that you want to highlight, then place it at the centre wall in your living room. You could also add dimension by adding mirrors to the wall.
Pro tip
#7: Use Appropriate Accessories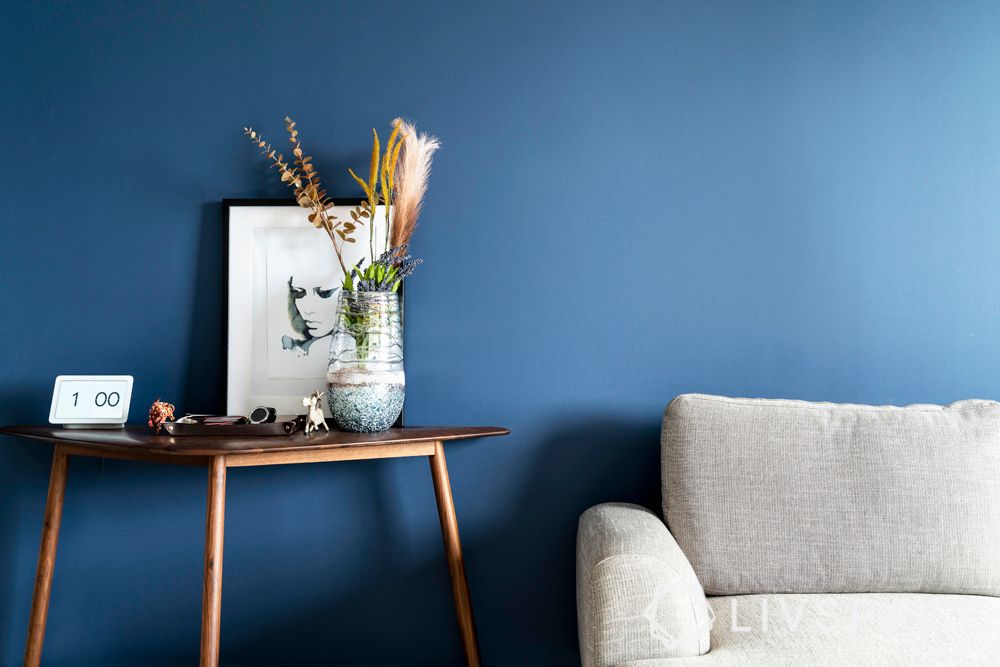 Do not forget to add a bit of warmth to your living room interior design with the right kind of accessories. From plants to memorabilia, there's a lot you can place in different corners in your living area. Get a bunch of dried flowers and watch Youtube videos on how to arrange them to create a stunning centrepiece. Little collectables from travel can also find their place on the side tables or shelves.
Pro tip
To summarise, while designing a living room you should
Have the correct measurements
Add essential furniture
Use rugs to add dimension
Add adequate lighting
Choose the right paint colours
Accessorise
How Can Livspace Help you?
It is always best to seek professional help when it comes to getting the perfect living room interior design. Book a consultation with Livspace and spruce up your home. Our expert designers will deliver quality and safe interiors. Learn more about our COVID-19 safety standards here.
If you've got the basics right, here are 5 Practical Tips That Will Make Your Living Room Feel Bigger.
Send in your thoughts and suggestions to editor.sg@livspace.com.