There's nothing more frustrating than waiting patiently for your HDB BTO to be completed, only to realise your TOP date has been delayed. In the case of Marsiling Grove BTO flats, this has become a reality. Though this can feel like quite the setback, we certainly see it as an opportunity to finalise your interior design plans. So, if you're feeling a little kiasu while waiting for the keys to your BTO, you can start planning for your home renovation now! Let Livspace help you with your Marsiling Grove interior design in Singapore, to save time.
We've created a mock design plan of what your Marsiling Grove BTO interior ideas can look like with our help. But don't take our word for it, let us show you the potential your new home holds, and how exactly we can help bring it to life.
How Can Livspace Plan Your BTO Interior Design for Marsiling Grove in Singapore?
Now that you have some time to spare before you move into your new home at Marsiling Grove, we recommend using it to plan your Marsiling Grove BTO interior ideas. You might already have an idea of what you'd like to do with your interiors, but execution is always an entirely different ballgame.
To know what you can and cannot do with your Marsiling Grove interior design Singapore, get in touch with our Livspace designers. Alternatively, you can join us as we tour this 4-room flat at Marsiling Grove, designed by Livspace, for a family of four.
#1: We Can Decorate Your Living Room With Chic Art and Curios
Just one look at this chic living room immediately transports you to France where loft apartments are designed the same way. From the luxurious colour palette to the niche decor, this space is nothing short of stylish. While the living room design in this Marsiling Grove interior design might not be everyone's cup of tea, it surely does make a grand statement.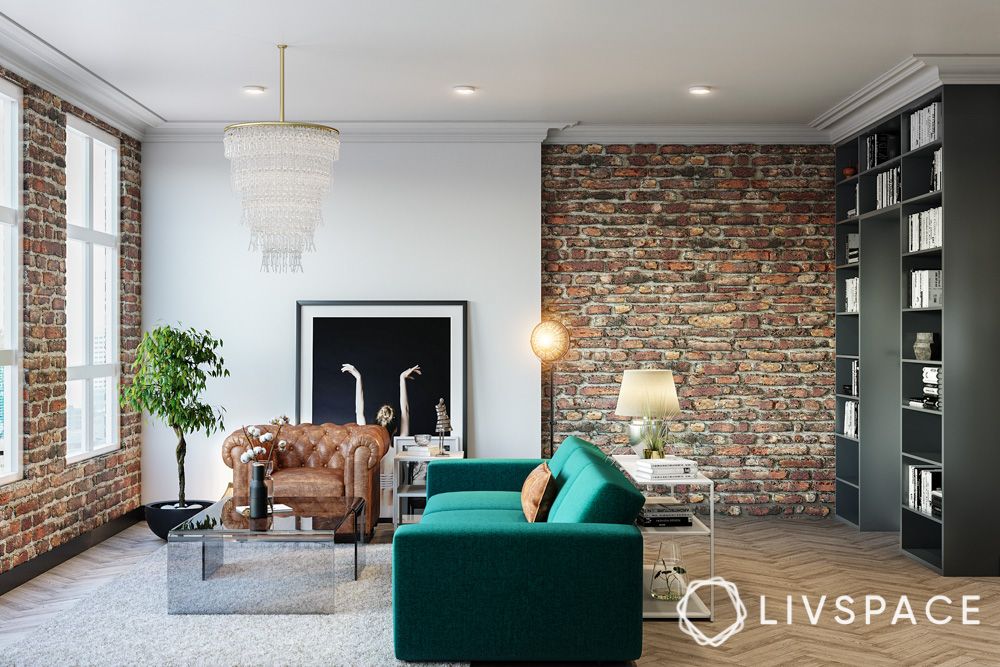 How Can Livspace Design Your Living Room?
We use plush textures like leather and velvet to create a luxurious vibe.
Brick wall treatments can give the BTO interior design for Marsiling Grove in Singapore a rugged character.
By keeping the wall art on the floor, we can make this space feel slightly less formal and imposing.
A grand chandelier can be used to anchor the space and give it its own personality.
To bring in an element of storage, we can use a full-height bookcase around the bomb shelter's entrance.
#2: We Mix Glass, Wood, and Brass Accents to Detail the Dining Area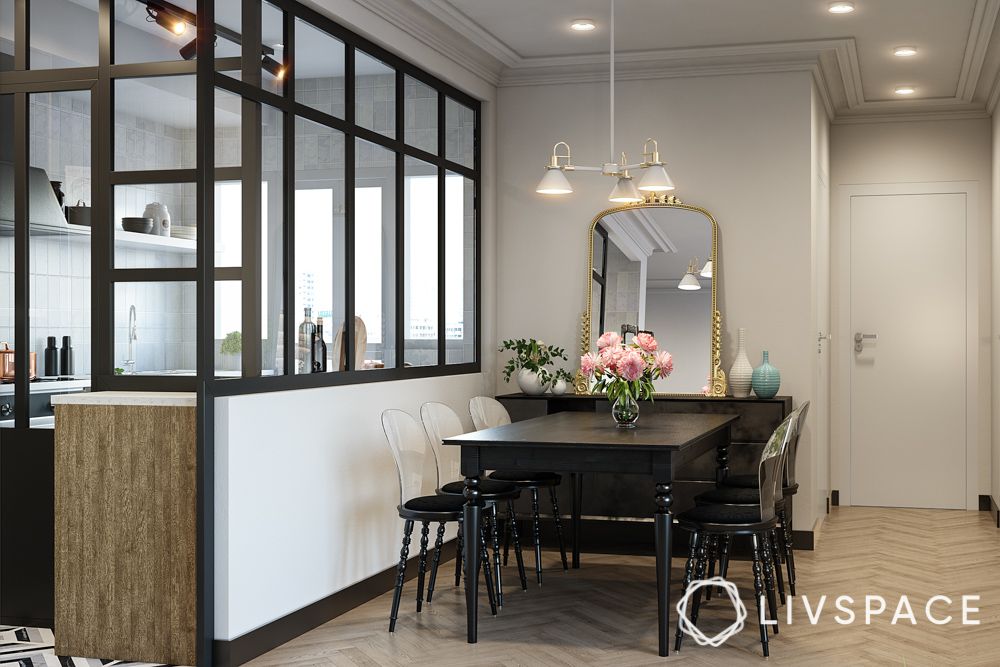 Much like the living room, the dining area of this Marsiling Grove interior design is subtle yet grandiose. The rich, dark brown shade of wood used in the furniture strengthens the industrial-style appeal of the home. Similarly, the transparent backrest of the dining chairs add to the modern look of the home, creating a spacious vibe.
How Can Livspace Design Your Dining Area?
While exploring some Marsiling Grove BTO interior ideas, we prefer to go for modern furniture that accentuates the loft style interiors.
A simple pendant light with brass accents can pair well with the dark wooden tones from the furniture and kitchen wall.
Since the dining area is not as expansive as the living room, we can use a simple mirror with a detailed brass frame to create the illusion of space.
Also Read: Bought a New Home at Kallang Breeze? Here's How Livspace Can Help Design Your Interiors
#3: We Keep the Kitchen Design Functional to Enhance Space-Optimisation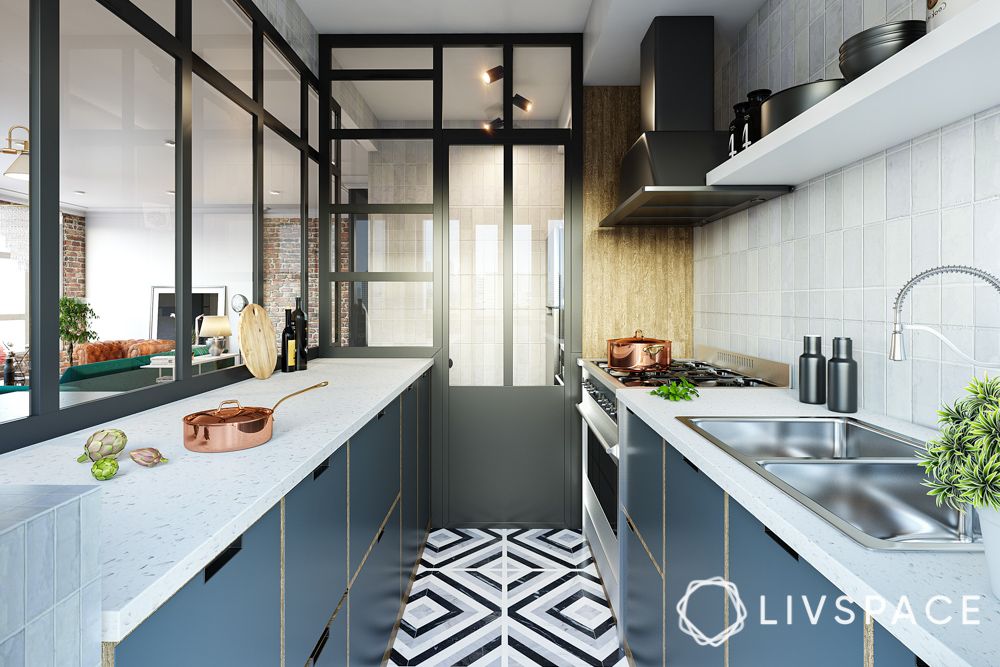 While the other rooms in this Marsiling Grove interior design in Singapore have cornices outlining the walls, the kitchen takes on a simpler approach. Since the kitchen space is rectangular, there are multiple Marsiling Grove interior design ideas to try out. Moreover, the glass panelling around the kitchen wall helps open up the space without allowing smoke/fumes from the kitchen into other parts of the home.
How Can Livspace Design Your Kitchen?
We can use textured porcelain tiles, just like this home, to decorate the walls and make them easy to maintain. Similarly, the patterned tiles on floor draw attention and emphasise the depth of the space, further increasing the height of the kitchen.
To better optimise the limited amount of space in this kitchen, we can divide the galley layout into various zones.
The wet zone and dry zone sit opposite each other to ensure that the family has sufficient counter space for cleaning and meal preparation.
A row of track lights can be used in the centre of the ceiling to help distribute light evenly throughout the kitchen.
Notice how there are no top cabinets in this kitchen? This element gives the kitchen a more spacious vibe.
#4: For the Master Bedroom, We Play With Different Wall Treatments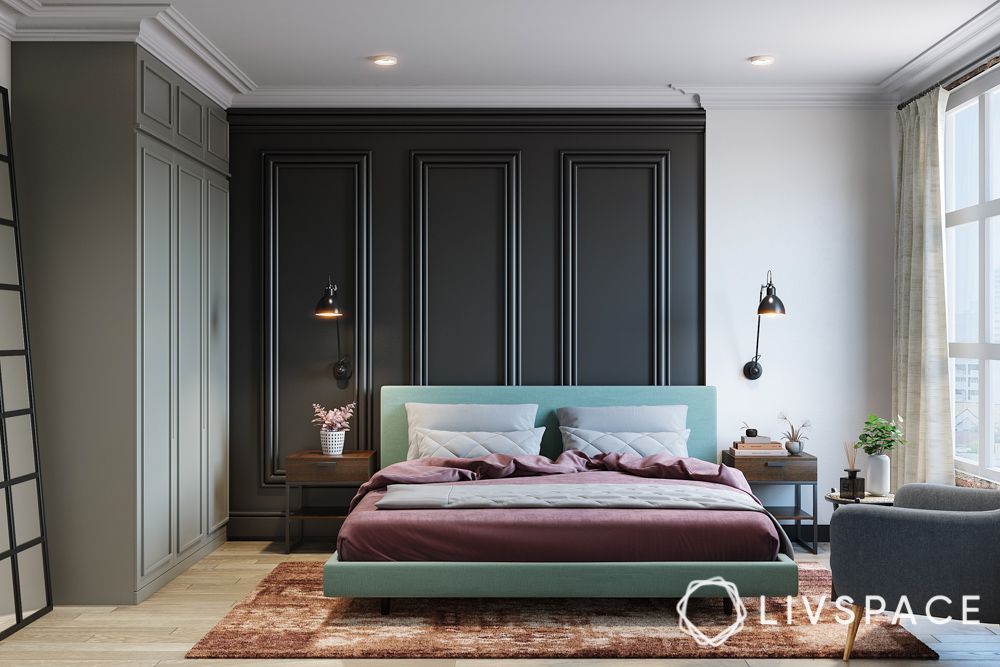 One of the most striking features of the master bedroom in this Marsiling Grove interior design is the wall moulding. At first glance, it seems as if this bedroom has both grey and black wall mouldings on either wall, adding some contemporary flair to the space. However, upon closer inspection you'd realise that the grey wall is actually a wardrobe unit!
How Can Livspace Design Your Master Bedroom?
For the master bedroom, we can tap into a few aspects of contemporary design by using wall mouldings with detailed trims for the feature wall and wardrobe.
To offset the contemporary aesthetic, we can bring in a brick wall to create an interplay between industrial and French loft-style interiors.
If one side of the room uses darker colours, we can keep the bed and other accessories lighter to add contrast.
Since this Marsiling Grove interior design follows a modern theme, we've added a full-length grid pattern wall mirror to accentuate the space. But our design ideas are not restricted to just this. Contact us for more amazing ideas.
#5: Our Master Bathroom Design Is Unlike Any Other
No matter how you look at it, white and gold are a winning combination. The master bathroom in this Marsiling Grove interior design is the real life testament to it. In fact, if you look closely, you might even notice a few similarities between the decor used in the dining room and here. If you guessed the mirror design and the pendant light, you're absolutely right!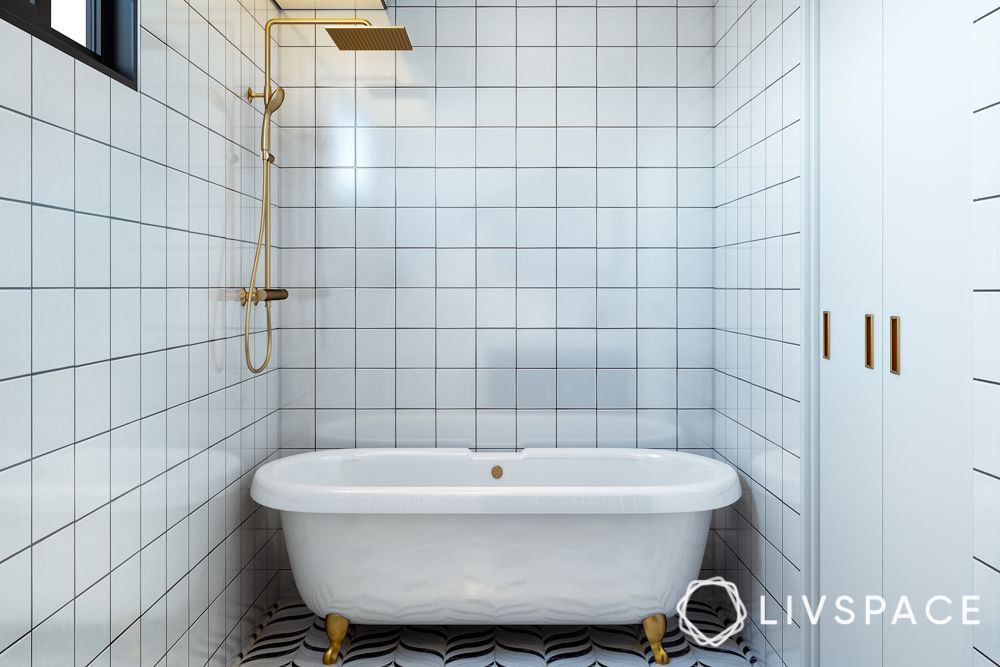 What Can Livspace Do Differently for Your Master Bathroom?
A small space calls for space-enhancing colour palettes like white among other Marsiling Grove BTO interior ideas. We use white tiles and accessories to design such compact bathrooms to help them appear bigger than they actually are.
Sleek brass accents can detail the shower accessories and vanity cabinet, lending a touch of luxury to the space.
To soften the all-white bathroom, we can opt for warm LED panels to add ambient lighting.
Also Read: How Livspace Can Create a Trendy Interior Design for a New BTO in Kim Keat Beacon
#6: Son's Bedroom – We Create a Space That's Perfect for A-Level Studies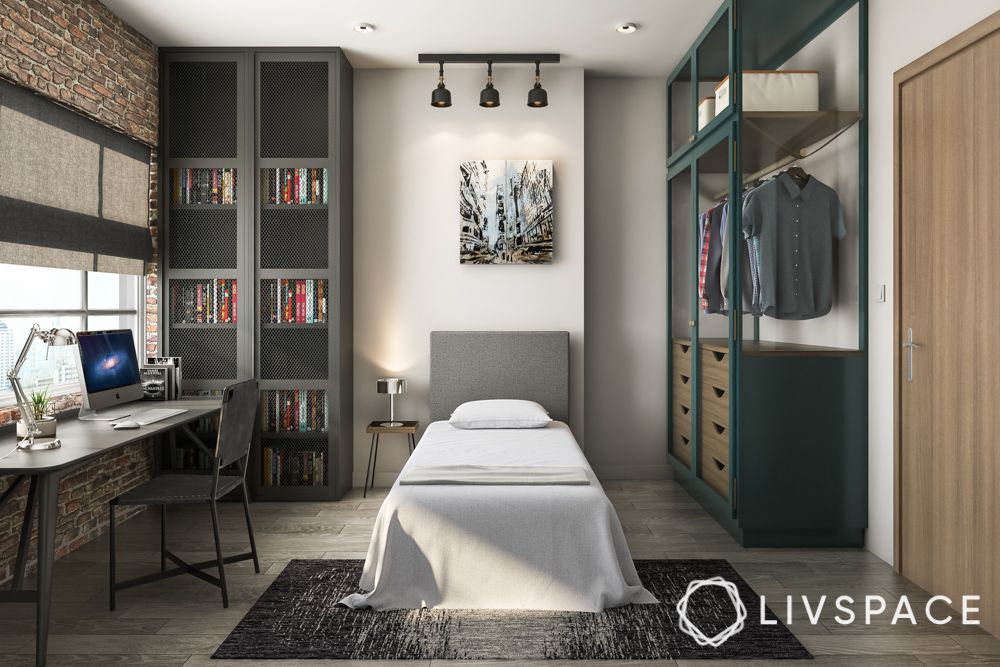 Need a functional space to buckle down and concentrate on your studies? We've got just the right Marsiling Grove BTO interior ideas for the job. The son's room in this interior design in Marsiling Grove, Singapore makes studying for A-levels a comfortable experience.
How Can Livspace Design Your Son's Room?
Just like this room, we can station the study table against the window to give your son a nice view while studying. Pull down blinds help keep the space shaded from too much light and heat.
Since the room is small, we can place a single bed in the centre of the room to allow traffic flow around the sides of the bed.
A floor to ceiling bookcase and wardrobe unit can make the best use of space.
To prevent the room from looking cramped, we can employ multiple useful Marsiling Grove BTO interior ideas. One such idea is using a partial glass wardrobe design to keep the room visually lighter.
#7: Daughter's Bedroom – We Have Just the Right Design Ideas for a Young Adult's Room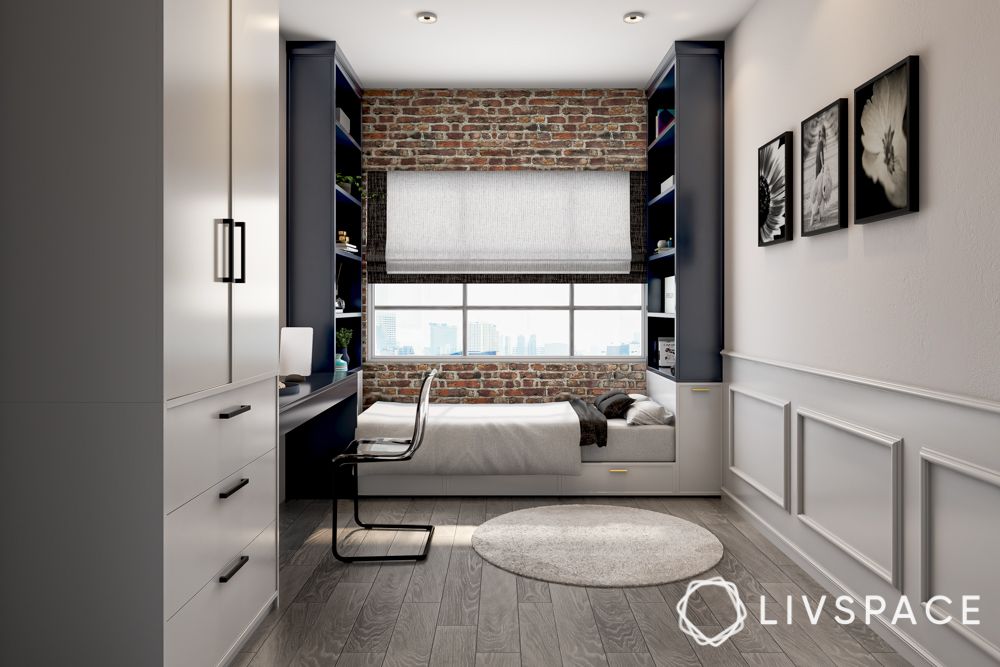 Checking all the right boxes while designing a 19-year-old's bedroom is not an easy task. So, what are the right Marsiling Grove BTO interior ideas to use in such cases? We have just the solution for you. Before you finalise a design style for your Marsiling Grove interior design, be sure to stick with something functional and timeless.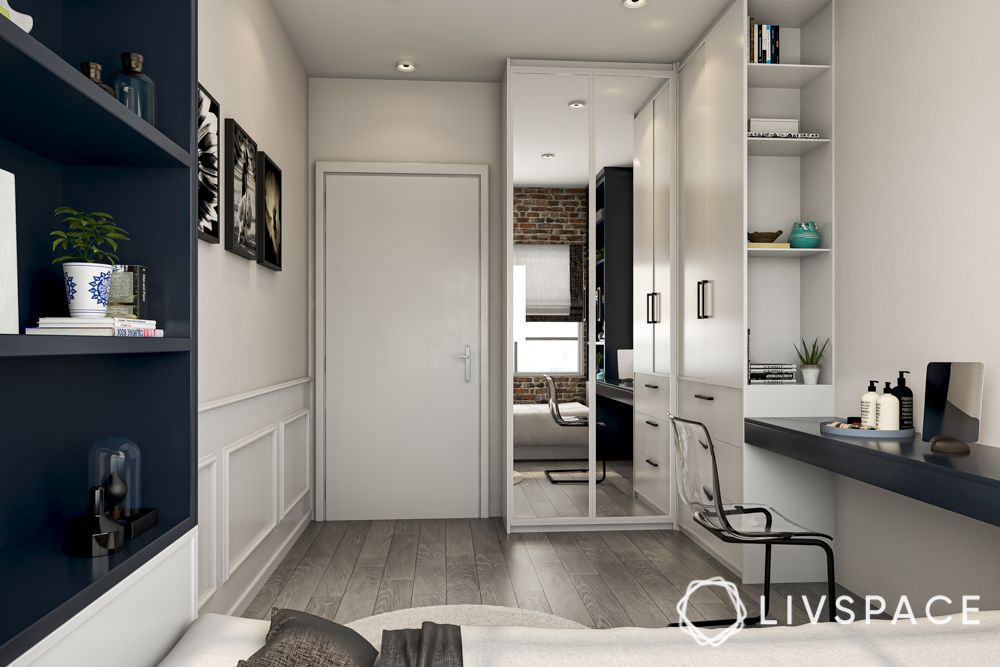 How Can Livspace Design Your Daughter's Bedroom?
Since a growing adult's space is fluid, it might be best to stick to a theme that can grow with their tastes and preferences. Stick with monochromatic palettes that can either be dressed up or down, depending on the choice of room decor.
A full length shelving unit, occupying both ends of the bed, carving out a cosy window alcove/sleeping area can help give the daughter sufficient space to store all her decor items.
Using similar wall treatments for this room can maintain the continuity in design across your BTO interior design for Marsiling Grove.
Here's an Overview of Marsiling Grove HDB BTO
| | |
| --- | --- |
| Name of the Project | Marsiling Grove |
| Sales Launch | May 2017 |
| Type of Project | BTO |
| Total Number of Units Available | 1,246 |
| Number of Blocks and Floors | 5 blocks; 30 floors |
| Length of Tenure | 99 years |
Now that you know how to go about your Marsiling Grove interior design in Singapore, let's look at what else the property has to offer. If you're a family that's always on the go, you'd be happy to note that the Marsiling Grove BTO is only a 15 minute walk from the nearest MRT. Similarly, there are multiple primary and secondary schools in and around the locality. This in turn makes it convenient to coordinate pick up and drop off schedules with your kids.
What's more, Marsiling Grove BTO offers multi-generational units that are perfect for 3-gen families. So, if you're a big family on the lookout for a home that can take care of your needs, you're in the right place.
How Can Livspace Help You?
We hope you found these Marsiling Grove BTO interior ideas useful! If you want your home to be just as beautiful, then look no further. Book an online consultation with Livspace today. Have some comments and suggestions you'd like to share with us? We're all ears! Feel free to write to us at editor.sg@livspace.com.