If you're buying a new home or looking at redoing your condo, you've surely heard of vinyl tiles or vinyl flooring. Vinyl flooring is a fan favourite amongst Singaporean homeowners as it is cost-effective and has a wood or stone texture to it.
It is one of the most used materials for flooring as replacing the flooring of your entire HDB or condo can be quite expensive. Thus, using vinyl floor tiles or vinyl sheets flooring makes it easy on the pocket as well as aesthetically pleasing. This story will also answer your question 'is vinyl flooring good' for your home.
What is Vinyl Flooring?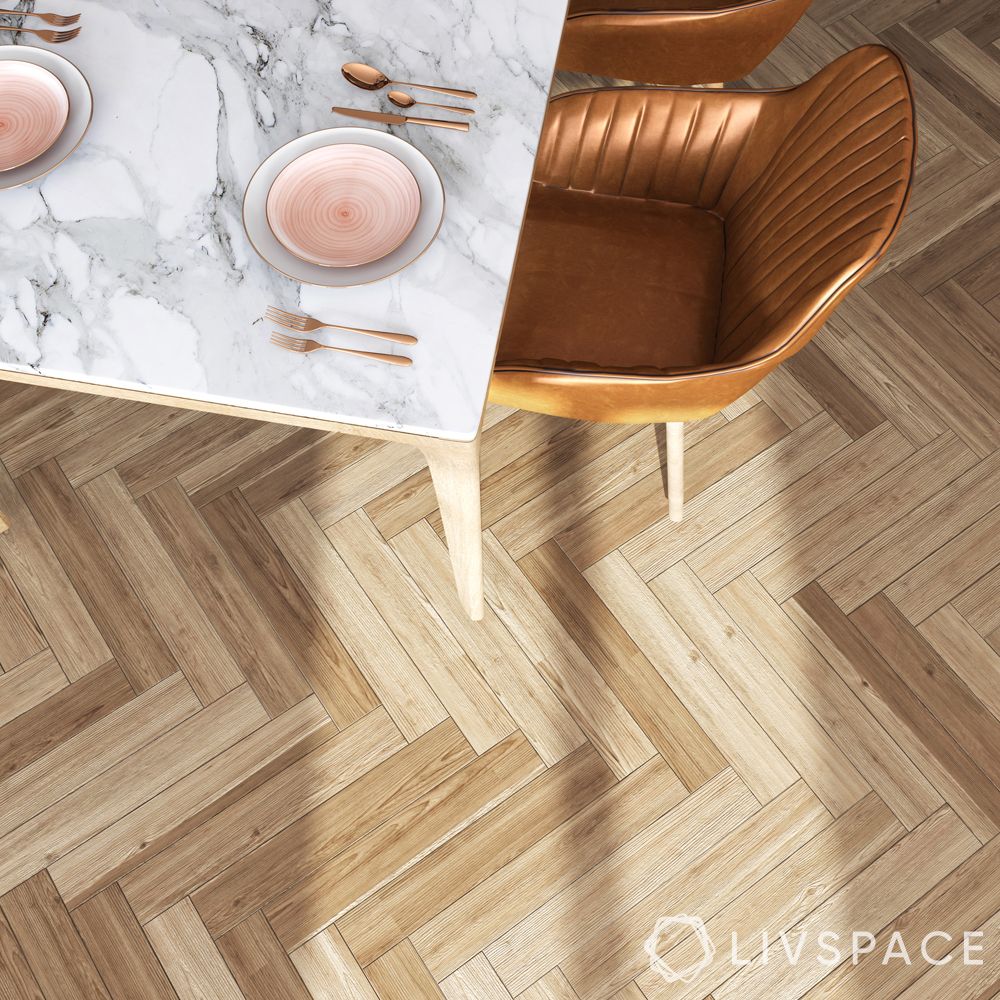 Vinyl tiles comes in the form of planks and tiles that are generally made to replicate natural hardwood or ceramic tile flooring. These are self-adhesive with a peel-to-stick mechanism making them easy-to-install as well.
Is Vinyl Flooring Good?
Given the durability, resistance to water and other pros, vinyl flooring is one of the best materials to choose for your home. It is also the most affordable option for flooring in Singapore. It can easily mimic natural wood or tile flooring and is sturdy. You can also pick from a plethora of options varying by colours, designs and patterns.
Also read: 5 Amazing Types of Living Room Floor Tiles You Need In Your Home
What is a Vinyl Floor Made of?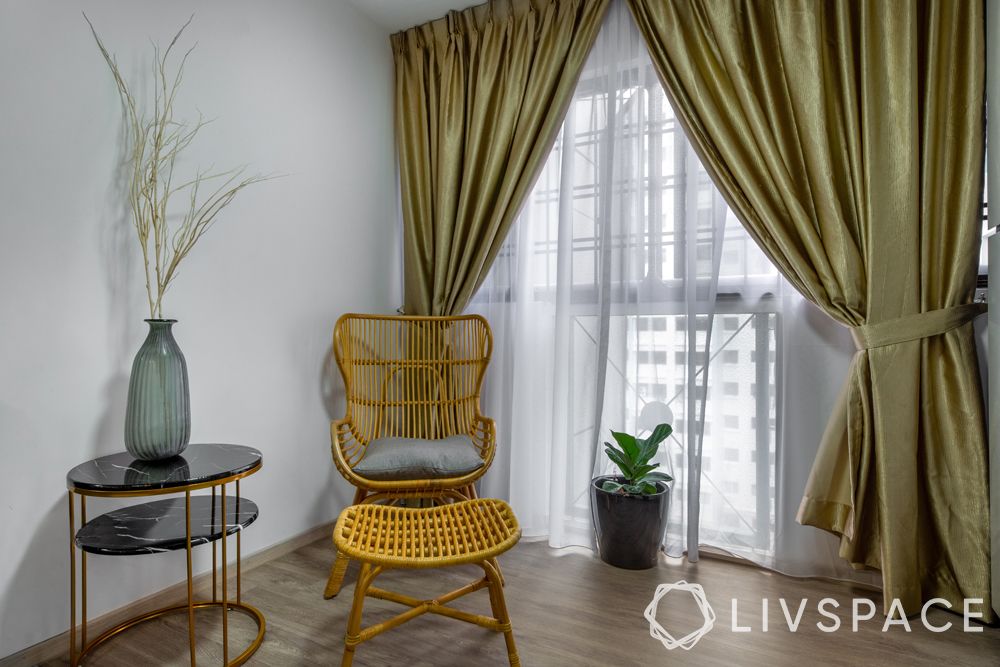 Vinyl tiles are made of different materials sandwiched together but mostly PVC (polyvinyl chloride). It is available as vinyl plank flooring or vinyl tile flooring in the market. Sometimes vinyl sheets flooring with a fibre-glass cushion backed flooring can be sourced.
Designs, Colours and Patterns
Whether you want to emulate a natural wood finish or a ceramic tile finish, vinyl flooring is available in a myriad of options in the market. Thanks to technology, any design you choose can be printed on your selected vinyl flooring material and be ready for installation. This makes it easy to use your innovative mind to think of playful flooring patterns and colours.
Vinyl Flooring Price
Depending on the vendor or the company, the vinyl flooring price starts around $5.5 to $6.5 per sqft. However, the vinyl flooring price varies based on the design, pattern, type of vinyl tiles and other factors. Still, compared to other materials, this is a cost-effective option, making it easy for you to get the flooring finish of your choice.
Maintenance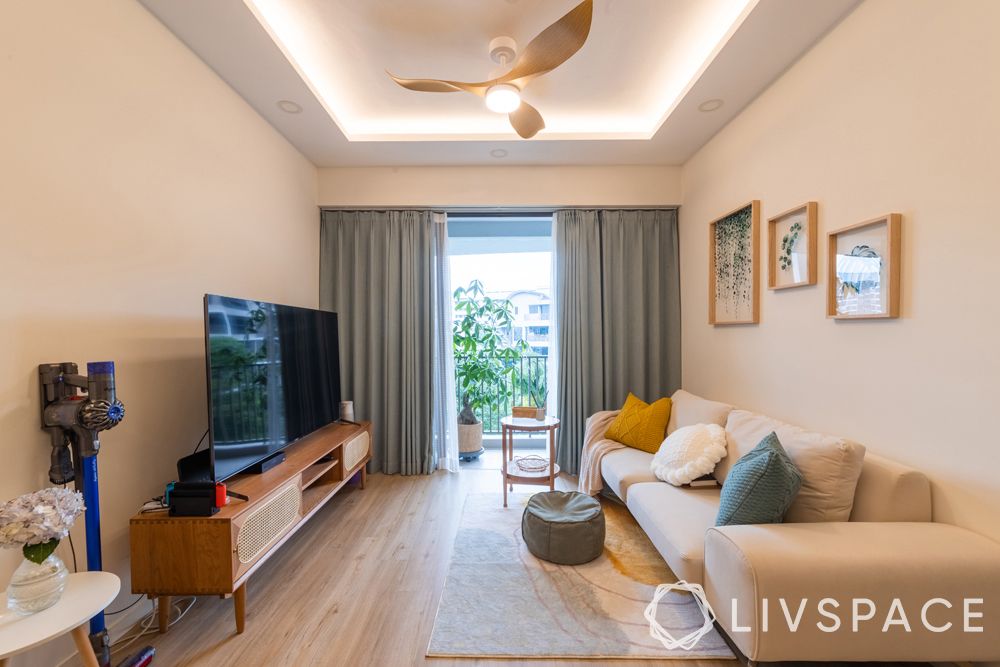 It is a sturdy water-resistant material. Thus, you can easily keep it clean by regularly dusting and mopping the floor using warm water and a mild cleanser. It is also scratch-resistant making it pet-friendly as well.
Pros & Cons
Before making any decision about your apartment's flooring, it is best to know all the benefits and disadvantages. Here are some of the pros and cons:
Pros: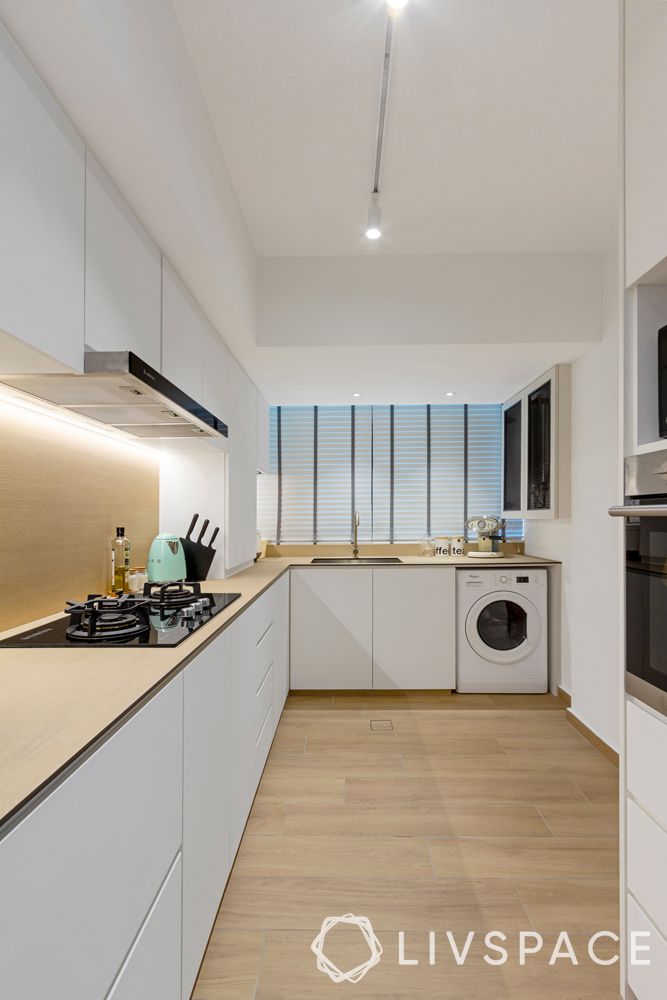 Easy to Maintain
It is water, dirt and scratch-resistant making it ideal for your home. It doesn't require a lot of maintenance and can be cleaned well by regular dusting and mopping. However, ensure you do not use mops with built-in scrubs that have hard bristles. Although it is scratch-resistant, it is not 100% damage proof.
Versatile and Durable
The vinyl flooring material lasts a long time and is worth every cent invested in it. Some vendors guarantee up to 20-25 years of warranty making it very durable. You also cannot see any signs of wear and tear because the material is scratch resistant and also doesn't chip or break like wood or ceramic flooring.
Affordable
Its cheap pricing makes it easy to do up the flooring of your flat easily. Especially when you're replacing the entire flooring of a huge home with lots of rooms; this is an easy way to save money on renovation. However, there is no compromise on the quality as the material lasts long.
Elegant Look
It is available in varying designs, styles, patterns and colours. You can choose any kind of design that matches the interior style of your home. Also, it looks identical to a wood or stone finish making it hard to tell the difference between vinyl tiles and natural finishes.
Comfortable
This flooring is softer compared to hardwood as they have a felt or a cushion-backed finish. This makes it comfortable to stand on for long periods of time. It is also smoother while being immune to scratches from pet nails. The soft and scratch-resistant surface makes it great for kids, too.
Easy to Install
With its self-adhesive system, it is easy to install. You don't have to shut down a part of the house to install flooring as they can be done at a fast pace without requiring a lot of drying time. It can also be installed on top of the existing flooring. It is a great way to hide cracked flooring.
Fan of wooden tiles? Read here to get the ideas to install them in your home.
Cons: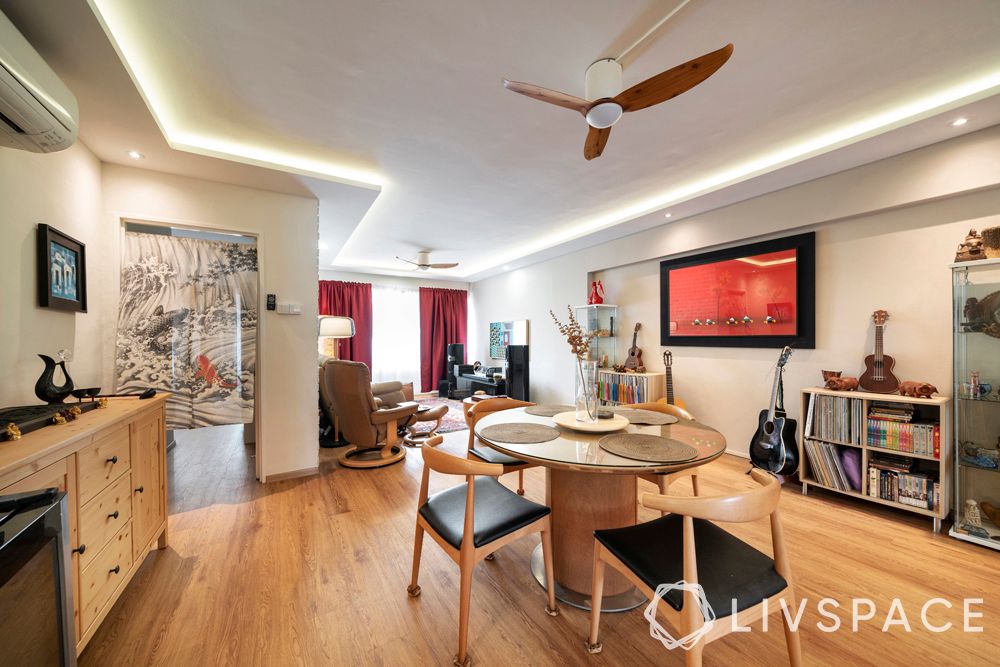 Discolouration
One of the cons of vinyl flooring is that its finish fades with time and constant exposure to sunlight. Although the material is sturdy, faded flooring finishes can look old and tired. Thus making it unfit for outdoor use.
Not Environment-Friendly
It is mostly made up of PVC which is not biodegradable. This makes it a tough choice for environment-conscious homeowners. Also, it is difficult to recycle. Only some brands offer recyclable vinyl flooring.
Damage From Sharp Objects
As stated earlier, it is not 100% damage proof. If you drop a sharp object like a knife or drag heavy furniture, the finish can be gouged out. Ensure that kids do not scratch it using pointed objects as that also can damage the finish.
Pre-Installation Checks
You need to ensure that the subfloor—the flooring on which vinyl plank flooring is installed—is free of dirt and tiny particles. If we don't clean the subfloor thoroughly, it can result in an uneven finish.
Emits VOCs
At the time of installation, it is known to emit VOCs (volatile organic compounds) as it is made up of PVC. This reduces indoor air quality and is harmful to the inhabitants, especially kids and those with respiratory issues.
How Can Livspace Help You?
Are you ready to install vinyl flooring at home? We are sure you will love it and our designers can help you get it right. Book an online consultation with Livspace today. Delivering safe home interiors has been, and continues to be, our No. 1 priority. Click here to find out how we deliver interiors following all safety protocols.
Vinyl flooring has its own pros and cons. However, the pros win out considerably in terms of affordability and durability. Also, designers use this to recreate hardwood or stone flooring in their designs for an elegant look. You can also check out 5 Simple and Effective Ways to Introduce Wabi-sabi Style at Home.
Send in your comments & suggestions to editor.sg@livspace.com.