In these new times, the quality of living is of utmost importance to us. It dictates a lot of what we let happen in our surroundings. One straightforward example of this phenomenon is the modern living room design. It has become extremely experimental and it boldly allows the user requirements and preferences to render unique, specific results. It is sometimes difficult to categorise such living rooms as they borrow elements from many different interior styles. Thus, we have put together 7 efficient modern living room styles by Livspace. Let's begin!
#1: A True Modern Living Room Design
During the early 20th century, the minimalists rejected the norm of excessively ornamenting the homes and restricted the use of furnishing to absolutely necessary elements. They were also keen on including natural materials for finishes of the surfaces. Thus, birthing the modern design style that lives on to inspire mid-century modern, post-modern, contemporary, minimalist and industrial design styles.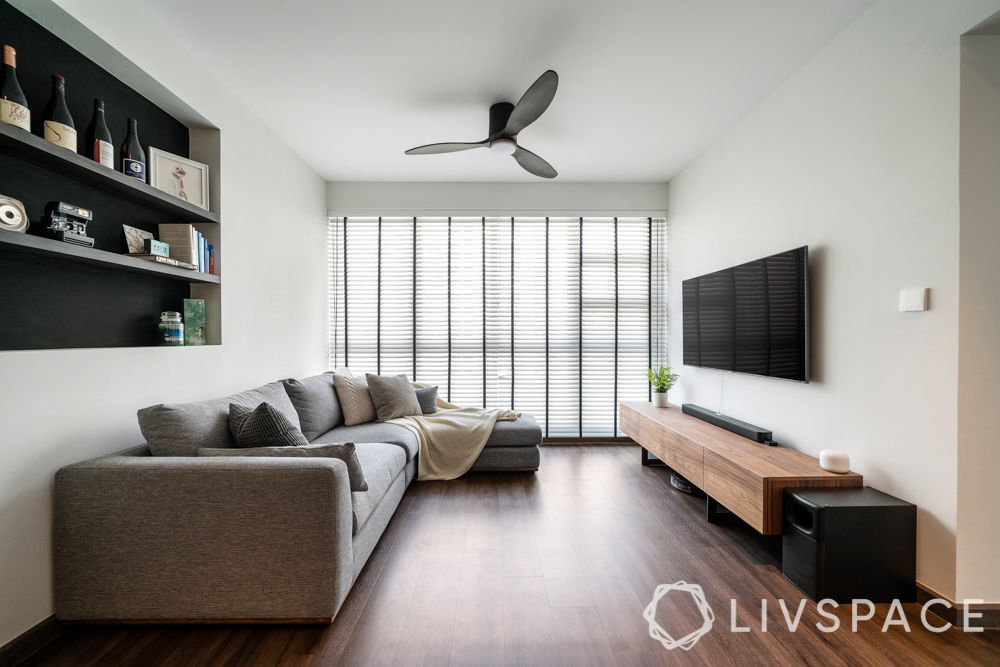 Features Of This Design
Philosophy
Form follows function
Layout
There is a sectional sofa in a neutral-coloured fabric finish, parallel to the minimal TV unit. Free movement around the space is highly supported by omitting the coffee table.
Finishes
Use of wood in the flooring and in the entertainment unit remarks the most important modern living room design feature. Other surfaces are finished in neutral colours, obeying the design principles.
Other Furnishings
A set of pillows with a throw blanket to make the modern design of sofa set seem more comfortable. The sheer curtains that diffuse the sunlight allow the room to be well lit throughout the day.
Read more about this 4-room modern house design here.
#2: Modern Minimalist Living Room
Minimalist interior design was inspired in the 1950s by modern design style. It follows a monochromatic colour scheme and declutters the space to bare essentials that will serve meaning to the lifestyle. It also adhered to the open concept layout of the modern living room design and maintains its integrity in utter simplicity.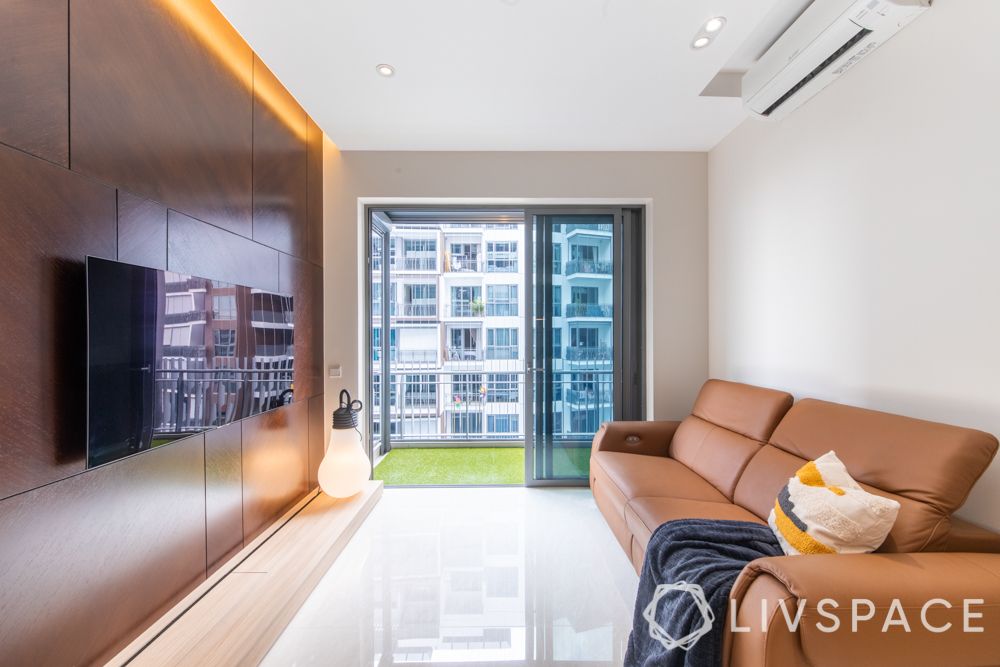 Features Of This Design
Philosophy
Less is more
Layout
A straight sofa parallel to the accent wall of the room. Omission of coffee table to ensure free circulation in the modern minimalist living room.
Finishes
Monochrome leather sofa and laminate wall finish.
Other Furnishings
A quirky large sized bulb serving as floor lamp and cove lighting in the false ceiling. Single pillow and throw blanket to add comfort.
Take more inspiration from this 3-room condo.
#3: Modern Luxury Living Room
Luxury interior design is often laden with metallic-details and lavish elements. Typical to large spaces and high ceilings, this kind of design is premeditated to look extremely comfortable. For instance, the layered ambient lighting adds warmth to the modern living room design. To complement, the walls are usually finished in neutral colours and warm textures. Finally, some modern accent furniture creates drama and interest in the room.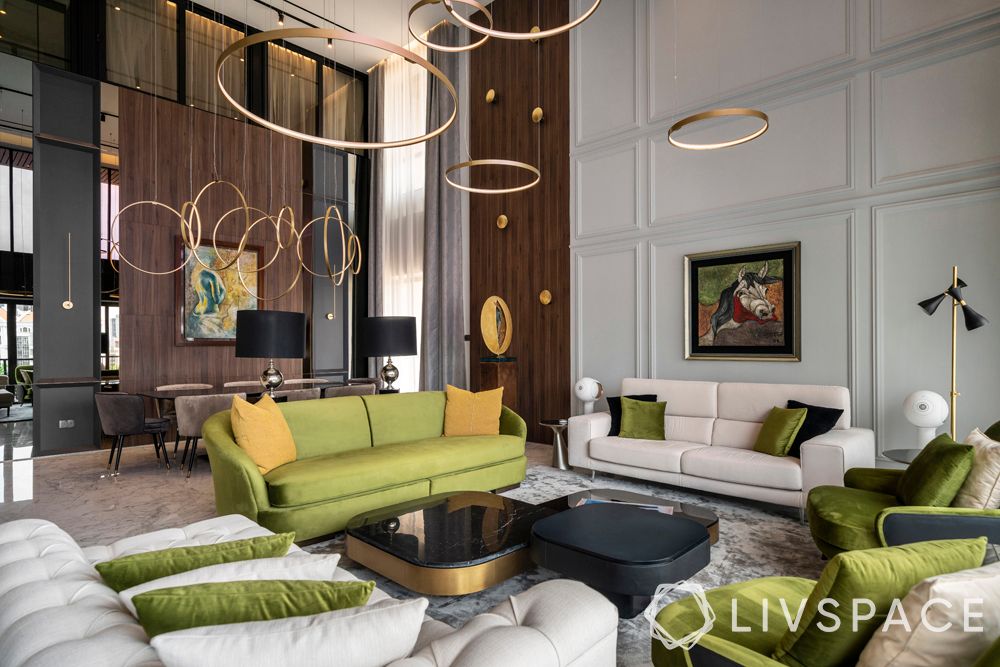 Features Of This Design
Layout
This open-concept modern living room features a round seating layout with a modern sofa set design. This results in a subtle enclosure of the area to finally differentiate the living room from the dining room
Finishes
Some walls are finished with wooden laminates and golden sconces in this modern living room design. Other walls have picture frame mouldings and are finished in a neutral colour paint. A large rustic rug also helps defining spaces in the large room.
Other Furnishings
There is a layered lighting that first starts with abstract contemporary chandeliers, shaped like rings and placed at the centre of the dining and living room. Golden wall sconces and finally the track lights meet the lighting requirements. The large tasteful paintings also add visual interest to the space.
Check out the luxury interior of this penthouse condo by Livspace.
A highly influential, early 20th century design that focuses on light and bright interiors with a sense of 'hygge' — loosely translates to "cozy togetherness". Scandinavian style, along with Bauhaus style, influenced the Modern, Mid-Century Modern and Post-Modernism design styles in the US in the 1950s. It is also known for featuring excellent craftsmanship in the interior design.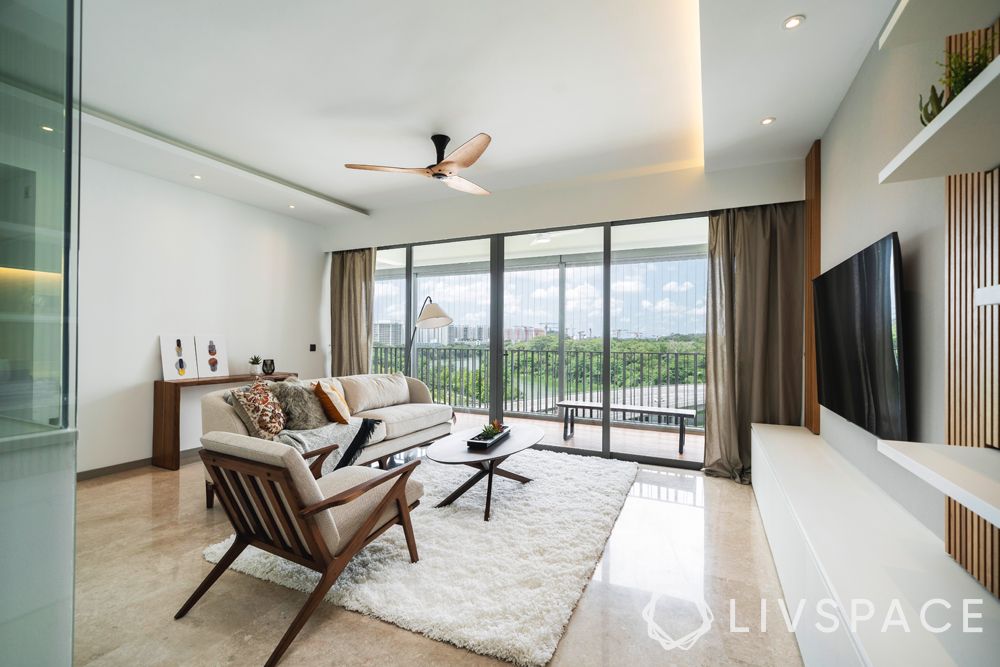 Features Of This Design
Philosophy
Functionality, simplicity and clean lines
Layout
An L-shaped seating layout, facing the well-crafted entertainment unit leaves ample space around the modern living room.
Finishes
Obvious use of only light colours, along with fluted oak panels to display brilliant craftwork. Additionally, the panelling with mirrors to accentuate the natural lighting in the room.
Other Furnishings
A soft white rug adds to the 'hygge' factor in this modern living room design. It is also complemented by some cheerful pop of colours from the pillows on the sofa.
See more of this feng shui-compliant and wheelchair accessible condo design.
#5: Industrial Living Room
This style is easily identifiable owing to the use of raw building materials like concrete, iron and bricks, as well as exposed elements like the conduits and piping. There is also the use monochromatic colours like whites, greys and blacks. Inspired from old factories and industrial spaces, this modern living room design, evidently sports high-ceilings and expansive windows.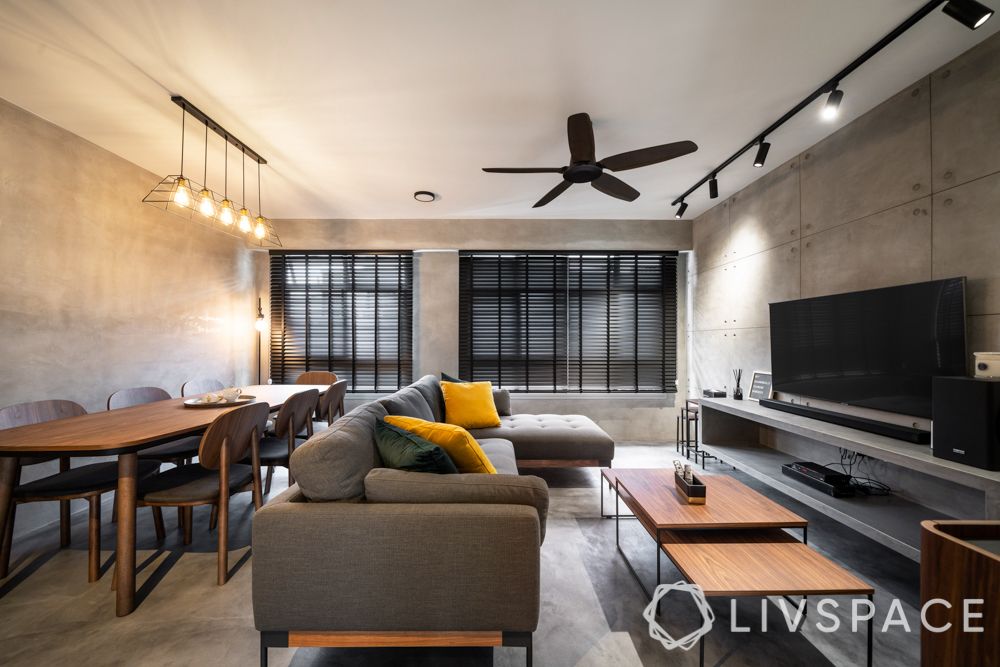 Features Of This Design
Philosophy
Raw, unpretentious and edgy.
Layout
This industrial design by Livspace consists of a grey sectional sofa, a wood and steel coffee table and an entertainment unit made from concrete.
Finishes
You will notice cement screed cladding on the walls, exposed concrete floors and also the grey fabric-finished seating in this modern living room design.
Other Furnishings
There is task lighting above the TV unit using track lights and industrial halogen-mimicking chandelier over the dining table. Sheer blinds on the window allow ample natural light during daytime. And finally, he yellow and green throw-pillows add a pop of colour to the room.
Find more design ideas from this storage friendly 5-room HDB.
#6: Contemporary Living Rooms
Contemporary style is an ever-evolving experimental design that tries to incorporate as many textures as possible. Consequently, it is a combination of elements from various styles that employs clever uses of colours, textures and shapes.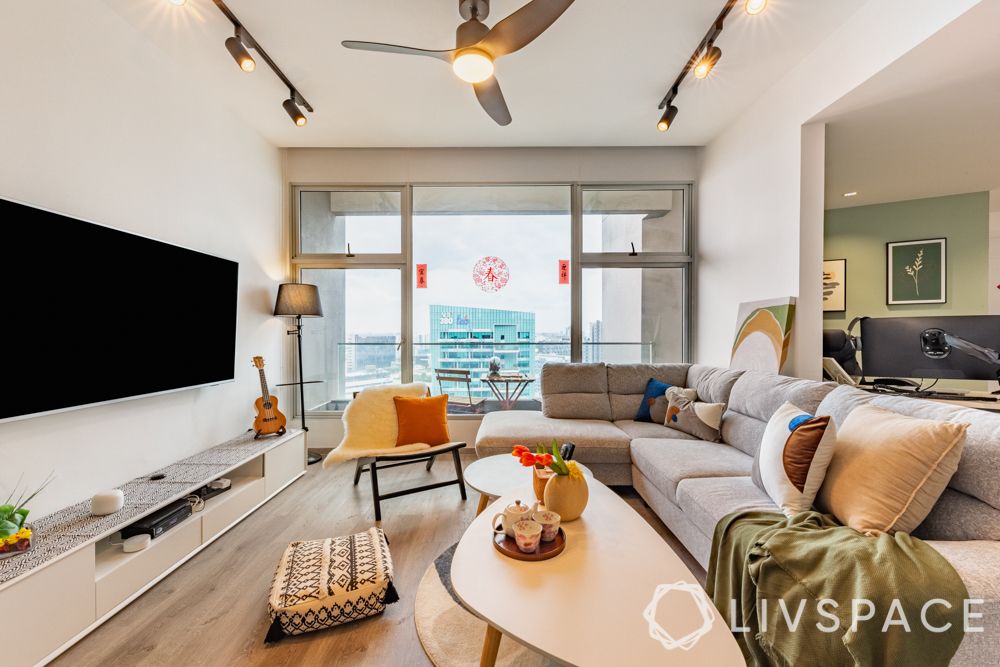 Features Of This Design
Layout
A flexible layout offered by a variety of seating options like sofa, chair and floor cushions. Also notice the modern quirky table and the low TV console design.
Finishes
Wooden flooring and a rug with abstract design. White paint on the walls is not necessarily a feature of contemporary living rooms but can easily become a part of them.
Other Furnishings
Pillows of various colours and sizes, with a blanket to make the living room cozy. Floor lamp, track lights and a fan with lamp offer a layered lighting system.
You might want to check out this 3-room condo interior design. It also has some boho and Scandinavian vibes.
#7: Traditional Elements in A Modern Living Room
These are modern designs that loan decor ideas from the 18th to the 19th-century European homes for their new layouts. Taking advantage of the absence of minimalism, there is extensive use of curved lines, accessories and sumptuous furniture. There is typically dark wood used in such designs because it creates beautiful contrast against the neutral walls.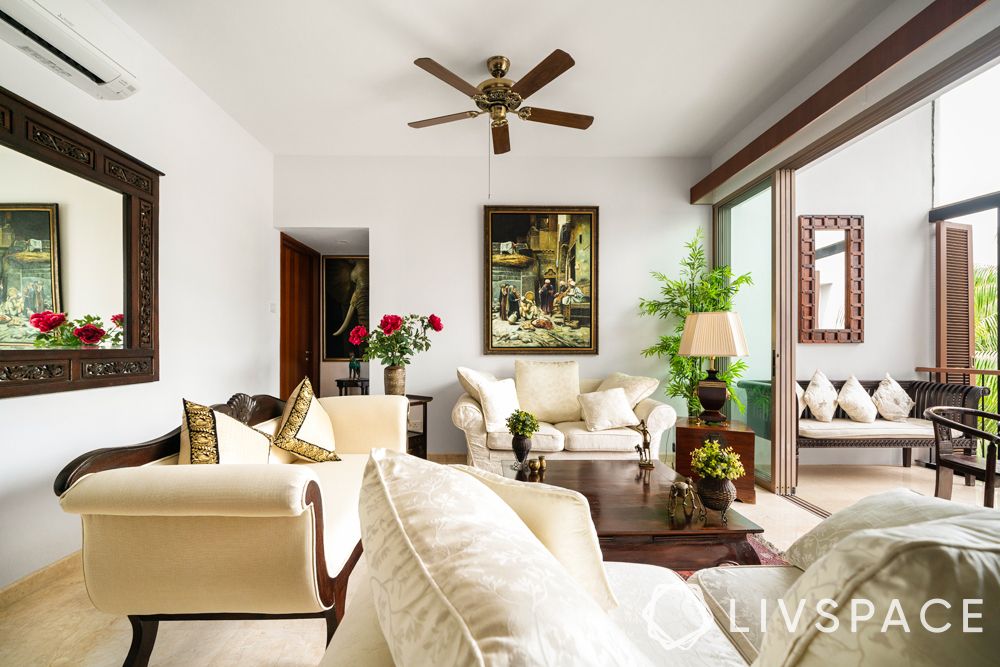 Features Of This Design
Layout
Following the symmetry in layout, there is a U-shaped regal sofa set with a heavy and dense centre table.
Finishes
Neutral coloured walls are ornamented in dark wood with curved, intricate details. A large sized traditional rug is in the centre of the room. The upholstery is usually made of rich silk, velvet or leather.
Other Furnishings
This type of living room design typically consists of large flower vases, candleholders, chandeliers, wooden frame art works, lamps shades, framed mirrors, and finally, some gold and silver decor pieces.
Check out this 3-room condo with traditional interior design.
We hope you have found your modern living room design and are, finally, ready to decorate. To deepen your understanding of these designs and how they render a given space, read We Applied 5 Different Styles to the Same Living Room.
If you have any comments or suggestions, we are happy to hear from you at editor.sg@livspace.com.
How can Livspace help you?
Did you find these small apartment designs inspiring? You can also get such beautiful interiors for your home with the help of Livspace. All you have to do is book an online consultation with our design experts to get safe and quality interiors. You can learn more about COVID-19 safety protocols here.