Do you plan to own a multi generation HDB in Singapore anytime soon to accommodate your multigenerational family? Jumbo HDB flats usually follow the open layout, which means that spaces need to be demarcated for each family member. This can be quite a challenge. Fortunately for you, Livspace is here to show you how it can be done! . We discuss four ways in which you can design your jumbo HDB flat so that each member of your multigenerational family is comfortable. We picked a multigenerational HDB from Block 666, Yishun Ave 4 designed by interior designer Pallavi Bhagwat with Jamal Ali as the project manager. This home is envisioned to be perfect for a family of five, which includes parents, Prem and Tracy, and their two children, and a dog. This home has an open-plan living and dining area, one master bedroom and two other bedrooms.
#1. Incorporating the Study Area in Living Room of the Multi Generation HDB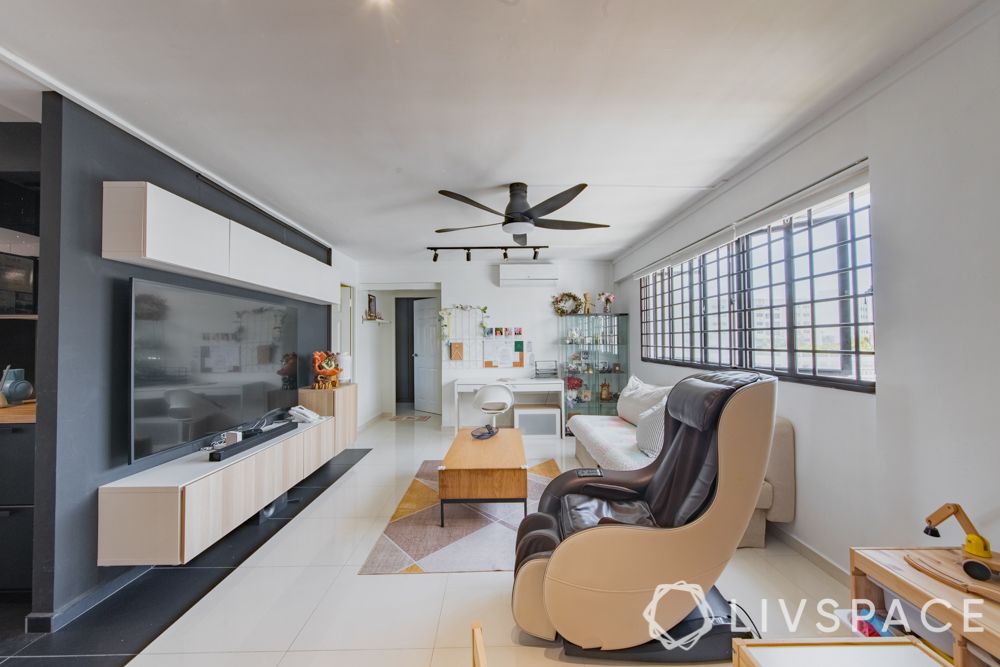 A living room is the place where the entire family can spend time together. As this flat follows an open layout, our designers decided to make efficient use of the space and incorporate the study area into the living room with a white chair and a table in front of which is a bullet-in board . What can be better than working and studying with the family being around? Then there is the fact that it saves a lot of space too! A combined study and living room is a perfect idea for people who need a change of environment from time to time to work on creative projects. A comfy massage chair and a sofa-cum-bed in the living room is ideal for relaxation after a long day of work and study.
#2. Italian Cafe-Style Breakfast Corner in Your Multi Generation HDB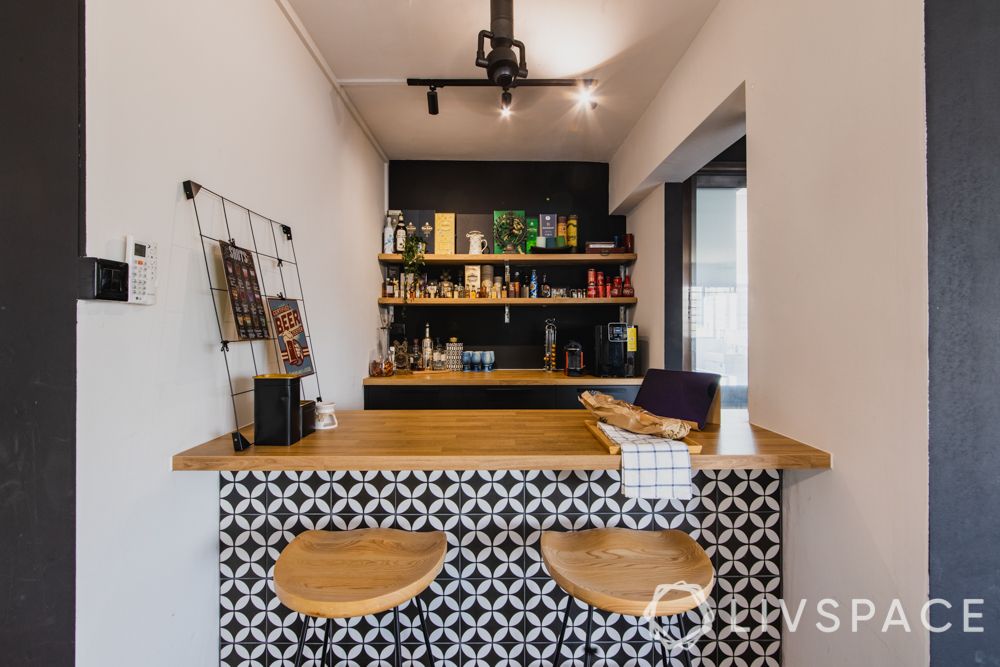 Breakfast nooks are a great way to infuse some style in your home. . This home has an Italian-themed breakfast-corner-cum-bar area, which is an ideal spot to welcome and entertain your friends and family. This area is right next to the kitchen and has been interestingly designed with black walls, black cabinetry and striking countertop tiles. With this cafe corner in your house, you can be assured of your home interiors being trendy.
#3. Walk-in Wardrobes Instead of Covered Wardrobes in Your Multi Generation HDB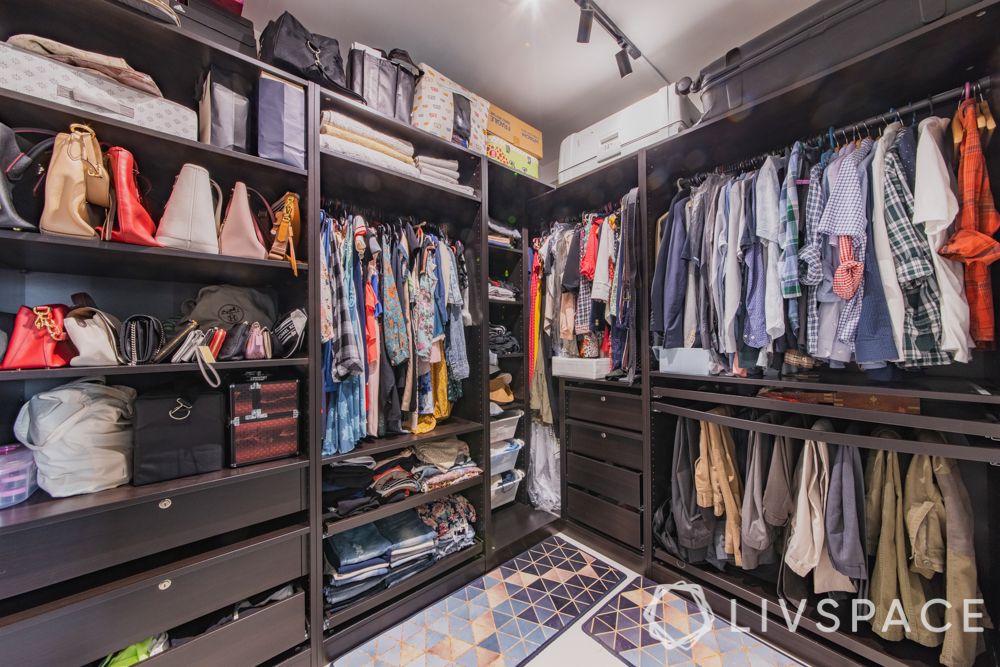 If you have space, then there is nothing like a walk-in wardrobe to give your home a luxe look.. Prem and Tracy's house has a walk-in wardrobe in the master bedroom where they can keep their clothes and accessories. Walk-in wardrobes are multifunctional and are perfectly suitable for the modern home but you need to ensure that they are perfectly integrated into the interior design of the bedroom. .
#4. A Dedicated Work Plus Gaming Space for Your Multi Generation Home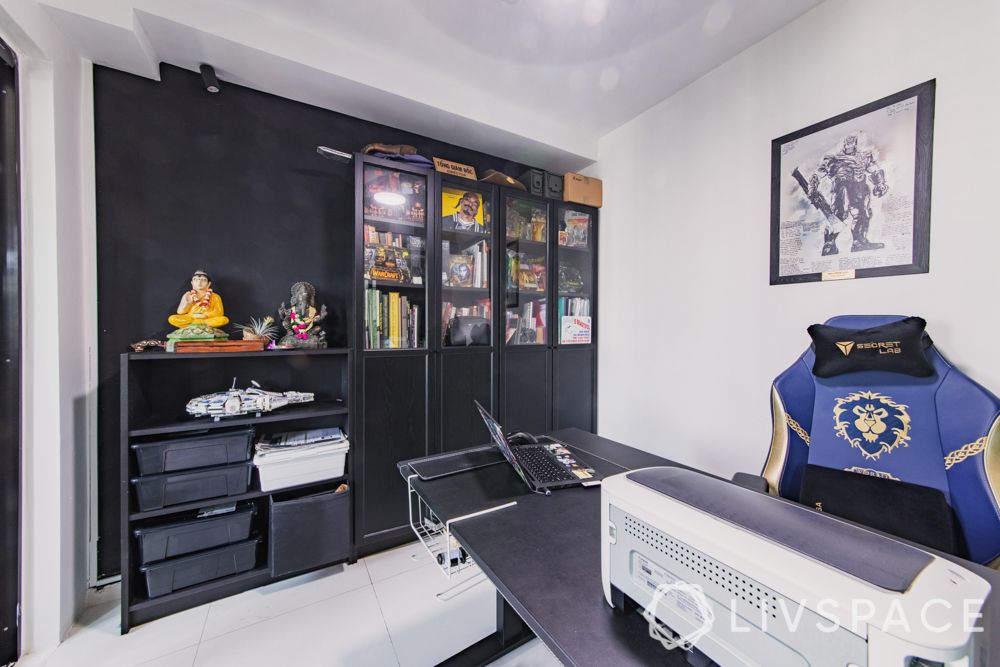 With COVID-19 changing the way we live, and work , home life has undergone a drastic change. Every home now generally has a work corner or room dedicated as a home office space. Tracy and Prem wanted a peaceful workspace for their home where they could work in comfort but also take breaks from time to time and play , which is just what this space is all about. Moreover, creating glass doors or huge windows allowed them to work from home without being distracted but still maintaining a connection with the rest of the household even as they worked.
This multi generational HDB gives you perfect design ideas that you can implement in your home too and make it multifunctional and easy to maintain at the same time.
Our interior designer Pallavi Bhagat said:
"This was my first jumbo flat project and I enjoyed designing with the luxury of space. I have tried to incorporate as much of the clients' love for the colour black as possible. I think it blends beautifully with the wood and white to give a very youthful appeal to the home."

Pallavi Bhagat
Tour this 5-room family home: