We are often aware of what we want our homes to look like and what we expect from them. Just like Yin Hang and Liu Huan, who knew what they wanted for their new 4-room HDB BTO. So when they chose Livspace over 3 other interior design firms, they were sure that we understood their requirements and could deliver for them. Our designer Alan was absolutely clear about the project scope, design concept and costing, which made a very trustable first meeting impression on Yin and Liu.
"Alan and our project manager Jaden are very attentive, helpful and thorough. Defects were reported by them instead of leaving them for me to discover. They responsibly carried out day-to-day follow-ups with me as my renovation period was of tight 2 months. Response time was instant from both of them. Alan would personally bring us to site and propose ideas based on our needs and budget instead of selling expensive designer options."

Livspace Homeowner, Yin Hang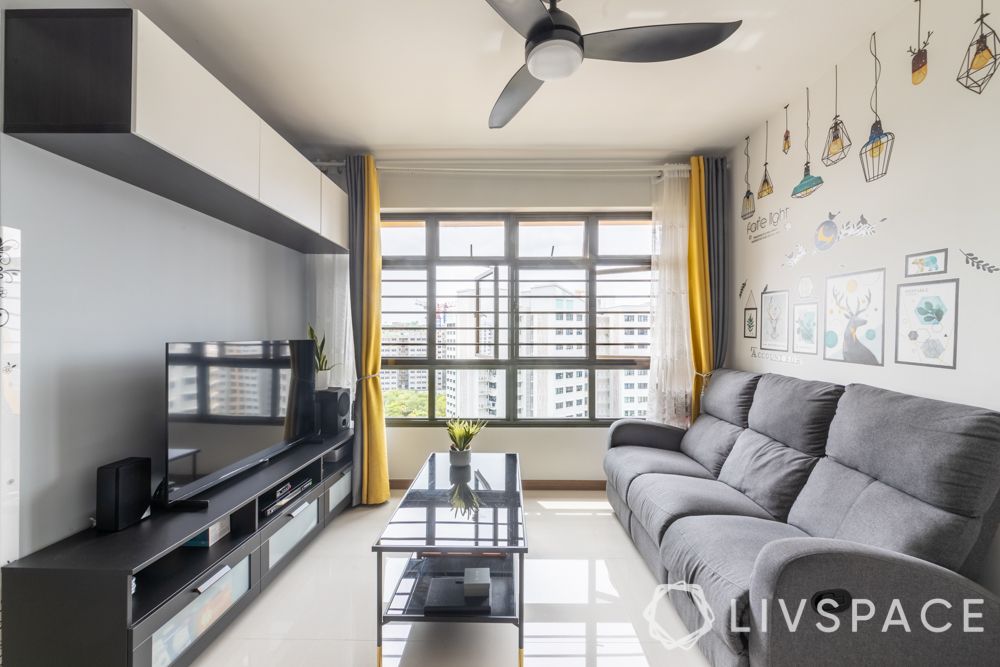 Who livs here: Yin Hang, Liu Huan and their son
Location: 478A Yishun Street 44
Type of home: 4-Room HDB BTO
Livspace team: Interior Designer Alan, Project Manager Jayden
Livspace service: Full home furnishing
Budget: $$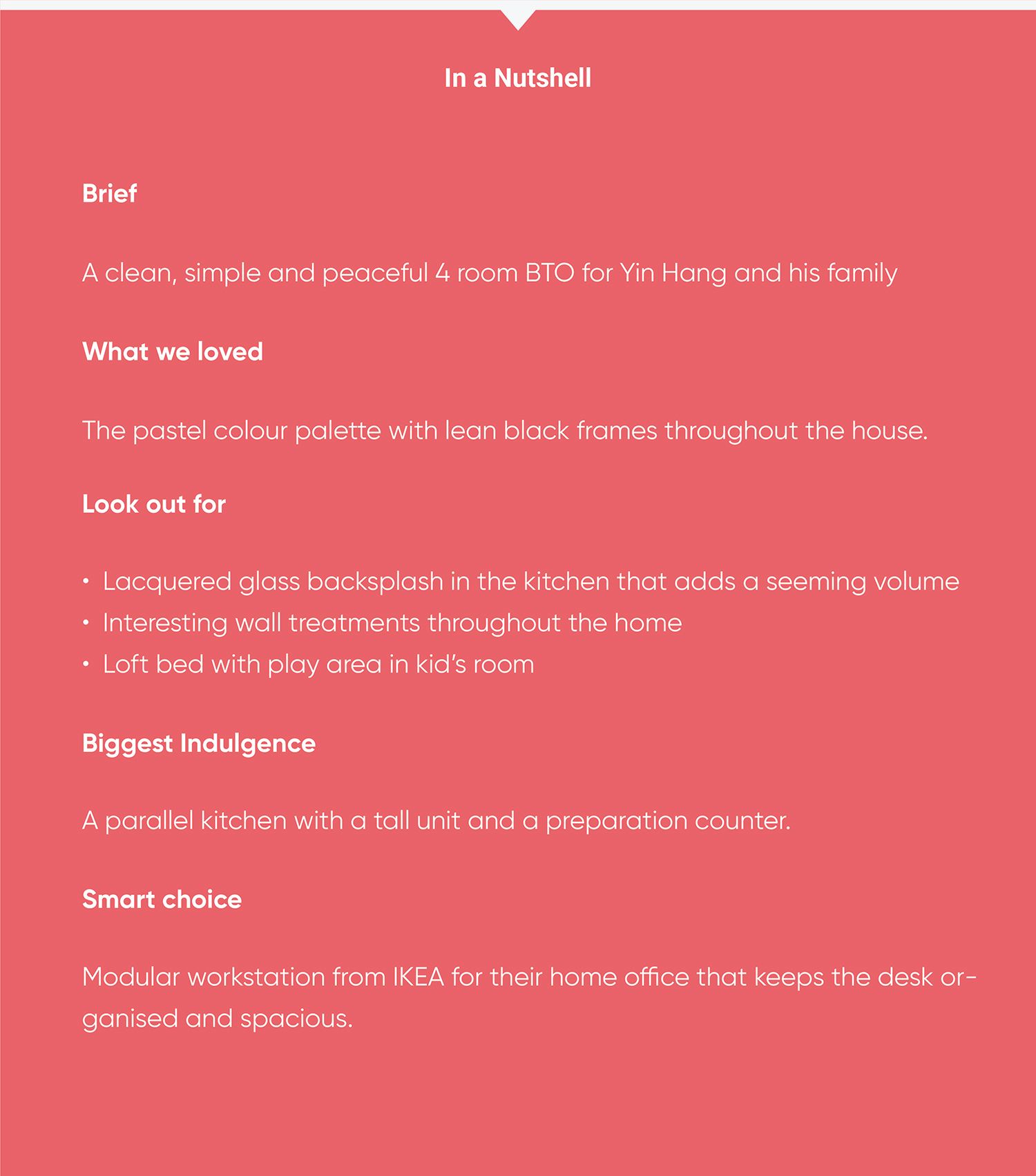 Living and Dining Rooms Setting the Tone of the Interiors
There is a soothing homogeneity in the carpentry work around the house. Evident upon entering, the black, white and grey in the living and dining rooms bring a sense of modesty. Bright yellow drapery breaks free from the monotones to add a little drama and to bring attention to the window. The floor-to-ceiling height of the curtains also make the room seem deeper than it is.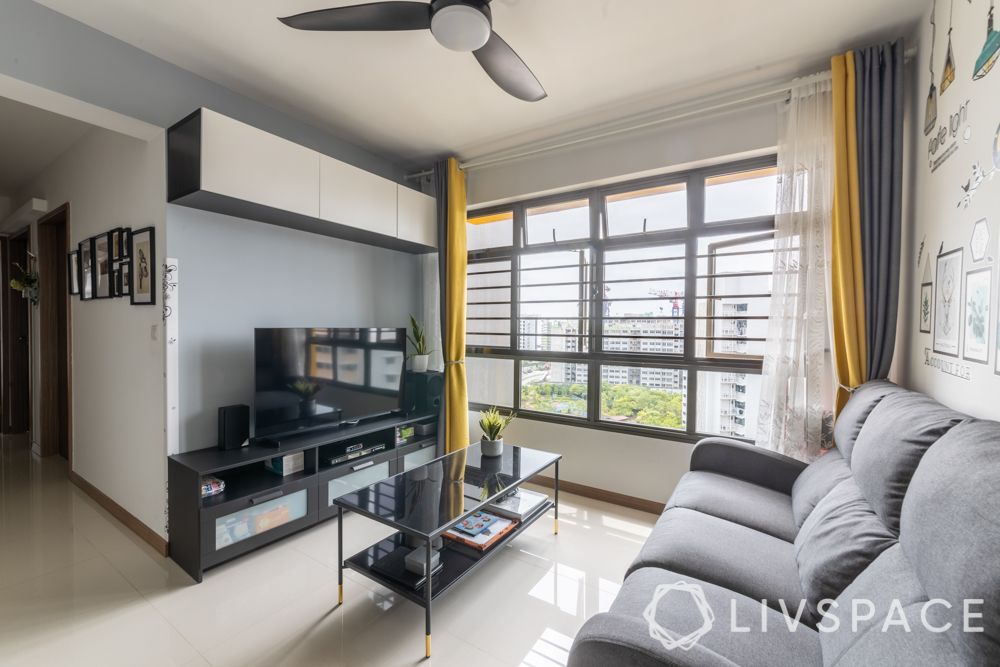 The open floor layout lets the light travel from the living room window, uninterrupted, till the dining area. Consequently, the entire 4-room HDB BTO is brightly lit and seems noticeably warm, just like the family wanted. The pastel blue long wall binds the living room design to the dining room.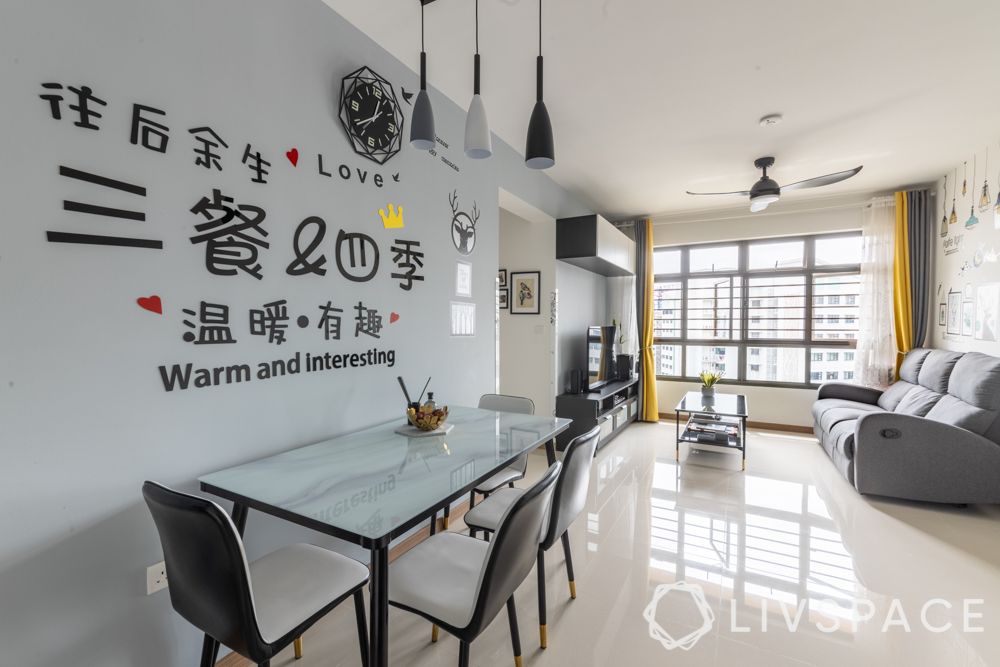 The fun wall treatments are meant to benefit Yin and Liu's little one, who is learning fast and needs mind stimulating elements around the house. Wallpapers like these encourage creativity in kids and Alan worked hard to make sure the house is child-friendly in every possible way.
Beautiful Black and White Parallel Kitchen in this 4-room HDB BTO
Continuing the impressions from the living and dining rooms, the kitchen too is built using understated design elements. For instance, all cabinets are laminate finished in black and white. Also, none of the cabinets show any handle or knob. They are easy push-to-open kind that make the working in this kitchen smooth and effortless.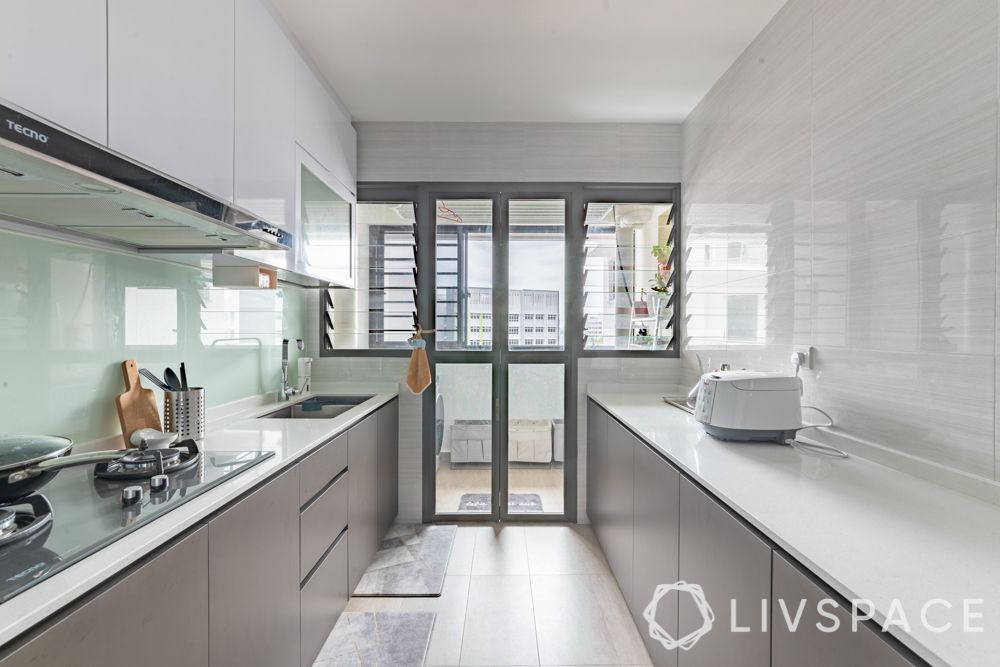 Liu required her kitchen to be well-lit and easy-to-clean. Therefore, apart from the bottom cabinets and a preparation counter atop, Alan chose to cover the other wall in white reflective tiles. This indeed, allowed more light inside and made the kitchen look spacious in this otherwise small 4-room HDB BTO.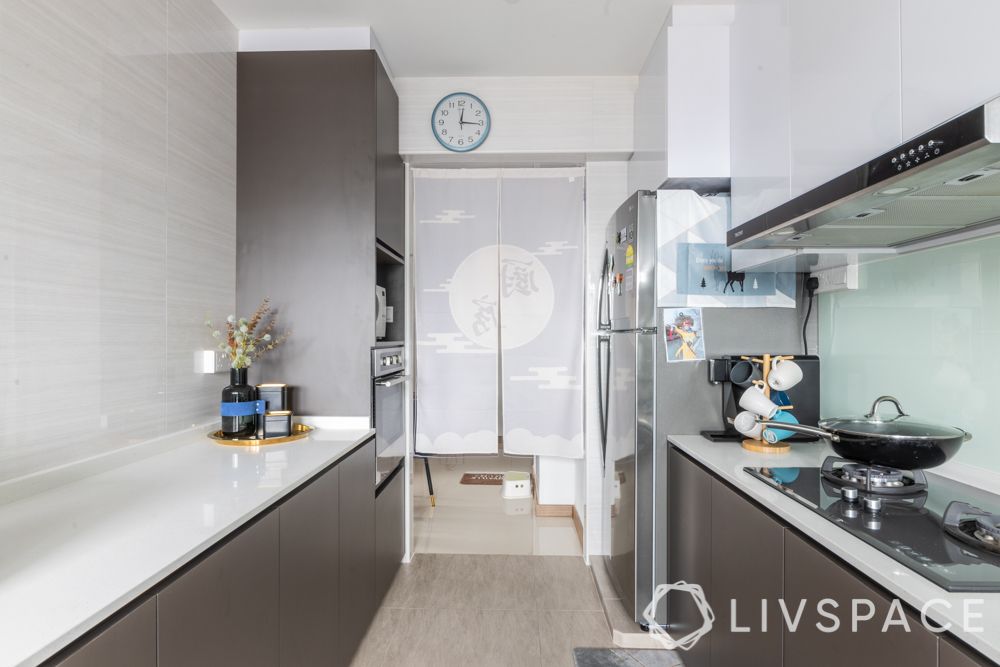 What stands apart in this kitchen design, is that it is meant to enable the workflow of Liu, who loves to cook. She uses many appliances, sometimes even simultaneously! Hence a tall unit houses all her appliances in one place. This unit was placed at the entrance of the kitchen so Liu's workflow remained unhindered by it.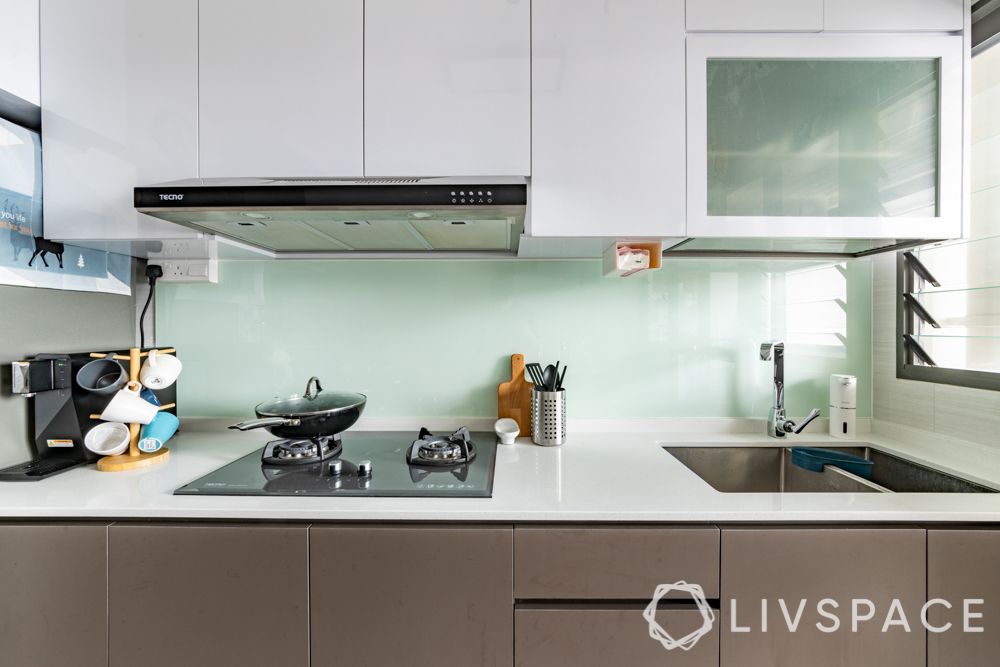 A lacquered glass backsplash offers an aesthetic and graceful solution to kitchen designs that are created to be maintenance-friendly. It is a clean buffer from your countertop to the upper cabinets as compared to tiles that aren't as seamless.
A Peaceful Master Bedroom
Just like Yin and Liu wanted, a bright, warm and airy room that can put their minds at ease and relax. Liu enjoys her vanity table that is glass-topped and hence easy to clean. Yin says it is his favourite room in the house too. This bedroom design also holds his favourite design detail by Alan in their 4-room HDB BTO.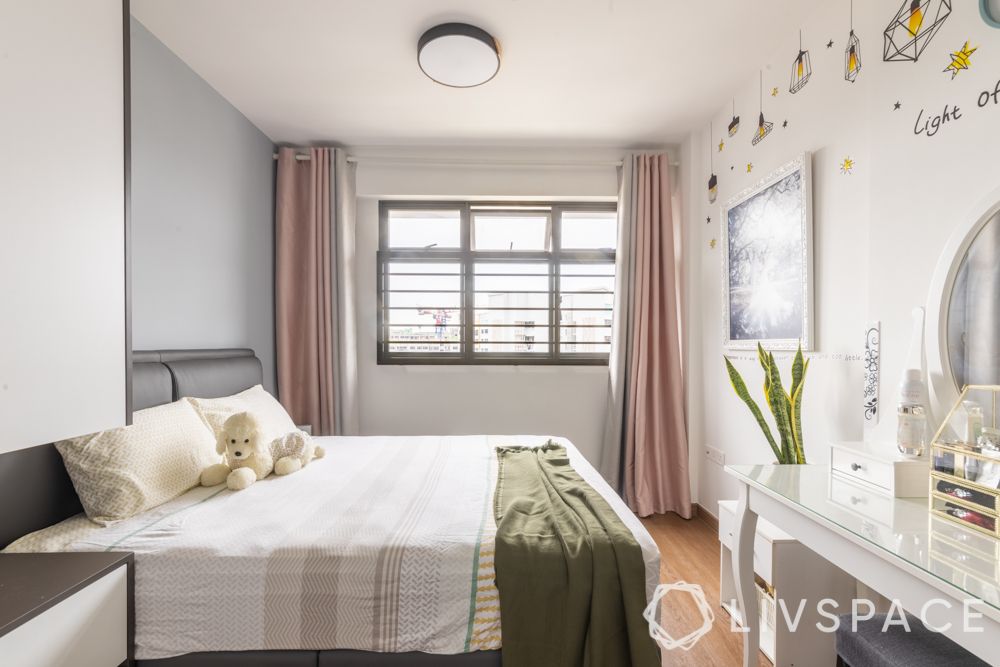 It is this crafty little bedside table, cut out from the wardrobe that impresses Yin the most. Alan recalls he enjoyed working with Yin and Liu because they were open-minded and he had the freedom to design as per his aesthetic sensibilities.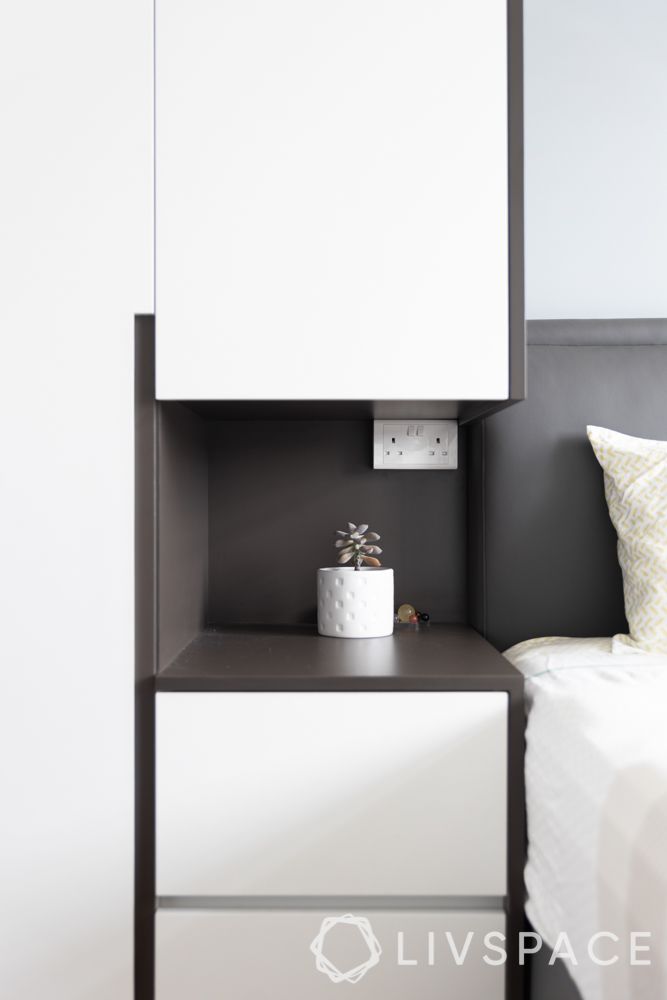 The wardrobe for their bedroom design has seamless tall shutters that incorporate loft as well. This benefits their concept of no-handle carpentry for shutters throughout the house.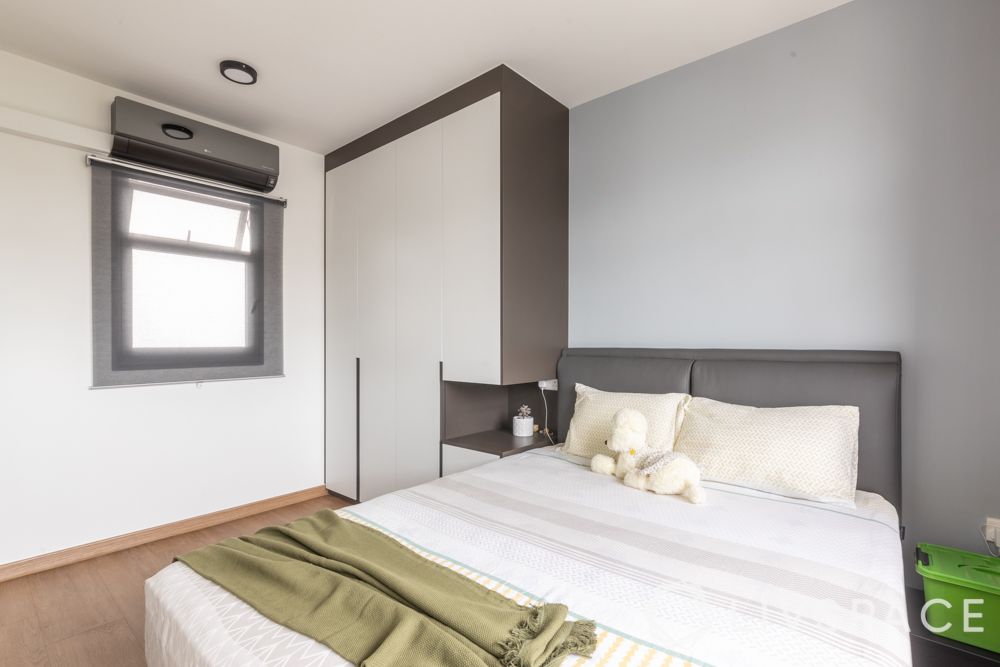 A Bright and Playful Kid's Bedroom
A happy pastel green greets you first thing in the kid's bedroom. Then the contrasting deep space themed curtains bring the room together. You begin to notice the rest of the furniture that is chosen to match the light airiness of the room. The wooden floors in all the bedrooms give a change to the eye from the tiled floors in the rest of the 4-room HDB BTO.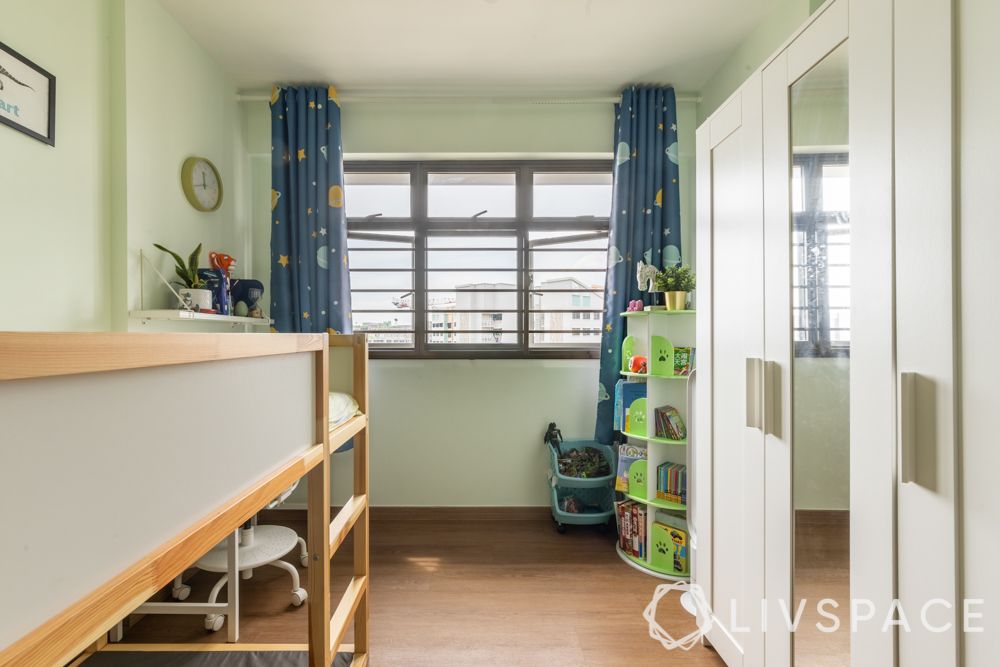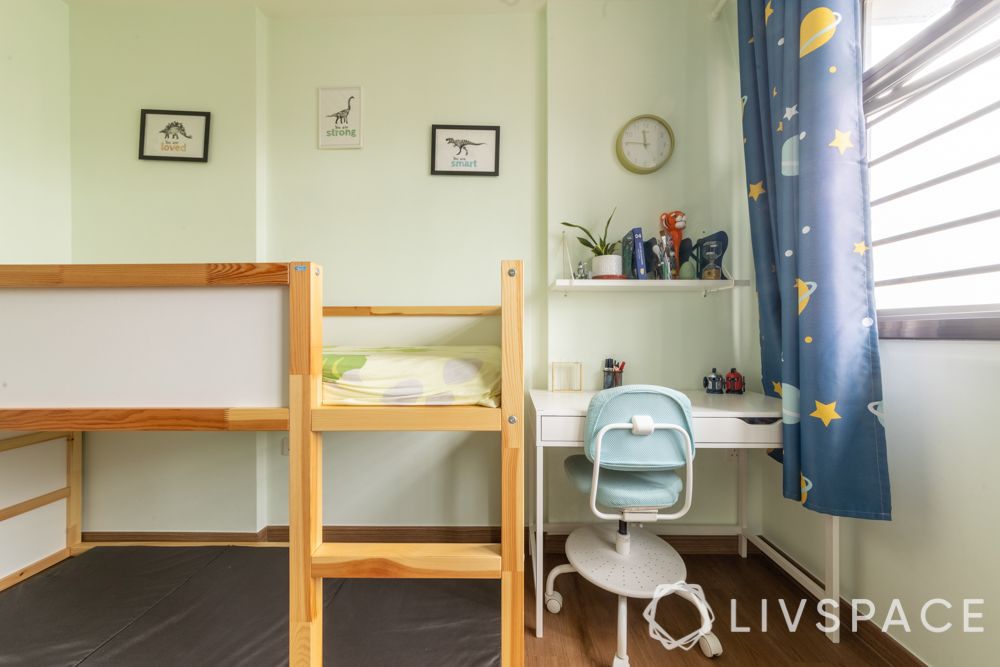 The rest of the decor is inspirational to Yin and Liu's son. It is his favourite things that fill the room, for instance his favourite dinosaurs, Tom and Jerry or Tigger from Winnie the Pooh. What's best is that this space can be decluttered almost immediately, even by their son! The whole house serves opportunities for the kid to learn and grow, and that is what the couple wished for their child.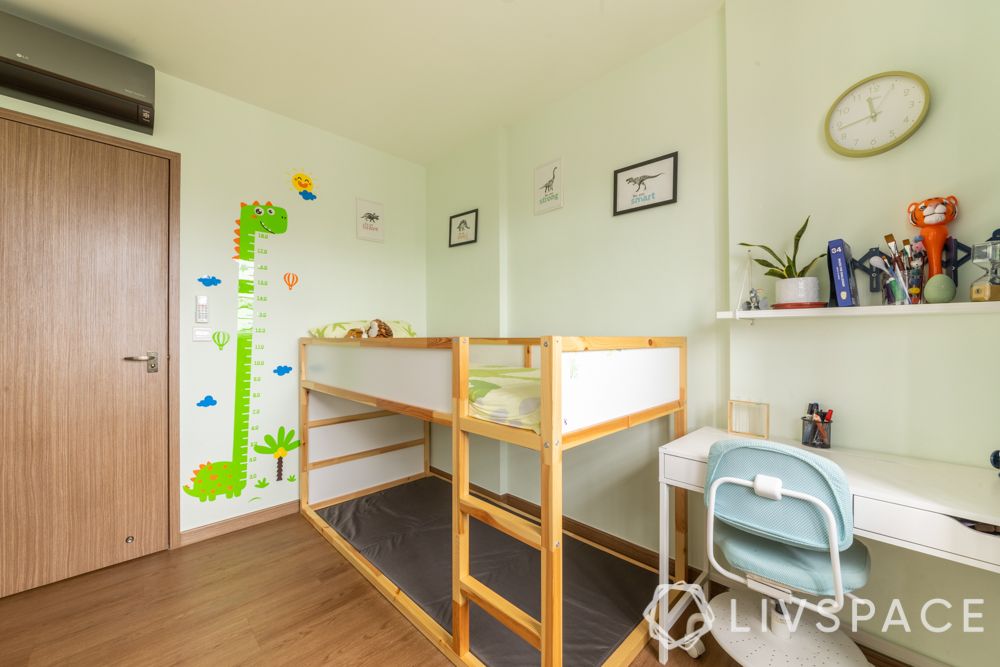 Yin and Liu didn't want the furniture to consume a lot of floor space in their kid's bedroom. Hence, Alan suggested a loft bed that offers a matted play area underneath it. This bedroom design is genius because it allows their son to be active.
Easily Organised Home Office Room
Yin chose to use the third bedroom as his home office. The colours in this bedroom design are non-destructive and muted. The chest drawer and the bed offer flexibility in the room to accommodate a guest at times. But, it is mostly meant for Yin to use. The desk on one end is an Ikea piece because customising furniture like this would have cost a lot in carpentry.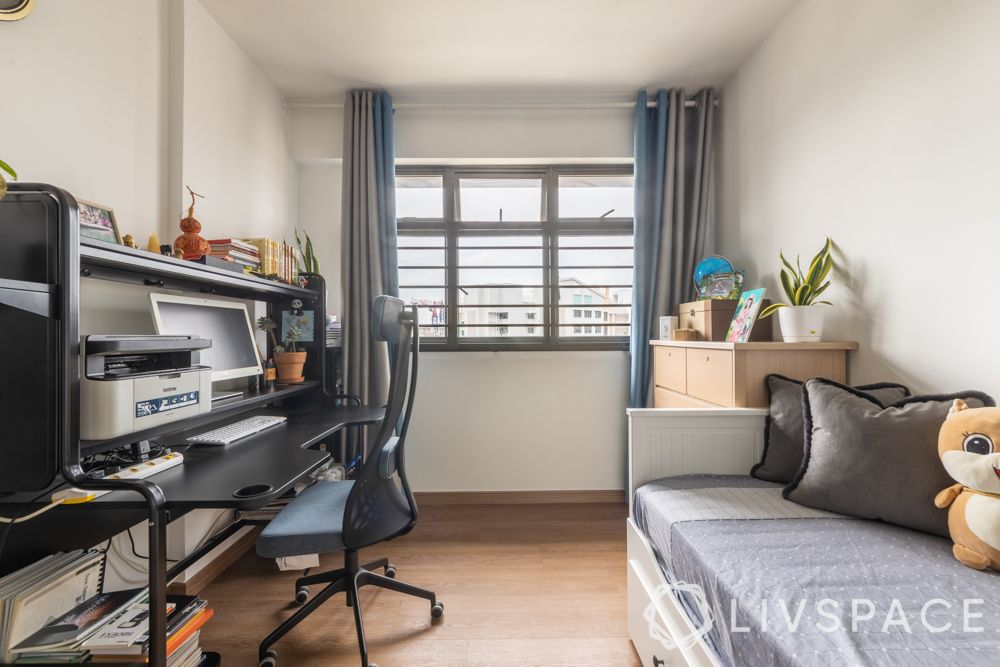 The IKEA desk has various racks and shelves to cleverly organise and keep all of Yin's office essentials. It especially enables him to work from the chair itself without having to get up during his work, allowing unbreakable focus.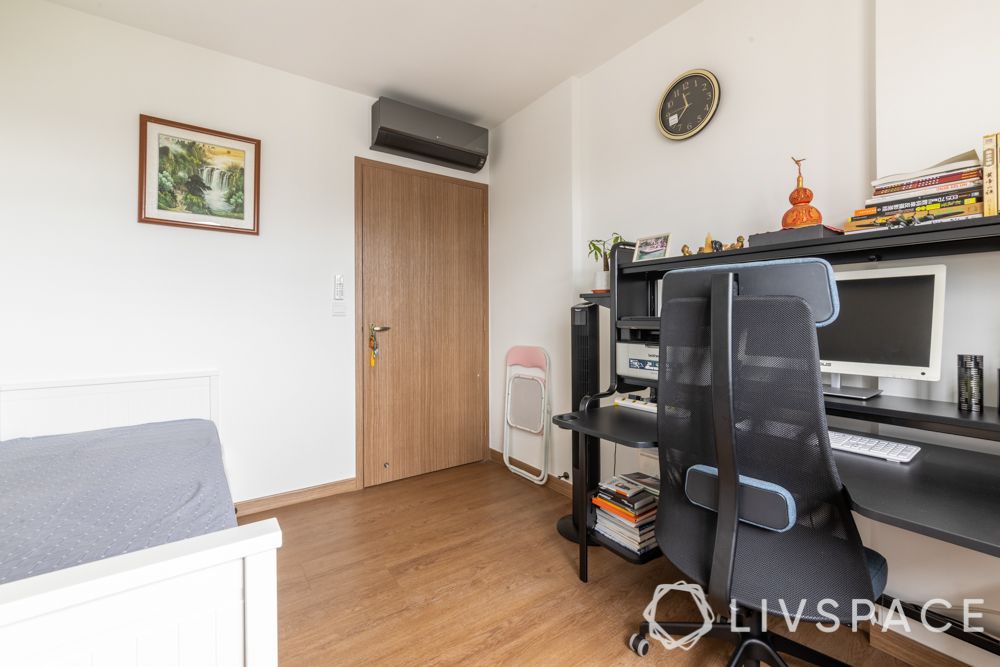 Compact Bathrooms in 4-Room HDB BTO
There is a common bathroom that the entire family uses. It is light and perky and has more storage compared to their guest bathroom. The toiletries are fixed at a lower height and easily accessible to Yin and Liu's son. The mirror cabinet has double swing shutters so one can still continue to use the mirror while the other reaches inside the cabinet.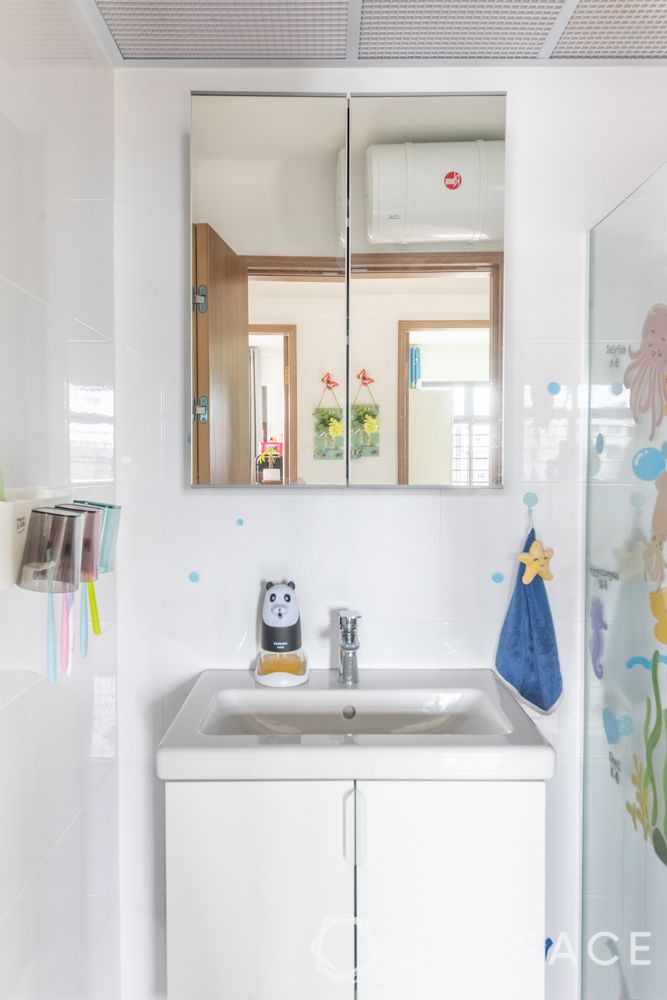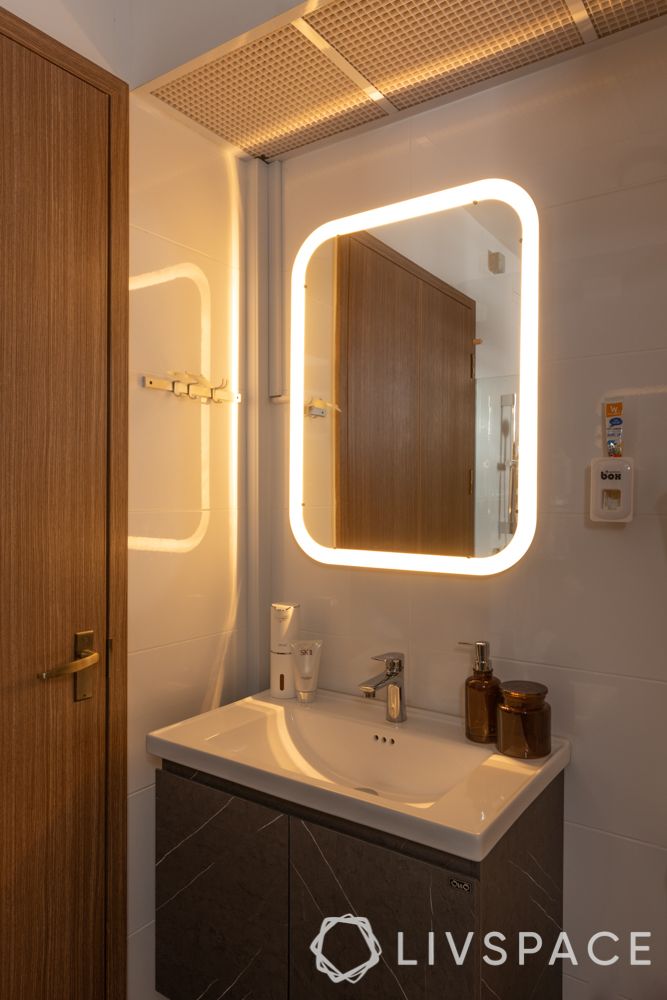 It is remarkable what has been achieved in this 4-room HDB BTO for this small family. Alan designed this house particularly to suit their needs and comfort. The communication throughout the process was clear and effective. And the result? Well, this is undeniably one of the many successful projects by Livspace in Singapore.
How can Livspace help you?
Did you find this 4 room HDB BTO renovation inspiring? You can also get such beautiful interiors for your home with the help of Livspace. All you have to do is book an online consultation with our design experts to get safe and quality interiors. You can learn more about COVID-19 safety protocols here.