When it comes to planning your dream home, you might be full of big ideas on how you'd want it to look. While your ideas might be big, you also want to make sure you're implementing them the right way, as per the size of your space. This can especially be a concern when it comes to optimising an open-concept interior design to the best of its abilities. So, if you're someone that likes to question the inevitable and experiment with design, this home's open-concept interior design featuring IKEA furniture is something you don't want to miss!
Along with our friends at IKEA, we designed this 5-room HDB flat for a family of four to optimise the open-layout in all the right ways. With these simple tips on compact home interior design, you too can practise clever design and make the most of your open-layout.
---
Who Livs here: A family of four – John and Annie, with their teenage kids Jude and Anastasia
Location: Clementi Peaks
Size of the home: 5-room HDB spanning 113 sqm
Design style: Minimal Scandinavian studded with IKEA furniture
---
#1: A Cheery Open-Concept Living Space With Distinct Living and Dining Areas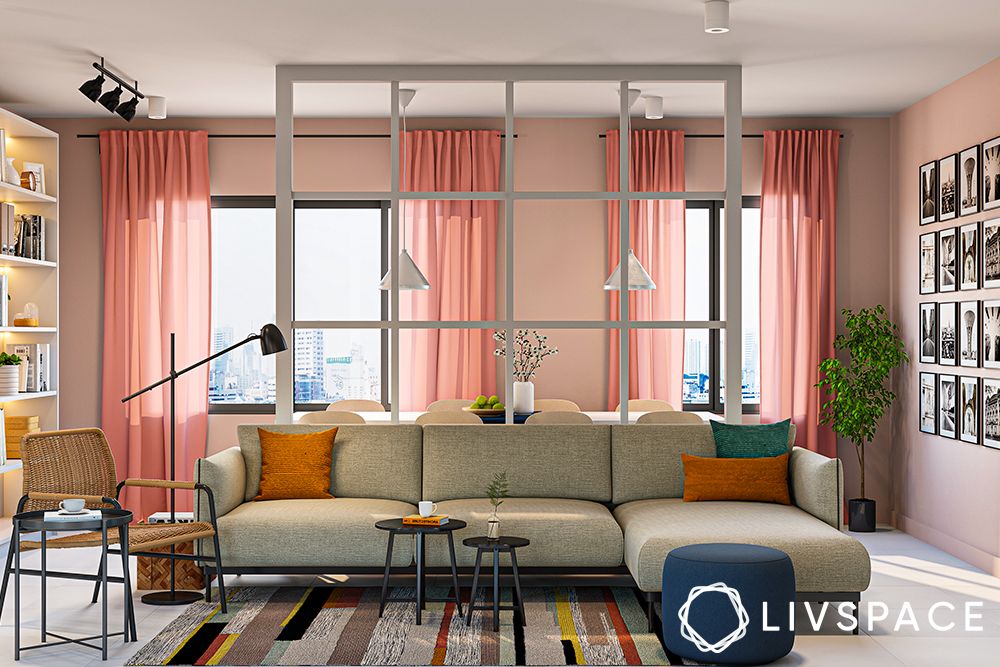 There's nothing more heartening than walking into a warm and cheerful looking space after a long day. To create a room that uplifts spirits upon entry, this open-concept interior design uses colourful pastel shades to build an inviting ambience for the living room. The pastel pink walls and curtains elegantly complement the white floor tiles, BILLY bookcase, and the light grey Äpplaryd sofa from IKEA.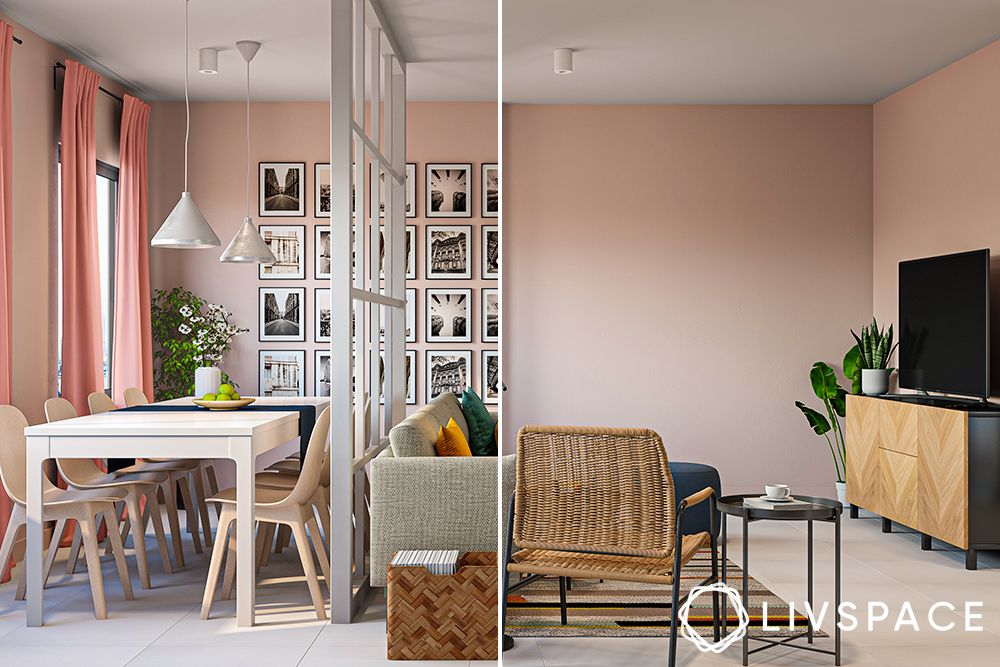 Besides the colour scheme, another design tip we can borrow from this open-concept interior design is the clever demarcation of the living and dining area. The use of a ceiling-high wall partition helps keep both spaces in the open layout separate, without obstructing the view from either side. Another tip for interior design for small spaces is to go for a grid room divider, with or without glass, to ensure the passage of light across the room.
How Can You Style Your Living Room Using IKEA Furniture for Small Spaces?
Wondering how to style your compact home interior design the same way as this family? Here are some of the IKEA furniture for small spaces that make an appearance in this living room:
#2: A Customised Ceiling-High Storage Cabinet Helps Draw a Boundary Between the Rooms in an Open-Layout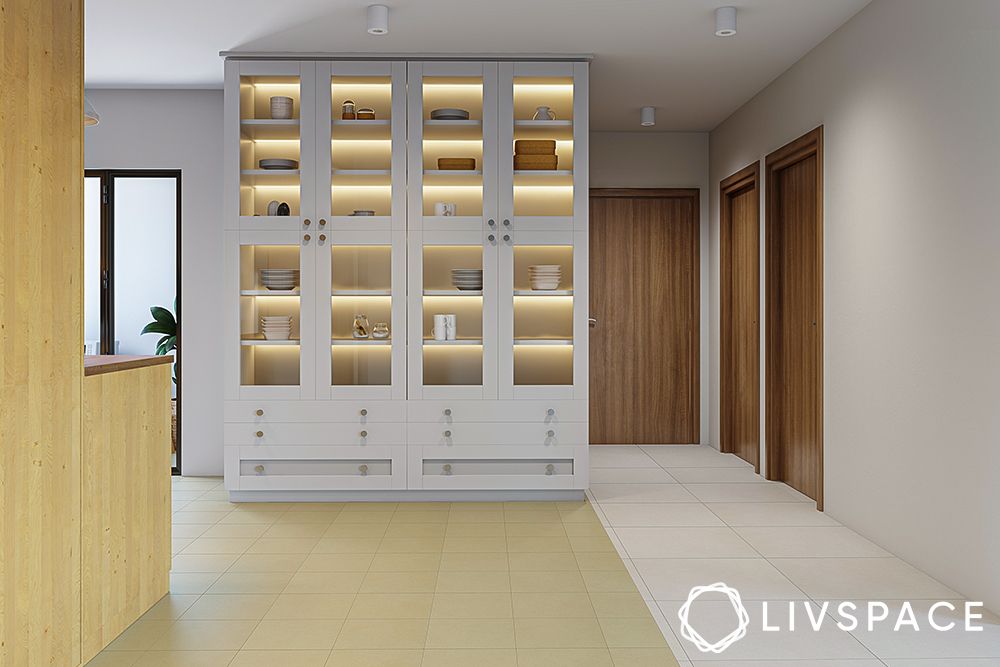 With open-concept interior design you might run the risk of having each room merge into the other without the right planning. And if you live in a compact home, carving out a detailed design for each room without making the space look cramped can be quite the task. Instead, it might be better to explore simple interior design ideas for small houses when it comes to drawing boundaries between rooms.
In this open-concept interior design plan, we've used a customised ceiling-high storage cabinet to separate the space between the living room and kitchen. What's more, this storage unit can also double as a display case depending on how you choose to use it. Also, be sure to explore lighting options within the cabinet to highlight this space better, especially if you use it as a display cabinet.
#3: Light Wooden-Grain Textures Add Just the Right Amount of Warmth to This Open-Concept Kitchen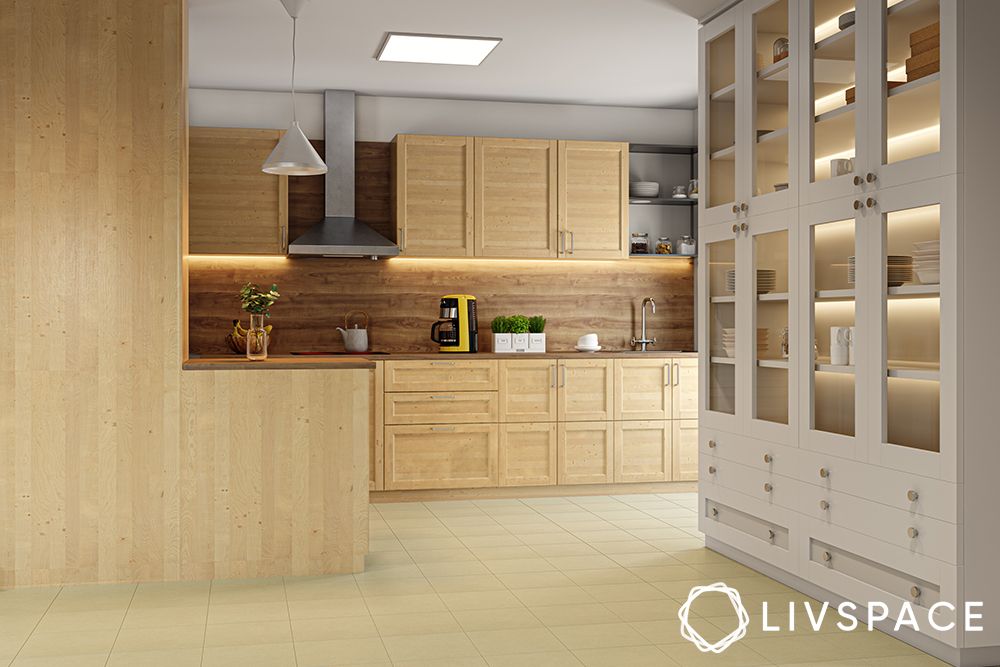 If you have a keen eye, you might have noticed the shift in floor tile colours between the living room and kitchen area. The floor tiles shift from white to an off-white shade of taupe that cleverly depicts the demarcation between both spaces in the home's open-concept interior design. This is also a useful tip to explore when it comes to interior design ideas for a small house.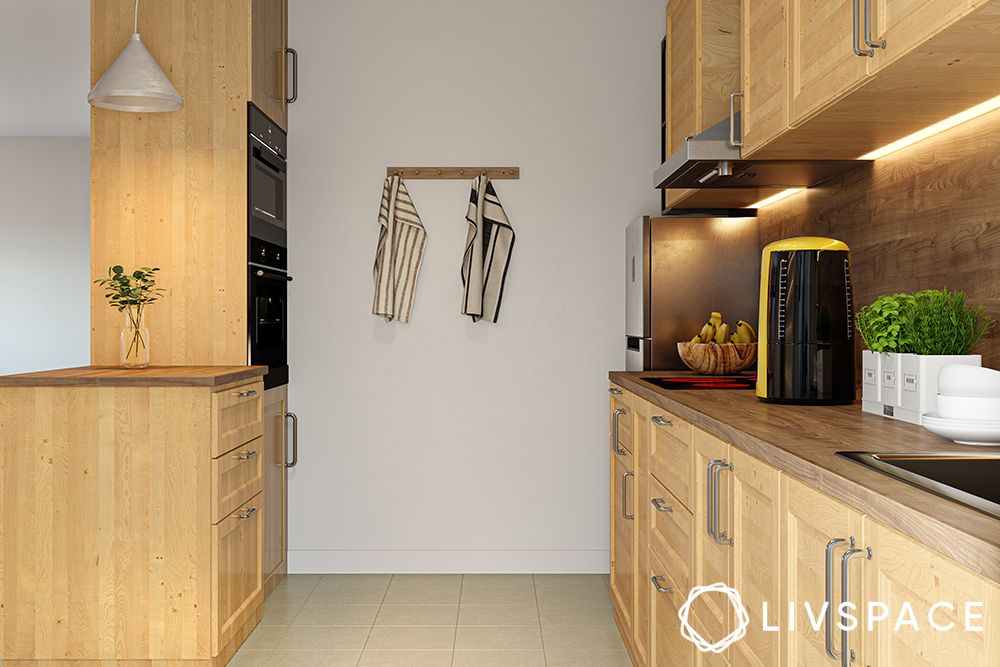 The homeowners, John and Annie, enjoy cooking during the weekends with friends and family, which further highlights the need for a kitchen that can accommodate this. Since the counter space of the kitchen is limited to one wall, we extended the kitchen wall on the opposite side with the combination of a half-height base cabinet and a tall unit.
By doing so, you can add both storage and function to your interior design for small spaces. This also helps draw a small boundary between the kitchen and common areas in an open-concept interior design.
Also Read: How to Make an Open Kitchen Work in the Best Possible Way
How Can You Style Your Kitchen With Furniture From IKEA?
If you'd like a kitchen that's as charming as John and Annie's, here are some furniture items that can help:
For that lovely wooden finish, use Vedhamn drawer fronts for your cabinetry.
You can anchor your kitchen area in an open layout home with a Nävlinge pendant light.
Bagganäs cabinet handles are a great way to add a modern edge to your wooden cabinets.
Add some storage to your space with an Enhet wall shelf between cabinets. This can also double as open storage options for easy-to-access items.
#4: Muted Colours Work Best for Modern Master Bedrooms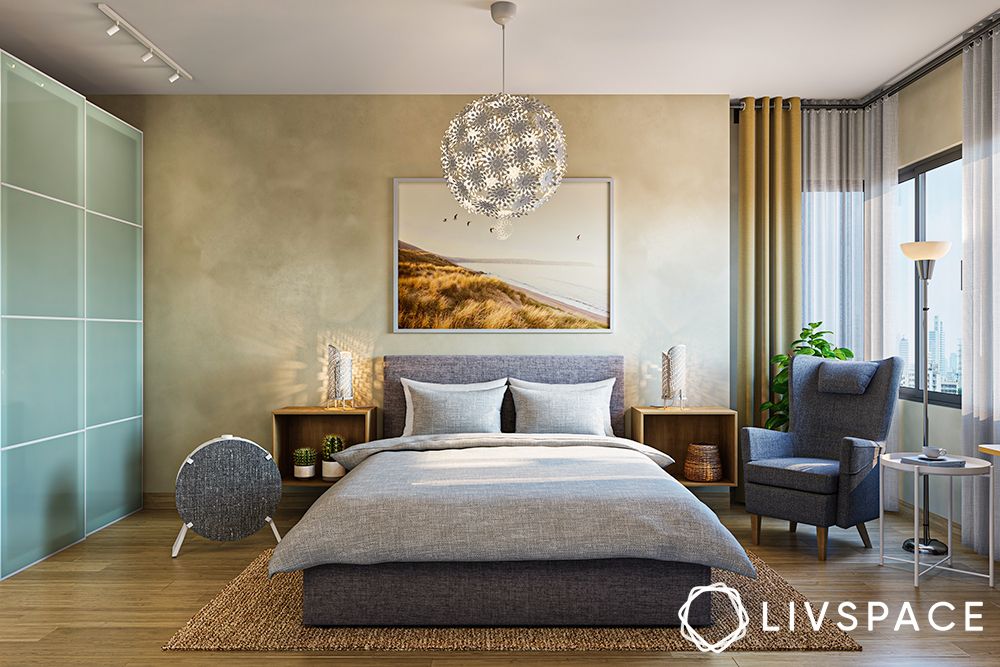 John and Annie's bedroom is a true reflection of the modern style they wanted for their space. The use of muted colours further opens up the room, giving it an airy and welcoming feel. Staying in theme with the open-concept interior design of the rest of the house, the master bedroom too takes on a minimalist approach.
Colours such as white, beige, brown, and grey come together to create a simple minimalist look for the master bedroom. To improve traffic flow, all sides of the Gladstad bed are kept open and unobstructed, while also maintaining separate functional zones in each area of the room.
How Can You Create Different Functional Zones With IKEA Furniture?
Here's a Sneak Peak at the Couple's Master Bathroom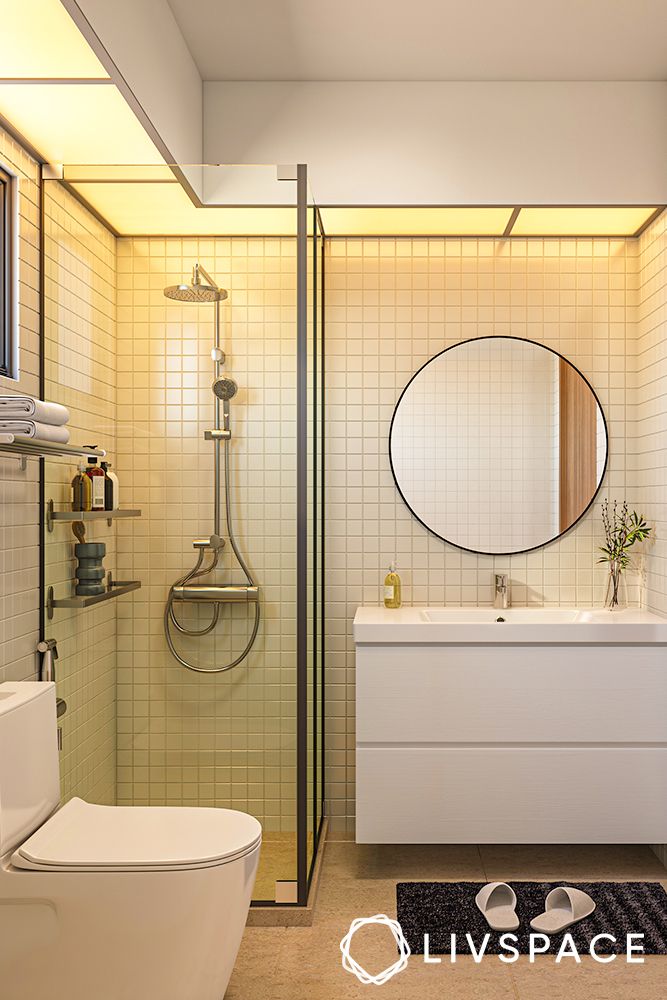 Taking on a simple approach to design, the couple's small bathroom interior design is warm and inviting. The gentle glow you see here comes from the Floalt LED light panel in the ceiling, offering just the right amount of ambient light.
In the case of small bathroom interior design, it's easy to overcrowd your floor space with bulky fittings and furniture. To prevent this, go for a wall-mounted washbasin like the Godmorgon to keep your floor space open.
The use of light-coloured tiles and mirrors like the Lindbyn are a few other good examples of how to create the illusion of space in a small room.
#5: The Daughter's Bedroom – Use Curtains to Demarcate Space in Small Rooms Without Downsizing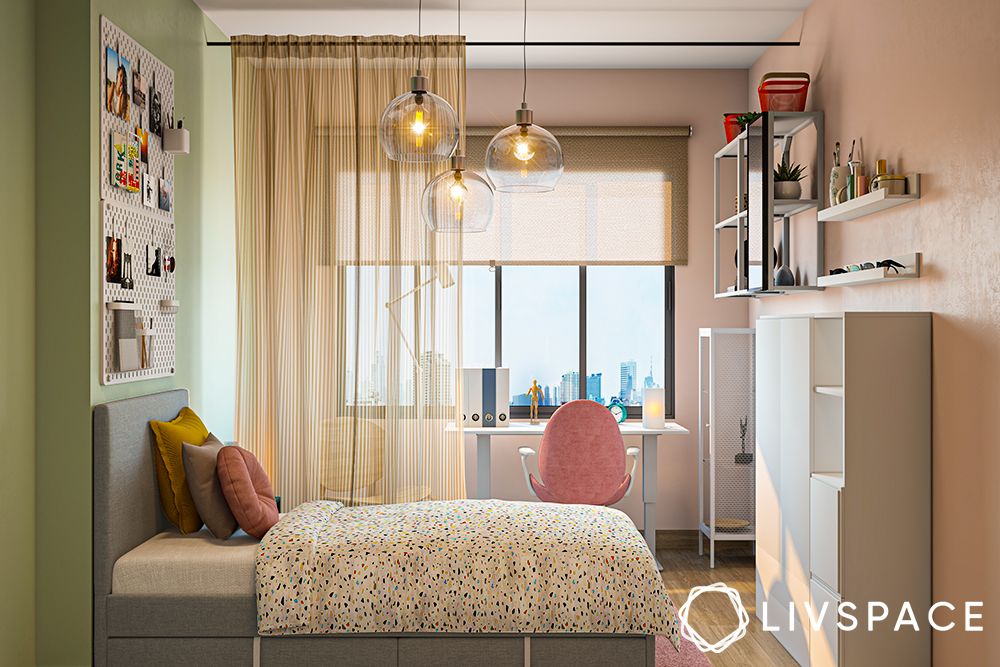 Nothing is more frustrating than trying to maximise a small room in an open-concept interior design, without making it look overcrowded and cramped. And with a room as compact as Anastasia's, the risk of compromising functionality for style is high. Luckily, we have some interior design ideas for small houses that can help.
Similar to the master bedroom, you want to try using the least bulky furniture when it comes to segmenting your room into different zones. Here, you can use the Majrid curtain as a room divider to create separate sleep and work zones. This is especially useful for students like Anastasia who are currently preparing for their national exams as it gives them a niche to focus in.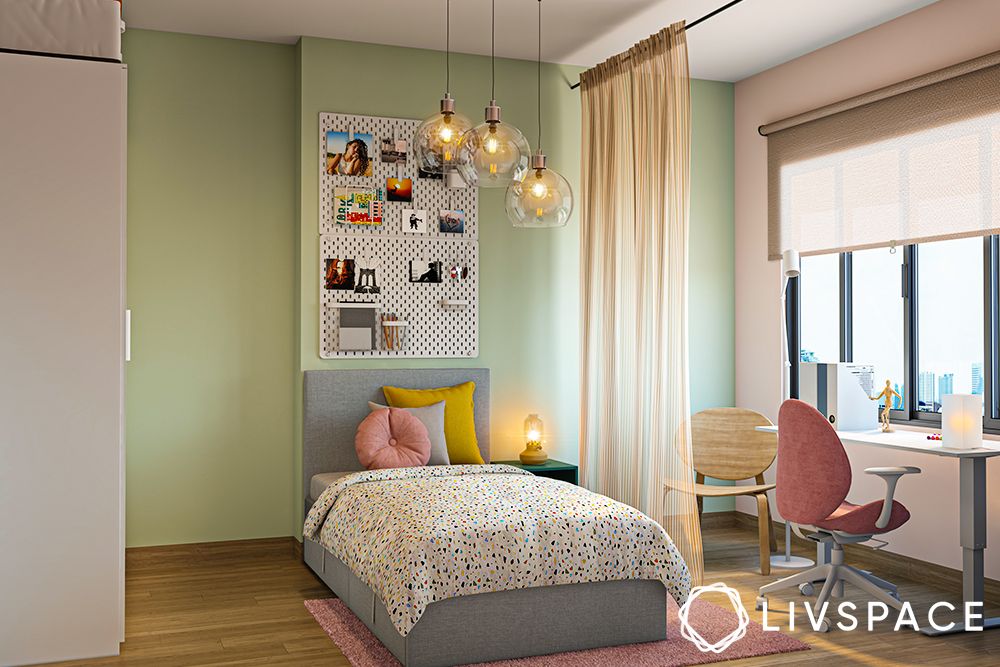 How Can You Style Your Compact Bedroom Like Anastasia's?
#6: The Son's Bedroom – A Functional Space With Plenty of Light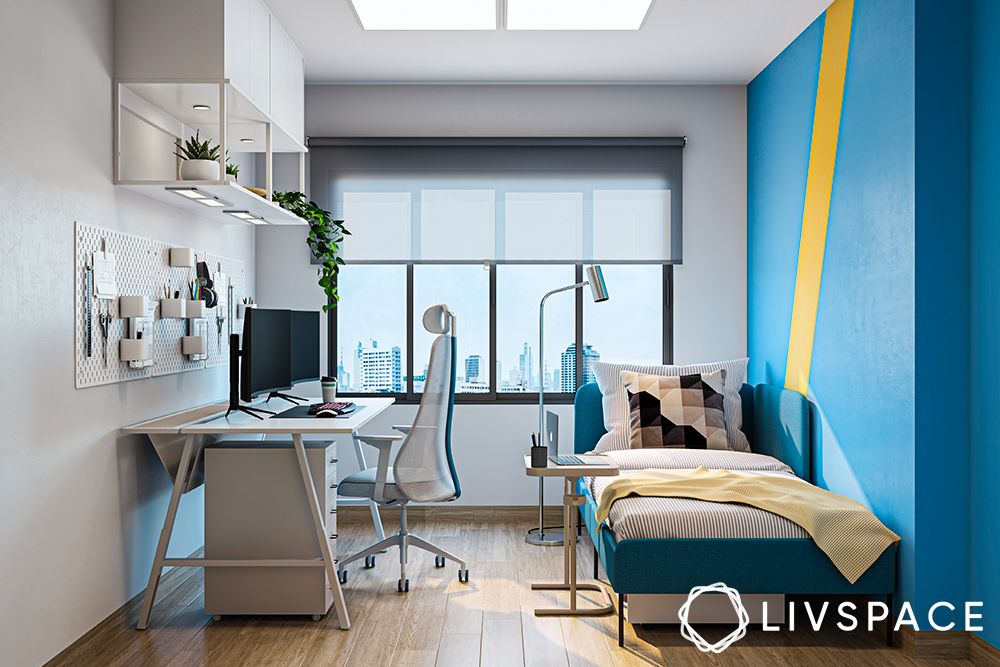 You might have already noticed how each room in this open-concept interior design has an abundance of natural light flooding into it. Jude's bedroom is no different when it comes to this, as he has a wide window occupying nearly the entirety of one wall.
Also, notice how the Floalt LED light panels on the ceiling take on the appearance of a skylight, adding visual interest. What's more, the use of white for the majority of the room further helps reflect light, creating a clean and bright space.
How Can You Style Your Bedroom Like Jude's?
#7: A Minimalist Take on the Common Bathroom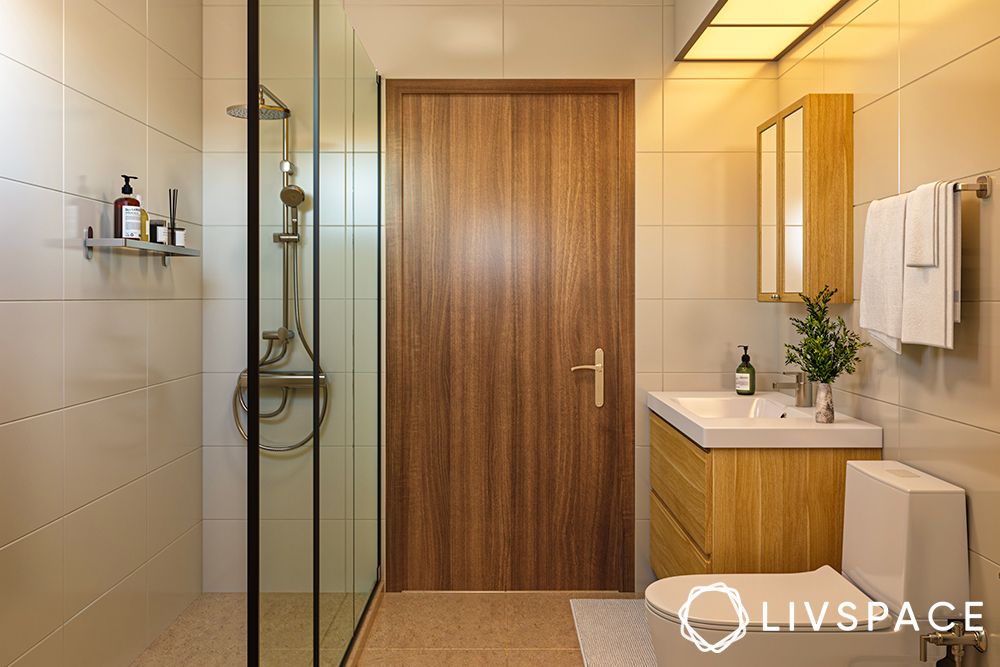 In line with keeping things simple for a small bathroom interior design, the family's common bathroom is just as elegant as the master bathroom. Both bathrooms are similar in design with the Floalt LED light panels occupying the ceiling and the Godmorgon wash stand in a white-stained oak effect.
If you're considering styling your bathroom the same way, bear in mind that it's important to segment wet and dry zones. If your bathroom is small, use a glass shower partition to separate the two areas without adding to the visual clutter of the space.
How Can Livspace Help You?
If you love the look of John and Annie's open-concept interior design, here's another IKEA-inspired home you might like: This Waterway Sunrise Home Shows the Best Way to Use IKEA Furniture.
Wondering how you can make your home look just as beautiful? We've got you covered. Book an online consultation with Livspace today. Have some comments and suggestions you'd like to share with us? We're all ears! Feel free to write to us at editor.sg@livspace.com.