Home altars have been a salient feature of Catholic homes for a long time. Variously referred to as family altars, prayer tables or altar tables, these Catholic home altars serve as a central space for prayers and worship. When it is not possible for you to go to church as often as you'd like to, you can bring the same elements into your home altar. Here are 5 altar designs that will help you decide how to design yours. Also check out our easy steps for setting up a home altar.
#1: Highlighting the space with arches and wallpapers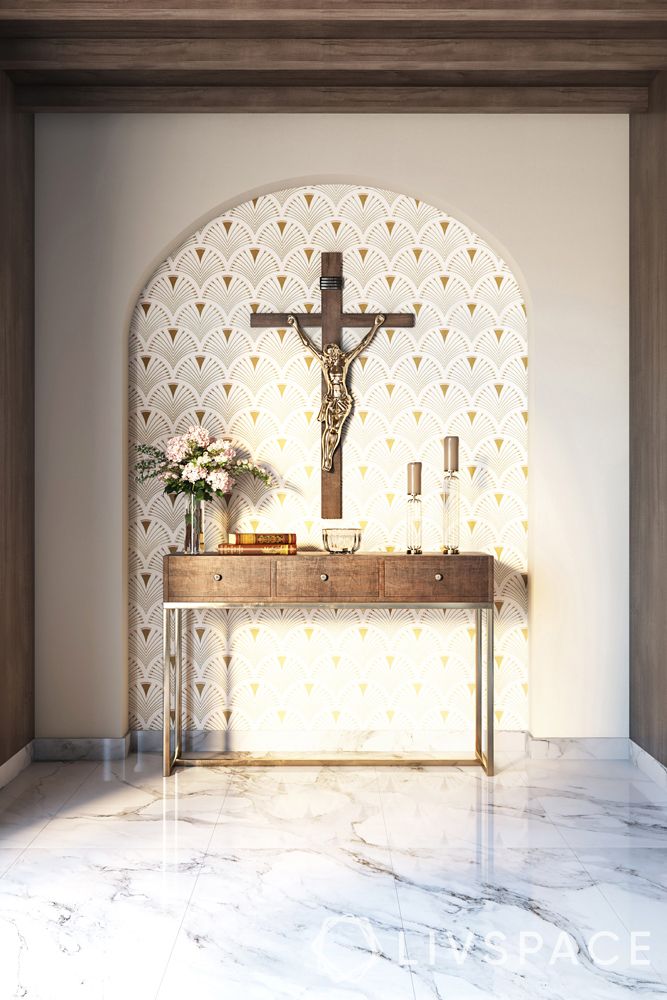 When you are planning Catholic home altars in your flat, do not forget to create a focal point. For this altar design we have highlighted the wall with a simple wallpaper and an arch. A console table placed right in front acts as a tabletop and storage space in this home altar. You can keep your Bible, candles, flowers and everything else on this table. This is a simple and pretty Catholic home altar for those who cannot dedicate an entire space to create a prayer room.
#2: Adding wall shelves as a form of storage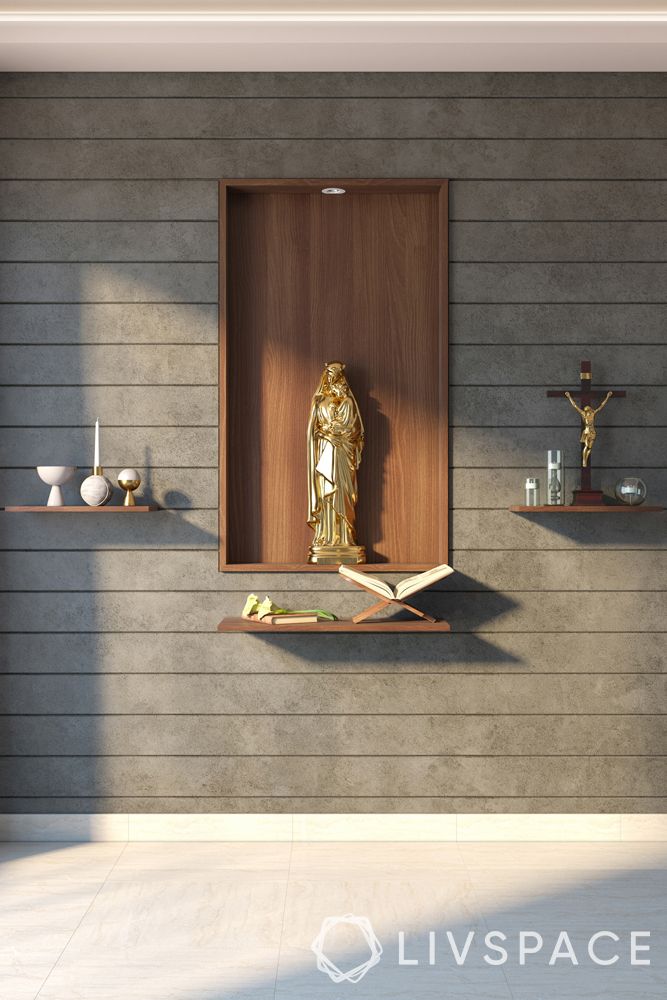 When you have one wall to spare for your home altar, it is best to stick to wall-mounted shelves. This way, you can leave the floor empty and still have a dedicated space for praying. Here, we have used a cement screed wall as the backdrop and added wooden ledges strategically around the altar. A single recessed light can be fixed on top of the altar to create a warm focus.
#3: Creating a serene home altar for modern homes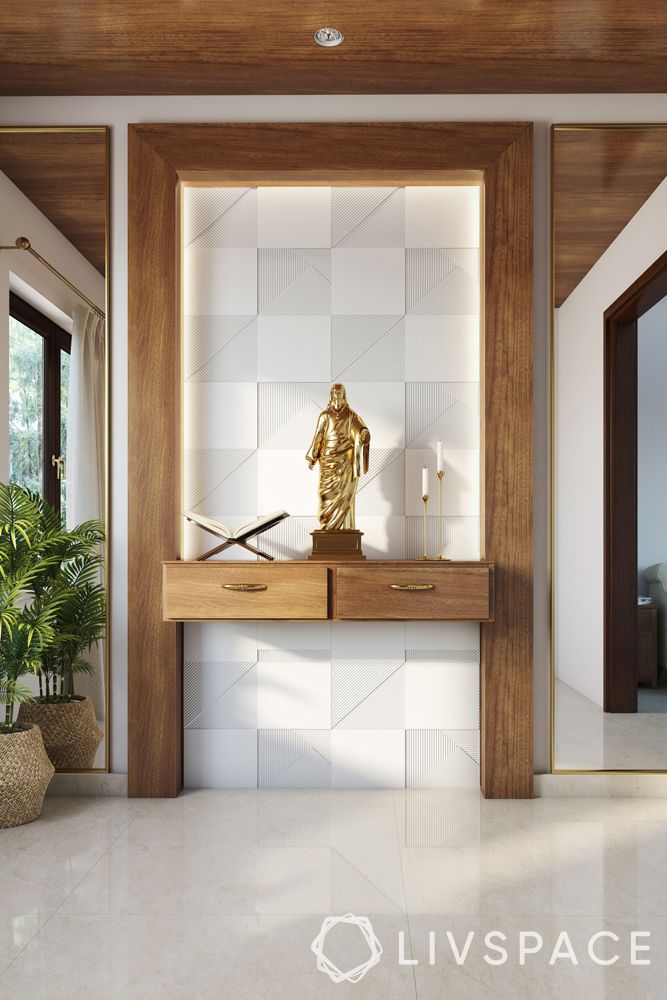 In a modern home, having a home altar that blends seamlessly with the rest of your design aesthetic can be a bit of a challenge. When you have a compact home and do not want to compromise on having an altar, you can try this design idea. Twin wall-mounted drawers are used as the prayer table and the backdrop has tiles that are lit up by the LED strip lights running around them.
#4: Building an altar within a wall niche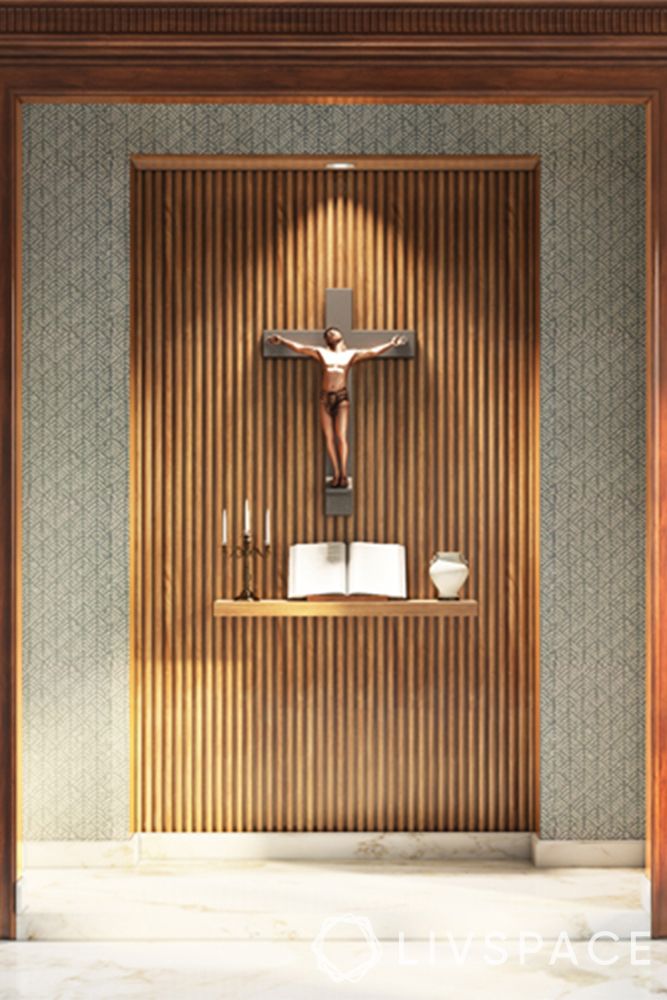 What sets this Catholic home altar apart are the wooden beams panelling the wall. Set inside a wall niche, this altar design is rather simple but stands out due to the unique wall treatment. To further enhance the look, you can try adding wooden trims on the entrance to the niche. Do not forget to add focus lighting to keep the space from looking dull or dim.
#5: Using metallics and curves to define this altar's design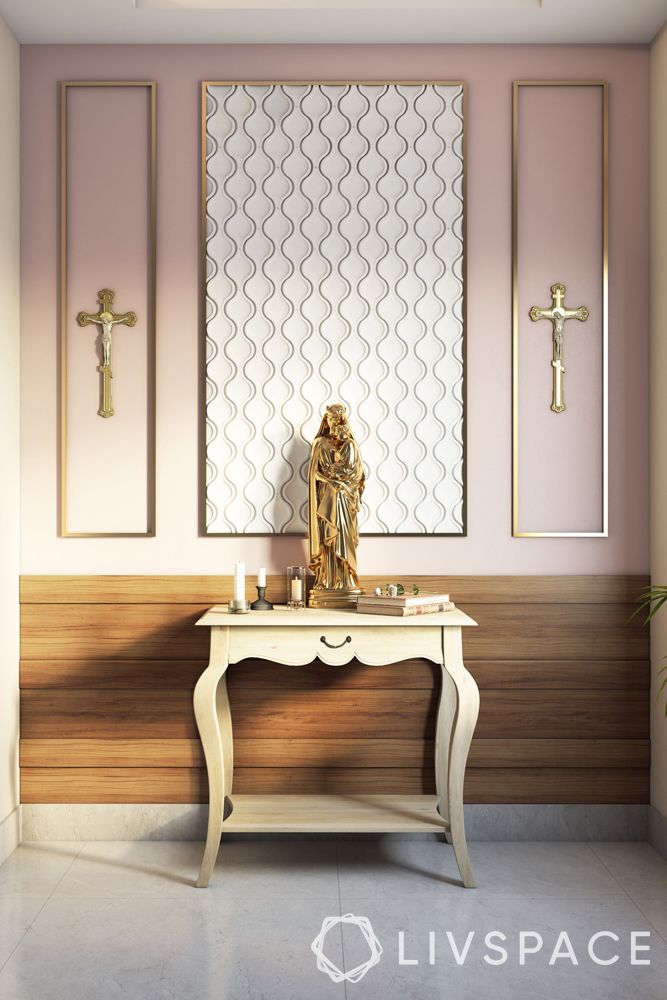 If you are living in a rented flat and cannot really make changes or fix things to the wall, then this idea is just for you. The beauty of this home altar lies in the design of the console table. The curvy legs of the table and the metallic wall trims behind make this altar strikingly unique. To get this look, all you need is a pretty-looking table; and fix the crucifix on the wall using adhesive fasteners.
Where should you place an altar in your home?
If you are not sure about the placement of your Catholic home altar, then it is advisable to have it in your living room facing the main door or the entrance. Since the deity protects the house, this placement ensures that He is always looking after you.
How to set up a simple altar at home?
The simplest way to have a basic home altar is to identify a common spot where you can place your deity images or statues, a crucifix, a vial of holy water and a candle. Do not worry about making it fancy and decorative if you are just setting up your home. You can always embellish your home altar space gradually.
How Can Livspace Help You?
We hope you found our ideas useful! If you want your home to be just as beautiful, then look no further. Book an online consultation with Livspace today. Delivering safe home interiors has been our No. 1 priority. Click here to find out how interiors are being delivered following all safety protocols.
When it comes to home altars, less is sometimes more. All you need is a quiet place and a basic setup that helps you pray in peace. We hope these ideas help you create a smart design space for your home altar. Try implementing some of them into your homes; they are very easy to do! If you are looking for pooja room designs, you can check this out: 6 Minimal Pooja Room Designs That are Perfect for Compact Homes.
Send in your thoughts and suggestions at editor.sg@livspace.com.