Designing a kitchen for your home is like solving a crossword puzzle. With endless design options, the process can be daunting. But don't worry! We've got you covered. From cutlery units to wicker baskets, this simple HDB kitchen design quiz will help you decide which kitchen design is the best fit for you. Refer to the answer keys below the questions to find your ideal kitchen type.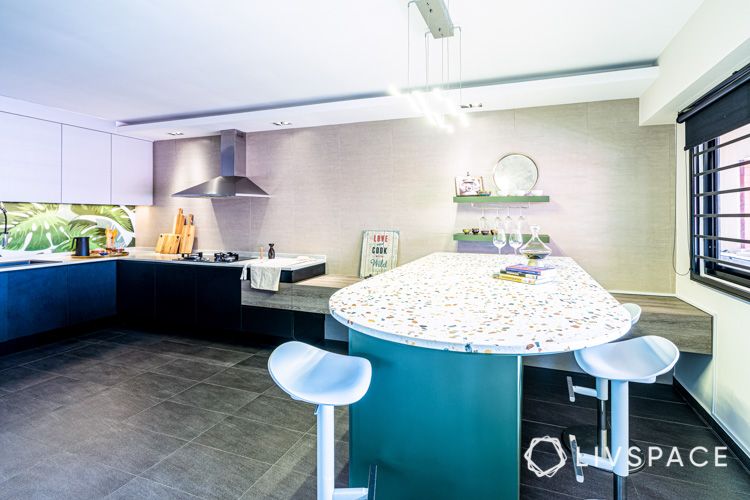 How to plan and design the perfect kitchen?
Before we jump into the quiz, we want to list out some simple steps that you can follow while renovating or designing your kitchen.
Click some photographs and take a video of your kitchen to document the entire space
Do you have a floor plan for your kitchen? If you do, you're already halfway there
If not, take a graph paper or a plain sheet of paper and measure your kitchen precisely, noting down the width, length and height
Identify the door(s) and window(s) and mark them
Mark the provisions for the water inlet and outlet since the sink will have to be placed there
Mark the location of the fridge, preferably near the entrance into the kitchen area
Make a note of your current storage requirements, dividing them into consumable and non-consumable. Based on your family size and cooking habits, estimate how this requirement is likely to change in the coming years
Finally, list down the issues you are facing in your current kitchen. It will help your designer be especially cognisant about finding solutions for them.
ALSO READ: Kitchen Renovation on Your Mind? This Guide Will Help You Through It
#1: Who does most of the cooking?
A. Me
B. The whole family
C. The cook or helper
If you've selected A: Being the sole user of a kitchen, you can opt for one that is more aesthetic than functional. Opt for pretty colours and finishes, or even white!
If you've selected B & C: The more footfall in a room, the more maintenance will be needed. Hence, an HDB kitchen design should be high on functionality and low on maintenance if many use it.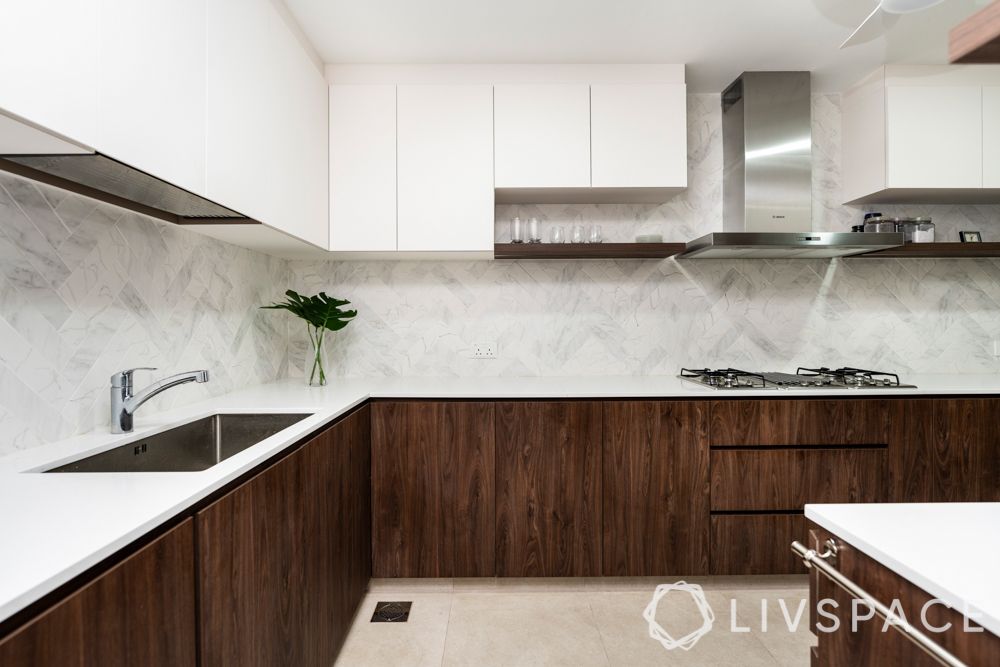 #2: How many times in a day do you or your family cook?
A. Once a day
B. Twice a day
C. Thrice a day
D. Multiple times a day
If you've selected A & B: The number of times you or your family uses your kitchen in a day is one of the most important factors to take into consideration. Hence, a kitchen that is used once or twice a day can have a few shelves and a single work zone. A small HDB kitchen design can also have stand-alone units outside the kitchen.
If you've selected C & D: When a kitchen is used for cooking many meals in a day, we consider that heavy cooking. Therefore, it must have multiple designated work areas. For example, a busy kitchen should have a prep zone, cook zone, clean zone and plenty of storage with clear counter space.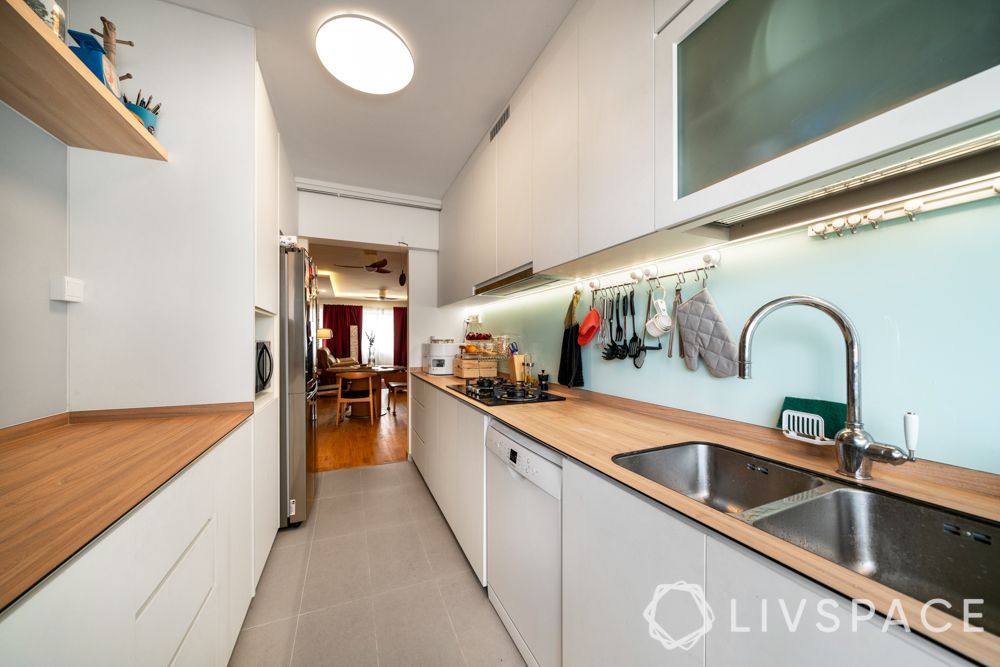 Prior to cooking, activities such as washing, peeling, cutting, mixing and measuring take place in the prep zone. You spend most of your time in this zone so make sure it is a flawless one. In order to do that, two or more shelves and dedicated counter space makes it a convenient process.
As the name implies, the cook zone is the area where the cooking happens. Therefore, it should have a hob with three or more burners, an oven and a chimney with lights and filters for easy maintenance.
Lastly, the clean zone is one that is separate from the prep zone and the cook zone. To avoid a cumbersome cleaning process, ensure the clean zone has a large enough sink with a glass-and-plate tray for washed cutlery and utensils.
#3: How would you rate your cooking pots/pans/vessels/cooker in terms of volume?
A. I have just one of each
B. I have a couple of pots and pans and an extra HDB induction hob
C. I have excess cookware. Too many to count
If you've selected A & B: The number of shelves required in an HDB kitchen design depends on the amount of cookware you own. We recommend installing one or two cabinets in the cook zone for storing your cookware.
If you've selected C: The kitchen must have a minimum of two cabinets in the cook zone. Heavy cookware is best stored in tandem drawers that are easily accessible with minimum effort. Bottom-most shelves of tandem drawers are ideal to store heavy cookware since they are larger.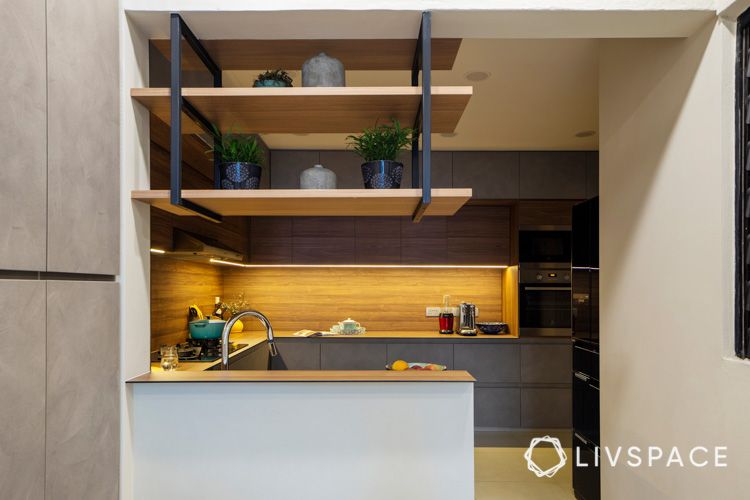 #4: How would you rate your dinnerware/crockery/cutlery in terms of volume?
A. I have exactly enough for me or my family
B. I have enough for a large party
C. I have so much serveware/ dinnerware some are stored outside the kitchen or in the loft
If you've selected A: Keep clutter away from your kitchen with sufficient storage. Store your flatware in a three-shelf cabinet in the prep zone. Use bottom drawers for daily items while cabinets above the counter are ideal for occasional-use items. The top storage cabinets are suitable for keeping rarely used items.
If you've selected B or C: For plenty of flatware, a multiple shelf CPT in the prep zone along with glass door cabinets on the worktop unit will suffice.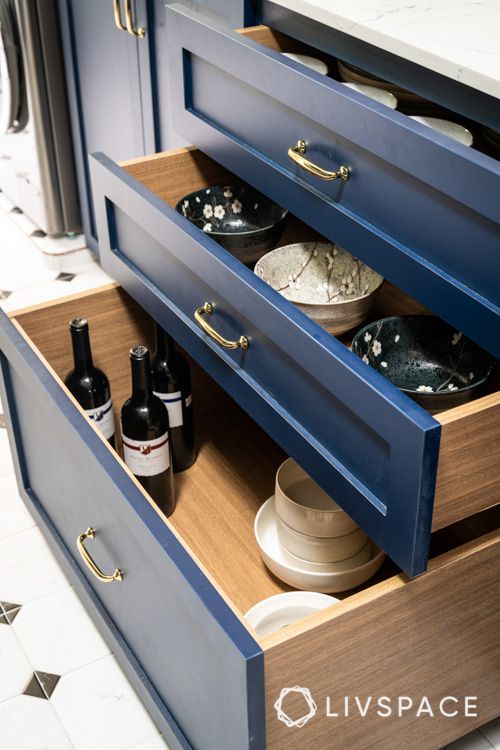 #5: What is the source of gas for your home?
A. LPG gas (aka gas cylinders)
B. Government piped gas
If you've selected A: Your cooking zone must take into consideration ample space for gas cylinders. There should be space for the one in use and for a second one to be stored away safely. Remember to check out at the early design stage for a shop that sells LPG gas in your estate and delivers within a day; you'd save a good amount of storage space.
If you've selected B: With the exception of old residential areas, most homes now come built with government piped gas. If you enjoy free-flowing gas in your private condo or HDB flat, your designer needs to be aware so measurements for the pre-installed pipelines will be part of the initial planning.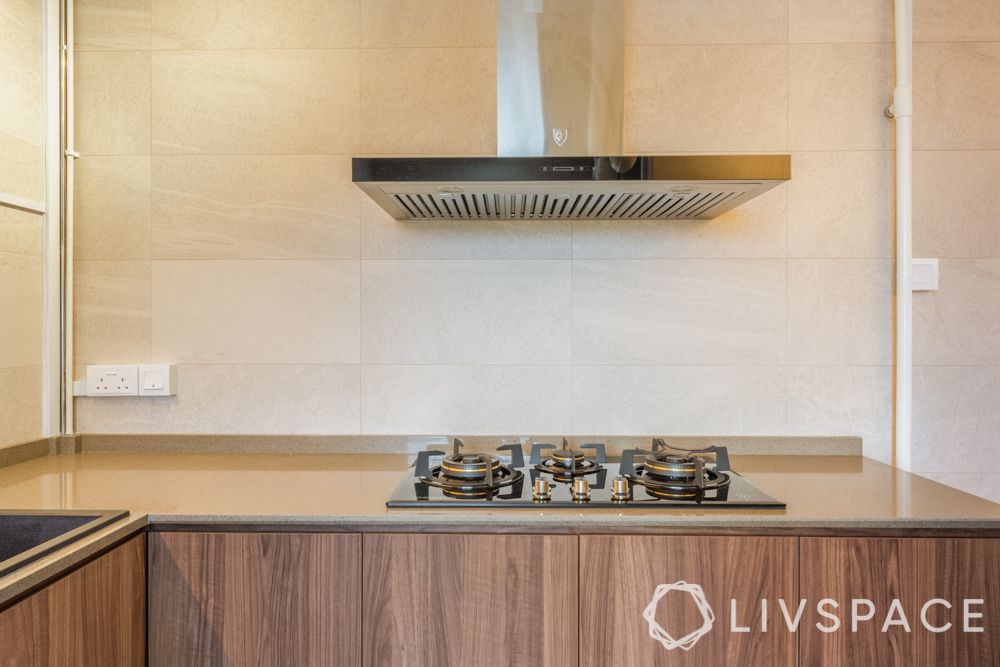 #6: How often do you shop for household cleaning supplies?
A. Once a month; we restock for the entire month
B. Once in two to three months; we purchase in bulk so we never run out
C. As per need; it's rotational, we purchase two times a month
If you've selected A or B: Homes, where cleaning supplies are bought in bulk, require more storage space. Therefore, in addition to a sink unit, you can opt for a single-door base unit for storing a large number of supplies.
If you've selected C: In this case, most kitchens with minimal supplies can use the space within the sink unit.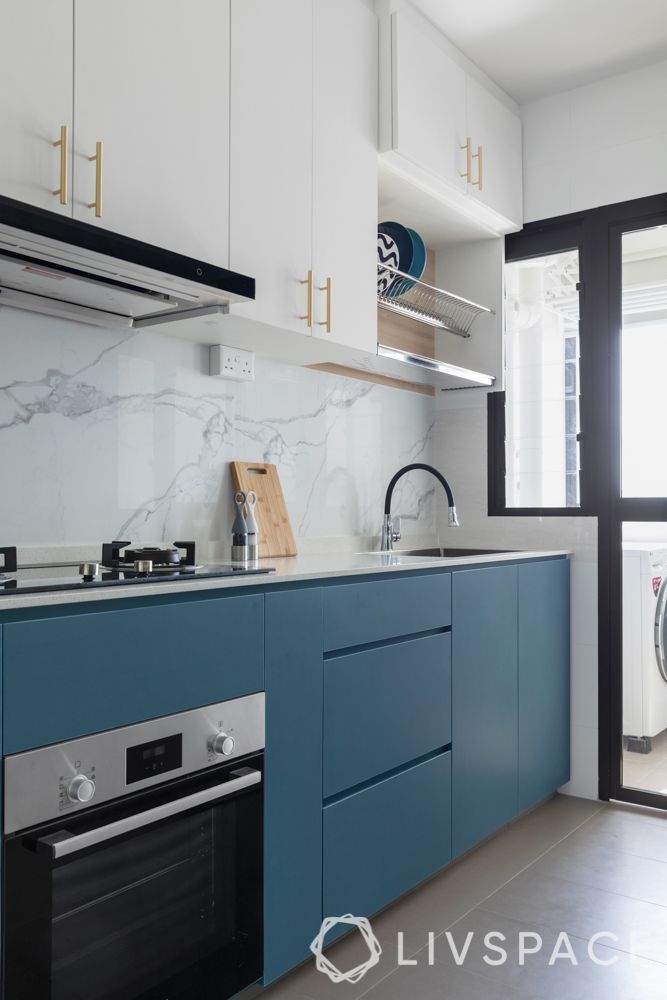 #7: What kind of food and cooking method/s do you prefer?
A. Traditional food and cooking methods like stir-frying, braising, deep-frying, boiling, etc.
B. Easy-to-prepare food and fast-to-cook methods
If you've selected A: Your kitchen needs a gas hob. Plus, if you cook for a big family you will need more burners. This means the amount of countertop space will be lesser and you might need to opt for an extendable top or an island counter as part of your kitchen design. To rid odours properly, get a full hood above 400 cubic metres for decent air suction or, if your kitchen is larger, consider one that is 600 cubic metres for extra power. Remember, the bigger your hood, the lesser cabinetry you'd have.
If you've selected B: Your kitchen will probably have an induction hob (of few burners), a microwave oven or an air fryer as well. Confirm the number of such appliances early and get the actual sizes to your designer before starting on your kitchen plan. You can choose to customise built-in shelving for a streamlined look or opt for more storage by leaving these appliances on the countertop.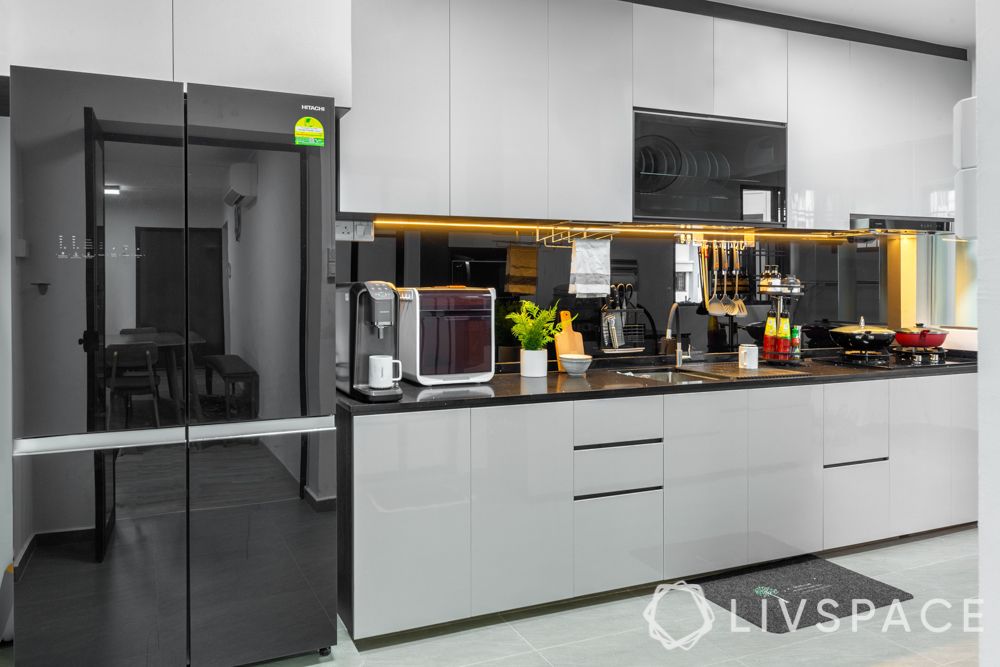 #8: Do you intend to buy a coffee machine and/or water filter or ionizer?
A. Yes
B. No
If you've selected A: If you need your caffeine break daily, or if you prefer alkaline or filtered water instead of tap water, do let your designer know in advance. The area near your kitchen sink will need to cater to a water inlet and outlet to support the use of each of these machines.
If you've selected B: You'd have no worries then!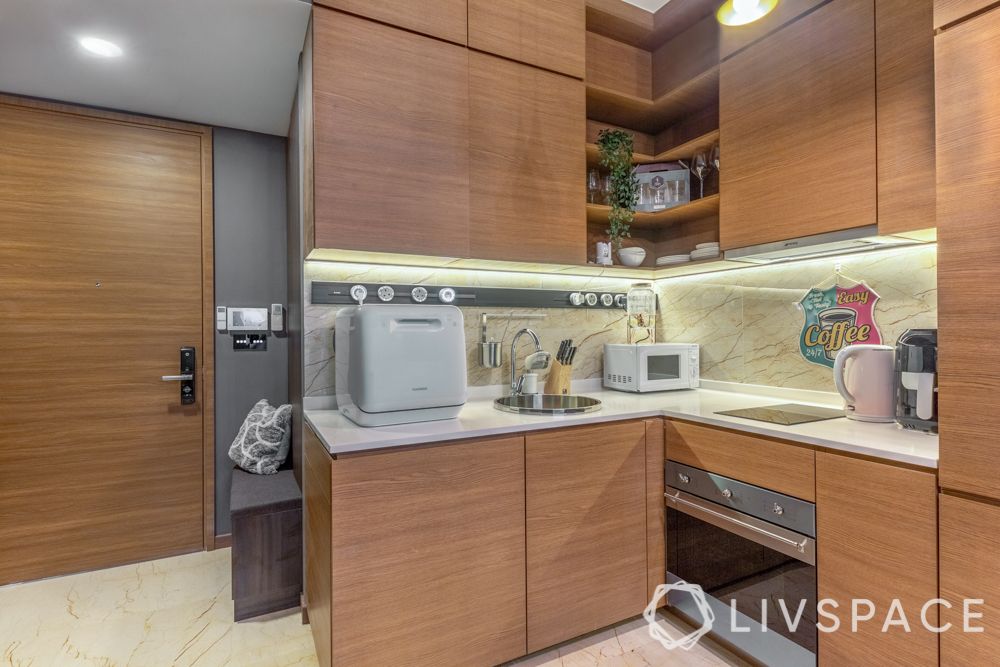 How can Livspace help you?
Knowing what you need is truly half the job done. If you want to get the perfect HDB kitchen design, then Livspace is your go-to expert. Our talented designers will deliver quality and safe interiors. All you have to do is book a consultation.
You can learn more about our COVID-19 safety standard here.
Now that you know what kind of kitchen you will need, here are some Stunning Kitchen Ideas for Your HDB for more inspiration.
Send in your comments and suggestions to editor.sg@livspace.com.