National day is a day that reminds Singapore of its roots. A day where Singaporeans love to don red and white with open arms. Being in the interior design business, we think that it is a fantastic colour combination for home interiors as well. So, how about experimenting with red and white interiors? A red and white house interior triggers creativity, passion and ambition. Thus, used correctly, a red and white house interior can make for a home bustling with energy.
Thus, we decided to bring in ten ways you can use red and white interior design in every room. We hope to inspire you with some amazing interiors.
#1: Welcome Guests in With Red and White Interiors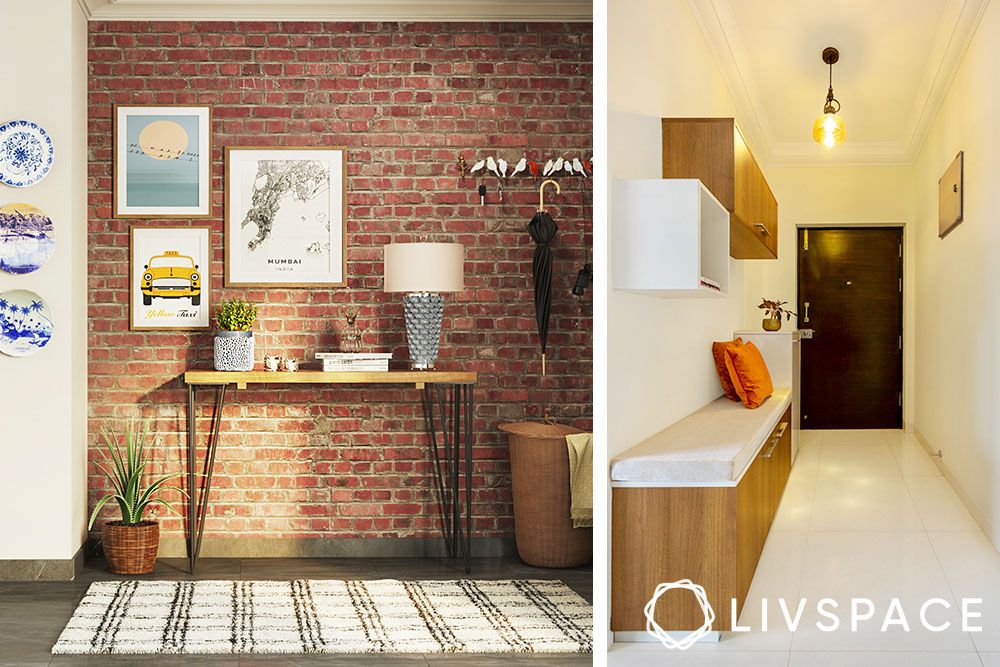 When guests visit your home, the foyer makes the first impression. Thus, it makes sense to reserve a red and white house interior design for the entryway. This will instantly make a statement to your guests.
Ways to Get Red and White Interiors for Foyer:
Furnish the foyer with red and white house decor ideas. For example, use red pots to contrast white backgrounds
Opt for a red painted material in case your foyer has shoe cabinets or storage units
Experiment with an exposed brick wall background to instantly draw attention
#2: Look Into Red and White Living Room Ideas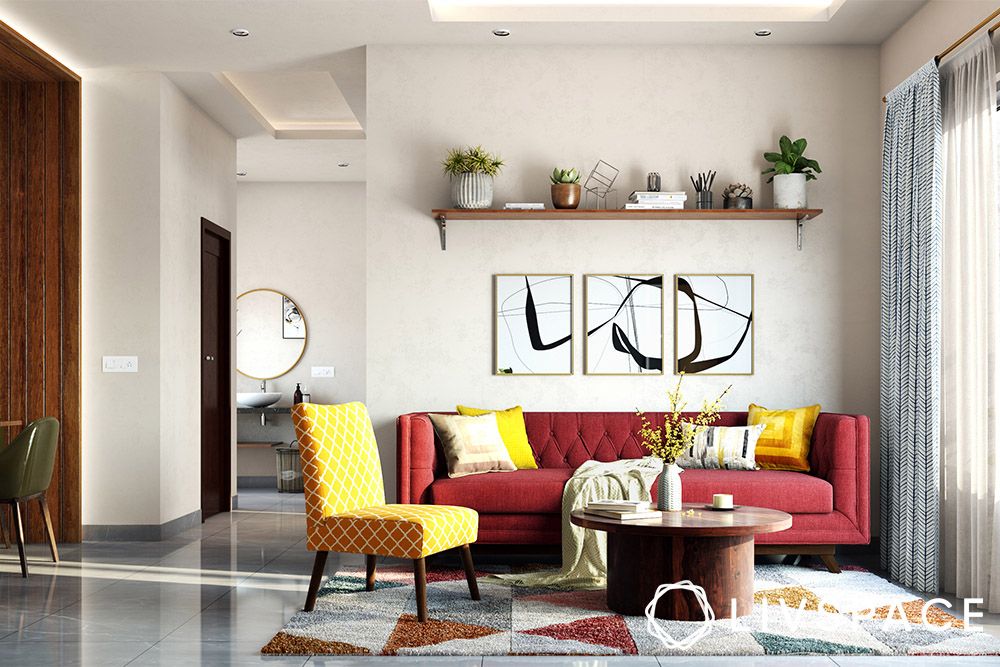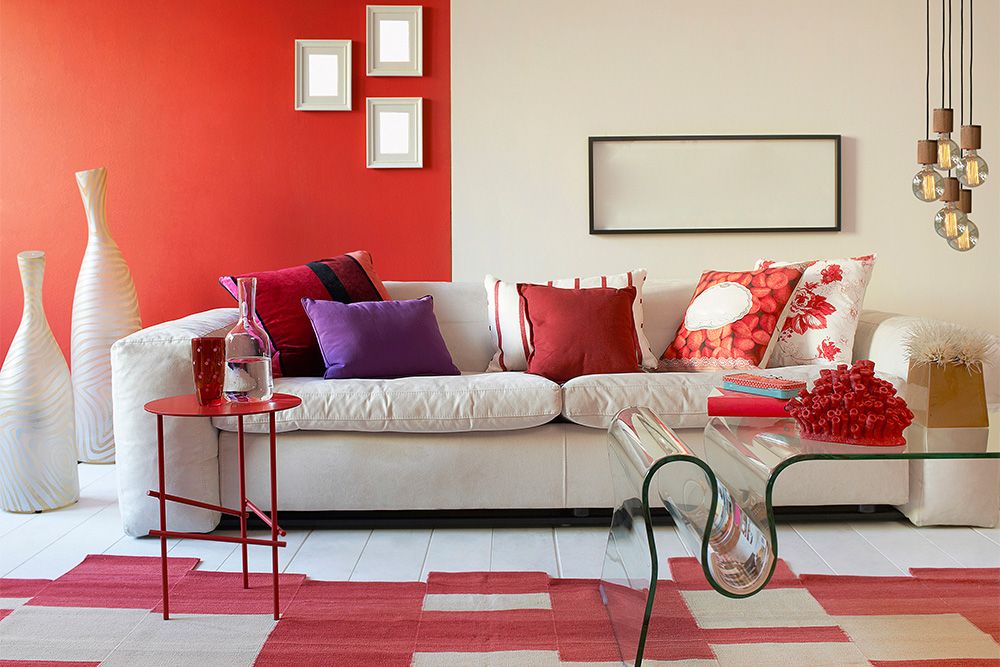 The living room is a formal area;it's where you entertain guests. Thus, it makes sense to infuse red and white into your living room to bring in some energy. This colour combination is sure to elevate the look of your living room.
Red and White Living Room Ideas:
Bring in a bold, red sofa to serve as a focal point
Pick red for an accent wall. You can also go for an innovative wallpaper with quirky patterns and design
Consider red and white house decor ideas. Red decor can act as an accent hue in your living room
#3: Define The Dining Space With Red and White House Interior Design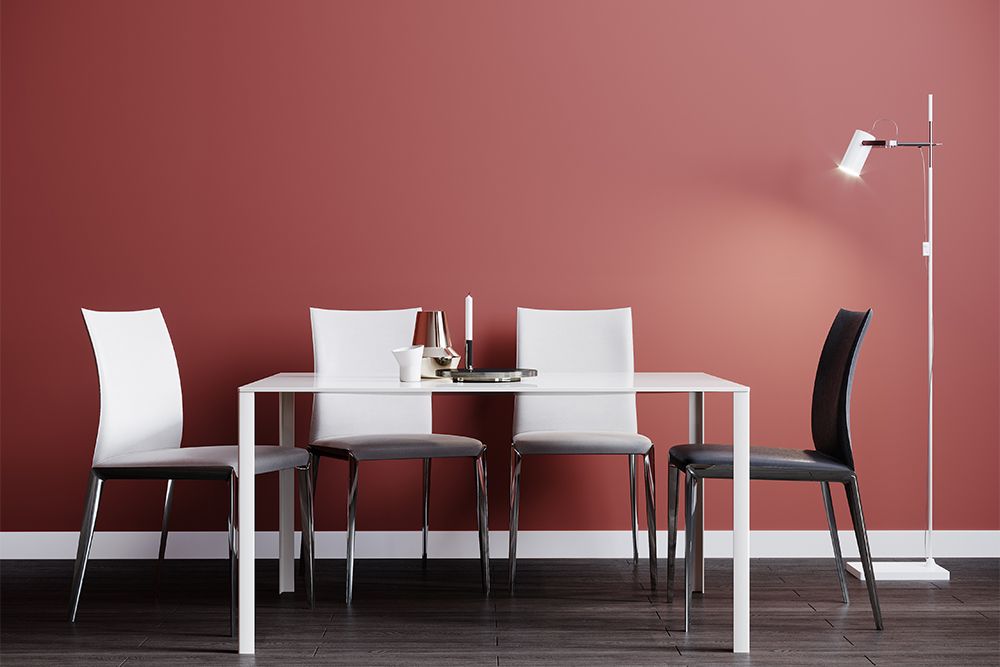 Have you noticed that most eateries and restaurants have red walls? There is a scientific reason behind this. It's purported that the colour red helps to increase appetites. Thus, a touch of red is a perennial favourite. Combine that with white to get vivid red and white interiors.
Ways to Add Red and White House Interior to the Dining Space
Use red drapes in the living room to lend its fiery energy to the space
Make use of a red centerpiece or table mats to draw the eye to it
You can opt for red chairs or dining tabletop
#4: Opt for Red and White Combination in Bedroom Interiors
When it comes to dual coloured bedroom interiors, we advise you to make use of red and white house decor items. Since the bedroom is a space to relax, opt for a lighter shade of red as an accent colour, or a deeper shade to promote sensuality.
Ideas to Work With Red and White Combination Bedroom Interior:
Look into red and white house decor ideas and add decoration accent pieces to the bedroom
Bring in the colours on an accent wall. If possible, reserve it for the wall you have your home office next to.
If you want a creative corner in your bedroom, consider using red for the space.
#5: Get Quirky Kids Room Interiors for a Red and White Combination House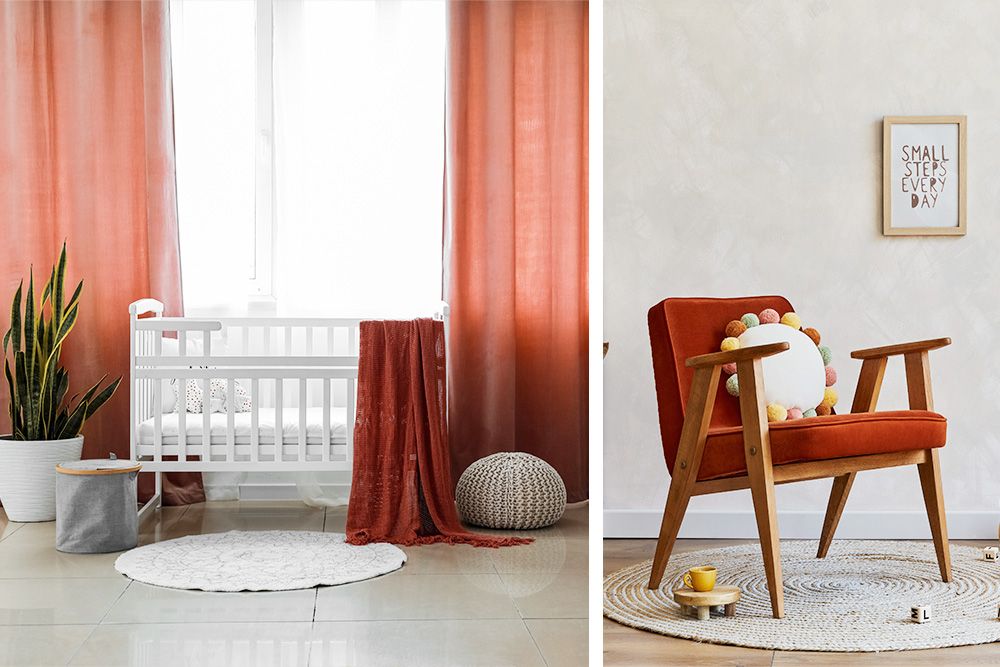 The most exciting space to use red and white house interior design is the kids bedroom. It creates a vivid and energised aura in the kids room. The colour red may stimulate a lot of creative ideas in your child!
Spaces in the Kids Bedroom for Red and White House Interior Design
The play area is the ideal space to introduce red and white interiors as it is a designated stimulating spot
You can opt for red and white combination furniture as well
You can bring in your painting skills to the wall and opt to make drawings/stencils on the walls using different reds on the white wall
#6: Dazzle With the Kitchen of Your Red and White House Interior Design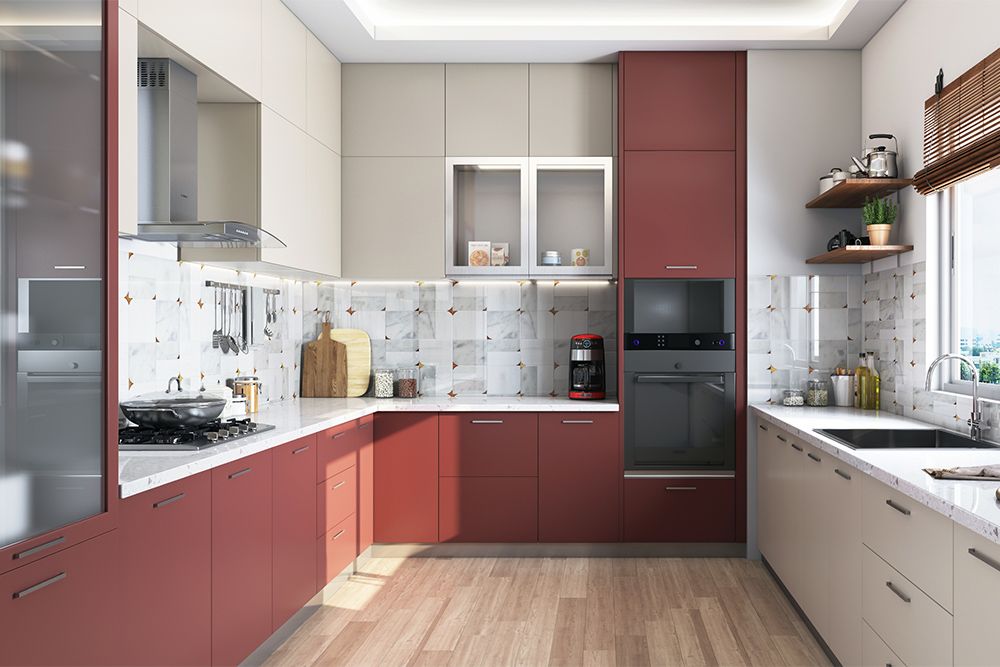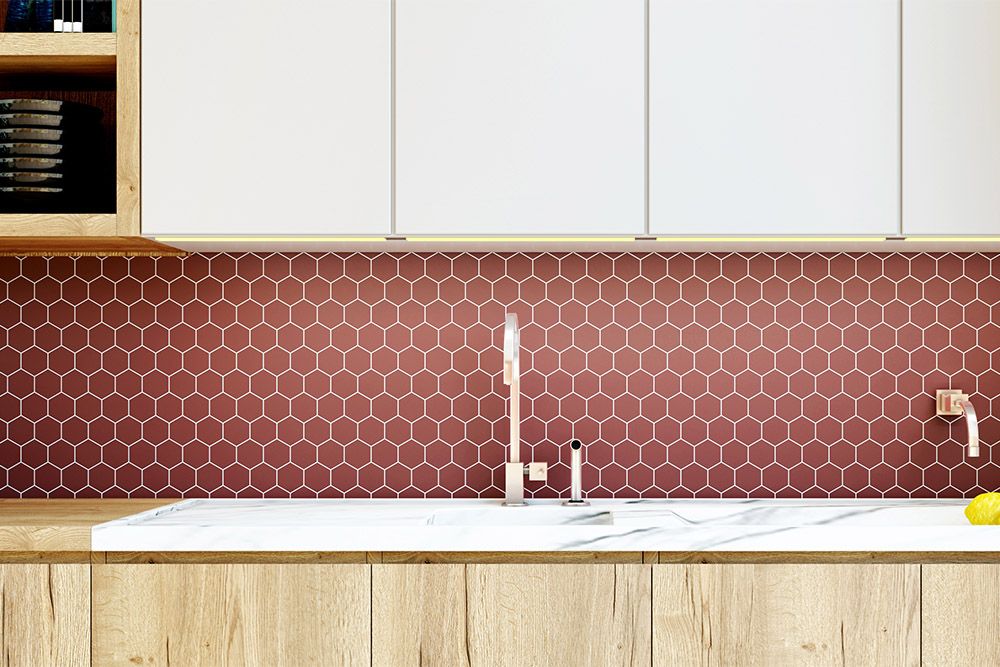 This house's kitchen shares a similar vision to that of the dining area. Red has a positive effect on the appetite. This, combined with the fact that stains hardly show up on reds, make it an easy-to-maintain colour choice.
Ideas to Infuse Red and White Interiors in the Kitchen
Opt for a red and white finish. The above kitchen has matte laminates that add to its look
If you want to add just a dash of colour, consider red-painted open shelves. These can double up as accents in your kitchen
Opt for a red countertop and contrast it with white cabinets.
#7: Fashion Red and White Interiors With the Help of Flooring
To get a red and white house interior, you can make the floor your friend. A red floor is a bold choice in the home. It will elevate the aesthetic of a room and add a romantic, yet rustic quality to your home.
Ways to Make a Red and White Combination House With Flooring
Opt for red and white combination tiles. There are quite a few options available in the market
If you don't want to go all the way out, try red carpets and rugs.
Add floor cushions to your white rugs
#8: Customise a Red and White Combination Bathroom Design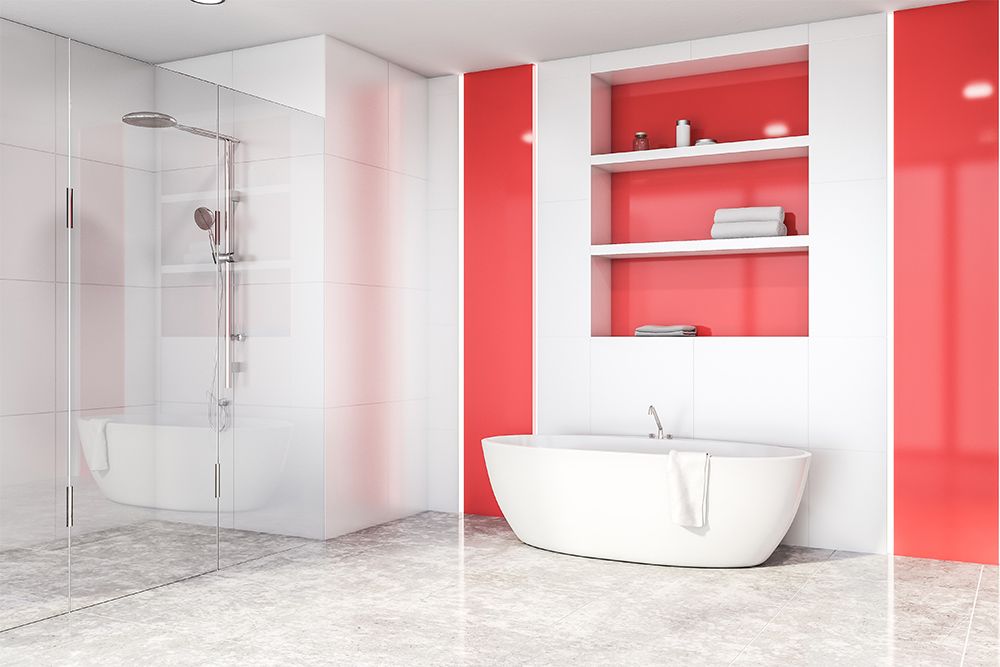 Reds in the bathroom create an edgy design. But be sure to use red sparingly in your bathroom, lest you want to create the scene of a bloodbath. Reds also work as accent colours in the washroom.
How to Use Red as an Accent Colour in a White Bathroom?
Highlight the shelves with the red colour to draw focus
Pick red to transform the look of your wash basin area
Use red accessories to your bathroom such as red flowers, towels and other toiletries.
#9: Extend the Red and White House Interior Design Ideas to Your Home Office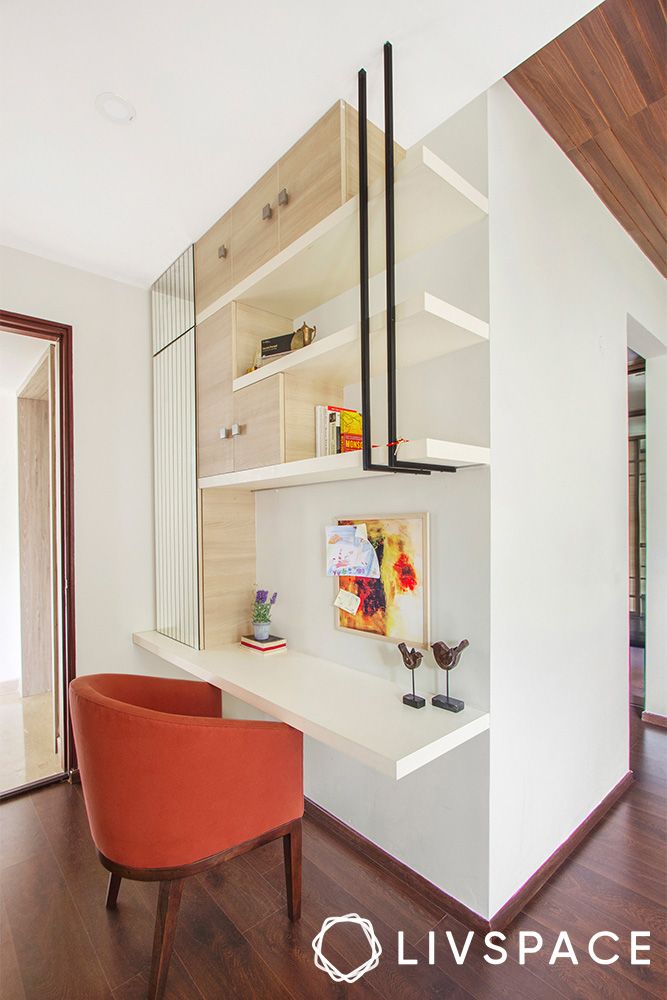 Red is an ideal choice for any office setup. As mentioned, red fuels creativity. Thus, use reds in the office space to get the best out of your red and white house interior.
Here is How to Leverage the Colours in Your Home Office:
Through an accent wall; red is versatile enough to give you purpose and the room, personality.
A red chair just makes sense against the white backdrop
Use red sparingly, with red shelves or decor on the shelves
#10: Start With a Red and White Hour Design Exterior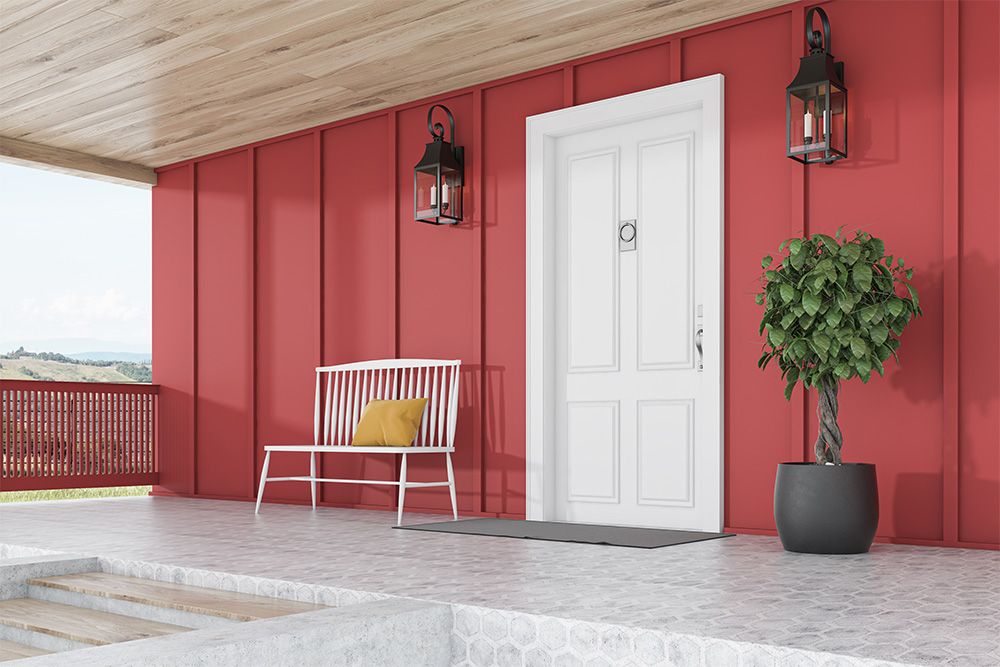 When it comes to real estate, this colour combination makes swift sales. The potential reason is that a red and white house design exterior sticks out, helping the viewer single it out. The colour read Red colour is vibrant and thus, attracts the eye almost immediately.
Ways to Get a Red and White House Design Exterior:
Use red as a paint choice for your exterior walls
Opt for a red painted door. According to Feng Shui, red door symbolises positivity and brings good luck to the house
Get creative and bring wall artwork on your house exterior
This is how you can make red and white interiors work for your house. We wish you a happy National Day!. If you are looking for more colourful ideas, check out Timeless, classy two-colour combinations for bedroom walls in Singapore. If you want to get your interiors done, we'd love to help you.
How Can Livspace Help You?
We hope you found our ideas useful! If you want your home to be just as beautiful, then look no further. Book an online consultation with Livspace today. Delivering safe home interiors has been our No. 1 priority. Click here to find out how interiors are being delivered following all safety protocols.