If you're a Singaporean, you know how necessary home renovations are for resale and HDB properties. But renovation for homes comes with a lot of challenges based on the needs and demands of the family for which they are to be redesigned. Given that the resale flats are likely to be decades old and will have undergone natural wear and tear, extra attention to detail is required, whereas HDB homes are publicly provided and hence, need to be modified as per the needs of the new homeowners.
At Livspace, we don't just create brand new homes; we also restore classic spaces suitable for the modern homeowner. In this story, we'll take you through five of our favourite home renovations we've done in 2021.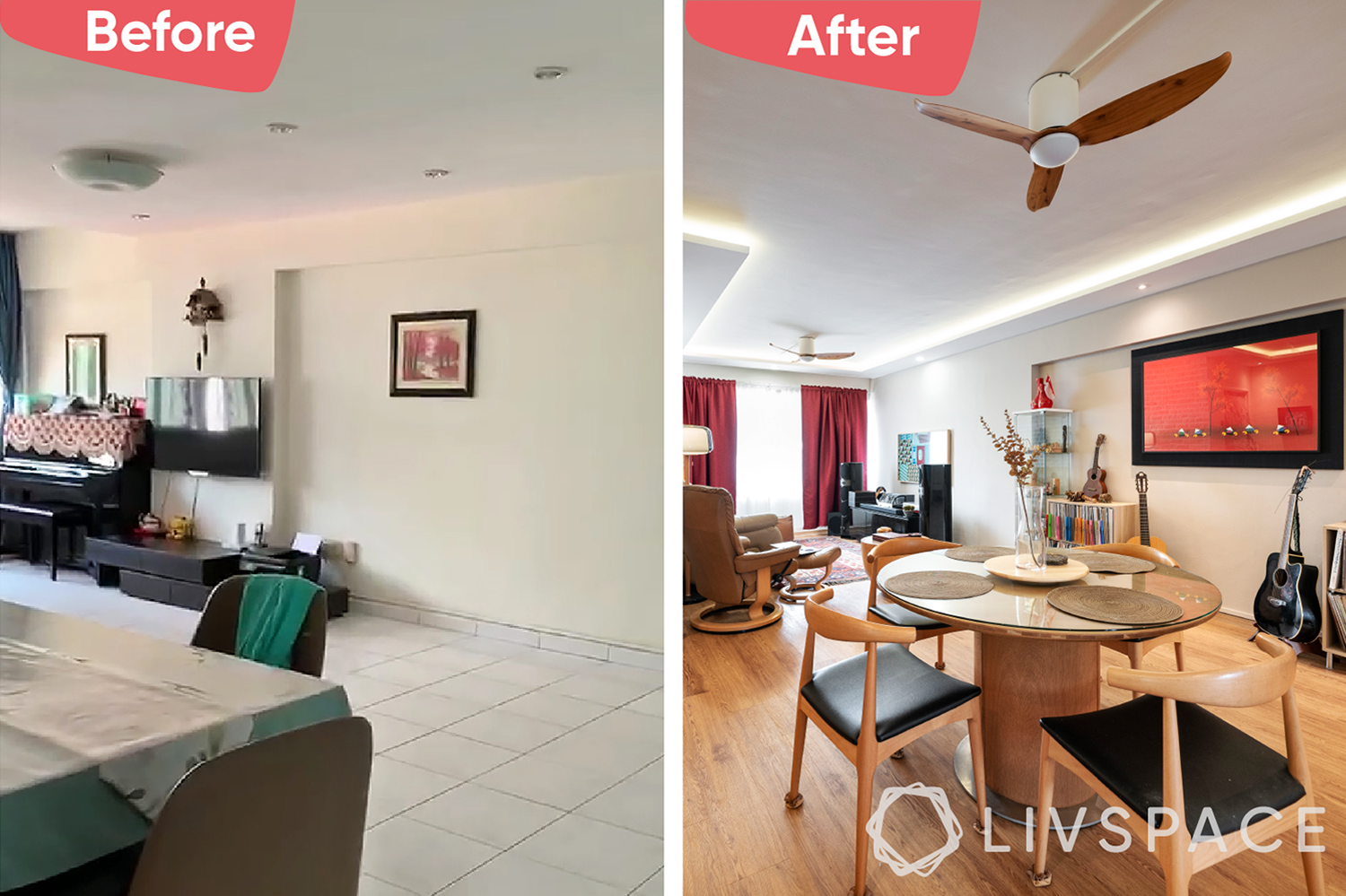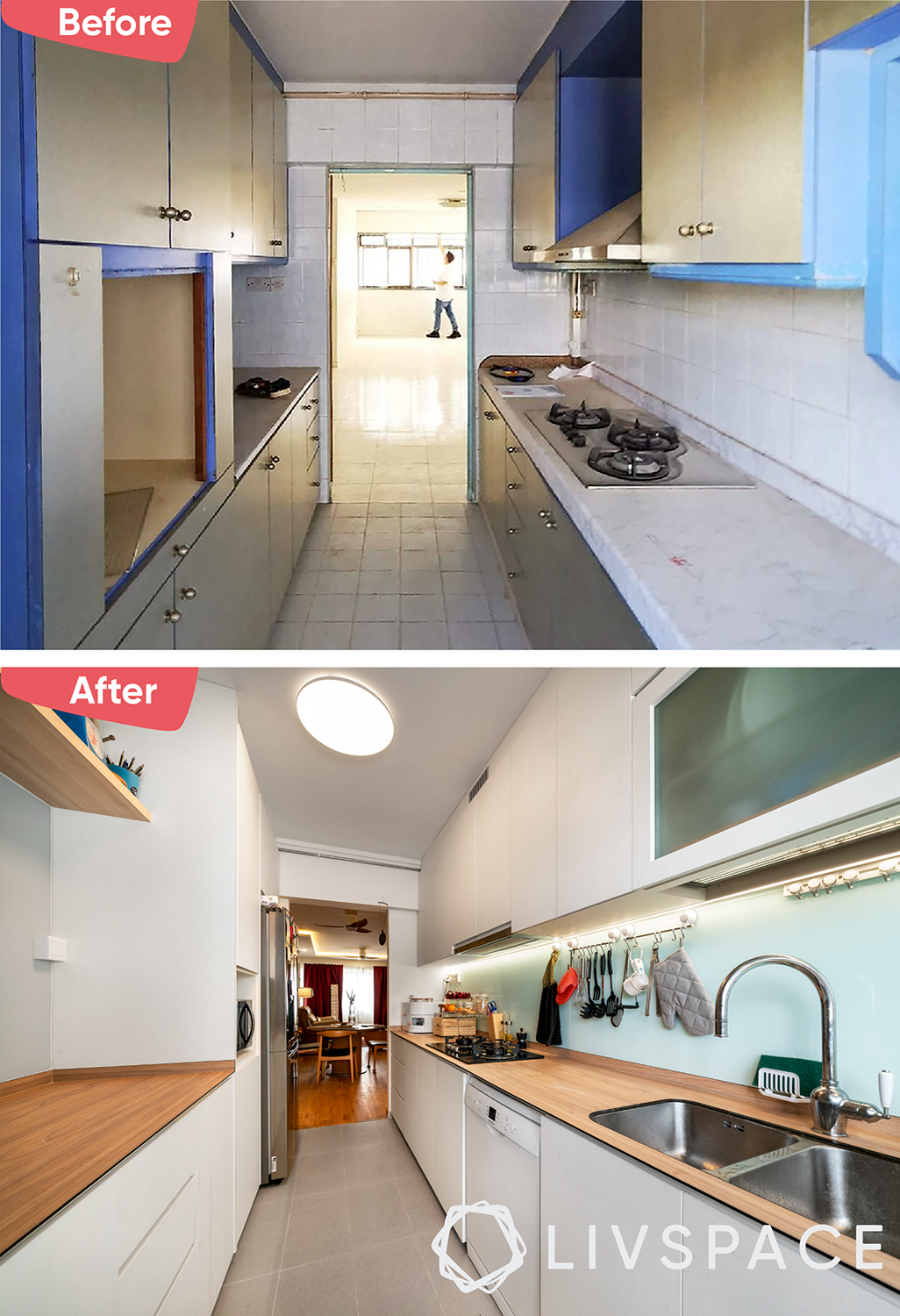 Who livs here: Krish Iyer
Location: 772 Bedok Reservoir View
Type of home: 5-room HDB
Livspace team: Interior designer Ava Gui and project manager Kent Huang
Livspace service: Design, demolition, masonry, carpentry, electrical, plumbing, ceiling and partition work, painting
Budget: $$$$$
This 5-room HDB renovation will surely win your hearts. Krish wanted his home to be comfortable and cosy, or in his words to the designer, "A home I want to live in". The entrance to this open-plan home consists of a foyer with neutral colours and has a white shoe cabinet. A brick accent wall to the living room adds some interesting character to the space and is done up with comfort and convenience in mind, with recliners, a sound system with amplifiers and a TV console.
A false ceiling with cove lighting runs uninterrupted from the living to the dining room. The kitchen that is the highlight of this HDB. The galley-style kitchen has enough space and open shelves to accommodate all appliances and accessories to help the homeowner along as he pursues his culinary adventures. The colour theme of the kitchen is primarily white in contrast to the wooden countertops. The study room is equipped with an IKEA pax wardrobe while the bedroom has ample storage space, thanks to the maximum-storage IKEA wardrobes. The wooden flooring adds a luxe touch to the house.
"It was a delight to interact with Livspace designers who incorporated our requirements and translated them into a classy yet cost-effective design concept. Thanks to the Livspace team for their efforts and immaculate customer-focused service."
Livspace Homeowner
ALSO READ: Modern Interiors Made This Old HDB Go From Boring to Fabulous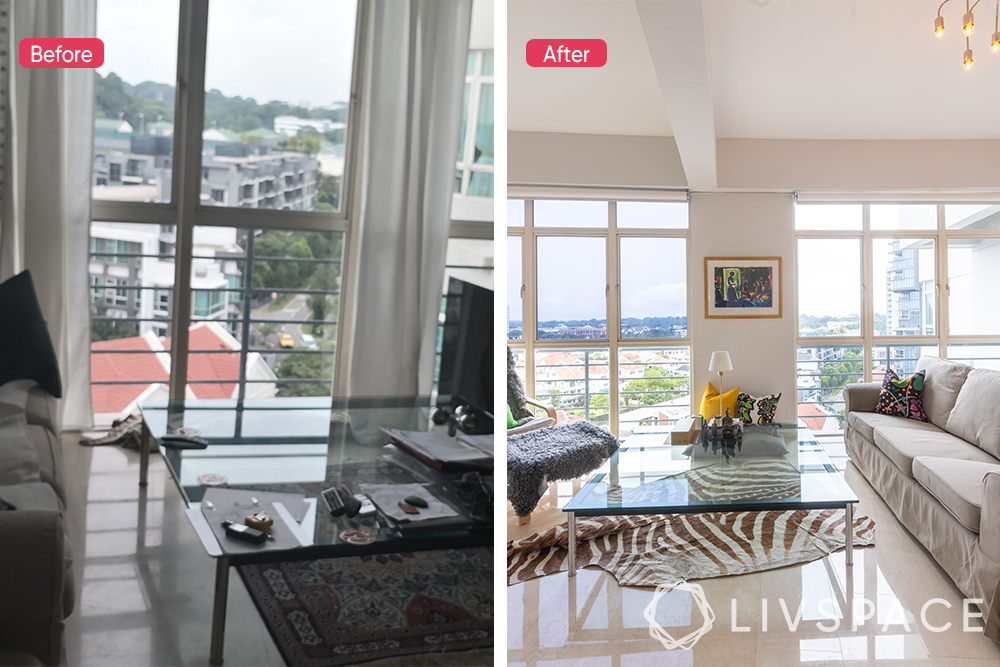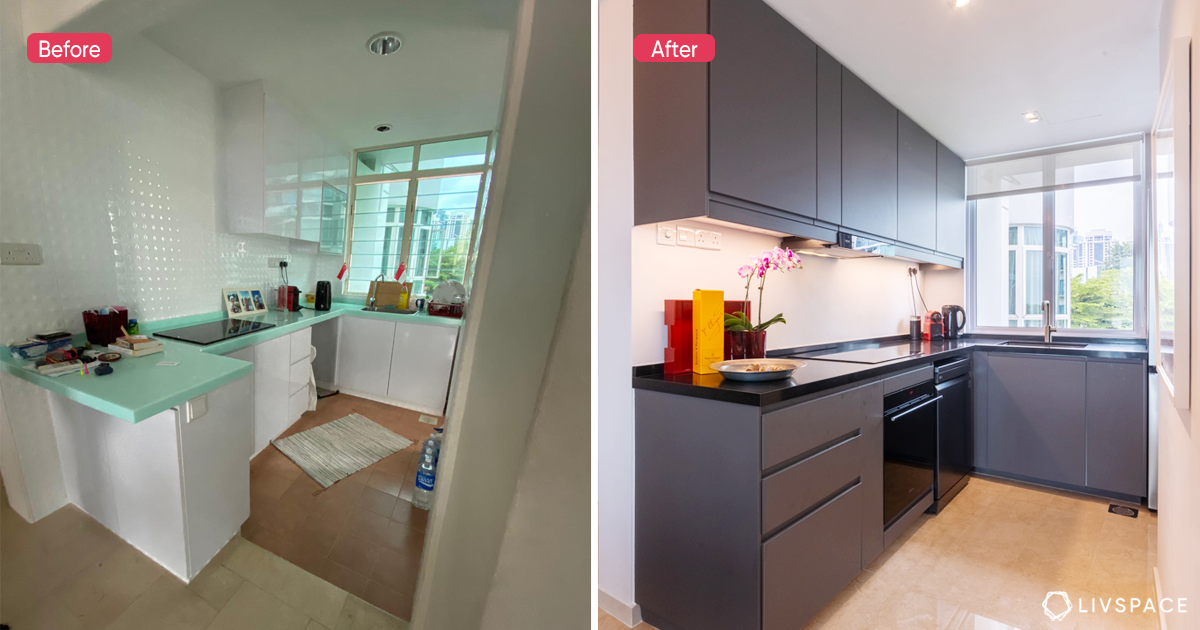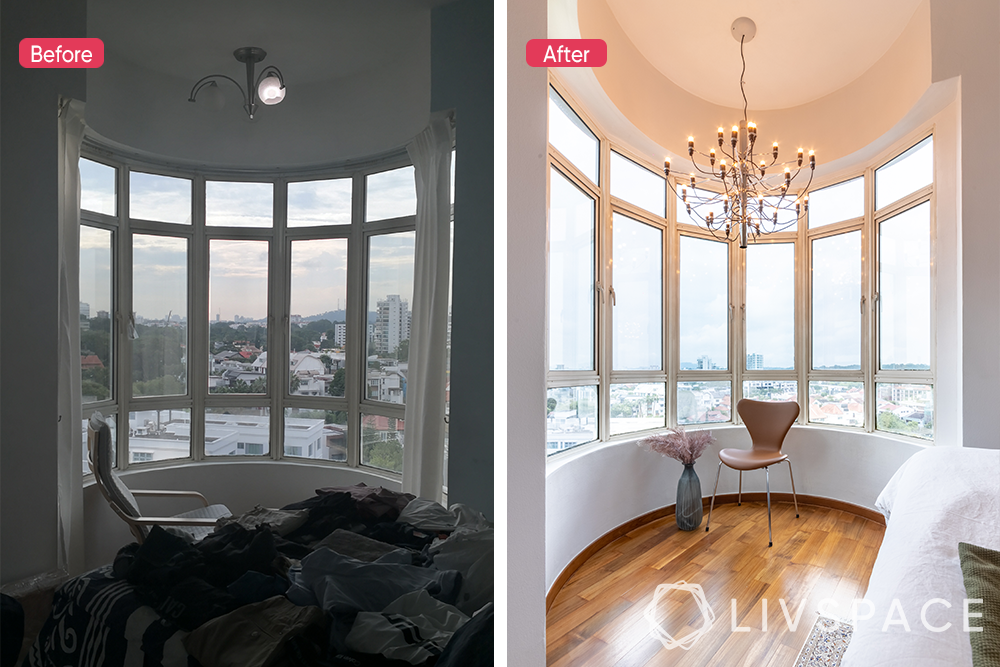 Who livs here: A couple
Location: 35 Robin Road
Type and size of home: 2-room condo spanning 98 sq. m.
Livspace team: Interior designer and project manager Ava Gui
Livspace service: Full house renovation
Budget: $$$$$ ____ 60K
This home renovation was all about creating a minimalist home inspired by mid-century design pieces in soothing neutral colours. The homeowner asked our designers to convert this 3-bedroom condo into a two-bedroom one to make it more spacious and comfortable. As the couple said that they love spending time in the living room, the Livspace designer Ava Gui redeveloped huge floor-to-ceiling glass windows to let in ample natural light and give them a good city view. Adding to the elegance are the artworks and prints that complement the neutral decor.
The dining room is a mix of new and old design styles. The curvy antique wooden cabinet from the 1800s, for example, which sits on glossy marble flooring. The kitchen is spacious and has ample space to hold accessories. The luxurious marble flooring that has been perfectly offset by the sleek dark grey cabinetry is the focal point. The balck countertop further adds to the classy look. The bedroom in this house is like a dream as the reading-cum-sun-corner also gives a breathtaking view of the city! The two bathrooms in this house are high on functionality.
ALSO READ: This 98 sq. m. Condo Got a Makeover That is Filled with Stunning Details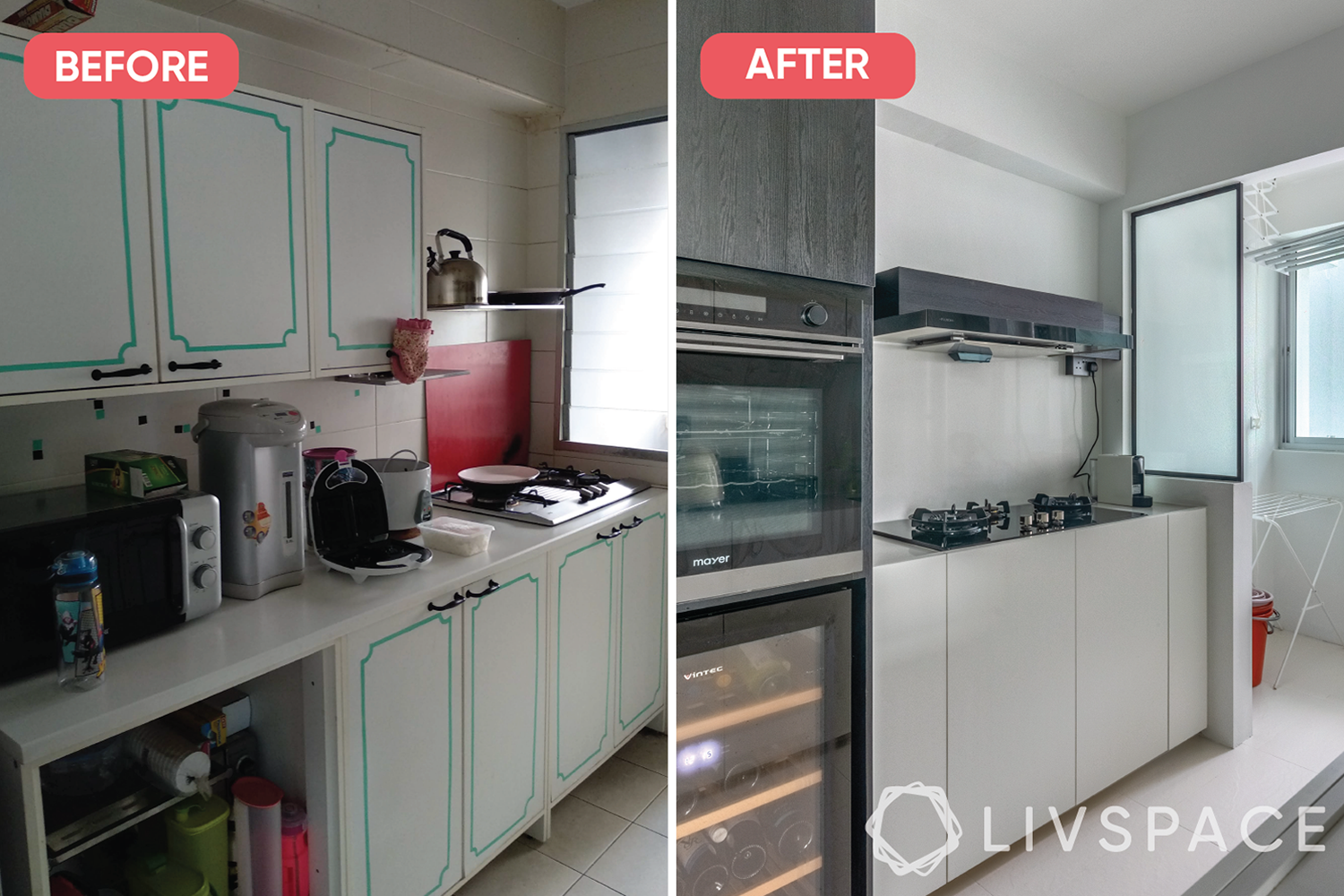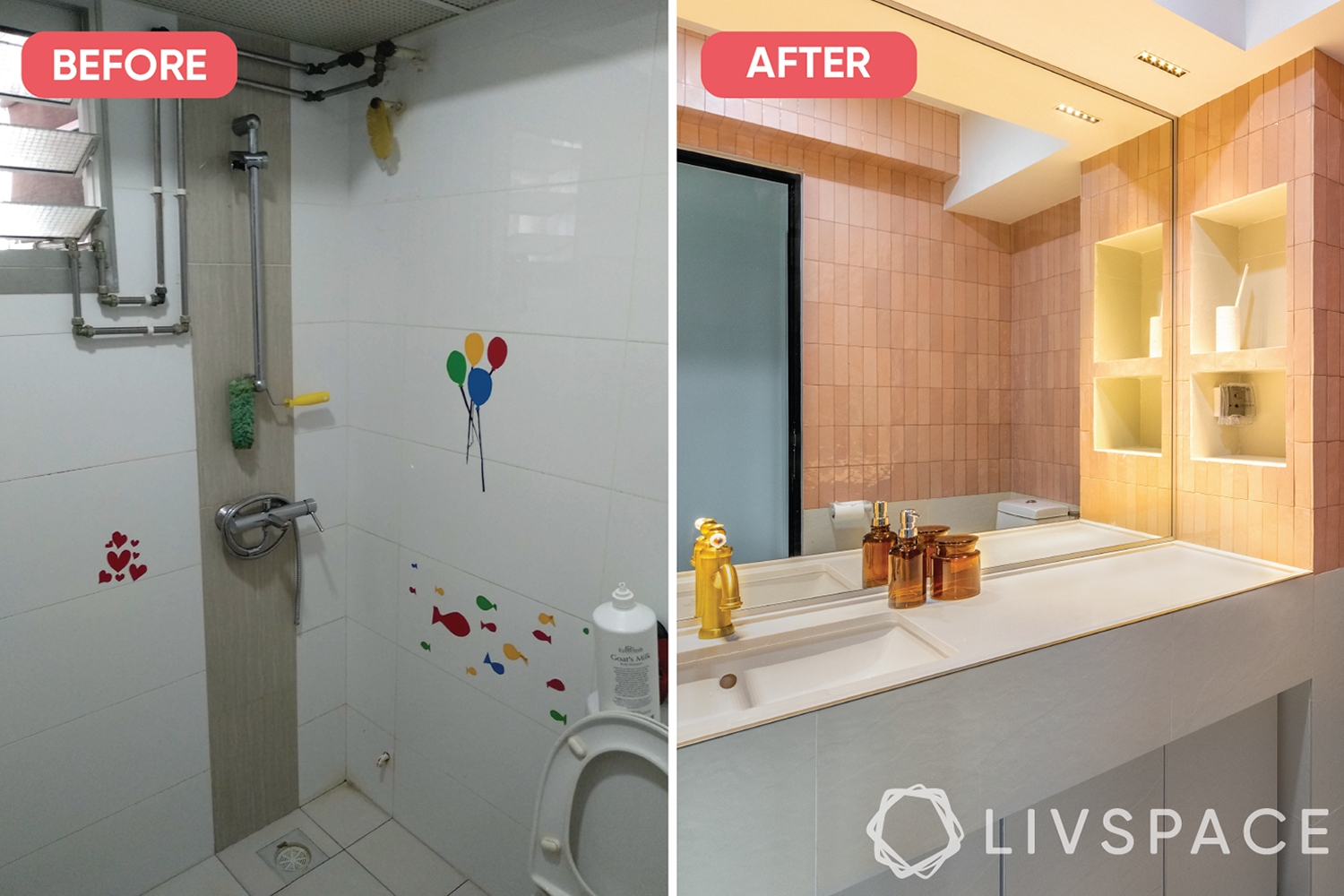 Who livs here: James Goh with his wife, Tim
Location: Block 890A, Tampines Ave 1
Type of home: 4-room resale HDB
Livspace team: Interior designer Weigen Pan with project manager Kent Huang
Livspace service: Design, mansory, demolition, carpentry, electrical, plastering, painting, FF&E purchasing
Budget: $$$$$
We bet this black-and-white-coloured HDB interior design will leave you impressed. The main purpose of this home renovation was to change the old look of the place and make it clean, crisp and spacious. James and Tim are ardent lovers of minimalist lifestyle. They wanted a minimal aesthetic in their home with no evident colour. In keeping with this client request, interior designer Weigen Pan used soft and soothing neutrals for the living room, with a grey-upholstered two-seater sofa and the TV unit in matte black.
The kitchen that resulted from the renovation is certainly Insta-worthy! High on functionality with the golden work triangle ensuring efficiency, the space makes an elegant statement with textured cabinets in dark wood and an easy-to-clean white quartz non-drip countertop. The bedroom, too, is simple with in and black shades and wooden flooring. The posh-looking black wardrobe is a decidedly bold look.
"Since we are very busy, we wanted someone who would keep us informed about the progress of our home. The team at Livspace was very responsive and gave us regular updates. It was a fulfilling experience for us!"
James Goh
Livspace Homeowner
ALSO READ: 67 sq. m. Resale HDB Gets a Clean and Minimal Makeover With Neutral Colours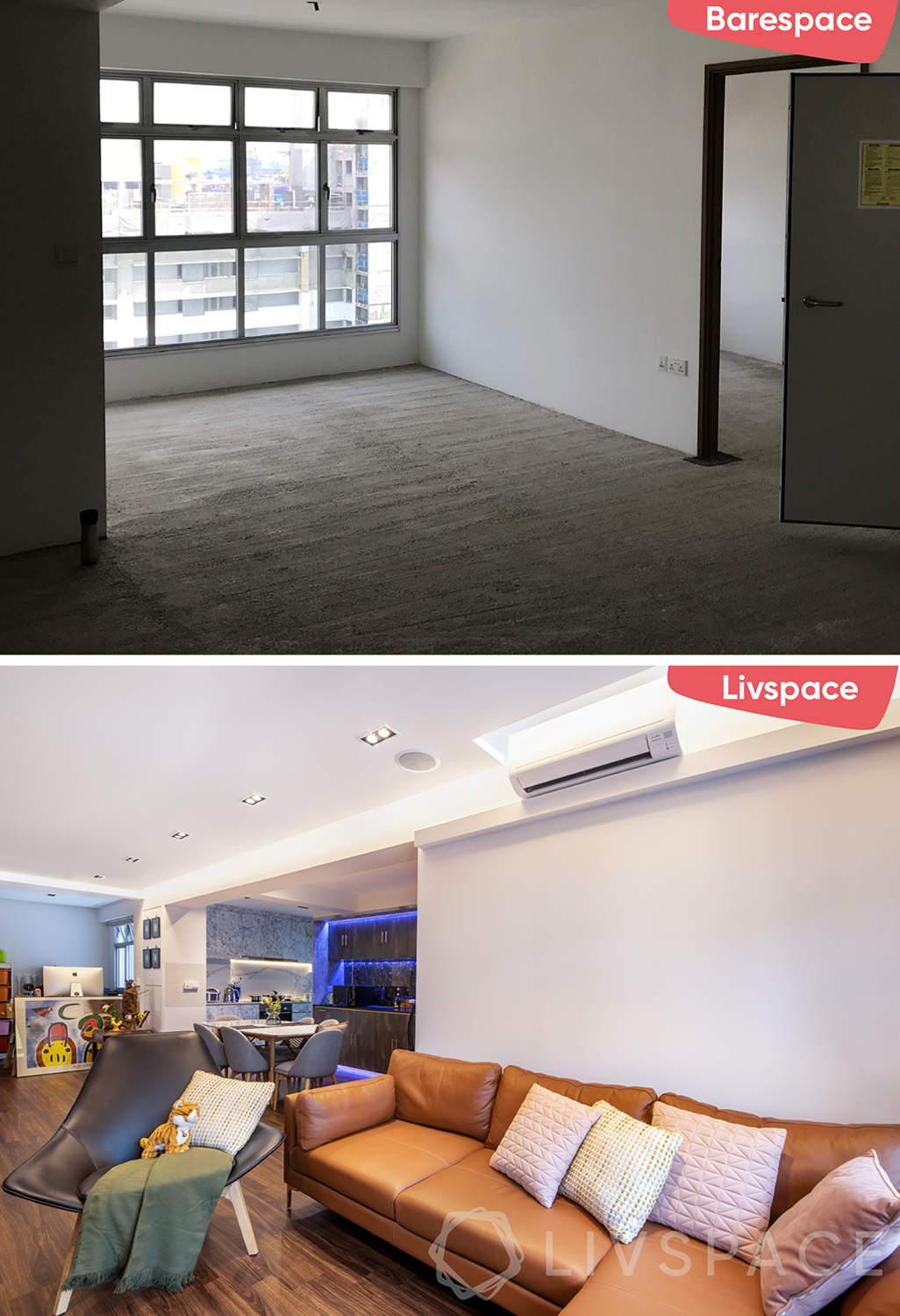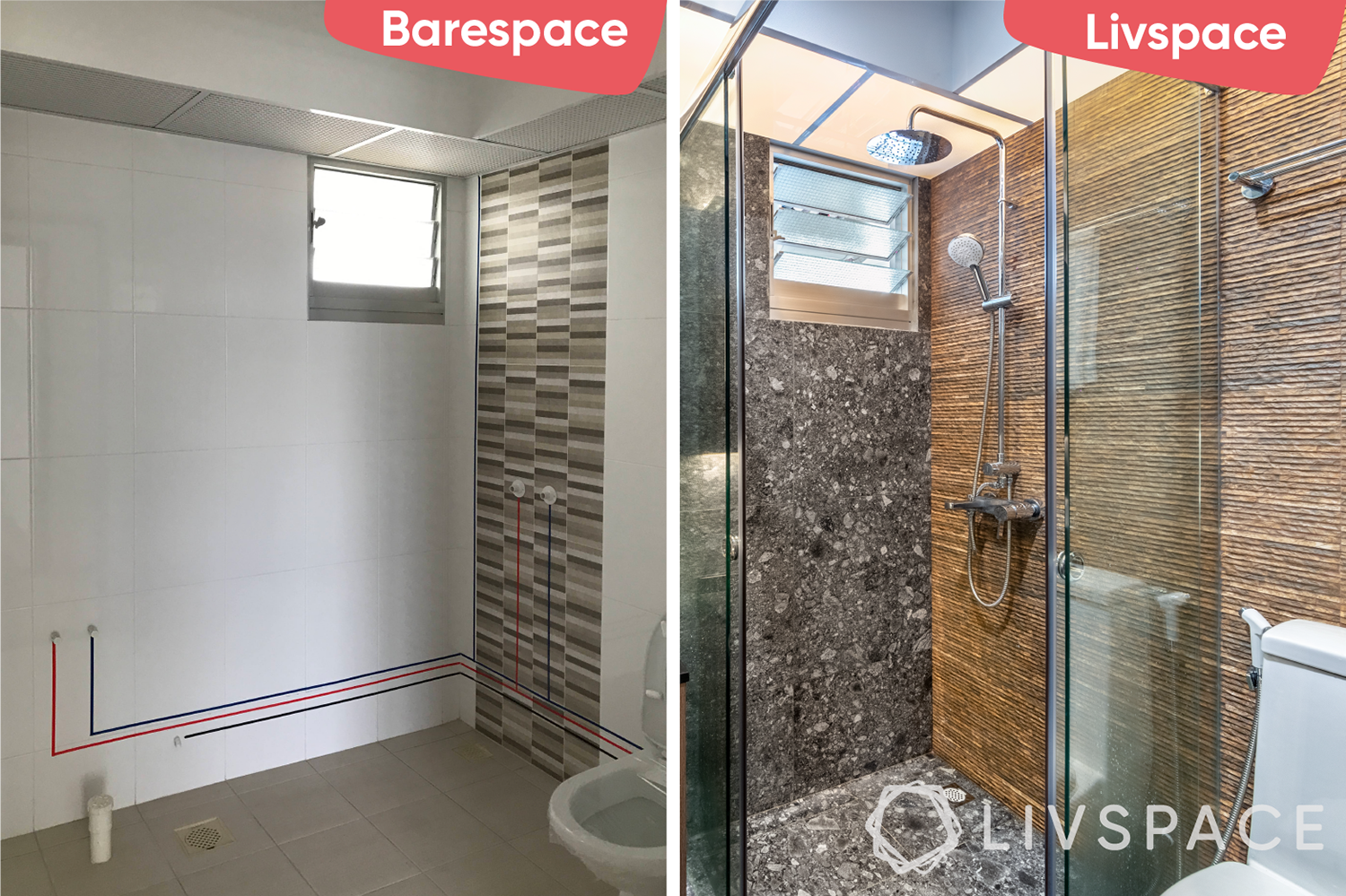 Who livs here: Alan Siang with his family
Location: 406A Northshore Drive
Type of home: 5-room BTO
Livspace team: Interior designer Songhao Chua with design manager Andee Ching
Livspace service: Full scope, including carpentry, masonry, electrical, plumbing, etc
Budget: $$$$$
This 5-room renovation home flaunts a modern design with ambient lights to create a comfortable vibe. The home is filled with natural finishes and lookalike materials like stone and granite that lend it a classy look. The family likes to spend quality time together. So, the interior designer Songhao Chua ensured that the living room had enough seating space and a TV unit with a good-quality sound system with speakers. The kitchen is divided into dry and wet areas but the best part of this space is the blue and green light that changes according to the mood!
The bedrooms are equipped with functional sliding-door wardrobes and a sleek wall-mounted dresser and a bronze mirror next to it while the daughter's bedroom has pretty pink walls. The bathrooms flaunt textured tiles on both the wall and floor with accent walls for the shower areas.
ALSO READ: How We Turned a Bare BTO Into a Dream Home for a Family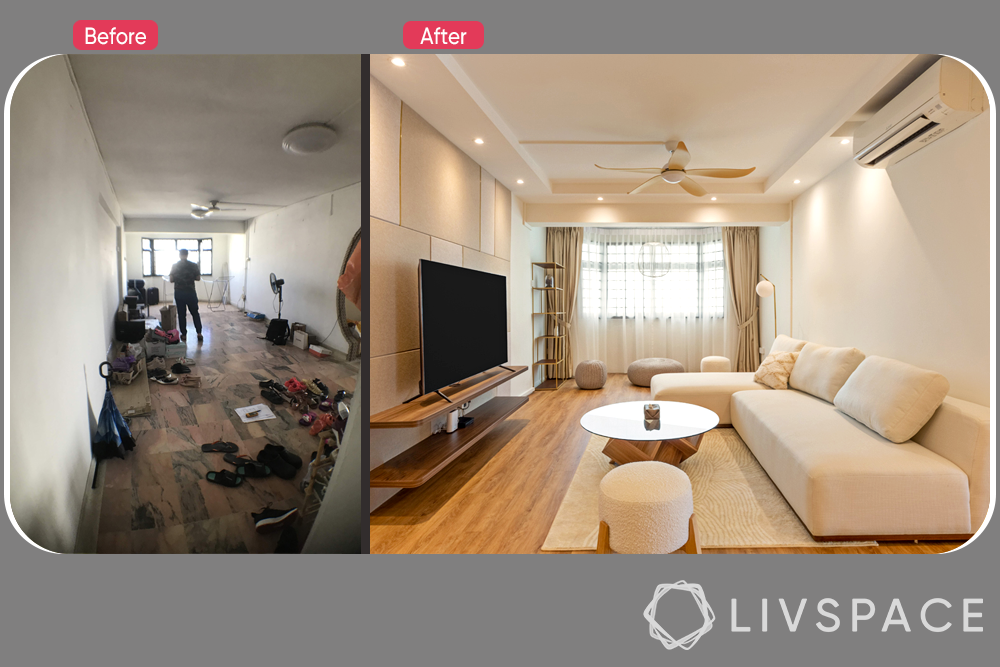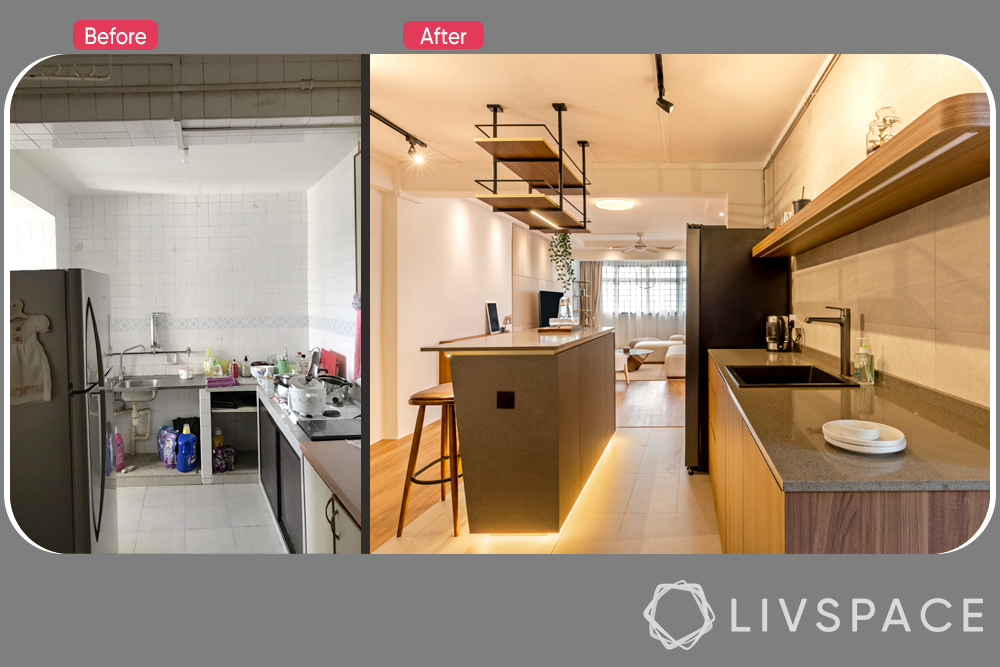 Who livs here: A couple
Location: Block 16 Hougang Ave 3
Type of home: 5-room resale HDB
Livspace team: Interior Designer Songhao Chua with Project Manager Jamal Ali
Livspace service: Design, hacking, masonry, plumbing, painting, carpentry and flooring work
Budget: $$$$$ ____ 60
The homeowners wanted their 5-room HDB to have a relaxing vibe, light colours and materials that added a hint of luxury. The biggest challenge for this renovation home story was replacing old fittings in this 46-year-old resale HDB with modern alternatives. We love the simple luxe design concept with tasteful fit-outs. The living room of this house consists of comfortable furniture with acoustic panels on the wall where the TV is mounted. The brass steel inlays embedded in-between panel joints give the living room a classy look.
The dining room is eye-poppingly designed. We especially love the dreamy white chandeliers. The highlights of this area are the banquet-style seating arrangement and wood-grain laminate on the walls. The kitchen has a lovely island that also functions as a serving bar counter. The bedroom is simple with minimal furniture and wardrobes with great storage space. The bathrooms were comparatively small and hence, were minimally designed to make them appear spacious.
ALSO READ: Extreme Makeover: This 5-room HDB Flaunts a Simple and Luxurious Look
Check out this BTO home renovation:
How can Livspace help you?
Did you find these renovation home stories inspiring? You can also get such beautiful interiors for your home with the help of Livspace. All you have to do is book an online consultation with our design experts to get safe and quality interiors. You can learn more about COVID-19 safety protocols here.
If you liked these homes, then be sure to check out this one too: https://www.livspace.com/sg/magazine/budget-homes
Send in your suggestions and comments toeditor.sg@livspace.com