Setting up your dream home? It's our favourite topic to discuss! We know you must be saving images on Instagram or Pinterest for renovation ideas HDB and searching for interior designers online or talking to people who just got their homes designed. If it helps, here are five of our latest HDB designs in Singapore that are high on style and functionality. Most importantly, they have happy homeowners, too!
HDB Renovation Idea #1: This HDB has a Mediterranean theme going on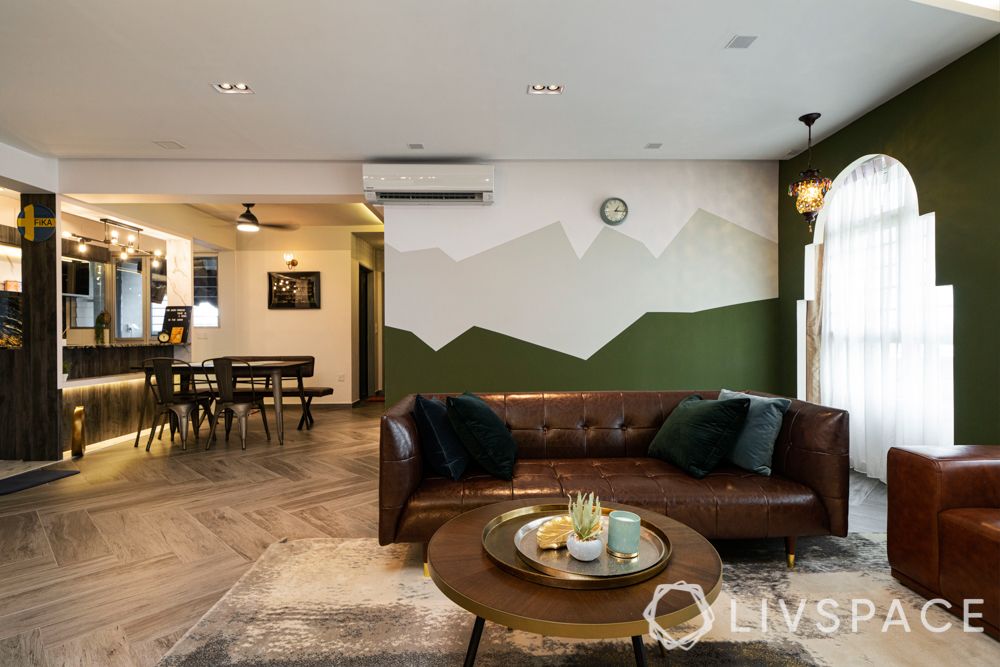 Who livs here: Kader S. with Malikka Begum and their toddler son
Size of home: 5-room HDB BTO spanning 112 sqm
Design team: Interior Designer Kader S.
Livspace service: Full home design
Here's an interesting fact about this HDB: the interior designer of this home is also the homeowner! Kader and Malikka's home is child-friendly, high on storage and dressed in a modern Mediterranean theme. Doesn't it sound intriguing?
Ideas to steal: The platform bed in the main bedroom is the perfect solution if you're looking for maximum floor space usage. In addition, the drawers at the bottom are great to tuck away bed linens, towels or even toys. So if you have the budget for carpentry, a tailor-made unit can fit in comfortably. This is definitely one of the best HDB renovation ideas.
See the full home here: What Happens When an Interior Designer Crafts His HDB Interiors?
HDB Renovation Idea #2: This 3-room HDB is proof that a small home can also pack a punch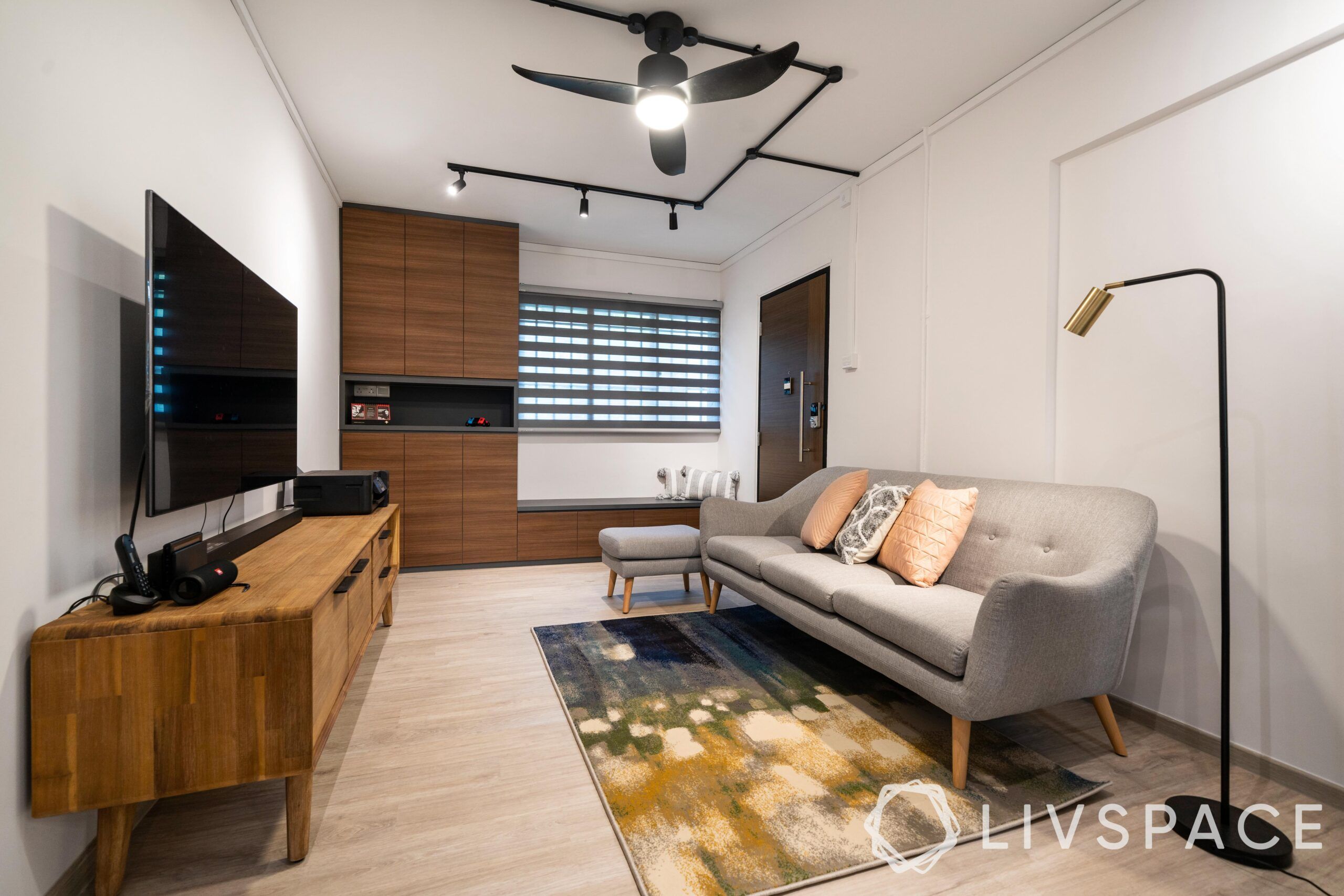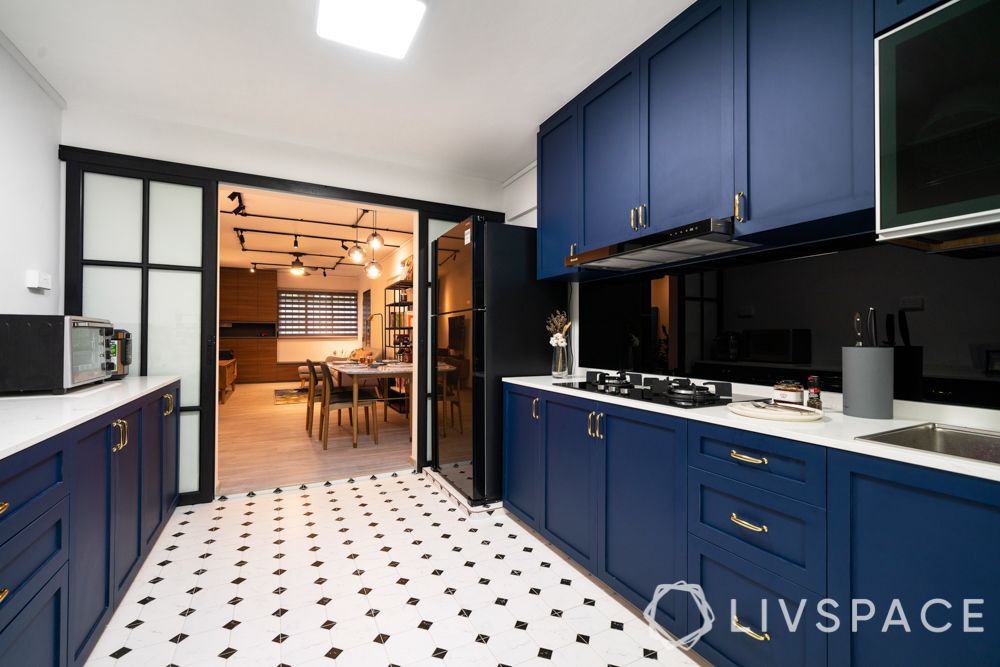 Who livs here: A couple
Size of home: 3-room HDB spanning 85 sqm
Design team: Interior Designer Shim
Livspace service: Full home design
The homeowners wanted a space they could unwind in at the end of the day. So the couple's living and dining nook are dipped in neutral tones to help them relax. Moreover, to keep things functional, you would also notice a floor-to-ceiling storage cabinet at the entrance and a cosy dining nook at one end of the living room.
Ideas to steal: Probably the easiest way to amplify the look of your interiors would be to play with colours. The kitchen in this HDB is painted in a gorgeous navy blue hue. In addition, the cabinets have been fitted with gold-toned handles to make a powerful and chic statement. Also, pair the look with patterned flooring and you would love spending time in the kitchen!
Want to see the rest of the home? Check this: Revealing its Exclusive Renovation Secrets: An 85 sqm Home Tour.
HDB Renovation Idea #3: Learn the art of designing your home with cool colours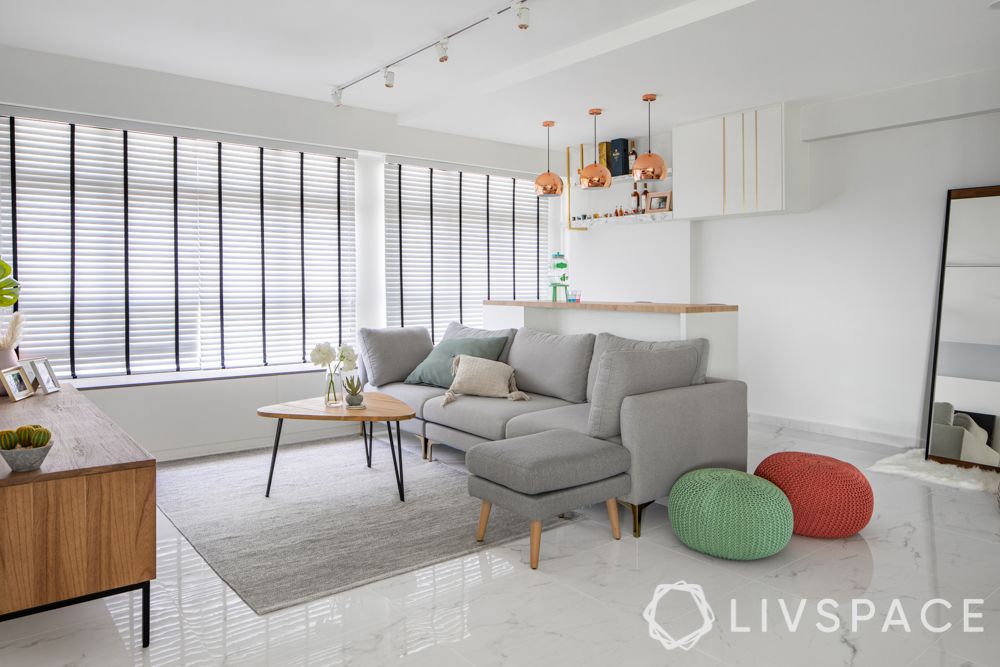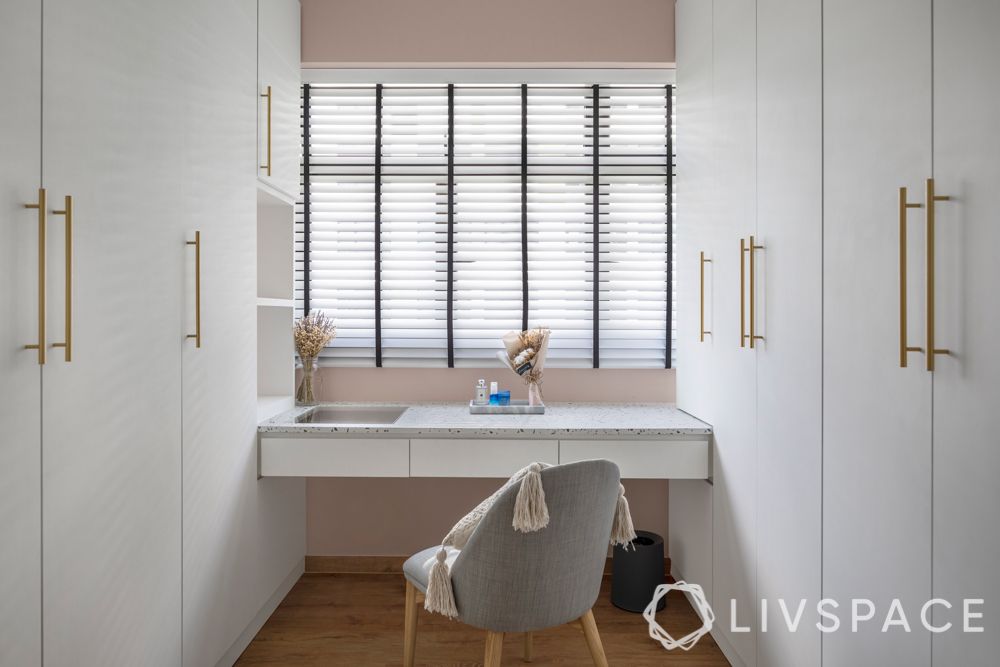 Who livs here: A couple, Ian Ng and Wong Huiting
Size of home: A five-room HDB
Design team: Interior Designer Noel Tan & Project manager Ricky Lee
Livspace service: Full home design
Airy and light, Ian and Wong love their HDB's Scandinavian interior design. The home looks refreshing thanks to the cool tones with pops of gold and teal throughout. What's more, it's space efficient, too! From having a cosy bar nook in the living room to a dining space that's separated from the kitchen with a glass partition, the design is clean and picture-perfect.
Ideas to steal: Who wouldn't want a walk-in wardrobe when searching for HDB renovation ideas? The couple got their dream set-up by converting one of their bedrooms solely into a walk-in wardrobe. The room flaunts dainty white wardrobes on opposite sides and it's bridged smartly with a vanity unit. Also, if you look closely, you would notice the terrazzo-like table has a glass top on one side to give you a peep into their fancy drawer.
Read the full hometour here: This Cool-toned Home Is What Dreams Are Made of.
HDB Renovation Idea #4: If you're thinking about Industrial interiors, this is it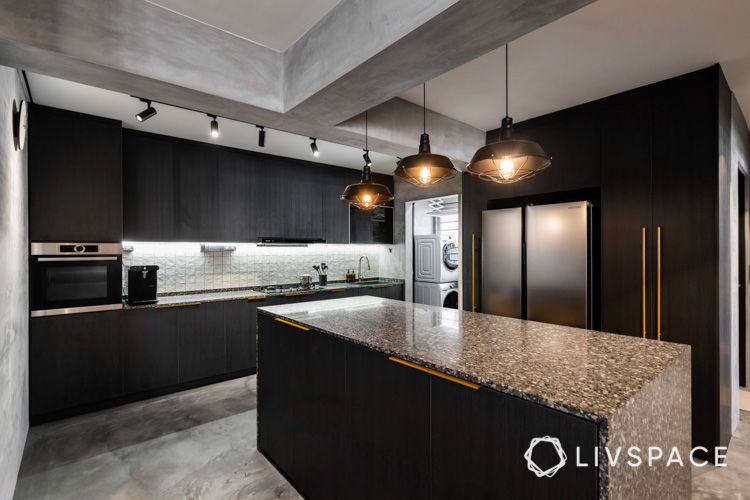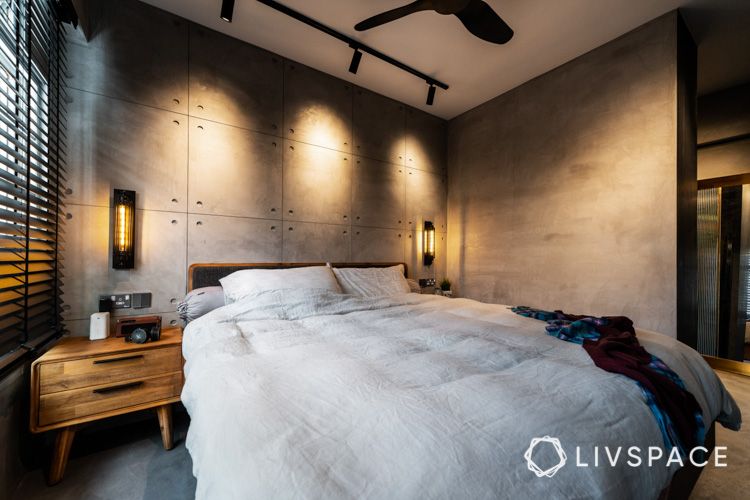 Who livs here: Nigel Ng and Madaline Chin and their toddler daughter
Location: 612B Tampines Greenweave, Singapore
Size of home: 5-room HDB spanning 100 sqm
Design team: Interior Designer Jake Tong and Project Manager Ricky Lee
Interested in HDB renovation ideas that look edgy? Nigel and Madaline wanted an industrial style for their Tampines Greenweave HDB. Black accents, cement screed walls and an intriguingly dark palette dominates the home. Look out for the bold and spacious kitchen that's sure to give anyone a memorable experience.
Idea to steal: The intriguing mix of lighting fixtures, of course! Don't restrict yourself to just general lighting and always mix it up. While the bedroom stands out in a raw appeal, the lighting here takes the look up a notch. From the track light that hits the centre wall to the wall-mounted fixtures on either side of the bed, the play of lights and shadows does have a lasting impression in your mind.
Go here to see how the rest of the HDB looks: A Non-Cookie Cutter Home To Inspire Your Renovation.
HDB Renovation Idea #5: This home is modern and flaunts a clutter-free look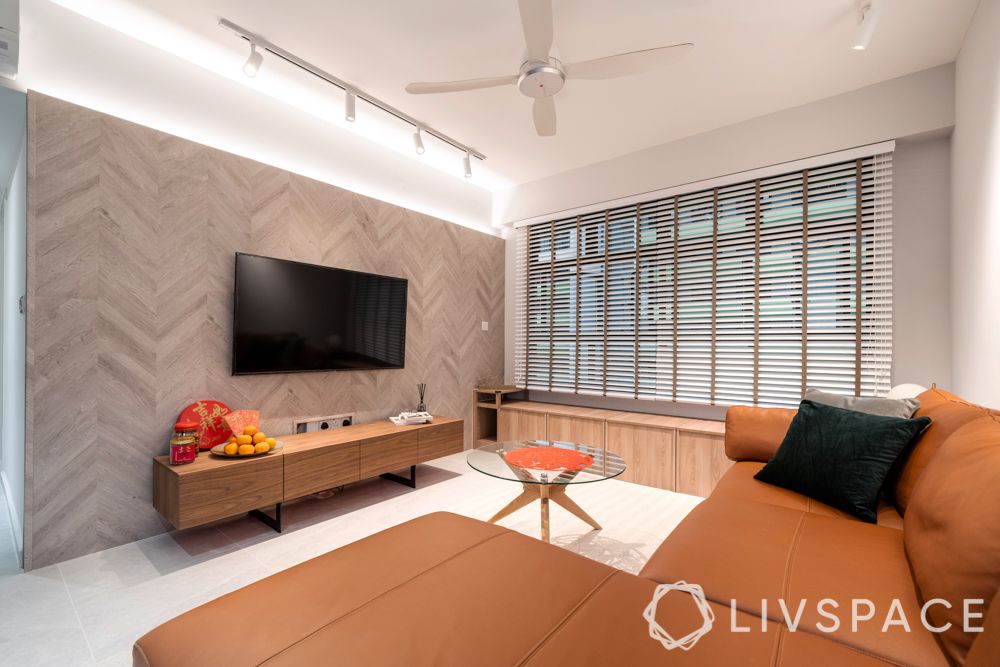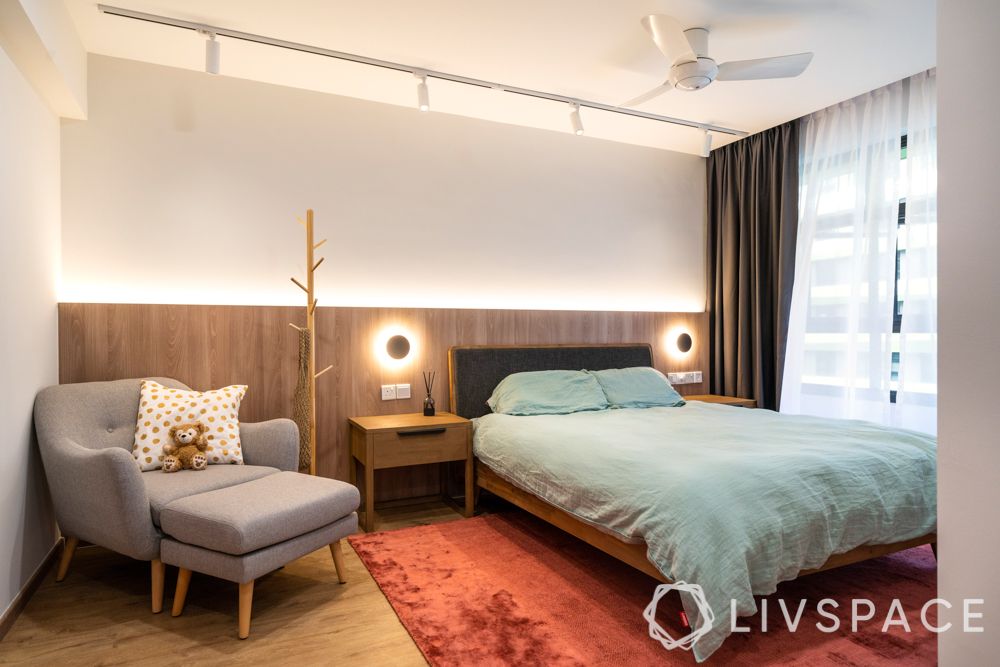 Who livs here: See Zhibin and Tong Shuyi
Size of home: 5-room HDB BTO spanning 92 sqm
Livspace team: Jake Tong for Interior Design and Ricky Lee for Project Management
Livspace service: Full home design
If you love having friends and family over often, take cues from this minimal HDB design for a couple. The open layout works to have a free flow of conversations whether you're in the living, dining or even in the kitchen.
Ideas to steal: The budget-friendly wall treatments are a great way to create a pop in your interiors. Notice the wood-like laminate panel at the back of the bedroom? Opting to cover just half the wall is a smart choice when it comes to keeping things affordable. In addition, the TV feature wall has been dressed with pocket-friendly vinyl tiling to create a focal point in the living room.
Check this out to see what else this HDB has to offer: Modern, Clutter-free and Elegant: A 92 sqm Home That Will Surprise You.
Also, if you love reading about renovation ideas HDB, check out Bedroom Designs You Would Want to Save for Your Renovation too.
Here's a little something from us to you:
Send in your comments & suggestions to editor.sg@livspace.com.