Before we talk about the best room divider designs, let's address the question of why you might even need them. Firstly, a room divider partition provides a measure of privacy; especially if it's between two rooms in an open layout. Alternatively, kitchen partitions help restrict odours and oil fumes from entering into the rest of the home. So, in other words, partitions provide structure by sorting spaces as per their function.
Now, with open layouts being the norm, room divider designs are beginning to take the centre stage. However, bulky or heavy-looking dividers can look overpowering and might ruin the look of an open layout. Here are some easy room divider design ideas you can consider using:
#1: Collapsible Partition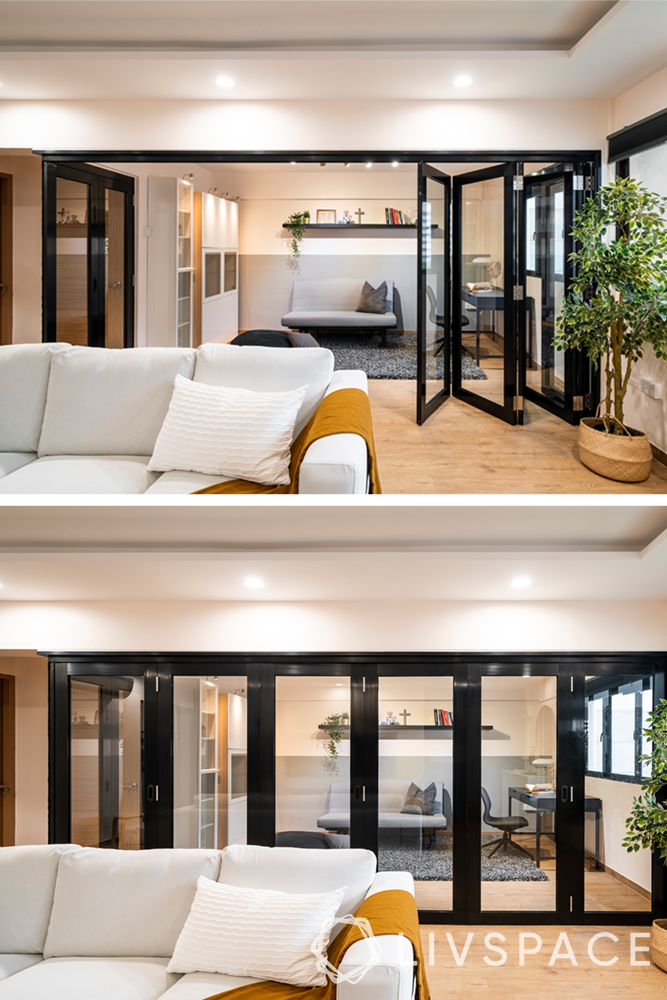 Have a wide space that you'd like to section out? A collapsible or folding room divider partition can be a clever choice. This can be especially helpful if you're looking to draw a boundary between the living room and your study.
Such room divider design ideas not only segment space, but do so in a way that does not look cramped. Go for glass panel room dividers, so you can keep the space visually open.
#2: Sliding Doors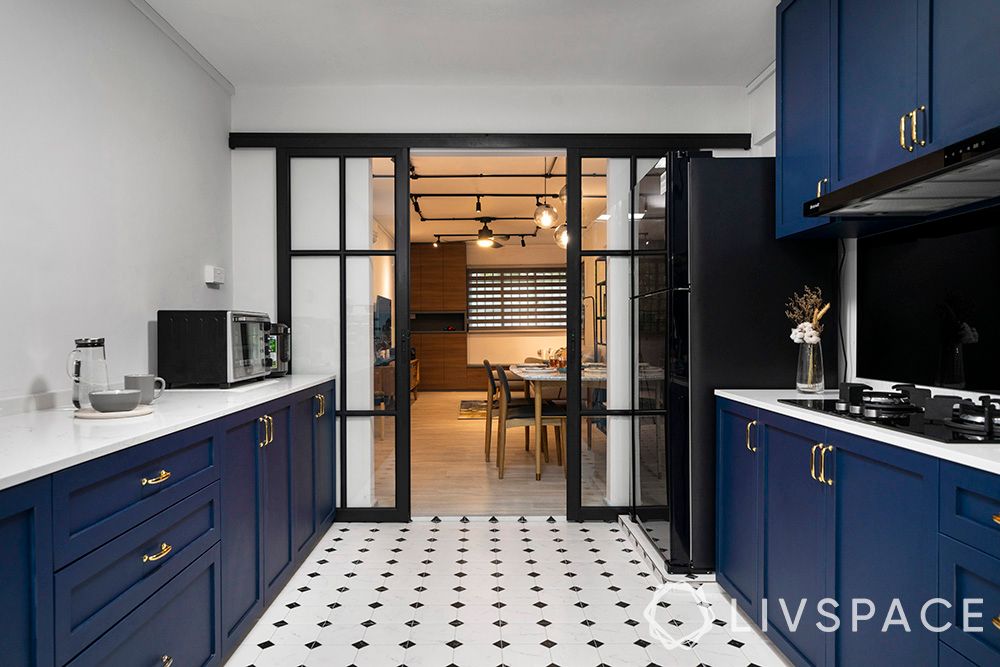 Sliding doors make great room dividers for small homes. If there isn't enough space for the door to swing open, sliding doors are a safe bet. These are particularly useful in bathrooms to separate the shower area and as partitions between kitchens and living rooms. Moreover, materials like glass and metal can further enhance the style quotient of your room divider decor.
#3: Glass Panel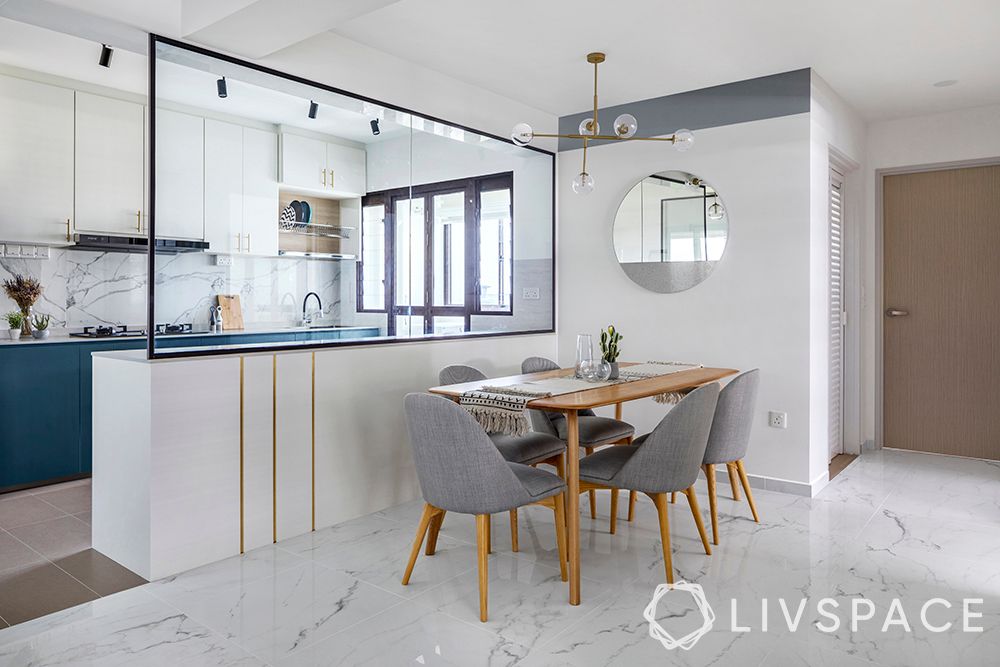 If you're a fan of cooking, you're probably no stranger to the smoke and fumes that come out of it. However, you might not realise that the same fumes are silently damaging a number on your interiors as well. These dense fumes from your cooking oil can travel into your home and discolour your walls and furniture.
Moreover, they can also attach themselves to your soft furnishings, making it hard to get rid of the scent. With the help of a room divider design, you can limit these fumes to the kitchen area.
Alternatively, you can also use it to segregate wet and dry areas in your bathroom. Compact spaces can benefit from using plain glass room divider ideas, as they can be space-enhancing.
#4: Room Divider Ideas Featuring Cabinets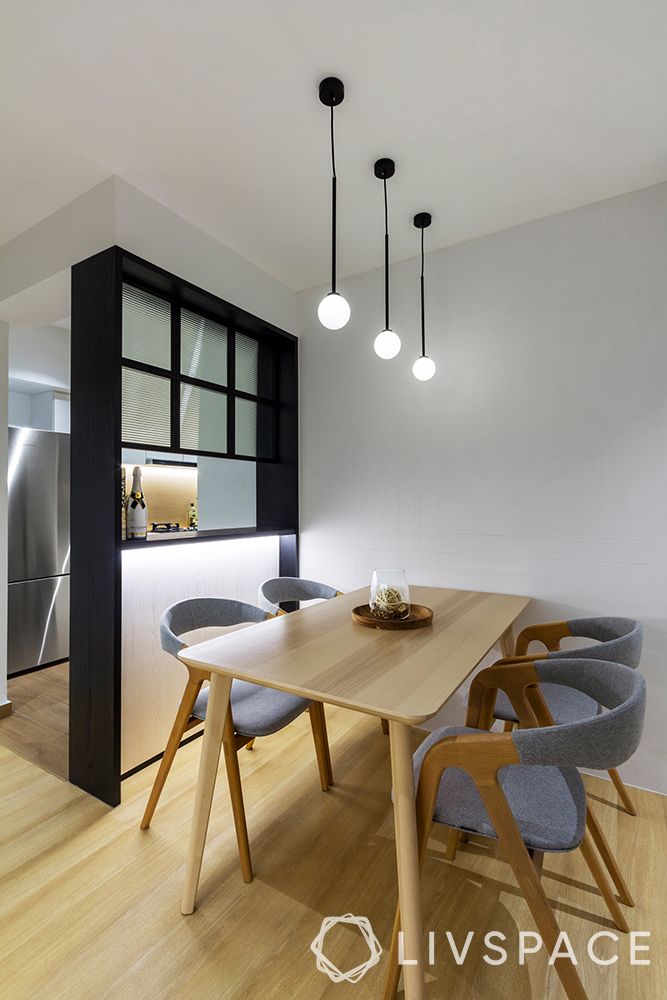 It's no doubt that homes in Singapore are infamously compact. So, if you need room divider ideas for a small house, there's nothing like a multi-functional design. Take this home's room divider, for example. It has a small opening in the middle that acts as a window between the kitchen and dining area.
This ledge can be used in a multitude of ways depending on your requirements. You can add a couple of bar stools and turn it into a breakfast counter, bar area, or even a crockery cabinet.
#5: Kitchen Island as Room Divider Decor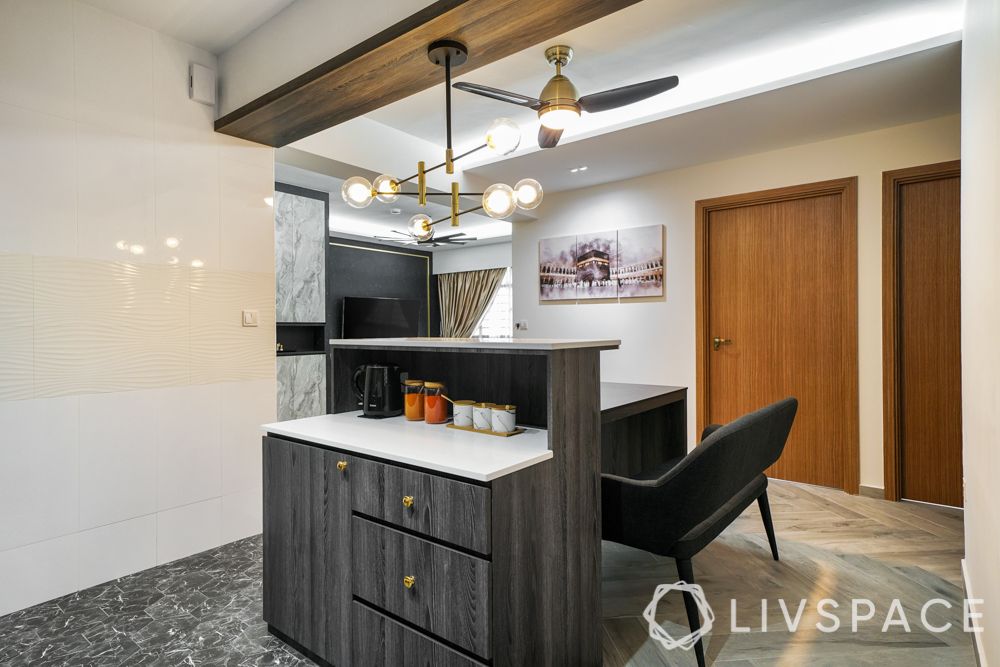 You might associate kitchen islands with spacious homes, as they typically take up a bit of space. However, they need not necessarily be reserved for bigger homes either. To make them work in compact homes, you can opt for an island that doubles as integrated furniture.
In this Livspace home, the dining table is attached to the island counter, making it multifunctional. Similarly, the island counter doubles as a room divider that segregates the kitchen from the dining area.
Also Read: 8 Partition Designs that are Perfect for Homes with Open Layouts
#6: Plywood Panel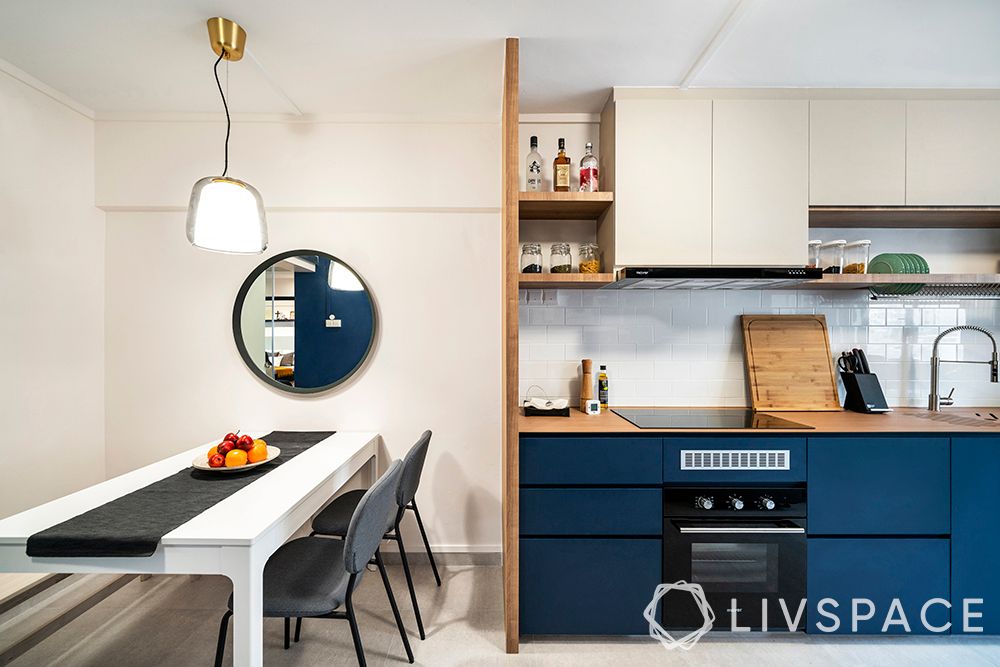 Buying a home can be a major investment. So, it's not unusual for homeowners to be on a limited budget after purchasing one. However, this doesn't mean you have to cut corners on everything either. You can still add a simple room divider to your space, without spending a fortune.
All you need is a simple plywood panel to do the trick. In this case, the partition is set aside to cover only a small area. For more privacy, it can also be extended outwards, as you see fit.
#7: Mirror Panelling for a Folding Screen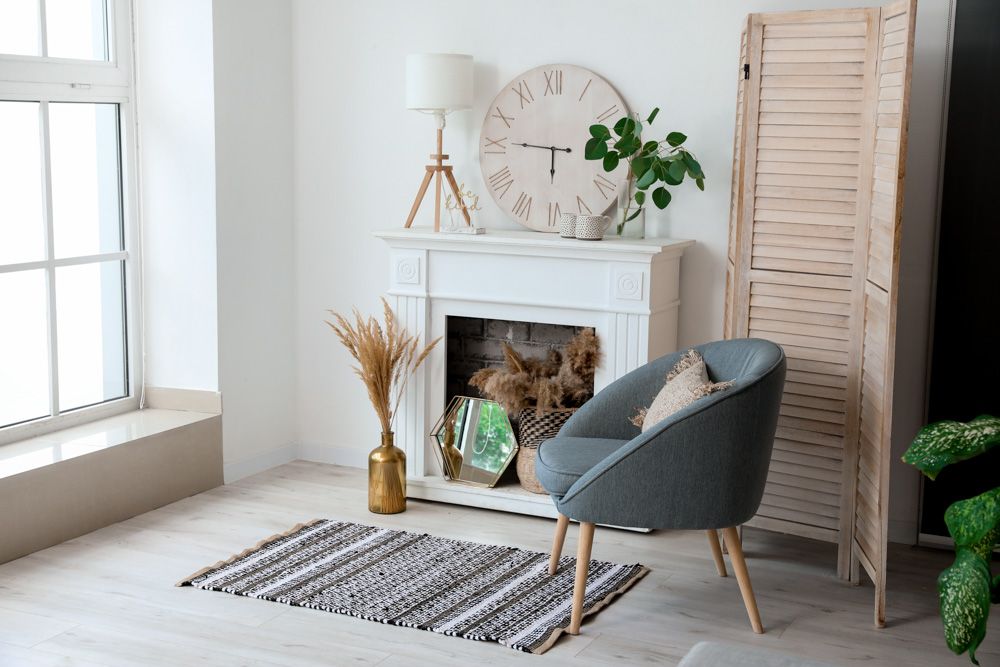 Sometimes, all you need is a touch of creativity to turn your space around. In fact, you can rehash any old home accessories to create something new and wonderful. In the case of room dividers, consider sprucing up an old one if it no longer ties into the theme of your interiors.
Folding screens work just as well for this DIY trick. All you need are some glass panels or any other decorative materials and you're good to go. Stick these panels on your folding screen to create an interesting illusion for your space.
#8: Hang Curtains to Create a Nook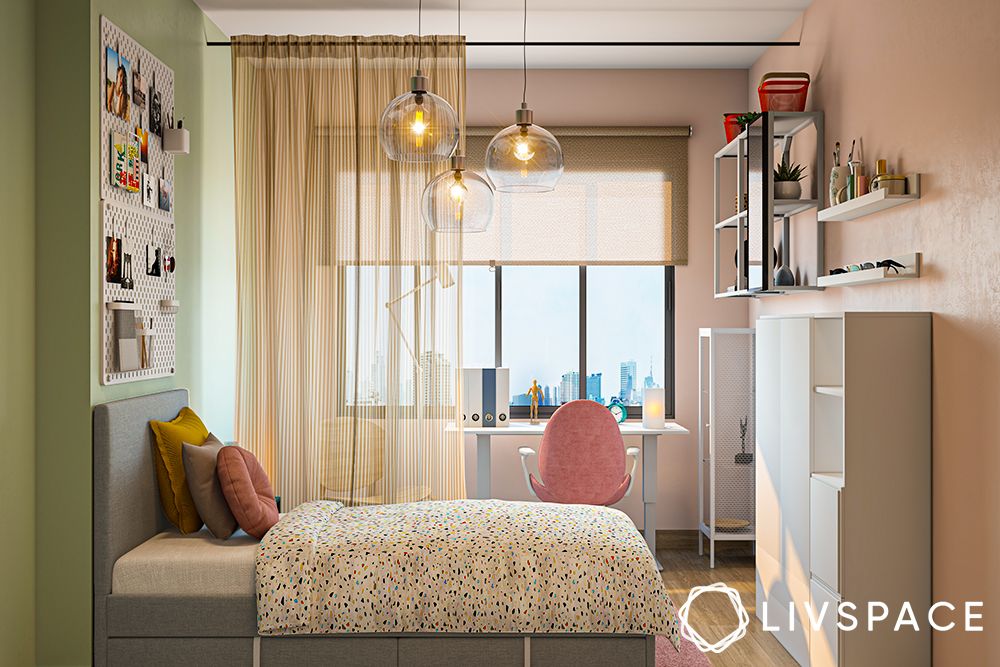 Did you know that your room divider doesn't have to be a fixed wall? Besides using a moveable folding screen, you also have the option of using curtains. Moreover, a curtain can end up being a more cost-effective solution to separate your room into different zones.
Here, we've added a simple curtain rod and sheer curtains to separate the study area from the rest of the bedroom. By doing so, we're able to keep the sleeping and working zones exclusive. Using sheer curtains also helps the room retain an airy and open vibe, even when the curtains are drawn.
#9: Go for Materials That Offer Texture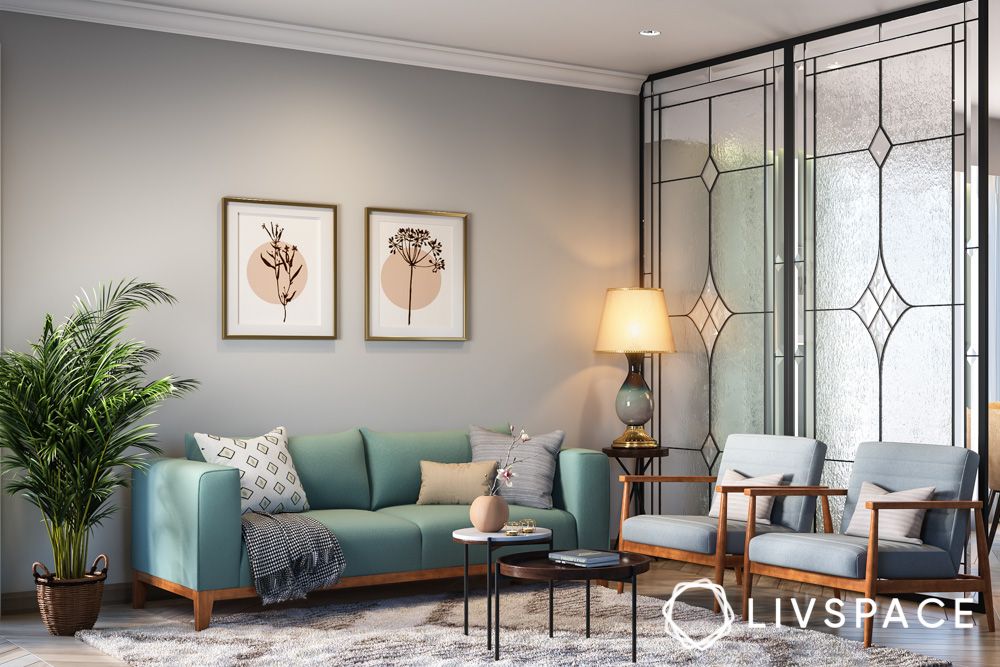 While plain glass dividers serve the purpose of creating the feeling of vastness, frosted glass dividers help add visual interest to the space. The light that passes through these panels is often softer or more diffused, lending a cosy glow to the space.
Similarly, frosted glass panels add texture to the room and can even be used as a focal point. You can also try experimenting with stained glass panels in rooms that receive a lot of natural light.
#10: Wooden Slats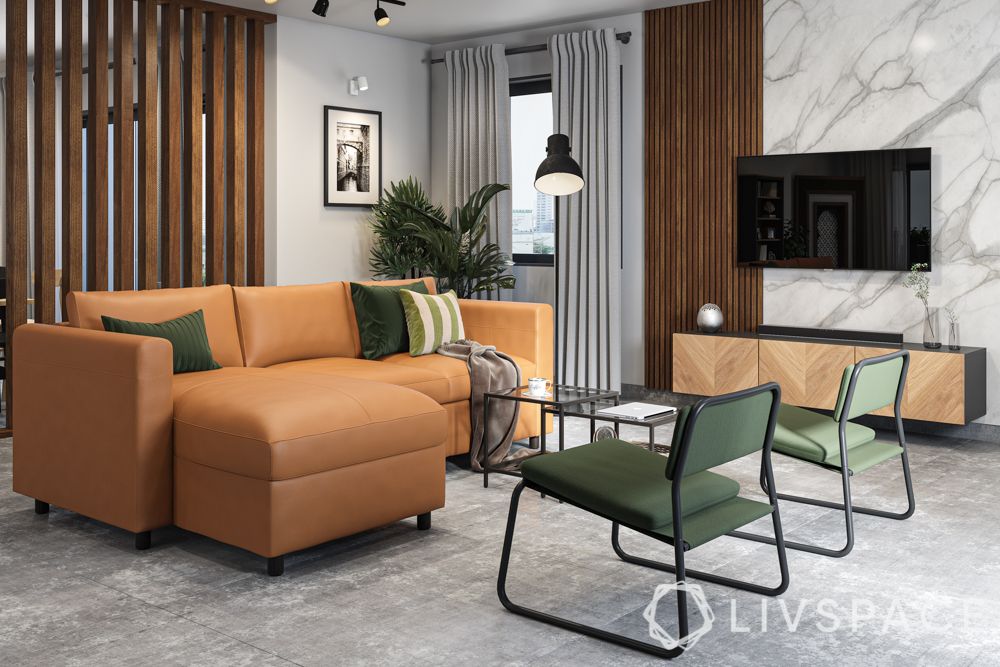 We've covered a lot of glass dividers in this list, but the options do not just end there. If you're a fan of industrial or contemporary style interiors, you probably already know the wonders wood can do.
Besides lending a warm touch to the space, wood also adds a natural element to the home. Pair your wooden slats with earthy colour palettes to make a subtle statement.
Also Read: 5 Perfect Ways to Make Space for a Walk-In Wardrobe in the Bedroom
#11: Use Flooring to Demarcate Spaces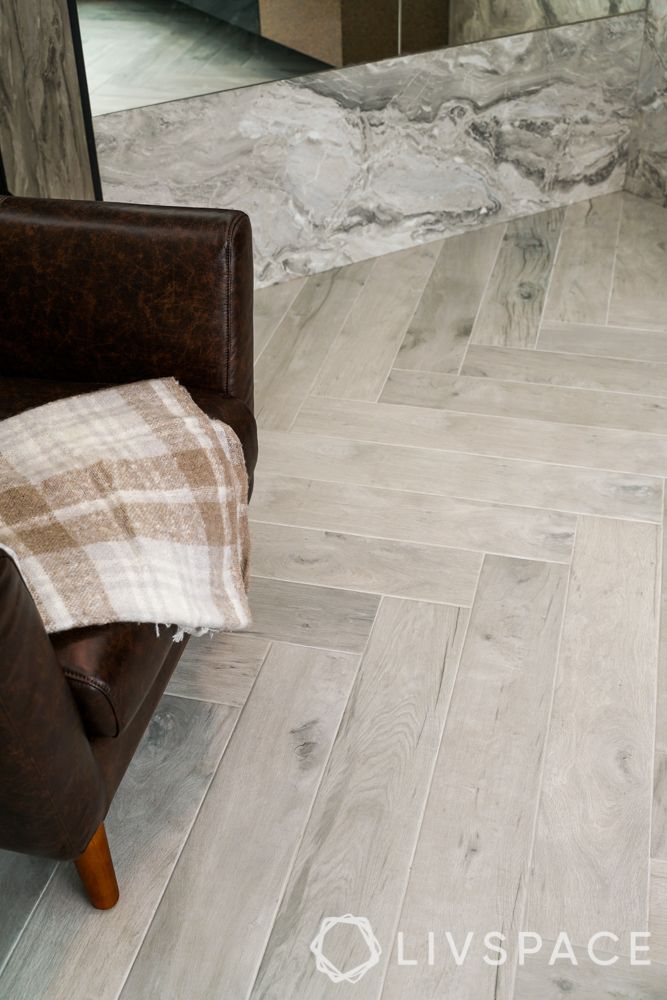 No matter how sleek a partition you install, it will consume some space and close up the layout to some extent. So, here's another ingenious solution to segregate space — the floor. Using two different types of tiles, patterns, or materials can effectively divide space without actual partitions.
Bonus Tip: Suspend Artworks on Wires to Tastefully Divide Your Room
Have a lot of artwork at home? Consider using it to segregate space! All you need to do is support it with wires, allowing it to suspend from the ceiling. This forms a makeshift boundary between two rooms while also adding an artistic element to the space.
How Can Livspace Help You?
We hope you found our room divider ideas useful! If you want your home to be just as beautiful, then look no further. Book an online consultation with Livspace today.
Have some comments or suggestions you'd like to share with us? We're all ears! Feel free to write to us at editor.sg@livspace.com.
FAQs
1. How Can I Partition a Room Without Building Walls?
You can use a moveable folding screen to demarcate space between rooms. Alternatively, you can also use a curtain rod to draw out a segment.
2. What Are the Different Types of Dividers?
Folding door dividers, siding door dividers, and hinged door dividers are a few examples to consider.
3. How Can I Partition a Room Cost-Effectively?
Curtains are a cost-effective way to partition your room, as you only require a curtain rod and fabric.
4. How Do You Divide a Room Quickly?
Use a simple folding screen or accordion divider to quickly segment space in a room.