Lights are such a simple yet crucial element of interior design that we might occasionally overlook. With so many new design styles taking centrestage, it's easy to get lost in the multitude of room lighting ideas that are available. However, it's important to note that whichever idea you choose, it can make or break your aesthetic.
Before you commit to anything, it's best to go through all the available options and see how best they work for different interiors. And when it comes to compact homes, the type of lights you choose can certainly be a game changer. This beautiful 2-bedroom condo at 25 Terrasse Lane is a perfect example of how to create the illusion of space, with lights!
Read on to find out how this condo got the best room lighting ideas for its interiors:
#1: Get Stylish Yet Energy-Efficient Lighting with Ceiling Downlights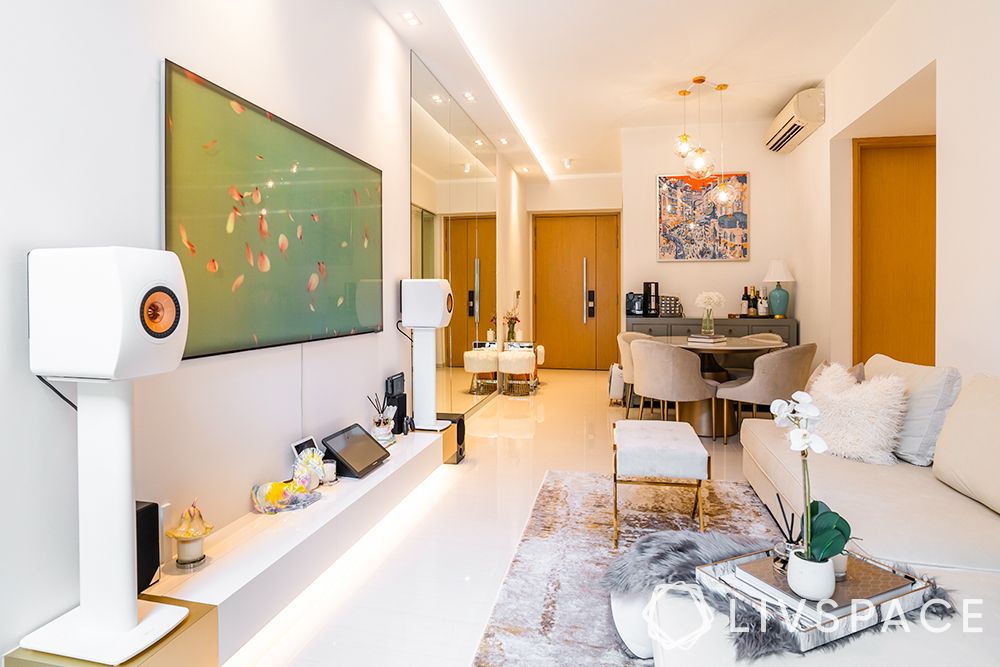 The living room is often the first room we see when we enter a home. Similarly, this is the first room that creates an impression of the rest of the home's aesthetic. For this condo, designers Songhao Chua and Jewel Lim went in for a mix of living room ceiling lighting ideas to best highlight the space.
Whether you're looking for small living room lighting ideas or simple LED lighting ideas for your living room, you can never go wrong with downlights. These lights not only brighten your space in warm hues, but are also energy-efficient! The unobtrusive design of these lights is perfect for interiors that seek a luxe ambiance.
#2: Highlight Your Interiors with Sleek Spotlights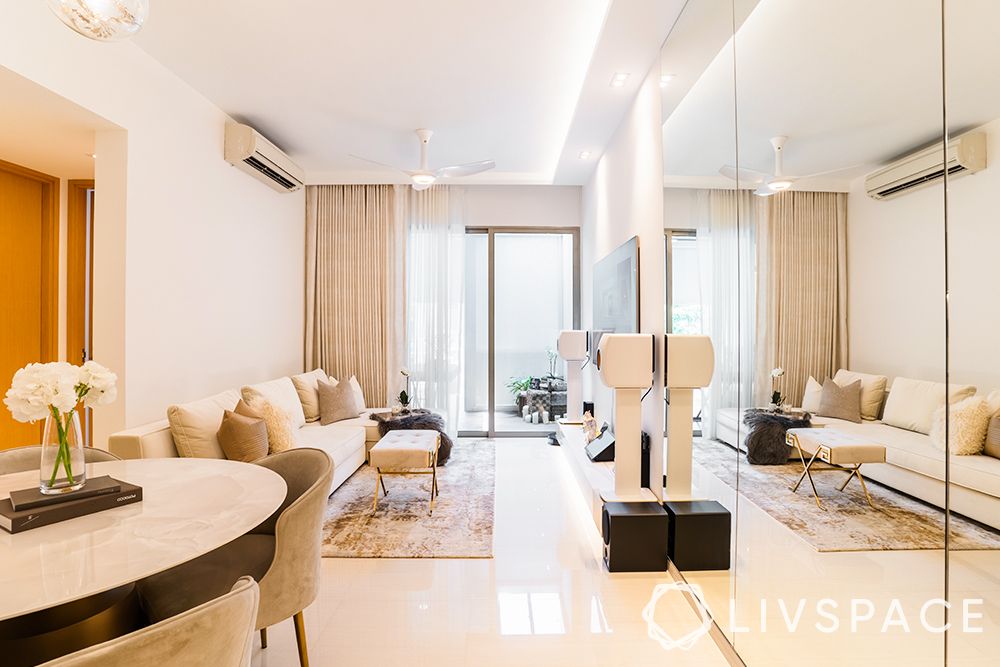 Do you have some interesting wall art or showcase pieces you'd like to highlight? There's no better way to do this than with spotlights. Spotlights are a great addition to your living room when it comes to focusing light on specific elements.
Similarly, if you're in need of lighting ideas for a living room with a low ceiling, recessed lights are a great option to consider. This elegant 2-bedroom condo makes use of both downlights and recessed lighting, creating the illusion of vertical space.
#3: Illuminate Your Living Room Floors with an Under-Lit Floating TV Unit
Nothing adds a touch of modernity to your living room like a wall-mounted TV unit. What's more, you can easily dress it up with LED strips for additional lighting. This 2-bedroom condo makes great use of this feature by adding extra lighting on the floor space. Not only does this enhance the room, but it also creates a cosy yet sleek ambiance for your home.
Also read: All You Need to Know About Different Types of Lights
#4: Use Pendant Lights to Bring a Little Personality Into Your Dining Area
For room lighting ideas in the dining area, pendant lights are a simple yet stylish solution to help anchor the space. If you're looking for contemporary lighting, pendant lights are what you need.
Here, the pendant lights in this condo allow for an even and soft distribution of light across the room. They can either be used as a standalone source of light or paired with other fixtures based on the atmosphere you want to create.
#5: Task Lights Work Great with Narrow Kitchen Counters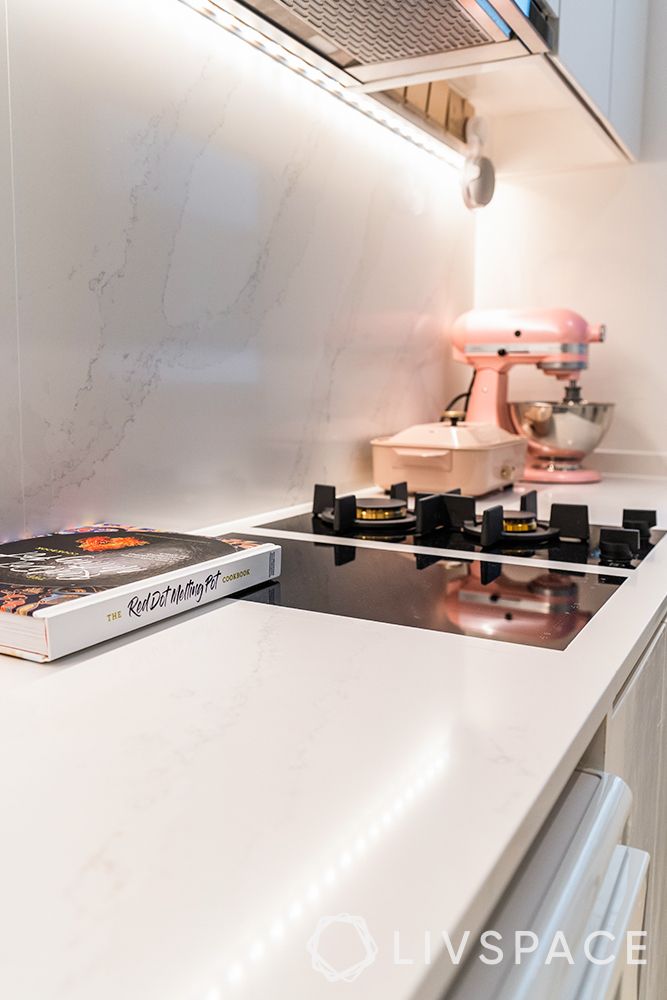 There's no better way to spruce up a narrow one-wall kitchen than with warm room lighting ideas. Without the right lighting, your counter space can get fairly dim and make it difficult to see what you're doing. To add some functional flair to this compact kitchen, the designers chose LED task lights to get the job done.
These kinds of lights pair especially well with the marble-like countertop pictured in this condo. The all-white colour scheme helps to easily reflect the light and create a cosy vibe despite the space restraints.
To know more about kitchen lighting, you can check out: Which Is the Best Lighting for Kitchens and Where to Use Them?
#6: Inlaid Headboard LED lights Create a Relaxing Ambiance
Finding the right room lighting ideas for your bedroom can be tricky. But if you take a page out of designer Songhao's book, it doesn't have to be. To create a relaxed and comfortable vibe, Songhao explored some rather creative room lighting ideas for the bedroom.
Instead of traditional fixtures, this bedroom made use of LED lights embedded within the headboard. This brings a soft glow to the room, and is also reminiscent of bedrooms in a luxury hotel. If you want to create a spa-like ambiance at home, LED headboard lights should be your go-to!
#7: Install Uplights Behind Your Headboard as Soft Mood Lighting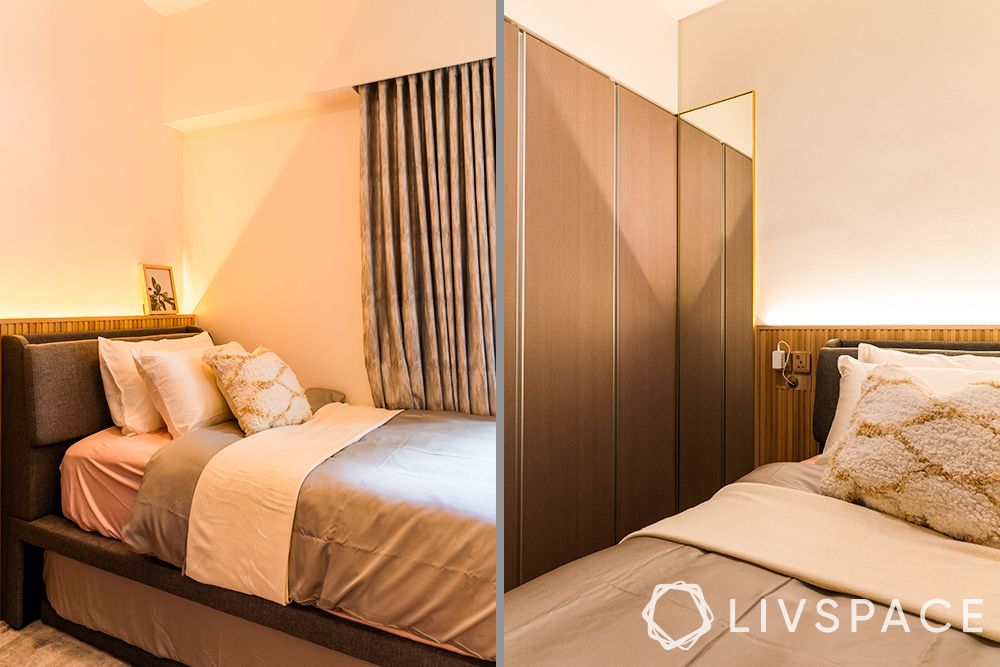 In terms of small bedroom lighting ideas, you can never go wrong with uplights. These work well, especially if you're looking for bedroom lighting ideas for your ceiling. Uplights help create the illusion of vertical space, by elongating your walls and throwing light upwards.
This compact condo has done just that with simple LED lights tucked behind the fluted bed frame. What's more, this is a great way to bring an element of mood lighting to your bedroom.
Besides room lighting ideas for your condo, you can also consider these Condo Design Ideas to Make Your Small Condo Look Plush.
Tour this resort-style 2-room condo:
How Can Livspace Help You?
We hope you found our ideas useful! If you want your home to be just as beautiful, then look no further. Book an online consultation with Livspace today.