A bedroom should be a lot more than just functionality. If the majority of your time is spent here, it needs to be more than just a space for your bed, wardrobe and dresser. And what better way to create a little vibe in your personal sanctuary than with a bit of bedroom wall paint? Here are some room paint ideas and suggestions for wall paints for the bedroom you can consider for your space.
The bedroom should be your happy place. So think about bedroom paint colours that evoke a positive feeling in you and paint the centre wall in that hue.
#1: Are You Looking for Room Paint Ideas with a Soothing Vibe?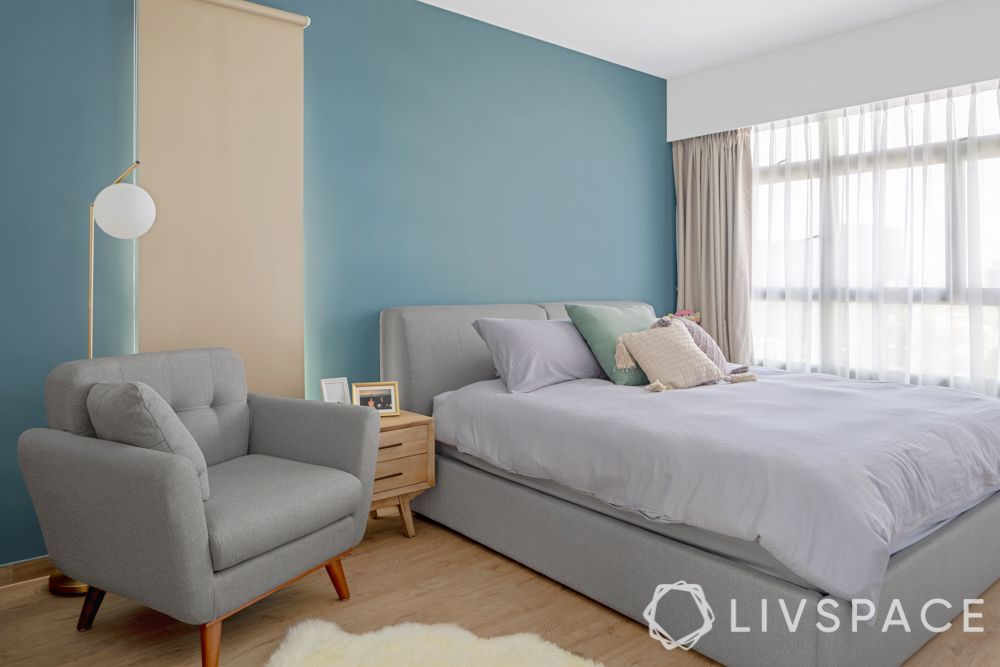 Your best pick: Powder blue
This gorgeous soft-hued option is for those who really want to use their bedroom as the source of ultimate downtime. Powder blue is one of the most popular room paint ideas to bring calmness and a sense of stillness.
In fact, some experts reveal that it could be because people associate this paint for the bedroom with clear blue skies. For this HDB's bedroom wall paint, powder blue was specially picked to match with the home's Scandinavian interior design.
How do you decorate around it: Blue room paint ideas are versatile and can be matched in a variety of ways. Pick out complementing hues for the rest of the decor if you are looking for the complete soothing vibe. Think soft and light for furnishings and furniture.
#2: Are You Looking for Neutral Room Paint Ideas?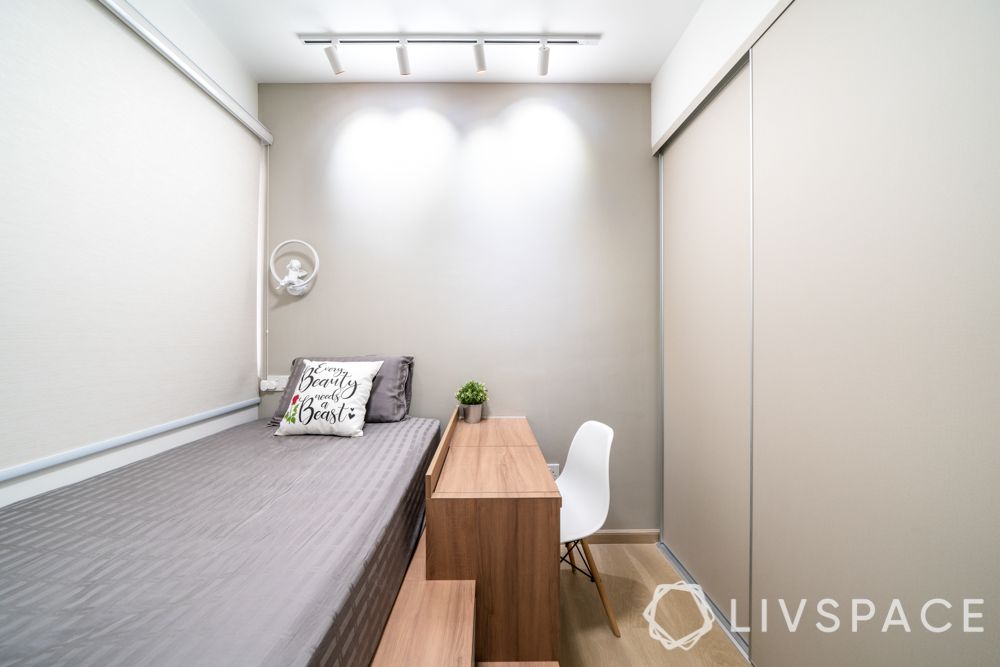 Your best pick: Pale grey
Trendy and ever-so-elegant, this cool-toned grey is extremely popular in homes these days. It's also the perfect choice if you are interested in experimenting with room paint ideas but don't want to try anything drastic. Not to mention, such room colour ideas are great for any part of your home, and not just as bedroom paint colours. The above bedroom is from a condo doused in hues of grey and other neutrals.
How do you decorate around it: The good thing about neutral room paint ideas is that you can style your surroundings in any way you please. You can choose vibrant pops of colour in your decor or have monochromatic shades like in the above image.
#3: What About Wall Paints for the Bedroom That are Bright and Not Overwhelming at the Same Time?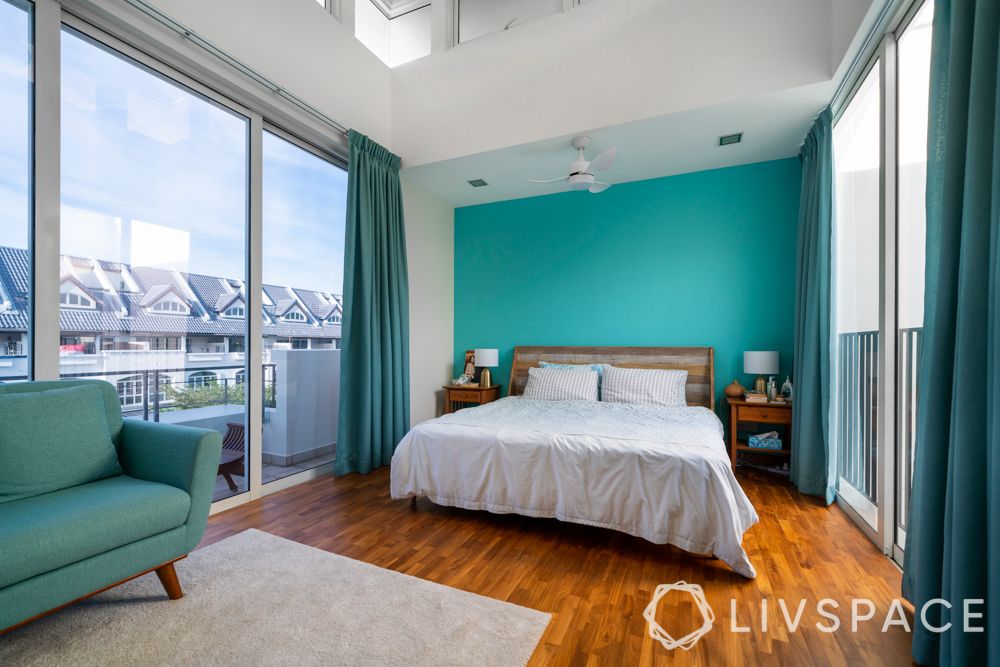 Your best pick: Teal
This fun pop of colour is perfect for those looking for room paint ideas that are calm with a tinge of excitement. Teal paint for the bedroom as a feature wall can instantly liven up your interiors and give the room a burst of fresh appeal, when reminding you of the sea as well. We picked teal as room colour ideas for a landed property we designed. To match the room paint ideas used, we also kept the curtains and sofa in similar hues as well.
How do you decorate around it: If beach tones are your favourite, pair the teal centre wall with white, blue and browns to create a forever vacation theme in your bedroom.
#4: Are You Looking for Bedroom Paint Ideas That are Chic and Contemporary?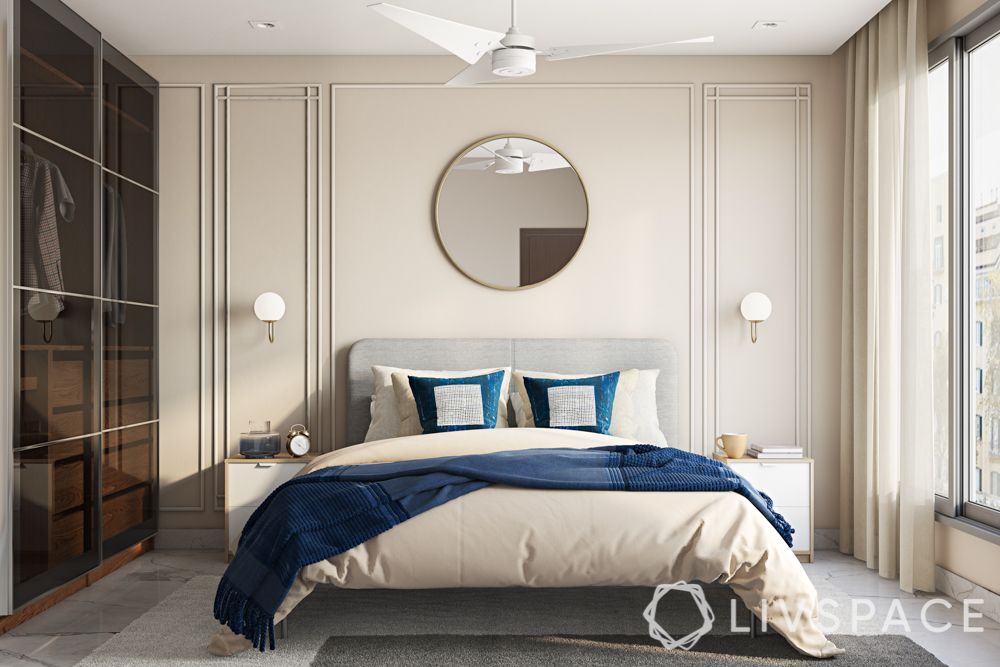 Your best pick: Ivory
Treat your bedroom with elegance through this soft and cool hue of grey. These uber chic bedroom paint ideas are perfect for a contemporary bedroom and are easy on the eyes. An ivory centre wall helps to keep the focus on the other interesting aspects of your room as well.
How do you decorate around it: Pair the room paint ideas with wall mouldings in the same colour for a classy Victorian look. Add gold-toned light fixtures on either bedsides to take it up a notch too.
#5: How About Exploring Room Colour Ideas That Look Dainty?
Your best pick: Pale pink
If ever a colour could be described as breezy, it would probably be these light pink room paint ideas. Perfect to create a soothing vibe in your bedroom, it also stirs a little romance and dream-like atmosphere.
How do you decorate around it: Bring out the best of these room paint ideas with a white bed and matching side tables. The wardrobe too is in pristine white to keep the focus on the pale pink centre wall.
#6: Perhaps Bold Room Paint Ideas are More Your Speed?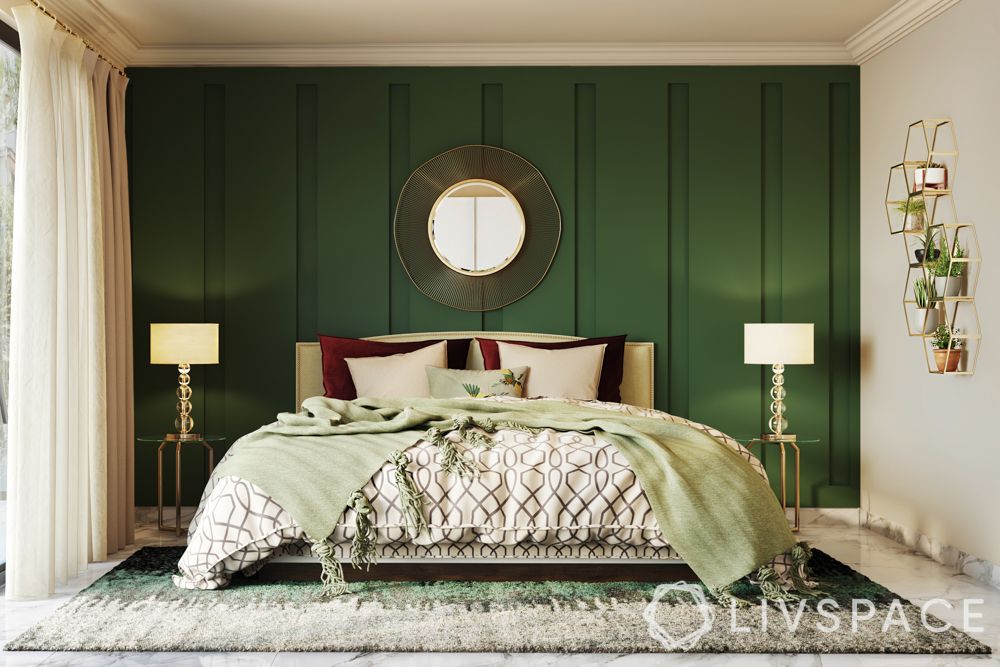 Your best pick: Dark green
Deep and mysterious, dark green wall paints for the bedroom are sure to stand out. The earthy hue is sure to make you feel settled, calm and at peace. Experts also say the colour helps you unwind because it associates with nature. So, if you're up to experiment, these powerful shades of room paint ideas will surely not fail you.
How do you decorate around it: The trick is to keep the wall paint the focal point of your room. So make sure to pick furnishings and furniture that aren't visually heavy.
How Can Livspace Help You?
We hope you found our ideas useful! If you liked reading about these room paint ideas, you might also enjoy Scandinavian room colour ideas.
Wondering how to make your home just as beautiful? Look no further! Book an online consultation with Livspace today for more details.
You can also send in your comments and suggestions to editor.sg@livspace.com.