After a long day, the bedroom is a welcome escape to recharge an exhausted body and tired mind after a hectic day. It is a private space, open to barely any visitors and as such, generally last on the priority list when it comes to planning its design. But your bedroom decor deserves just as much attention as the other rooms. While the rest of the house might need to cater to the whims of family or designed keeping guests in mind, this little haven is all yours to showcase your personal style and to really make it your own!
It might seem like a challenging task to create a room that would best reflect your personality but with a few swift bedroom decor upgrades, you can transform the space into a striking boudoir or soothing sanctuary. Think chic furniture, calming colour schemes, tasteful windows, bold bed frames and smart accessory choices.
In this article, we help you get ideas to do up your space using affordable IKEA bedroom decor items that are not just eco-friendly but also great mood-setters. They will blend into any kind of theme with their Scandinavian and contemporary design styles. Without further ado, let's get into our IKEA favourites for the bedroom.
#1: Rug it Right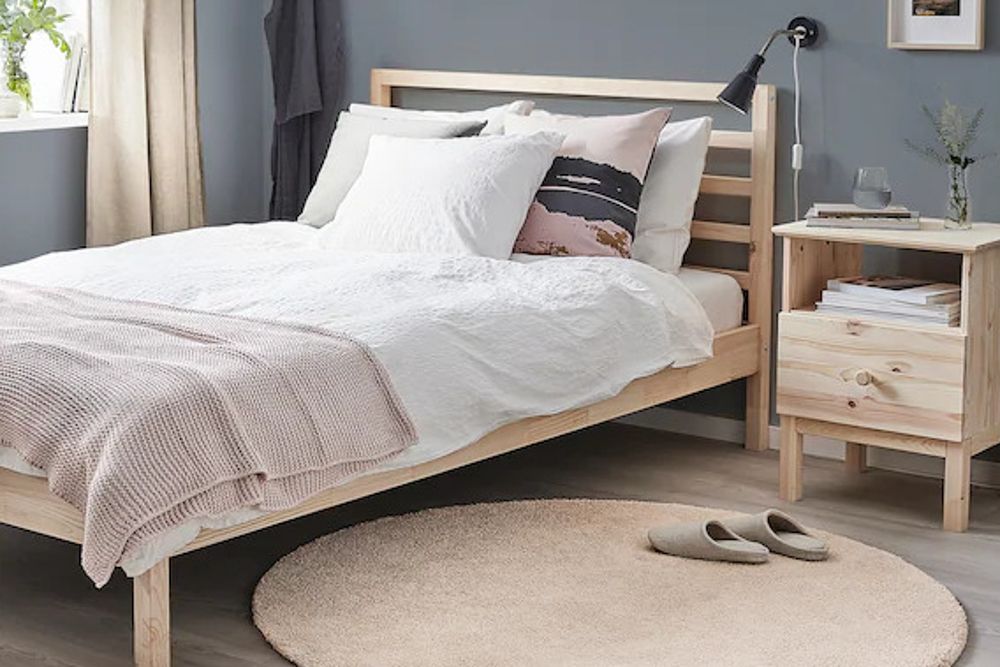 An area rug is perfect to give your room that oomph factor while giving your feet something soft to land on when you alight from the bed. The off-white Stoense rug is made for comfort and works well in any style. Made of synthetic fibres, the rug is stain-resistant, easy to maintain and durable. It even works well in a reading corner in your room. With regular vacuuming, the rug should stay as good as new for a long while.
Buy it here.
#2: Vintage Vogue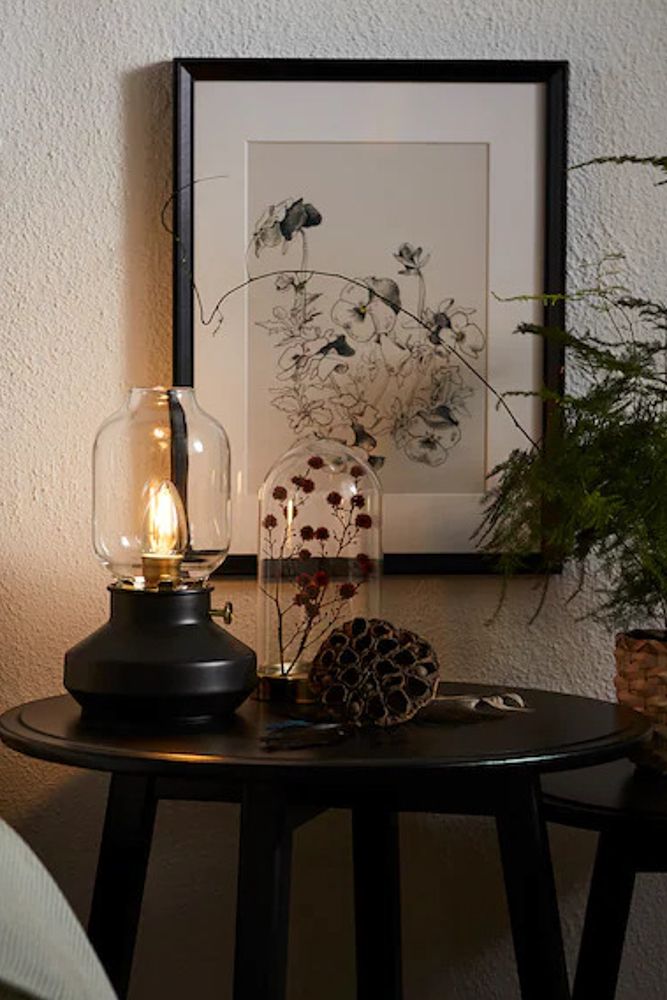 Inspired by the kerosene lamp, this old-fashioned table lamp design gives your room a beautiful glow. The lamp brings in a soft, comfortable and snug feeling to the room. It also comes with a dimmer option to set the mood while the bulb provides that natural-flame look which accentuates the warm vibe. Make sure you buy a dimmable light bulb to use with the lamp to make the most of this feature.
Buy it here.
#3: Reflect Your Style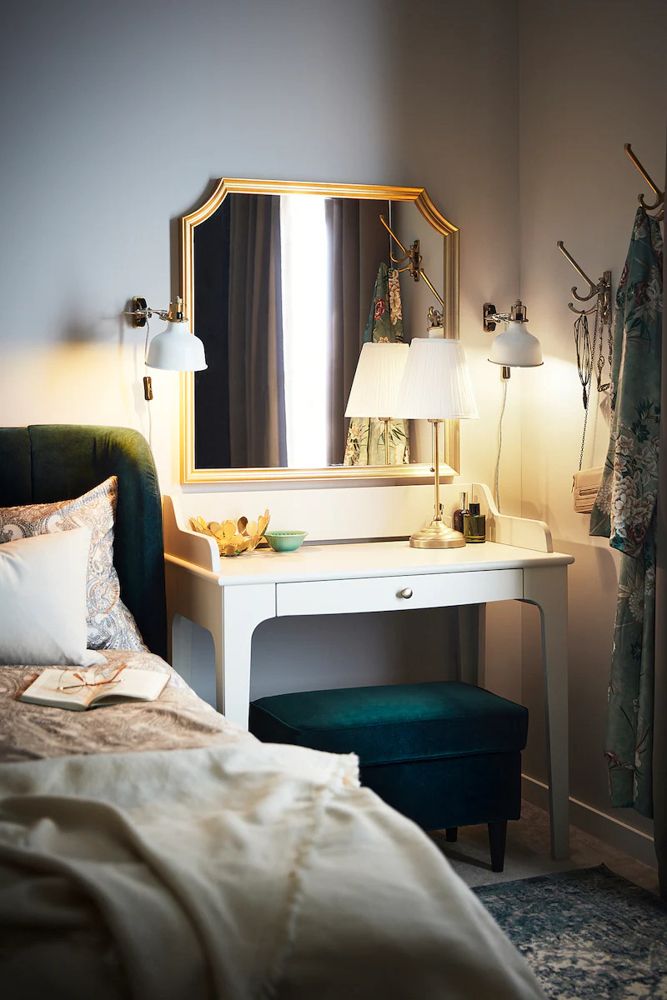 Mirrors are a great way to make a room appear bigger. The Svansale mirror with its frame is our favourite; it adds an opulent element to bedroom decor. It works well in your bedroom as a dressing-table mirror or as an accent piece above the headboard to make the space airy and bright.
Buy it here.
#4: Play Dress Up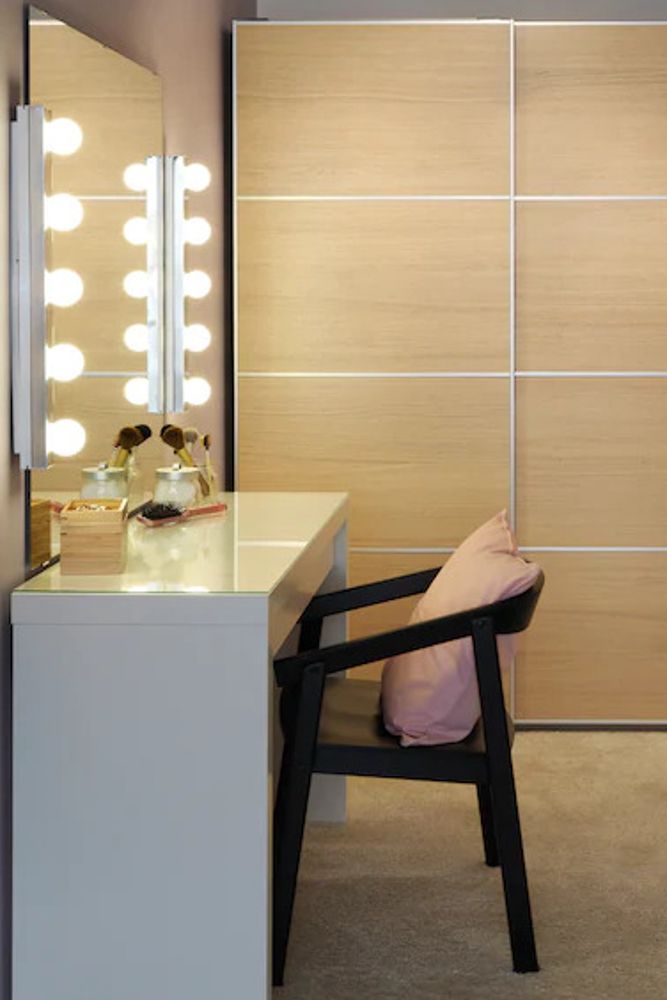 The all-white Malm dressing table has a lovely jewellery and make-up storage drawer. You can also use it as a desk in a small bedroom design. With the drawer in place, you won't have to pile up your knick-knacks on the surface; add in a chair and you'll have a desk-cum-dressing-unit. The sleek design is perfect for small rooms as it doesn't take up much room and its colour lightens up the space.
Buy it here.
#5: Savvy Storage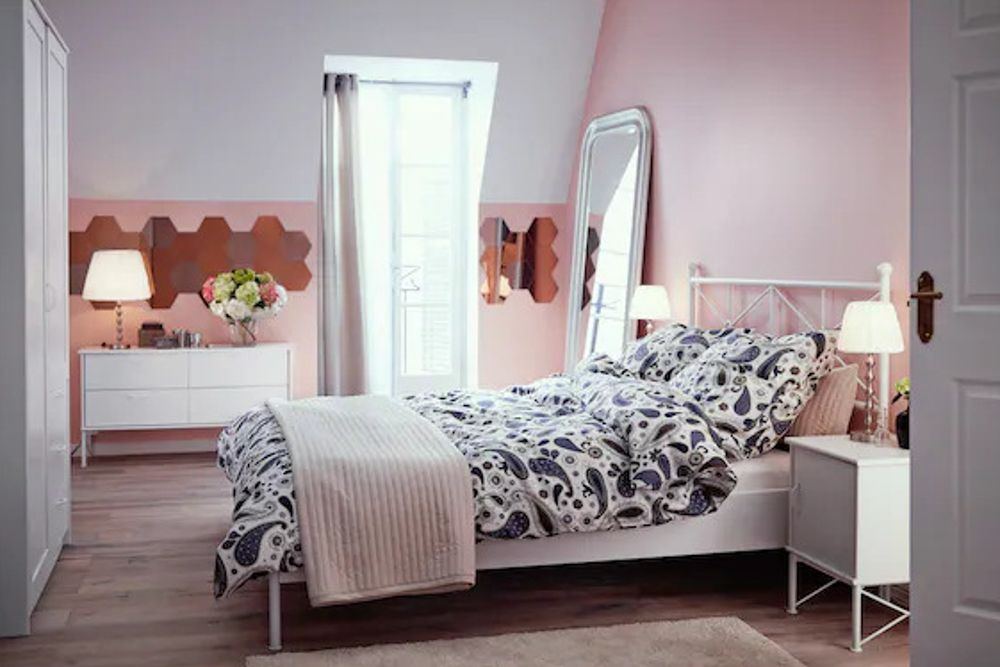 If you have minimal storage space, adding a chest of drawers is ideal. You can easily stack your extra linens, pillows and trinkets in this Musken four-drawer storage unit. The design is sleek with thin legs, giving your room a visually light airy look without appearing too bulky for the space. The chest of drawers is available in white and brown (wood finish) colours. Organise with ease using this furniture piece in your small bedroom interior design.
Buy it here.
#6: Bring in Natural Motifs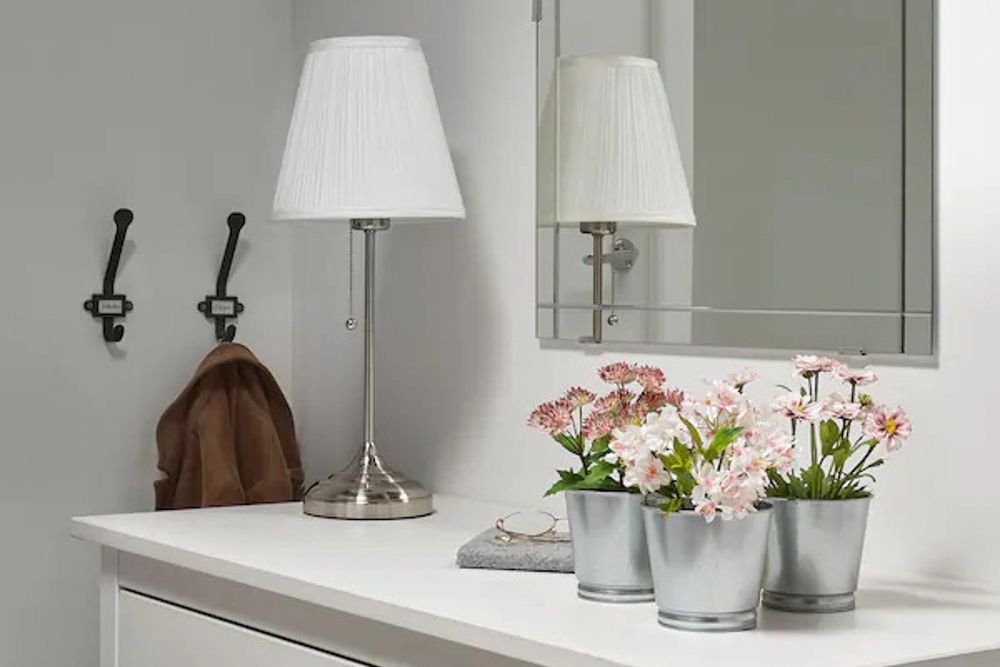 Not a big fan of tending to plants? We've got a shortcut with this fake potted plant with pink flowers that bring in some colour to your room decor. However, they look real enough that you can easily pull off having a green thumb amongst friends and family! These come in a combination of three potted plants that can be used in other rooms as well.
Buy it here.
#7: Framed Memories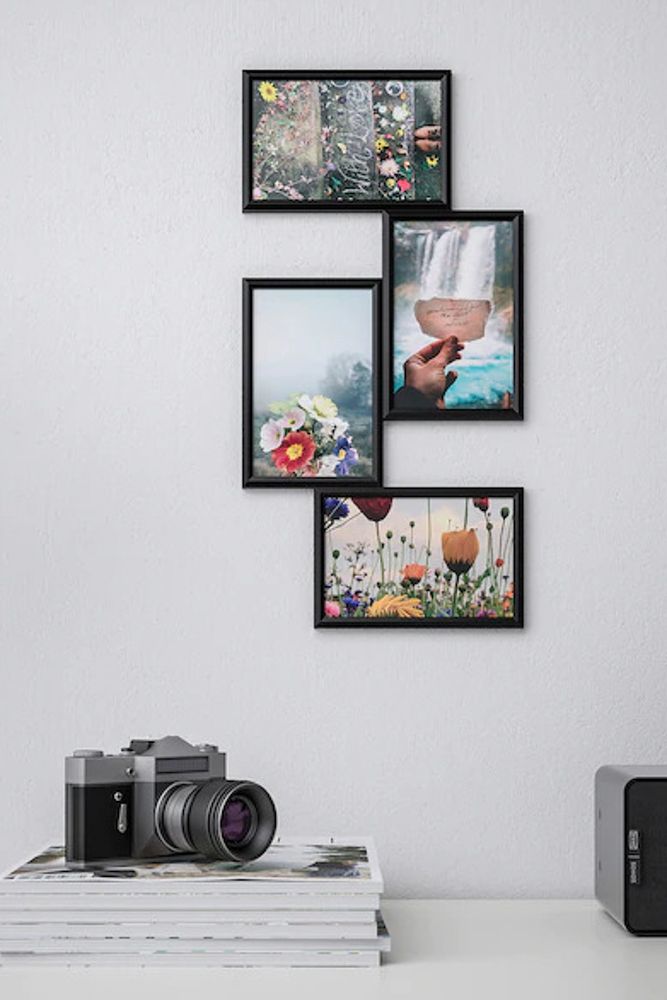 The easiest way to personalise your bedroom is to embellish it with happy memories. What better way to do this than putting up framed pictures of your friends and family to reminisce great moments and have them close by your side? This quirky Yllevad collage frame can house four pictures and offer the choice of being placed vertically or horizontally. Whatever you choose, it still ends up looking great!
Buy it here.
#8: Time to Transform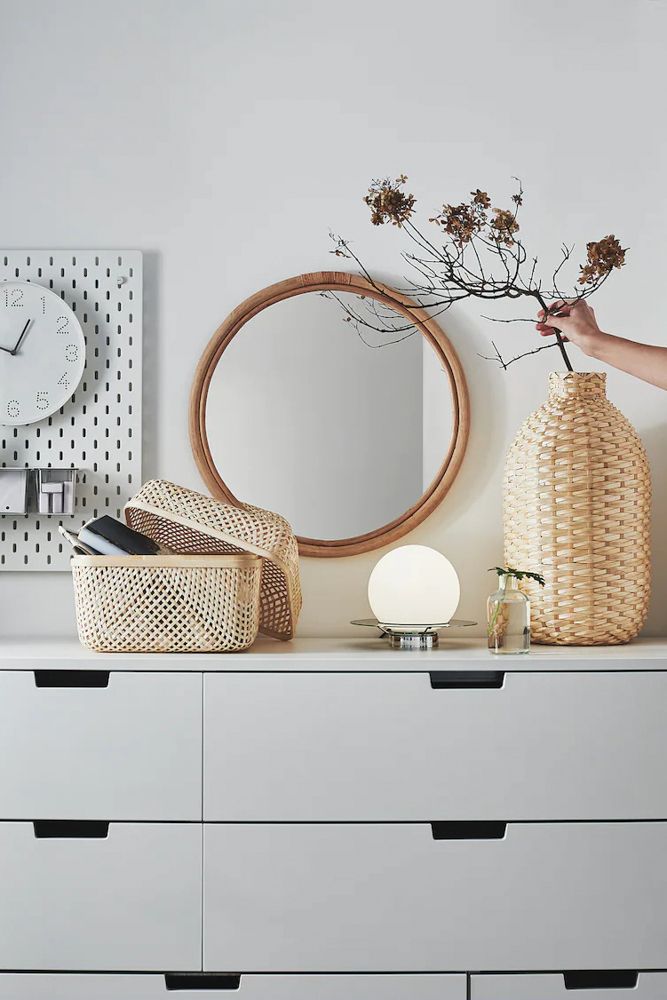 Although mobile phones are taking over the function of telling time, an old-fashioned wall clock would not go amiss in making your room appealing. You can add this Tromma white wall clock to your modern bedroom design as it looks chic without being too overbearing or appearing out of place. It also functions on batteries, so you won't have to worry about constantly charging the clock. The punch-hole numbers are an eccentric touch to make the numbers visible through the wall colour.
Buy it here.
How Can Livspace Help You?
Enjoyed reading this? If you want the perfect design for your bedroom, then look no further. Book an online consultation with Livspace today. Delivering safe home interiors has been, and continues to be, our No. 1 priority. Click here to find out how interiors are being delivered following all safety protocols.
Decorating your room doesn't have to be a worrisome task and you can find great ways to personalise it according to your tastes. With IKEA's super-affordable and sleek, Scandinavian designs, decorating your room can be very exciting. Check this out: Livspace & IKEA Join Hands to Give You the Best Renovation Deal in Singapore.
Let us know what décor item you loved the best! Send in your comments & suggestions to editor.sg@livspace.com.