The dining table is one of the undisputed, much-needed protagonists in most homes. We spend hours sitting around it, eating, chatting and bonding over meals with family members. It is therefore important to choose just the right table to complement the style of your home,ensure it meets all functional requirements and most importantly, makes you feel comfortable too. Given all these considerations, you can almost never go wrong if you choose round dining tables. They offer multiple advantages and fit into any type of space, large or small. This versatility has made them very popular, with good reason!
Here is why round dining tables steal a march over their differently shaped counterparts. And no surprises for guessing that IKEA stocks some of the most popular ones!
#1: No Bumps and Bruises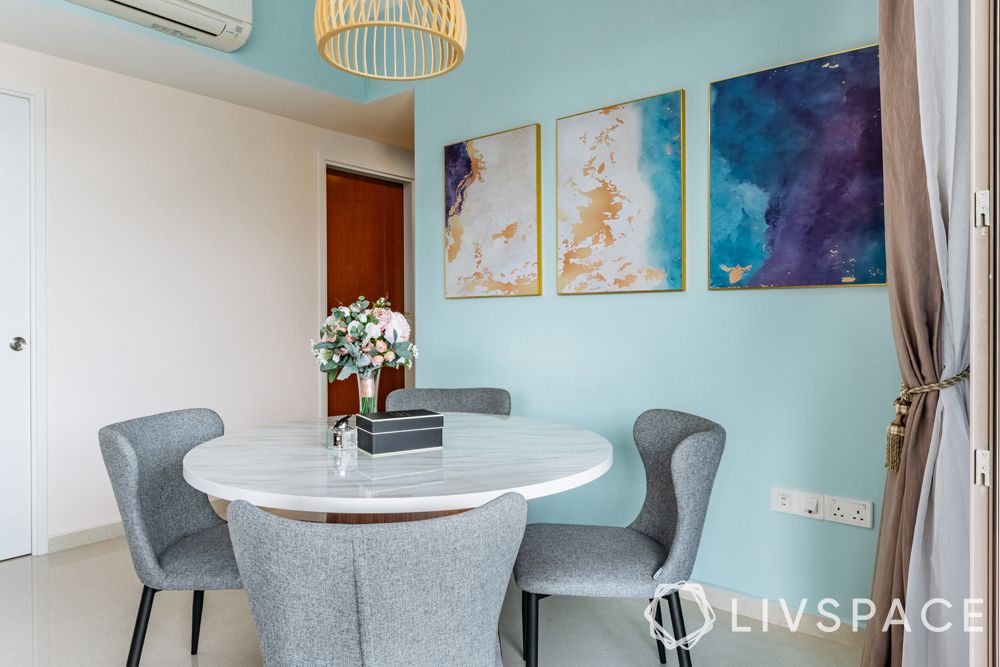 How many times have you bumped into the corner of a table? This is something that usually happens when there is not much space. And it is usually the guests who suffer such accidents because they are not used to the layout of your home. The round shape allows traffic to flow better by removing the angles. You will find that even setting the table becomes much easier when it is round. This allows you to place the table near a hallway without worrying about it coming in the way.
#2: Small Space is Not a Problem, But an Ally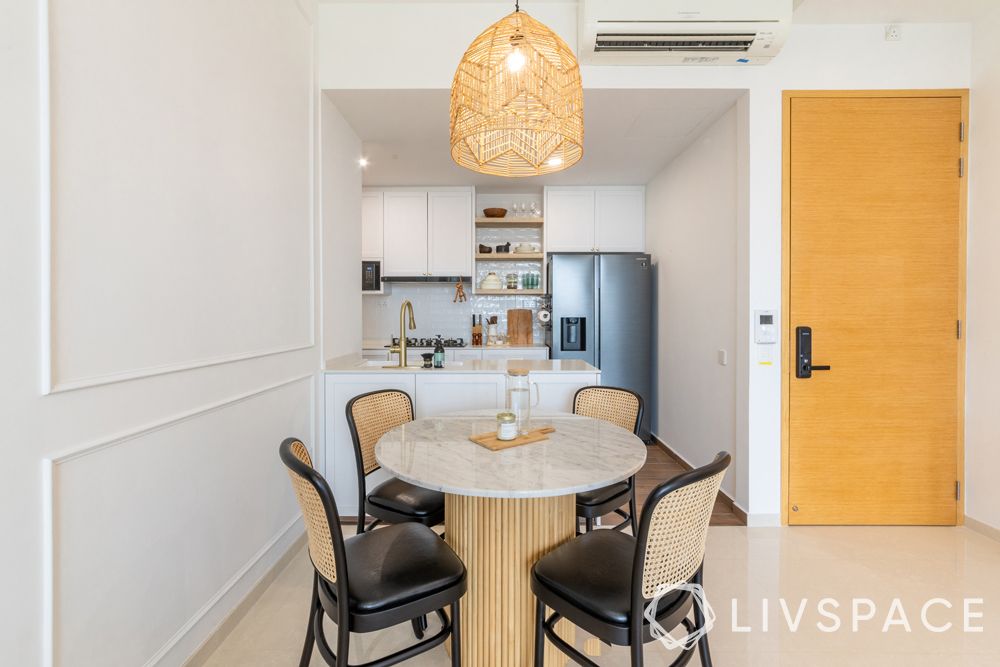 The versatility of round dining tables starts with the fact that they work for both small and large spaces. This type of table is the best bet when it comes to space optimisation and visual lightness. In a small space, it offers you functionality and is a great fit even in a small corner. The round shape takes weight away from the corner and allows all diners to be comfortable. In small spaces, opt for light tones and add style with the chairs.
#3: Everyone Can Participate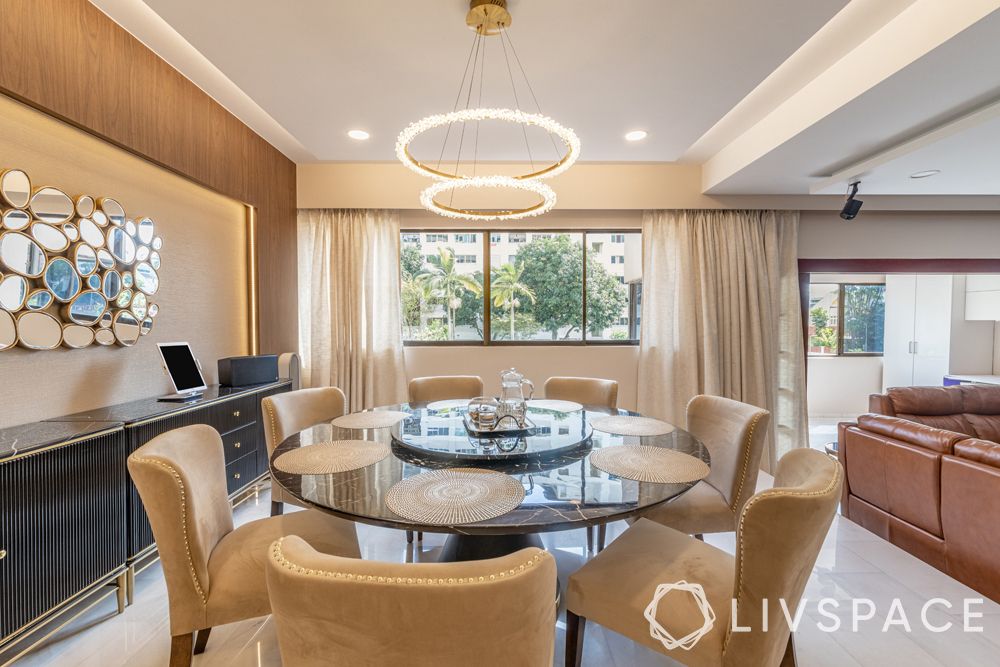 Round tables make an appearance in legends too! King Arthur wisely chose a round table to meet with his knights so that everyone could give their opinions and interact with ease. So if Arthur could do it, you can too! Using this shape in your dining room will allow you to have quiet gatherings where no one will feel left out and everyone can be part of the conversation. Although round dining tables are perfect for small spaces, they work well in large spaces too, making for an elegant presence and quite the centrepiece of the room . Even with a simple design, they will steal the show if you pair them with the right chairs and decor elements.
#4: No Guest Will Be Uncomfortable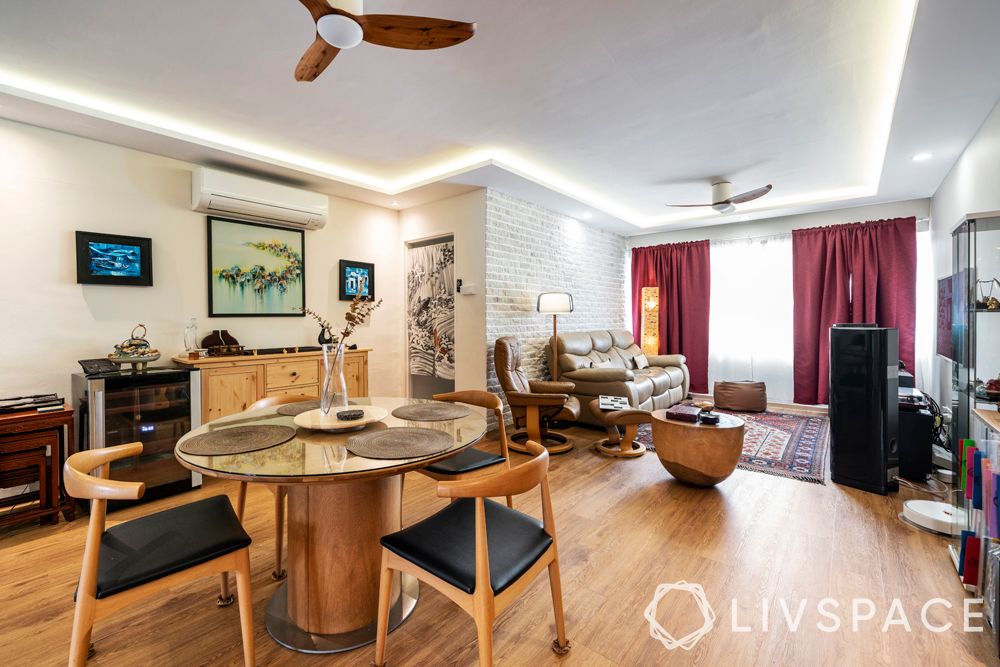 Hosting a larger-than-expected gathering at your house may be something that most homeowners are accustomed to. When this happens at a rectangular or square table, there is always someone who has to sit in the far corner. Needless to say, this is not at all comfortable and the access to food and accessories is at different distances for everyone. A round table is the perfect place when you are in the mood to pull out those board games on game night with friends! There are also round extendable dining tables if you love to invite your friends over.
Read our article 9 Handpicked Dining Rooms That Are Perfect for Every Kind of Home.
IKEA Round Tables
We know that round dining tables and all their merits will appeal to your sense of taste, and desire for convenience! If you are actively looking for round dining tables for your home, check out our round-up of some of IKEA's best!
#1: Timeless Small Round Dining Table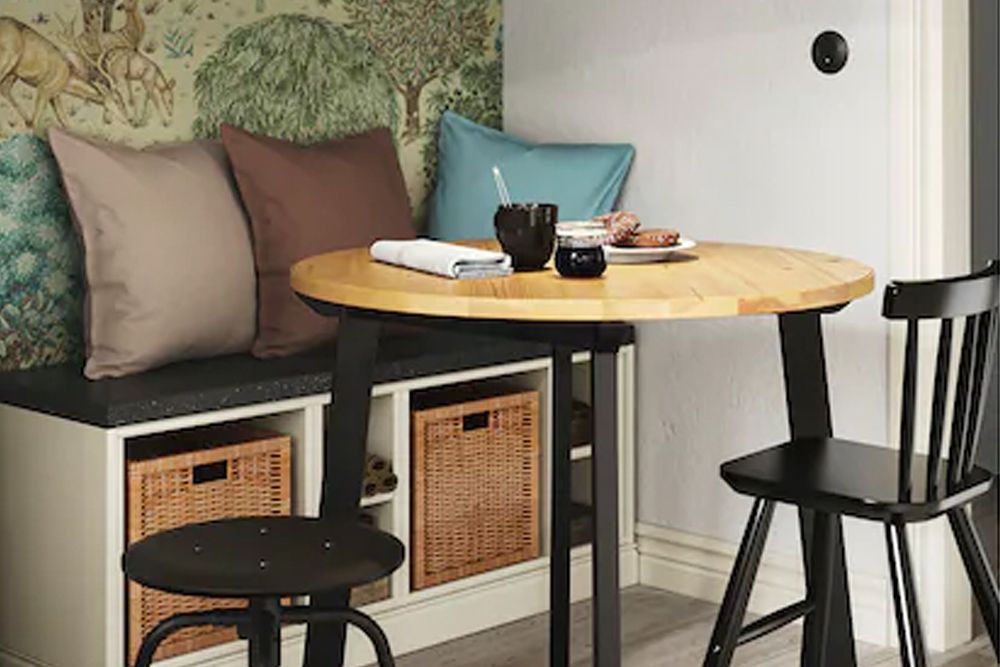 If you are interested in durability and a modern aesthetic, this table is the one for you. he Gamlared table is a perfect choice for small spaces if you're looking for a clean, clutter-free design.
You can buy this table for $129.
#2: Classic Round Wood Table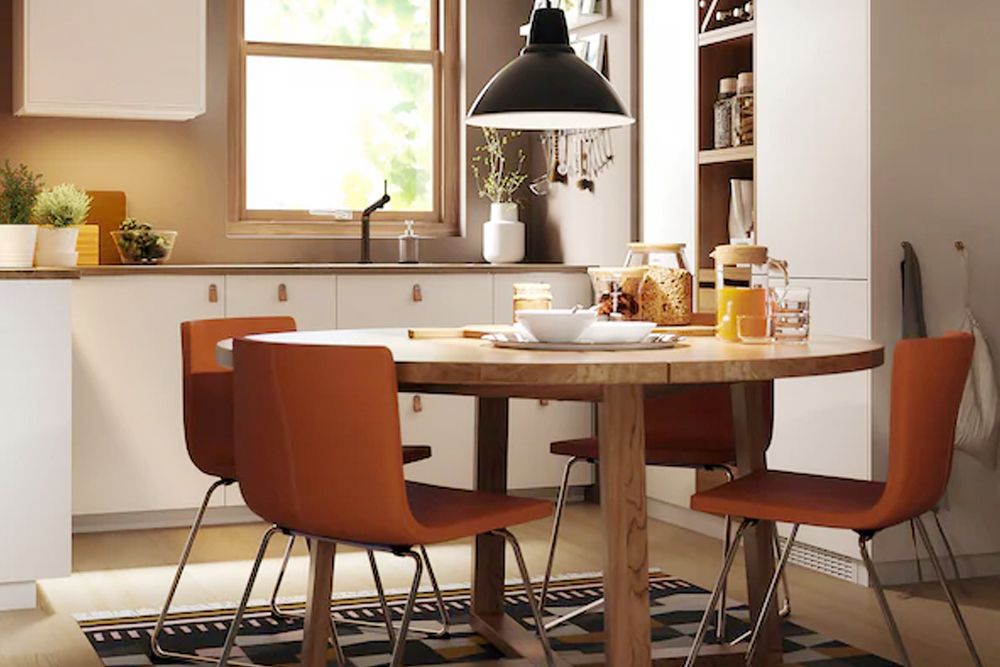 This Mörbylånga table may be designed for six people but you will always find room for one more friend. Full of character, this oak wood table features a full plank design that can complement any kind of space. You can opt for modern and practical chairs to contrast with the wood. Do not hesitate to opt for bright colours to draw attention to the table.
The price of the Mörbylånga table is for $699.
#3: Light and Handcrafted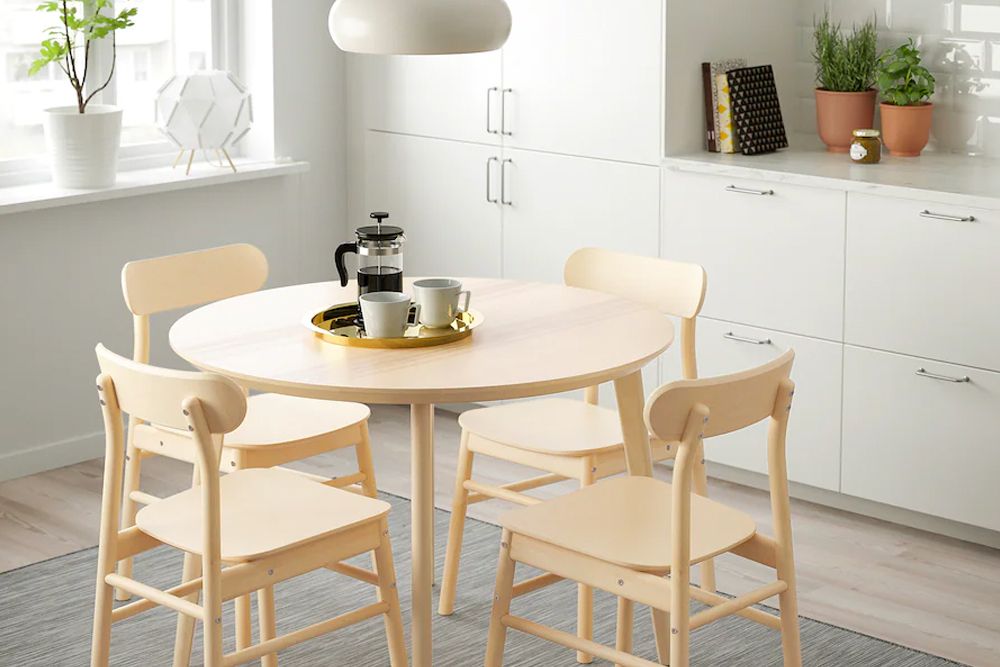 The Lisabo series has won international awards for its design so a round table offering from this range is sure to add style to your space. You can complement and demarcate the dining space with a square or rectangular rug, not to mention add in some interesting detail with the contrasting geometries at play. Also, try including matching chairs to complete the Lisabo dining table.
The price for this round dining table is $249.
#4: Traditional and Functional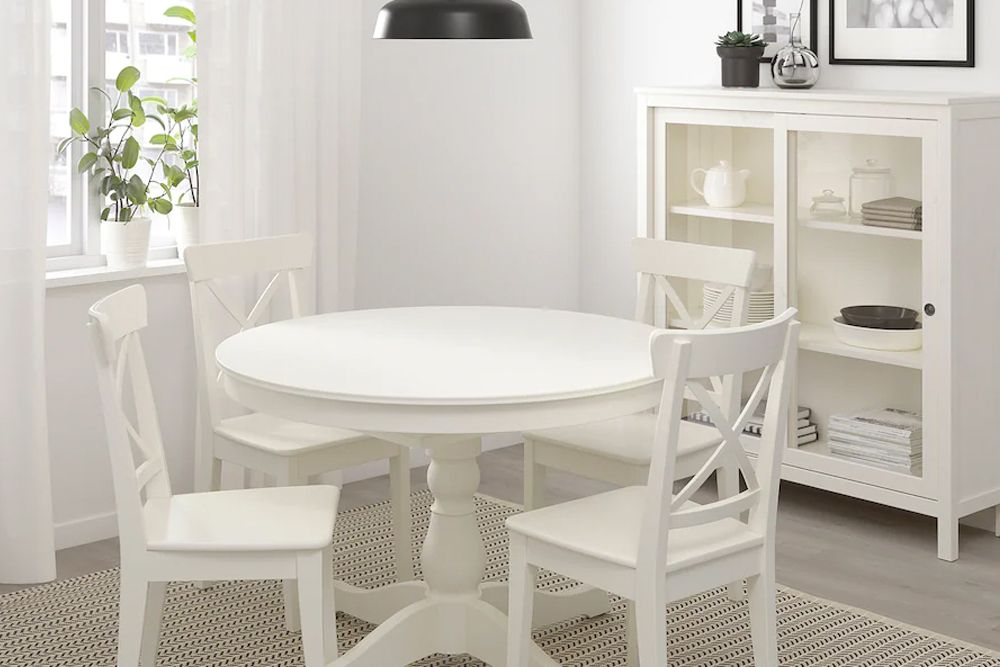 Another very important thing about round tables are the legs. The angled style of the Ingatorp table gives it a traditional look that complements the practicality of having only one leg in the centre. This type of design gives you the freedom to arrange the chairs around it the way you like. But the best thing about this table is that it is extendable. This round table can become oval in an instant so you can host more people whenever you want. Plus, the white colour will ensure that even when it is extended help, it won't overwhelm your space.
You can purchase the Ingatorp table for $549.
The dining table is one of the most important purchases you will ever make, so consider your needs and take your time before choosing the right one.
How Can Livspace Help You?
If you are thinking of redesigning your home, then consider Livspace. Book an online consultation with our designers now to turn your dream home into a reality. We are all about quality and safe interiors.
Let the pandemic not stop you from attaining your dream home. We follow strict COVID-19 safety protocols, which you can read about here.
Send us your queries and suggestions to editor.sg@livspace.com