Why go Scandinavian for a bedroom, you ask? The answer is quite simple. Bedrooms are supposed to be for relaxation. You need to feel cosy, warm and comforted in your bedroom. And, can you think of a style that fits the bill? No points for guessing we are talking about the Scandi style. A Scandinavian bedroom has clean lines and neutral colours. Most importantly, this Nordic style is practical and efficient as it steers clear of distractions that can disturb your sense of well-being — hygge — so there's plenty of natural light and no clutter.
If you are still not convinced, taking a look at our best Scandinavian bedroom designs will change your mind.
#1: Quaint space with a view
What we love: The wingback bed that stands for warmth and comfort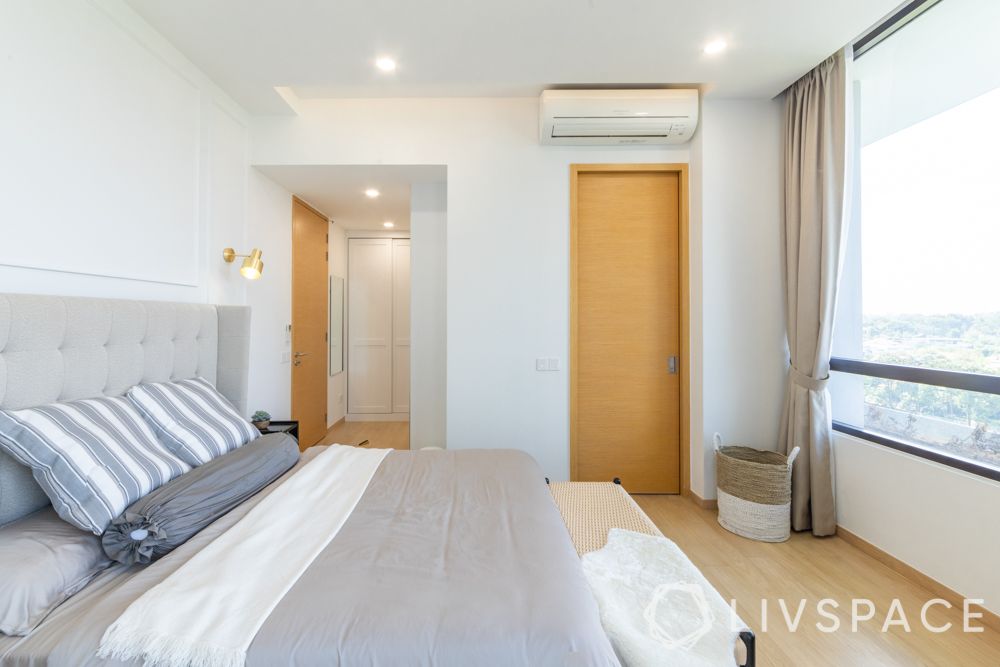 Who wouldn't want a bedroom with a view? If you have a layout similar to this room, you should definitely try this design. You can soothe yourself to sleep by adding in a fully upholstered wingback bed opposite your window. And draw in the heavy neutral coloured drapes whenever you are ready to sleep.
DID YOU KNOW
Wingback furniture was invented to keep people warm during the long winters. Typically, wingback chairs and beds were placed close to the fireplaces.
This bedroom also has shaker style wardrobes and follows the beguiling white-grey-wood palette. If this is your vibe, check out the rest of the Gorgeous 5-Room Condo Makeover With a Mix of Styles. Coming to the accessories, the bed bench and bedside lamp are not only aesthetically pleasing but also functional.
#2: Blue for a sense of calm
What we love: The cool colour scheme comprising aqua blue and grey
This Scandinavian bedroom has an aqua blue wall, light wooden flooring, grey furniture and pops of white. Opting for a colour scheme that uses only cool colours is sure to maintain tranquillity in a bedroom. And the upholstery looks very comfy too.
We also see ample amounts of natural light, making the room even brighter. Additionally, a simple glass ball floor lamp and track lights are picked for impact lighting. Finally, the wooden side table (that seamlessly syncs with the flooring) is meant for light storage.
If you love these colours, don't forget to take a tour of the entire house: This Cool-toned Home Is What Dreams Are Made of.
#3: A room that is pretty and space-efficient
What we love: The rattan cane wardrobe shutters for its unique woven texture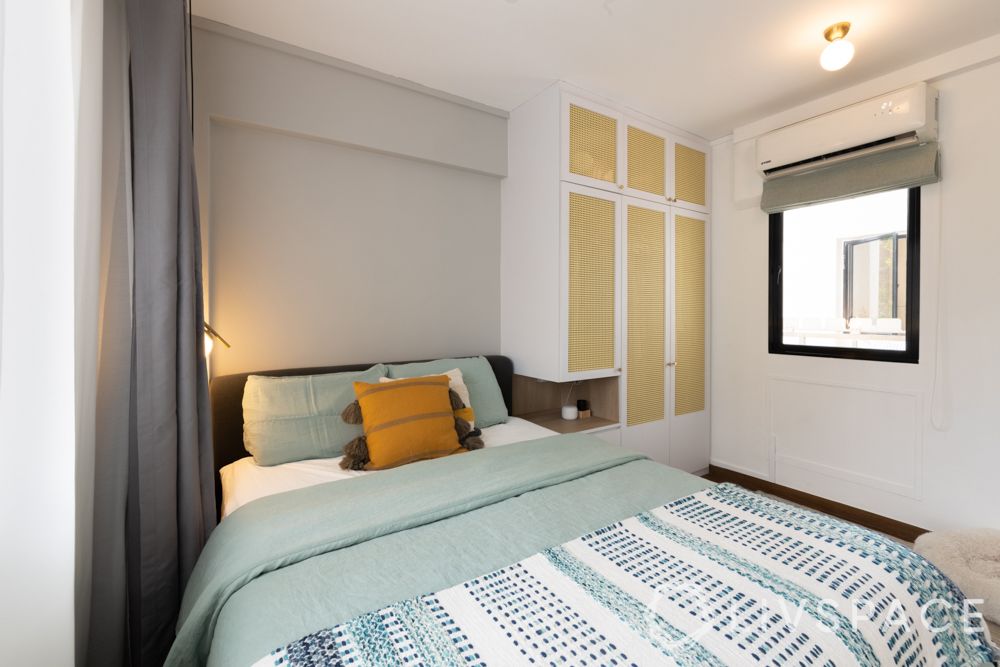 Clean, neat and devoid of clutter doesn't necessarily mean plain or boring. Take this bedroom for example; the monotony of the white and grey is broken by the woven texture of the rattan cane wardrobe shutters. A bedside pendant light and layered drapes complete the room's requirements. This design is highly recommended for compact spaces.
You can get a full tutorial on how to get the look of this Scandinavian bedroom from this home: What is the Best Way to Design a 4-room HDB for a Young Couple
DID YOU KNOW
As ornamentation is not a part of the style aesthetics in Scandinavian style, the only form of decoration comes from patterns and textures. The woven texture of rattan cane, as we see here, is a perfect example.
#4: Melange of plush soft furnishings and dark wood
What we love: The chevron patterned wallpaper for its subtle texture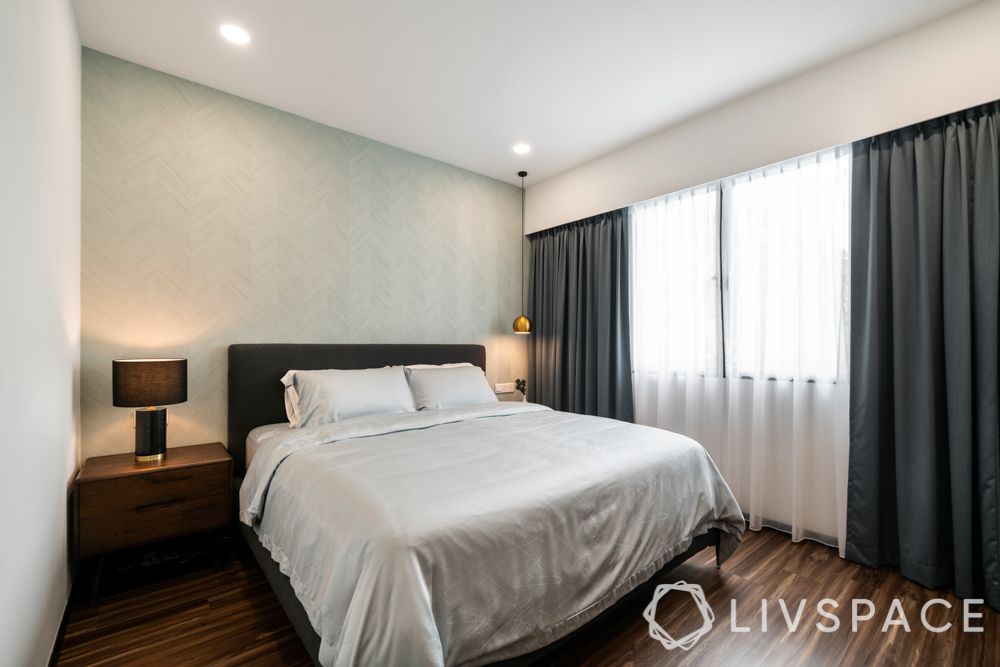 With clean lines, neutral shades, this bedroom is as Scandinavian as it could be. Again, we can see a lot of grey and white, but what makes this design exquisite (and also our favourite) is the wallpaper with the not-so-obvious chevron pattern.
Furthermore, the plush bedding and decorative lighting— pendant light and table lamp— amp up the room's visual interest.
Don't miss to see the entire house: A Space-efficient Makeover for a 5-Room Condo You Will Love.
#5: Easy, breezy and absolutely functional
What we love: The bed with its proximity to the balcony is a keeper!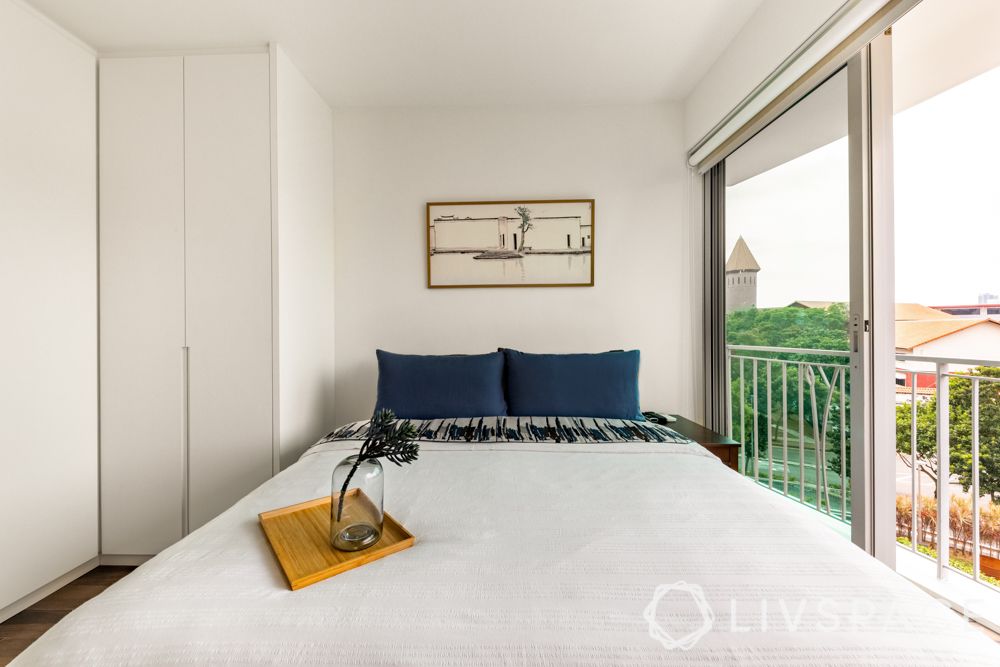 Minimal, airy and fresh, this bedroom with a view reminds us of vacation homes. The entire HDB went through a chic makeover to achieve that staycation vibe.
This bright bedroom has a simple wooden bed, white bedding, and a white L-shaped wardrobe. What uplifts the room is the wooden flooring and the bed's close proximity to the balcony. If you are on a budget, remember that you don't have to change every aspect of the room to get a new look. Something basic like this Scandinavian bedroom can be worth your while.
#6: A nicely neutral bedroom
What we love: Clever use of vertical space; see shelf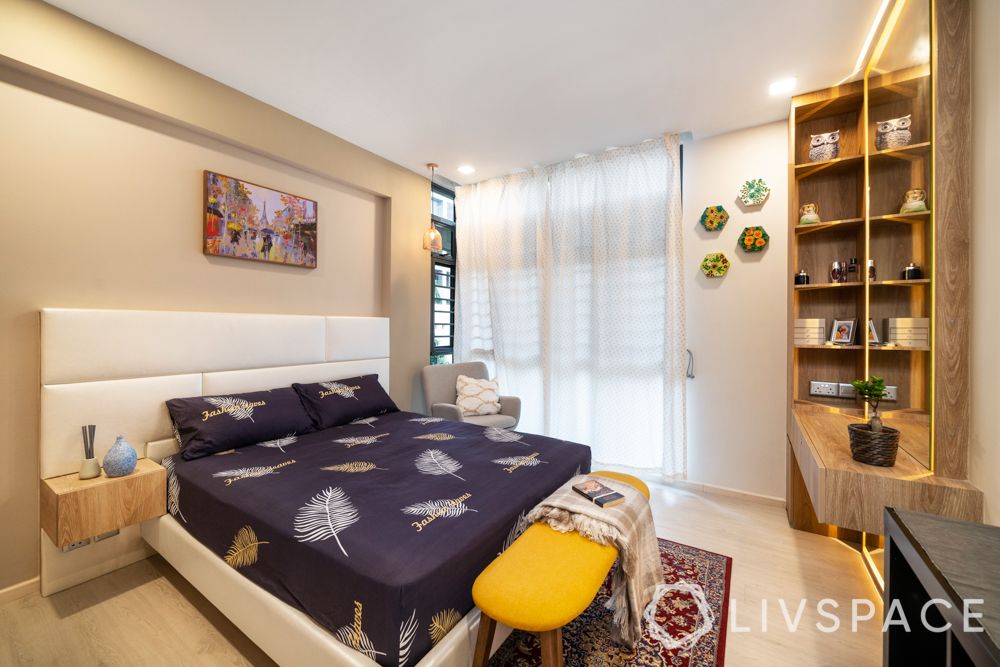 In a nutshell, this room is essentially neutral with pops of light wood that make it a perfect Scandinavian bedroom. The floating side table is super cute and also a very smart way to furnish a compact bedroom. But what takes the cake is the efficient use of vertical space that we see in the dresser. That corner, which was at an odd angle, has been put to the best possible use.
There are some Steal-worthy House Interior Design Ideas From This Carissa Park Condo that you need to save.
#7. Sleek, stylish space optimised bedroom in grey
What we love: Glass doors that enhance the sense of space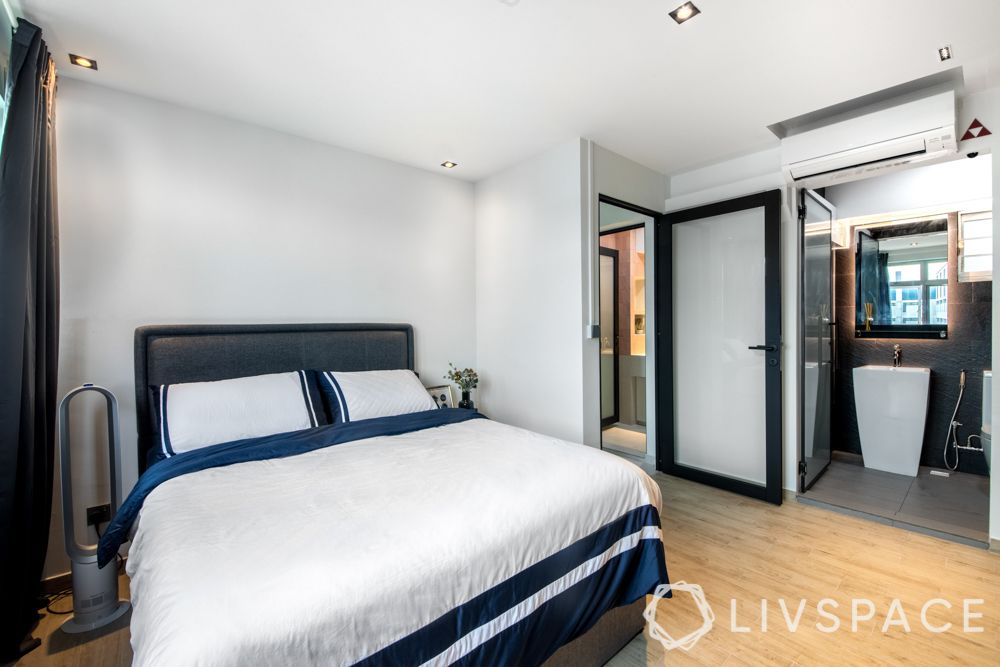 There is nothing quite as chic as glass when it comes to modern design. And the glass doors leading up to this bedroom and its attached bathroom look perfect. Not only does it make the bedroom look more spacious but also looks sophisticated. Additionally, the warm wooden flooring cranks up the room's aura.
Would you believe if we say the entire HDB went from cluttered to minimal after the renovation? See for yourself: From Clutter and Colour to Clean and Minimal: A HDB Renovation.
What we love: The luxurious sliding wardrobe that saves space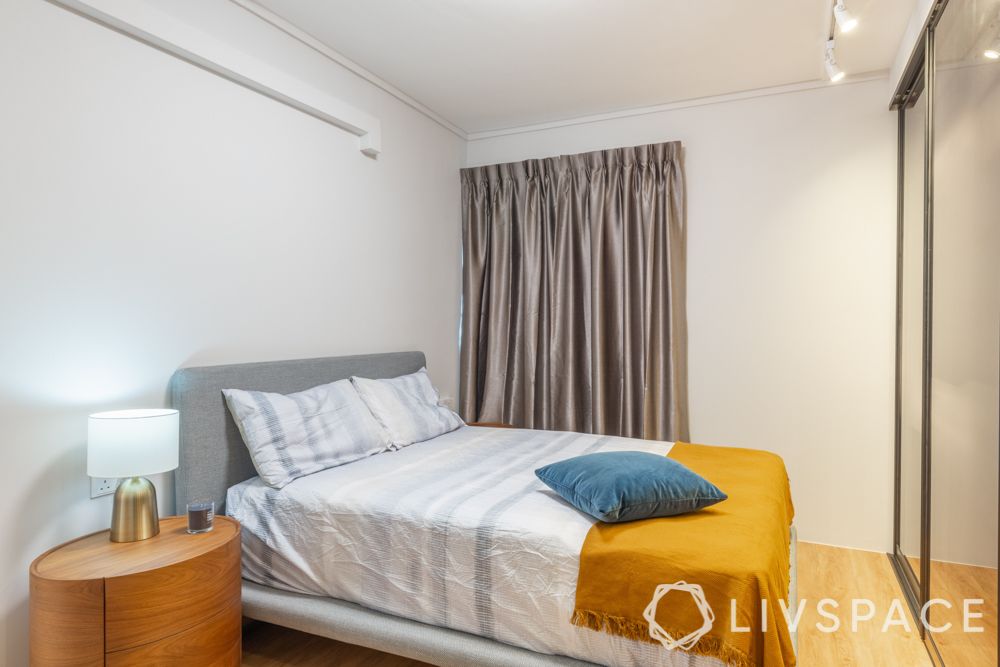 The words comfort and bedroom are almost synonymous. This Scandinavian bedroom achieves that cosiness with only the necessary furniture, allowing more space for your thoughts.
The room features a plain upholstered bed, wooden flooring, a huge luxurious modular wardrobe (with sliding glass doors to save space) and a nightstand. The table lamp and soft furnishings— the drapes, blanket and pillow— are the accents of this snug bedroom.
You can take notes on how you can achieve a simple and luxurious look from this 5-room HDB.
We are sure that we have left you spoilt for choice with these gorgeous Scandinavian bedroom designs. Contemplate and choose the one that resonates with your style the most. Moreover, who is to say that you can only choose one design? You have all the freedom to mix and match the elements you like.
Want another dose of Scandinavian designs? Take a look at These 6 Living Rooms Designed by Livspace.
Send in your comments and suggestions to editor.sg@livspace.com.