A kitchen Scandinavian interior design, by definition, is characterised by simplicity, minimalism and functionality. It is very popular since it treads the path of clean lines and functional spaces—something that all homes need these days. Especially in kitchens, this design style is very useful and makes the space look better than ever. Keeping this in mind, we have some modern Scandinavian kitchen designs for you that will give you ideas for your next renovation.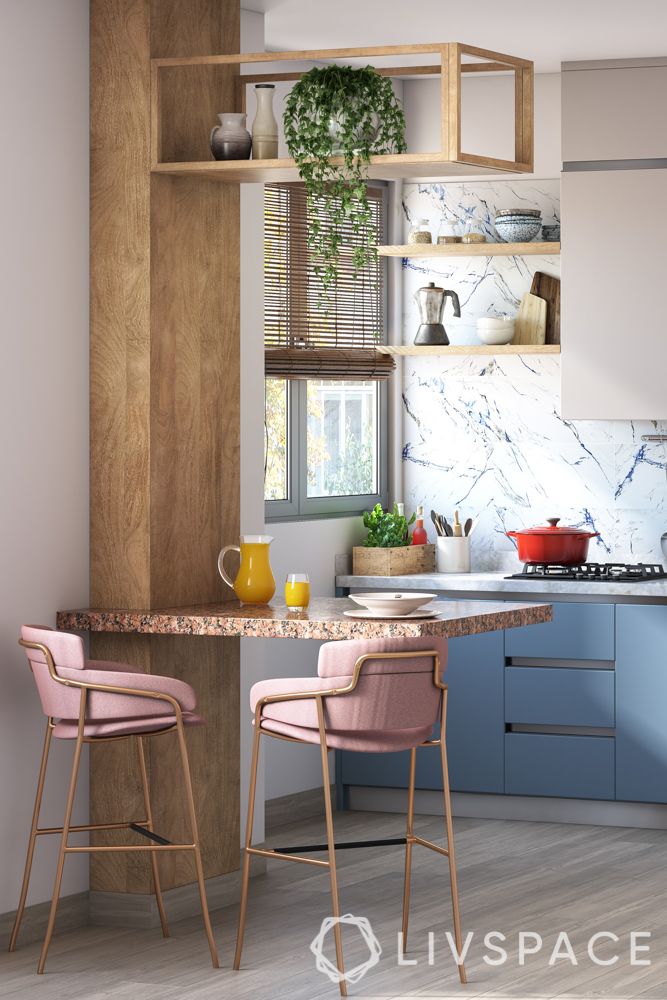 For any young, modern couple, this is one of the best Scandinavian kitchen designs. We can already picture the rushed breakfasts and lazy dinners. Style does not take a back seat and so many elements here that add to that Nordic charm. From the terrazzo breakfast table to the marble backsplash, stones are a major design highlight of this kitchen. Don't miss the exposed brick wall partition and the pastel colours that add an elegant touch. A combination of cabinets and open display shelves keep things simple here. The choice of colours too is refreshing, easy on the eyes and visually light.
For all those who are low on space but do not want to compromise on the design and look of their kitchen – this one's for you. We're crushing on this cute one-wall kitchen that is ideal for small condos and HDBs or anyone who does not cook a lot. A printed backsplash is the only highlight in this kitchen which adds some drama to the setup. The smart addition? This kitchen has a collapsible door in front of it, so that this area is enclosed when not in use.
Also read: Need a Brand New Kitchen Flooring? Here are 9 Elegant Options to Pick From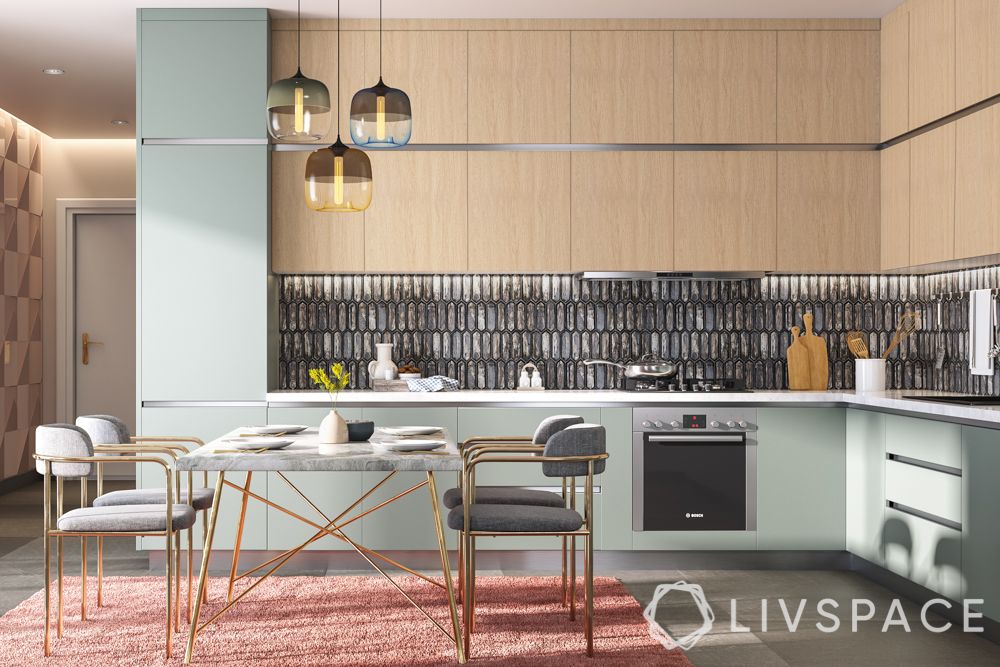 Coming to the most popular kitchen layout — an L-shaped kitchen. Designed for a rather spacious flat, such modern Scandinavian kitchen designs are offbeat. Moving away from typical whites, this kitchen flaunts a black textured backsplash paired with matte-finish cabinetry. Storage comes easy with full-height lofts. The L-shaped layout also makes it easy to place a dining table in the centre.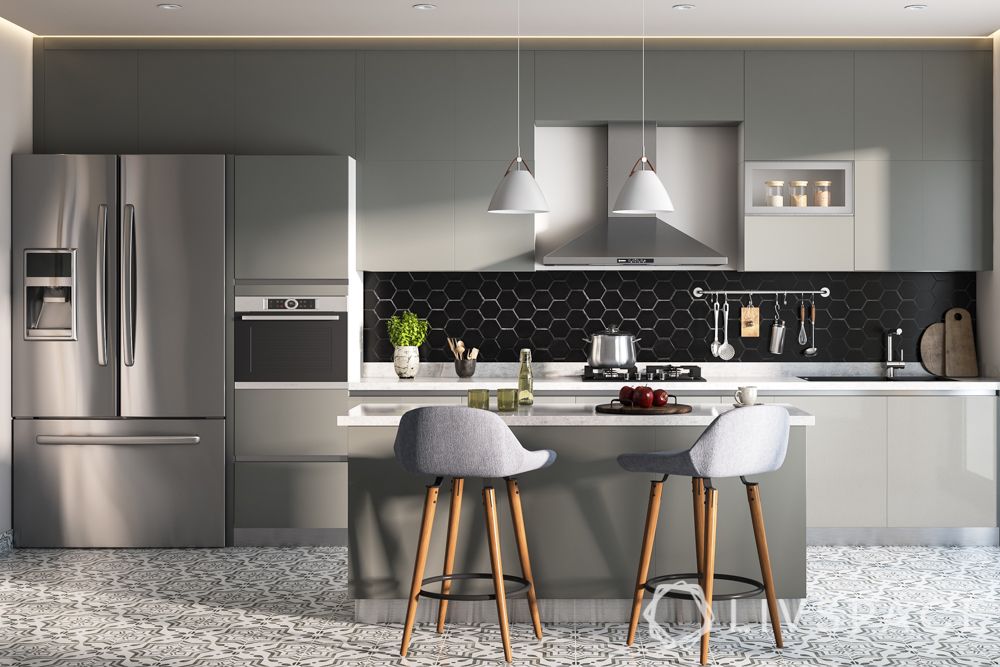 This kitchen has our heart for a lot of reasons! First and foremost, it has an island where the family can congregate. Moreover, the cabinetry is sleek, with a handless design. Appliances fit in the right places and make this kitchen a functional space. Black honeycomb-patterned backsplash is the centre of attention here. The silver-grey colour scheme of this Scandinavian interior design for kitchen is on point!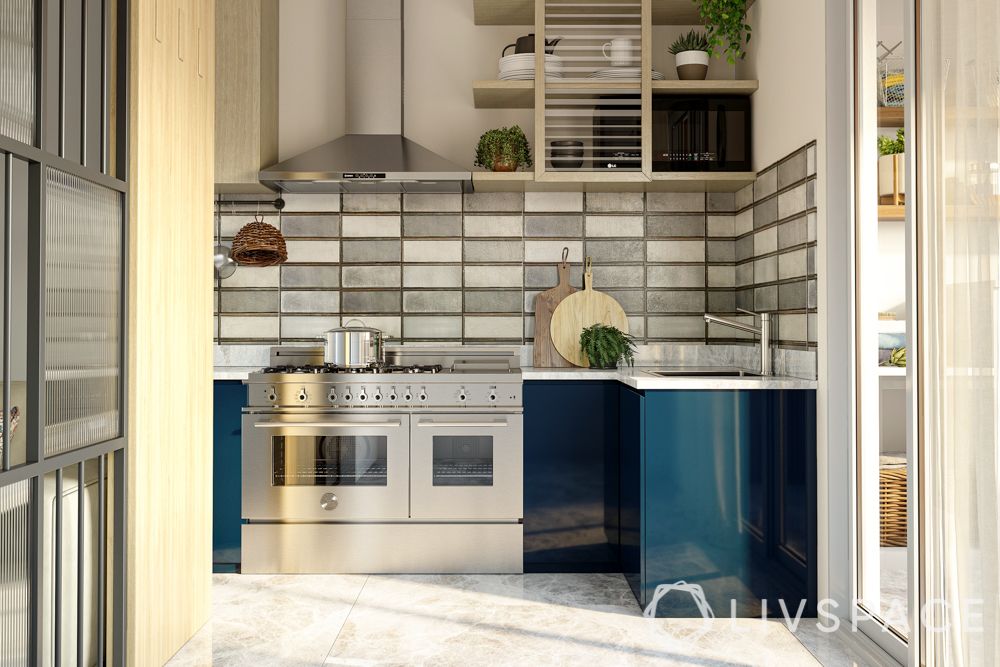 Can you picture yourself basking in the sun while preparing yourself some toast and coffee? We can! This kitchen is a trend-alert for its colours and cabinetry. Glossy blue base cabinets and a farmhouse-style ceiling with bricks for the backsplash — what's not to love? We also like how this kitchen has no uppers and instead flaunts just some open shelves for decor, appliances and exclusive cutlery.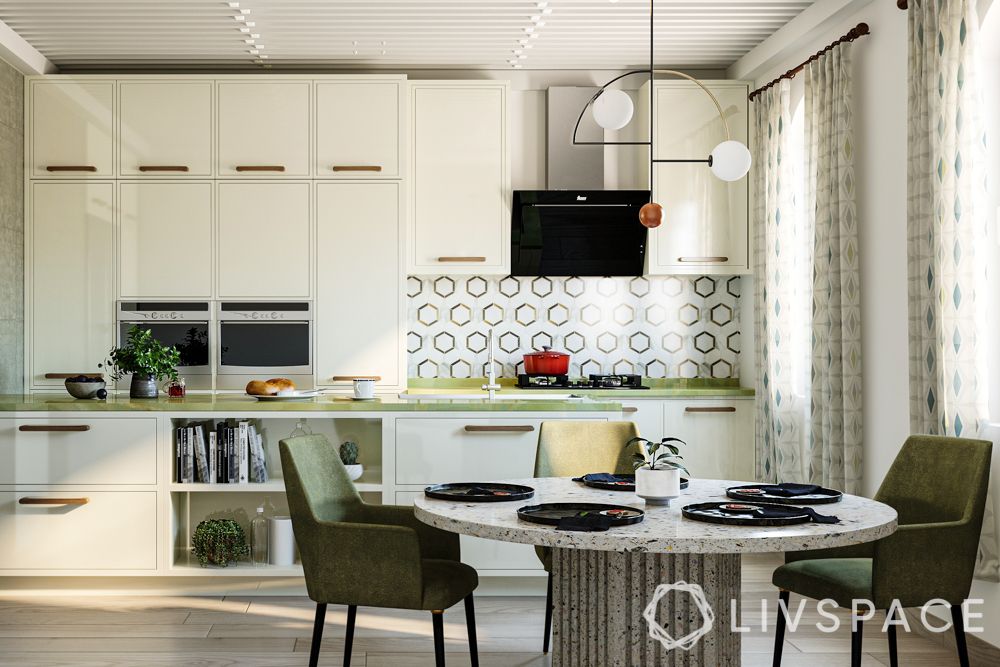 A huge kitchen design, with plenty of storage, is a must for those living with big families. Outfitted with ample cabinets on all sides and huge drawers, this kitchen Scandinavian interior design doesn't skimp out on storage. You can also spot a complete pantry unit on the left. Family time just gets better when the food is served piping hot right from the stove to the table. Hence, this round dining table becomes the centre of attention here.
We hope you got some inspiration for your next kitchen design project. Here are 7 Best Kitchen Accessories for a Super Organised Petite Space. If you want your kitchen to be just as beautiful, then look no further. Book an online consultation with Livspace today!
Send in your comments and suggestions to editor.sg@livspace.com.