Scandinavian design style is marked by simplicity, minimalism and functionality tied together with the right colours and furniture. The hallmark traits of this design style are white walls, minimalist decor, functional furniture and so on. Our designers love this style of design and homeowners don't seem to get enough of it. Check out our favourite Scandinavian living room designs from homes that we have designed so far.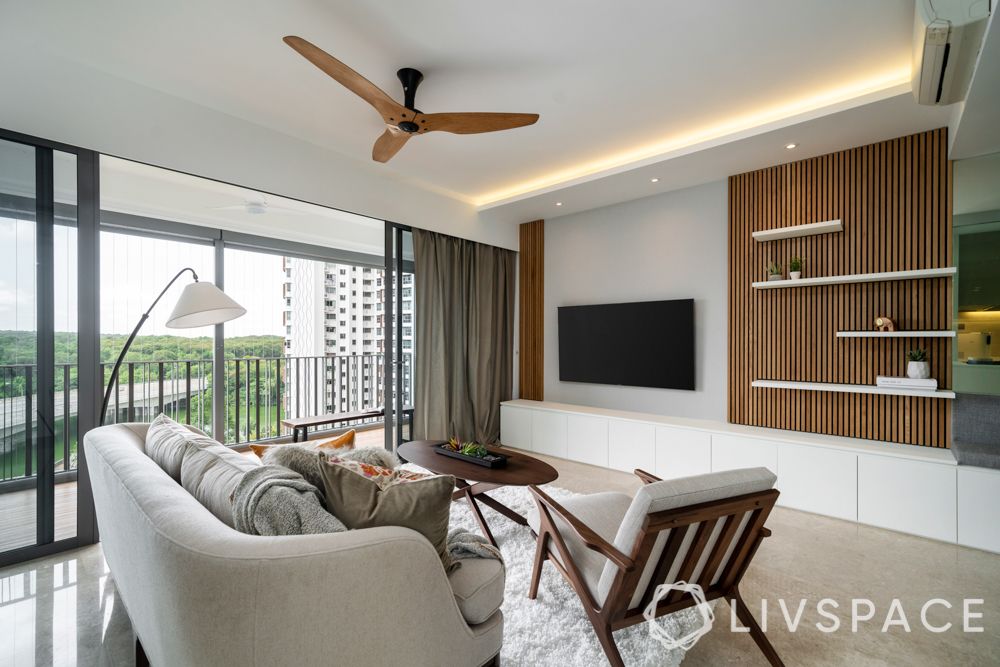 A minimal, clutter-free living room is the best way to welcome and entertain guests and feel at home. While it is easy to make the space look simple and boring, our designers have their way around it. We opted for a neutral colour palette and matched it with natural materials to give it the right look. To add a highlight in this Scandinavian living room, we have given them a feature wall with a batten wall made of oak wood, with vinyl wall covering and laminates to add the perfect finishing touch.
Get the look: Always opt for white walls if you are going to add a feature wall like this one. It will help highlight the wall brilliantly. To further amplify the look of this design, you can add a mirror panel next to the fluted panels. Also, make sure all your furniture is centered and a throw in a furry white area rug to nail the look.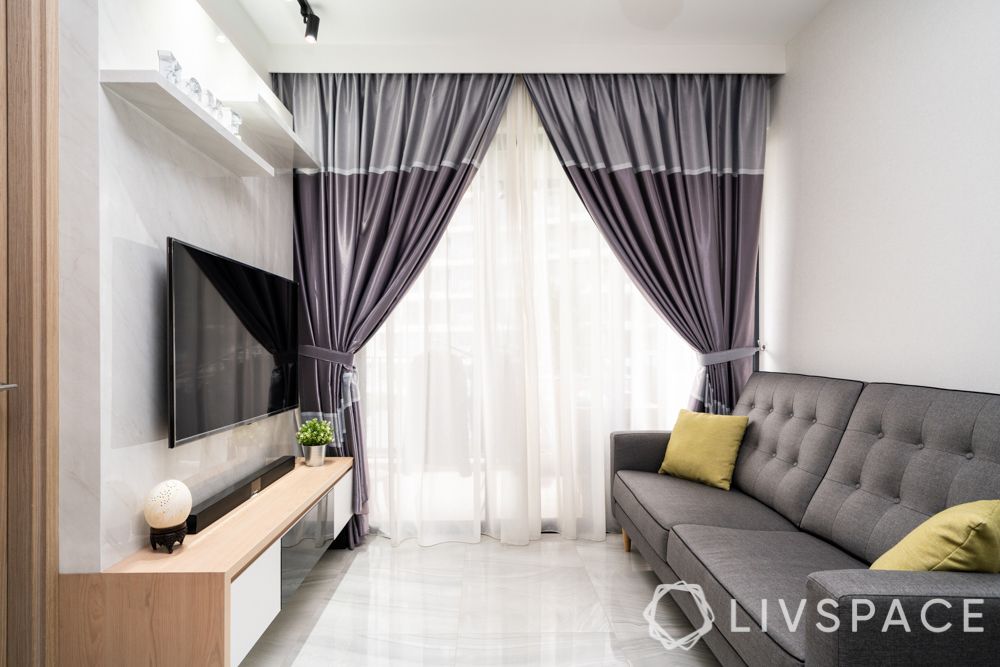 A Scandinavian look is ideal for compact spaces. Why? Because this design style focuses on clutter-free spaces, with only the most functional furniture in place. This bright and airy living room is designed to sport a minimal and organised look. The custom-made TV unit with LED lighting sports a wooden laminate as well as a back panel with marble finish laminate.
Get the look: To make this look work, our designer recommends using monotones so that it does not look cramped. Too many colours can kill the look in such tight spaces. A tasteful shade of grey is the best if you want to keep it simple. Accentuate the look with layered curtains in similar shades.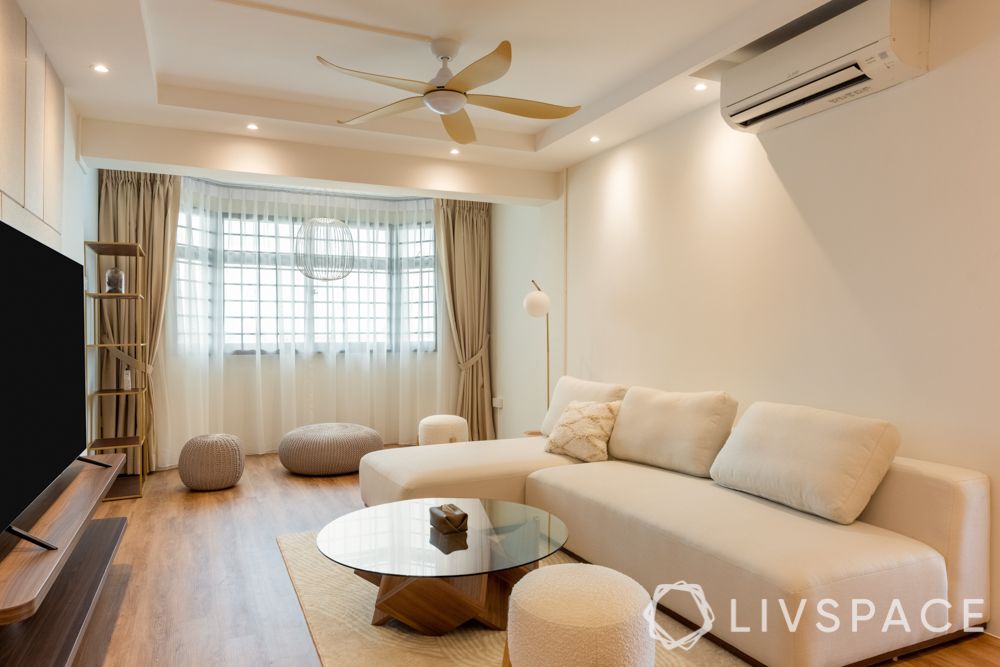 Designed to be a casual yet chic space, this living room has predominantly white colours on the walls and furniture. An L-shaped white sofa is the chosen piece since it can accommodate a lot of people at a time. Also, some poufs and ottomans add extra seating space without crowding the area.
Get the look: Lighting is the key element when it comes to getting the look right. Ambient lights are essential and you should try layering them. Neutral-toned drapes and furnishings set the mood and a contemporary chandelier can be added for extra effect.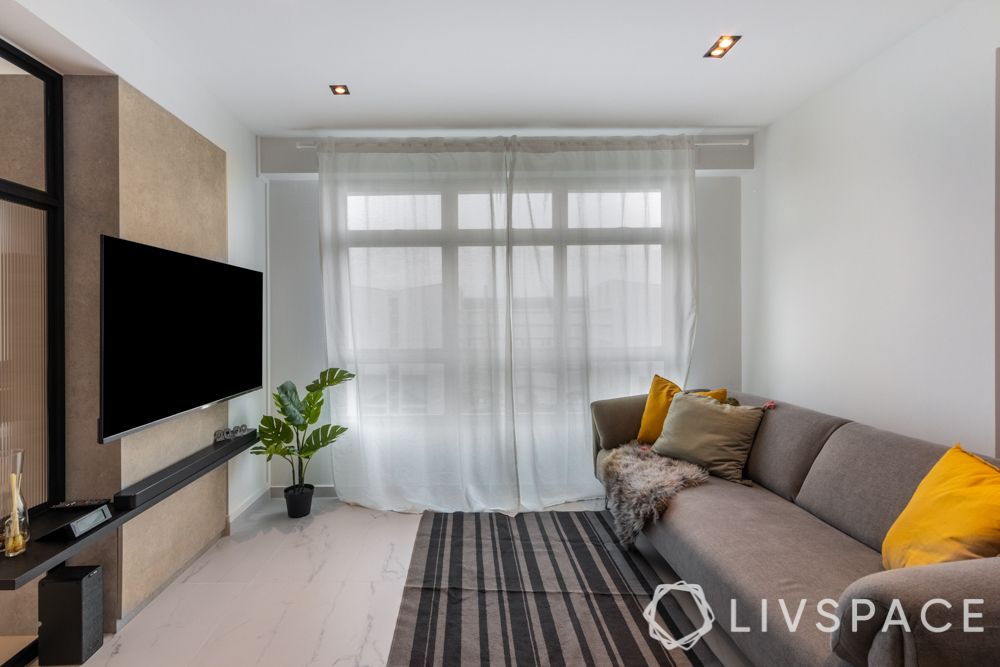 Grey and white are a match made in heaven when it comes to designing a Scandinavian living room. This space feels silent and calm with sail white-painted walls that calm the mind. Keeping up with the minimal theme is the lone sofa in grey upholstery that is enough to seat a couple. To offset the light colours and add some drama here, our designer has added a matte black ledge to the TV unit wall. Sleek and minimal is the word for it!
Get the look: Always opt for sheer curtains to let maximum natural light seep in. Plants can also make a whale of a difference in adding warmth and freshness to a plain Jane space like this.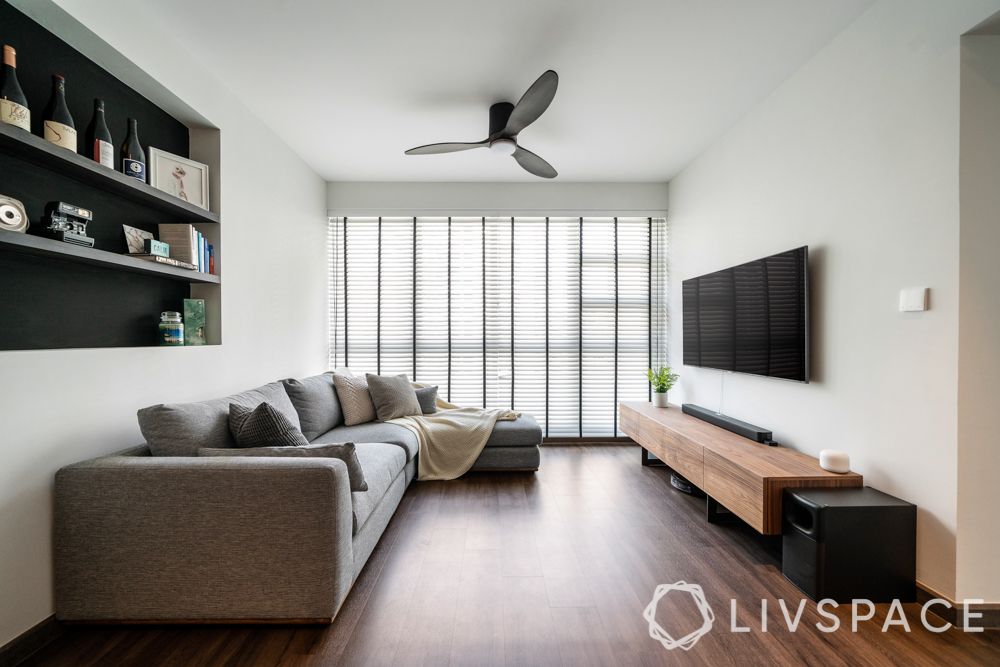 Minimal and Scandi spaces do not mean you cannot have some fun with it. If you love putting things up on display without cluttering the space, you can opt for wall niches. Our designer has created a special display shelf using plasterboard as a false wall that merges with the existing structural beam. An L-shaped sofa with grey upholstery is appropriately picked for seating.
Get the look: Get your hands on a plush upholstered sofa and throw plenty of cushions on it to create a comfy look. Make sure you opt for warm wooden flooring. Also, here we have painted the niche in black to make it stand out.
Yes, it's that simple to get the Scandinavian look right. With the right colours and furniture, you can nail the look. If you're looking for steps to design your living room, check this out: What are the 6 Essentials of a Good Living Room Design.
Send in your comments and suggestions to editor.sg@livspace.com.