Here at Livspace, we're known for designing homes that are both comfortable and functional for our clients. This three-room condo in Woodlands Drive is a great example of the design principles we follow. We made sure that this flat in Singapore had a little bit of everything: functionality, storage, and flair. All of these pieces were combined in an elegant style and handed over to homeowner Michelle, who was really pleased to see the contemporary Scandinavian style interior design topped with a darker colour scheme for her home. This property has a few modern characteristics that are definitely worth borrowing!
__________________________________________________________
Who livs here: Michelle and two others
Location: 26 Woodlands Drive 16
Design team: Interior designer Winny, Business Manager Shim
Livspace service: 2 Bedrooms, 2 Bathrooms, Kitchen, Living Area
Budget: $$$$$
__________________________________________________________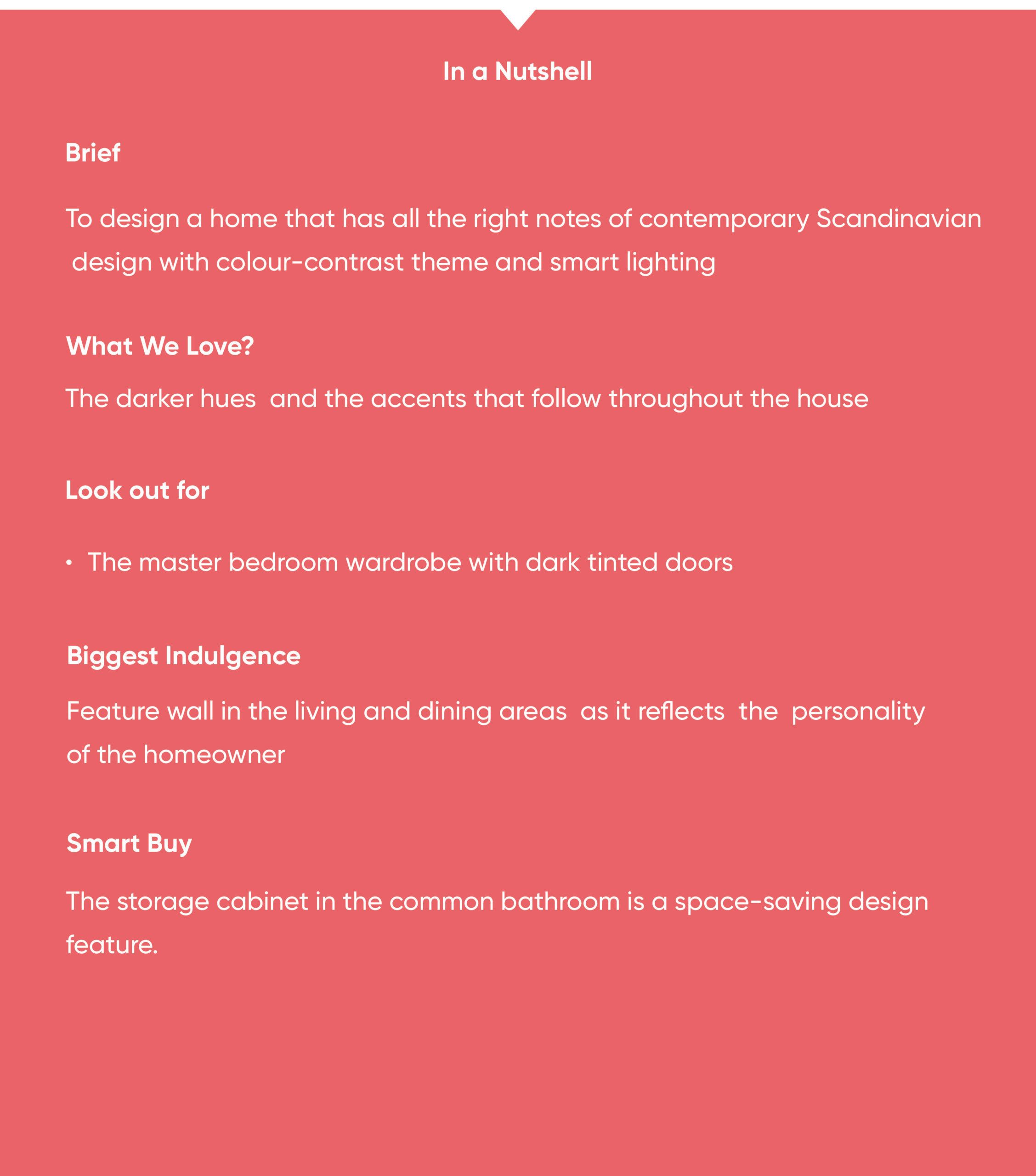 Open Layout with Combined Living Area and Dining Area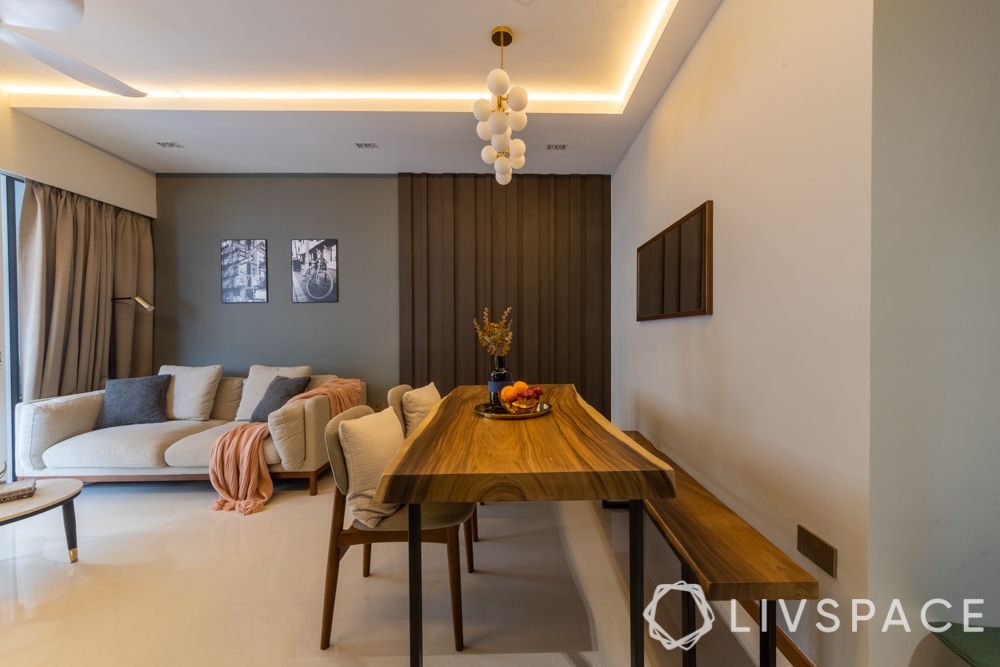 Michelle was very clear about her 3-room condo interior design. She wanted a warm, Scandinavian-style interior design that reflected her particular tastes while scoring high on trendiness. She also looked for inspiration on Instagram to provide our designer with some reference material for what she expected out of the home design.
The dining and living rooms share the same space in this 3 room condo interior design as it is designed with an open floor plan. The furniture in these two areas demarcates the space into the living and dining zone. The open-floor plan creates a seamless flow throughout the living room, dining room and kitchen, and is great for homeowners who enjoy entertaining friends and families.
A Dark-themed Yet Brightly-lit Living Area with Signature Accent Wall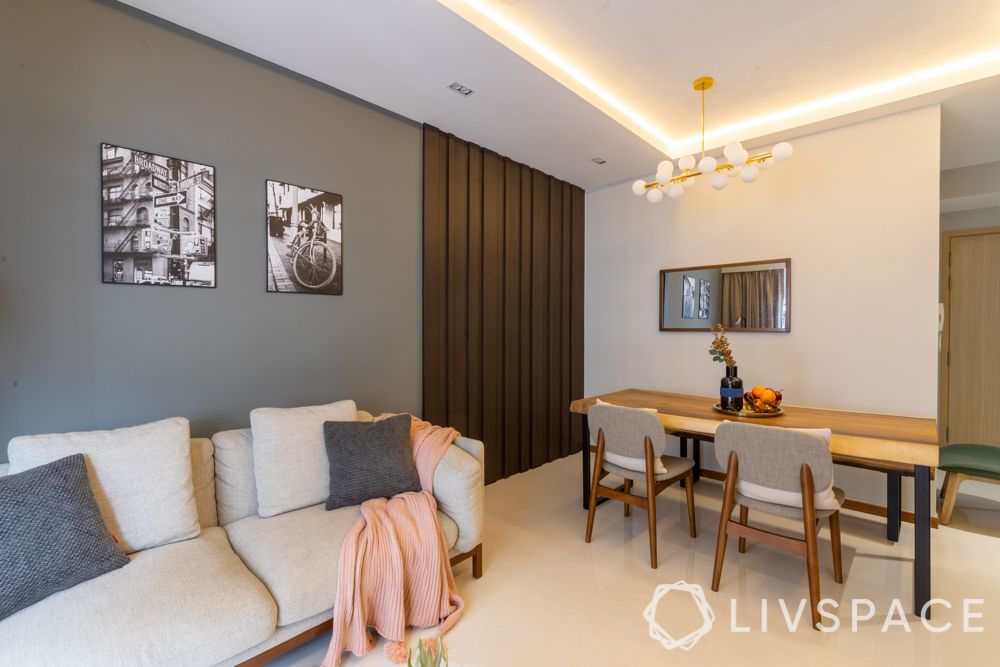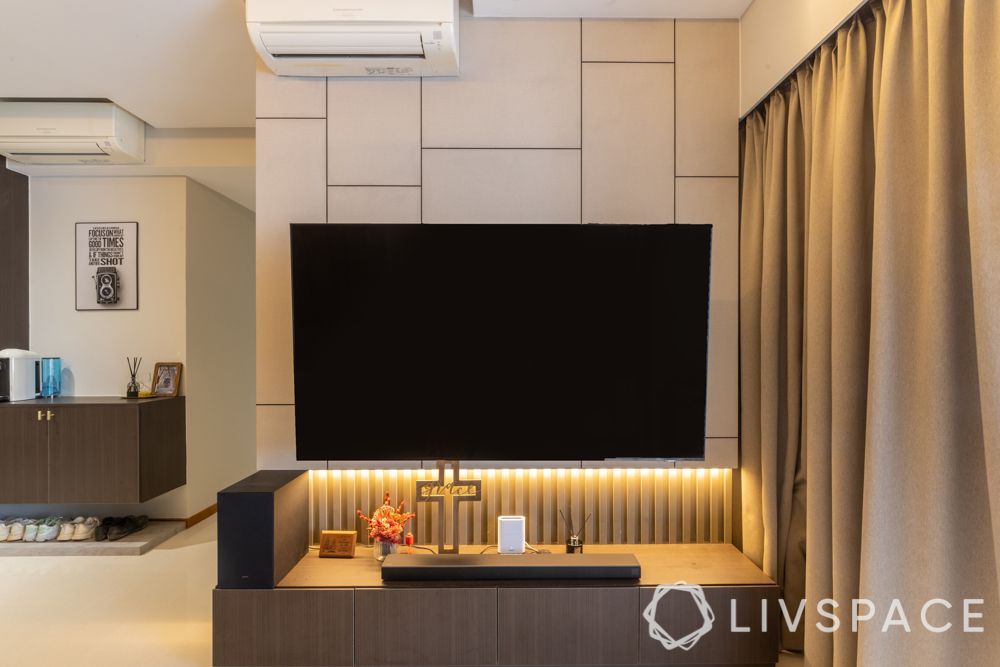 The living-cum-dining room follows contemporary Scandinavian style interior design as it emphasises clean lines, functionality, and stylish yet comfortable furnishings.To make the sleek and modern home design feel warm and inviting, designer Winny has used a mix of dark-themed textures, accents and soft wall colour tones. The living area is dressed in dark-themed accents, for instance, look at that grey feature wall that shares its borders with dark brown wooden accent that leaves a style-statement.
Also Read: 11 Clever Living Room Designer Tips to Transform Your Space Like a Pro
A beige sofa and an accent centre table add depth and dimension to the space. The TV is mounted on a stylish grey-and-beige ledge which is lit with strip LED lights. Warm recessed lighting and a generous amount of natural light enliven the entire space during the day. Michelle wanted her guests to go "wow" as soon as they enter the living space.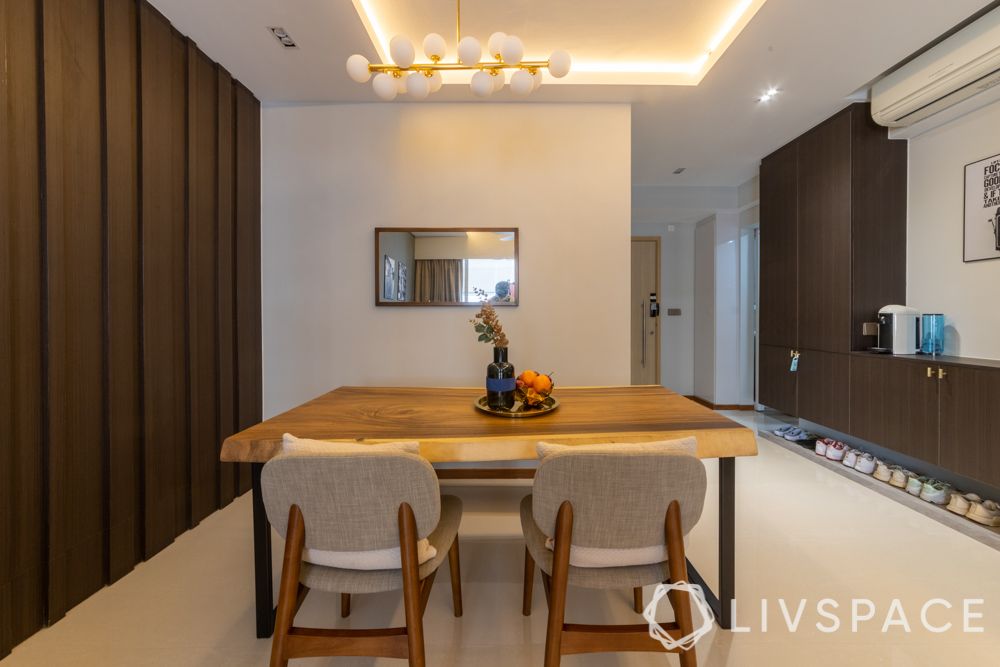 Just like the living room, neutral colours like off-white, greys, and beige are used in the dining room, with dark coloured brass and brown accents. Four individuals can sit at the wood-topped brass-legged dining table. On one side there is a dark-coloured wooden accent wall and on the other side dark-coloured wooden furniture. Winny definitely nails the blending of neutral and dark-theme for this house. Isn't it? The soft grey chairs with wooden legs, pendant lamps, and mirror on the wall enhance the opulent look of this 3-room condo interior design.
White and Grey Kitchen Design Optimised for User Experience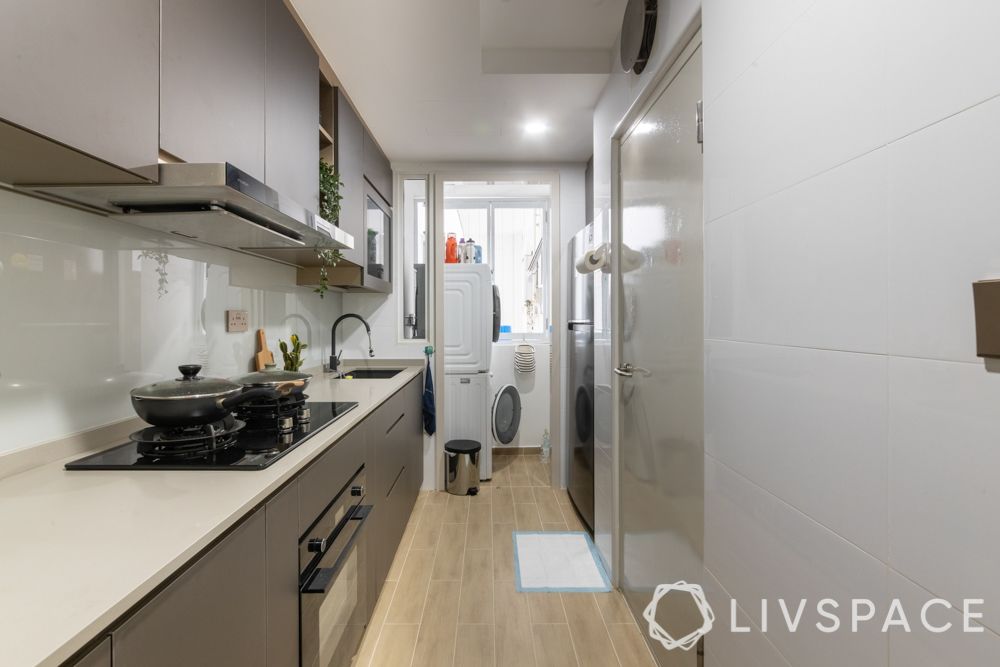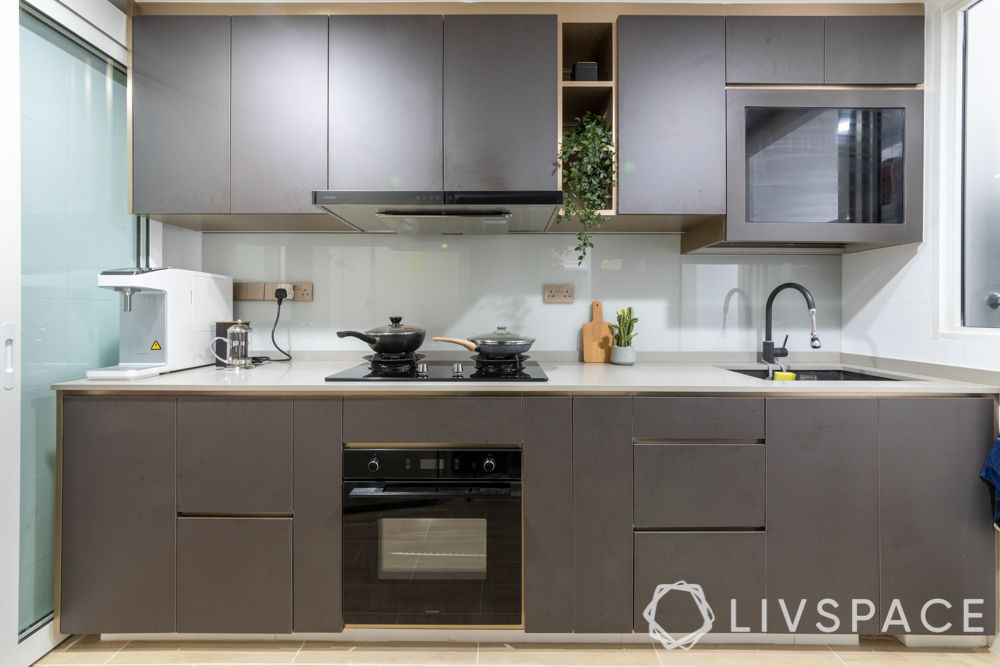 To be in line with the colour theme in this Scandinavian style interior design, the colour palettes in the kitchen are also a blend of white and dark. The walls are white and glossy in order to give the kitchen an illusion of space. The kitchen has handleless dark grey cabinets with laminate finish, and have built-in ovens. A sleek laminate countertop reflects light and makes the area appear brighter. Warm light from the ceiling helps make the space pleasant and inviting.
Also read: How The Kitchen in This 3 Room HDB Got A Beautiful Makeover
Master Bedroom with Comfortable Home Office and Dark-Tinted Glass Wardrobe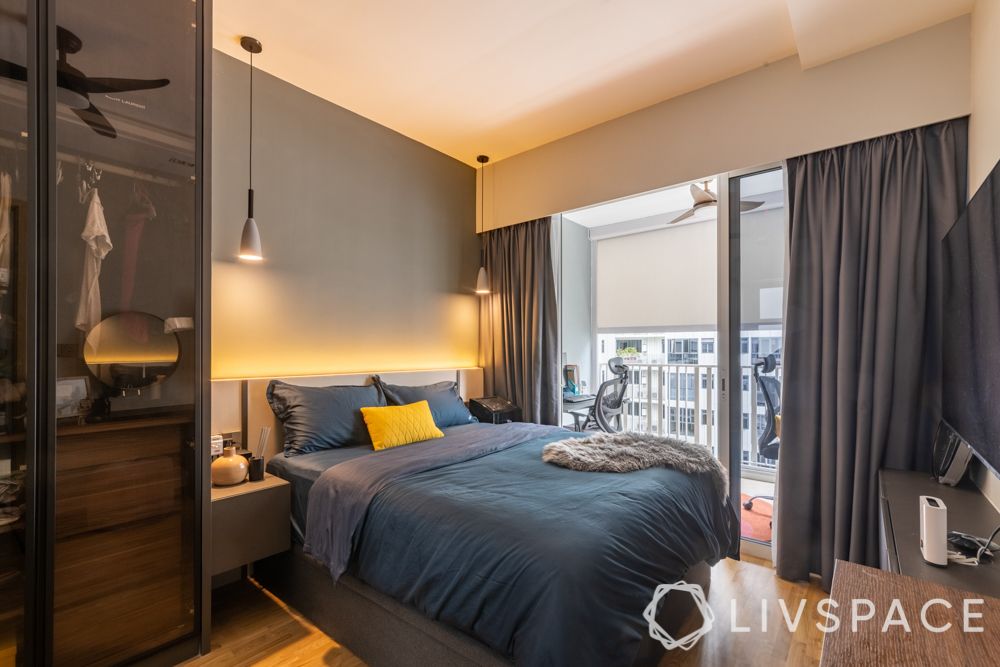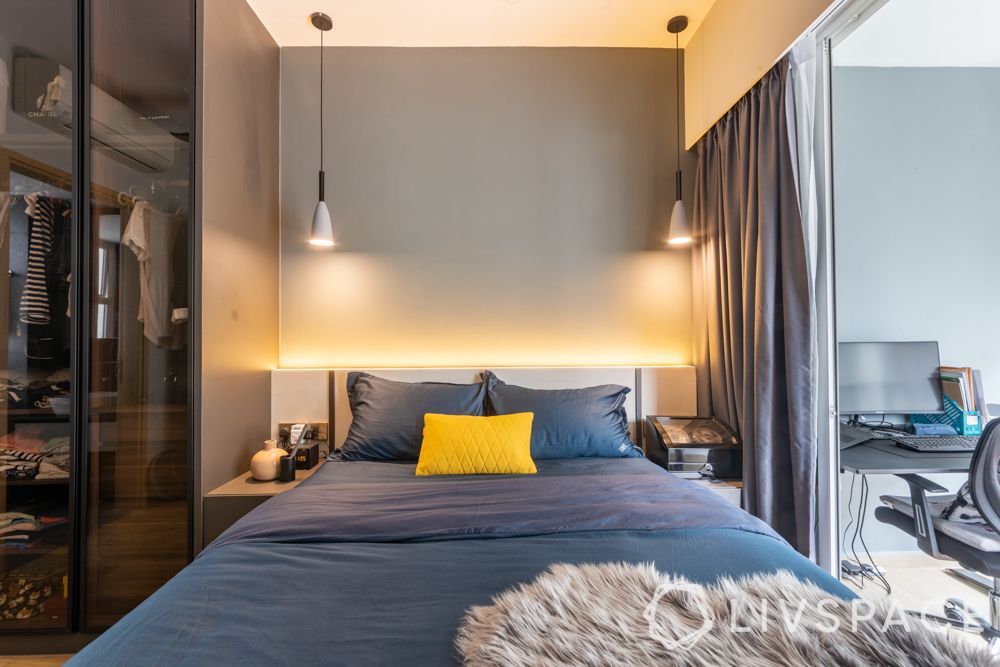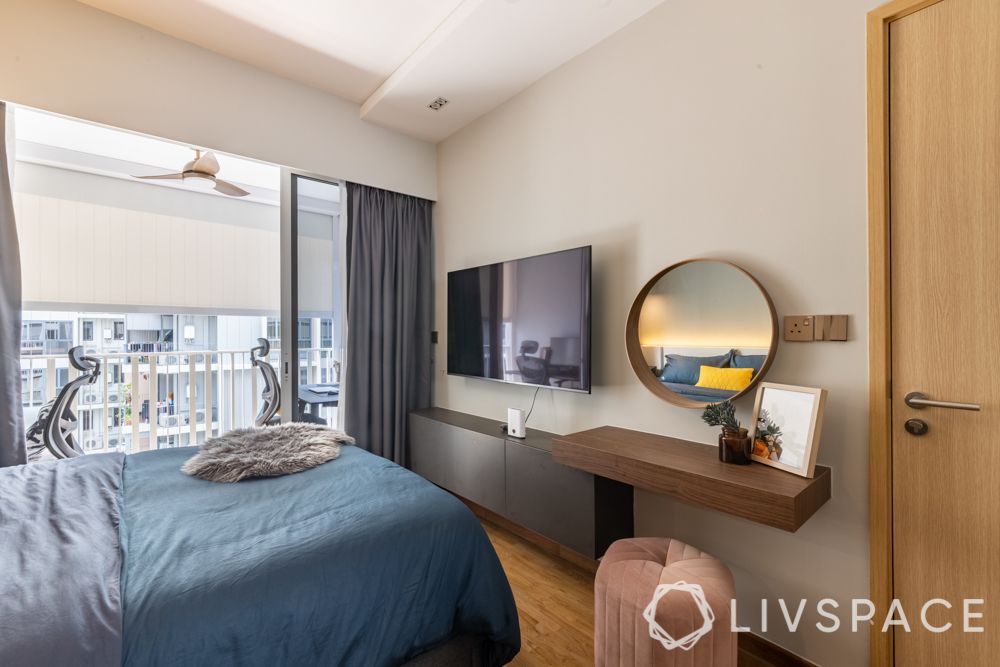 When we asked Michelle about her favourite spot in this 3-room condo interior design, she pointed to her bedroom. She says that her bedroom is practical and cosy, and we couldn't agree more. The room is a pleasing blend of neutrals and darks. The master bedroom also has a home office accommodated into the balcony of this room which allows ample natural light and air to flow through. It also allows Michelle to relax when taking a break from work.
Since the bedroom doesn't have much free space, the furniture in this room is storage intensive. Look at the ledge below the TV and the bed. They all have cabinets to store necessary items. This room's wardrobe is definitely a steal-worthy notion. It blends in perfectly with the room's colour scheme and provides enough storage. The dark-tinted glass door gives the area a finished aspect that matches the rest of the house.
Common Bedroom with Neutral Colours and Grey Accents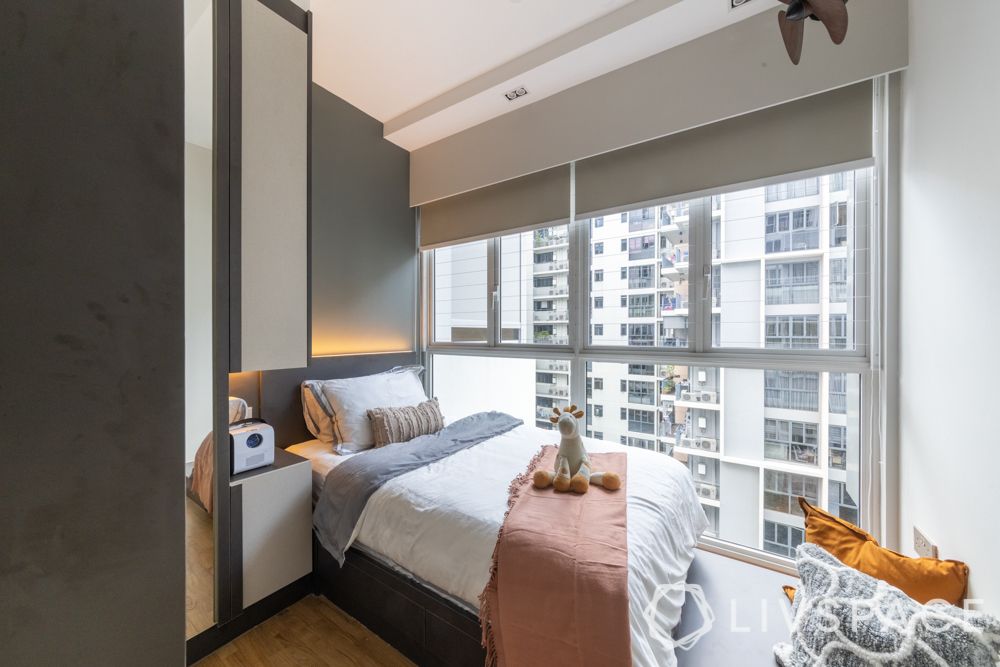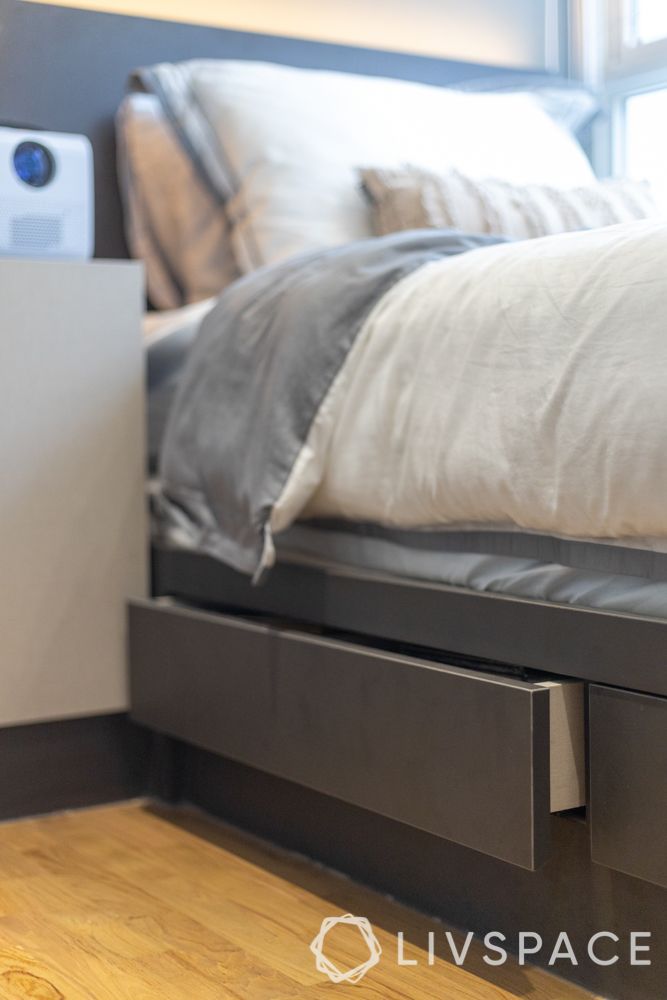 The common bedroom in this 3-room apartment has touches of contemporary Scandinavian style interior design like the rest of the house and the same dark theme adorns it. This bedroom has a clean look and is storage intensive too, as evidenced by the bedding selection. The wardrobe, like the other rooms, is a space-saving design with seamless wooden laminate doors.
Small Bathroom Designs that will Spark an Envy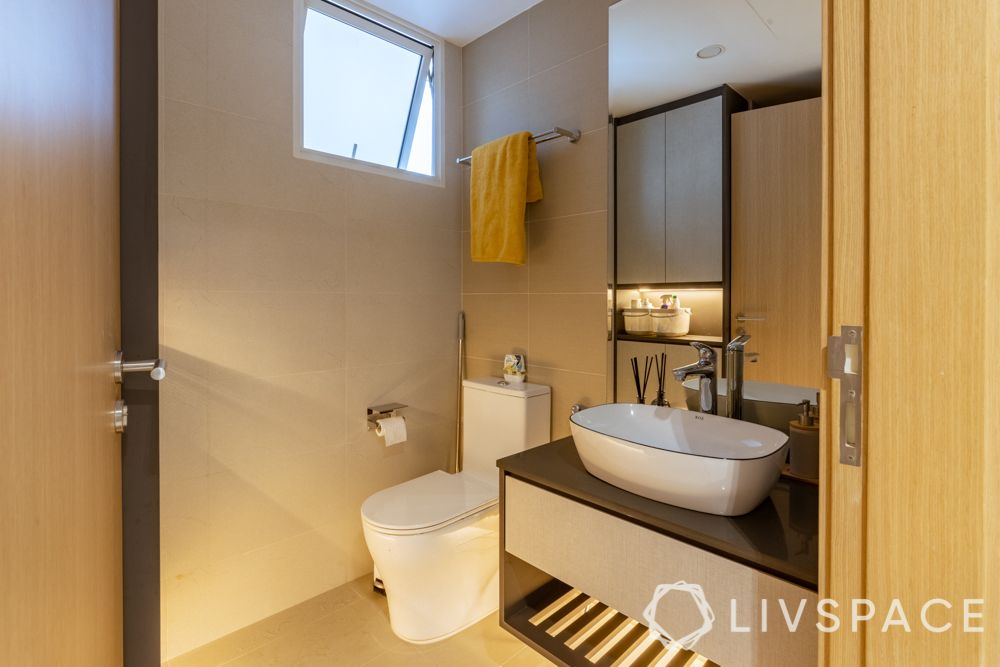 The bathroom has also undergone some adjustments to reflect the home's new Scandinavian style interior design. With a fresh overlay of floor and wall tiles that match the colour palettes throughout the property, our designer Winny helped give this space a makeover. The dark theme used in this 3 room condo interior design is equally significant in this bathroom as well. The storage cabinet in this bathroom is a smart buy as it doesn't take much space and stores a great deal of toiletries.
How Can Livspace Help You?
We hope you found the tour of this 3 room condo with contemporary Scandinavian style interior design insightful! If you need more home design inspiration, check out Need 4-Room HDB Design Ideas? This Beautiful Home is Sure to Inspire You.
If you want your home to be just as beautiful, then look no further. Book an online consultation with Livspace today!