Have you ever looked at pictures of a celebrity's house and wished you lived in a home like that? From the foyer to the bathrooms, every aspect of these homes are beautiful and chic, making it hard for us to not envy them. While recreating the entire look and feel of these homes might not be possible, we can still steal inspiration from them while going about our own interiors. So, if you've ever wanted to live (or eat) like a celebrity, these Singaporean celebrity kitchens are a great place to start your design journey!
Make sure you have a notepad handy because here are some noteworthy kitchen designs of Singaporean celebrities to help inspire your next kitchen reno.
1: Jamie Yeo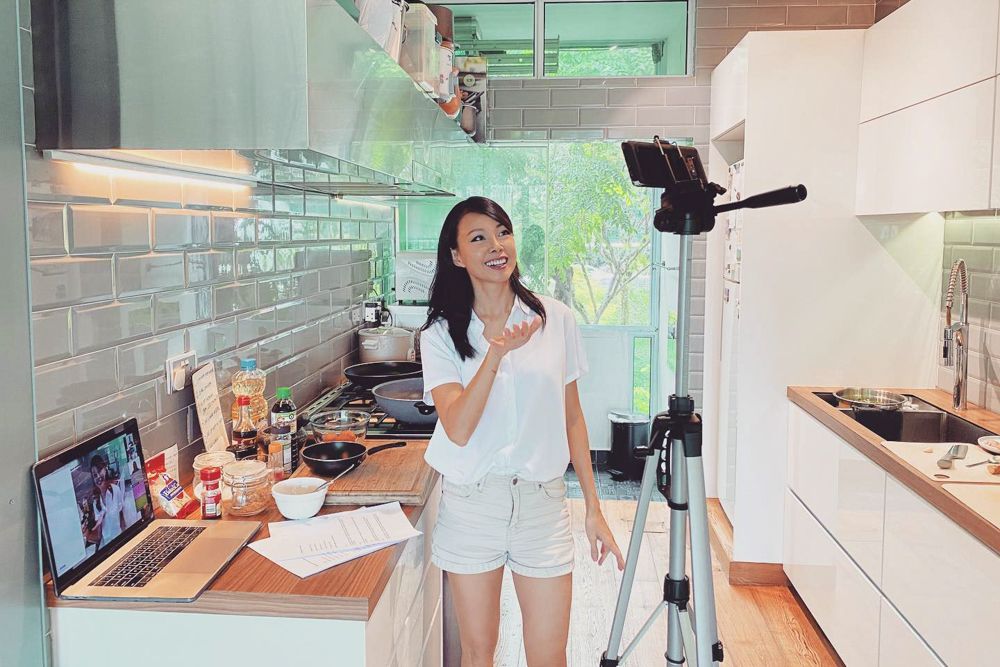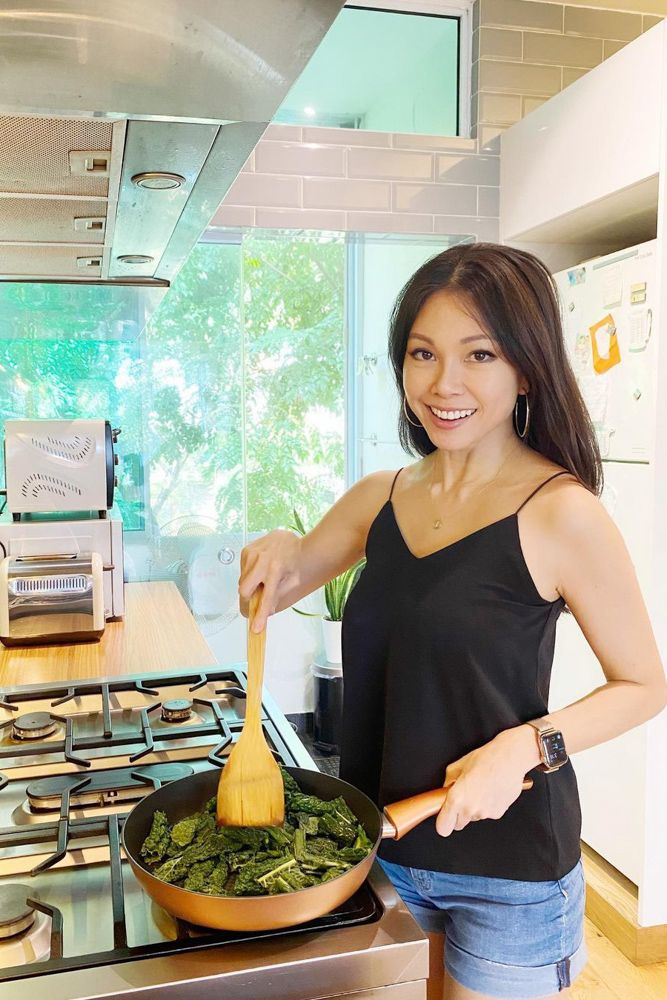 You've watched her on television and you've heard her on the radio. Jamie Yeo is no stranger when it comes to popularity. Besides her entrepreneurial spirit, Jamie's kitchen design was another thing that caught our attention while curating this list of Singaporean celebrity kitchens.
Though small, Jamie's kitchen packs quite a punch in terms of design. The use of grey subway tiles for the backsplash gives this kitchen a timeless look. What's more, they're quite easy to clean making it a great addition to any home that enjoys ethnic cooking.
Design Takeaways From Jamie Yeo's Kitchen Design
Easy-to -maintain yet stylish subway tiles
Stainless steel kitchen chimney for easy cleaning
Handleless cabinets for a seamless modern look
Light colour palettes to create the impression of a bigger space
2: Carrie Wong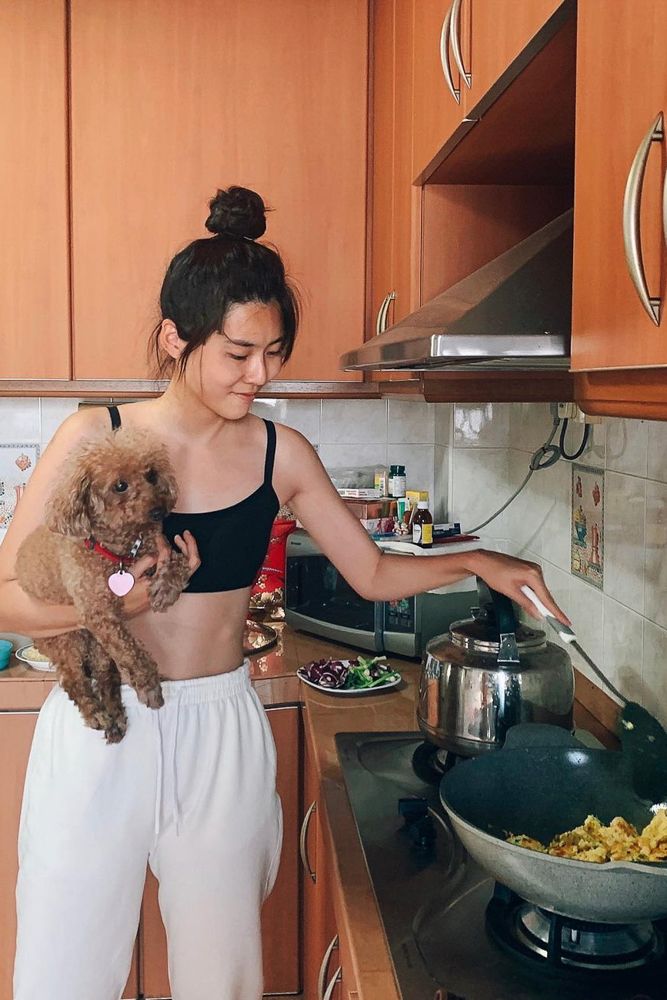 Sometimes, a good home-cooked meal in your pyjamas is all you need (bonus points if you have an adorable pet to hold while you do it!). Here, Carrie Wong takes on a personable and relatable at-home look in her brown and white kitchen. After all, if you're not vibing in your kitchen with a messy bun and sweats on, are you even living?
Similar to Jamie Yeo's kitchen, Carrie's kitchen design also uses a tiled backsplash which makes cleaning a breeze. The brown cabinets paired with the white-tiled backsplash gives the entire space a warm, contemporary feel.
Design Takeaways From Carrie Wong's Kitchen Design
Warm-toned wooden cabinets with curved handles for a contemporary look
Tiled backsplash that's low-maintenance and easy to clean
3: Jade Seah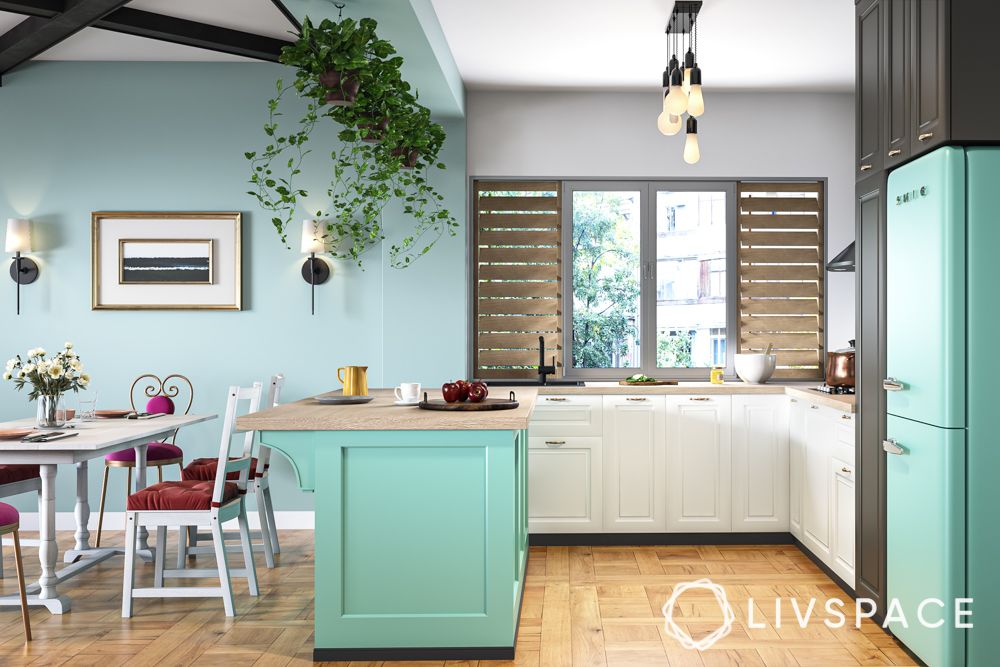 Wouldn't it be great if you could visualise a celebrity-inspired kitchen before you actually invest in designing it? With this Jade Seah-inspired home tour, you won't have to! Much like Jade herself, her kitchen includes pops of colour that reflect her vibrant personality to the T.
This Singaporean celebrity kitchen has all the markers of the vintage aesthetic, but with a modern twist. Framed door cabinets, wooden window shutters, and lively colours come together to create Jade's kitchen design in the most authentic way.
Wondering how our Jade Seah-inspired home compares to the real deal? Check out this video to know more:
Design Takeaways From Jade Seah's Kitchen Design
Framed cabinets add to the vintage-feel of this kitchen
Wooden window shutters add interest to the space
The use of colours such as mint-green, white, and grey bring in a vibrant contrast, reflective of Jade's personality
The wooden worktop gives the kitchen a rustic edge without making it look dated
4: Fann Wong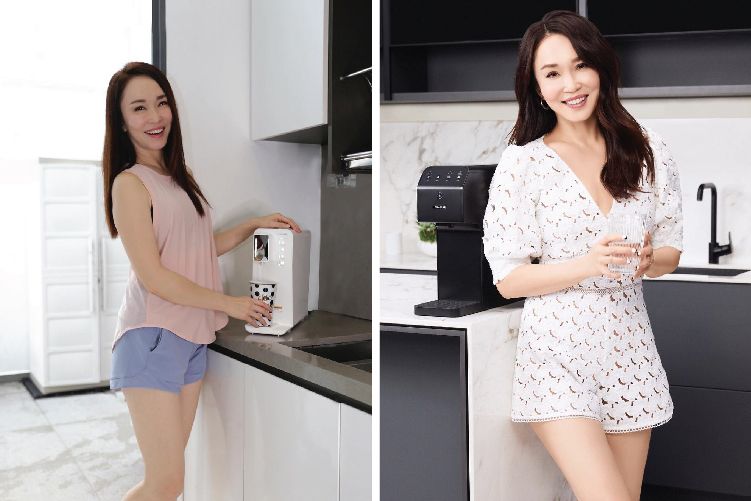 Besides being MediaCorp's Ah Jie, Fann Wong is also well known for her online bakery business Fanntasy. Given her interest in the art of patisserie making, it's only fitting that Fann's kitchen makes it to this list of Singaporean celebrity kitchens!
From the cabinets to the kitchen island, Fann's kitchen design is dressed in shades of white and grey, lending it a clean and sophisticated look. Her kitchen design is such that the dry and wet areas are in different rooms, helping create separate functional zones during meal preparation.
Design Takeaways From Fann Wong's Kitchen Design
The grey and white colour combination is a great choice for a sophisticated looking Singaporean celebrity kitchen.
The quartz backsplash and worktop tie well into the minimalist luxury theme of this kitchen.
The smart installation of power track sockets under the upper cabinets provide easy access to plug points.
5: Jeanette Aw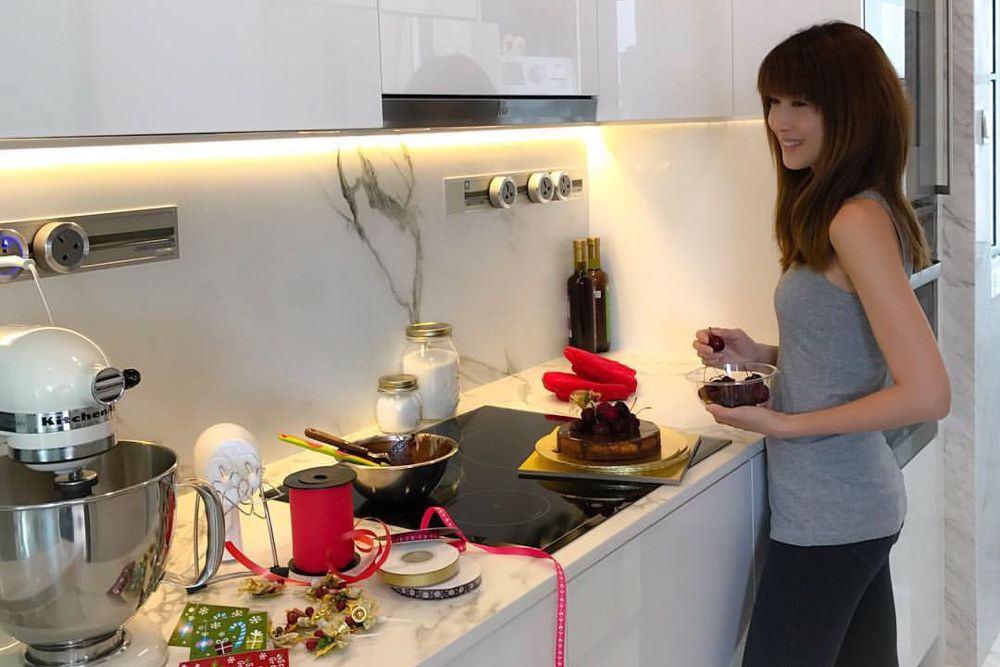 Jeanette Aw's love for storytelling transcends the written word as she embraces the art of patisserie. With the launch of her own personal bakery brand, it's essential that her Singaporean celebrity kitchen is able to keep up with her hobby and business.
Decked in all-white, Jeanette's kitchen design is nothing short of a winter wonderland with white cabinets and marble flooring. The gloss finish on her cabinet fronts adds a luxe vibe to the entire space, lending to the appearance of a bigger and brighter kitchen.
Design Takeaways From Jeanette Aw's Kitchen Design
The interplay of white and grey in the marble pattern amplifies the luxurious feel of the kitchen.
The seamless profiles of Jeanette Aw's glossy kitchen cabinets create a clean look.
The under cabinet task lights bring a layer of warmth to the space minimising the coldness brought about by the bright white palettes.
Extendable power track sockets ensure she has easy access to power sources for all her baking appliances.
6: Qi Yuwu and Joanne Peh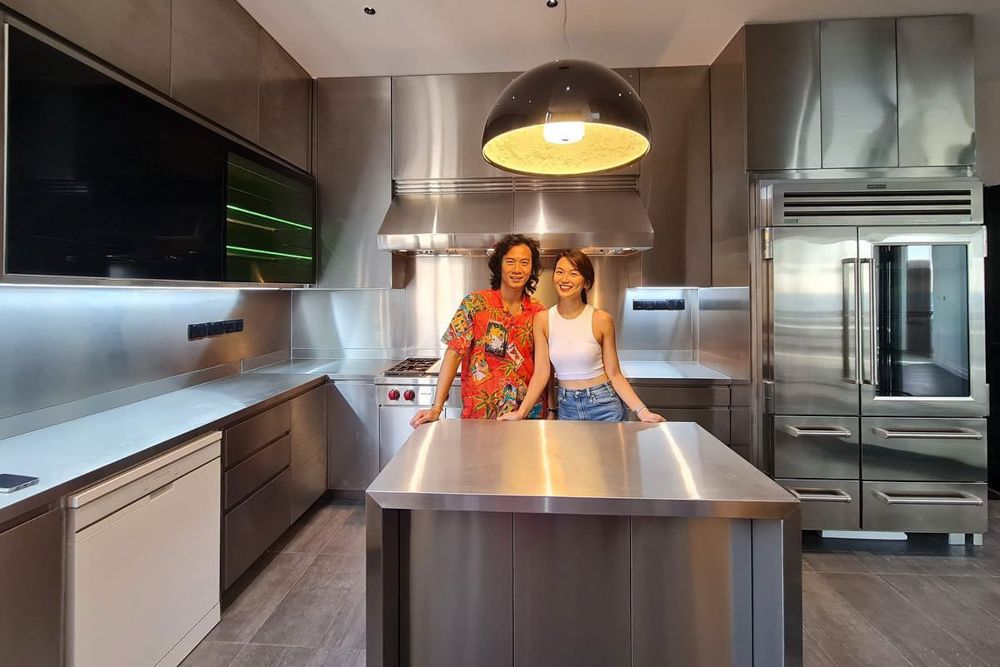 Breaking away from all the white-themed Singaporean celebrity kitchens we've seen so far, is Joanne Peh and Qi Yuwu's stunning stainless steel kitchen. In a quest to find the perfect mix between the industrial and cosy-home style, the couple finally managed to lock in on a sleek, hi-tech kitchen fit for a home-chef.
Design Takeaways From Qi Yuwu and Joanne Peh's Kitchen Design
Stainless steel finishes from the kitchen island to the cabinetry make this space easy to clean and maintain
The kitchen design was inspired by the Mr. & Mrs. Smith movie which means the sky's the limit when it comes to sourcing inspiration for your kitchen.
Hi-tech equipment gives this space the look of a professional restaurant kitchen
7: Andrea Chong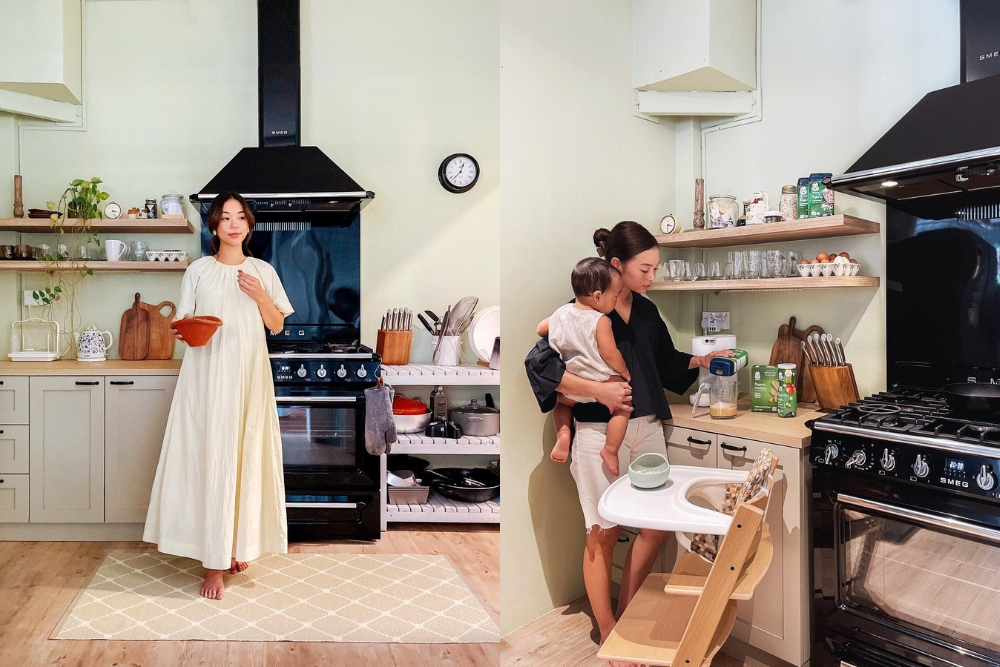 If the glitz and glam of the other Singaporean celebrity kitchens didn't appeal to you, perhaps Andrea Chong's homely kitchen aesthetic can. Embracing the rustic farmhouse style of design, this kitchen is a cottagecore dream.
From the white-washed wooden rack to the Italian-style stove, Andrea's kitchen design is like a walk through the European countryside.
Design Takeaways From Andrea Chong's Kitchen Design
Freestanding stove offers the option of portability making it easy to move around when rearranging the kitchen
A white-washed rack strengthens the kitchen's rustic farmhouse aesthetic
Pottery items and decor pieces add character to the kitchen
Light green walls pair beautifully with the wooden shelves and white furnishings
8: Desmond Tan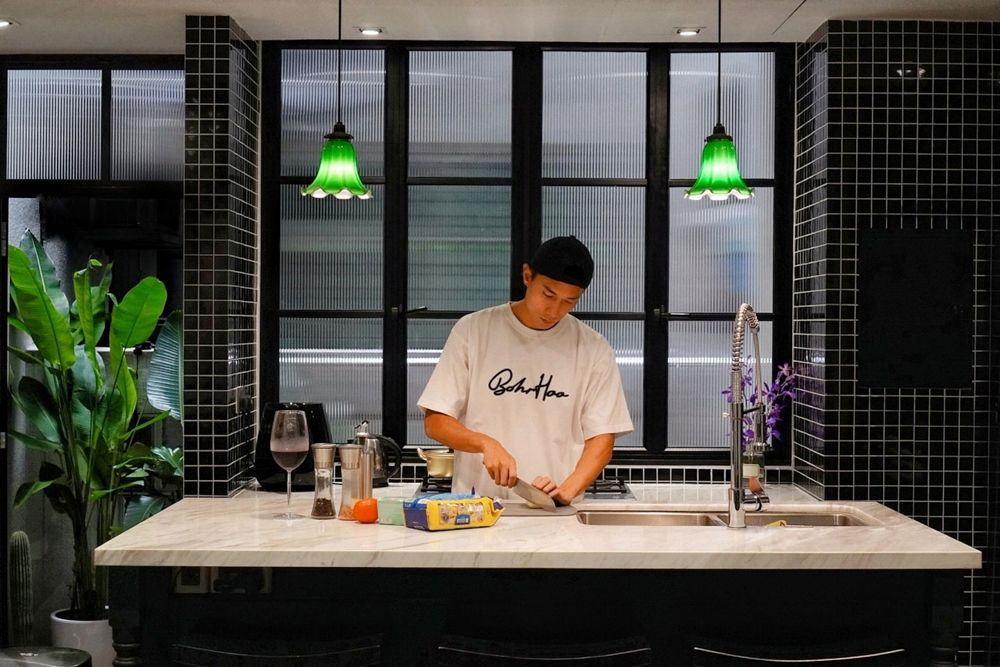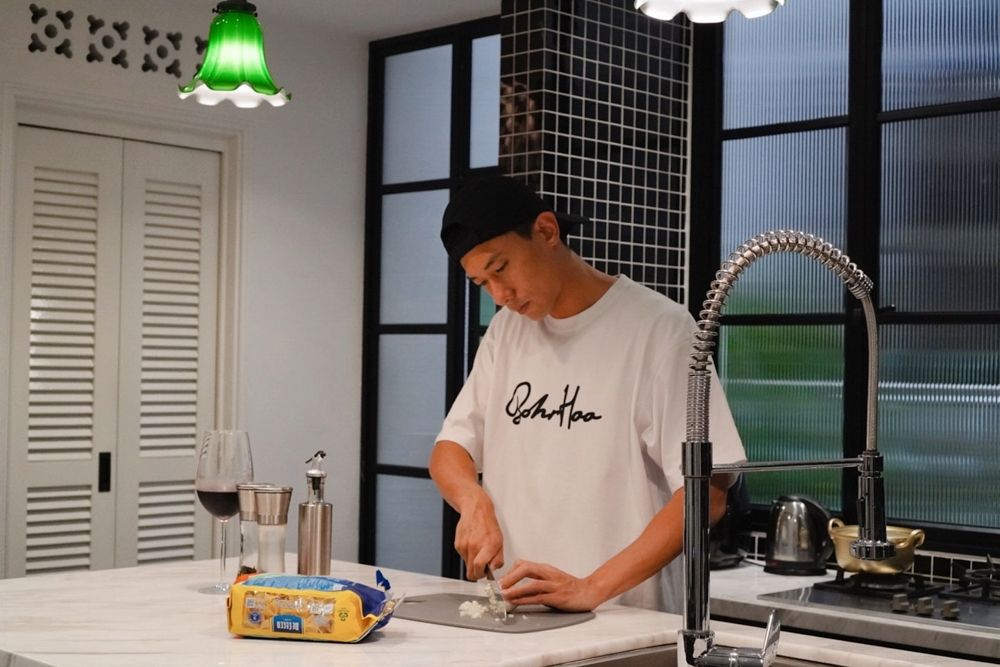 Much like Desmond Tan's love for period dramas, his kitchen too takes on vintage styles with a modern twist. Though most of Desmond's kitchen design has a modern monochromatic palette, the addition of louvered bifold doors brings in an old-school feel to the space.
Did you also know that the chairs in the kitchen area were painted by Desmond himself? Looks like he enjoys a good DIY as much as the rest of us! After all, as a homeowner, it's always nice to put your own personal stamp on your interiors.
Design Takeaways From Desmond Tan's Kitchen Design
The metal and glass grid partition lends a slight industrial touch to this modern take on vintage interiors.
The white marble worktop pairs well with the black wall tiles in the kitchen creating a cohesive look.
Green pendant lights above the kitchen island add a nice pop of colour to the otherwise monochromatic design.
Image credits: @iamjamieyeo, @carriewst, @fannaiaiwong, Jeanette Aw on Facebook, @qiyuwu, @dreachong, @thedesmondtan
Check out this smart home:
How Can Livspace Help You?
We hope you found these Singaporean celebrity kitchen ideas useful! If you want your home to be just as beautiful, then look no further. Book an online consultation with Livspace today. Have some comments and suggestions you'd like to share with us? We're all ears! Feel free to write to us at editor.sg@livspace.com.