If you're like us, you probably find it difficult to admit that your bedroom is your favourite part of the house. We don't spend much of our personal time there and we wonder if we'd ever be able to make it our own. But it's time to embrace those compact spaces. With these modern small bedroom ideas at your disposal, you will want to stay in your bedroom.
Must Dos: Bedroom Ideas for Small Rooms
#1. Save Space with Modern Small Bedroom Ideas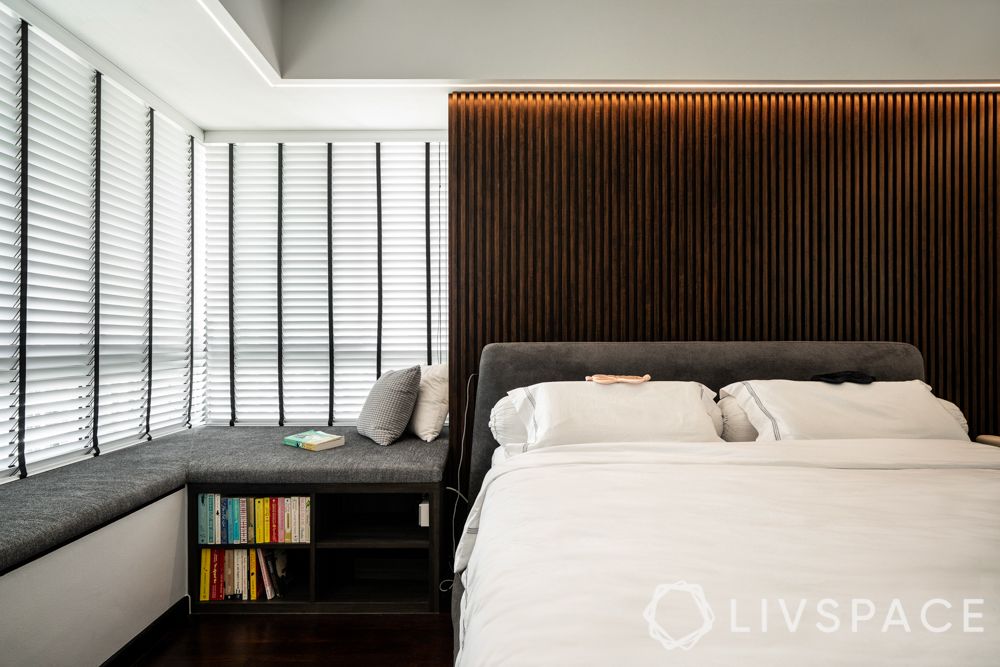 Using space-saving bedroom ideas is often a nerve-wracking experience for designers. To add storage without making the designs for small bedrooms look dense and cluttered, is challenging. The key here is to invest in multipurpose and mixed-use furniture that will work hard to optimise the given small bedroom layout. Think about sofa beds, beds with hydraulic storage, built-in wardrobes, and other such small bedroom ideas. We also suggest not opting for side tables if you do not have the space for it. Instead, you can opt for seating with storage underneath, which can double as a bookshelf, just like in the picture above.
To take a look at more space-saving bedroom ideas here!
#2. Think Vertical Niches for Storage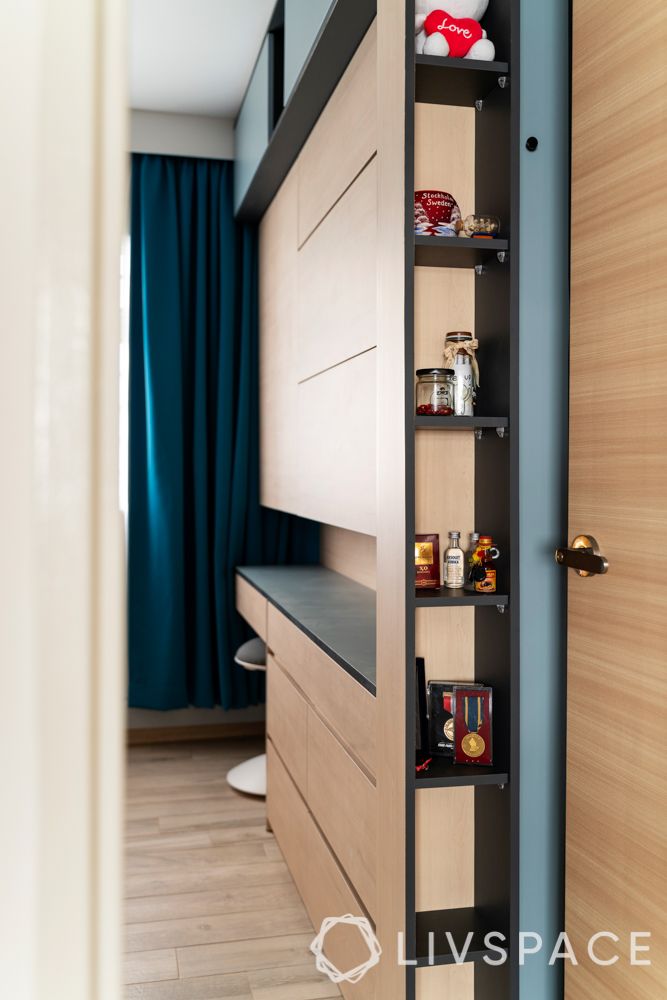 Do you think we make full use of wall space? Maybe, not always. Whenever you think there's not enough storage space in any small bedroom interior design, look towards the modern small bedroom ideas. Making niche storage is one of the best bedroom ideas for small rooms that our designers recommend. For this home in the picture above, our designer made sure that every inch of space was utilised. The accent wall in front of the bed has many concealed small bedroom ideas or storage as well. It sports an open shelving, a vanity and more drawers.
Don't miss out on these small master bedroom ideas, click here: What is the Best Way to Design a 4-room HDB for a Young Couple
#3. Bold, Heavy-Duty Headboard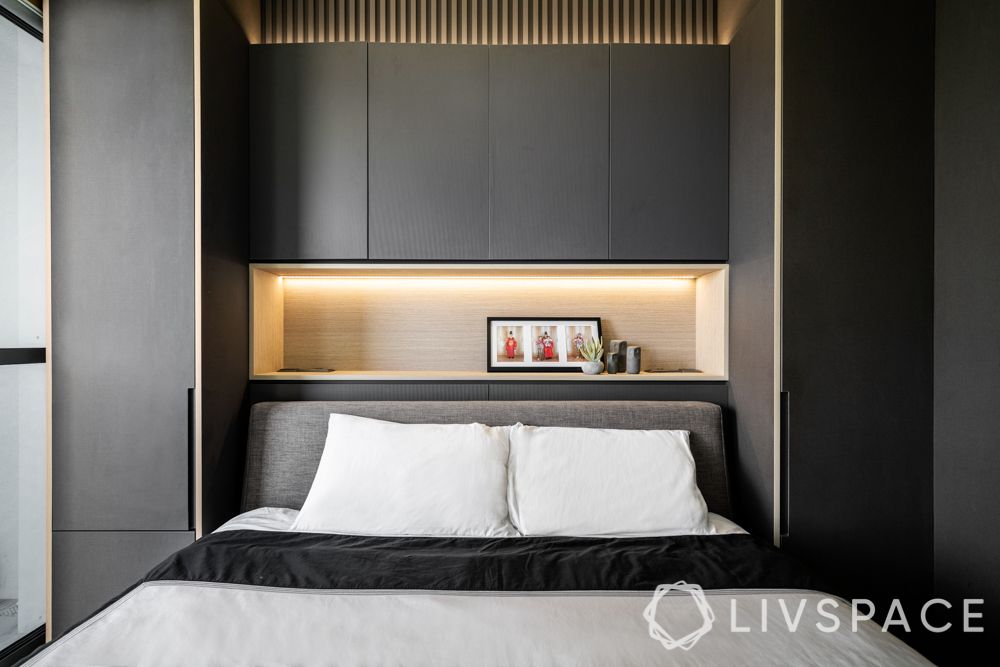 If there's one wall that you must utilise for your small bedroom ideas, then itIf there's one wall that you must utilise for your small bedroom ideas, then it has to be the accent wall with the bed. A good built-in unit around the bedhead will make great use of that wall without taking up additional space. Storage around the headboard also acts as a nightstand and bedside storage. Our designer has used many bedroom ideas for small bedrooms, like the tall cabinets on either side which double up as a bookshelf. We think this is the best use of vertical space.
Want to check out the other small master bedroom ideas in this home? Take a look: Here are the Best Design Features of This 3-room Condo.
#4. Small Bedroom Design Ideas Using Mirrors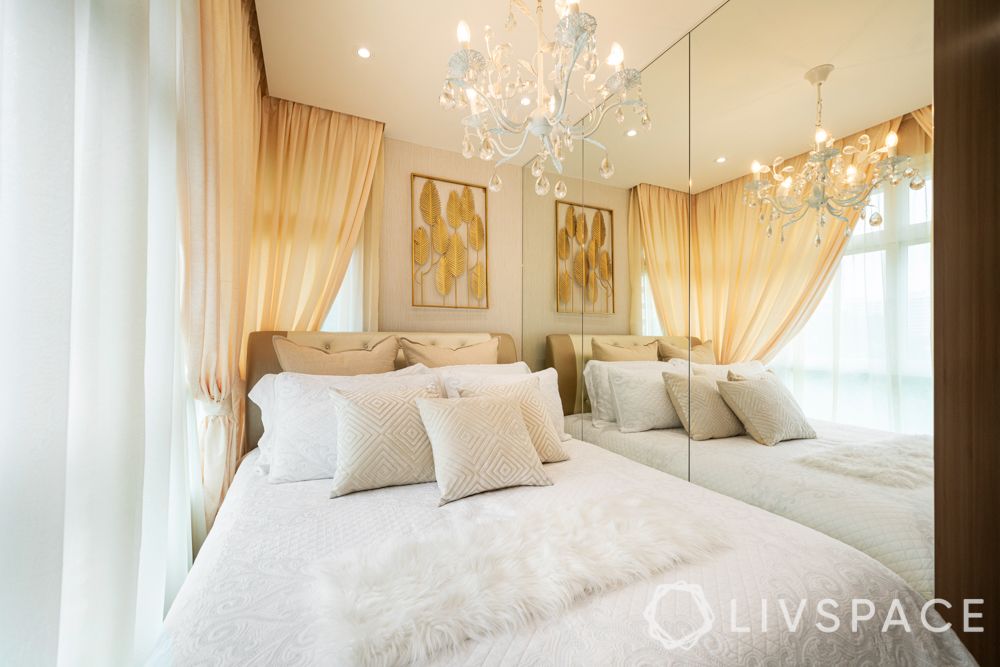 It goes without saying that mirrors can make any space appear visually larger. For instance, this room is very compact yet it does not seem so because our designer has used mirrors to its advantage. One wall on the left is entirely made up of mirror panels that gives the illusion of a less-cluttered bedroom. Other modern small bedroom ideas include the use of white bed linen and curtains that give the room an airy and bright look.
#5: Minimalist Small Room Ideas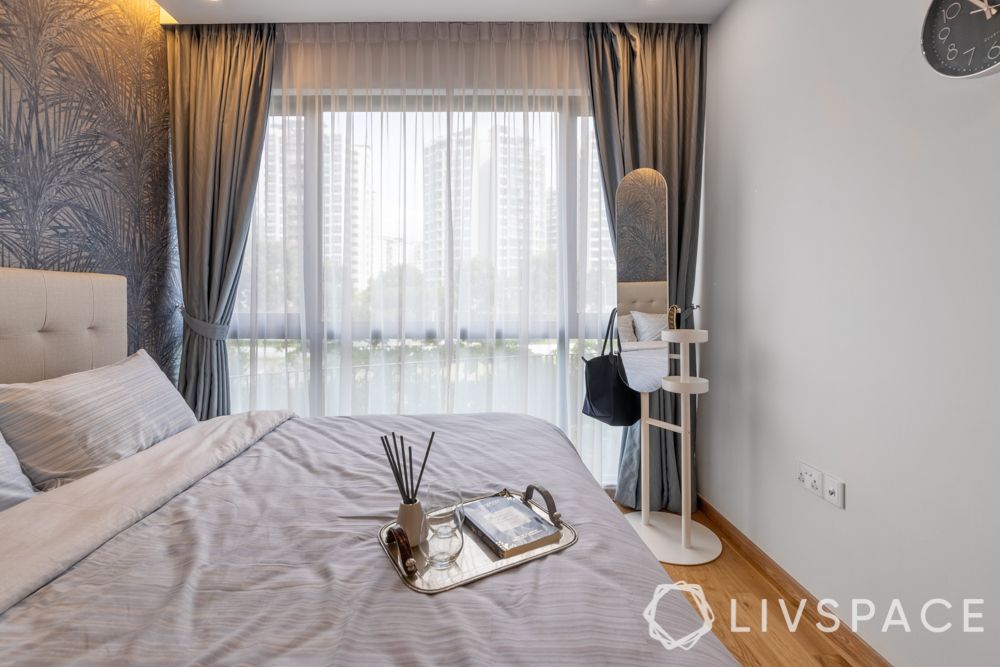 It's true that a bedroom is incomplete without a vanity, but sometimes we simply don't have the space for a full-fledged vanity unit. Small bedroom ideas for such space involve placing a minimal vanity stand with a mirror and a couple of shelves. It's an excellent modern small bedroom idea that is aesthetically pleasing as well as functional.
Strict Don'ts: Bedroom Ideas for Small Rooms
#1. Incompatible Colours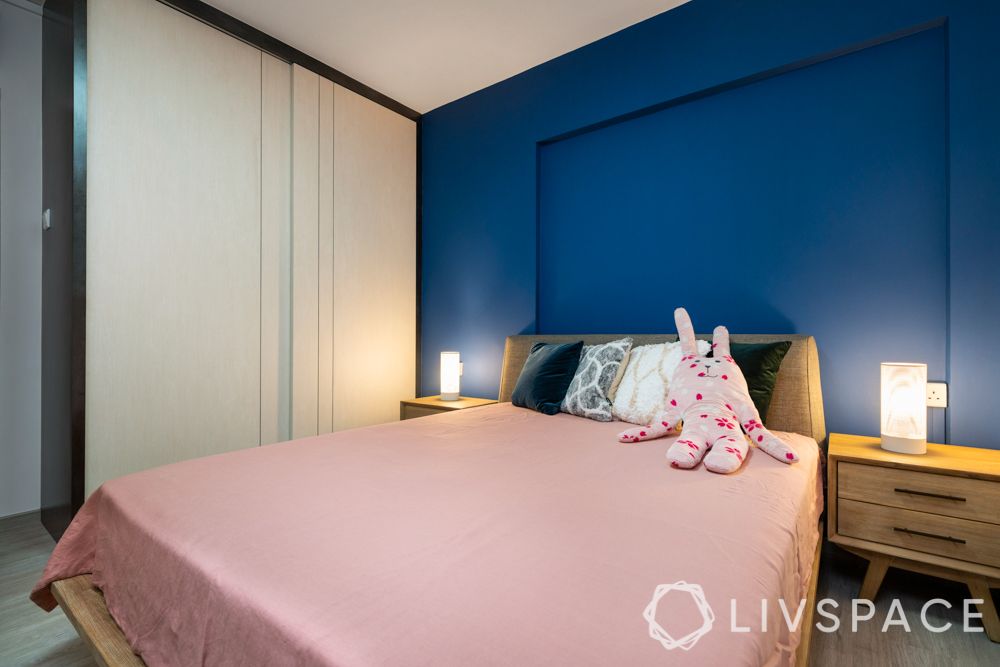 One rule of thumb that you must remember is that using incompatible colours can ruin the efforts you put in implementing modern small bedroom ideas. Do not confuse incompatible colours with dark colours though. Some rich, dark colours can accentuate the designs for small bedrooms. While you can choose elegant colours like denim blue or even dark grey for your bedroom walls, it is best to balance it out with light-coloured furniture.
Check this out for more ideas for tiny bedrooms: 5 Reasons Why Space Is Not a Constraint.
#2. Excessively Large Wardrobes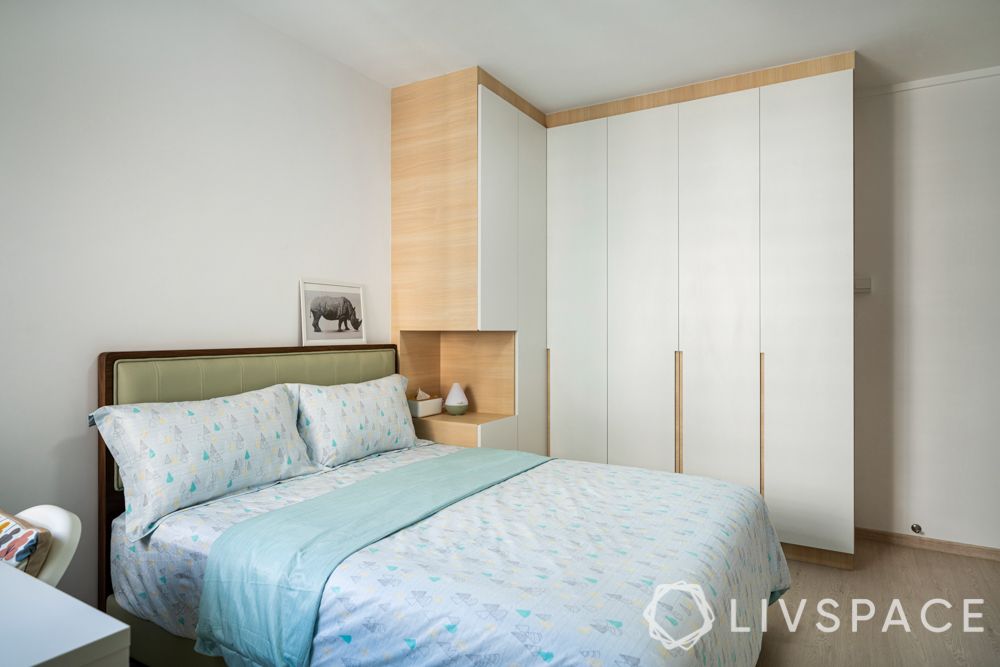 Notice how our designer has used an L-shaped wardrobe for the compact bedroom above. It is ideal for corner spaces and makes good use of wall space. While you might be tempted to add a huge wardrobe to an empty wall, we would advise against it. Instead of blocking the entire space with a wardrobe, we suggest you get a narrower version and leave some walking space in front. You will be glad to use this small bedroom idea in due course of time.
#3. Lean Decoration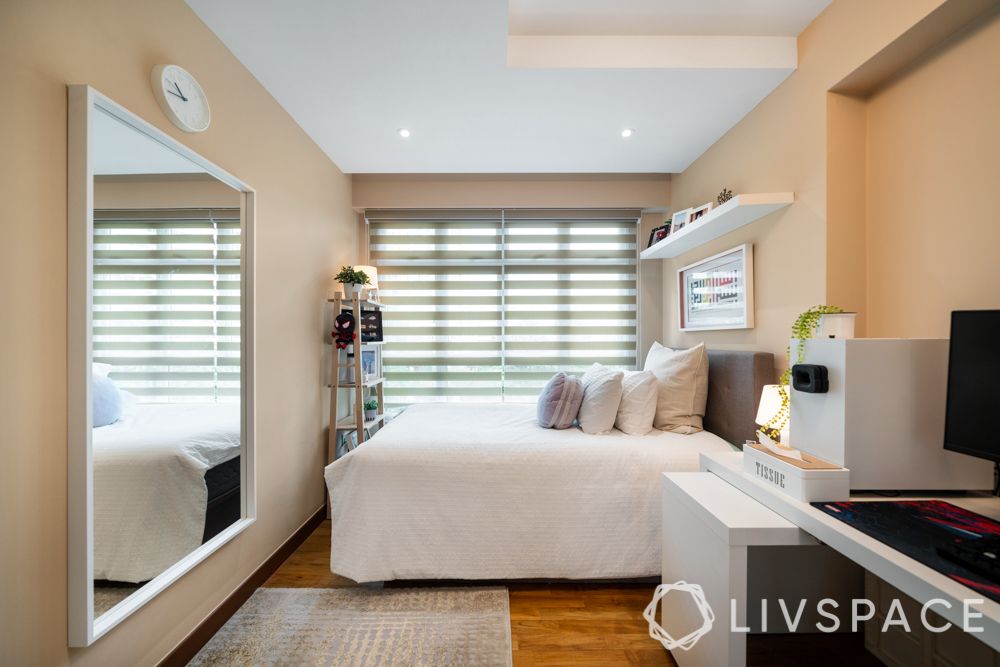 If there's one concern that we face with small bedrooms, it is when it comes to decoration. No, compact rooms do not have to look dull and boring. You can decorate your room with these small bedroom ideas however you wish to. For instance, opt for a small open rack and decorate it with little trinkets and frames. Similar tiny bedroom ideas include some wall shelves and tiny plants for some green love. Small bedroom ideas are plenty; you just need to choose the right ones.
We hope you keep these design and decoration rules in mind the next time you're getting your home renovated or looking for modern small bedroom ideas. And if you're looking for more inspiration, check this out: How to Make a Small Bedroom Pretty and Functional?
Send in your comments and suggestions to editor.sg@livspace.com.
How can Livspace help you?
Did you find these designs for small bedrooms inspiring? You can also get such beautiful interiors for your home with the help of Livspace. All you have to do is book an online consultation with our design experts to get a safe and quality small bedroom design in Singapore for your home.