We know how tedious it can be to organise or even start thinking about the process of arranging things in a small kitchen. But did you know that with the right small kitchen ideas and accessories, you can actually make the most of a compact kitchen? We spoke to our designer, Johan Ng, and he gave us some insider tips on how to organise a tiny kitchen with limited counter and storage space. His tips are simple and easily achievable and you do not need to spend a fortune on complete renovations.
Read on to know what his ideas are and our top picks from Lazada that you need to organise your kitchen!
5 Must-know secrets for a small kitchen
#1: Opt for silicone containers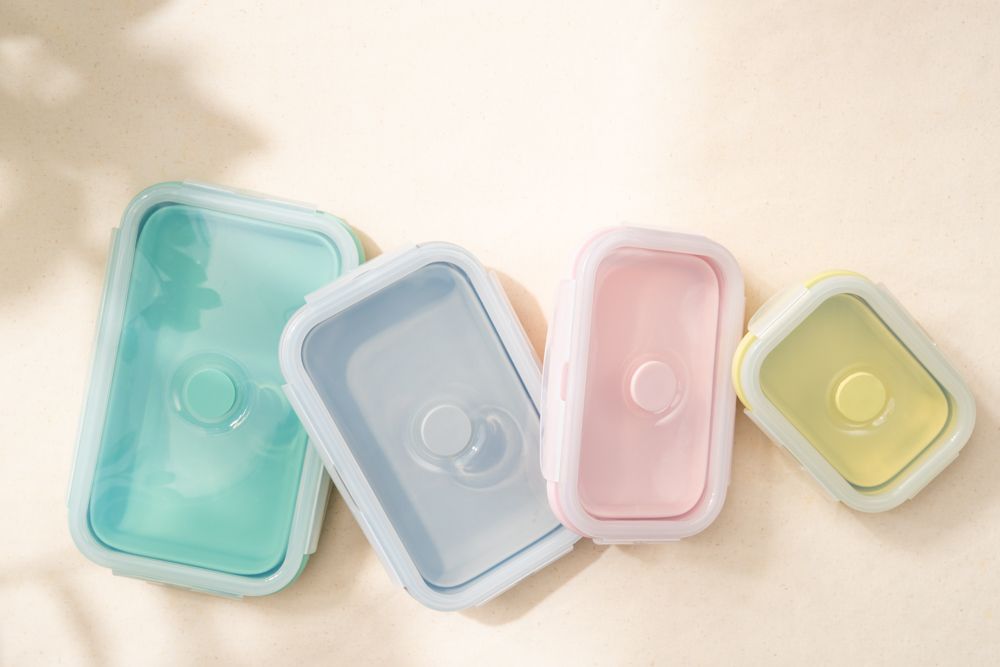 A simple and quick trick to store food when you]re short of space are these silicon containers that don't require too much space in your cabinets. These are collapsible and when not in use, you can simply fold them and tuck them away. Johan suggests everyone to invest in a bunch of such silicon containers and see the change in the way they store food.
#2: Get a sink cover
Do you often wish you had more counter space and a smaller sink since the existing one is unnecessarily big? Well, we have you covered. Johan says that everyone should have a sink cover for rainy days. On days when you need that extra bit of counter space to work in, you can simply cover the sink and voila! You have more counter space at your disposal.
#3: Invest in a Domino hob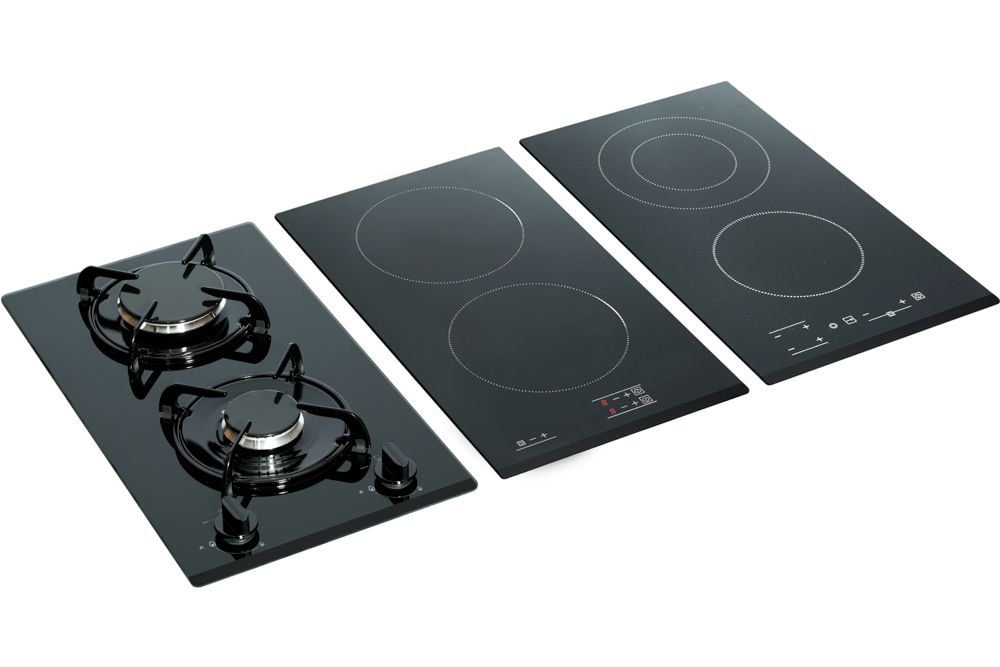 Hobs tend to take up a lot of counter space but you still need it, right? So get your hands on this Domino hob that is usually half the size of a regular stove or hob. This means no compromising on the burners, instead just a reduction in the size of the unit. It will save you considerable counter space.
#4: Get a hidden worktop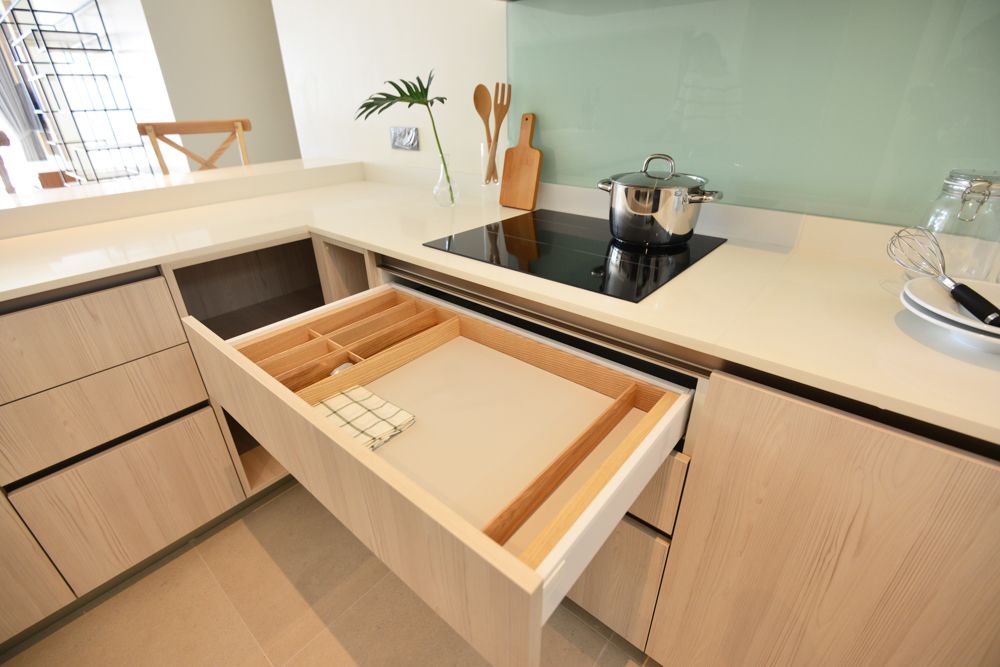 This one's a genius suggestion by Johan, where he recommends you get a hidden countertop. How do you achieve that? A pull-out counter is nothing but a drawer-style flat counter that can be pulled out when you need extra space to work in. Once you close the drawer it looks like a regular drawer so you can use it only when required.
#5: Buy refill packs and save up pantry space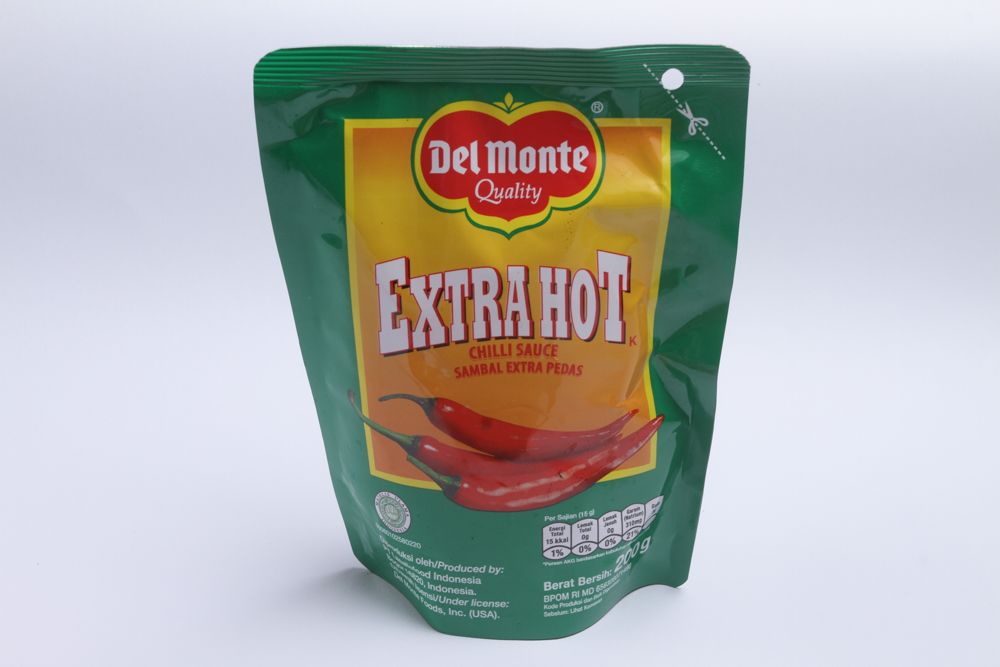 This one might seem obvious but we often forget the importance of a refill pack when it comes to organising. You need all your packs to fit in the refrigerator or kept in your kitchen. You will be surprised at the amount of space you're going to save in your cabinets by using refill packs. Johan says that in this way, you can save the Earth, too, and we agree!
Is there a way to make small kitchens more functional?
People are often concerned about the functionality of compact kitchens and look around for small kitchen ideas. But Johan has one perfect solution for this problem.
Multi-functional furniture is your best bet
He says you need to invest in multi-functional furniture like foldable tables and cabinets. So the next time you are getting your kitchen renovated, do not forget to tell your designer about this. You can have wall cabinets that fold up and down to make for a makeshift countertop or a breakfast counter. A flip-up table will save a lot of space when you are not using it. Similarly, the door of a wall hung cabinet can flip down to become a dining table if required. You must try this out!
Tips to get started with organising a small kitchen
So, how do you start with organising your small kitchen? You need to follow a basic two-step approach to decide what accessories you would need to make your kitchen work for you.
#1: Identify your needs
Johan suggests you figure out what your basic requirements are. Are you a baker or can you do without an oven? Just getting an oven for the sake of it is going to eat into your counter space and that is not a good idea at all. Therefore, find out what you will really need and eliminate all other options.
#2: Cater to the right size
Once you have figured out what you need, you will have to focus on the size of appliances and equipment you will need. If you can do without a full-fledged oven, then consider getting a relatively smaller one so that you do not waste space. This rule holds good for all appliances and you need to choose the right size in order to accommodate everything comfortably.
Here's our top 4 small kitchen accessories from Lazada
Lazada is a wonderful place to shop because of their amazing offers and great variety. So we went there just to pick out our favourite kitchen organisation accessories. From storage accessories to countertop organisers, we picked four items that are revolutionary as small kitchen ideas. Check them out:
#1: Over-sink dish drying rack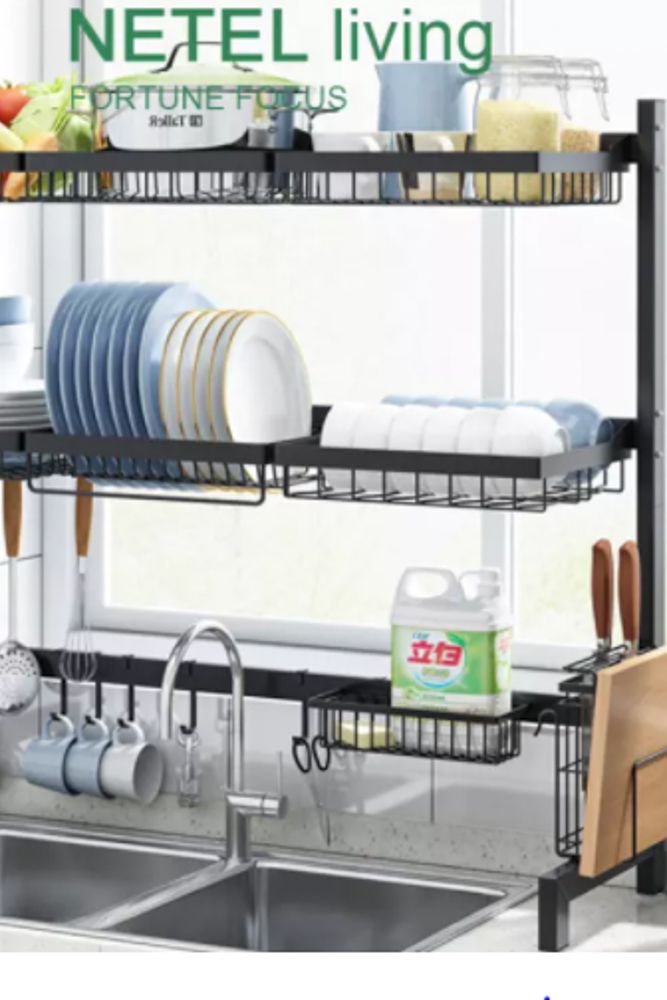 One of our favourite finds from Lazada, this over the sink bowl and plate drying rack lets you easily access utensils and supplies. This stainless steel rack is covered with black bake-paint that prevents it from rusting and makes it highly durable. The shock absorption and anti-slip suction cup base protects your kitchen countertop and keeps your kitchen clean. This is one of our best small kitchen ideas!
#2: Space-saving stackable kitchen organiser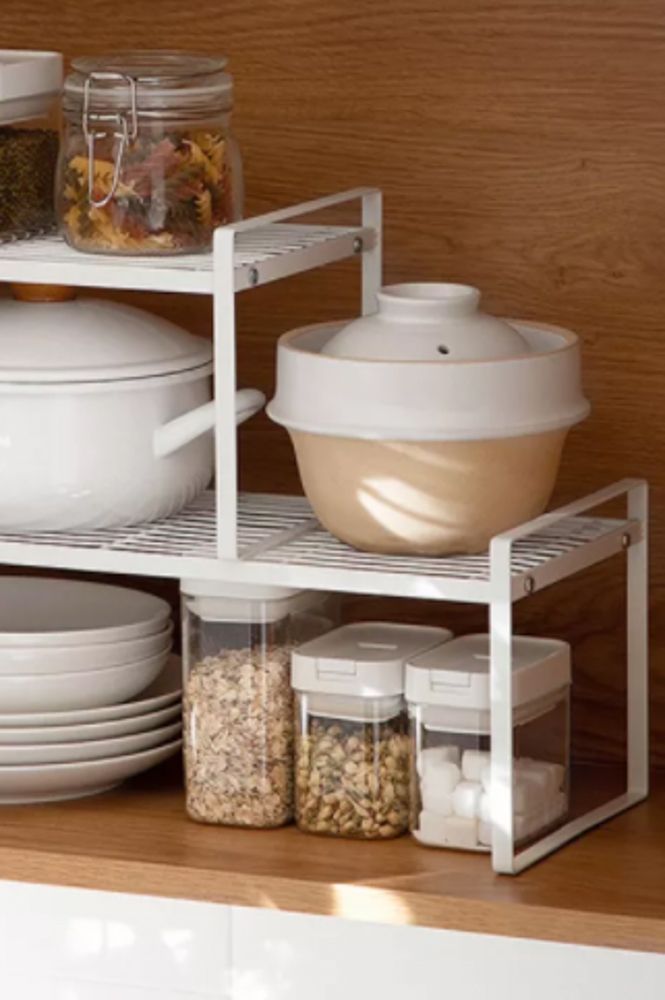 If you have too many containers to store and big open wall shelves, then this stackable shelf storage rack can help. It is available in black and white colours and small and large sizes for all your containers. Made up of carbon steel, this space saver features anti-rust coating and is durable and easy to assemble. The base is anti-slip so there's no risk of it sliding off.
#3: Three-tier kitchen trolley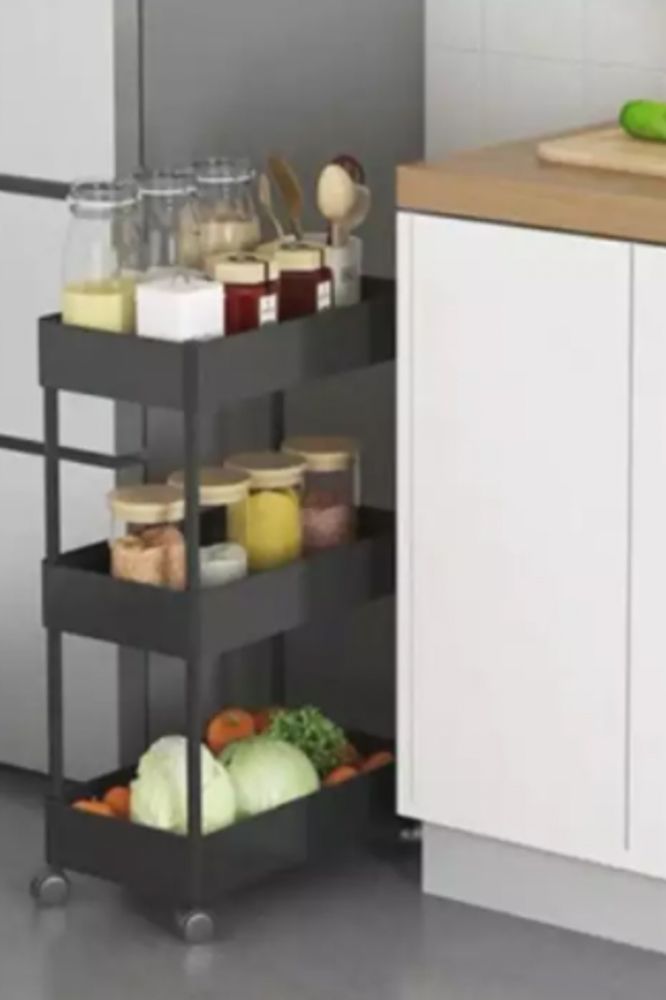 A kitchen trolley is extremely useful for compact kitchens since you can move it around and it fits in the smallest of spaces. Available in 3 and 4-tier varieties, you can pick whatever suits your requirements. The body is made of carbon steel and is coated with anti-rust paint. Each tier can hold upto 15kgs of weight and the wheels are smooth enough, making it convenient.
#4: Adjustable microwave oven shelf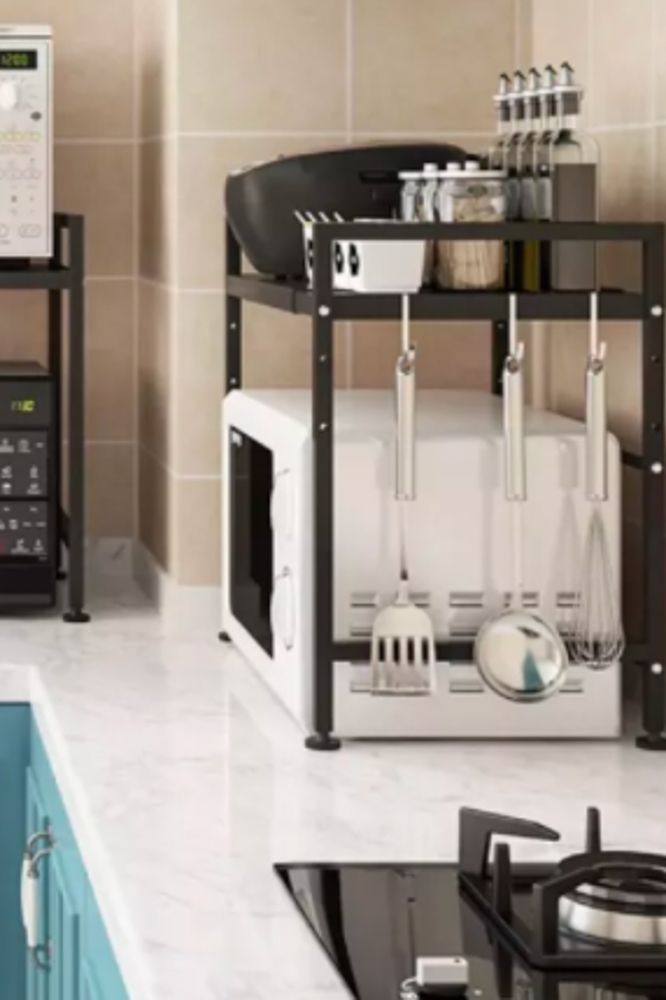 If your kitchen does not have space for a full-fledged microwave oven unit, then you can get this countertop shelf that is adjustable and can accommodate your oven and other appliances. It is made of durable stainless steel and is equipped with three movable hooks. It saves a lot of space and time by making it easier to use tableware and supplies, and also makes your kitchen look neater.
Check out this 3-room home:
Are you feeling better equipped to deal with your compact kitchen organisation project? We have some more small kitchen ideas here: 7 Best Kitchen Accessories for a Super Organised Petite Space.
Send in your comments & suggestions to editor.sg@livspace.com.