If your kitchen is on the narrower side or straight up small enough for just 1-2 people, you have probably had to adjust with plenty of clutter and mess. One of the biggest woes of small kitchens are its lack of cabinet storage and almost no counter space. However, a compact cooking space doesn't necessarily have to be all that. It's possible to increase the efficiency of this space by working around the layout of your kitchen while considering its storage, sink, counterspace and hob.
Take a look at these clever tips that can help you optimise your small kitchen design and make it seem larger than it is.
#1: Find the golden triangle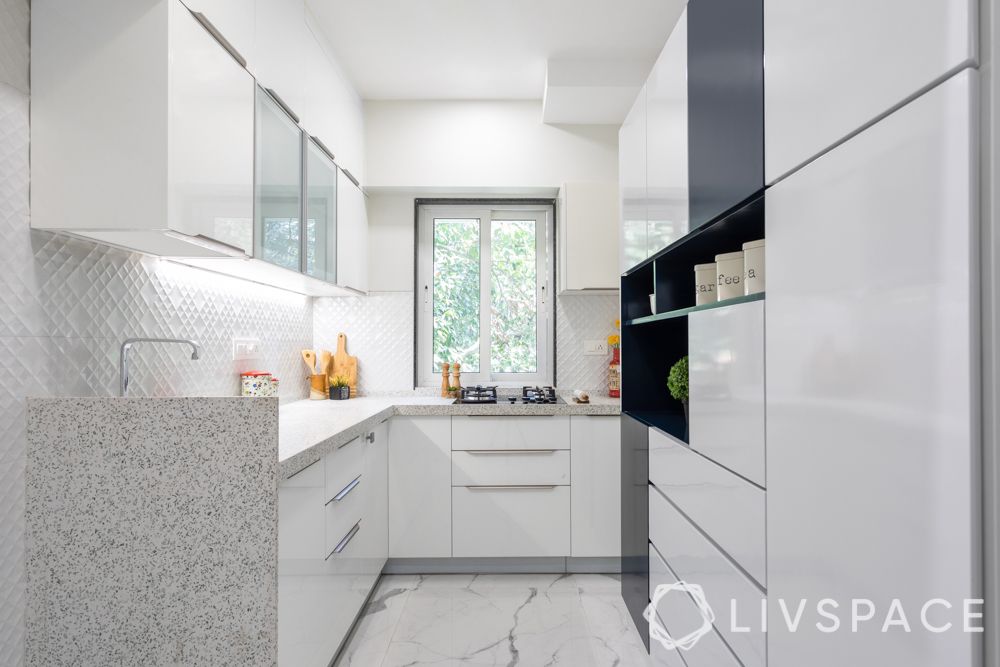 One of the first things you need to consider is the layout of the kitchen. The golden triangle for each layout will help you determine efficiency in terms of the sink, refrigerator and hob placement.
Here, this small U-shaped kitchen has cabinets on 3 walls making it high on storage. It's the most ideal layout for the golden triangle thereby increasing your efficiency.
Idea to steal: Find out whether your kitchen can house a U-shaped, L-shaped, parallel or one wall kitchen. Your best bet for maximum storage is a U-shaped layout like this one with white cabinets giving the space a less congested look.
#2: Blending a kitchen and dining room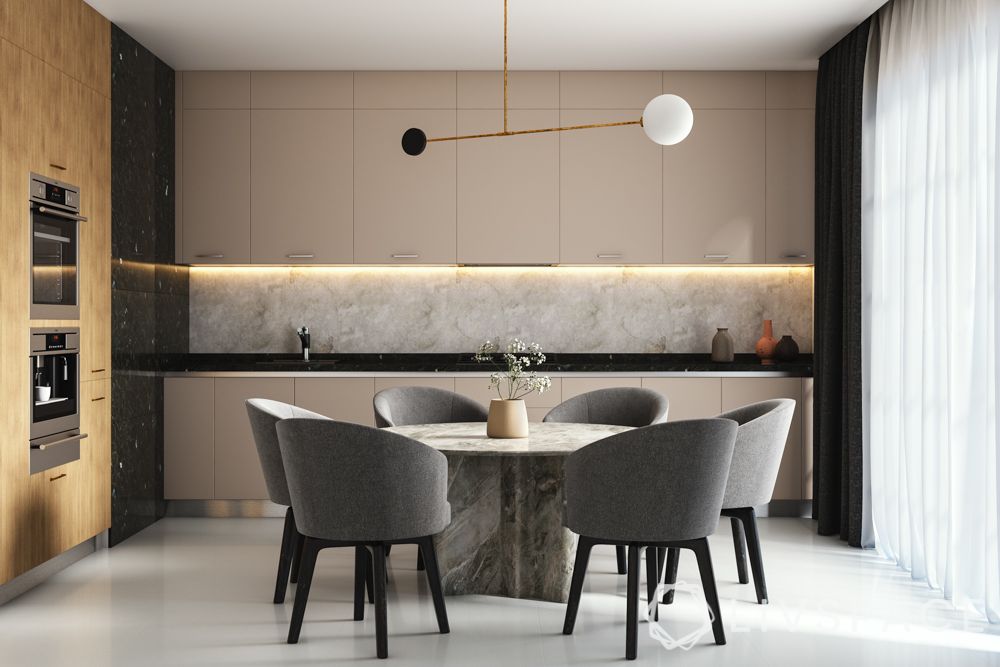 Open, one wall kitchens are increasingly getting popular among compact flats. What's making it even more popular among homeowners is the possibility of integrating a dining room in this space. Here the kitchen and dining room blend in perfectly making the most of the horizontal space available.
Idea to steal: Get creative with furniture and seating! While you can't do much about the kitchen, you can play around with shapes. You can opt for a round dining table to create a break from the linear kitchen design.
#3: Opening up the space with white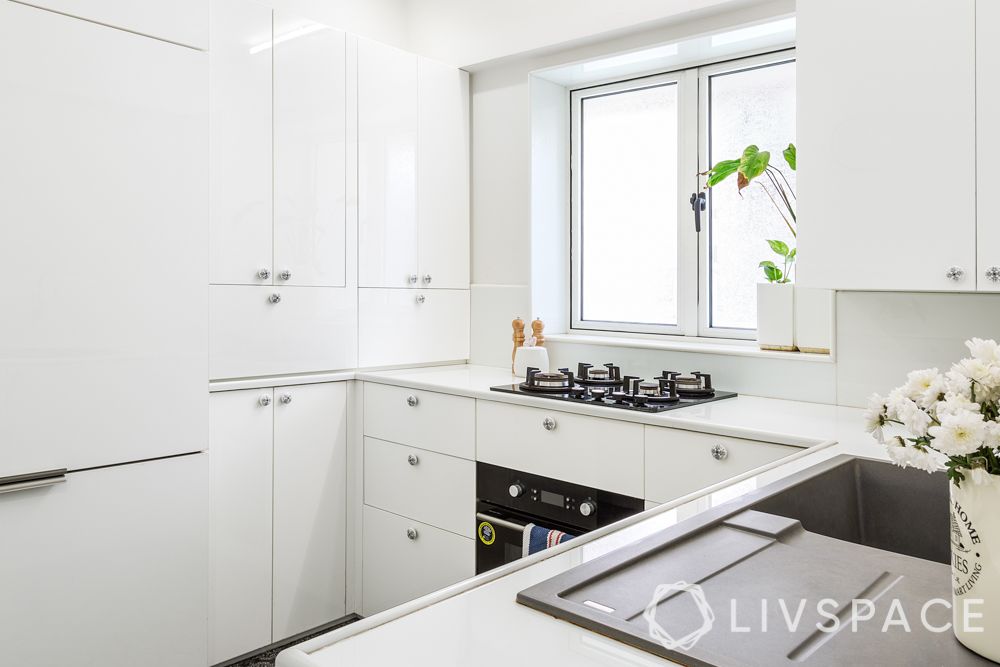 One of the oldest tricks in the book for small kitchens is doubling down on white interiors. White has the ability to reflect and spread light to the whole room. In this small kitchen design, we have avoided chunky knobs and handles. We have opted for minimal, round knobs to help streamline the design and give it a sleek look.
Idea to steal: You can opt for white cabinets, flooring, walls as well as countertops.
#4: Design an L-shaped compact kitchen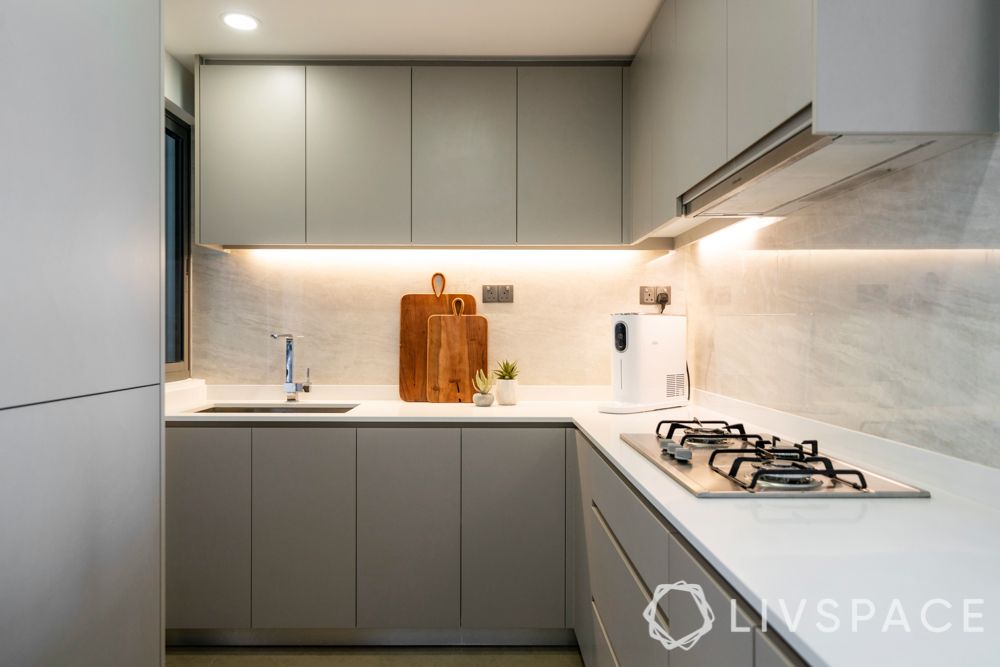 Making the most of the kitchen layout you are given can change the way you cook and even entertain. This stunning grey L-shaped kitchen was designed to do just that. The two perpendicular walls have sufficient counter space and cabinet storage as well as enough space to accommodate the golden triangle.
Idea to steal: Opt for sleek grey-toned cabinets that are handle-less to give the kitchen a minimal look. Moreover, cut down on storing appliances on the countertop to avoid a cluttered space.
#5: Add a pop of colour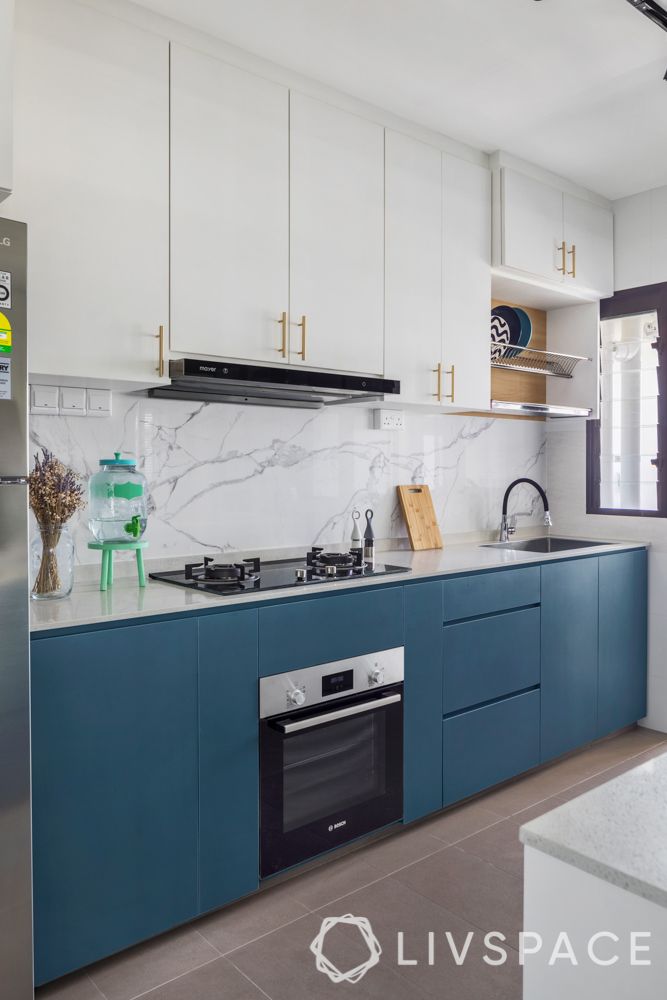 Regardless of the size, colour can transform any space. A contrasting colour can grab your attention and distract you from its compact area. This deep blue option we gave this home is just the right shade that complements the white wall cabinets while being a tab bit experimental.
Idea to steal: If you're not big on bright colours for the walls, you can inject a pop of colour in your cabinets and even the handles like this kitchen. Pick a colour that will be the focus of the kitchen and go neutral with the rest of the interiors.
#6: Add counter space without taking up space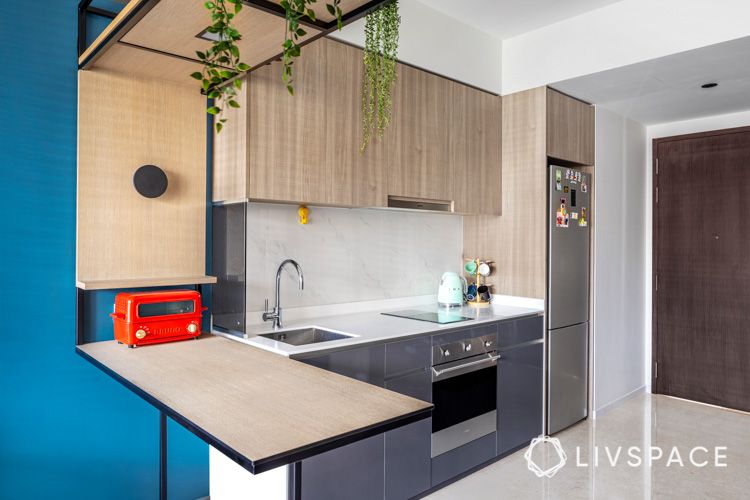 Counter space is prime estate for a compact kitchen. With a compact kitchen, finding space for a prep zone, cook zone as well as a clean zone can be difficult. So, here's a way you can add counter space in your kitchen. If you have a blank wall, make use of it by installing a breakfast counter like we did for this home. This simple addition can also double up as a prep zone.
Idea to steal: Ensure that the breakfast counter is minimal and not adding to the compact layout of the small kitchen design. You can make it even more space-friendly by installing a folding table.
#7: Installing a multipurpose partition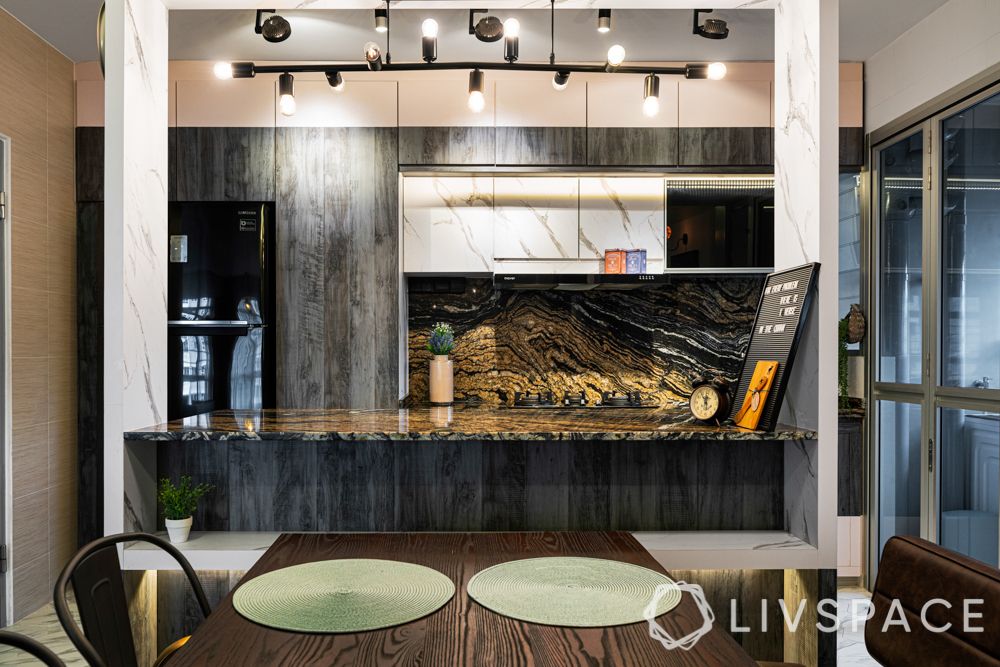 One way to maximise on counter space for small open kitchens is by installing a division between the dining and kitchen space like we designed for this home. Not only does this multipurpose partition separate the two spaces but also adds a prep zone.
Idea to steal: Give this additional space a similar countertop to the original kitchen space. Here, the countertops and backsplash are in granite to give the entire space one design.
Check out this BTO:
If you enjoyed reading about small kitchens, go through our articles in our kitchen series:
8 Questions to Help Design Your HDB Kitchen
Stunning Kitchen Ideas for Your HDB
Where to Save and Splurge on Your Kitchen
Send in your comments and suggestions at editor.sg@livspace.com.